Good Sunday Morning, Uni Watch. Welcome to Week 3 of your 2023 SMUW season. (In a non-NCAAFB note, in case you missed it, yeserday evening the Boston Bruins unveiled three new sweaters for the 2023-24 season.)
On Friday night, the Maryland Terrapins debuted their new all-black uniforms, in a game against the Virginia Cavaliers. The new uniforms are in the same template as the team's red and white uniforms, and are basically throwbacks (all the deets are in the linked article).
The game featured an all-black uniform vs. an all-white uniform, but in a twist from your typical "icy whites" vs. "Darth Vaders," both uniforms were not only in school colors, but both looked really, really good. Unlike the current trends featuring stripeless uniforms (or at least pants), both teams featured helmet, jerseys AND pants with striping.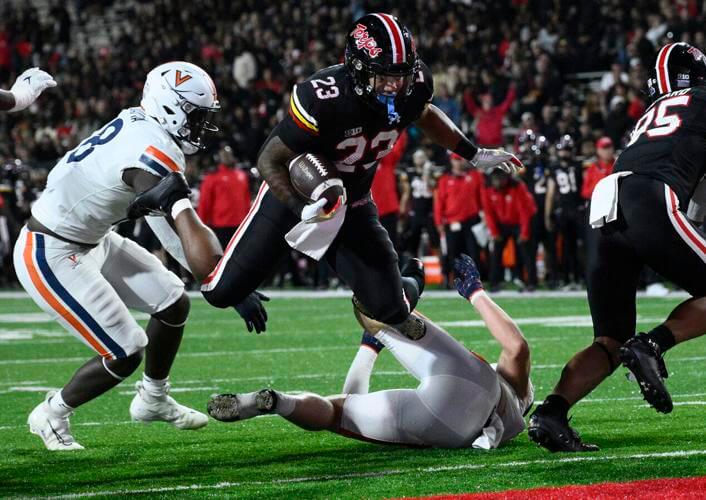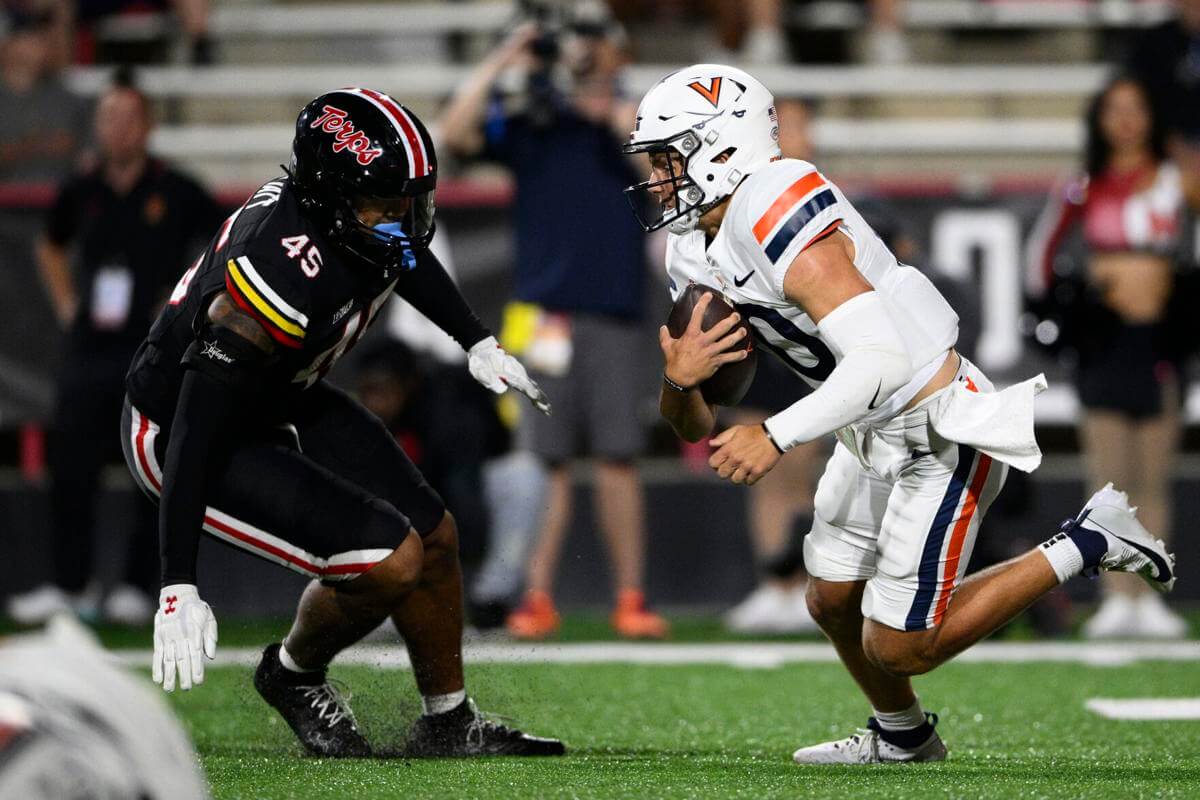 For those with OCD (I myself have a minor form), it was almost striping perfection. Virginia has "perfect" orange/navy striping on helmet, sleeves and pants, while Maryland is so, so close. Their helmets and pants have a white/red/white stripe, but the sleeves (in a nod to tradition), are slightly different with a white/gold/red pattern.
It's not everyday a mono-black vs. mono-white matchup looks so good (and in school colors!), so let's celebrate this one as the best so far this year…and possibly the best of the season.
And in a nice gesture, Maryland wore a helmet decal memorializing the three slain Virginia players towards the end of the 2022 season.
Many teams across all conferences wore similar decals last season, including Maryland (all ACC teams sported this decal at the end of last season).
You can see more game photos here
How'd the rest of the NCAA do, uni-wise, in week three? I now turn the rest of this section over to TJ who brings you your…
• • • • •
Sunday Morning Uni Watch
by Terry Duroncelet
Week 3 proved to be fairly-chill from my vantagepoint, and I'm a little under the weather with an ear infection, so sorry for the lower energy today. With that said, here's Week 3:
From Saturday:
• Boston College/Florida State: White lids and trou for the Seminoles. And not to be outdone, Boston College wore their Red Bandana uniforms (lore, for those curious).
• Michigan State/Washington: Hopefully, the whooping that the Spartans got yesterday will convince them to never take the field in these whipped-cream-on-top-of-spinach togs ever again. Not a fan.
• Notre Dame/Central Michigan: I had a time trying to find pics, but Notre Dame's pants looked ESPECIALLY yellow in yesterday's game against the Chippewas.
• LA Tech/North Texas: Color-vs-color action, and I'm always up for it! Too bad that this specific combo presents an… ISSUE. Those who don't learn from history are doomed to repeat it, I guess.
• Texas Tech/Tarleton State: Throwbacks for the Red Raiders.
• SMU/Prairie View A&M: SMU's Dallas uniforms were quite… NICE.
• West Virginia/Pitt: While this was not as visually-interesting as last year's long-awaited bout, it was still a decent watch.
• Nebraska/Northern Illinois: Ah, yes. The Northern Illinois University HUSKIES.
• Colorado/Colorado State: As several readers mentioned, Colorado's actually gold-inclusive primary home uniforms still have the Flywire collar, an old bit of Nike tech that dates back… gosh, 12 years now?
And that'll do it for Week 3. I should be better by this time next week, so expect much more content for Week 4. Until then, have a good day, everyone! Oh, and don't forget to check out Blaise D'Sylva's Twitter, it's an actual goldmine of all of the little helmet details that I undoubtedly missed.
• • • • •