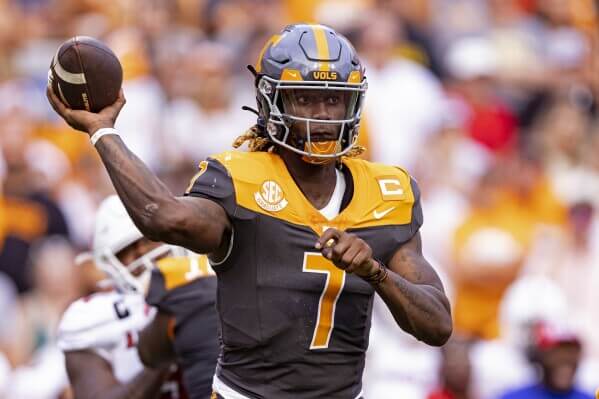 Good Sunday Morning Uni Watchers…welcome to the first Sunday Morning Uni Watch of the 2023 season!
Yesterday, the University of Tennessee Volunteers broke out their GFGS 2023 "Smokey Grey" uniforms vs. Austin Peay. As I noted earlier this week, the uniforms pay homage to Condredge Holloway, who played for the Vols from 1971-74 and was nicknamed "The Artful Dodger." Holloway was the first Black player to start at quarterback for an SEC program.
While the 2023 Smokey Grey's were noticeably darker than their 2022 comparts, they didn't really appear so in the photoshoot. On the field, however, they appeared much darker…almost black.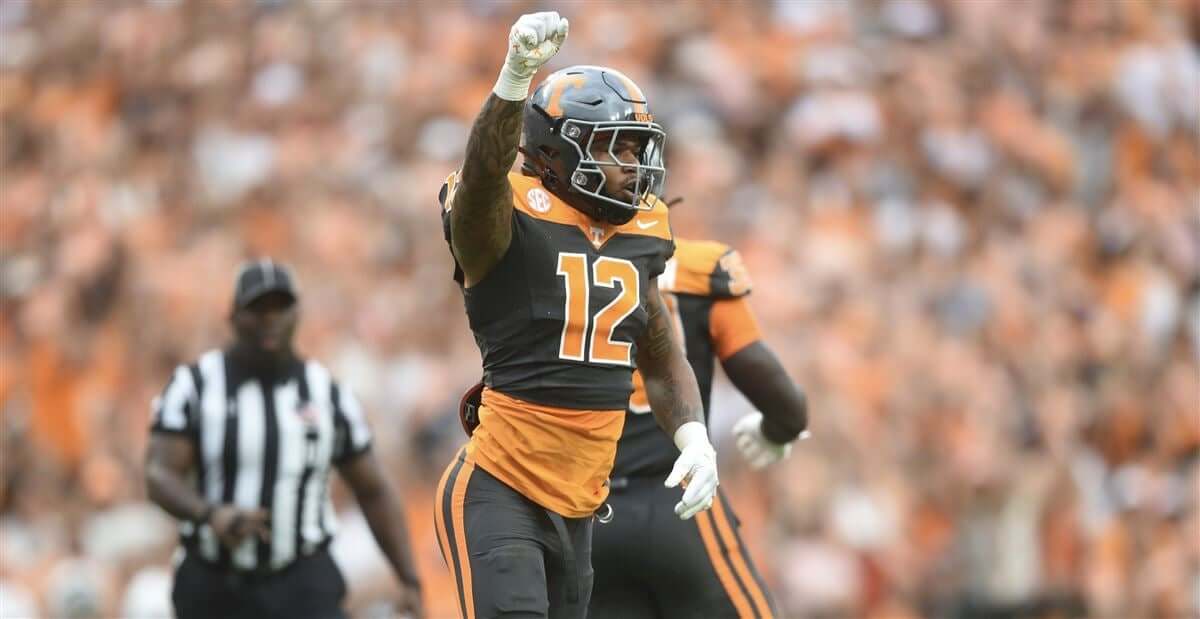 Putting aside for a second the untucked shirts — something that has really become a thing this season — I thought the unis looked pretty good.
Fauxing-back to a classic design, orange yoke included, actually kinda worked on the darker gray uniforms.
I'm not a fan of yokes in general, but the combo of the orange and dark gray meshed well, and the white outline on the numbers helped immensely.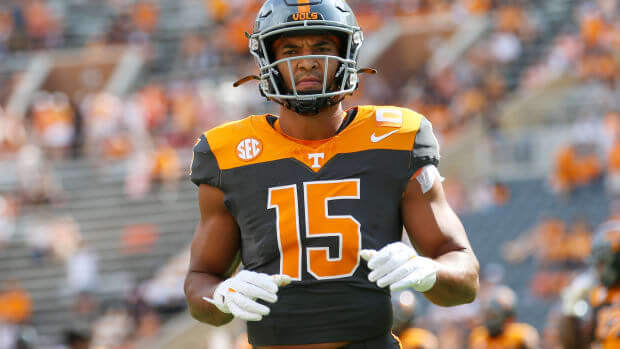 I have to say I was pleasantly surprised the nice matchup between the two teams.
(The above link is a slideshow, so be sure to "click" thru the images)
You can see many more photos here.
And now, I'll turn it over to Terry for the rest of your…
• • • • •
Sunday Morning Uni Watch
by Terry Duroncelet, Jr.
How many different ways can I say this at the start of Week 2?
From Friday:
• Kansas/Illinois: The Jayhawks listened to The Rolling Stones once, and have never known peace since. Awful. The saddest part is that if you strip away the BFBS, it's actually a brilliant uniform. Any form of "saloon" font SCREAMS Jayhawks, and I wish that they'd used this template for the new primary home and road uniforms to add some dynamic to them. Not that there's anything wrong with their new togs, they're just a little… SAFE.
• Indiana/Indiana State: I noticed that the number font on the Hoosiers' unis is different from previous years (not the same number, but hopefully illustrates my point).
__________
From Saturday:
• Baylor/Utah: Contrast Matters: Big XII Preview Edition. BY FAR the best-looking game from Week 2. Too bad the call at the end of the game was a total farce.
• Army/Delaware State: Contrast Matters: Unexpected Gem Edition. I don't think we've ever had back-to-back positive Contrast Matters games in one post before!
• Wake Forest/Vanderbilt: The scrimmage match that wasn't: much like last year's tilt between former Big East brawlers Pitt and West Virginia, if you have two teams with identical color schemes, THIS is how you handle that situation. Well done.
• Colorado/Nebraska: An old Big XII matchup from the stone ages. Despite the big showing against the Cornhuskers, the Buffaloes were NOT going for gold with their uni combo from yesterday. Collar logo aside, there's barely a shred of gold here! Also, this might be only the second time that Colorado has worn a black-and-white helmet (I could be totally wrong, though).
• Tulane/Ole Miss: Got enough light blue, there? Funny enough, while I normally would be neutral on low-contrast games like this, but this was actually kinda nice. To be fair, I'm already kinda predisposed to light blue, so I don't have much ground to stand on. And I absolutely loved Ole Miss's helmets.
• Bowling Green/Eastern Illinois: White at home for the Falcons (video because I couldn't find a still that illustrated my point).
• BYU/Southern Utah: Wait, why do the Cougars look kinda cool?? I also kinda forgot that they play in the Big XII now.
• Michigan State/Richmond: I'm so happy that the Spartans started embracing the Greek key more in recent years, especially on their helmets (closer look).
• San José State/Cal Poly: BFBS for a team that ironically plays in the Golden State. Blech. I love the logo, tho.
• Tennessee/Austin Peay: New Smokey greys for Tennessee, featuring the return of the Condredge Holloway-era orange shoulder yolk (UW post, in case you missed it).
• Navy/Wagner: NGL, the lack of white in Navy's new uniforms (conference patch notwithstanding) is really satisfying.
• Alabama/Texas: This new Nike template is weird. Not only do chest names ride lower than ever, creating this sort of effect (as mentioned yesterday), but one detail that I missed until last night's game was Texas hitting CTRL+Z on their TV numbers! I was wondering why they looked whiter than ever (pic from last year). Never thought I'd say this, but the Longhorns look kinda bizarre. Still a class-A uniform, though.
And that'll do it for Week 2! I've only shared a tiny modicum of the helmet mentions that Blaise D'Sylva made yesterday, but MAN, he's got some good stuff on his Twitter (I REFUSE to call it the 24th letter of the alphabet. If Elongated Musky Husky won't stop deadnaming his child, I won't stop deadnaming his stupid website), so definitely have a look. Someone said it best. Hope everyone has a good week, enjoy today's opening games for the NFL, and I'll see you next week!
• • • • •
Thanks, TJ! Great stuff as always.