Uniform history was made during last night's Dolphins/Jaguars game in Jacksonville, as the Jags went mono-teal for the first time ever. This might have looked okay, or at least okay-ish, if they still had any gold in their visual package. But without the gold, it just looked like a bunch of smurfs running around out there (additional photos here).
The Jags also added teal end zones for the occasion:
More interestingly, the Jaguars are among the handful of NFL teams that are currently allowing a reduced capacity of live fans, and Getty Images photographer James Gilbert (presumably not the same James Gilbert who specializes in UNC-related Ticker contributions here on Uni Watch) roamed the stadium to capture what that's like during a pandemic. Prior to the game, for example, surfaces were wiped down by "disinfection specialists" (although I'm not sure what makes these workers "specialists," other than the signs on their shopping carts):
Hand-sanitizing stations were set up at various spots in the stadium:
Signs posted on various walls (it looks like this one was in a bathroom, although the caption doesn't specify that) supposedly gave a "Covid-19 Warning," although the text is really more of an indemnification for the team against any legal claims by people who might get infected:
Attendants stationed around the stadium held up little paddle signs that said, "Protecting the Team Starts With You: Face Coverings Must Be Worn at All Times" (click to enlarge):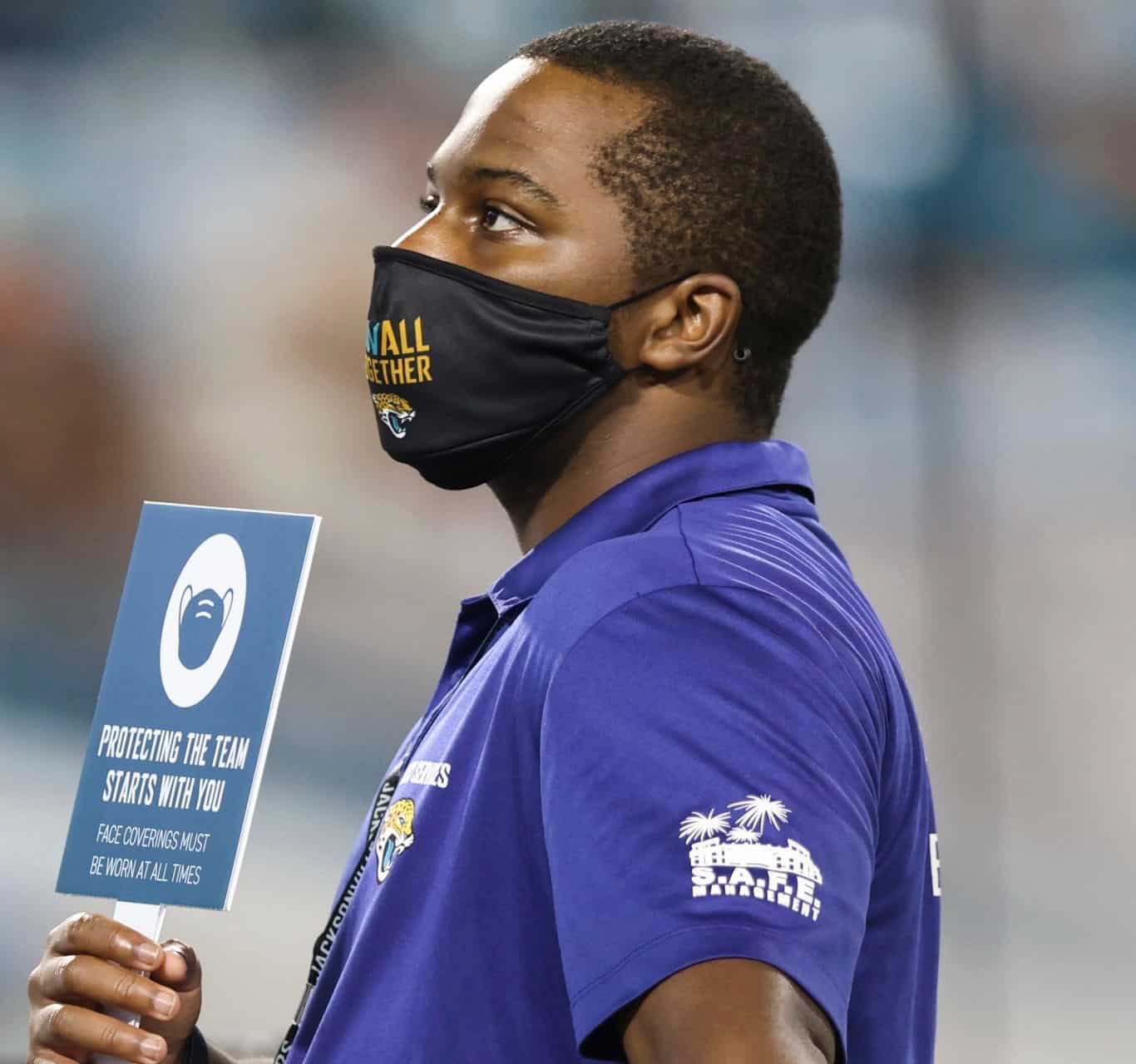 The logo on the attendant's sleeve is from S.A.F.E. Management (the acronym stands for "Security, Athletic Facilities & Events"), a company that provides security staffing for sports facilities around the country.
So that's part of what it's like to attend an NFL game these days, at least in Jacksonville. Has anyone reading this attended a game in one of the other cities that are allowing it?
• • • • •
• • • • •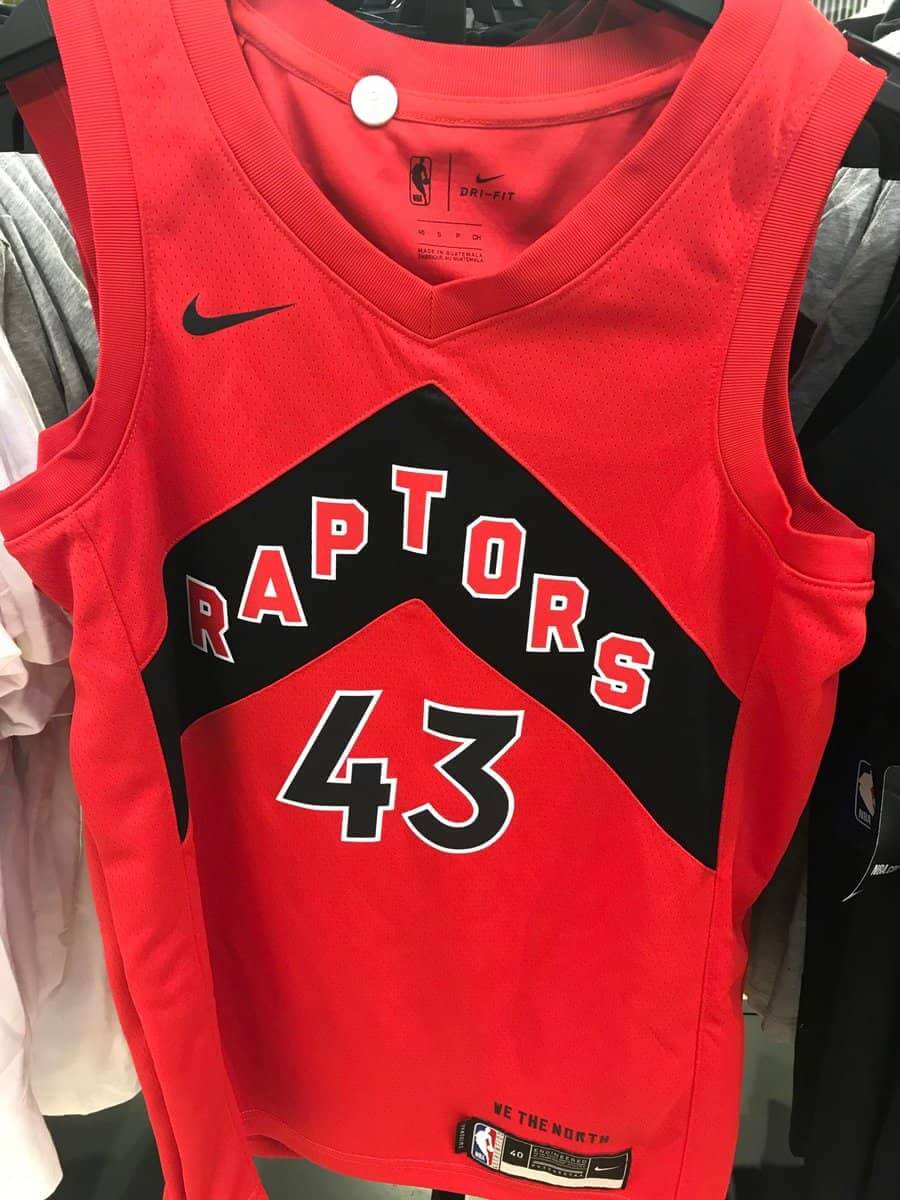 Click to enlarge
New Raptors leak: The photo shown above, which appears to show a new Raptors jersey, began circulating yesterday afternoon. It was reportedly taken at a downtown Toronto shop. Sportlogos.net's Chris Creamer (who, in addition to being a uniform reporter, is based just outside of Toronto) has confirmed the design's legitimacy and says it's the team's new primary colored jersey, which means the chevron-based template, which they've previously used for their alternate jerseys, is now ascending to the head of the class.
Whatever you think of this latest design, could this team's visual history be any more jumbled and disjointed? They've existed for only 25 years but they've had what seems like eleventeen different chapters in their history. What a mess.
• • • • •
• • • • •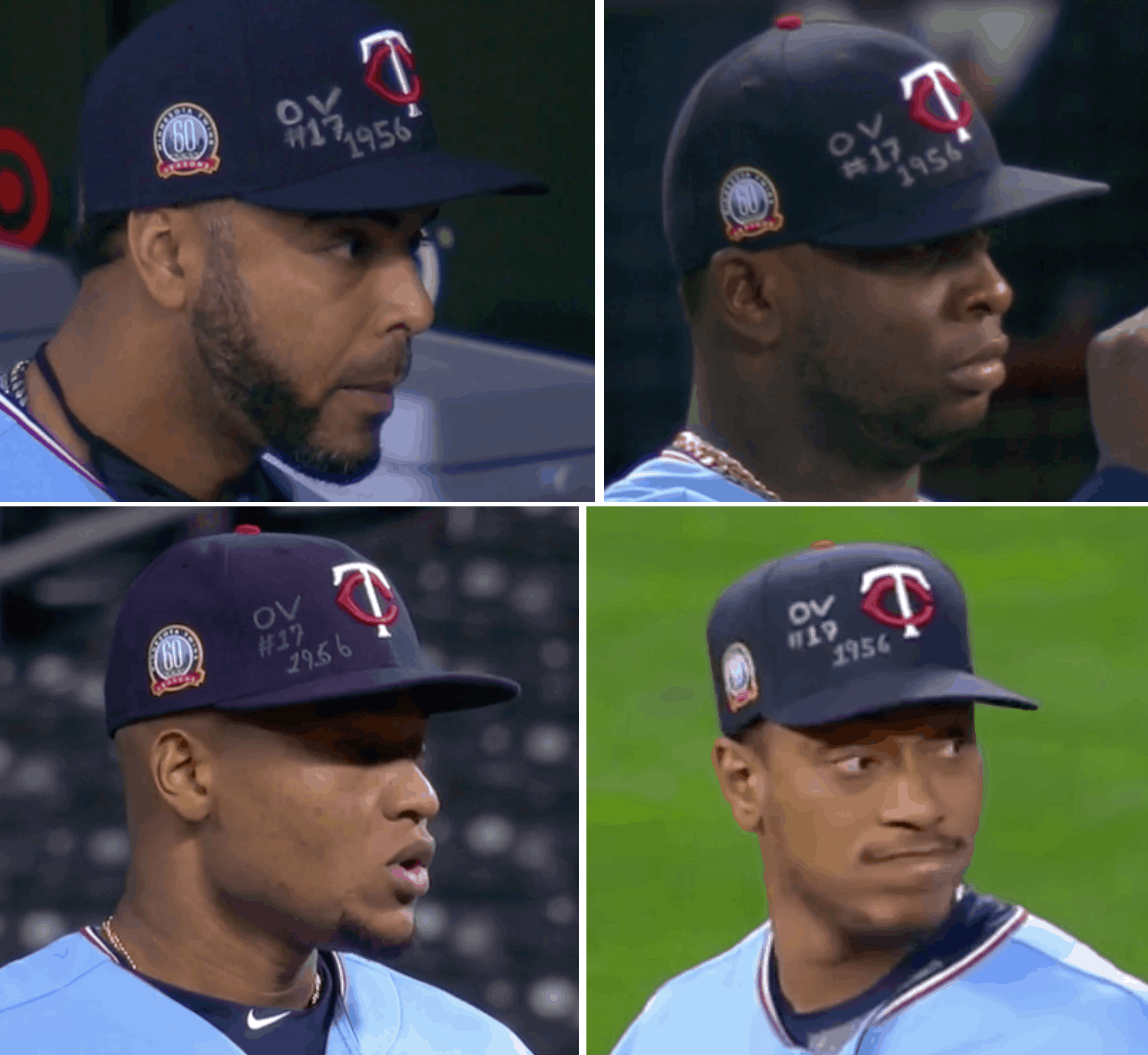 Click to enlarge
Honoring another pioneer: What do (clockwise from top left) Twins DH Nelson Cruz, first baseman Miguel Sanó, shortstop Jorge Polanco, and reliever Jorge Alcala have in common? First, they're all from the Dominican Republic. And second, they all had "OV, #17, 1956" written on their caps two nights ago.
Those two things, it turns out, are related. Wednesday was the 64th anniversary of Ozzie Virgil, the first Dominican-born MLBer, making his big league debut for the New York Giants on Sept. 23, 1956. So the Twins' four Dominican players marked the occasion by inscribing Virgil's initials, uni number, and debut year on their headwear.
We've seen lots of examples over the years of MLB cap inscriptions that served as impromptu memorials or as salutes to injured teammates, but this is the first time I can recall caps being used for this type of historical honor. Technically speaking, players are prohibited from adding any kind of messaging to their caps, but MLB seems to have backed off from enforcing that rule in recent years, and things have been particularly laissez-faire this season due to the pandemic.
While I don't know for sure, I wonder if this display was prompted by MLB's recent decision to let Puerto Rican players wear No. 21 on Roberto Clemente Day. Maybe the Dominican players felt the need to honor one of their own.
Incidentally, while working on this item, I learned that Virgil, in addition to being MLB's first Dominican player, is also routinely listed as the Tigers' first Black player (the Giants traded him to Detroit in 1958), even though most of us would not consider him Black today. Here's a 1958 newspaper item about that, which variously describes him as "a Negro baseball player" and "the team's first colored player":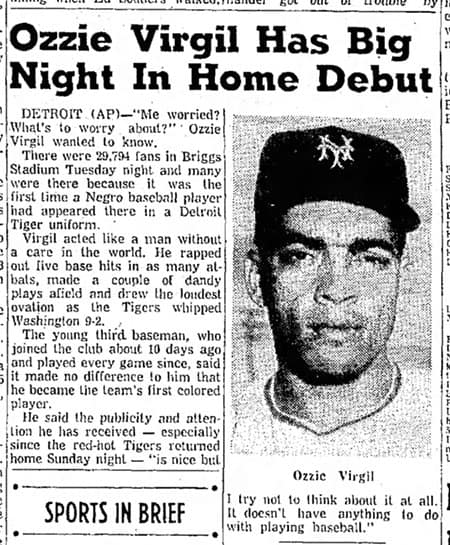 Obviously, race and ethnicity are not the same thing but are often conflated. Just as obviously, social norms about racial and ethnic identity have shifted a lot since the late 1950s. Interesting stuff. (In case you're wondering, the Tigers' first African-American player was Jake Wood in 1961.)
Also of note: That article refers to the Tigers' ballpark as Briggs Stadium, which is what Tiger Stadium was called from 1938 through 1960. The name referred to team owner Walter Briggs. Subsequent owner John Fetzer changed the name to Tiger Stadium in 1961.
(Big thanks to Patrick Lenertz for letting me know about the Twins' caps.)
• • • • •
• • • • •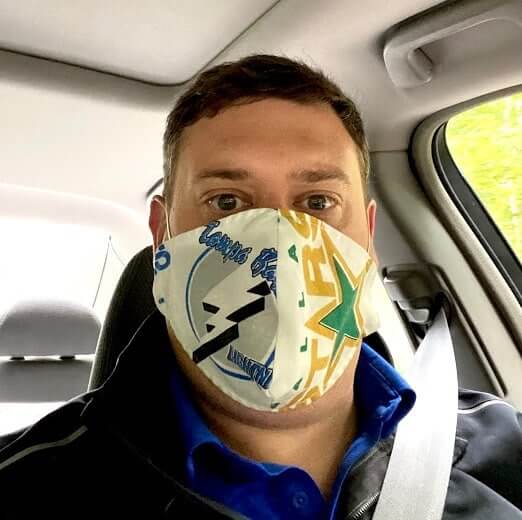 Fortune-telling mask: The guy in the photo shown above is Doug Skinner, the brother of Uni Watch reader Dan Skinner. "He had some homemade Covid masks created five months ago out of of a set of 1990s NHL bedsheets from our childhood," says Dan. "This morning was the first time he realized that one of the masks was eerily predictive of this year's Stanley Cup Finals match-up!"
• • • • •
• • • • •
The Ticker
By Anthony Emerson


Baseball News: MLB's official Facebook page posted a graphic showing the winners of the last 19 World Series. They used period-appropriate logos for the Diamondbacks and Marlins, but not for the Cardinals (from Josh Miller). … Now this is cool: The Boston Electoral Commission has approved Fenway Park as an early voting location (from Paul Friedmann).

NFL News: Reader Guinevere Hortence sends along this screengrab of Gale Sayers from 1969, which shows Sayers without the NFL 50 patch that players wore that season. … During the Jags' late-'90s playoff years, the grounds crew at Jacksonville Municipal used to make a huge midfield logo, complete with an indication of which playoff round it was. I miss when the NFL and teams would do quirky stuff like that (from Moe Khan).

College/High School Football News: DB J.R. Walker will wear Frank Beamer's No. 25 for Virginia Tech against NC State (from Andrew Cosentino). … Also from Andrew: NC State will go mono-white in that game, while Tech will go maroon-maroon-white. … South Carolina's AD says that SEC teams will use extra-long benches during the football season to promote social distancing (from Andy Shain). … Iowa State is going red-white-red against TCU (from Chad Lehman). … Miami is going white-green-white against Florida State (from Jason Lefkowitz). … Troy is going grey-white-grey against BYU (from @TrojanWallF5). … Virginia is going white-blue-white this weekend (thanks, Jamie). … Oklahoma RB Mikey Henderson posted a teaser of a new helmet design on his Snapchat. Perhaps we'll see it this weekend (from Glen Brockenbush). … Appalachian State is going black-black-yellow tomorrow against Campbell (from Dan Hughes). … Texas State is going mono-white against Boston College (from @stallionjockey). … Wisconsin coach Paul Chryst had a great answer about crew neck sweatshirts when asked in an interview. Can't say I disagree with the man, either (from @gjmarmet).

NBA News: Heat F Jimmy Butler wore G Tyler Herro's high school jersey to practice yesterday, after Herro led the Heat to a Game Three victory over the Celtics (from Mike Chamernik).

Soccer News: English Championship side Nottingham Forest have revealed their third kit, living up to their name with a clever leaf pattern (from Ed Żelaski and our own Jamie Rathjen). … Also from Jamie: The Premier League's Aston Villa, has revealed their third kit, which will double as the women's team's change kit (also from Brandon Veale). … English non-league side Torquay United have revealed a set of three really nice kits (from Ed Żelaski). … Also from Ed: Bundesliga side Hertha Berlin will drop their advertisement for one match to instead wear a message of support for a fan fighting cancer. … One more from Ed: Italian Serie C side Terana has unveiled three rather stylish kits. … Tottenham winger Erik Lamela changed one of his cleats during the first half of the Spurs' Europa League match against KF Shkëndija, and played the rest of the match with mismatched cleats.

Grab Bag: The robots are taking over, at least in curling, where the University of Seoul has developed a robot that curls better than humans (from Matt Fields). … Belarusian handball player Vadim Gaiduchenko used his shoes to show support for the ongoing anti-government protests in his home country following last month's presidential election, whose results are widely considered to be fraudulent. The white-red-white pattern is taken from the first Belarusian flag used after the nation achieved independence from the Soviet Union. That flag has become a symbol of the anti-government opposition. … New redesign in the works for Wikipedia.
• • • • •
• • • • •
• • • • •
Our latest raffle winners are Lex Kuhne, Nate Schweitzer, Dave Fiora, Sam Ware, Jesse Holt, and Steve Salayda, each of whom has won a Uni Watch membership card. Congrats to them and my repeated thanks to reader Marlon Wright for sponsoring this one. Everyone enjoy Phil's weekend content and I'll see you back here on Monday. — Paul