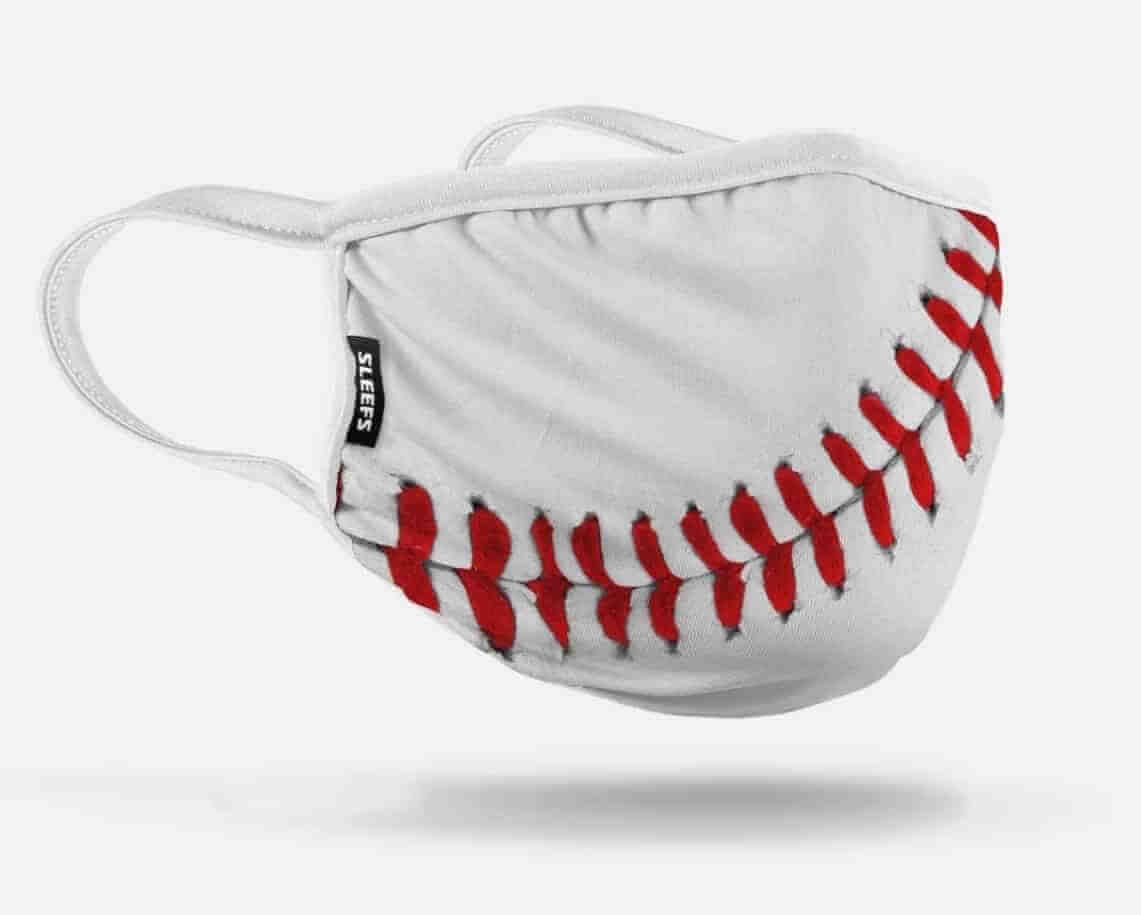 We've seen a lot of articles about how players are dealing with the new rules and protocols brought on by the coronavirus pandemic. I've also heard quite a few broadcasters talking about how their own work experiences have been affected by this strange season.
But what about print and web journalists, the guys who are up in the press box? What's it like to cover a sporting event this year compared to previous years? How does it affect the articles we read, and the people who wrote those articles?
I've been curious about that, so I asked my friend Ken Davidoff if he'd be willing to talk about it. He's a baseball columnist for The New York Post (a role in which he covers all things MLB-related but with a strong emphasis on the Mets and Yankees) and a longtime friend of Uni Watch, going back over a decade. He spoke with me on the phone yesterday from his hotel room in Philadelphia, where he's been covering the Yanks/Phillies series. We didn't talk about uniforms, but I think our discussion will still be of interest to Uni Watch readers, or to anyone who's interested in the behind-the-scenes details of the sports world. Here's a transcript (lightly edited and condensed for clarity and length):
Uni Watch: Let's start with the most basic thing: getting to the ballpark. Prior to this season, how would you get to Yankee Stadium or Citi Field, and how are you doing it this year?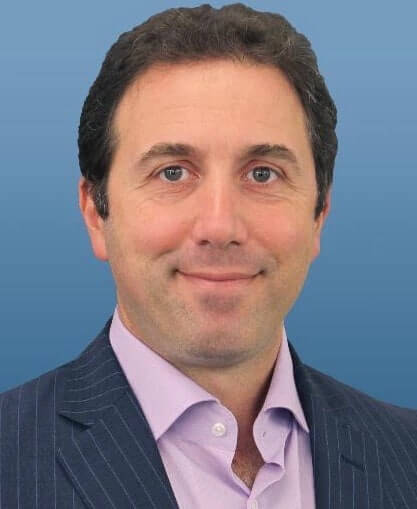 Ken Davidoff [shown at right]: I live in Manhattan, I have a car, so I typically drive. But you know, sometimes for logistical reasons — like if I have a doctor's appointment, or my wife is using the car — I would take the subway. But I have not taken any mass transit of any kind since I flew home from spring training on March 17. So I am driving every day.
UW: What about going to other cities? You usually travel a lot, but I assume things are different this year.
KD: Yeah. So far I've gone to DC and now Philly twice, so I've driven to those. My editor and I talked about flying to Tampa — the Yankees are in Tampa this weekend — but ultimately, I was just not comfortable making that trip because of how bad Florida is [regarding the pandemic]. And I am anxious about getting on a plane. If I could either drive to Florida or fly somewhere that's less infested, I would have considered it. But the combination of the two just made me too uncomfortable.
UW: Have you "covered" any games simply by watching them on TV?
KD: I covered one of the Yankees/Mets exhibition game remotely, and this coming weekend I will cover the entire Yankees series in Tampa remotely.
UW: Have you ever done that before?
KD: No, not before this year. With Yankees/Mets, it was a function of the limits that they're placing on media at the ballpark. You know, we [the Post] like to cover baseball aggressively. This year we can have a maximum of two people in the press box; we'd typically have more than that covering that game, including me, but with the current rules I had to do it remotely.
UW: Once you get to the ballpark, whether here in New York or on the road, what would you normally have done in previous years, and what's different this year?
KD: Yeah, it's all different. So, normally, let's say for a typical night game, I would get to the ballpark around 2:30 and by three o'clock, 3:30, I'd be in the clubhouse, interviewing players, coaches, front office people, and whoever else. Then there's the in-person news conference with the manager. Then you go on the field. Maybe you see, you know, an official from another team, an official from one of the New York teams, you do some schmoozing. Maybe you you even just say a quick hi to a player as he's going from the batting cage back to the dugout. Maybe I'll pop my head into the visiting clubhouse and see someone I know.
Now you just miss out on all of that. Each team has its own time in terms of when they open their ballpark, and I believe they're doing it in conjunction with their respective cities. You know, health codes now come into play. So today, for the Phillies game [scheduled to start at 6:05pm], they open their ballpark to media three hours before first pitch. That's on the earlier side, which I'm happy about. So I'll get there at three o'clock today. Like, literally as we're talking, I just got an email from the Yankees saying there's gonna be at least two Zoom calls for the game — one with Aaron Boone at a time to be determined and one with Masahiro Tanaka at 3:45.
Even the act of eating, it was partially work. Maybe you would eat dinner with a scout or front office person, or with other media. That nice social element is gone now. We are not allowed to leave press box, so I have a cooler with me, with my ice pack, so I can bring my own food, and I'm making sure to stay at hotels with refrigerators and freezers so I can store my ice pack.
UW: I know they would usually provide food or sell food for the media — is it that they no longer do that, or you're just not comfortable with that?
KD: No, they don't do it. We need to bring our own. They do provide beverages.
UW: Regarding the Zoom calls, I assume Aaron Boone and the other managers are doing that every day, in lieu of their usual pregame press conferences.
KD: Exactly.
UW: And presumably, you don't need to be actually be present at the ballpark for that. You could do that remotely if you were off doing something else.
KD: They tend to take place when I'm already at the ballpark, but it's become a little tricky in that regard. I think last week I did a Yankees Zoom call from their big stadium parking garage, because I wasn't allowed in the ballpark yet. And a couple days ago I was dropping off my son at a friend's place in Connecticut, so I did the call in their backyard. Because again, it was too early to walk in the door.
UW: As you enter the ballpark, whichever one it might be, do you wear a mask? And does anyone take your temperature?
KD: Yes, a mask is required. And yeah, in theory, I get my temperature taken every day. In practice, they're not batting 1.000 on that front. But yeah, the protocol is to have your temperature taken every day.
UW: At the point where you enter the ballpark?
KD: Correct. I think the cutoff is 100.4. And then there's a questionnaire. You know, essentially, "Have you felt any symptoms? Have you been in contact with anyone who either has Covid or has symptoms?" Which, yeah, to be honest, it's kind of worthless, because who's gonna answer "Yes" to any of those questions?
UW: You have to fill that out every day?
KD: Now it's usually verbal. A team employee will just ask you.
UW: What about testing? Do you have to be tested, or provide evidence of that?
KD: No. But I'm getting tested pretty regularly on my own, just because I am interacting with the public and my family really is not. So I am testing of my own volition. But it is not required.
UW: Normally, you'd spend the game in the press box with lots and lots of other writers, most of whom you know personally. What about now? What is the situation in the press box?
KD: There's a maximum of 35 media members. That's what was the collectively bargained number between the players and the owners. There is social distancing in the press box — you essentially have three seats to yourself. I'm usually in there with a co-worker from the Post — usually the beat writer covering that team — and you know, we're socially distant but we'll walk up to each other and say, "Okay, what do you think" and "Here's what I'm thinking." It's definitely not as fun or intimate as the pre-Covid days, but I don't feel like I'm an island or anything like that. I see everybody, we say hi to each other. But yeah, it's still markedly different.
UW: Is everyone in the press box wearing a mask throughout the game?
KD: Yes, that's required. You can take it off to eat, but I would say I'm wearing it 90% of the time. When I decide to eat is partially based on hunger and partially based on how much my ears are hurting from the mask.
UW: I've seen a lot of articles and interviews where the players have talked about what it's like to play in an empty stadium. But what's it like for you working in an empty stadium? Is that strange? You know, the lack of the crowd noise? And what's it like for the stadiums that are using the fake crowd noise, you know, in the actual ballpark, as opposed to just on the broadcast?
KD: I'm not really a fan of the piped-in noise. I think it's very cheesy. But I do miss the fans — the fans added an element and could even shape your story. "Giancarlo Stanton got booed after making a big out," or when the Phillies were in town, Didi Gregorius would have gotten a huge ovation. So yeah, we're missing that, we're missing those stories.
UW: What about after the game? Again, you would normally go down to the clubhouse. What do you do now?
KD: They usually do Zoom calls very quickly after the last out. You get emailed the links. So yesterday, [former Yankees manager and current Phillies manager] Joe Girardi is obviously a person of interest for our readers, and [former Met] Zack Wheeler pitched yesterday, so I did those Zoom calls. So instead of, you know, burning a few calories by at least walking to the clubhouses, I just sit on my rear end and go from one Zoom room to the other.
UW: In the clubhouse, you have access to pretty much everyone, or at least everyone who doesn't hide from you. Whereas now you're sort of at the mercy of who they choose to put on these Zoom calls. How frustrating do you find that?
KD: Extremely. But, you know, I get it. I certainly would not want to be in the clubhouse right now, when you look at the outbreaks with the Marlins and Cardinals. God willing, we'll have a vaccine sooner than later, and when that happens, I would certainly hope the old rules resume. And, even right now, I wish there was a way to do more one-on-one access. But I'm quite sympathetic to the teams' vantage point, and I get why they're not really doing one-on-ones. It is what it is, and I just hope it's a short-term situation.
UW: Do you or the other writers ever ask the team PR guys to make a particular player available — someone who isn't obvious like that night's starting pitcher or whatever — if there's a particular subplot or angle you want to pursue?
KD: Yes, but the teams have veteran public relations officials and I've found that they have a pretty good feel for what we need. Good example: I think in the second game of the season, Giancarlo Stanton and Aaron Hicks both knelt during the national anthem, and they both did Zoom calls after the game. We didn't have to ask — the Yankees understood why that would be a big story. I think Stanton actually did have a big hit, too. But Hicks did not, and he spoke too. The bulk of the questions were about the kneeling, and the Yankees anticipated that. That's what you hope for, right? You hope for that level of professionalism.
UW: How do you feel about a manager or a GM Zoom interview versus a live press conference?
KD: A hundred times out of 100, I'll take a live press conference. I mean, it's just far better to be in the same room with the person. I think there's just a different dynamic in play. So it's much worse, undoubtedly, but I understand and support what's going on right now.
UW: Being a reporter is so much about developing relationships and building trust. How do you do that under the current circumstances?
KD: It's close to impossible. For the most part, you're not dealing with anyone live, in person, except the public relations official. And you know, the best relationships get formed from in-person dialogue, whether that's just connecting on some non-baseball level — "Oh hey, you're from New Jersey, I'm from New Jersey" — or, you know, Luke Voit is a Midwest guy, so he and I will talk Big 10 football because I went to Michigan. So that's lost, that's gone. You know, there's just nothing that can be done to replicate that. So yeah, it hurts a great deal.
UW: We all know some players have opted out of playing this year. Are there any reporters who've opted out because they don't feel comfortable being at the ballpark?
KD: Certainly some reporters are not going to the ballpark. Many of them, I guess all of them, have some high risk factor, whether it's age or a medical condition. But the beauty of our job right now is that you can cover it remotely to a large extent. So yeah, reporters aren't necessarily giving up their salary and service time, like the players are.
UW: Assuming things eventually get back to some semblance of normalcy, do you think there are any aspects of covering the sport this year that will be retained in the future?
KD: That's a concern. I certainly hope not.
UW: Okay, that's enough about covering the game. Let's see how your crystal ball is working: Of the various rule and format changes — seven-inning doubleheader games, the runner starting at second base for extra innings, the expanded playoff system, the universal DH, and so on — which of those do you think will become permanent parts of the sport?
KD: I think a lot of them are gonna stay in place. You know, like seven-inning doubleheaders — I think there's gonna be a lot of momentum for that. For the extra-inning rule, I don't know if that'll go into effect next year, but I think it's going to happen in the next five years. What else..?
UW: Universal DH.
KD: It's funny — I think it's definitely coming in 2022, but I did think that next year they would revert, to have one farewell year for the hitting pitcher. But now that we've played a couple of weeks, just my hunch says that will become permanent starting next year. I just don't think anyone misses the hitting pitcher a lot.
UW: Expanded playoffs?
KD: Unfortunately, that's probably gonna stick. Although, you, know, I'm skeptical we'll get to that point this year.
UW: That was my last question, actually — do you think they'll actually finish the season and get all the way to the World Series?
KD: I don't, no. And I don't really blame that on Major League Baseball as much as I blame it on the United States of America. It's just pretty clear where we're not taking this virus as seriously as we need to.
———
And there you have it. Big thanks to Ken for sharing his experiences — fascinating stuff.
• • • • •
• • • • •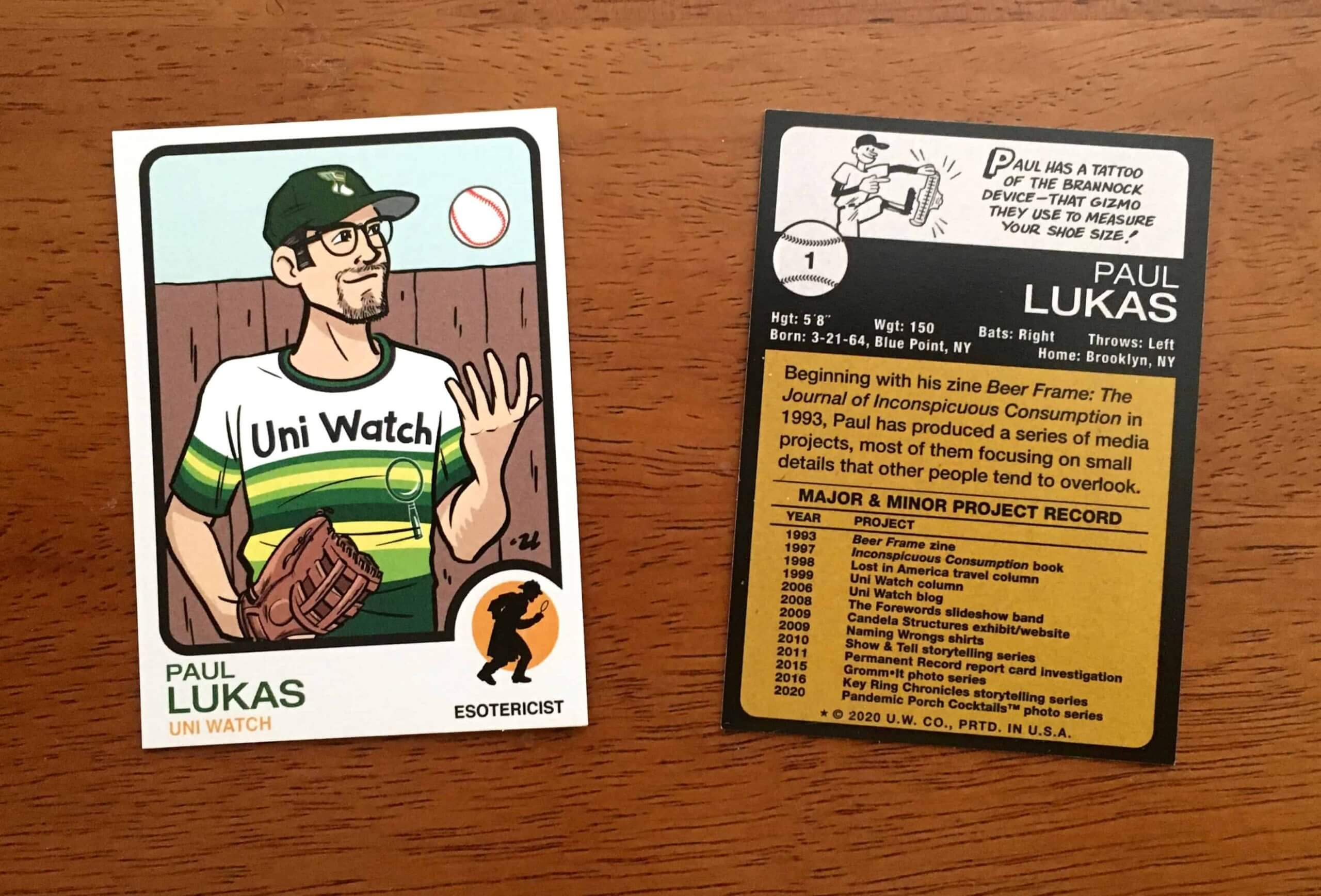 Click to enlarge
Trading card reminder: Response to the Uni Watch trading card continues to be tremendous — thank you!
Full details on how to pre-order your own card are available here.
• • • • •
• • • • •
Brooklyn Branches update: The winner of the auction for the one-of-a-kind Brooklyn Branches jersey, based on Ron Ruelle's brilliant concept and executed by the great DIYer Wafflebored, is Rick Wessley, who submitted a winning bid of $300. I'll be donating that amount to the Arbor Day Foundation, so Branch Rickety's demise will result in the planting of new trees. Congrats to Rick, and my thanks to everyone who submitted bids.
Speaking of the Branches project: Yesterday I showed you the home white and road grey Branches T-shirts. Today we have two alternate versions — brown and green: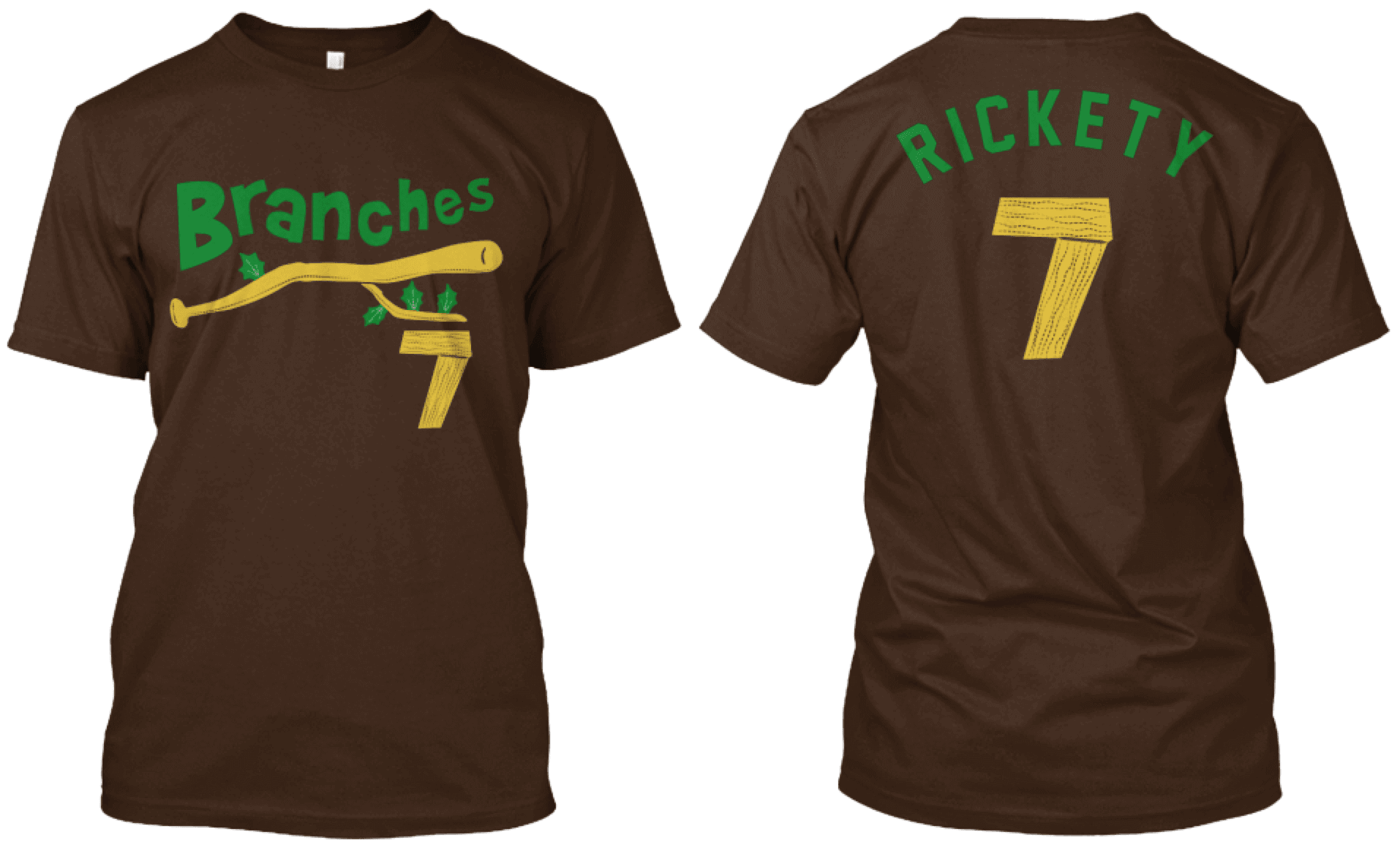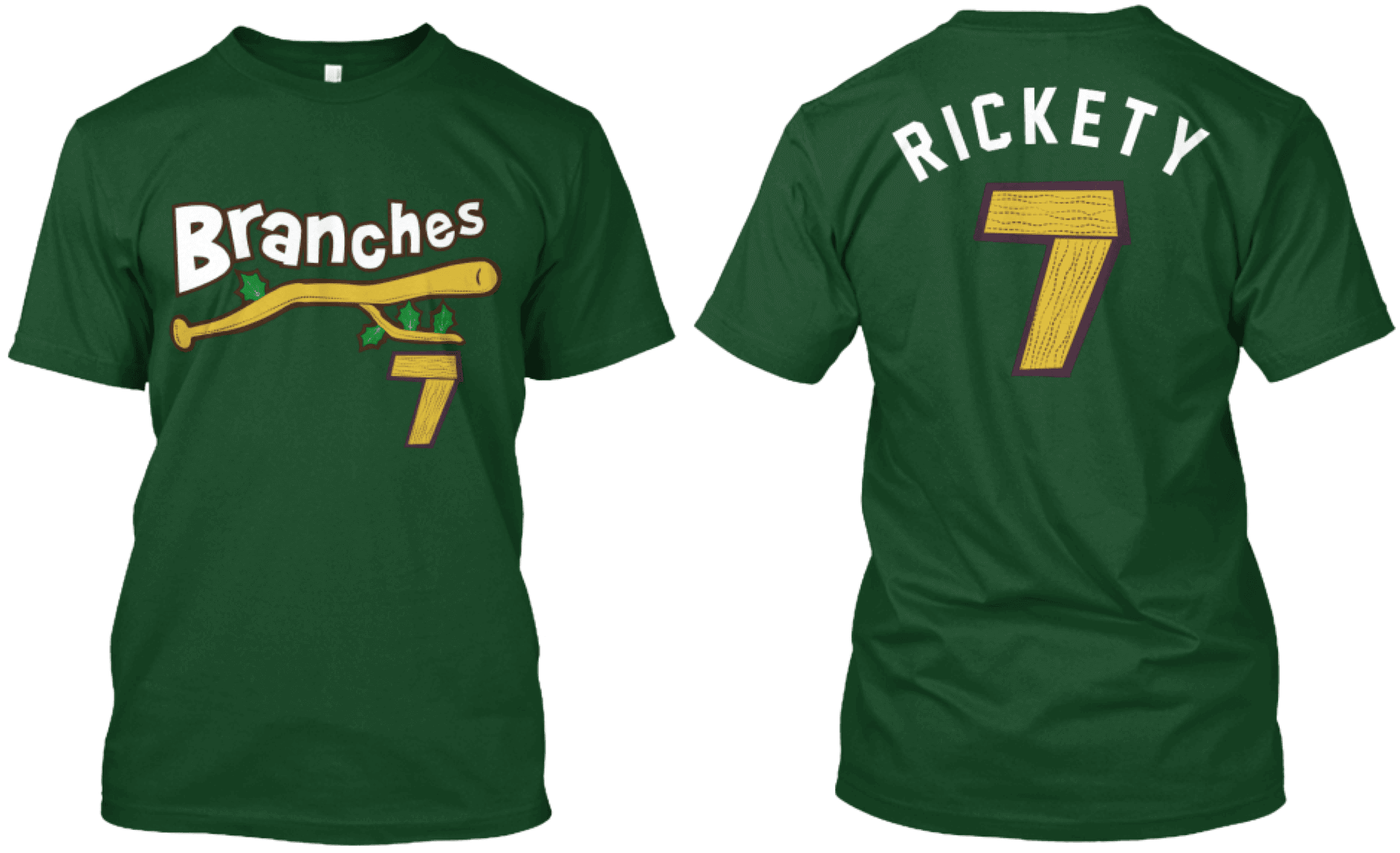 Here's where you can order the brown and green tees, as well as the home white and road grey versions I showed you yesterday.
Immense thanks to Ron and Wafflebored for making this such a fun project!
• • • • •
• • • • •
Click to enlarge
August Pin Club update: The Uni Watch Pin Club's new design for August — a salute to old-school baseball scoreboards, complete with a few misfiring light bulbs — is now available. (If you want more info on the line score and the 4:07 time on the clock, there's an explanation here.)
This is a limited/numbered edition of 250. As of this morning, there are 67 remaining. You can get yours here.
• • • • •
• • • • •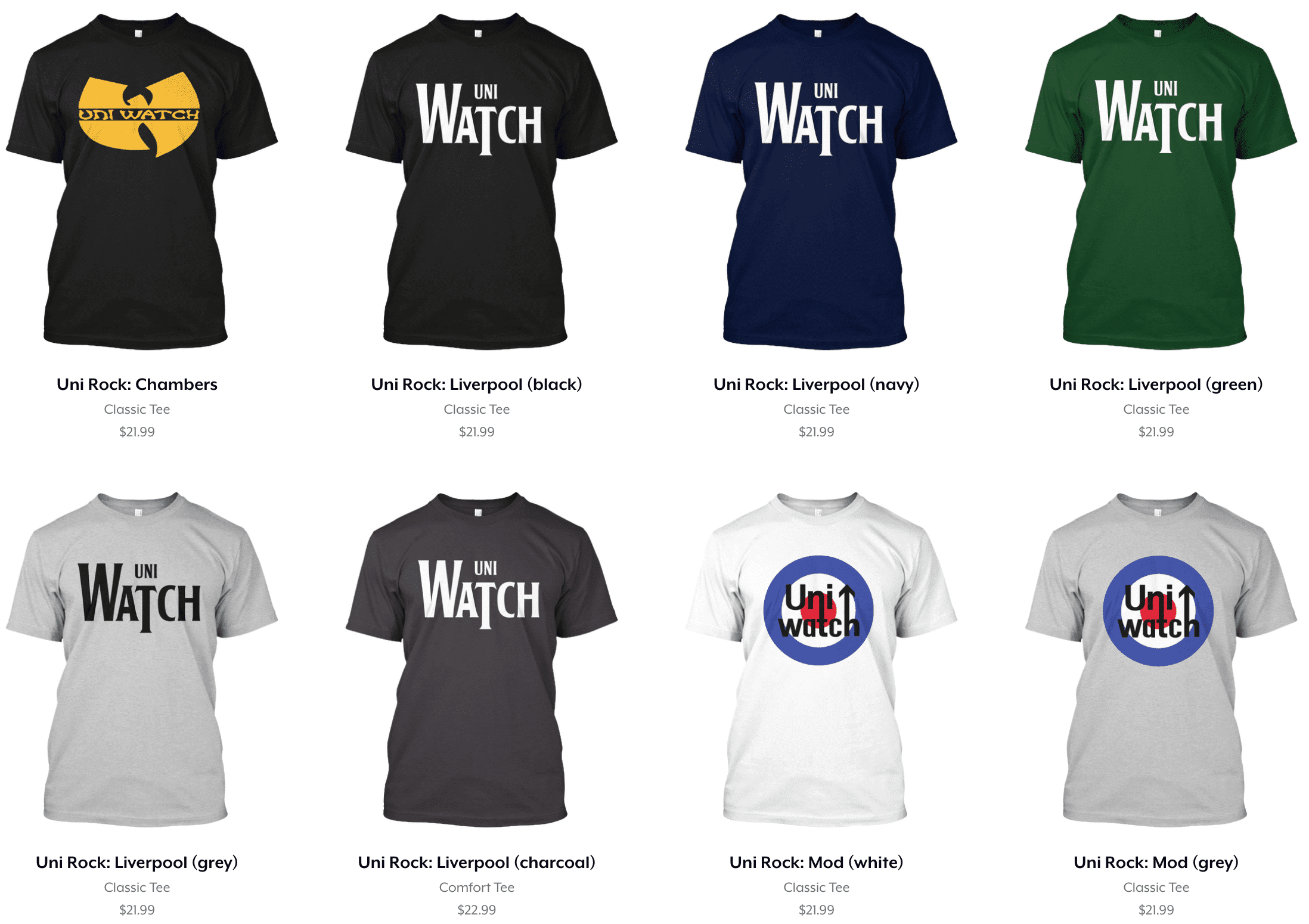 Click to enlarge
Uni Rock update: Some new designs (shown above) have been added to the Uni Rock Shop.
Thanks for all the positive feedback on this project. You can see the full Uni Rock collection here.
• • • • •
• • • • •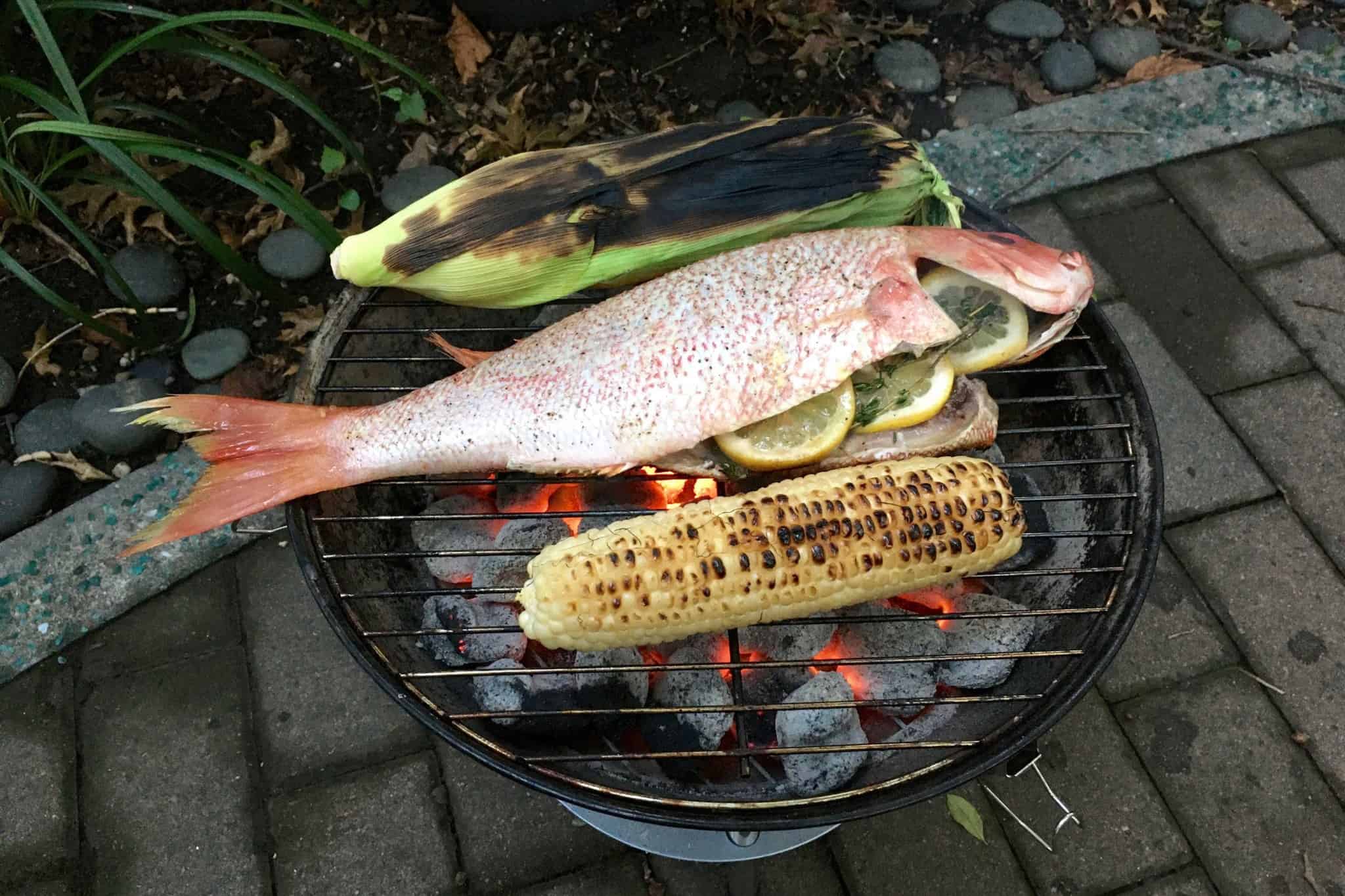 Catch of the day: I've written a new piece for InsideHook about cooking seafood (including a whole red snapper, shown above) on one of those tiny mini-kettle grills. Super-fun article to work on! You can check it out here.
• • • • •
• • • • •
Chili dog: When the Tugboat Captain and I convened on the porch yesterday evening (more about that in a minute), we found that our T-shirts were two great tastes that taste great together. Completely unplanned, I swear!
• • • • •
• • • • •
The Ticker
By Anthony Emerson


Baseball News: For the second game of Wednesday's doubleheader and also for last night's game, the Orioles wore their white home unis at Camden Yards, even though the Marlins were the designated home team for those two. The Marlins wore black jerseys with grey pants. (from Andrew Cosentino). … Rockies P Jairo Díaz normally wears No. 37, but took the mound yesterday wearing the No. 35 jersey of backup catcher Elias Díaz (from multiple readers). … There's a ton of cool Blue Jays uni notes in this article from Bluebird Banter. Highly recommended. … Egon Schiele sends along this wonderful, short podcast episode about the demise of the Pawtucket Red Sox. Another one that's highly recommended. … Bob Gassel has sent us almost an hour's worth of footage from the first All-Star/Celebrity softball game, from 1967. … A bunch of Phillies fans positioned just outside the team's ballpark annoyed Yankees skipper Aaron Boone by blowing an airhorn when Yanks P Jordan Montgomery was in his windup. … The A's apologized after bench coach Ryan Christenson, apparently trying to elbow-bump, instead made a Nazi salute and then repeated it after a player corrected him.

NFL/CFL News: Browns players have finally gotten the chance to don their new unis (from Bob Moon). … A new Broncos fashion cap from New Era misspells the team's name (from multiple readers). … The Winnipeg Blue Bombers have unveiled their Grey Cup rings (from multiple readers).

College Football News: Troy has new silver helmets. Better look here (from multiple readers). … New helmets for Charlotte. … Several Texas Longhorn marching band members say they will not perform the school's alma mater song, "The Eyes of Texas," which has long been criticized due to its connection to minstrel shows with characters in blackface (from Timmy Donahue).

Hockey News: A hockey blog has ranked all 31 home sweaters in the NHL, and reader Gregory Baker has called it "the worst ranking ever." … Here are the pads for Wisconsin G Cameron Rowe for next season (from Jerry Nitzh).

NBA News: Fanatics appears to have leaked the Spurs' 2020-21 Statement alternate. Like all of next season's Statement designs, it will have a Jordan maker's mark instead of the Nike logo. … Here's a wonderful article about a designer who's making retro-style posters for each Mavericks game this season (from Dan Kennedy). … Also posted in the soccer section: LeBron James donned a new Liverpool shirt walking to the arena in Orlando. Though he's a part-owner of Liverpool, he rarely wore Liverpool gear during the club's contract with New Balance. Now that they're with Nike, it appears he's ready to rock the red (from JohnMark Fisher). … Bad quality pic, but Lakers G Talen Horton-Tucker wears "Black Lives Matter" as his social justice message. With the NBA adding NOBs beneath uni numbers for players who have a social justice message, that makes 28 letters on his back. Wow (from Steve Kriske).

Soccer News: New kits for Premier League clubs Everton and Crystal Palace. … Sunderland of England's League One have revealed their new home kit (thanks, Jamie). … Also from Jamie, clubs in the Champions League and Europa League have been wearing "Thank You" above their club crest, in the native language of the club. … One more from Jamie: West Ham's women's team is moving to Dagenham and Redbridge's stadium, Victoria Road. … Valencia has unveiled their new kits (from Kary Klismet). … The following are all from Ed Żelaski: Hannover 96 has unveiled all three of its new kits. … Spanish side Deportivo Alavés unveiled their new home, away and third kits. … Belgian side KAA Gent have posted a teaser video of their new kit on Twitter. … Scottish side Dundee United have a purple away strip. Paul, shield your eyes. … Russian club FK Tambov have a new crest. … Cross-posted from the NBA section: LeBron James donned a new Liverpool shirt walking to the arena in Orlando. Though he's a part-owner of Liverpool, he rarely wore Liverpool gear during the club's contract with New Balance. Now that they're with Nike, it appears he's ready to rock the red (from JohnMark Fisher).

Grab Bag: Formula One has unveiled a very nice 70th-anniversary logo (from @jayappletree). … Joe Werner sends along this slideshow of the history of Valvoline Oil, as well as its packaging evolution. … The New York Times Magazine has an article about how the pandemic has impacted the fashion industry (from Tom Turner). … Also from Tom, Henrico, Va., High will retire its "Rebels" nickname. … The following are all from Kary Klismet: Military.com has a series of articles on the uniforms of all six branches of the U.S. Armed Forces. … New logo for the Trenton (Mich.) High School Trojans (from Kary Klismet). … The cities of Erving, Mass., and Liberty, S.C., both have new logos. … Gordon College has a new athletics logo, which they're annoyingly calling a "spirit mark". … The Las Cruces, N.M., school board has voted to change the name of Oñate High School to Organ Mountain High School, because the school's namesake, former Spanish colonial governor Don Juan de Oñate y Salazar, was a key figure in the genocide of indigenous Acoma Pueblo people in the late 16th century.
• • • • •
[adrotate group="2″]
• • • • •
Click to enlarge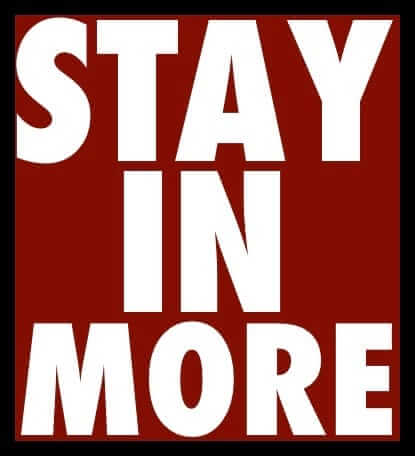 What Paul did last night: When I started the Pandemic Porch Cocktails™ project, I knew from the start that I planned to take a photo every single day. But I didn't think I'd be featuring a photo here on the site every day and writing about it — I figured I'd do that only occasionally. But the response to the first couple of PPC™ was so strong that I just kept doing it, and it soon became a daily feature of the site.
That's pretty awesome — I love it when things happen organically like that — but it's also taken up more of my personal bandwidth than I anticipated. Tossing a photo up there and writing a couple of paragraphs may not seem like much, but it takes some thought, and it's often the last thing I do every night (or, if I don't get around to it, the first thing I do the following morning), which means I'm working at a time I'd generally prefer not to be working. Obviously, nobody's forcing me to do it, and I'm certainly not looking for sympathy. I'm just explaining that it can be more of a drain than you might think, especially during a year that has more of its share of drains.
All of which brings me to this: As most of you know, I usually take a break from the site in August. I didn't do that this week, in part because the NBA and NHL were finally restarting their seasons and I wanted to see how things played out. After today, however, two things will be changing for the rest of the month:
1. Phil will be running the site on weekdays, just as he's done for for previous Augusts.
2. We will not be publishing on weekends.
Things will go back to normal on Sept. 1.
Although I won't be blogging for the next few weeks, I'll still be busy (August is when I work on my annual college football and NFL season previews), and I'll be making various cameos here on the site. But I won't be running the site on a day-to-day basis — and I also won't be producing these daily porch dispatches, which will give me a nice chance to recharge my batteries.
I'll still be taking daily PPC™ photos, though, and you'll still be able to see them here.
• • • • •
Important: If you usually scroll past the Pandemic Porch Cocktails™ section because you don't care about it, go back and read it today. Important info.
Everyone take care, stay safe, and enjoy the rest of your summer. See you in a bit. — Paul