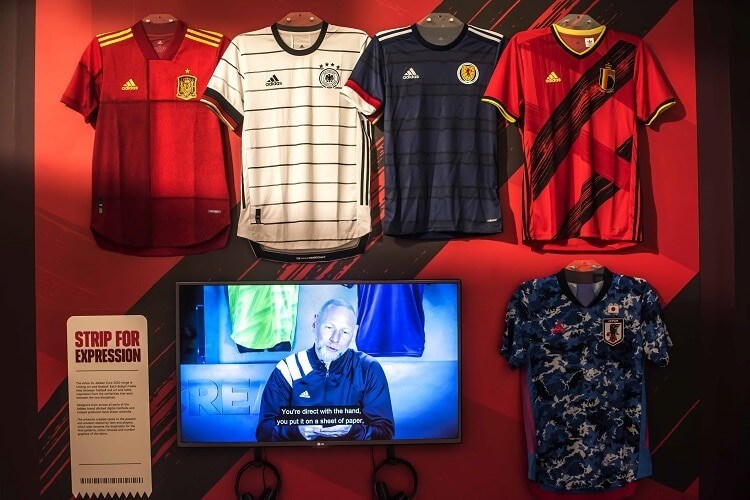 For all photos, click to enlarge
[Editor's Note: Today we have a guest entry from Mark Gillingham, who's going to tell us about a museum exhibit about soccer kits that he recently checked out. Enjoy. — PL]
By Mark Gillingham
I recently visited the National Football Museum in Manchester, England. As you'd expect, the museum has a few permanent displays involving shirts and kits (including an England shirt from the first ever international match in 1872), but they currently have an exhibit called Strip! How Football Got Shirty, which is essentially a history of football kits. It touches on all aspects of design and manufacture, but I thought there were a few parts that Uni Watch readers might be particularly interested in.
On the manufacturing side of things, there was an example of one of the first synthetic-fiber shirts to be used in an English football match, worn by Bolton Wanderers in the 1953 FA Cup Final:
It was described as being made of "man-made silk." And instead of the standard explanations we get today for materials being stronger/lighter/cooler, it was apparently beneficial because of the shimmer coming from the material, which made it easier for Bolton's players to pick each other out on the pitch. This doesn't appear to have been too successful, though — they lost the game, 4-3, to Blackpool FC.
There is also quite a lot about the commercialization of the football kit. Replica shirts are touched upon — apparently Admiral Sportswear CEO Bert Patrick gets the credit (or blame) for them:
The display also used a Manchester City shirt to note that, initially, replica kits were almost exclusively manufactured for children, but those kids then wanted adult versions when they grew up
There is also a considerable amount about shirt "sponsorship." Interestingly, this exhibit is the first time I've ever seen such companies referred to as "advertisers" in the UK, and the point of view seemed quite explicitly opposed to the idea of excessive branding on kits — maybe the curators include some Uni Watch readers!
In addition, there were numerous examples of early branded/advertised shirts on display:
I didn't take photographs of every part of the exhibit, but other sections included a collection of the 20 greatest football shirts of all time (as chosen by the curators, obviously) and a shirt Hall of Shame, which included not only perceived "bad designs" but also shirts that had been produced or designed with poor intentions, or shirts that had been breaks from tradition with negative impacts on the clubs (such as Cardiff City's ill-fated shift from blue to red as their primary color). 
For any Uni Watch readers who happen to be in the area between now and June, I'd certainly recommend a visit. The exhibit has clearly been put together by people who have their finger on the pulse when it comes to issues around football kits today, and it's an interesting way of killing an hour or two (and the rest of the museum is worth a look as well). 
To finish, I here's an image of my favorite aesthetic part of the exhibit — an extensive collection of some very '90s shirts that's an absolute feast for the eyes:
———
Paul here. Thanks for that, Mark. In addition, the museum is currently running an interactive display that allows visitors to design their own soccer shirts. Good stuff!
Also: As noted in yesterday's Ticker, the museum has been in the news lately because they had a match-worn 1991-92 Celtic shirt stolen. I'm assuming Mark didn't have anything to do with that — right, Mark?
• • • • •
• • • • •
Click to enlarge
Pats contest results reminder: In case you missed it on Thursday, the results of our Patriots-redesign contest are now available over on InsideHook. Enjoy!
• • • • •
• • • • •
Membership update: Eight new designs have been added to the membership card gallery (including Joe McGrath's New York Rangers treatment, shown at right). I expect the printed/laminated versions of these cards to ship out by next Tuesday or Wednesday.
Ordering a membership card is a good way to support Uni Watch (which, frankly, could use your support these days). And remember, a Uni Watch membership card entitles you to a 15% discount on any of the merchandise in our Teespring shop and our Naming Wrongs shop. (If you're an existing member and would like to have the discount code, email me and I'll hook you up.)
As always, you can sign up for your own custom-designed card here, you can see all the cards we've designed so far here (now more than 2,400 of them!), and you can see how we produce the cards here.
• • • • •
• • • • •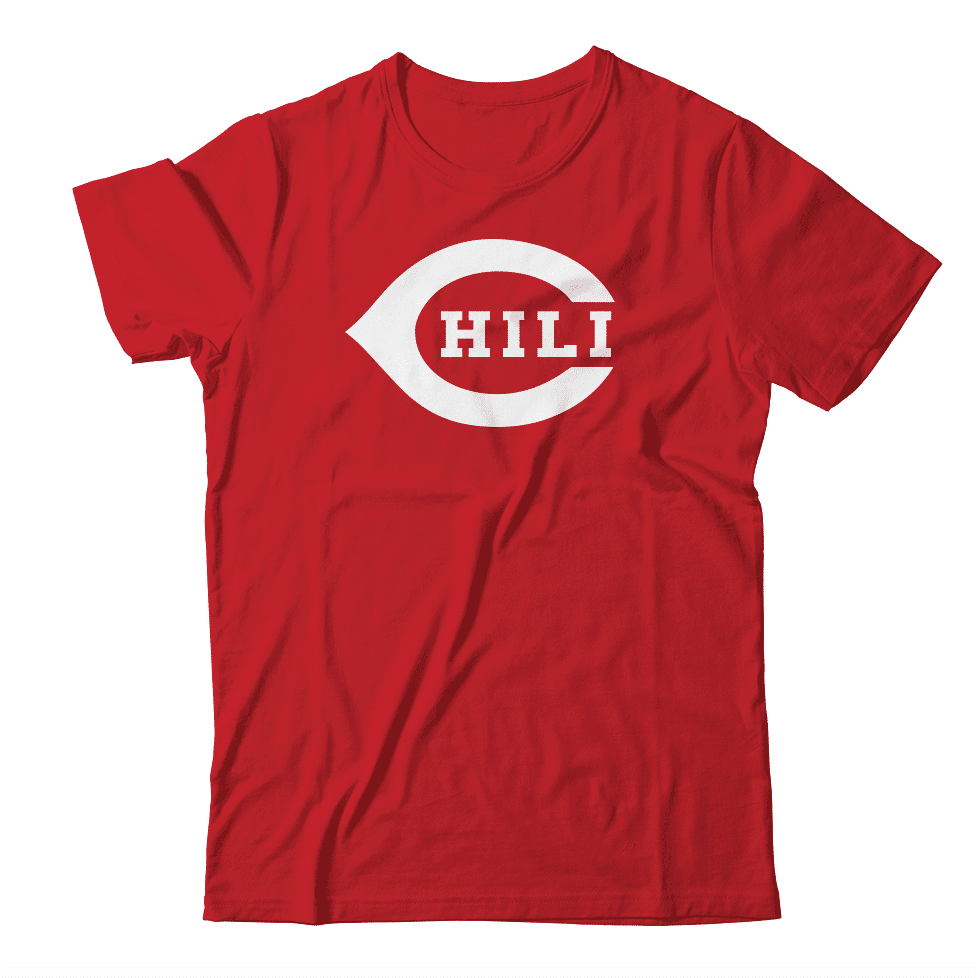 The day after: It is no longer National Chili Day (that was yesterday), but any day would be a good day for the shirt design shown above, at least hypothetically. If you agree, shoot me a note. Thanks.
• • • • •
• • • • •
The Ticker
By Anthony Emerson

Baseball News: At least one Indians player was in an old Majestic jersey during their Cactus League game yesterday (from @BraysWorld). … The Rockies have an interesting logo celebrating 25 years at Coors Field. It likely won't be worn as a patch, though (from Bryan Stelmak). … The Washington Post has a really great article on how Nats OF Michael A. Taylor breaks in a new glove. Highly recommended (from Tommy Turner and Mike Rosenberg). … Red Sox IF Chad De La Guerra has a Garciaparra-esque NOB arch (from @MopUpReliver). … The Altoona Curve, Double-A affiliates of the Pirates, will run a weekend promotion as the "Altoona Brookies" on June 19-21 (from Matthew Loudreau). … Also posted in the hoops section: Kansas City men are wearing unis inspired by the Negro Leagues' Kansas City Monarchs tonight in honor of Black History Month (from @TwinsFan54321). … Gorgeous new away jerseys for Wartburg College (from Romelle Slaughter II).

NFL News: Packers blog The Packers Wire is having a contest to design the Pack's new alternate uni. … I don't think I'll ever get used to seeing the "Las Vegas Raiders" on a wordmark (from Austin Meo). … A bunch of people were upset when country singer Garth Brooks posted a picture of himself in a Lions Barry Sanders jersey, because they thought the "SANDERS 20" jersey was an endorsement of Presidential candidate Bernie Sanders. Maybe if Garth hadn't picked up the ugly gray jersey that Barry Sanders never wore they might've gotten it (from multiple readers). … The last time the Bucs redesigned their uniforms, the "unveiling" was simply an internet announcement. This time they'll have a proper live event.

Hockey News: Golden Knights G Robin Lehner very subtly changed his pad design following his trade from the Blackhawks to Vegas earlier this week (from @illisconsin). … The AHL's Ontario Reign wore these sweaters for First Responders Night yesterday (from Jakob Fox).

Hoops News: Reader Ian Brekke noticed that the Pelicans seemed to have lowered the striping on their Mardi Gras jerseys, apparently so that players' NOBs no longer overlapped with the stripes. … Cross-posted from the baseball section: Kansas City men are wearing unis inspired by the Negro Leagues' Kansas City Monarchs tonight in honor of Black History Month (from @TwinsFan54321). … Good article about the new wave of college basketball court designs (from Timmy Donahue).

Soccer News: After Manchester United ST Odion Ighalo scored a goal during United's match against Club Brugge, he lifted up his jersey to reveal his undershirt, which had a photo of his sister who recently passed away (from Josh Hinton). … Also from Josh: Wolves wore their charity's logo instead of their betting advertisement during their Europa League match against Espanyol in Spain. … In honor of their 10th season, the Portland Timbers tweeted an extremely cool animation of every kit in their history (from @bryant_rf and @GDH415). … USL Championship side North Carolina FC have unveiled their new kits. Note the club's badge was changed to match the color scheme of their advertiser (from John Flory). … The Columbus Crew are getting a new jersey advertiser. I doubt any Uni Watch readers will partake in this, but the Crew are offering fans who purchased the new jersey without the ad the ability to add the advertisement for free (from multiple readers). … A whole bunch of Canadian Premier League kits were revealed yesterday: Hamilton Forge, York 9 FC, Winnipeg Valour, Pacific FC, Halifax Wanderers, Cavalry FC, and FC Edmonton. I really wish the CPL threaded those tweets together! (from Wade Heidt). … New York Cosmos, now playing in the National Independent Soccer Association, have unveiled their new home kit (from Ed Żelaski). … NWSL side Washington Spirit have teased their new shirt (thanks, Jamie). … Here's a ranking of the new MLS jerseys.

Grab Bag: A carnival float in Spain featured people dressed in Nazi uniforms. … New logo for Giant supermarkets. … Auto maker Kia will have a new logo soon. … Can you identify these original car logos?
• • • • •
• • • • •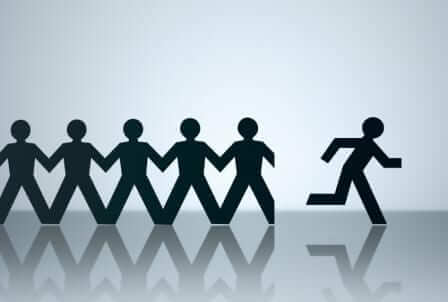 Emancipation Day: Tomorrow, Feb. 29 (Leap Day!), is the 24th anniversary of the day I walked out of my office at Billboard Books for the final time and began life as a full-time freelance writer. I'd been freelancing on the side for a little over two years and decided it was time to take the plunge. Giving up a stable job was a bit scary, but I had to give it a try, because I wasn't happy with my life or career up to that point and knew I needed to make changes or else I wouldn't be able to keep facing myself in the mirror each morning.
The flip side to the flexibility I've enjoyed since then, of course, is a lack of security — a point that was driven home rather forcefully last year. But despite all that tumult, I have no regrets about the path I've chosen. Despite a few rocky moments, in the big picture it's worked out better than I ever could have imagined, in part because of of the wonderful and supportive comm-uni-ty that's formed around this website. On a nearly daily basis, you folks make it clear to me that I made the right choice two dozen years ago.
As I like to remind people each year on this date — and also remind myself — the moral of the story is this: If you want to change your life or reinvent yourself, don't just sit around fantasizing about it — make it happen. Even if it doesn't work out, at least you won't spend the rest of your life wondering about what might have been.
When I've run this item in past years, some of you have gotten in touch and said something like, "That's really inspiring. I'd like to reinvent myself too, but where do I start?" The biggest thing, I'd say, is to have a sense of direction. It's one thing to know that you want to make changes to your life; it's another to know what you want those changes to be. In my case, I had come to realize that I needed to live a creative life in general and be a writer in particular. I wasn't sure I could be successful at it, but I at least needed to try.
Of course, maybe you already like your life just fine the way it is, in which case more power to you! Either way, thanks for listening, and have a great weekend. — Paul