Ever since the Reds announced their massive 150th-anniversary throwback program last fall, I've had yesterday's game, featuring Cincy's 1956 road unis, circled on my calendar.
That's not because the '56 road greys are my favorites (that distinction goes to the 1936 design with the red pants, which they wore on June 30). No, the reason I've been particularly interested in the '56 design is that it's the only uni in this year's throwback program that falls within the Kluszewski era, and that raised some intriguing possibilities.
To explain: Ted Kluszewski was a slugging first baseman who played for the Reds from 1947 through 1957. He was known for his bulging biceps, which he often accentuated by cutting the sleeves off of his jerseys and undershirts. So when the Reds wore vest jerseys, as they did for Big Klu's final two years with the team, all of the players were sleeveless, but Kluszewski was really sleeveless.
As it happens, there are lots of photos of him going bare-armed in the uniform that the Reds were wearing yesterday (for most of these, you can click to enlarge):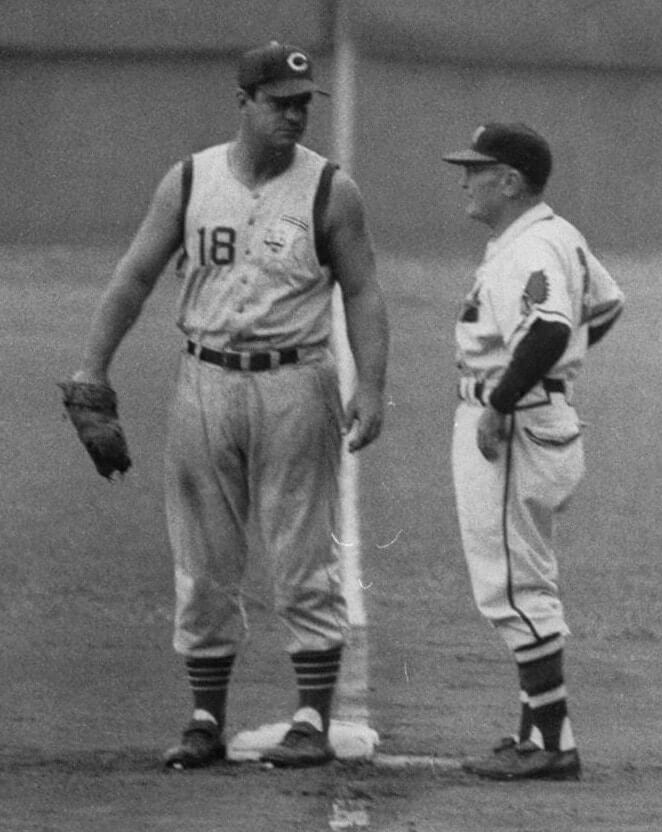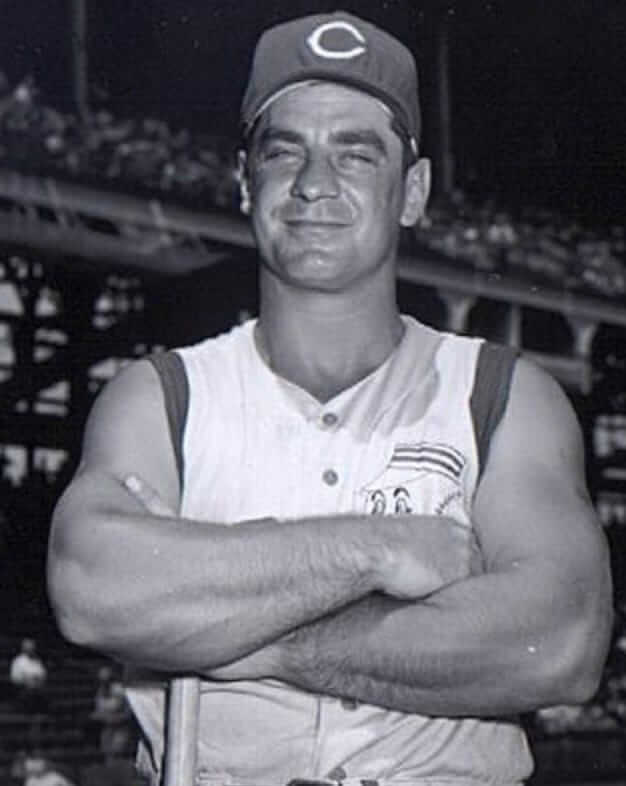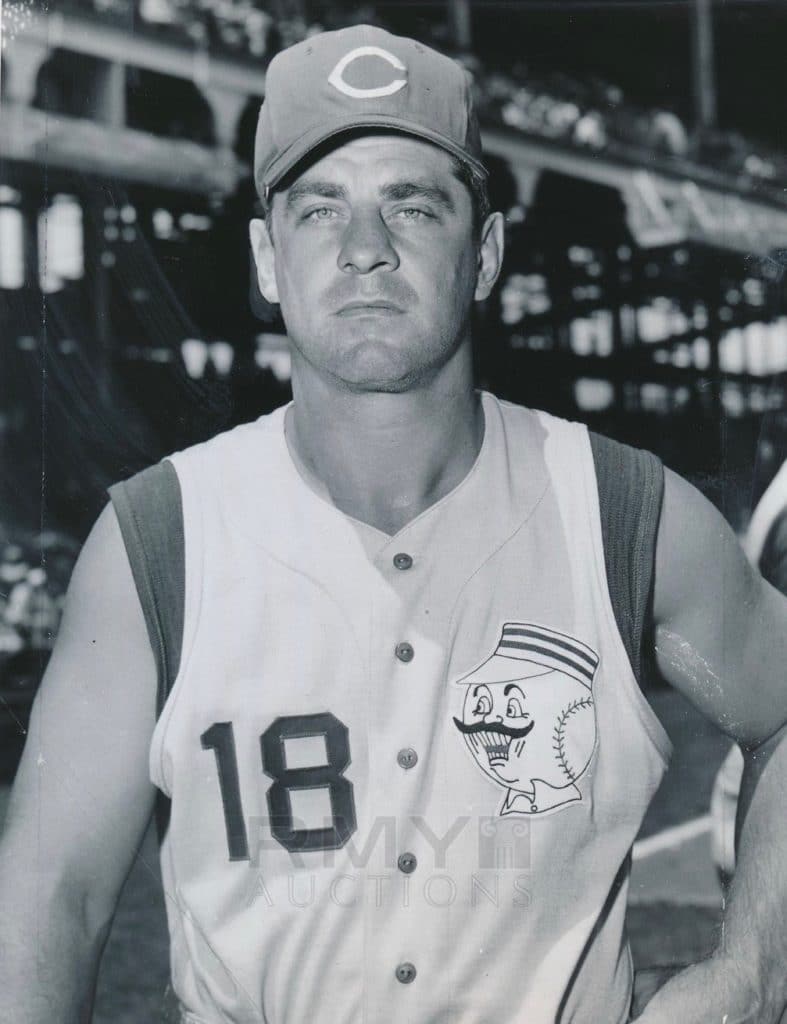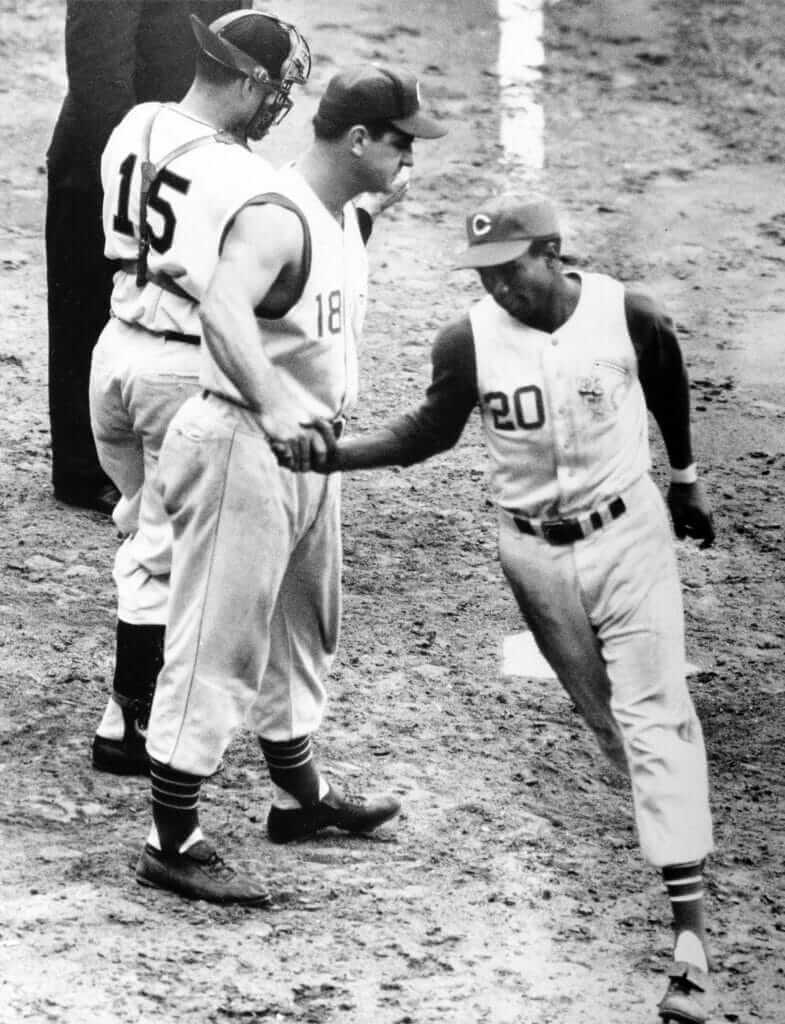 It was a unique look. To my knowledge, no other big leaguer ever went this route with his uniform.
The Reds have their own slugging first baseman today, of course — Joey Votto. (Okay, so he's not the offensive force he once was, but still.) So for months I was looking forward to yesterday's game and wondering if Votto would honor the Reds' heritage by going bare-armed à la Big Klu.
So did he or didn't he? Yup, he did — take a look (for all of yesterday's game pics, you can click to enlarge):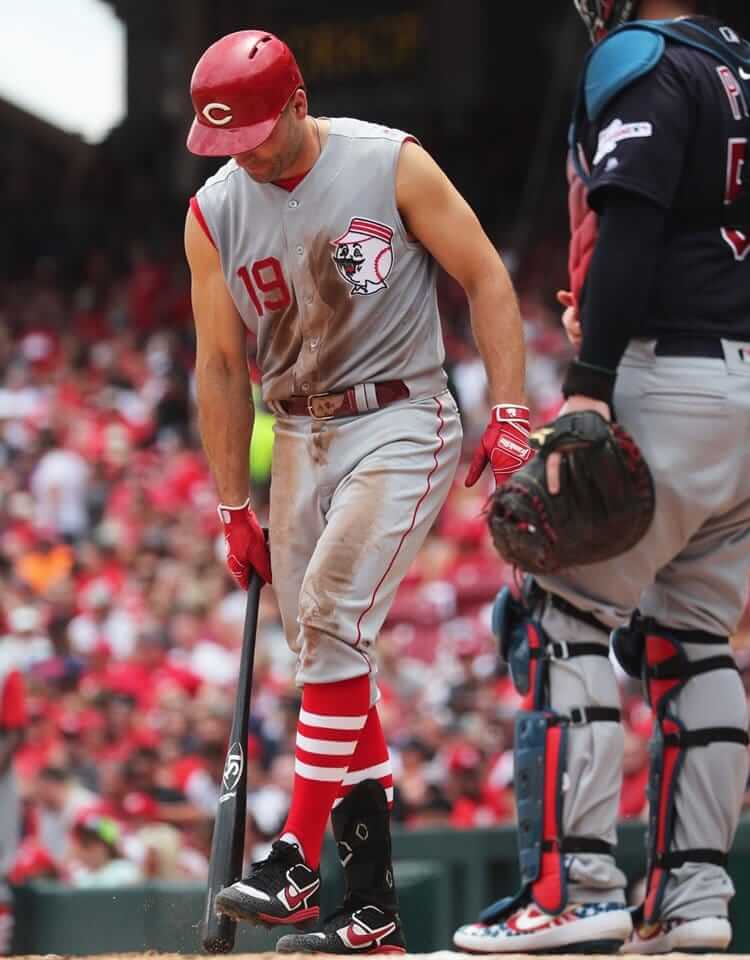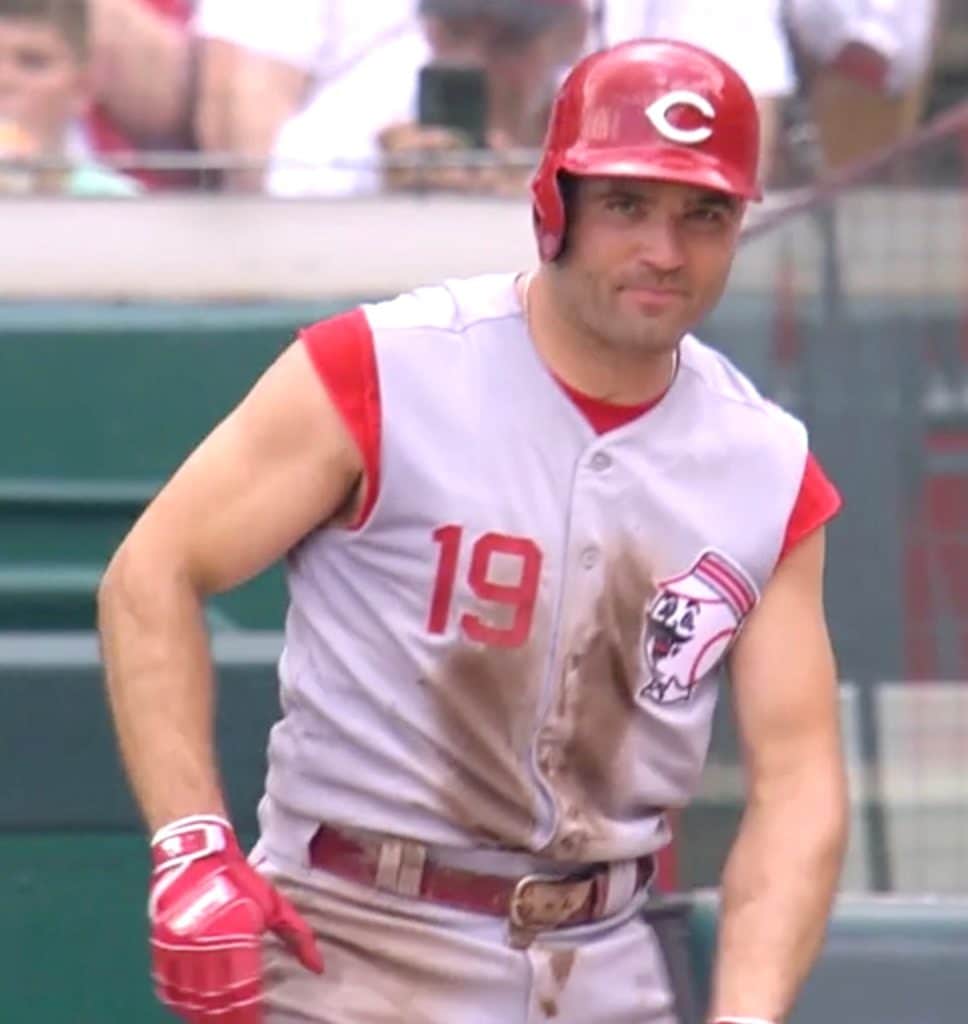 Good job, Joey! But here's the thing — it didn't occur to me that other Reds besides Votto would choose to go bare-armed yesterday. As it turned out, the fully sleeveless look was more the rule than the exception: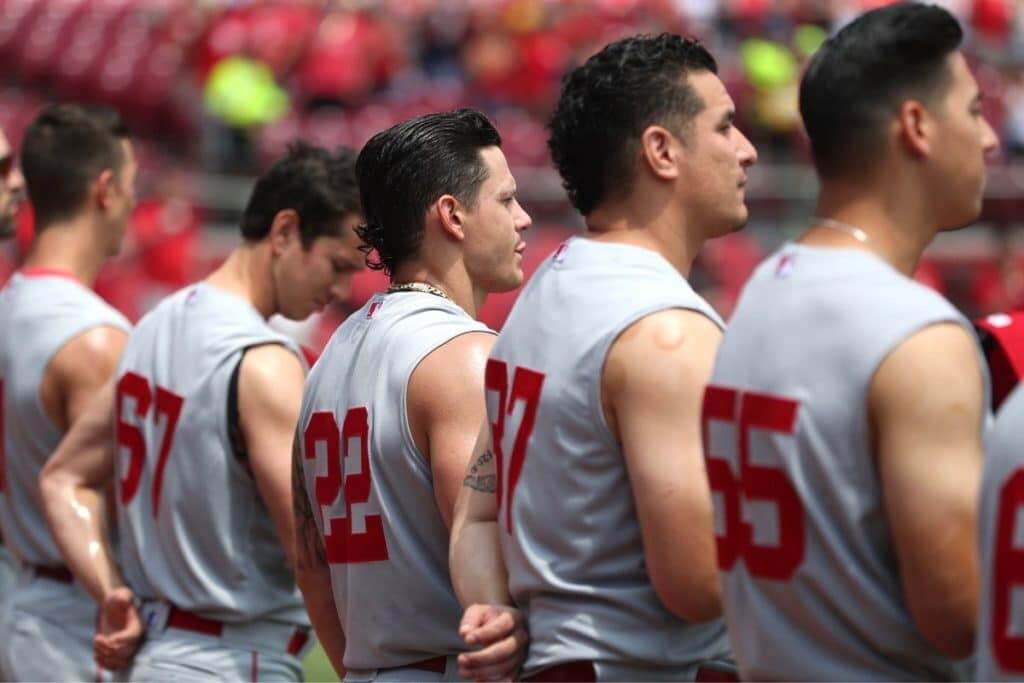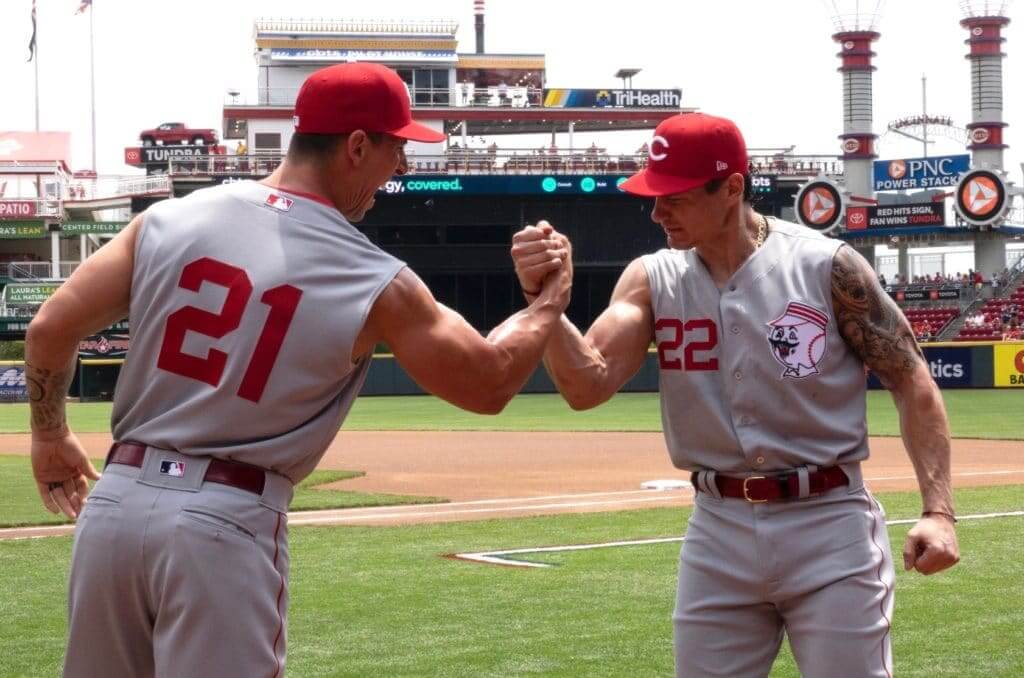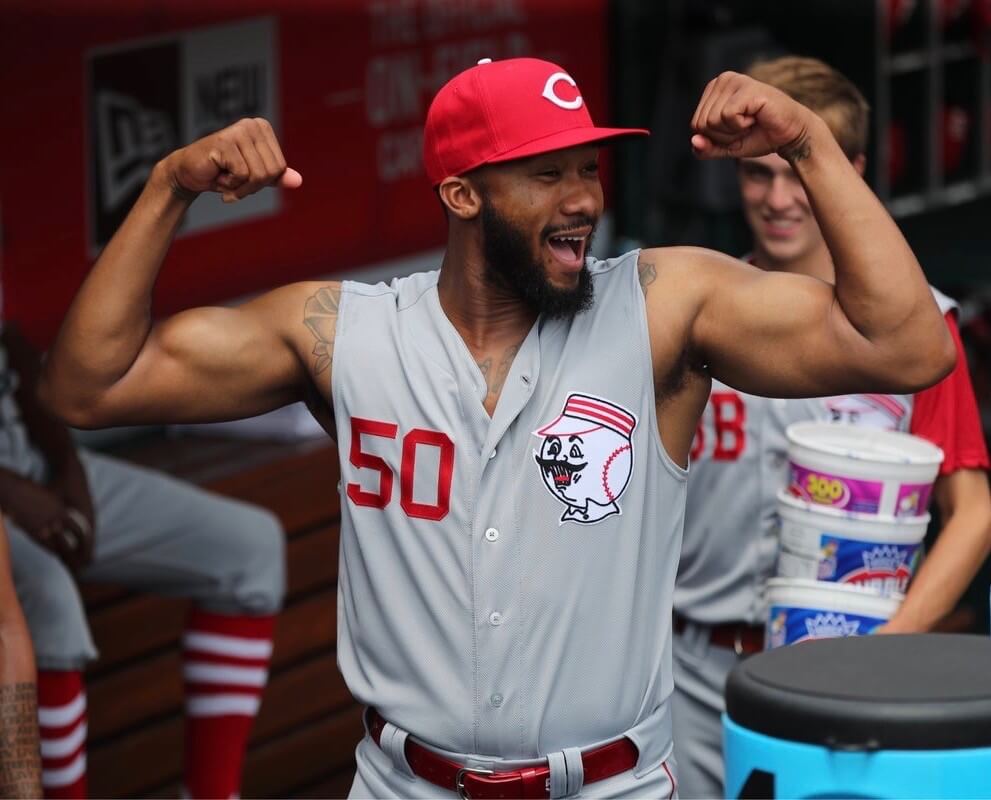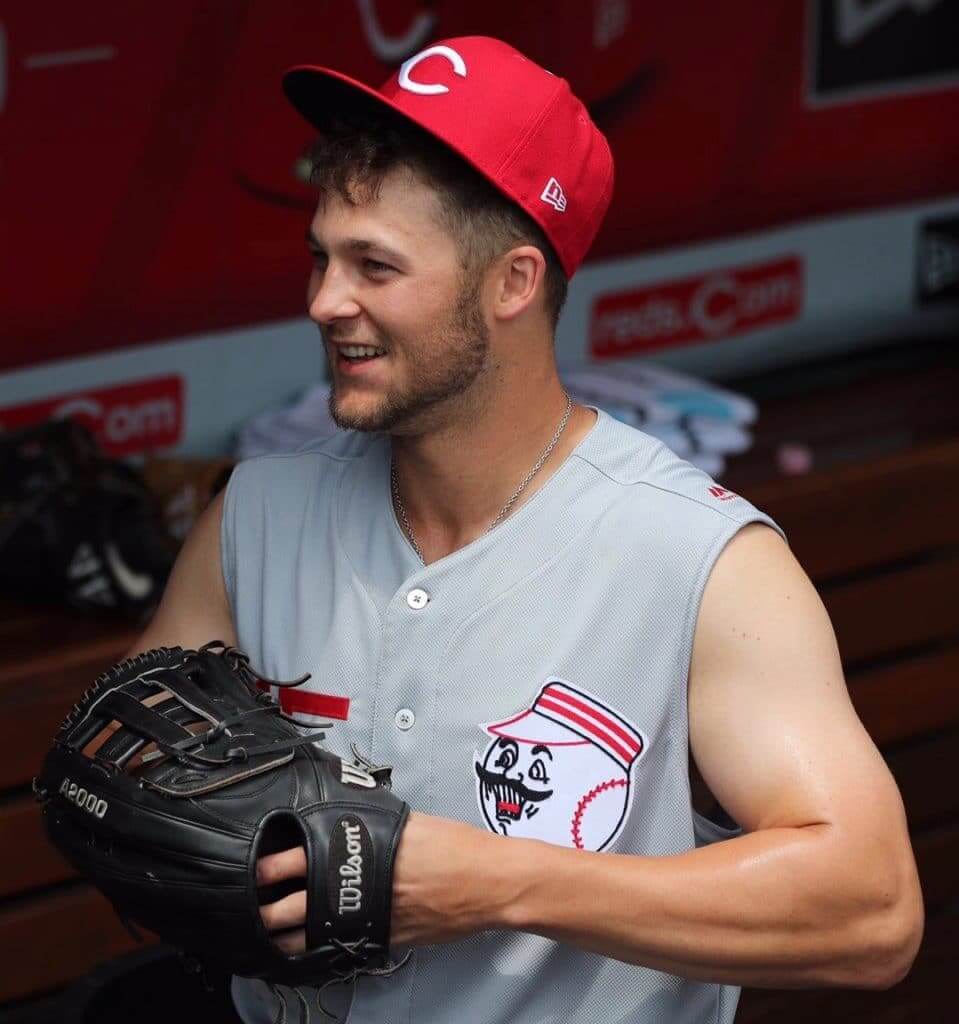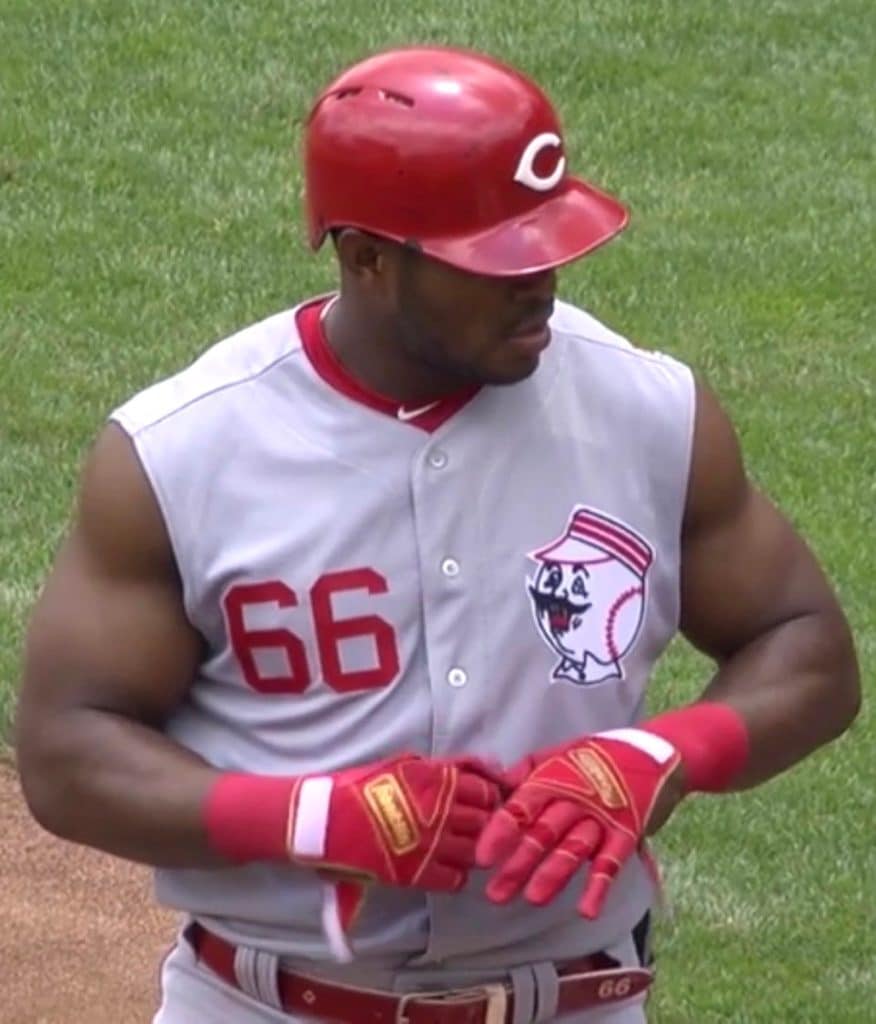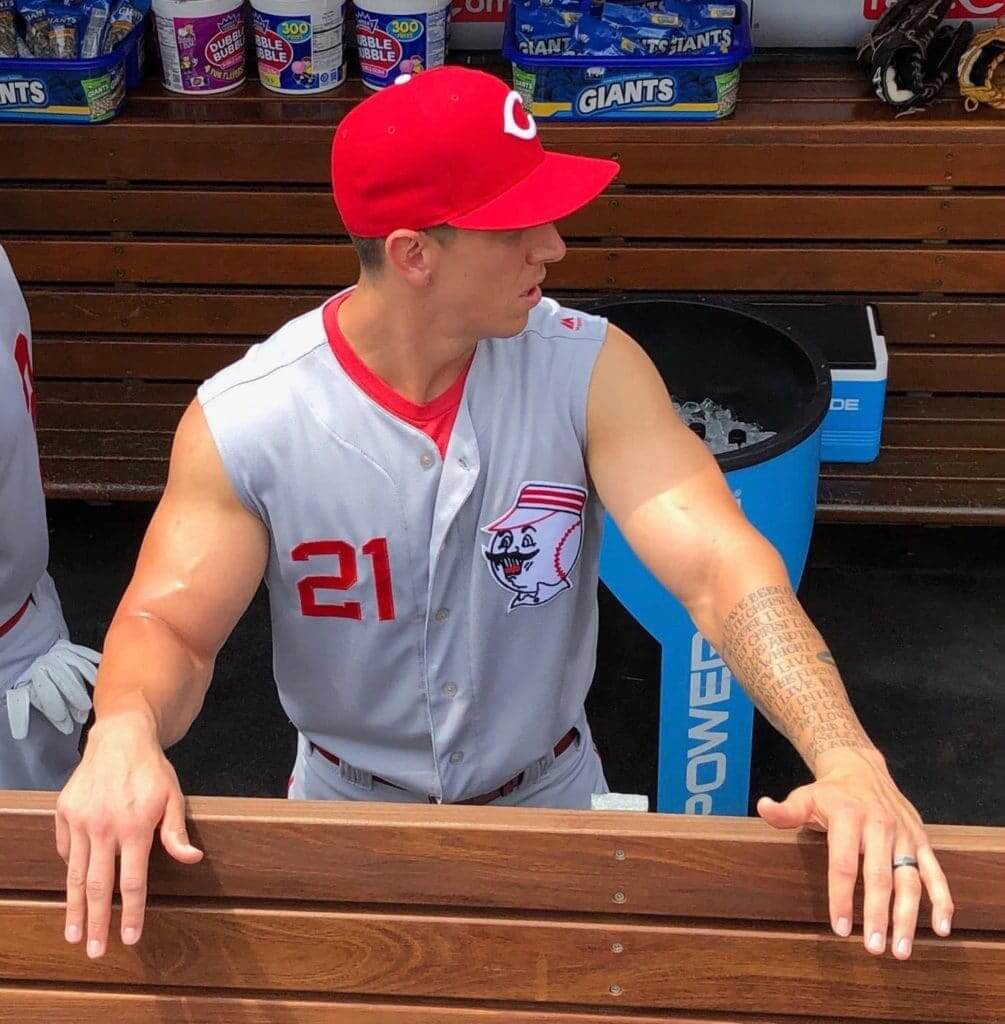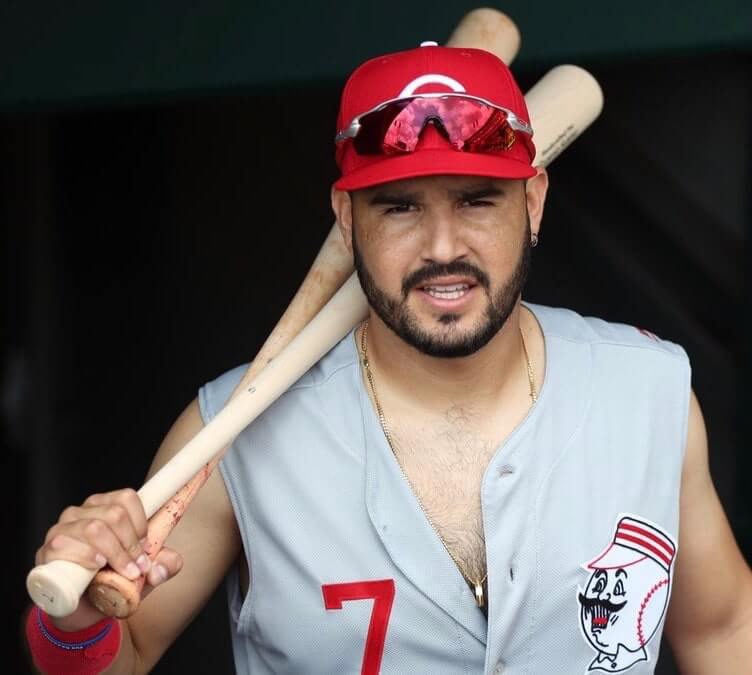 I have to admit, I didn't anticipate this mass display of exhibitionism. As is so often the case, the gesture seems a bit less special when it's repeated so many times, but it was a fun move by the Cincy players.
Still, some players pulled it off better than others. Note that some Reds wore undershirts with the sleeves completely cut off (not bad), while others dispensed with their undershirts altogether (ewww), but only Votto really captured the quintessence of Kluszewski by leaving his undersleeves barely visible (nicely done!).
A few other notes about yesterday's throwbacks:
• If you look at those old pics of Big Klu, you can see that the Reds' original vest jerseys were tailored very narrow across the shoulders, with large armholes. But the Reds (or maybe just Majestic) took the lazy approach with yesterday's throwbacks, using regular jersey tailoring — wide across the shoulders — but without the sleeves. Booooo! The Cubs and A's have done this the right way in recent years, so there's really no excuse.
• The original 1956 stirrups had pencil-thin stripes, but yesterday's throwback stirrups had much thicker stripes — double-boooo! Here's a comparison: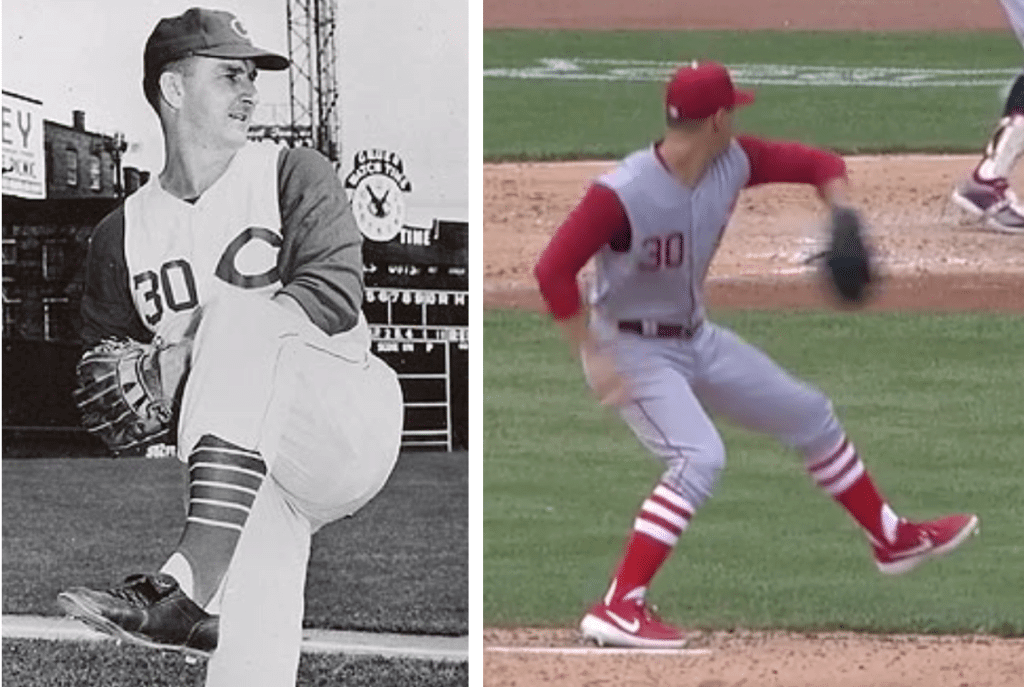 • Reds pitcher Jimmy Herget, perhaps overcompensating for his bare-armed teammates, wore two undershirts: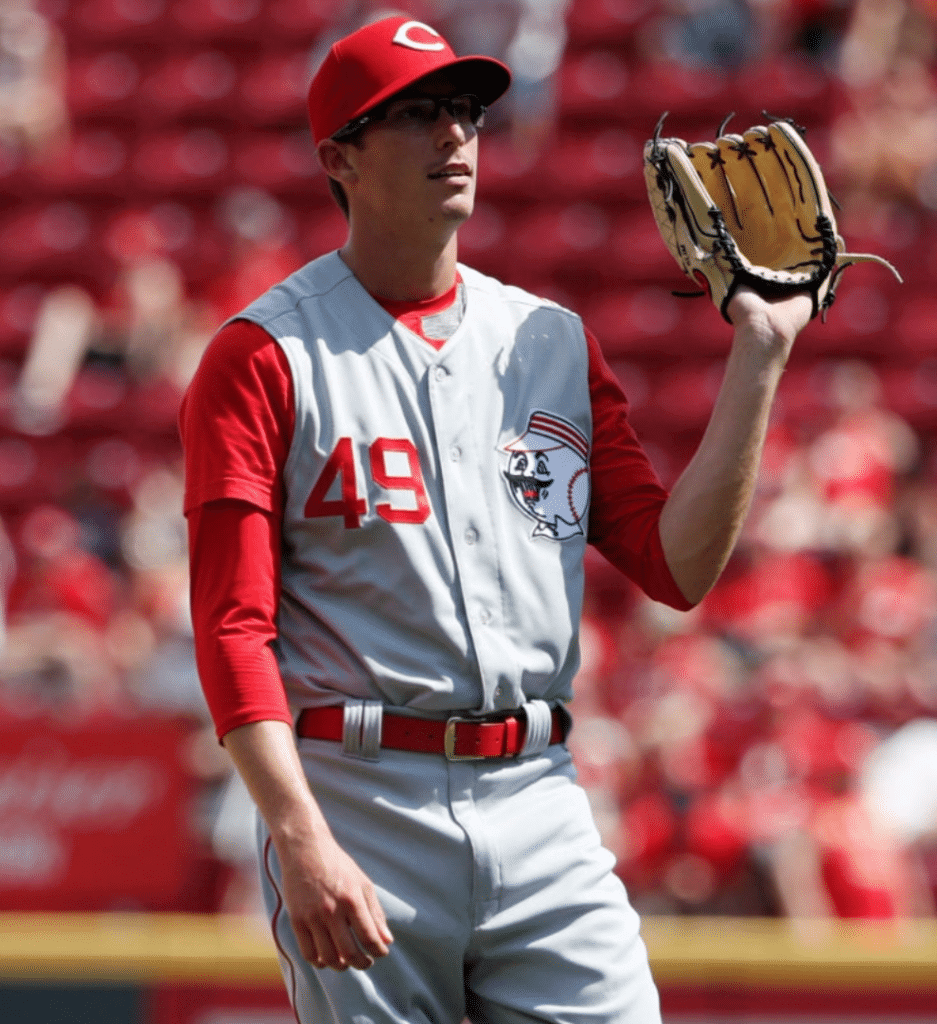 • The Reds' current road pants match the 1956 design. So did they get new throwback pants or just use their current road pants? Answer: The current pants. How can you tell? The MLB logos on the jersey and pants didn't match: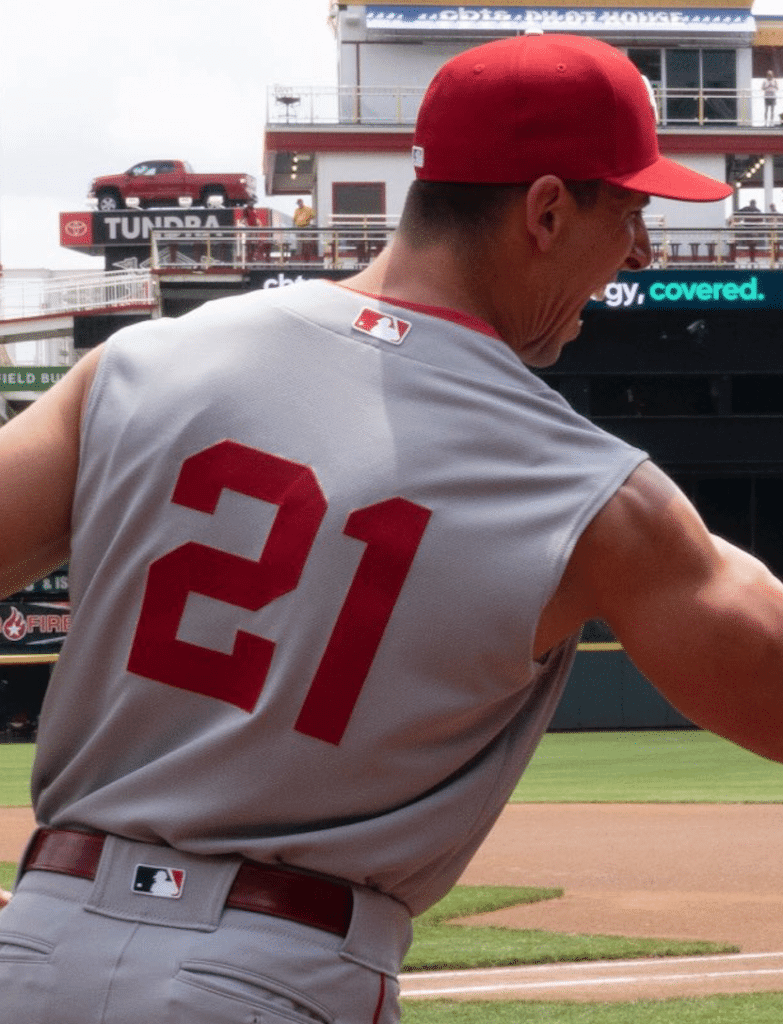 This was the eighth of the Reds' 15 throwbacks for this season, so they've now passed halfway point. Next up: the 1961 pinstriped vest, which they'll wear on July 21. Here's hoping they don't go bare-armed for that game, since Big Klu was no longer with the Reds in 1961, so the look would be more gratuitous than historically accurate.
(Thanks to David Sonny for catching the mismatched MLB logos.)
• • • • •
• • • • •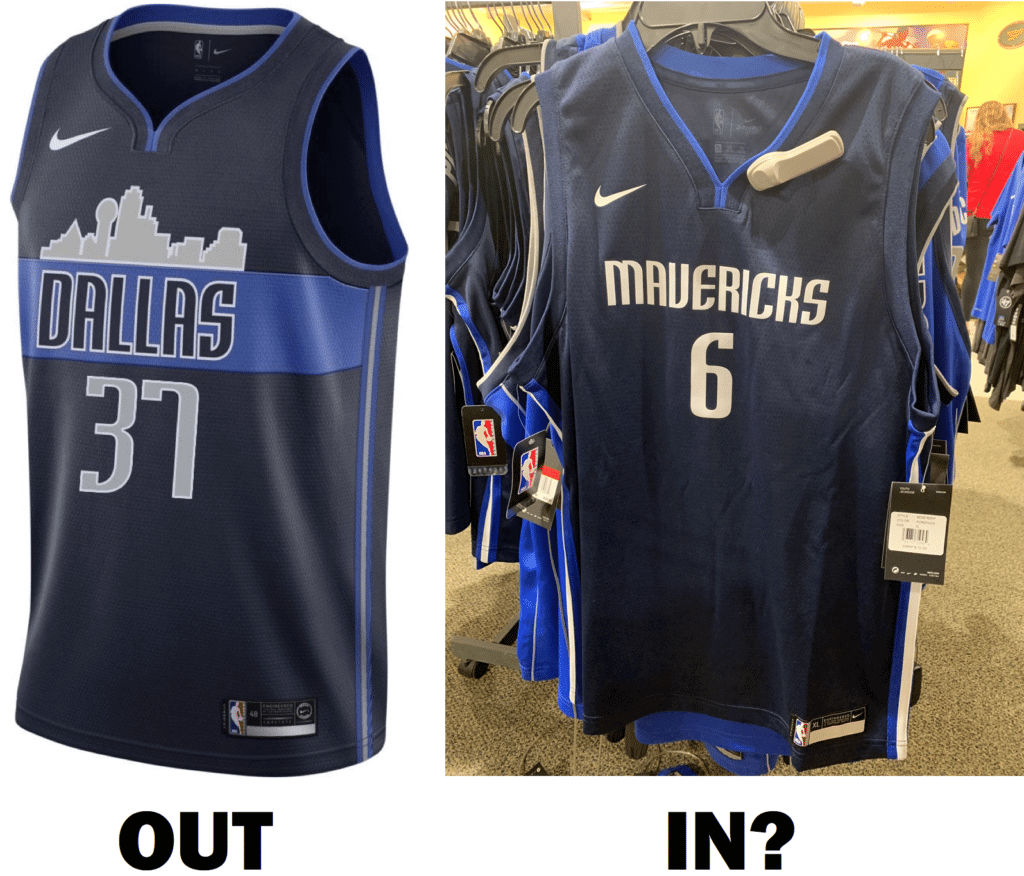 Click to enlarge
New NBA leak?: The Mavs are getting a new Statement alternate this season, and multiple sources suggest that it's probably the very lackluster design shown above, which was spotted at a Dallas-area Dick's. Man, what a downgrade.
• • • • •
• • • • •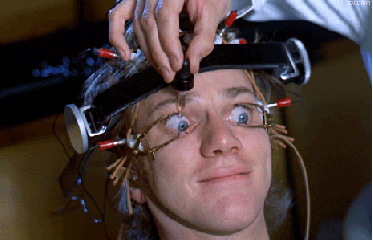 Can't look away: In the fall of 1985, I worked the Monday-night proofreading shift at my college newspaper. On one particular Monday night that November, I was waiting outside my apartment for the bus to take me to campus when I suddenly realized I'd forgotten my Walkman (which was essential for getting through those long proofreading shifts). So I ran back to my apartment and headed toward my bedroom to retrieve the Walkman. As I walked through the living room, where my housemates were watching Monday Night Football, I glanced at the TV so I could see the play that was in progress.
That was the play that ended Joe Theismann's career.
I ended up missing the bus. In fact, I missed several buses and was late for my shift, because I sat there gawking along with my housemates as we watched the replays and tried to process what had just happened to Theismann's right leg. It was horrific, but we couldn't look away.
I mention all of this for two reasons. First, it's a good story (if I hadn't forgotten my Walkman, I would have missed one of the iconic sports moments of the 1980s). But more importantly, The New York Times Magazine has a piece this week about why we watch and rewatch injury footage. Interesting stuff — recommended.
• • • • •
• • • • •
Uni-versary patch reminder: Traffic has been low over the past several days, so you may have missed the news that the Uni Watch 20th-anniversary logo is now available as an embroidered patch. The patch was made for us by Stitches, the same shop that does all the sewing for the Mets, Yankees, and Islanders. It measures four inches across and is suitable for sewing onto a jersey or jacket, or just for displaying.
The price is $9.99, plus $1 for shipping (or $2 for shipping outside the USA). To order, send payment to me via Venmo (use @Paul-Lukas-2 as the payee), Zelle (plukas64@gmail.com), or Cash App (plukas64@gmail.com). If you want to use Apple Pay or a paper check, or if you're outside the USA and can only use PayPal, shoot me a note and I'll fill you in.
Once you send payment, be sure to send me your shipping address so I can send the patch on its way to you. Thanks!
And as long as we're talking patches, don't forget the wonderful chain-stitched patches that are handmade for us by master embroiderer Amy Bengtson:
These measure about six inches high and wide. They cost $35 (80% of which goes to Amy), and that price includes shipping. Same payment methods as for the uni-versary patch, okay? Okay!
• • • • •
• • • • •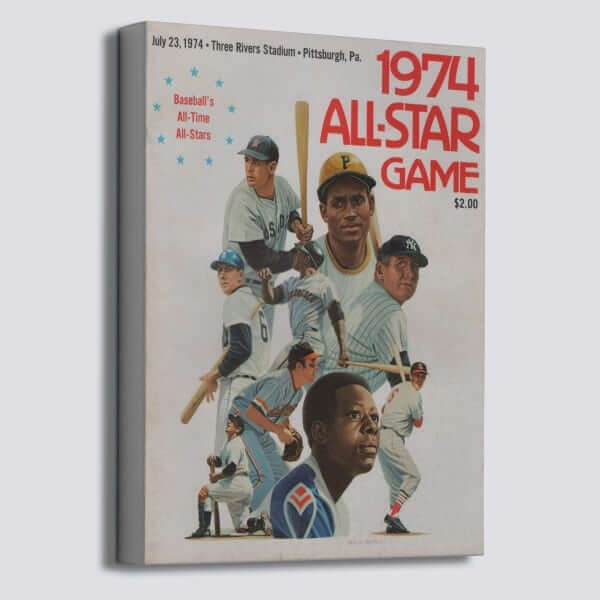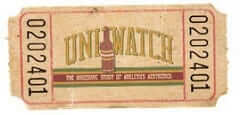 ITEM! New raffle: Our friends at Vintage Brand are once again letting a lucky Uni Watch reader choose anything from their broad range of retro-minded offerings. With the MLB All-Star Game taking place tomorrow night, this 1974 ASG program cover canvas would be a good choice, or maybe this 1961 ASG cutting board, or anything else. Your choice does not have to be ASG-related!
To enter, send an email to the raffle address by this Thursday, July 11, 8pm Eastern. One entry per person. I'll announce the winner on Friday. Good luck!
• • • • •
• • • • •
Click to enlarge
Meet the Contributors — Ed Zelaski: Welcome to another round of "Meet the Contributors," as I continue to showcase Ticker contributors who have specific niches. Today's featured contributor is Ed Zelaski, who's probably our second-most-prolific source of soccer items (after Josh Hinton, who we profiled a few weeks ago). I'll let Ed — who's shown above, with his cat, Felix — tell his own story:
I'm a 31-year-old lawyer in Cleveland. I've been following the Uni Watch website for probably around seven-ish years. When I first started reading, I was nervous to submit items. Now, I read the website, comments and Twitter feed. I want to buy a membership card; I just can't decide on a design.

I've always been interested in uniforms. I remember as a kid being very interested in the designs and how the teams looked. At the mall I'd ask my parents to go through the sports apparel section at stores just so I could look at uniforms (I was a weird child). In middle school I would design uniforms for the different soccer teams I liked. I played FIFA 2000 a bunch when I was younger, and would always edit the team uniforms.

I primarily follow soccer leagues in the U.S., Poland, Germany, and Scotland. I collect soccer shirts, and I try to focus on Central and Eastern Europe, so that also gets a lot of my attention. Most of my Twitter feed will have uniform-related things from those regions, so my contributions are just things I'm seeing when I check tweets. A the game has gotten more popular, I've paid more attention to smaller leagues, and the internet makes it so much easier to do that too.

I don't really think of myself as "one of the Uni Watch soccer guys." I enjoy the community, and I like submitting things. The soccer world is so big and there are a lot of teams doing really creative things with their uniforms, especially in the lower leagues here in the U.S. I just enjoy sharing that with other Uni Watch readers. There's so much toxicity on the internet, so it's nice to get a break from that and enjoy the Uni Watch community.
Thanks, Ed — both for sharing your story and for all your great Ticker submissions!
We'll have another round of "Meet the Contributors" in the next week or so.
• • • • •
• • • • •

Bengals contest reminder: In case you missed it last week, I'm teaming up with Sports Illustrated for a Bengals-redesign contest. Full details here.
• • • • •
• • • • •
The Ticker
By Jamie Rathjen

Baseball News: Reds CF Nick Senzel slid into first base on Saturday and somehow ended up with Cleveland 1B Carlos Santana's sunglasses (from Mike Chamernik). … Paul stumbled across a picture of Dodgers RF Darryl Strawberry wearing teammate Orel Hershiser's jersey. Twitter-er @williamnyy23 tells us that the picture was taken on the day of Hershiser's return from shoulder surgery in May 1991, so Strawberry was saluting his return. … Also from Paul: Braves 3B coach Ron Washington wears his cap under his helmet. That used to be common among players, of course, but Paul says he's never seen a base coach doing it before … Angels CF Mike Trout added a Tyler Skaggs memorial pin to his cap on Friday (from Joanna Zweip). … Nationals SS Carter Kieboom had his name misspelled on his jersey and locker nameplate at the All-Star Futures Game. Kieboom later got a corrected jersey (from multiple readers). … Current Phillies executive Charlie Manuel was the AL bench coach at the Futures Game and wore a Phillies logo on his jersey and Phillies pants (also from multiple readers). … MLB Network broadcaster Sean Casey was also an AL coach, but had a Reds patch on his jersey, perhaps because he spent the most time there as a player (from @Clevelove1). … Mariners pitching prospect Justin Dunn has a silver glove featuring the name of T'Challa, from the movie Black Panther and other Marvel comic books (from Alex Shirley).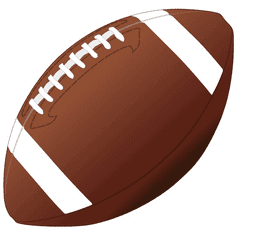 Football News: Reprinted from Saturday's comments: the Saskachewan Roughriders' mascot, Gainer the Gopher, received a new look this season, including green eyes. Fans complained about the makeover, but especially the green eyes, which were replaced with the previous black eyes this weekend (from Wade Heidt). … More CFL from Wade: because of the league's new one-shell rule, the Calgary Stampeders wore traditional red helmets on the road for the first time in several years, while Toronto wore light blue socks with dark blue jerseys and pants, having worn dark blue socks for their first home game. Also, the three Saskatchewan-born players on the Blues — centers Brayden Schenn and Tyler Bozak and winger Jaden Schwartz — brought the Stanley Cup to this weekend's Roughriders game. They were wearing Blues sweaters, but took them off to reveal Riders jerseys with their names and numbers.

Hockey News: Cross-posted from football: The three Saskatchewan-born players on the Blues — centers Brayden Schenn and Tyler Bozak and winger Jaden Schwartz — brought the Stanley Cup to this weekend's Roughriders game. They were wearing Blues sweaters, but took them off to reveal Riders jerseys with their names and numbers (from Wade Heidt).

Basketball News: Here is an apparent Hornets prototype that never made it onto the court. Chad Sealine spotted it at the 3:22 mark of this video. … Warriors executive Joe Lacob says that the team plans to retire SG Andre Iguodala's number (thanks, Brinke). … Numbers for NBA draft picks and free agents include No. 15 for Grizzlies PF Brandon Clarke and No. 3 for teammate Grayson Allen, No. 11 for Nets PG Kyrie Irving and No. 7 for teammate Kevin Durant, No. 12 for Hawks SF De'Andre Hunter and No. 24 for teammate Bruno Fernando, No. 31 for Bulls PG Tomáš Satoranský, No. 1 for Pacers SF T.J. Warren and No. 26 for teammate Jeremy Lamb, No. 4 for Wizards PG Isaiah Thomas and No. 15 for teammate Moritz Wagner, and No. 0 for Kings SF Trevor Ariza (all from Etienne Catalan).

Soccer News: The USWNT lifted the World Cup in shirts that had "Champions 19" on the back, their normal numbers on the front, and for now a golden fourth star above the first three. The star arrangement may not be permanent; JohnMark Fisher points out that in 2015, the three stars were arranged in a triangle for the post-World Cup victory tour, but were put in a row afterwards. The goalies also received yellow shirts for the celebration, even though they wore black during the game. … New kits or shirts, among numerous other releases over the past few days, for Dutch second-tier team NEC Nijmegen and Mexican team Pachuca (from Josh Hinton). … Polish team ŁKS Łódź revealed a new logo (from Ed Żelaski). … Also, Scottish Premiership team Kilmarnock revealed a a 150th-anniversary first shirt and a second shirt; the first shirt is solid blue instead of the usual blue and white stripes, which moves to third choice. A second kit for league-mates Hamilton Academical and a first kit for Scottish League One's Peterhead (in blue) debuted during preseason games. … Germany's women's top tier, the Frauen-Bundesliga, has a new ball and title advertiser. … The Chicago Sun-Times asked Fire midfielder Jeremiah Gutjahr about the story behind his No. 33 (from Mike Chamernik). … USL Championship team Loudoun United's naming-rights ad (WaPo link) for their new stadium in Leesburg, Va., is to be announced today (also from Josh Hinton). … The second-tier women's team at English club Millwall, who formerly went by "Millwall Lionesses," changed their name to the convoluted and somewhat meaningless "London City Lionesses."

Grab Bag: Australia's cricket team revealed the name/number font to be worn in August and September's Ashes series in England. While numbers and NOBs are coming to Test cricket for the first time in its 142-year history — they're already used in the other forms of cricket and at domestic level — they won't be visible if players are wearing sweaters (from Ben Searle). … Wales revealed their Rugby World Cup kits. No ads are allowed at the tournament, so there is an ad-free World Cup version with a giant tournament logo patch and another version with ads. … Cycling's governing body, the UCI, reintroduced a maximum sock height this year. As a result, somebody from the organization was at Stage 2 of the Tour de France measuring the riders' socks (from @CeeDeeFive). … In cycling, the rider given No. 13 for a race traditionally wears one of their two numbers upside down, with the entire dossard turned upside down. At this year's Tour de France, the numbers appear to have both been printed upside-down for Bora-Hansgrohe's Marcus Burghardt, so the name and ad are still right-side up. During time trials, where riders only wear one number, the one number is upside down (from Tom Flanagan and Mark Smith). … A new Japanese TV show called No Side Game has the protagonist become the general manager of his fictional company's rugby union team, Tokiwa RFC. The club, nicknamed the Astros, has its own primary and alternate logos, a shirt, and a scarf (from Jeremy Brahm). … Here's how to build a beach volleyball court at a non-beach site (from Jeremy Brahm).