For all photos, click to enlarge
Meet Eric Schwartzman, a tax accountant who lives in Queens. Like a lot of people, he collects ticket stubs. But they're not all from games he attended. Schwartzman, who recently got in touch with me when I said I was looking for people with unusual collections, has a very specific stub-collecting niche:
As you can see there, Schwartzman specializes tickets dated June 12, which happens to be his birthday (he just turned 55 last week). So his collection is sort of a "a day in the life" — his life.
I'd never heard of anything like this before. I saved all the ticket stubs from events I attended as a kid, but those stubs were essentially souvenirs from my lived experience. Schwartzman's tickets are souvenirs from other people's experiences — which just happened to take place on his birthday.
Schwartzman says he's never heard of anyone else who collects birthday-specific tickets either, although he says there's a robust scene of collectors who covet stubs from games they didn't attend. "I know people who collect tickets from games where their favorite players hit home runs," he says. "Some people collect Derek Jeter hits, that kind of thing. But I haven't seen anyone else who collects their birthday."
Schwartzman looks for tickets on sites like eBay. His goal is simple: to have at least one June 12 ticket for every year he's been alive (he often has multiples, especially for the more recent years). He's currently missing 1964 — the year he was born — 1967, 1968, 1983, and 2006. "Occasionally, if I haven't found the June 12th yet, I'll buy the June 11th or 13th." He says most of the tickets cost less than $10 and that the most he's ever paid was $35, for a Shea Stadium stub from June 12, 1966.
Schwartzman posts photos of the tickets on Instagram and uses the hashtag #June12baseball. He also keeps track of everything on a spreadsheet. Yellow indicates a year for which he hasn't yet gotten a ticket, and blue indicates a June 11 or 13 placeholder ticket:
Schwartzman started collecting June 12 tickets three or four years ago. "I think it was something about measuring my life," he says. "It gave me context, helps me understand where I fit into the larger picture." He reaches for a ticket from the mass of stubs spread out on the table in front of us. "Here's one from 1979, when I turned 15. Okay, what was I doing then? I was a punk-ass kid riding my bike around, because I couldn't drive yet. I was still a newspaper boy, I was working in a supermarket. Here's one from the 1990s — marriage, kids. It makes you think about your life. I enjoy that part of it."
Schwartzman attended his first ballgame in 1972, when he was eight years old, but not on his birthday. He didn't attend a game on June 12 until 1980, when he turned 16, but he wasn't a ticket collector at that point and no longer has the stub (although his spreadsheet indicates that he's acquired three other June 12 tickets from that year). Nowadays, he prefers to spend his birthday at a ballgame whenever possible. Often he makes it part of a birthday vacation — this year, for example, he was in Kansas City.
Along the way, he's noticed certain things about the June 12 tickets. "For teams on the east coast, the games on June 12 are usually game 29, 30 or 31 for that season," he says. "For west coast teams, it's usually a higher number, I guess because they front-load the schedule for the warm-weather teams."
As you'd expect for a guy of his generation, Schwartzman has some fairly predictable ticket preferences: He hates paper tickets, digital tickets, and tickets with bar codes; he likes the old-school cardstock tickets he grew up with. "The older stubs seem more artful," he says. "The new ones do have some amazing photographs, but I just like the older ones better." He also prefers tickets that have been torn, not just scanned. "When it's torn, it feels like it's been used. For the newer ones, I don't even know if the person went to the game."
Schwartzman's collection appeals to me on a few different levels. First, I like oddball collections and the collectors who collect them. But I'm also very fond of birthdays — my own or anyone else's. Just seeing my birthday, March 21, in print or hearing someone say it out loud makes me happy. Does Schwartzman feel similarly?
"Yes, I certainly get a kick out of seeing my birthday over and over as part of this project," he says. "Every time I get another ticket, it's almost like I'm getting myself another birthday present."
Isn't that nice? You can see more of Scwartzman's tickets here.
While we're at it, Schwartzman has two other projects worth mentioning. First, he has a "Ballpark Chaser" jersey featuring patches for all of the MLB ballparks he's been to. Each time he visits a new stadium, he adds a new patch: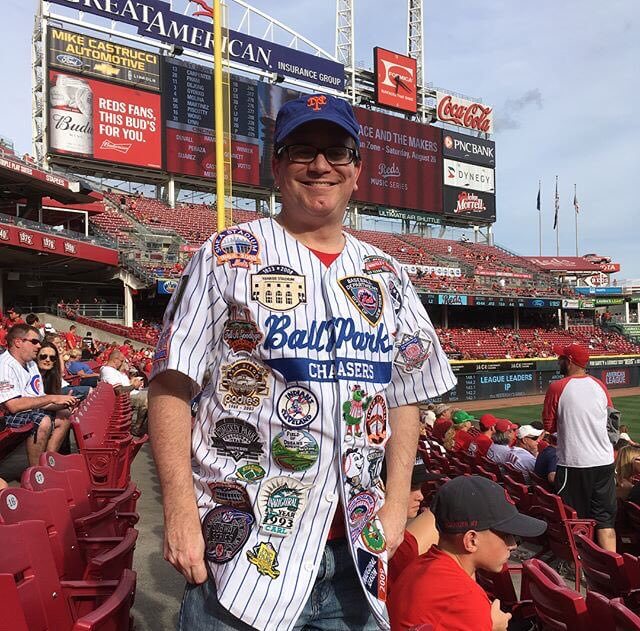 Also: For the past few years, Scwartzman has had an unusual Instagram project called MLBCapsinNYC, which is pretty much what it sounds like: He goes around New York photographing people wearing MLB team caps. On Opening Day, he took off from work just to go to several baseball bars and take photos.
"Sometimes people say, 'What are you doing? Don't take my picture,' things like that," he says. "Sometimes I'll go up to them beforehand and ask if it's okay. I'll give them my card, and that usually gives me a bit more validity, like I'm not just some crackpot."
Big thanks to Eric for sharing his collections and projects with us — good stuff.
• • • • •
• • • • •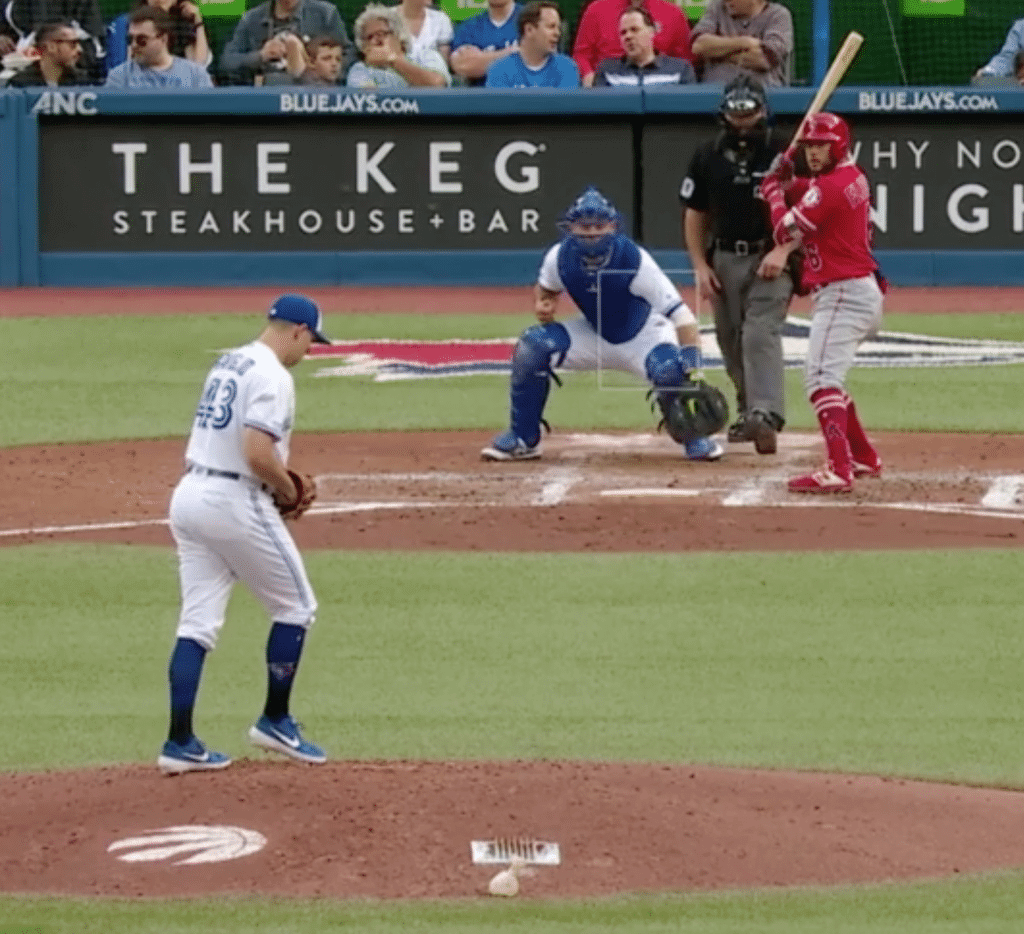 Click to enlarge
Winner's circle: Interesting cross-sport move last night in Toronto, where the Blue Jays joined the Raptors' title celebration by putting the new NBA champs' logo on the back of the Skydome mound. Has a cross-sport team logo ever appeared on an MLB mound before? I'm thinking it probably has, but I can't recall any specific examples. Anyone..?
There was no immediate word on whether the Jays will now be sued by Monster Energy.
(My thanks to Cino Commisso for bringing this one to my attention.)
• • • • •
• • • • •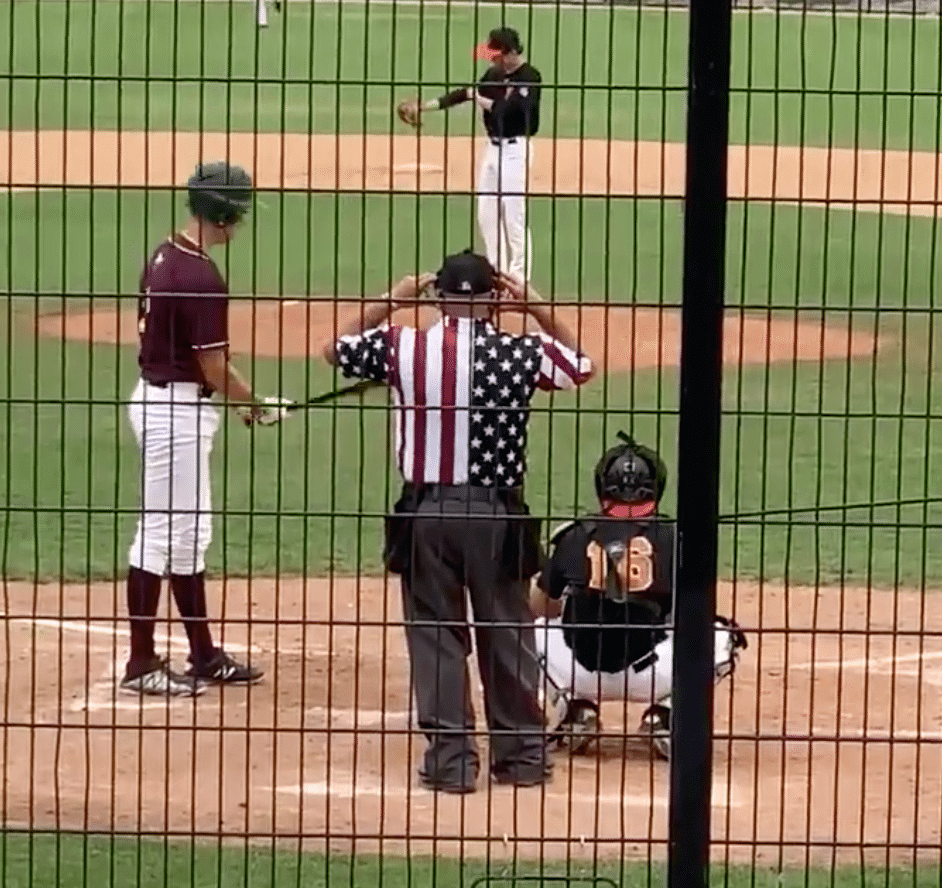 Click to enlarge
"Come on, blue — er, red, white, and blue": Historically, the baseball umpire has usually been the most formally dressed person at the ballpark. Nineteenth-century umps wore top hat and tails (a uniform still used for vintage "base ball" games), and umps wore blue suits for most of the 20th century.
More recently, umping attire has undergone a casual Friday-ization, to the point where we've now reached — well, you can see for yourself in the screen shot shown above, which is from a California high school state championship playoff game that was played on Sunday. Yikes!
(My thanks to Al Gruwell for bringing this one to my attention.)
• • • • •
• • • • •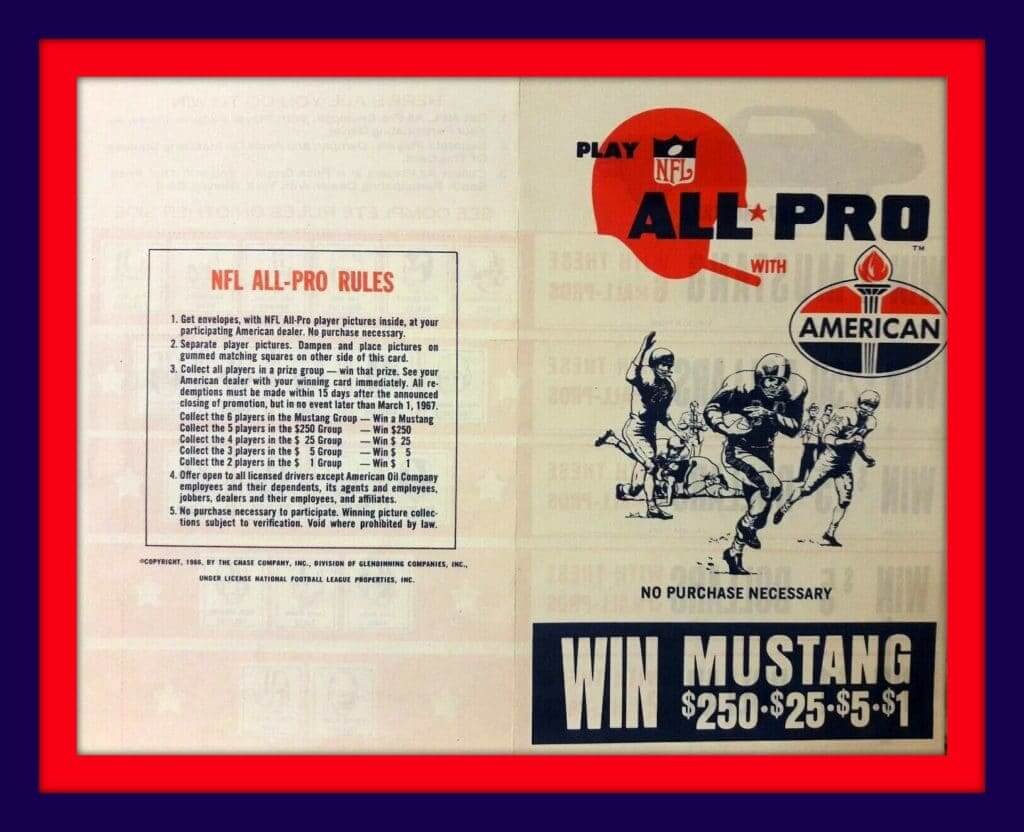 Collector's Corner
By Brinke Guthrie
Follow @brinkeguthrie
Check this one out! This was a 1966 American Oil promotion to win a 1967 Mustang. (Yes, that's Doc from The Love Boat without his glasses.) I guess at each fill-up, you'd get some player stamps and stick 'em on this sheet: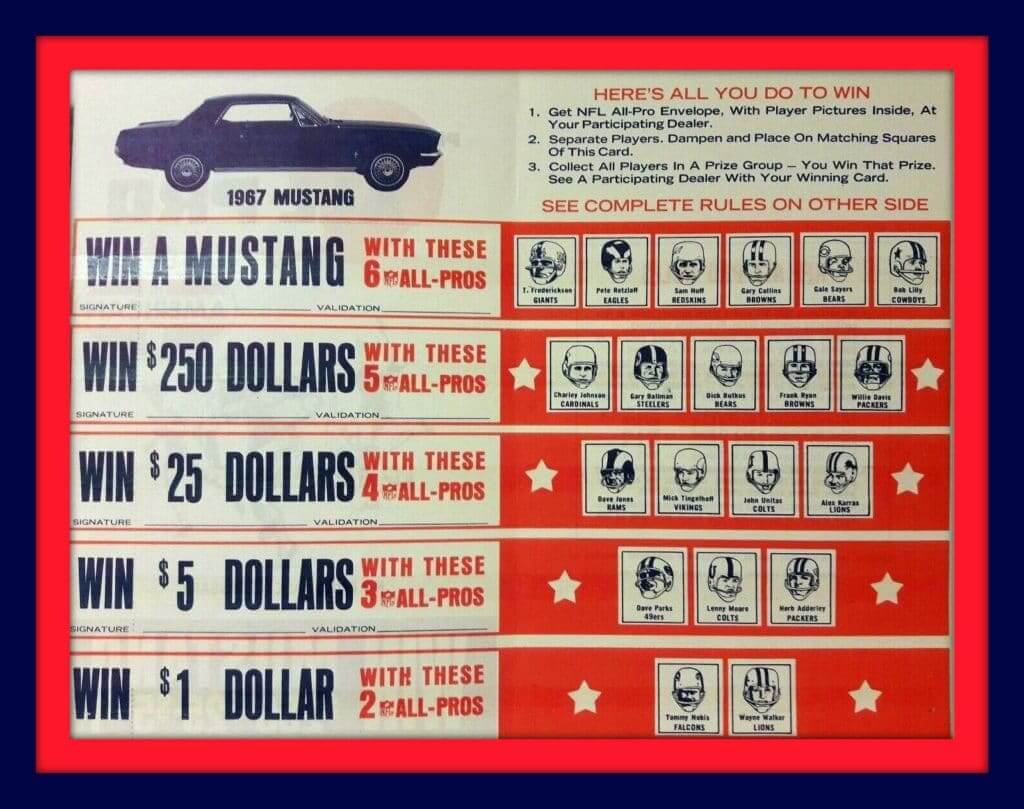 Fill out that row, get that prize. I'd guess that the Tommy Nobis and Wayne Walker stamps (win $1) were more prevalent than the six players you needed for the Mustang!
Now for the rest of this week's picks:
• Partie D'Étoiles! This pin commemorates the 1982 All Star Game held at Olympic Stadium, won by the National League 4-1. Everyone who'd like to see an expansion team return to Montreal with this team name and logo, raise your hands. (Further reading: Todd Radom's definitive assessment of that logo.)
• Got some more pins here — one for the 1959 A.L. Champion White Sox, one for the Chicago Blackhawks that didn't quite get the artwork right, and one for the 1940s Cincinnati Red Legs. Big pin set here, too.
• Did you collect these coins? Topps included these in their baseball card packs back in 1971 — this is coin No. 22 for Frank Howard, his last season in DC before the Senators moved to Texas.
• Here is the classic (1971) look of the Cowboys blue jersey, as shown on this Staubach No. 12 jersey from Mitchell & Ness.
• Luv Ya Blue! Here is a matching set of Oilers buttons. But wait! One is a pin, and the other is a magnet. Officially licensed, of course.
• These "ringer" tube socks are for the SF Giants, but the seller has other MLB and NFL teams.
• Someone made a custom Saints 1969 helmet buggy, complete with the ill-fated black helmet.
• Great 1960s Mets pennant that also features the Statue of Liberty.
• Nice-looking helmets on this mid-1970s pack of NFL playing cards.
Seen an item on eBay that would be good for Collector's Corner? Send any submissions here.
• • • • •
• • • • •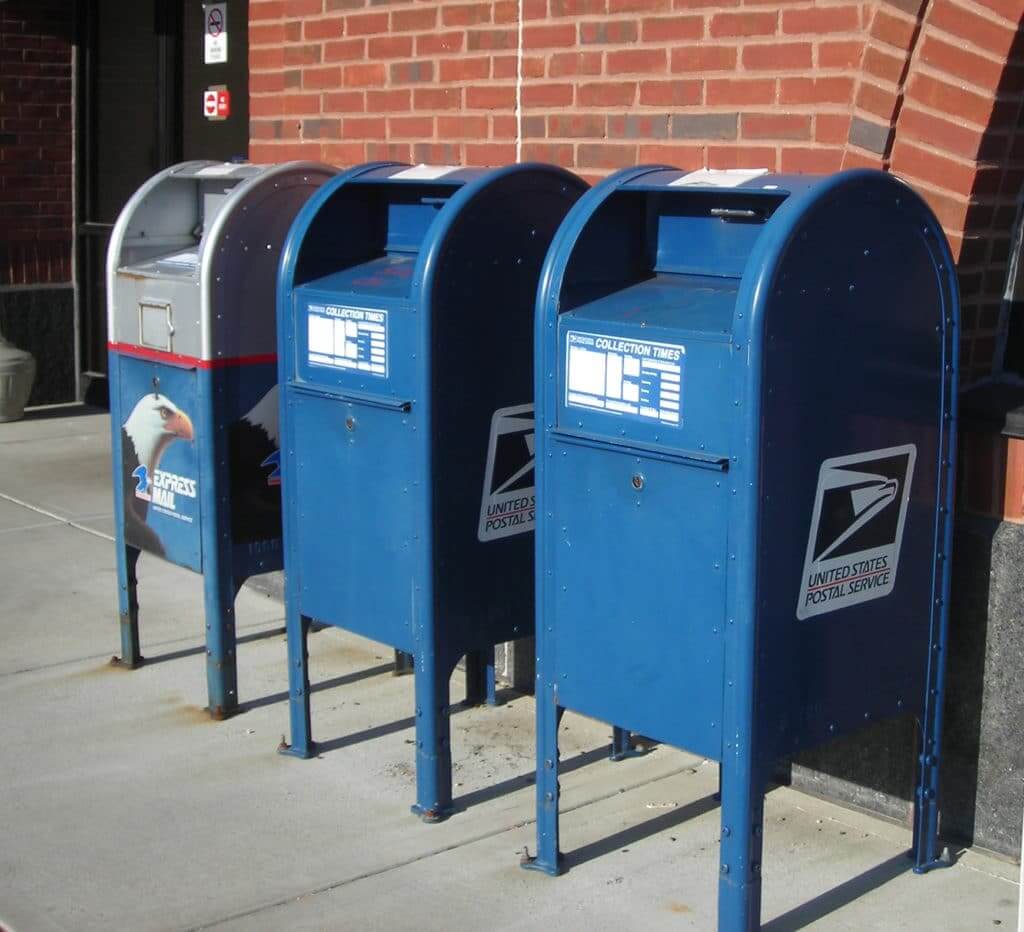 ITEM! Mailbox story update: I recently mentioned that I was working on an article about USPS mailbox design. The article is for the excellent tech site Gizmodo (it will run as part of their design section, which is often less tech-y), and it's now available for your enjoyment.
• • • • •
• • • • •
Click to enlarge
KRC update: The latest installment of Key Ring Chronicles is about a leather "E" and three links of chain. Check it out here.
• • • • •
• • • • •
Membership update: A new batch of designs has been added to the membership card gallery. That includes Robert Kahn's card, which is based on the 1973 Baltimore Bullets, complete with the lowercase FiNOB. Great design request by Robert — as is so often the case, the worst uniforms make the best membership cards.
Ordering a membership card is a good way to support Uni Watch (which, quite frankly, could use your support these days). And remember, a Uni Watch membership card entitles you to a 15% discount on any of the merchandise in our Teespring shop and our Naming Wrongs shop. (If you're an existing member and would like to have the discount code, email me.) As always, you can sign up for your own custom-designed card here, you can see all the cards we've designed so far here, and you can see how we produce the cards here.
• • • • •
• • • • •
The Ticker
By Alex Hider

Baseball News: The clip-on tie phenomenon on Father's Day also extended to the minors, where Rochester Red Wings C Willians Astudillo had the clip-on (from Shane). … Speaking of Father's Day, the Florence Freedom of the unaffiliated Frontier League went all-out (off?) by wearing "Dad bod" jerseys — basically, a photo of a shirtless man's hairy chest (thanks to all who shared). … The scoreboard at Busch Stadium was using the Marlins' outdated logo yesterday (from Matt Gurnow). … Yankees 1B Luke Voit was still wearing his Father's Day batting gloves last night (from @swampfyr181). … The Royals are wearing Kansas City Monarchs throwbacks on Sunday, and they'll apparently have batting helmets to go with the uniforms (from Alex Manners). … Here's one we missed over the weekend: The Twins wore this sleeve patch on Saturday for Joe Mauer's number retirement ceremony (from F.K. Yaaj). … These are the jerseys for the Midwest League All-Star Game, which will take place in South Bend this season (from Grayson Woods). … The Triple-A Buffalo Bisons are giving away Game of Thrones banners at an upcoming game (from Matt Wilcott). … The Potomac Nationals, a Washington Class-A affiliate, is giving away an Indiana Jones-themed Stephen Strasburg bobblehead on June 22. … Golfer Chez Reavie was wearing the Diamondbacks logo on his cap at the US Open on Sunday. He's been wearing the logo off and on for about 10 years (from Douglas Ford). … Auburn uni guru Clint Richardson has a brief history of the Tigers' use of camo caps. … Reader Brian got a blue MLB Father's Day cap from his family on Sunday and noted that New Era neglected to finish sewing the eyelets on the crown. They made sure to include the maker's mark, though. … The A's introduced recent first round draft pick Logan Davidson, who was wearing home pants, a green alternate jersey, and a road cap (from Richard Paloma). … The Single-A Boise Hawks appear to have a player with an upside-down "2" on the back of his jersey (from Joshua Leonard).

NFL News: Game balls for the upcoming season will apparently include the NFL 100 logo (from Johnny O). … The Broncos will wear a "Mr. B" memorial decal on their helmets this season for owner Pat Bowlen (thanks to all who shared). … Speaking of Bowlen, when he died last week, he became the first person to ever die between election into the Pro Football Hall of Fame and induction. The Hall of Fame usually only gives out jackets and rings to living inductees, but the Hall is doing a review of its policy due to Bowlen's situation. In addition, Broncos fans have started a petition to rename the stadium after Bowlen, though it won't happen (from Kary Klismet).

College Football News: Michigan is taking votes to determine the design for the official student T-shirt for the upcoming season (from Teddy Tran). … Looks like Syracuse will be unveiling new uniforms this Friday. If so, Phil will have a full report on Saturday (from @ACC_Tracker). … Colorado State will drop the horns for a game on Oct. 5 and wear a new helmet design to celebrate the school's 150th anniversary.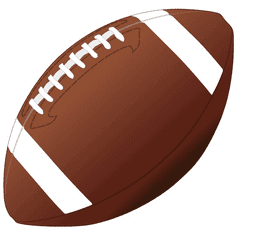 Other Football News: DE Odell Willis of the BC Lions wore custom bright orange shoes during the team's game on Saturday (from Wade Heidt). … The Philadelphia Soul of the Arena Football League have made a mid-season change to their white jerseys (from Richard Martin).

NBA News: Raptors G Kyle Lowry wore a Barney throwback at the team's championship parade yesterday (from Wade Heidt). … Golden State is already using its new logo — that photo is from an ad the team bought to congratulate the Raptors in The Toronto Star (thanks to all who shared). … Mike Delia's wife bought a throwback Golden State Warriors knit hat that includes a "1948-1952 home uniform" tag. Of course, the Warriors didn't show up in California until 1961. … A basketball team in Cristo Rey, Dominican Republic, wore uniforms with David Ortiz's photo printed on them after he was shot last week (from Alex Arias). … Check out the checkerboard floor in this vintage photo of Maurice Stokes (from @HitTheGlass). … Former North Carolina PF Deon Thompson must love his former coach — he got a tattoo of Roy Williams inked onto his forearm (from James Gilbert).

Soccer News: The jerseys for the 2019 MLS All-Star Game have been released (from Phil). … New home and away uniforms for Belgian club RSC Anderlecht (from Josh Hinton and Ed Zelaski). … Forge FC, a club in the Canadian Premier League, wore black and yellow uniforms on Saturday instead of their usual orange and gray scheme in honor of the birthday of their home city, Hamilton, Ontario (from Wade Heidt). … New alternate uniforms for Portuguese club FC Porto (from Ed Zelaski). … Here's a good look at how Nike designed and produced this year's Women's World Cup kits (from Phil). … Here's a look at all of the Premier League ball designs over the past 20 years. … New second kit for Scottish team Aberdeen. The last time they wore this black/gold color scheme was the 1930s (from our own Jamie Rathjen).

Grab Bag: A diner in St. Louis has a brand new mural in honor of the Blues' Stanley Cup win (from @2xAught7). …  Lots of stadium names throughout the country were set to change when BB&T and SunTrust agreed to merge. However, another credit union has filed a trademark lawsuit over the combined bank's proposed new name, Truist (from Daniel Tarrant). … For the second time in a month and the third time in two years, Sports Illustrated has been sold. … These are the official ticket designs for the upcoming Rugby World Cup, which will take place in Japan (from @ohhhsourry). … Following the massacre at the Munich Olympics in 1972, some broadcasters replaced the decimal point int their graphics package with the Star of David in honor of the slain Israeli athletes (from @nordeckian).
• • • • •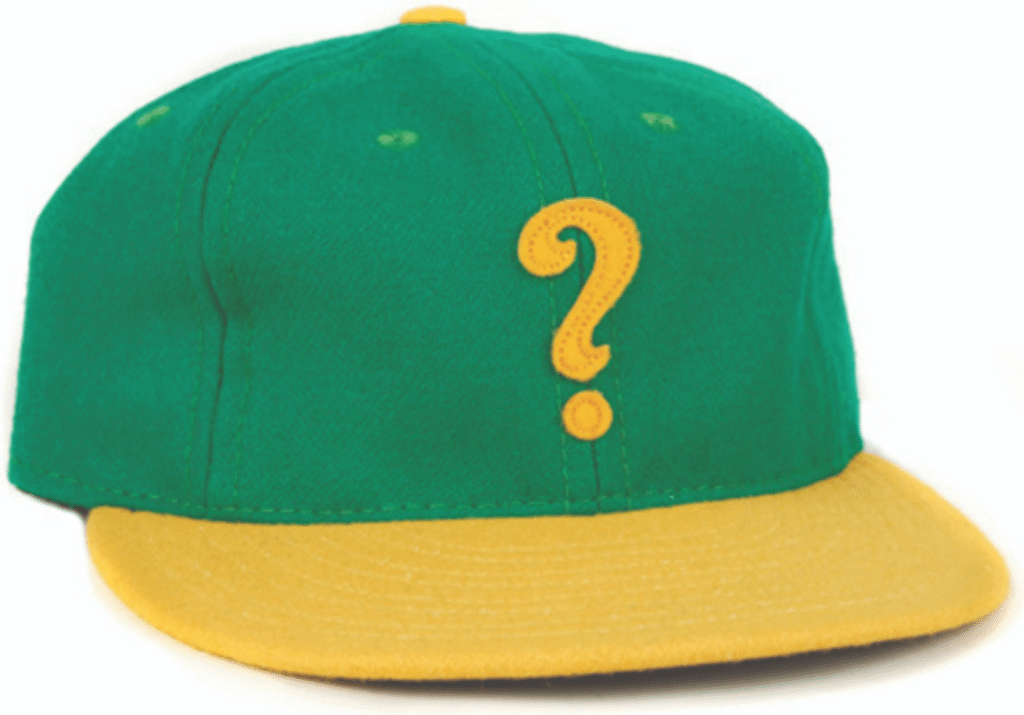 Research query: I'm working on a story about caps and could use some quotes from people in retail. So if you currently work at a Lids or at any other retail shop that sells ballcaps, I'd like to hear from you. Thanks.
Also: Our latest raffle winner is Sandy Dardick, who's won a Uni Watch membership card. Congrats to him (or is it her? I'm not sure!), and my repeated thanks to Paul Bailey for sponsoring this raffle.