Click to enlarge
The world's biggest collection of baseball memorabilia, as you might expect, is at Cooperstown. But you might not know that the second-biggest collection is just outside of Cincinnati. It's the personal collection of a guy named Bob Crotty, who's spent a lifetime amassing a huge stash of game-used gear, autographs, photos, paintings, and more. In 2007 he opened the Green Diamond Gallery — essentially a museum to house his collection. The space also has a monthly event series featuring guest speakers, many of whom are Hall of Famers.
The one catch is that Crotty's museum is open only to members, who have to pay $2,000 in annual dues plus a one-time $400 initiation fee. That may sound like gouging, but the Green Diamond Gallery actually loses money. When you consider (a) the hassles that come with running a public museum, which Crotty doesn't want to deal with, and (b) the fact that many collectors simply keep their stuff to themselves so nobody sees it, it becomes evident that Crotty has struck a reasonable middle ground that allows him to play a limited version of show-and-tell. (He also encourages his members to donate to a charitable foundation that he founded.)
Thanks to Cincy-based Uni Watch reader Frank Bitzer (who seems to know everyone in town), we were able to score a private visit to Green Diamond back on Monday morning — our last stop before heading to the airport and flying home. Crotty couldn't have been a more gracious host, and the sheer volume of jerseys, bats, balls, photos, autographs, and everything else was dizzying (especially since we only had 90 minutes to take it all in — I could easily have spent three or four times that long).
It wasn't the easiest place to photograph, because most of the jerseys are hung up high, and everything is behind glass, so there are lots of reflections and glare to deal with. But you can see a bunch of shots I took here.
There was a classic Uni Watch moment when I looked at a 1974 White Sox road jersey worn by pitcher Wilbur Wood and noticed that the "White Sox" lettering in the tail of the script was chain-stitched:
That set off some alarm bells in my head, because reader Gary Moore had worn a 1974 Chisox gamer (worn by one of the team's coaches, he said, although I don't recall which one) to our Uni Watch party the day before, and I was pretty sure the tail lettering on that one was sewn fabric, not chain-stitching. So I looked up my photos of Gary, and sure enough:
I mentioned this to Crotty — not as a way of questioning his jersey's legitimacy, but just as an observation. He immediately started saying things like, "Uh-oh, we better pull the paperwork on that one and make sure it's the real deal." Yikes — didn't mean to worry him! When I got home last night, I looked up this jersey design in Bill Henderson's guide, which says that the lettering was chain-stitched. That means (or at least suggests) that Crotty's jersey is legit. But what about Gary Moore's jersey? I asked Henderson about that, and here's how he responded:
These vintage White Sox jerseys led hard, hard lives. They were sent to the minor leagues after their tour of service in MLB was done, and many/most were stripped of their front wordmarks. Truthfully, while I have many photos in my files of these, I am sure most if not all were restored in some way. I have one in my own collection where the [tail lettering] has been restored with twill.

GENERALLY, I would say that the ones with the chain-stitch are all original, but were some originally made with twill "White Sox" lettering? I don't know. This knit jersey style was worn for four years, 1972-1975. Additionally, the same style wordmark appeared on flannels back since 1970 (or before). Could it have been chain-stitched in some years and twill in others? I don't know.

I tend to rely on game photos for the true test of accuracy, since so many of these vintage jerseys are restored (or at least relettered). But a detail like that is so hard to see in a period photo.

[Gary]'s jersey certainly looks well worn. If I had it in hand, I could probably determine if the lettering on it was original or replaced, but I cannot tell from a photo.
Interesting, if not determinative. Thanks, Bill!
Anyway: A visit to the Green Diamond Gallery was the perfect way to cap off our Cincy trip, and to ring out 2018. You can learn more about the facility here, here, and here. I'll have more coverage next week about what we did during the rest of our trip.
• • • • •
• • • • •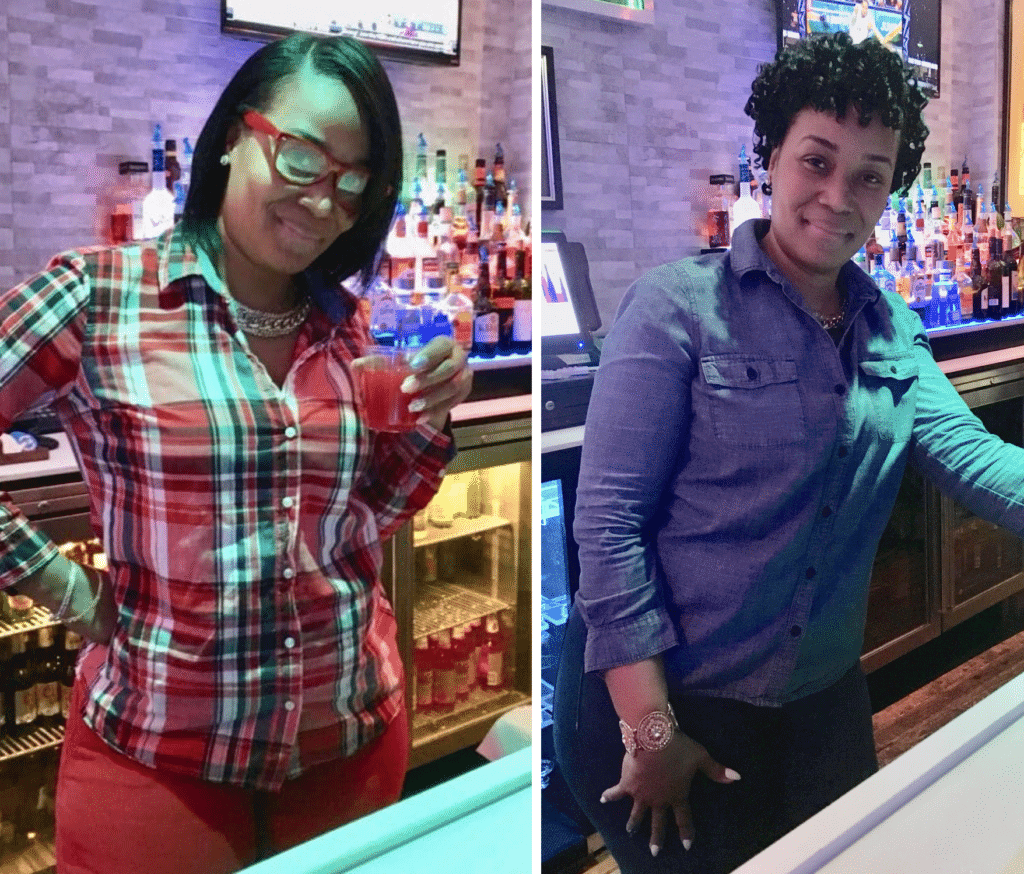 Click to enlarge
New year, new 'do: Last night we made our first 2019 visit to our regular watering hole and discovered that our favorite bartender, the very excellent Lily, has a new hairdo (old version on left, new on right). A solid upgrade, I say. On the good-to-stupid scale, this rates as very good.
• • • • •
• • • • •
The Ticker
By Yianni Varonis

Baseball News: The Phillies powder blue throwbacks are now an official alternate uni. … Check out this color video of the 1938 Pirates and legendary SS Honus Wagner wearing zip-front jerseys (from Jerry Wolper). … Former Mariners P Hisashi Iwakuma, who left the organization to return to Japan, wore No. 18 when he was with Seattle. But in a nicely counterbalancing move, the Mariners have since signed P Yusei Kikuchi, who is coming from Japan, and will also wear No. 18 (from Tim Dunn). … Speaking of Kikuchi, he wore a necktie in Mariners team colors to his introductory presser (from Ethan Coffey). … Reader Noah Friedman recently discovered some of his father's old sports keepsakes, including programs from the 1980, 1983, and 2008 World Series. … New uniforms for Louisville, featuring a pullover jersey (from James Gilbert and Joseph Matlock). … As you probably know, the White Sox were the first major pro sports team to wear throwbacks. Here's some video from that game, which took place on July 11, 1990 (from Gary Moore).

NFL News: Reader Kevin Gallo was watching an old Browns game from 1979 and noticed an oddity: the goalpost was perfectly vertical, without the usual forward-pitched curvature. … Adam Yarnevich puts together a graphic of the Chiefs' uniform combinations each week, which rarely change. Here's this season's graphic, featuring four uniform combinations, which is the most in recent history. … Former Seahawks DB Richard Sherman no longer plays for Seattle, but he's still wearing neon green in a current pistachios commercial (from Ryan Bower).

College Football News: During the Citrus Bowl, Kentucky RB Benny Snell wore a wristband honoring the victims of the Marshall County (Ky.) High School shooting (from Josh Hinton). … From Phil: A seven-year-old wrote a letter to former Ohio State HC Urban Meyer, asking if the "circles" on the players' helmets are stickers, and if so, if they can choose how many they want. Here's Meyer's response to the little girl. … The "Royal Key" tour of college football facilities and equipment rooms continues with Michigan State (from Griffin Smith). … Iowa beat Mississippi State in this year's Outback Bowl, but that didn't stop an Iowa "Citrus Bowl Champions" T-shirt from being made (from Kary Klismet).

Hockey News: From Phil: The Penguins will wear green sweaters during warmups to support the "Sports Matter" program, which works to save youth sports in the United States. The sweaters will be auctioned off with proceeds going to the program. … On Wednesday, Penguins C Sidney Crosby was being heckled by an opposing fan who apparently got in some really good "chirps." Showing good grace, Crosby gave him a signed hockey stick with a personal message (from Joe Werner). … Here are the reasons that Capitals players chose their uni numbers (paywalled) (from Eric Griffin). … Here's an interesting photograph of former Red Wings G Normie Smith wearing a baseball hat to block the glare of the arena's lights. Also interesting that both other players in the shot are wearing helmets, which also was a rarity for the 1930s-40s era (from Mark Wilton). … Reader Stephen Krupin volunteered his talents to the 2016 Democratic National Convention in Philadelphia, where speeches were rehearsed in the Flyers' locker room. It was there that he noticed a message from former Flyers G Bernie Parent — "Never let anyone make you question your abilities as a goaltender" — posted in one of the team's current goaltenders' locker. … A 2013 Boston Globe illustration commemorating that year's Stanley Cup Finals showdown between the Bruins and Blackhawks almost exactly predicted the uniforms of this year's Winter Classic (from Charles Noerenberg). … Speaking of which, the Blackhawks will wear their Winter Classic uni three more times this season. … In its own outdoor hockey game, Michigan will wear these sweaters against Notre Dame (from Stephen Ceruolo). … The Tulsa Oilers of the East Coast Hockey League will wear these Teenage Mutant Ninja Turtles-inspired sweaters for Nickelodeon night this week (from Joey Jo Jo Jr). … The rink in White River Junction, Vt., has a seriously old-school standings board. "In this era of composite sticks, iPads on NHL benches, etc., it's kind of cool to see something like this," says Tris Wykes. … Senators C Matt Duchene uses a personalized stick inscribed with, among other things, country music lyrics and a Bible verse (from Jason Hillyer).

College Hoops News: For Iowa's game last night against Purdue, Iowa players wore "#tylerstrong" warmup shirts in remembrance of Purdue fan Tyler Trent, who passed away this week after a fight against cancer that garnered national headlines (from Kary Klismet). … During that game between Iowa and Purdue, the teams went color-vs.-color.

Soccer News: Footy Headlines released what might be a leaked photograph of Toronto FC's 2019 home jersey (from Josh Hinton). … ST Troy Deeney, of English club Watford, was missing his Premier League sleeve badge (but not the sleeve ad, of course) against Bournemouth (from our own Jamie Rathjen).

Grab Bag: This article and video features an interview with the creator of the iconic Rolling Stones logo. … The online currency Bitcoin SV now has a new logo, which was publicly voted on via Twitter. … Towson University has upgraded its look with a new logo. … Cecil College has a new logo as well. … In an effort to limit truancy, some schools in China are using GPS trackers in uniforms to ensure students attend class. … New Congresswoman Alexandria Ocasio-Cortez wore white for her swearing-in yesterday to honor previous women in politics who wore white (from Lucan Denfield).
• • • • •
I have a meeting this morning and then a doctor's appointment in the early afternoon. Play nice while I'm away, have fun with Phil this weekend, and I'll see you next week. — Paul