For all photos, click to enlarge
Meet Mac Premo. He's an artist and TV commercial director whose studio is about a five-minute bike ride from Uni Watch HQ, although I'd never heard of him until a few days ago and never met him until yesterday. I went to check out a new installation that he's about to debut: an array of machines that turn a 6-4-3 double play.
Premo is an interesting cat. Straddles the art world and the corporate commercial world and seems comfortable with both (here's a video where he discusses that). Very smart, very ambitious, very "Life is one big art project, so let's make it an awesome one." He's also a big baseball fan and, it turns out, a Uni Watch reader (it was the hottest day of the year so far, but he wore that Newark Bears jersey just for me). Really enjoyed spending a few hours with him.

As for his 6-4-3 project, Premo says it's basically his way of paying tribute to something super-beautiful — a double play. Here's how it works: He feeds a ball into a pitching machine labeled No. 1 (the pitcher). The ball bounces off a sheet of plywood (the batter) and feeds into another pitching machine labeled No. 6 (the shortstop), which shoots the ball into another pitching machine labeled No. 4 (second baseman), which shoots it into yet another pitching machine labeled No. 3 (first baseman). That machine then shoots the ball back to the pitcher, and then then whole thing repeats, ad infinitum (or until the ball goes astray, which happens occasionally).
This is all set up in the ground-floor exhibition space of the building where Premo has his studio. You can't see the plywood/batter in this next photo, but it's positioned beyond the right side of the frame:
And here's a minute of it in operation:
Okay, so it's not quite as fast as a real double play, but let's go along with it and assume that the runner is really slow. The whole thing is fun, although I think it could be better, or at least more baseball-y. For starters, I think the sheet of "batter" plywood should have a batter painted onto it (Premo says he'll probably do that), and I'd probably paint a baseball diamond on the floor (he might do that too, plus he talked about putting the pitcher on a mound).
Premo also plans to have crowd noise and maybe play-by-play calls piped in. And over on a side wall, he's using over 4,000 of his childhood baseball cards (and over 4,000 pushpins) to create a huge mural:
Premo also took me upstairs to see his studio, where I immediately noticed that he'd built special shelving to hold more of his baseball cards. Not sure I really see the point of storing cards this way, but it's very visually satisfying, so maybe that's the point (for the first photo, look along the top of the image):
Getting back to the 6-4-3 installation: The building where Premo's studio is located is called the Invisible Dog (because this was invented there). They're having open studios on Saturday and Sunday, and the double play machine will be doing its thing. If you want to see it, here's how to get there.
It's possible that this weekend will be 6-4-3's entire lifespan, but it's more likely that Premo will make some improvements and adjustments to it (he's very interested in getting some audience feedback) and try to get it in some group exhibitions. There's also talk of taking it on the road.
I leave you with a shot of Premo's new baseball glove, which says it all:
• • • • •
[adrotate group="2″]
• • • • •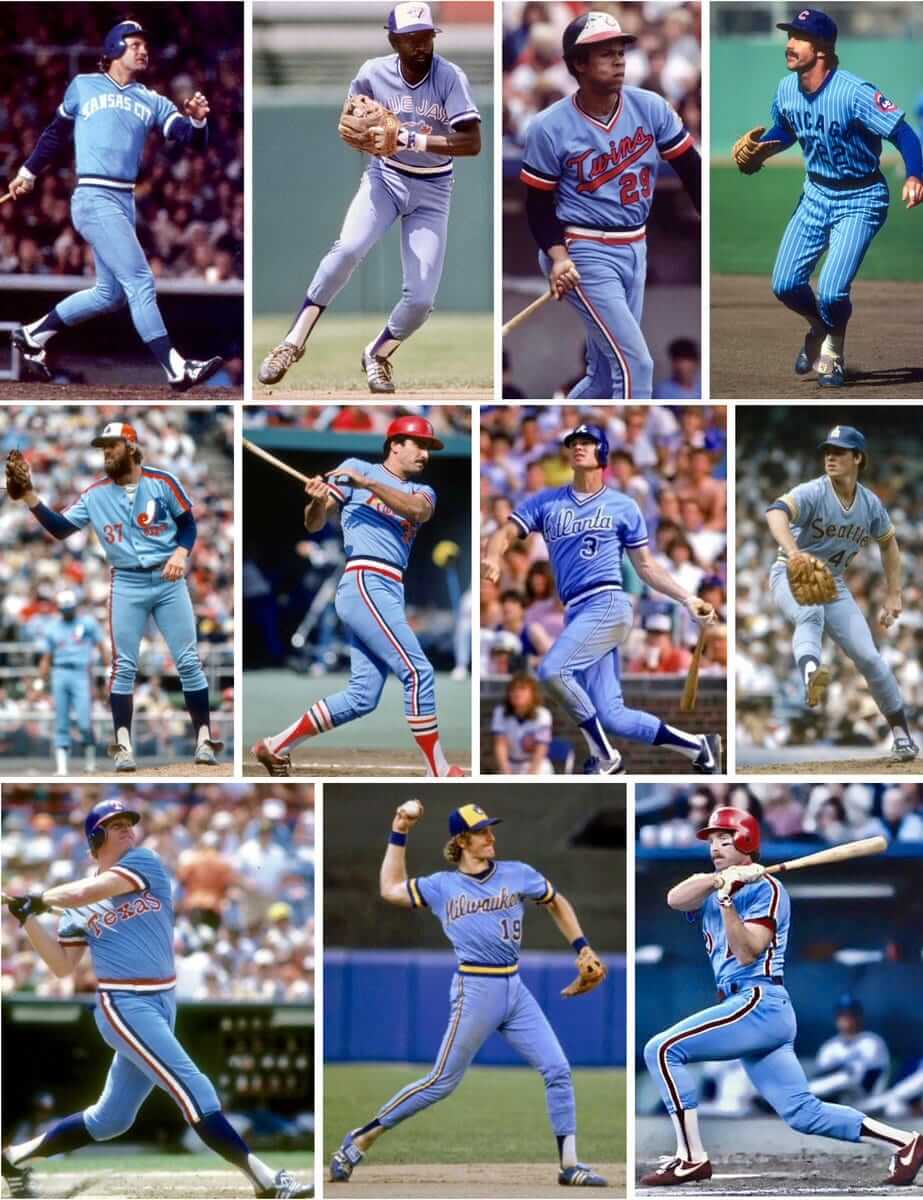 Click to enlarge
Feeling blue: With the Phillies new powder blue Thursday throwbacks generating some recent buzz, my latest ESPN column looks at the past, present, and possible future of powder blues (including 1980 and '81, when a record 11 teams wore them, as shown above). Check it out here.
• • • • •
[adrotate group="2″]
• • • • •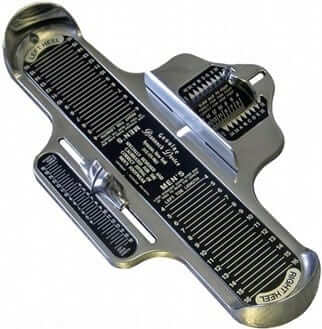 Brannock update: Yesterday the Syracuse Chiefs announced the details of their Brannock Device Night promotion, which will be taking place on May 31. Here's the skinny:
1. The team will be renamed for the game as the Syracuse Devices. Obviously, this is not as good as the Syracuse Brannock Devices, but the full name would have violated MiLB rules, because it would essentially be a giant ad on the uniform. They could have gone with the Syracuse Foot Measurers, but that didn't roll off the tongue so easily. So the Syracuse Devices it is.
2. The team's in-house design staff has created a new logo for the game — an anthropomorphized Brannock Device mascot character. They've named him Chuck, after the device's inventor, Charles F. Brannock. He'll be featured on the caps that the team will wear: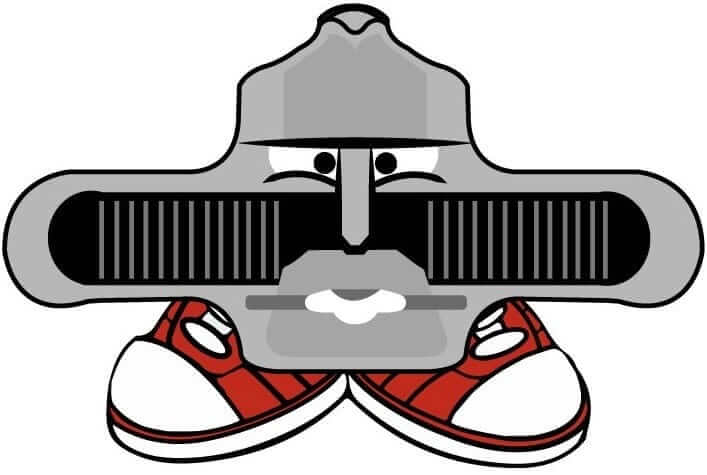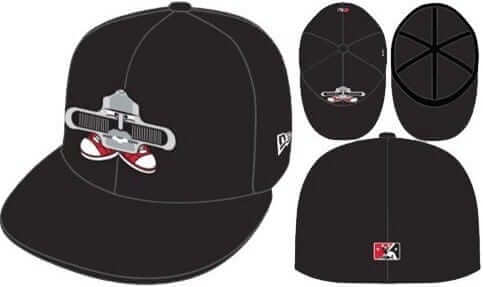 3. The team worked with OT Sports, which provides the one-off specialty jerseys for many MiLB teams, to create Brannock-themed jerseys for the occasion: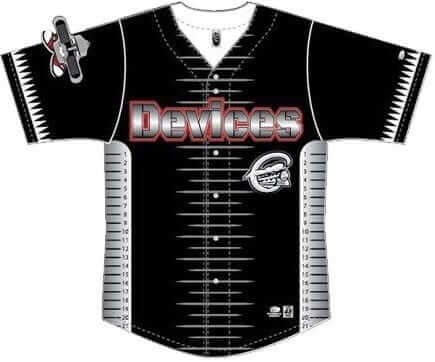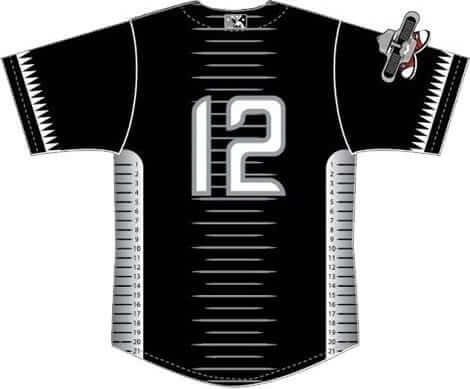 I know some of you were hoping we'd have a Uni Watch design contest for the uniforms. I was hoping for that too, and I pushed for the team to go that route. But they said there wasn't enough time. Too bad. Maybe next time, if this becomes a recurring promotion!
4. I will be throwing out the first pitch.
5. The team has generously reserved the first base terrace area for me, so uni and/or Brannock fans can gather and mingle. I'll be there for most of the game. Here's a Facebook event page if you want to indicate that you'll be attending.
6. The Syracuse Devices have their own Twitter feed, and you can buy Devices merch here.
I think that's it. Today I'm going to look into getting my Brannock tattoo re-inked — it's gotten a bit faded after 15 years, so I'm thinking a touch-up might be good, although I'm not sure how practical that idea is. We'll see.
• • • • •
[adrotate group="2″]
• • • • •
Assorted reminders: Today is the final day the auction for a full set of 2015 Uni Watch T-Shirt Club shirts in a custom-made pine box (shown at right). Remember the minimum bid is $425, but I can tell you we already have bids that are higher than that. Full details here.
Also:
• Our friends at Ebbets Field Flannels are currently raffling off a very cool-looking Fort Worth Cats T-shirt. Full details here.
• Bobblehead doll restoration artist extraordinaire Chris Callan is willing to make custom Uni Watch bobbles for up to three customers. One customer has already placed an order, which leaves two slots remaining. Full details here.
• • • • •
[adrotate group="2″]
• • • • •
The Ticker
By Kris Gross

Baseball News: The Indians and Blue Jays were rained out on Jackie Robinson Day, so they made that up yesterday, with full 42s (from Samuel Selker). … Mariners OF Ichiro Suzuki retired from playing baseball yesterday and will move to a front office role, but he'll still wear a uniform and take batting practice. … Former NYC mayor Rudy Giuliani, wore Yankees cufflinks in a TV interview yesterday (from Brian). … Joe DiMaggio made his MLB debut on yesterday's date in 1936. Did you know he wore No. 9 during his first season, instead of his familiar No. 5? (From BSmile.) … Here are the Fort Wayne TinCaps' Thursday alternates. … Lots of teams wear Star Wars jerseys, but the Sugar Land Skeeters are taking things a bit further by going with storm trooper batting helmets this weekend (from Shay). … An Adair County (Oklahoma) Little League team is paying tribute to the Rockford Peaches (from @nharvill). … Ray Hund came across old TV Guide covers featuring MLB and NFL athletes. … Artist Shawn Wolfe is selling a bunch of rock posters, and two of the ones for Guided by Voices have Reds themes (from Rob Walker). … According to this article, Brewers OF Christian Yelich's grandfather is none other than Fred Gehrke, who invented modern football helmet design by painting the first horns on the Rams' helmets. Who knew? (From Don Schauf.)

Football News: Browns players have to earn their helmet stripes during training camp (from @Believeland1994). … Speaking of the Browns, they've begun looking into new stadium sites (thanks Brinke). … We have draft class number assignments for the Bears and Titans (from @BigJ52, RL Ely). … Also listed in the baseball section: Ray Hund came across old TV Guide covers featuring NFL and MLB athletes. … Good spot by Steven Woj, who found this Rutgers football helmet with the face mask covering the bumper. … Cross-listed from the baseball section: According to this article, Brewers OF Christian Yelich's grandfather is none other than Fred Gehrke, who invented modern football helmet design by painting the first horns on the Rams' helmets (from Don Schauf).

Hockey News: Penguins winger Bryan Rust wears No. 17, which explains why this fan was wearing a No. 17 Pens jersey with an NOB showing the chemical compound for ferric oxide — rust (from Dylan Barcus).

Soccer News: Here are some notes from Ed Żelaski: Leyton Orient unveiled their 2018-19 kits, new home kits for FC Magdeburg, and Cleveland SC has unveiled their inaugural season uniforms. … Barcelona is joining the fight against child obesity. They'll wear "Eat Like a Pro" on their sleeves, instead of their normal advertiser (from Josh Hinton). … Also from Josh: New home kit for PSG, new away kit for Liverpool, and Tijuana goalie Gibran Lajud wears ads on his gloves.

Grab Bag: The Adelaide Crows of the Australian Football League unveiled their indigenous-themed guernsey (from @tedkerwin). … Stetson University has new logos (from Michael Rodriguez). … Belmont is moving from Nike to Under Armour (from Clint Richardson). … These are some sweet lacrosse helmets for Georgetown lacrosse. … Indian Premier League cricket team Delhi Daredevils with major cap and jersey inconsistencies (from Bill Blevins). … People are confused about the era-incorrect style in the new Robin Hood movie (from Jim Vilk). … Check it out: cornhole uniforms! (From Esther Cepeda.)
• • • • •
[adrotate group="2″]
• • • • •

What Paul did last night: We had record high temperatures in NYC yesterday, so the Tugboat Captain and I decided to cool off in the evening by grabbing a few beers and riding the Staten Island Ferry back and forth. Aside from being providing a nice ride on the water, it's also the best bargain in the city: free.
The ferries have some very old school lettering painted on their sides. I'd seen it before, of course (they've been using the same design for many years now), but last night I was really struck by how anachronistic it seems. There's nothing else like it in the NYC transit system (click to enlarge):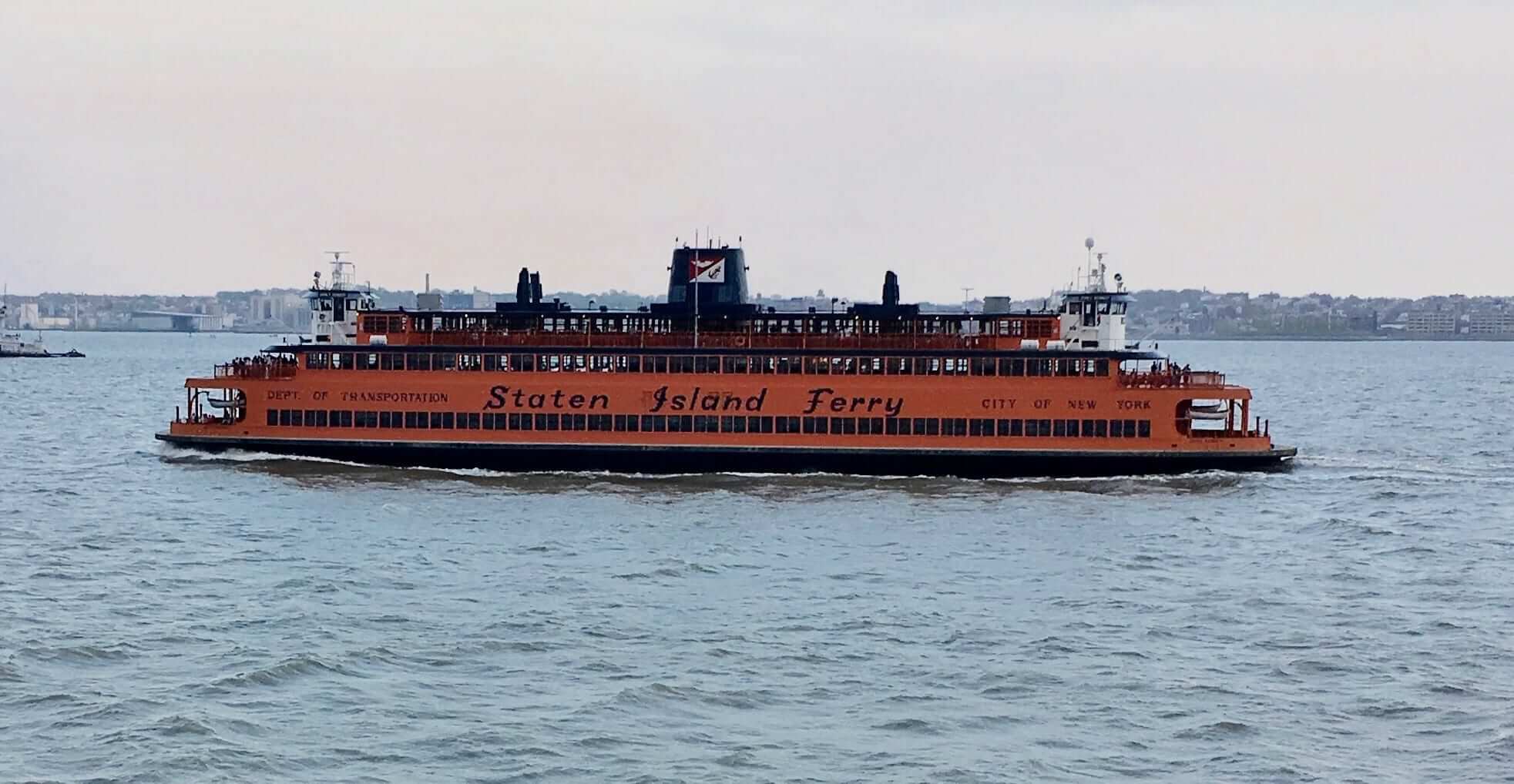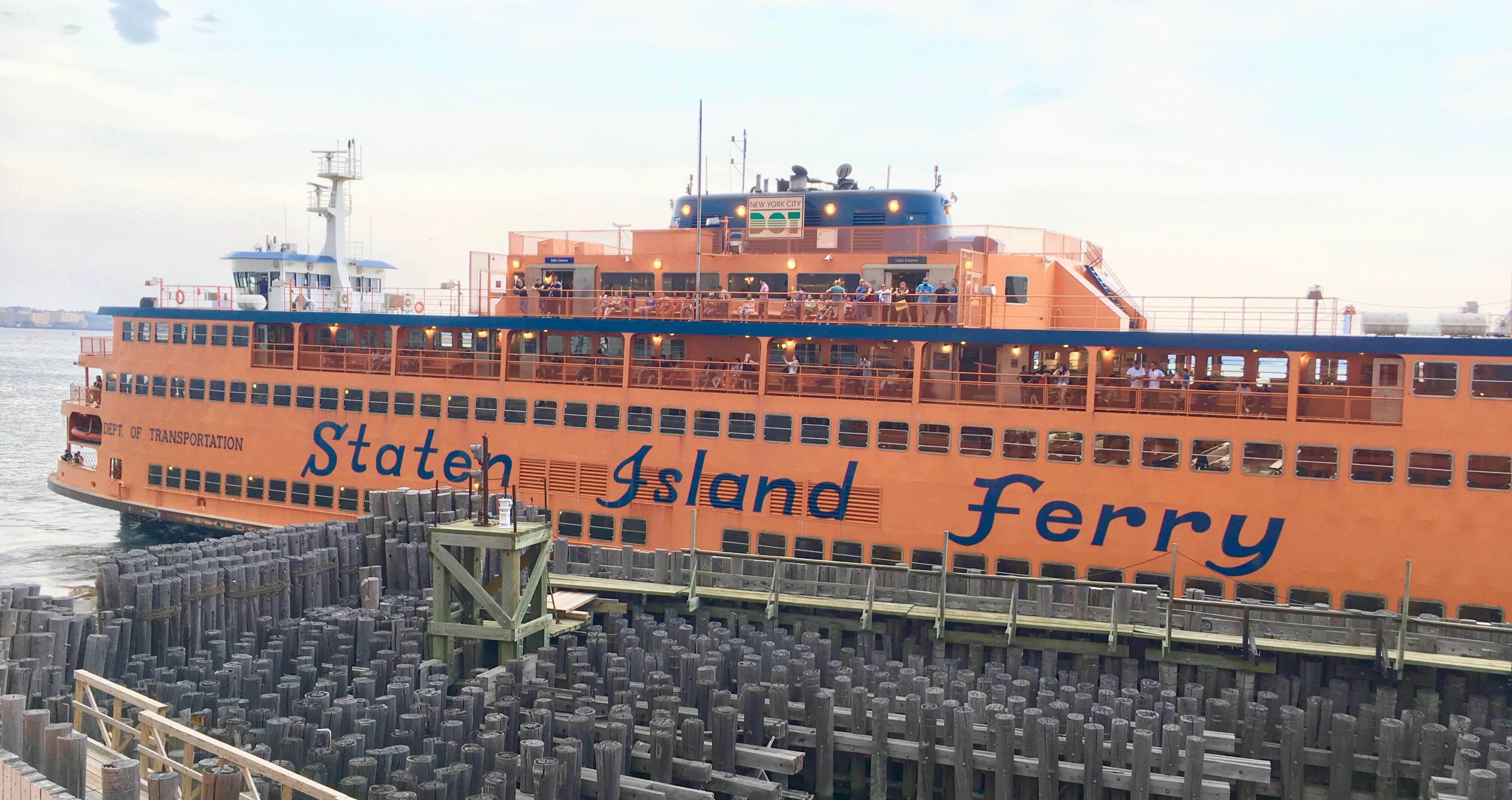 Anyway: It was a swell way to spend the evening, and one of the nice perks of living in a waterside city.