Longtime readers know that we periodically run ads from Grey Flannel Auctions and that I periodically run "Auction Action" entries in which I showcase some of my favorite items from GFA auction catalogs. (Just for the record, there's no quid pro quo there. GFA began advertising after I was already writing about their auctions, and the main reason I write about their auctions is that they always send me a printed catalog, which is my preferred medium for browsing through auction listings.)
Anyway: Over the years I've developed a good relationship with GFA's director of operations, Michael Russek (that's him at right). In an industry that can sometimes be a bit sketchy, Michael has always impressed me as a stand-up guy. When my friends Sonya and Tony Abrego recently acquired a 1905 Princeton football jersey and asked me if I had any suggestions on how they could sell it, I sent them to Michael because I knew he'd treat them right, plus I knew GFA would reach the right audience to bring the best price for the jersey. (It ended up selling for over $50,000.)
GFA is a family-run business that was founded in 1989 by Michael's father, Richard Russek. Dozens of big-name athletes have trusted GFA to sell their personal memorabilia, including Rick Barry, Bob Pettit, Joe Morgan, George Gervin, Orel Hershiser, and Evander Holyfield.
But you don't have to be a big-name athlete to consign your collectibles to GFA. Indeed, sometimes the most interesting and valuable items come from out of the blue, like Sonya and Tony's Princeton jersey. That's why Michael and I are proud to announce a new service for Uni Watch readers: If you have any potentially valuable collectibles, you can submit photos and descriptions to GFA and receive an appraisal within 72 hours, with no charge and no obligation. Think of it as a pop-up online version of Antiques Roadshow.
So: Do you have some sports or pop culture memorabilia that you think might be valuable? Have you ever wondered how much it might actually be worth? Now's your chance to find out. Here are the details:
1. Items that can be reviewed include game-used and game-worn jerseys, bats, and equipment; vintage sports and historical autographs; championship jewelry, trophies, and awards; pre-1960 trading cards (all sports); and entertainment, rock 'n' roll, political, Americana, and historical memorabilia.
2. For each item, provide several photos (front, back, tagging, maker's mark) and a detailed description regarding the item's condition and provenance.
3. Also include your name, phone number, and email address.
4. GFA only handles items with a perceived value of at least $250. If your item doesn't meet that threshold, you may get a response indicating that the item doesn't fit the parameters for a GFA appraisal.
5. Full disclosure: If you end up consigning an item to GFA and the item sells, Uni Watch will get a cut of GFA's fee. (And in case you're wondering, I did not receive anything for the Princeton jersey. That was just a favor I did for Sonya and Tony.)
Okay, ready to see what your treasures are worth? Email your photos and descriptions to GFA. You'll get a response in 24 to 72 hours.
Have fun with it, people. We're excited to see the treasures you share with us.
• • • • •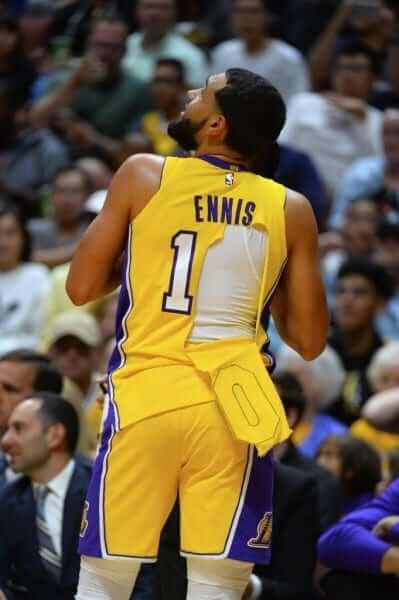 NBA torn-jersey update: A little birdie tells me that he was recently chatting with a Nike representative and got the scoop on why the NBA's jerseys were tearing so often earlier this season. It's not entirely satisfying, but here it is:
Basically it all came down to this: Nike got all the jerseys late from the factories — so late, in fact, that Nike shipped the jerseys to the teams unfinished, without player names or numbers. So the teams had to apply the names/numbers themselves. Apparently that's where the issue arose, because the numbers were not applied correctly in keeping with Nike's sewing standards (whatever those are). Thus, the jerseys became weakened — how, I have no idea — and were susceptible to tearing.

I was told a few more very small detailed bits of information regarding how the jerseys were made, but I really only internalized the main points and can't recall those details.
I don't really understand how a jersey could be "weakened" by a team sewing on a number (especially since teams throughout the sports world have had their own seamstresses pretty much forever), and it seems a little too convenient for Nike to shift all of the blame onto the teams. But still, that's the story they're apparently telling. I'll try to find out more.
• • • • •
And I like the color scheme, too: Sprite unveiled a new commercial yesterday, featuring LeBron James as, of all things, a baseball relief pitcher. Someone on the production team must be a Uni Watch reader, because the spot is loaded with good uni details, including tequila sunrise-style fauxbacks, clever NOBs ("Big Taste," "Thirst") and numbers ("12 oz." and "99º"), Sprite-themed catcher's gear, and — wait for it — LeBron in stirrups!
Who says I don't like advertising?
(Big thanks to Uni Watch alum Mike Chamernik for tipping me wise to this one.)
• • • • •
Click to enlarge
Magnetic attraction: Everyone likes fun fridge magnets (even if your fridge is in a cramped, poorly lit nook that's difficult to photograph, like mine), so I wanted to remind you that Uni Watch magnets, like th ones shown above, are available from our friends at StickerYou. Check them out here.
StickerYou also makes stickers (duh), and reader Jason Von Stein recently got in touch to let me know that he'd slapped a Uni Watch shield logo sticker — designed, of course, by the great Rob Ullman — on his guitar case. As you can see, it's in very good company (click to enlarge):
The magnets and stickers are all available here. My thanks, as always, for your consideration.
• • • • •
The Ticker
By Paul

'Skins Watch: The English rugby union team Exeter Chiefs have a new pink kit this season with a pretty significant Native American theme. "The two mirrored heads are the team's logo blown up bigger," explains our own Jamie Rathjen. "The kit is only to be worn in the European Rugby Champions Cup."

Baseball News: The Orioles have announced their promo giveaways for the coming season (from Andrew Cosentino). … Also from Andrew: The Orioles are the latest team to extend the netting at their ballpark (and also at their spring training stadium). … New helmet logos and matte shells for Kentucky. … The "Field of Dreams" in Iowa was recently vandalized, so there's a GoFundMe page to help restore it (from Dean Richard). … Chipper Jones played his entire career for the Braves and Trevor Hoffman played almost his entire career for the Padres, and Jim Thome played more than half of his career with the Indians, so it's obvious which cap logos will appear on their Hall of Fame plaques. Vlad Guerrero split the bulk of his career pretty evenly between the Expos (seven seasons) and the Angels (six season), so that's a tougher call, but I'm hoping he goes with a Montreal logo because it'll probably be the last opportunity to get that logo onto a Hall plaque. … Speaking of Hoffman, check out the uniform he wore back in 1990, when he was a shortstop with the Charleston Wheelers (from Ian Aretz). … Great new striped stirrups for UGA. … The Trenton Thunder will become the Trenton Pork Roll for Friday home games this season. Pork roll, of course, is also known as Taylor ham, depending on which part of New Jersey you live in. Nice touch that they depicted all the pork roll slices with little notches cut out of them, which is the proper way to keep the slices from curling and puckering in the skillet (thanks, Phil). … New uni design with a brutal pant design for Cal.

NFL News: "Philadelphia 76ers team president Christopher Heck announced during a radio interview on Wednesday that they'll be adding Eagles green to their arena," says John Livewell. "He said the arena will be all green for the nationally televised game on the Friday before Super Bowl. He said, 'The team's colors are now red, white, blue, and green.'" … Interesting story on the gear worn by Super Bowl volunteers. … Police officers in Saint Paul, Minn., can purchase Super Bowl-themed badges, to be worn up through the big game (from @Natron44).

College Football News: Washington State QB Luke Falk, who normally wears No. 4, will wear No. 3 in the Senior Bowl in memory of former teammate Tyler Hilinski, who recently committed suicide. … Mark Cooper found this pretty cool Penn State travel bag.

Hockey News: It's been a long time since the Rangers' early-1970s line of Jean Ratelle, Vic Hatfield, and Rod Gilbert was known as the "GAG line" — short for "goal a game" — but at least one Rangers fan still remembers. Dan Klein spotted that license plate in Poughkeepsie, N.Y. … New logo and jerseys for the Estonian Hockey Federation. … Interesting to see how squared-off the corners of the rink appear to be in this postcard from the 1960 Winter Olympics in Squaw Valley, Calif. (from Josh Cohen). … The Eugene Generals will wear military appreciation jerseys on Saturday (from Alex Stimson). … Thirty years ago yesterday, Neil Sheehy of the Whalers became the first NHLer to wear No. 0 (from Chuck Loads).

NBA News: While I don't know this for a fact, I have reason to believe that the NBA All-Star uniforms, which have already leaked, will be officially released sometime today. … Cross-listed from the NFL section: "Philadelphia 76ers team president Bryan Colangelo announced during a radio interview on Wednesday that they'll be adding Eagles green to their arena," says John Livewell. "He said the arena will be all green for the nationally televised game on the Friday before the Super Bowl. He said, 'The team's colors are now red, white, blue, and green.'" … Speaking of the Sixers, last night was Australian Heritage Night, so they put a kangaroo graphic on the backboard post. … The minor league baseball trend of renaming the team after a local food specialty for one night is spreading to the D League, where the Erie Bayhawks will become the Erie Pepperoni Balls on March 9. … What's with this weird courtside seating configuration that the Clippers are using? (From Andrew Schmidt.)

College Hoops News: Brutal kerning on Kansas G Malik Newman's NOB (from Matt Wilcott). … "Kansas State has gotten some Ticker mentions for wearing those lavender throwbacks last Saturday, but TCU also wore throwbacks in that game," says Kary Klismet. "More info here. Also, Iowa and Wisconsin went color-on-color on Tuesday night." … DePaul went with black numbers and NOBs on their blue jerseys last night, which rendered the typography pretty much illegible (from @bryanwdc). … Nevada and Wyoming went pink vs. yellow last night.

Soccer News: New training gear for the Columbus Crew. "I didn't realize they had a different training advertiser," says Ed Żelaski. … Reaction to Leeds United's new badge design was so negative that the team is now rethinking the design (from Alex Evans and Paul Smith). … Miami's MLS expansion team will be officially announced on Monday (from @igTXSalazar).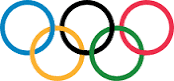 Olympics News: Here's a slideshow of the Team USA speedskating uniforms (thanks, Phil). … The Norwegian curling team will once again be wearing crazy pants (thanks, Phil). … Cross-listed from the hockey section: Interesting to see how squared-off the corners of the rink appear to be in this postcard from the 1960 Winter Olympics in Squaw Valley, N.Y. (from Josh Cohen). … Here's a piece on the negative reaction to those Team USA fringed gloves.

Grab Bag: New identity system for the UNC statewide system (from James Gilbert). … With the Oscars and Grammys celebrating their 90th and 60th anniversaries, respectively, the two organizations have rolled out somewhat similar anniversary logos. … This is bizarre: South Carolina's state flag is not standardized, so there are several different versions of it floating around. Crazy stuff (from Anthony Nuccio). … Several readers noted that Simona Halep, the top-ranked women's tennis player in the world, has been wearing an unbranded dress and a plain "AO" cap at the Australian Open. That's because she doesn't currently have an endorsement deal. How refreshing. … New Era, already the official headwear supplier for IndyCar, is now the official apparel outfitter — not just headwear — for Schmidt Peterson Motorsports (from Alex Núñez).
• • • • •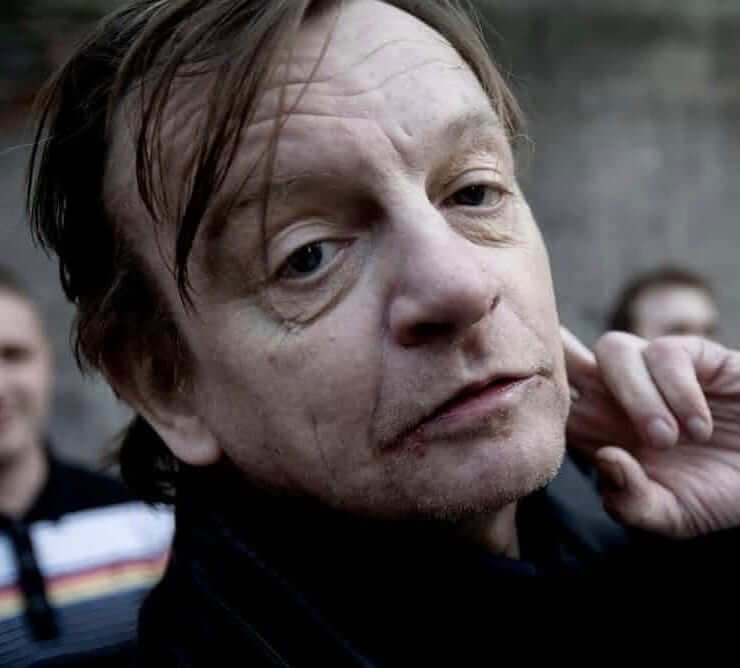 A hard liver with a hard liver: Word came down yesterday afternoon that Mark E. Smith, the longtime frontman of the Fall, had died at the age of 60. Given his notoriously self-destructive approach to life and his increasingly sallow visage in recent years, lots of people no doubt thought to themselves, "What took him so long?"
Smith was, by most accounts, a remarkably unpleasant person (and a famously irascible bandleader — he hired and fired over 60 members of the Fall over the years). But he was also a one-of-a-kind original who influenced two generations' worth of underground bands. Over the course of 40 years and nearly as many albums, he never strayed too far from his signature sound of post-industrial guitar churn, throbbing bass, stream-of-(un)consciousness gutter poetry, and, most of all, an unmistakable and irresistible vocal style best described as a staccato nasal British drawl that lurched and heaved in odd rhythms but always sounded righteously charismatic (seriously, Smith could read the phone book and it would sound cool). At its best, mostly over the Fall's first decade or so (I'm partial to the albums Live at the Witch Trials, Hex Education Hour, Slates, and The Wonderful and Frightening World of the Fall), these sonic elements gelled into some super-powerful and oddly catchy music that pretty much created a post-punk category unto itself.
And if you're looking for a sports angle, there are lots of soccer references in the 1983 song "Kicker Conspiracy":
And then there's the song "Octo Realm/Ketamine Sun," which I'm not going to embed because it's pretty awful, but it does include the very Uni Watch-worthy line "You're a walking tower of Adidas crap."
I heard the news of Smith's death as I was heading to the airport yesterday for a work-related trip. I wrote part of this little appreciation on the plane and finished it late last night in my hotel room. It felt really weird and somehow oddly appropriate to be sitting in a hotel in the middle of nowhere, knowing that I was probably the only person in a 50-mile radius listening to the Fall. I think Smith would have liked that. R.I.P.