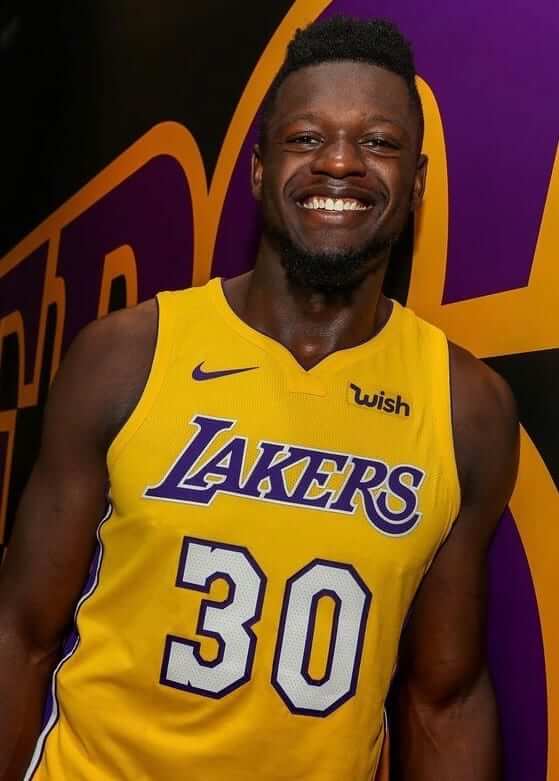 Two more NBA teams announced jersey advertising patches yesterday. Let's start in L.A., where the Lakers have struck a deal with the e-commerce site Wish (which I had never heard of until yesterday, although I'm sure that says more about me than it does about Wish). Here's how the patch will look on their other jerseys (click to enlarge):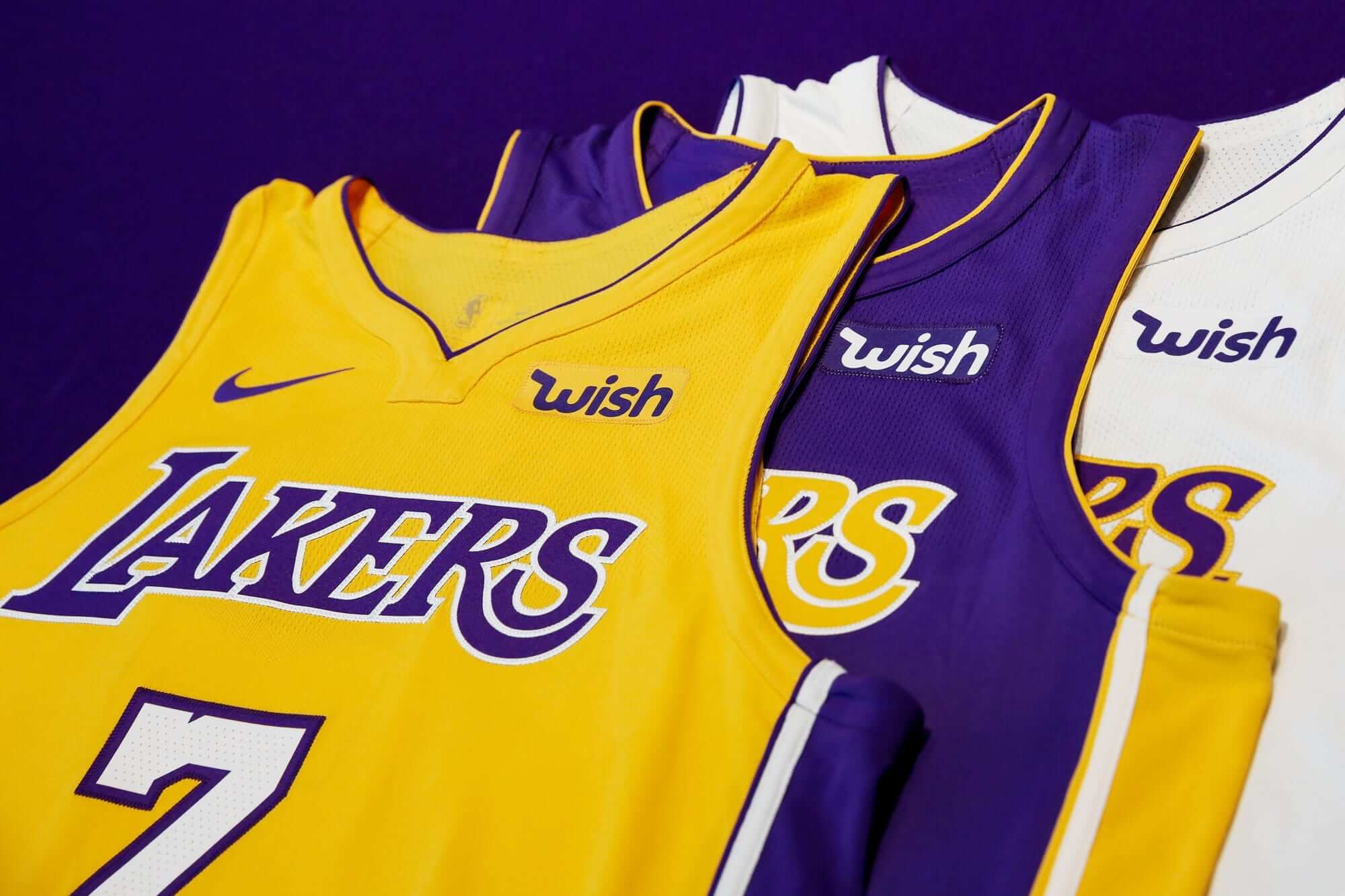 This one feels significant, because the Lakers are a legacy team playing in the league's biggest market. It's also worth noting that Wish is a company that combines lifestyle (which is what I mistakenly thought would be the dominant category for the NBA's uni advertisers) and tech (which has turned out to be the dominant category). Additional info and lots of additional photos here.
Meanwhile, The Miami Herald broke the news yesterday that the Heat will wear an Ultimate Software advertising patch (never heard of them either). Here's how that one will look (click to enlarge):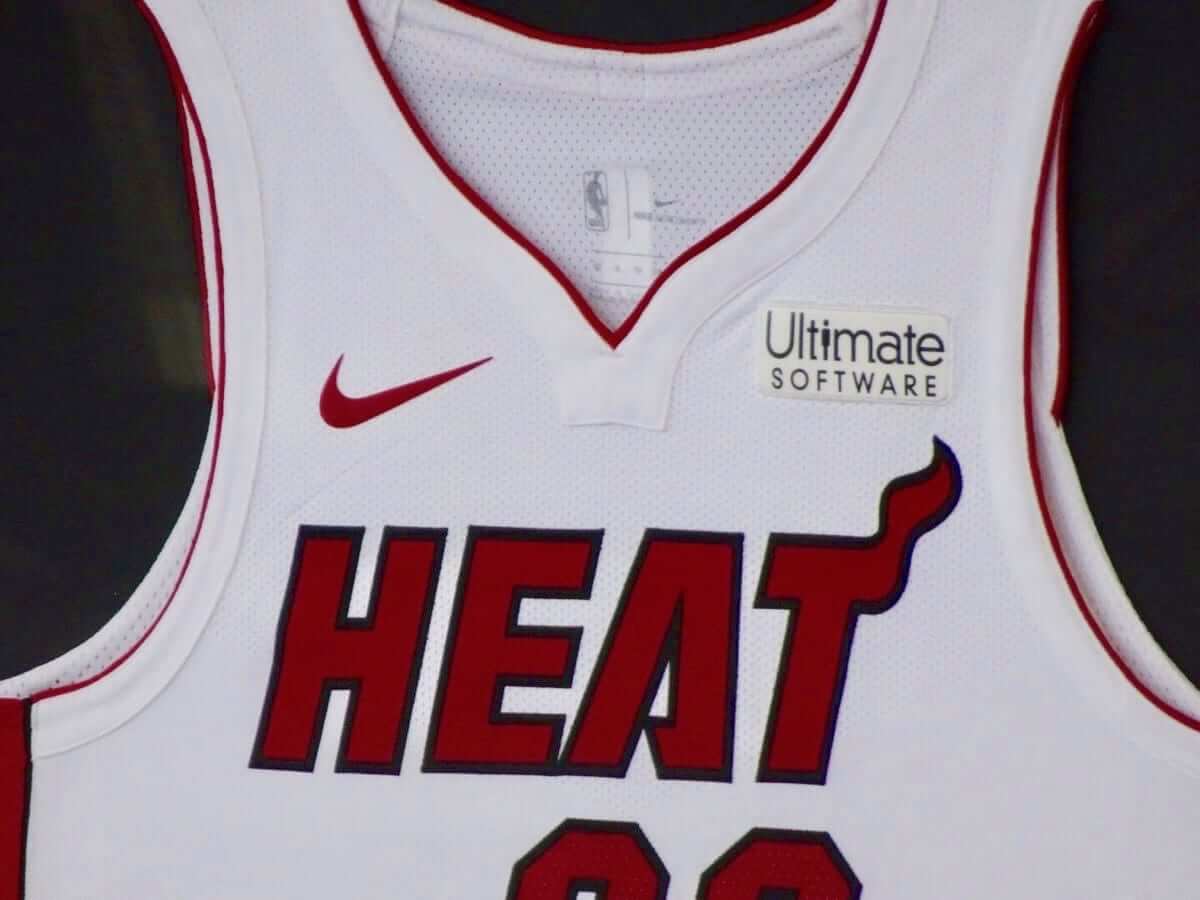 Ultimate Software is based in South Florida, so there's a local connection. And, obviously, they're another tech company. Additional info here.
These two moves mean there are now 16 ad-clad teams, with 14 teams remaining ad-free — for now.
• • • • •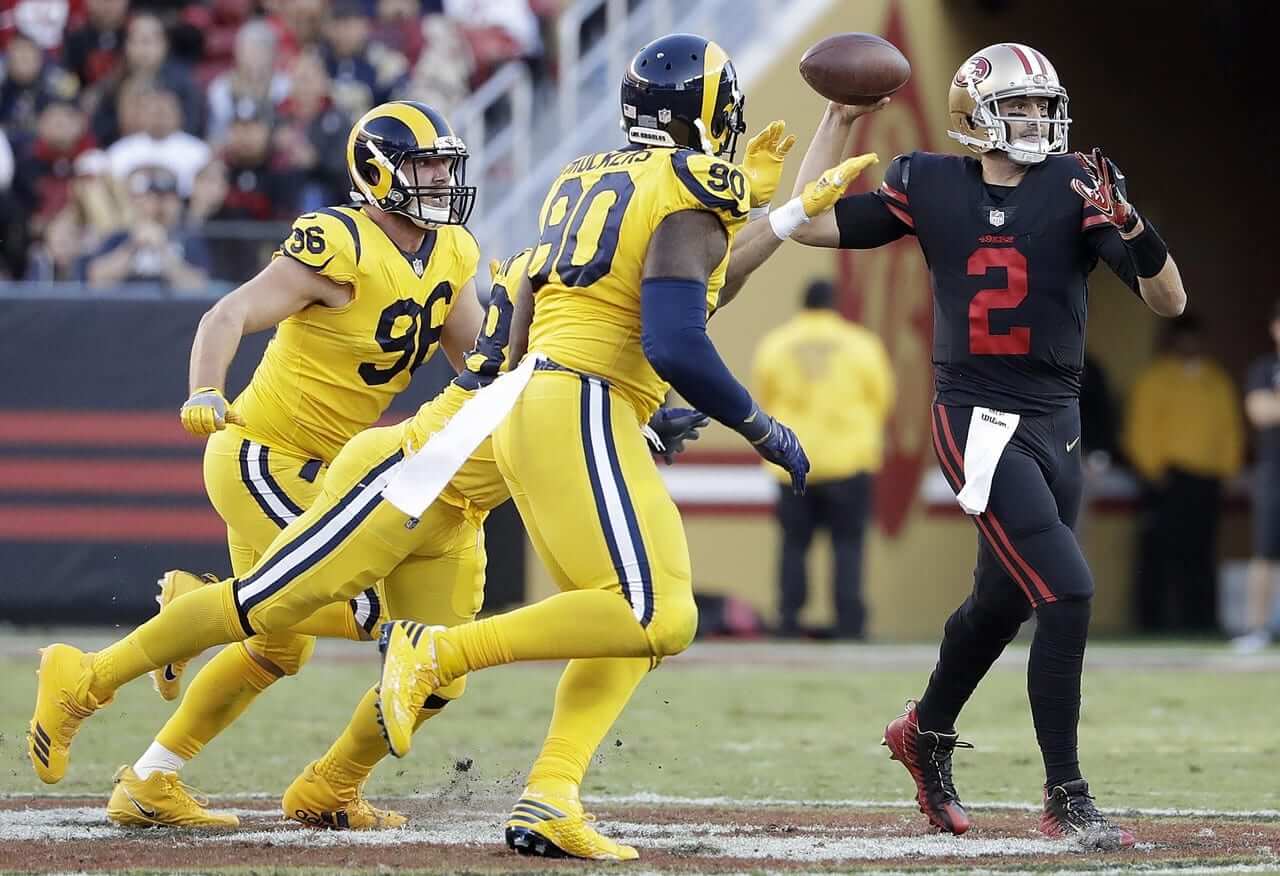 Click to enlarge
The weekly slop: Last night was the appointed date for my favorite NFL team to dress like clowns. Also, my favorite NFL team sucks (all the time, not just last night). Also-also, the other team dressed like clowns as well.
In other words, I did not watch the game and instead cleaned the house. This was good, because it meant I was home and could respond to all the people who emailed and tweeted to ask, "How come the Rams get away with wearing a different helmet? I thought there was a rule!" That never gets old, lemme tell ya.
Additional photos here.
• • • • •
The Ticker
By Kris Gross

Baseball News: The Brewers and Cubs went blue vs. blue last night (from @Zanerzas). … The Reds will add additional safety netting in response to that girl getting hit by a foul ball at Yankee Stadium. … Speaking of, here's an illustration of the original Yankee Stadium, including the names of every player who ever played there (artwork by Daniel Duffy, sent our way by Mike Chamernik).

NFL News: If last night's Rams/Niners game got you down, check out how the Rams used to look (from Alex Cheremeteff). … Speaking of last night's game, 49ers QB Brian Hoyer suffered a torn jersey. … Injured 49ers LB Reuben Foster was on the sidelines wearing a jersey with a "5AVA6E" NOB. The 5 and 6 matched his No. 56 (from Brinke). … A fan convinced Patriots owner Robert Kraft to change mascot Patriot Pat's number from No. 0 to No. 1 (thanks Anthony). … Pretty cool steelworker illustration on this Steelers schedule poster (from Robert Hayes). … As we prepare for the Colts and Browns matchup this weekend, let's take a look at some classic film from the 1964 NFL Championship Game between those two teams (from Robert Hayes).

College Football News: Colorado State will wear Colorado flag-themed jerseys on Nov. 11 against Boise State. … Here is some more info on the "Dallas Razorbacks" uniforms Arkansas will wear on Saturday. … Houston will wear a Texas flag-themed helmet logo (from Ignacio). … We have the jersey matchup for North Carolina vs. Duke (from James Gilbert). … Also from James: UNC's costumed mascots, Rameses and Rameses Jr., will wear memorial patches following the death of a former student who wore the Rameses costume for three years. The patches will be worn at all UNC sports events that the mascots attend (from James Gilbert). …Syracuse will wear chrome facemasks with orange jerseys this weekend (from Bryan Prouse). … Virginia Tech safety Deon Newsome will wear the No. 25 jersey on Saturday to honor Frank Beamer (from Andrew Cosentino). … Here is more info on the "Medal of Honor" uniforms Wayne State wore last weekend. … BYU developed helmet foam for real-time concussion detection (thanks Phil). … This Florida recruiting image uses the wrong number color. It should look like this (from Brian).

Hockey News: The Lighting and Hurricanes went color-on-color on Wednesday night (thanks Paul). … The Flyers wore Reebok warmups before the game, but Adidas jerseys during the game on Wednesday (from Kevin Kurz). … Golden Knights players delivered jerseys to season ticket holders (from Maximiliano). … Sauli Niinstö, the President of Finland, dropped the puck in Minnesota last night. Check out the umlaut on his NOB (from Steven Schapansky). … The Predators teamed up with a local developer to build a youth sports complex, and the developer uses the old Predators logo (from Ernad Selimagic). … The Boston Pride of the National Women's Hockey League have a new logo (thanks Paul). … The Colorado Eagles of the ECHL unveiled new jerseys, with an anniversary patch to celebrate the team's 15th season (from Zeke Perez Jr.). … More new looks from the ECHL, as the Idaho Steelheads debuted new logos (from Nik Streng).

Basketball News: The Celtics shared some of the ideas behind their new black alternates (from Joe Giza). … Big Baller Brand has completely redesigned Lonzo Ball's shoe before its November release. … Luke Adland passes along what looks like new Iowa State uniforms for this season. … Be on the lookout for Celtics guard Kyrie Irving on the hood of the GameStop/NBA2K18 car at New Hampshire this weekend (from Robert Hayes). … New yellow uniforms for North Dakota State (from @moserdustind).

Soccer News: It appears Nike is getting away from their generic kits for the 2018 World Cup (from Ed Żelaski). … Montpellier Hérault, a professional soccer club in France, will send a batch of misspelled jerseys to Montpelier High School in Vermont (from Jack Swagnon).

Grab Bag: We continue our daily update on nose piercings, here's F1 driver Lewis Hamilton, who wears a nose stud while racing (from Matthew Walthert). … East Grand Rapids High School in Michigan will be hosting a vintage field hockey game to re-create the first women's field hockey game in the U.S. More info here (thanks Jamie). … Here's an article about really small versions of everyday items, which is becoming a collecting niche.
• • • • •
Shame on me for not wishing everyone a happy autumnal equinox yesterday, and also a happy Rosh Hashanah for those who are observing. Plus yesterday was my half-birthday and I forgot to eat half a cake! Will try to make up for it today. Everyone have a great weekend and I'll see you on Monday. — Paul