Longtime reader Gene Sanny was recently doing a bit of football research for some art projects and came across some interesting stuff. One thing at a time:
•  Here's something I've never seen before: Cowboys running back Calvin Hill with a blue U-bar to go along with his grey facemask! An interesting look:
•  I think we've seen this one before, but once more won't hurt: Check out the seriously torn jersey being worn by Bears quarterback Bobby Douglass in a 1973 game.
•  We've all seen players wearing casts to protect broken bones. But I don't think I've ever seen a cast as big as the club-like treatment that Falcons center Jeff Van Note was wearing in this next shot.
•  Remember how Raiders quarterback Ken Stabler sometimes had a little smiley face sticker at the base of his helmet stripe? Fellow Oakland signal-caller Daryle Lamonica also had a sticker in that spot, but his was a little Raiders logo (apparently accompanied by some sort of text, although I can't make out what it says; click to enlarge):
Update: Pseudonymous reader/commenter Dumb Guy reports that the text on the sticker reads, "Oakland Raiders." You can see it clearly if you click to enlarge this next photo:
•  Interesting helmet being worn by Jets offensive lineman Winston Hill in this 1969 shot. Note how the nose bumper padding runs the entire span of the helmet shell's forehead ridge: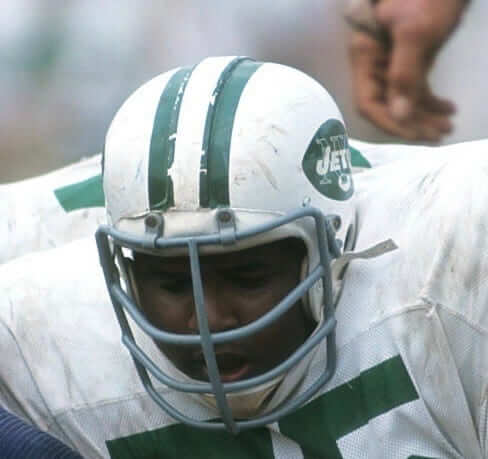 •  At one point Chargers quarterback Dan Fouts broke his nose and wore a facemask style more commonly seen on running backs:
•  Turning to the college gridiron, we've seen USC playing color-on-color games against UCLA, and we've seen Georgia Tech going color-on-color against Texas Tech, but I don't think I'd ever seen USC and Georgia Tech going color-on-color against each other. This photo is from 1969. Look closely and you can see the college football centennial logo on Trojans running back Clarence Davis's helmet: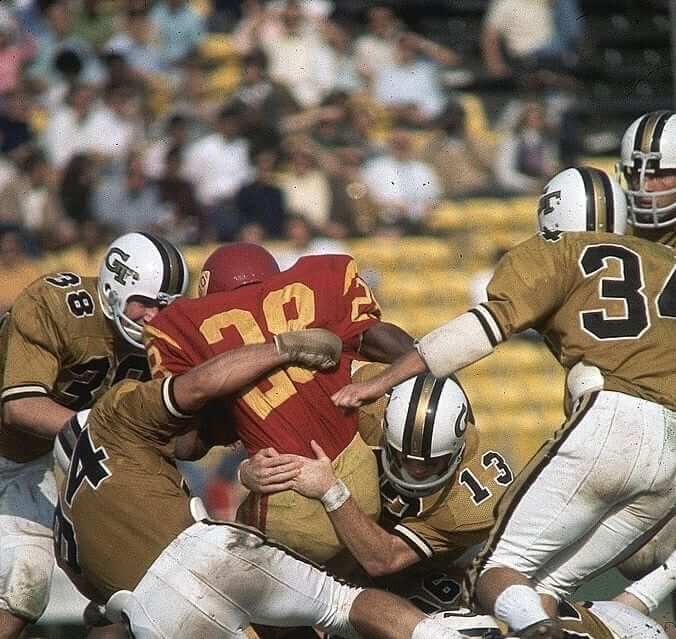 •  There are mesh jerseys and then there are mesh jerseys. The one worn by Ohio State quarterback Rex Kern in the 1969 Rose Bowl looks like it would be better suited to be a basketball net:
Good stuff — big thanks to Gene for sharing it with us.
•  •  •  •  •
Membership update: Several new designs have been added to the membership card gallery (including Tony Andela's, shown at right, which is based on caddy jumpers at the Masters). The printed/laminated versions of these cards will be shipping out by the end of next week — or sooner, if we get a bunch of new orders, hint-hint.
As always, you can order your own custom-designed membership card here, you can see all the cards we've designed so far here, and you can see how we produce the cards here.
•  •  •  •  •
Raffle results: The winner of the raffle for the free satin jacket from Stewart & Strauss is Louis Schneider. He'll share a screen shot of his jacket design once he's created it with the S&S jacket-builder interface. Congrats to him, and thanks to all who entered. More raffles coming soon.
•  •  •  •  •
The Ticker
By Alex Hider

Baseball News:   The Blue Jays debuted their red Sunday alts (and batting helmets!) yesterday. Catcher Russell Martin continued to wear blue catcher's gear, and outfielder Kevin Pillar celebrated by going high-cuffed (from Will Shoken and  Mark). … The Mariners wore their cream Sunday alts yesterday, and Trevor Miless  points out that Seattle is  not giving their royal batting helmets the matte treatment. Their standard navy helmets went matte this year. …  The Mets and Marlins went color-on-color yesterday in Miami. … Someone drew a cross on the mound at Nationals Park yesterday "" perhaps an Easter tribute? (From John Mark Fisher.) …  D-Backs P Taijuan Walker wore teal cleats to match the team's alternate road grays yesterday (from  Andy Page). …  Michael caught a Bay Area TV station using an  old Astros logo  in a graphic. …   In honor of Jackie Robinson Day,  Jeff Pollock sent along  this commercial that used to run in Canada. Good  attention to detail on the uniforms. … The Class-A Inland Empire 66ers will now be the Inland Empire 66ers of San Bernardino thanks to a new stadium lease with the city (from Kristopher Sharpe). …  St. John's has the New York skyline inside its uni numbers. They also have a handwritten "LV" on their caps "" anyone know what that stands for? (From  Eric Hoffman.) … How hot is Orioles rookie Trey Mancini? Not only did he hit two home runs yesterday, but two of his teammates homered while using Mancini's bat. … Nats OF Bryce Harper appeared to be wearing old socks without the Stance/MLB logo creep yesterday (from James Roberts).


Pro and College Football News: Here's a look back at the uniforms of the  '90s American expansion teams in the CFL (from  Bar Down). … Ohio State QB J.T. Barrett wore a special  black QB jersey with reflective numbers and sublimated Buckeyes during the team's spring game Saturday. The team's typical QB jersey has normal numbers (from  John Alexander).

Hockey News: Blue Jackets D  Zach Werenski took a puck to the face during yesterday's playoff game, leaving a nasty gash. He came back later wearing a  full facemask. …  Good story about  a Minnesota community's search for a jersey worn during the 1973 high school state championship.

NBA News: For yesterday's playoff game against the Bulls, Isaiah Thomas of the Celtics wore a  black headband in honor of his sister Chyna, who died in a car accident on Saturday. He also appeared to be wearing a black undershirt with a Nike logo, which was clearly visible under his jersey. The Celtics also wore black mourning bands, and the Bulls wore their black sleeved alternates (from  Cole P.  and others). … Color-on-color playoff game between the Rockets and Thunder last night (from  Chris Howell).

Grab Bag:  The Vancouver Stealth of the National Lacrosse League wore  British Columbia-themed unis  on Saturday (from  Wade Heidt). …  White House Press Secretary Sean Spicer appeared at the Pentagon Saturday in full naval uniform. He's a commander in the Navy reserves. … Artist  Yoshihiro Okada uses orange peels to create  spectacular art. … The New York Times has a feature on  Alexandre Daillance, a 20-year-old man who has made a name in fashion with his specialty baseball caps  (from Tommy).