[Editor's Note: Paul is on his annual August break from site (although he's still writing his weekly Substack column). Deputy editor Phil Hecken is in charge from now through the end of the month.]
Good morning!
With the word this week that the Cincinnati Bengals had petitioned the NFL to alter their alternate helmet/jersey rules, and then announcing they would be wearing their white (alternate) tiger stripe helmets with their primary white jersey, somewhat effectively mooting current alternate helmet usage rules, is it time the NFL actually does just that?
From the moment the NFL announced it was rescinding the "one shell rule" last year, it's been somewhat confusing as to how and when teams can wear their alternate helmets, and with what uniform they are permitted to do so. Basically, it came down to this: a team can wear an alternate helmet with (1) an alternate jersey; (2) a color rush (CR) uniform; or (3) a "classic" (throwback) uniform. And strictly speaking, that is what all teams did last season. Since teams can also only wear their alt/CR/throwback (or any combination thereof) a maximum of three times, the alternate helmet was also restricted to being worn three times per season.
The way I'm understanding what the Bengals are attempting to do is not to request a rules change per se: while they did petition the NFL to wear their white helmets with what is their primary white (usually worn on the road) jersey, they apparently didn't request an exemption to the current alternate helmet usage rules. What it appears they have done is to eliminate their current CR uniform (with which they paired their white helmets last season), and redesignated their primary white to also have alternate (CR) status — similar to what the Carolina Panthers did last season.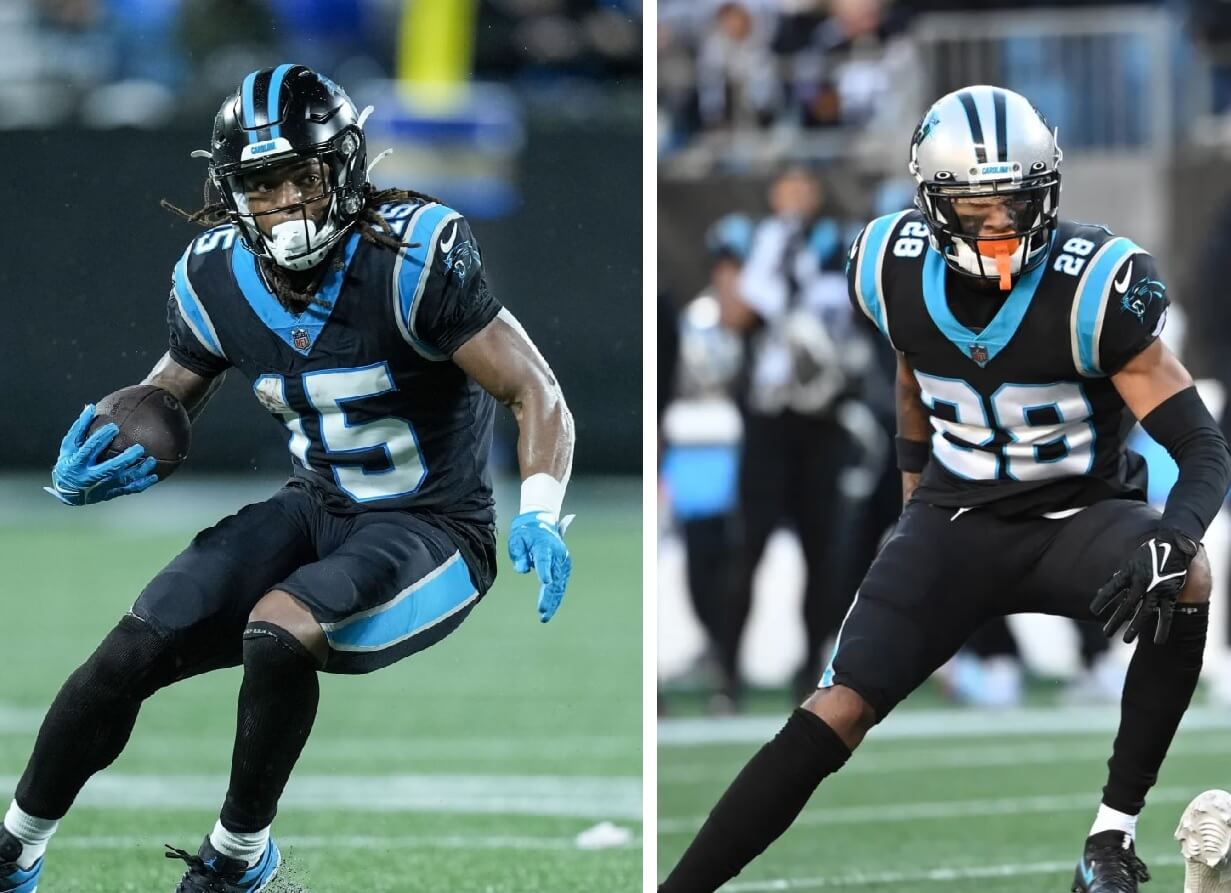 The above photos are both from the 2022 season (and confirmed by the GUD). You'll note both uniforms are identical save for the helmet. Carolina played somewhat fast and loose with the alternate helmet rule, as the black jersey is both their primary jersey, AND a part of their CR uniform. So they were able to wear their black helmet a maximum of three times, and it had to be paired with the mono-black (CR) uniform. If you look at that graphic from the GUD, you'll see they also wore their black jersey (and silver helmet) with their white and silver-gray pants. As it turns out, they only wore their black helmet one time — they wore their regular silver helmets for the remaining 16 games. But they wore both a silver and black alternate helmet with the same exact uniform one time each. Obviously that's "within" the rules, but still…
So it's my understanding that the Bengals are seeking to do basically the same thing, although I believe in this case they're seeking to ditch their former CR uniform, and to designate their white primary as part of their new CR uniform.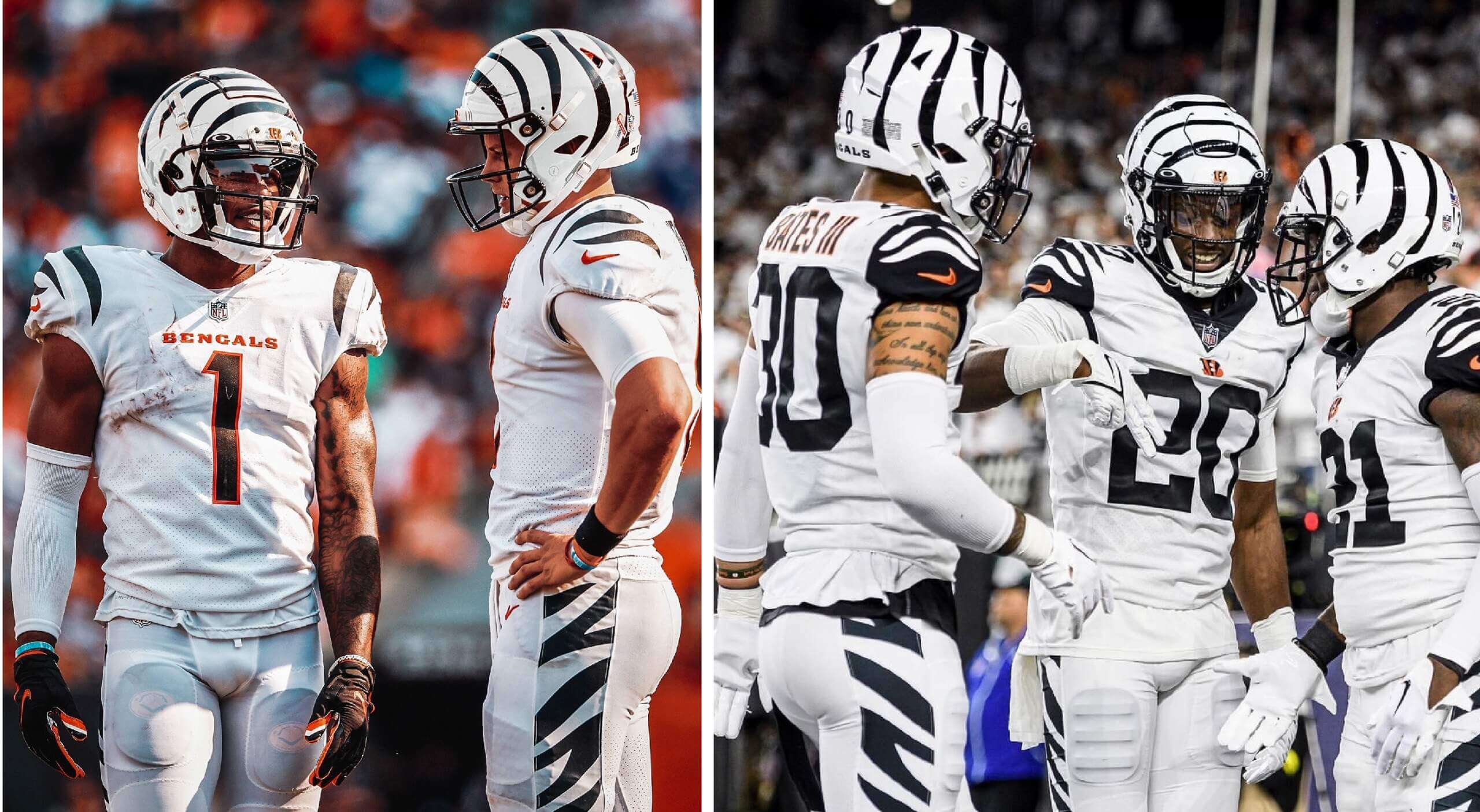 Just yesterday, the Bengals announced they'll wear their white alternate helmets with their white jerseys for two Monday Night games this season. Apparently this is because they've been able to "ditch" their old CR uniform (above right) and will be creating a "new" CR uniform (left) going forward. If they wear the white helmet no more than three times (which seems to be the case), they'll still be adhering to the current alternate helmet use rules.
One other team played a bit fast and loose with the alt helmet rule last season: the Dallas Cowboys. Only they did it in a different way.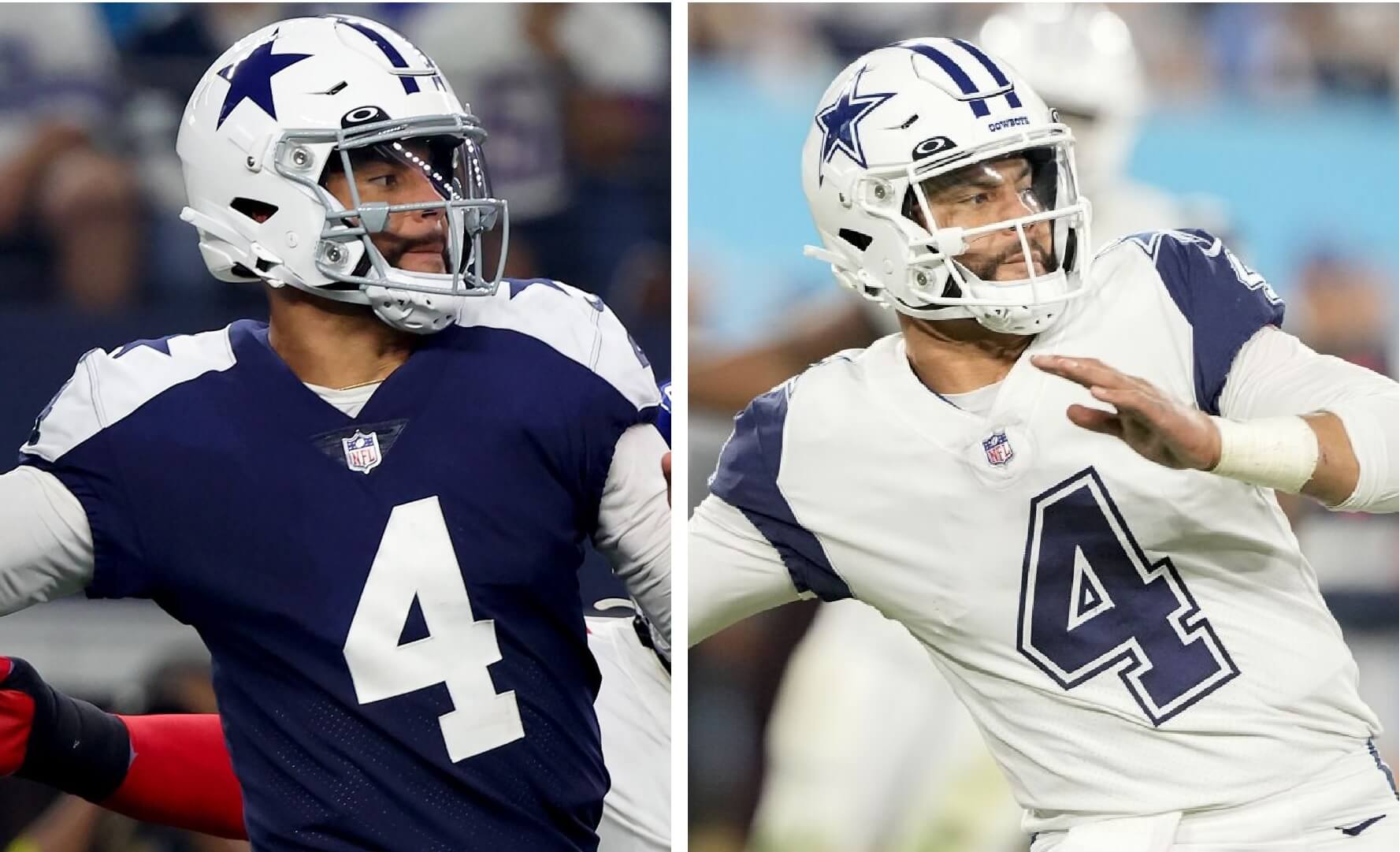 As you are aware, last year the Cowboys added a white alternate helmet to their current silver lid, which they used two times and with two different uniforms: on the left is their 1963 classic (throwback), and on the right is a new "Icy White" CR uniform. While the shells are the same, the Cowboys applied different decals and stripes for use with different uniforms. Again, not in violation (worn three or less times, paired with Alt/CR/Throwback) of the rules, but definitely bending them a bit.
All of which leads me to this: alternate helmets were originally prohibited (following the 2012 season) for safety reasons. With those concern$$$ clearly assuaged now, the alternate helmet use returned last season, but contained the above-mentioned stipulations. But two teams (last year) and now the Bengals have all gone to great lengths to find workarounds for wearing their alt hats. If the problem with the alt helmet use in the past was safety concerns, but those concerns have now apparently been satisfactorily resolved, does it still make sense to limit teams to wearing them a maximum of three times a season, or to be restricted to wearing them only with an alternate, CR or classic uniform?
More than half the teams in the the league now have alternate helmets. For those pairing them with throwbacks, that makes perfect sense and in most cases it would look silly/stupid for teams to pair those shells with either of their current primary home/away uniforms (although it might be interesting to see say, a white Buccaneers helmet or a Flying Elvis on a white shell). But for those alternate helmets which have been introduced that are not for use with throwbacks, would it really hurt the NFL's brand if those were permitted to be worn with a team's primary uniform? Would you like to see the Saints black alternate helmet worn with their black jerseys? Their current all-black uniform with gold helmet looks ridiculous, so pairing that with a black helmet couldn't hurt.
What about the Bears wearing their new orange hat with their navy jerseys and white pants? How about the Texans pairing their new red helmet with their blue jerseys? Some of the possibilities are actually intriguing — and the NFL could still limit alternate helmet use to three times per season…just without the current restriction to an alt/CR/throwback.
Or would that be opening a proverbial "Pandora's Box" — does anyone really want to see, for example, the Jets pair their black alternate helmet with any uniform with their green jerseys? Or the Colts new black helmet with any jersey at all? As it stands now, the Lions must pair their new blue helmet with their gadawful gray CR uniform — but how good might that look if paired with their blue or white jersey?
Obviously the possibilities are endless if the alt helmet use rule were amended to permit teams to pair those helmets with primary uniforms. But we're already seeing teams playing fast and loose, so why not go all the way?
Already we're hearing rumblings from the Bills that they'd like to introduce a red alternate helmet for 2024. If they were to do so, under current rules, they'd need to pair a red helmet with either their red CR uniform or introduce a throwback — but they couldn't pair it with either their white or blue primary uniforms.
What do you guys think? Are the rules currently in place (three times max, must be worn with CR/alt/throwback) sufficient? If they remain in place, will more teams go the Cowboys/Panthers/Bengals route to stay within the rules, but not the spirit? Or should the NFL just say, "you can wear your alt helmet with any uniform"? And if so, should they at least keep the alternate helmet wearing to a maximum of three times a season, as the rule currently states?
The "floor" is all yours…