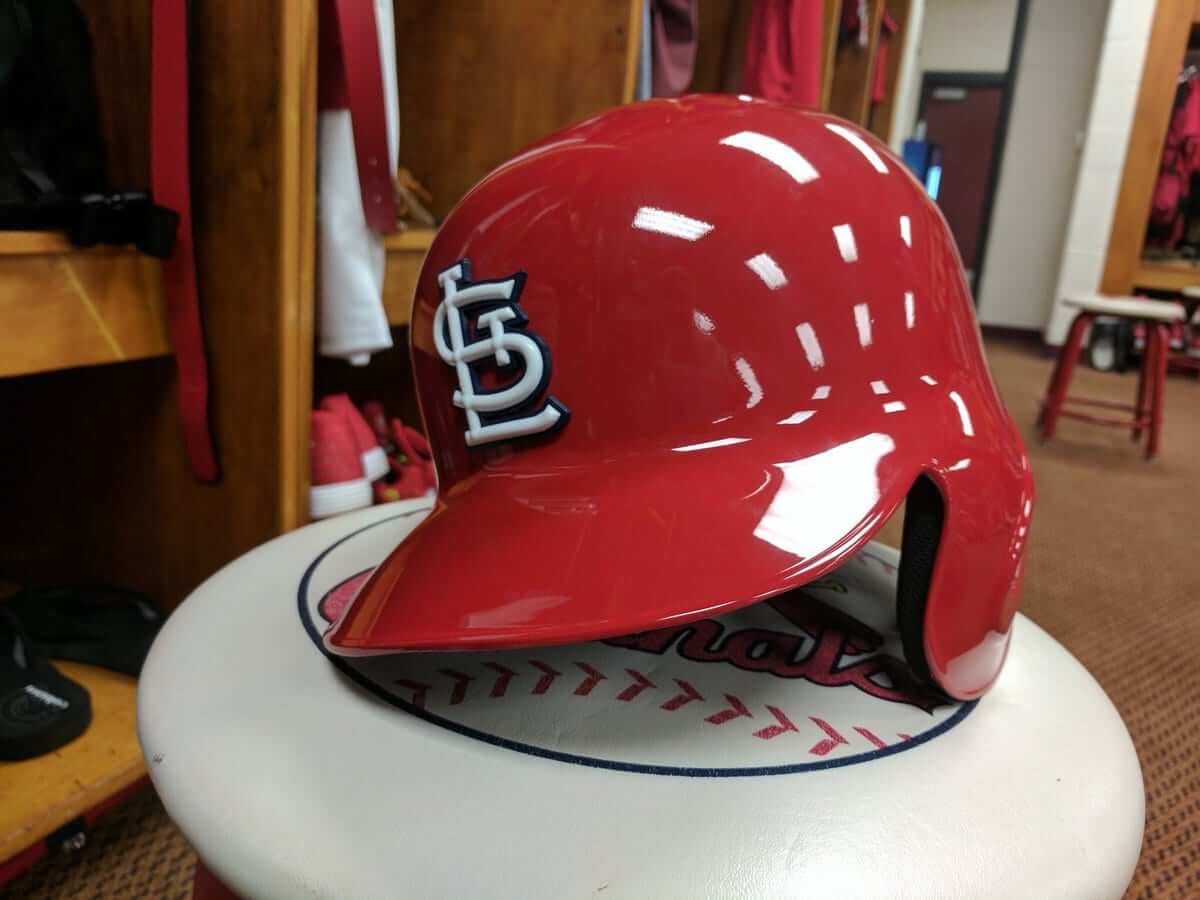 Click to enlarge
The Cardinals have become the latest team to go with a three-dimensional batting helmet logo, following the Dodgers' lead from last year. I liked L.A.'s version last year, and I like this version even more. The two-color treatment looks great.
A few notes:
•  As you may recall, the Dodgers started with a hard-plastic logo that constantly chipped and cracked, so around the All-Star break they switched to a flexible rubberized version, which worked fine. That's the version the Cardinals are using.
•  The Dodgers also switched from glossy helmets to matte, so their raised logos were made with a matte finish. But the Cards are sticking with glossy helmets, so their logos will have a glossy finish.
•  David Sulecki of Pro Helmet Decals, who manufactured the logos, said the "StL" helmet mark was designed to mimic the cap logo as closely as possible. Even the little raised bumps where the white lines intersect were meant to mimic the similar raised areas on the team's embroidered cap logo.
•  There's also a separate version for the Cards' navy road helmet (which they still use when playing against a host team that wears red caps, like the Reds or Nationals). I hope to have a photo of that soon.
Meanwhile, you can expect to see several additional MLB teams going with the raised helmet logos this season (and some new matte helmets, too). Some may unveil them as soon as next week, and others may wait until later in spring training or even Opening Day. Stay tuned.
•  •  •  •  •
ESPN reminder: In case you missed it yesterday, my latest ESPN column looks at the rise and fall of BFBS. Check it out here.
Party reminder: Uni Watch party this Sunday, Feb. 19, 3pm, in the back room of the Douglass (which is the same place we used to meet at, Sheep Station, but with a new name). Phil will be there, I'll be there, you should be there. Come join us!
•  •  •  •  •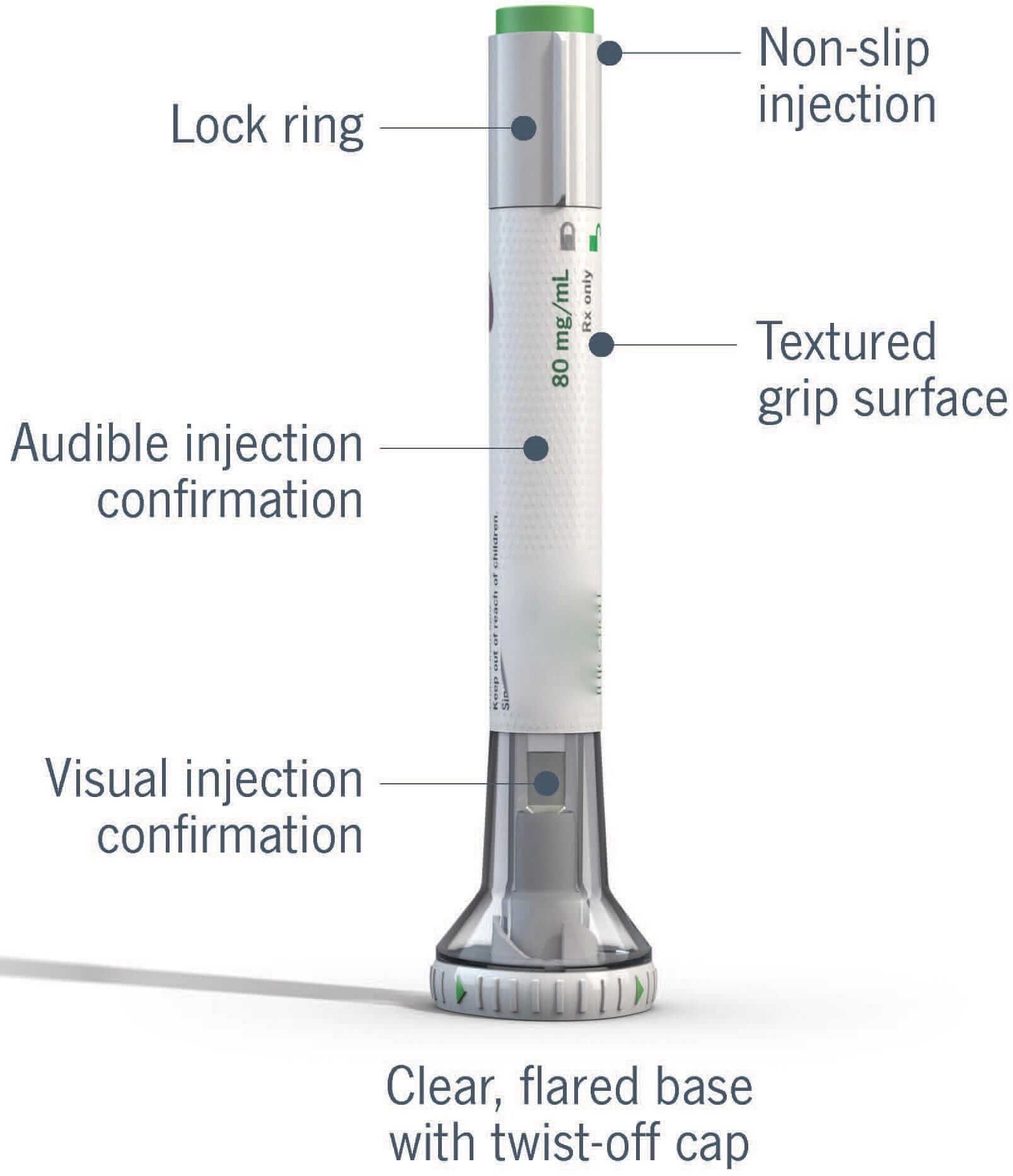 Click to enlarge
Design this: I have an annoying medical condition (don't worry, not life-threatening or debilitating) that has so far resisted everything my doctors have thrown at it. Last year we tried a fancy-shmancy drug that I took by using a beautifully engineered auto-injector. That didn't help, so now I've just started taking a new fancy-shmancy drug, which is delivered via an even more beautifully engineered auto-injector (see above).
It's fascinating to see the differences between the two injectors. The one I used last year was good, but this new one is definitely better "" more intuitive, more ergonomic, feels better in the hand, and the flared base keeps it from slipping (which was a problem I had one time with last year's injector). We know drug companies employ lots of scientists and doctors who are trying to come up with cures for diseases, but it's easy to forget that they also employ teams of industrial designers who create things like auto-injectors, and that some of their design solutions are better than others.
I also like that the top plunger button and some of the typography and graphics are green "" my favorite color.
•  •  •  •  •
The Ticker
By Paul

Baseball News: Looks like the Mets will have a St. Paddy's Day cap (from Steven Hom). … Stance continues to have problems with striped socks. To be clear, it is impossible to have perfect stripes on a knit sock — the nature of knitting makes it unavoidable that the beginning and end of the stripe won't align. But they shouldn't be off by that much (from @LADodgersRich). … Red Sox P Chris Sale discussed his "Edward Scissorhands" meltdown from last year (thanks, Brinke). … Latest college team to go with a 3D helmet logo: Mississippi State (from Dustin Semore). … Did the Rockies change their shade of purple in order to please 3B Nolan Arenado? It's a fun idea, but the reality is that this change, like all MLB uni changes, was in the pipeline for a while (from Rob Montoya). … More about the Rockies new shade of purple here (from DenverGregg in yesterday's comments). … Diamondbacks' new pants look so much better without the stupid gradation on the cuffs. … Speaking of the D-backs, P Fernando Rodney was taking bunting drills while wearing a ring yesterday. … New uniforms for East Tennessee State (from Brandon Keys). … The Single-A Potomac Nationals have a new 40th-anniversary patch. Only problem is that this isn't their 40th anniversary; it's their 40th season (from R. Scott Rogers). … The Pirates' G.I. Joke jersey will no longer be paired with a G.I. Joke cap, which I guess qualifies as a small bit of progress. … Some MLBers are wearing a new (to me) spring training pullover. It's not the one I wrote about two weeks ago — it's this (from Zach Loesl). … Also from Zach: Here's a look at the Royals' "Ace 30" memorial patch for Yordano Ventura. … LSU-Alexandria is going with purple tequila sunrise jerseys (from Ashley Purifoy).

NFL News: A bunch of old Steelers jerseys are up for auction. Of particular interest are the two Batman designs — one black, one white — and this 1962 design with the gold sleeve panels. I really like the gold outlining on those black numerals, too. Further info on all of these newly available jerseys here (from Jerry Wolper and Chris Weber). … "I was watching a video on the Bears' website about a couple that had 'an impressive Bears-themed garage,'" says Ben Obecny. "The woman in the video was wearing a No. 33 Bears jersey with two NOBs — one for Charles "Peanut" Tillman and and for Jeremy Langford. Would this be DNOB, for double name on back?" … Dog bites man: Lions exec Ron Wood thinks fans will like the new uniforms (from Phil). … Yesterday's Ticker mentioned that the zebras in Supe XXVII changed from short sleeves to long sleeves during halftime. "I was there shooting the game for KVUE-TV in Austin," says Kenny Kaplan. "I wore a short-sleeve shirt during the first half and had to put on a light jacket for the second half, because it definitely cooled off quickly when the sun started to go down." … Three different Saints players, three different number fonts, or at least font weights. That's from a 1977 game (from Mike Selock).

College Football News: Here's a look back at the history of Minnesota's uniforms (from Eric S). … Whoa, check out this awesome Iowa State helmet cart (from Andrew Cinnamon).

Hockey News: Teenage Mutant Ninja Turtles-themed jerseys upcoming for the Cincinnati Cyclones (from Bill Fenbers). … Here's something I hadn't realized: The NHL All-Star jerseys have the NHL Players' Association logo on the back-right shirttail. A quick check of NHLuniforms.com reveals that it's been going on for years, but I just never noticed (from Steven Woj). … The Orlando Solar Bears have a lot of ads on the ice. "It's quite distracting watching the game," says Steve Mendygral.

NBA News: Here are all 30 NBA team logos reimagined for Black History Month. Some are really good, others less so, but I like the explanations behind each design, many of which are informative and educational (from Daniel Pedroza).

College Hoops News: SUNY-Buffalo will wear 1950s throwbacks on Saturday (from Brian Wolff). … Oregon wore a new neon design last night. I love how the tweet says, "New uniforms create hype" — hey, at least they're honest about it. Here's how the unis looked during the game. … Check this out: Oglethorpe University has black uniforms on a black floor! (From Kirk Shellhouse.) … "Michigan basketball had a Social Media Night," says Jay Winker. "They gave out shirts with the players' faces as emoji, and the scoreboard had emoji logos for the teams. It's a kinda silly idea, but I thought the execution was pretty good."

Soccer News: New uniform for Real Salt Lake. "Interesting choice to have the stripes stop in the area around the advertiser's name," says @bdh_photos). … New secondary kit for the New England Revolution. … The new FC Dallas away jersey has leaked (from Jim Collier). … Ditto for Minnesota United's inaugural kit. … New logo for the Chicago Red Stars (from Jason Yellin). … New uniforms for the San Jose Earthquakes (from Noah Fischer).

Grab Bag: Love this assortment of Chevrolet speedometer designs (big thanks to Dave Wilson). … The latest project from DIY genius Wafflebored is characteristically weird but awesome. Here, see for yourself. … Looks like NFNS — that's neon for neon's sake — has filtered down to Formula 1 (from @VictoryCB). … Here's the ticket design for this year's Indy 500 (thanks, Alex). … Funny car driver Robert Hight recently ran a paint scheme that paid tribute to the California Highway Patrol (from David Firestone). … Also from David: New driver suit for top fuel driver Tony Schumacher. … Oooh, I like this: Lego logos though the ages (from Manzell Blakely). … New jersey for the South African Super Rugby team Southern Kings (from Eric Bangeman). … Happy birthday to longtime reader Elena Elms, who sends me uniform-themed holiday cookies each December. She's also a huge Cardinals fan. What do you think of the raised helmet logo, Elena?
• • • • •

What Paul did last night: I turn 53 next month. Like most people, I've slowed down a bit as i've gotten older and can no longer keep up the pace I had when I was younger. But last night I had an ambitious agenda — three events in three different locations — and managed to pull it off.
I began at NYU, where my friend Joanna Ebenstein, founder of the recently shuttered Morbid Anatomy Museum, was giving a presentation about how she unexpectedly found a new career as a museum director. As you can see in that last link, one of the key questions she addressed was "What happens when your passion becomes your profession?" — something I can relate to.
Joanna's presentation was really, really good, but I had to leave after an hour because my friends Susquehanna Industrial Tool & Die Co. were playing, so I ran about six blocks north, caught a crosstown bus, and arrived just as they were starting. Their show had a Presidents Day theme, with everyone in attendance receiving a custom-packaged presidential figurine. Here's mine (click to enlarge):
I only stayed for the first set, because I had to scoot over to another club to see my friends the Gowanus All-Stars, who were playing a show of their own. They had four guitarists last night — and it was almost enough:
I left the club at about 11pm, grabbed a slice of pepperoni-bacon pizza on my way to the subway, and was home by 11:45 — not bad. Good to know I can still pursue an ambitious evening agenda if I want to.
The one thing connecting all three of these events is that I'm friends with the people involved. I'm lucky to know so many talented, creative people!
However you spent your Thursday night, hope it was a good one. Have a great weekend, and I hope to see some of you at the Douglass on Sunday.