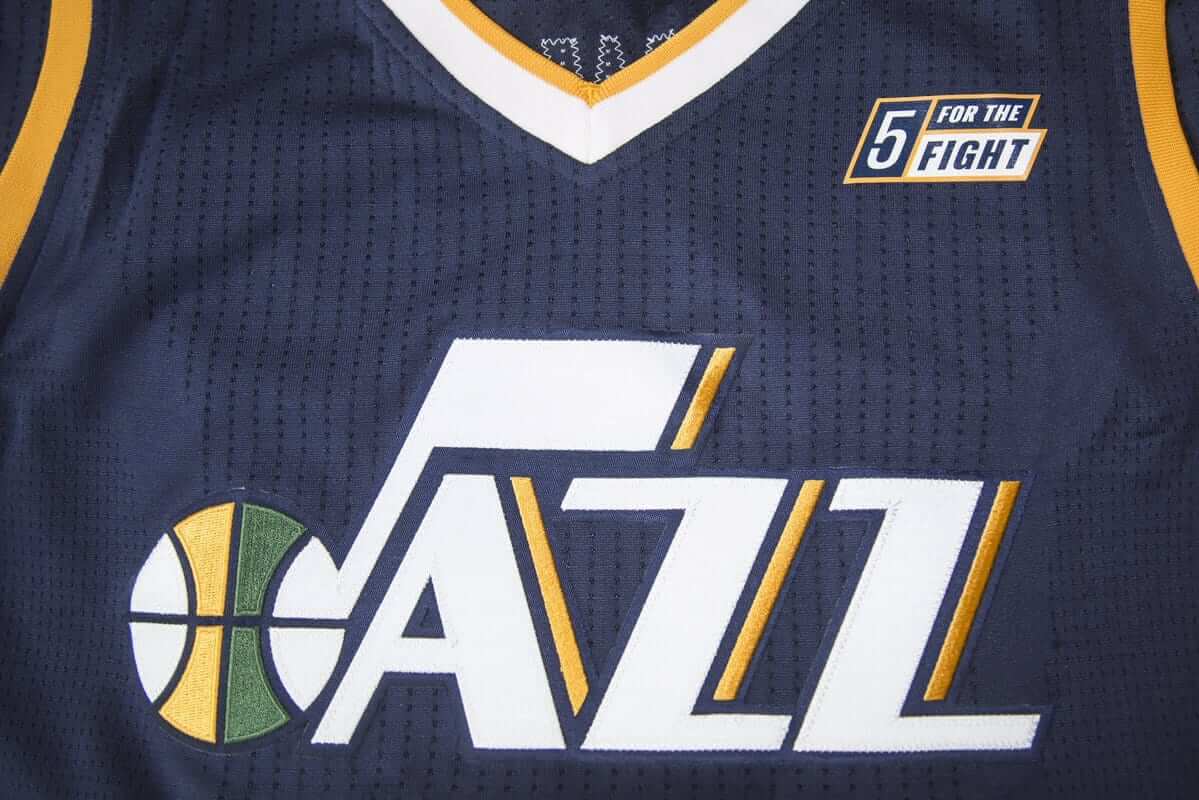 Click to enlarge
Yesterday morning the Utah Jazz announced that they'd be unveiling their jersey advertisement patch later in the day. The patch, they promised, would be "innovative."
Hmmmm, what did they mean by that? Like, was the patch going to be rhinestone-studded? Would it have some sort of electronic component, like a Fitbit? It was easy to envision lots of worst-case scenarios.
Shows what I know. The Jazz have partnered with Qualtrics, a Utah-based software company. About a year ago Qualtrics launched a cancer research fundraising initiative, called 5 for the Fight (the idea is to get everyone to contribute $5). And here's the innovative part: Instead of wearing the Qualtrics logo, the Jazz will wear a "5 for the Fight" patch.
Ӭ
The patches will be in Jazz team colors (here's the version for the home jersey) and will not have any reference to Qualtrics. In other words, the corporation is completely subordinating its own identity and just promoting its charity initiative. Imagine that.
The original idea was for a standard corporate ad patch with the Jazz wearing the Qualtrics logo. But then Qualtrics came up with the idea of doing the "5 for the Fight" patch. At the press conference, Qualtrics CEO Ryan Smith talked about the unusual nature of the promotion:
It would've been a lot easier, probably, just to put 'Qualtrics' on the jersey. And everyone who knows me knows how hard it is to put something besides 'Qualtrics' on the jersey patch. But it's the right thing to do, and I think it's pretty much the first like this where there's actually a campaign that's going on. … I think it's going to make people think differently about the NBA and the patch, and all the things that can be done.
I think he's right. This patch instantly makes all the standard corporate ad patches look like the craven, greed-driven maneuvers they are. In the wake of this move, how can any other NBA team go with a conventional corporate ad? Well, I'm sure they'll find a way. But now they'll look even worse than they already would have.
I also liked this quote from Jazz team president Steve Starks:
When we had a chance to show this to the team a few weeks ago, they were pumped about it as well. They loved the fact that they could wear something on their chest and be proud about it, that it wasn't just the logo of a corporation, but they could go feel like they're part of a bigger cause.
Good for them. Starks also had some interesting things to say about how the NBA felt about all of this: "The NBA has been supportive. It took a while to get their heads around this, because it was so innovative and creative, but the NBA came to love it."
I've already heard some people saying, "The Jazz are just doing this for publicity!" or "Qualtrics is just doing this for publicity!" or both. Yes, of course they are — the whole point of a charitable enterprise is to generate publicity for the cause. And what exactly is wrong with that?"¨"¨ Nobody is suggesting that the Jazz or Qualtrics suddenly deserve to be treated like Gandhi. But they've taken a mechanism that could have been a simple profit-taking enterprise and turned it into a charitable enterprise. Good for them.
Moreover, the Jazz aren't creating an unsightly new uniform and merchandising it with the promise of donating the net revenue to charity (like MLB does on Memorial Day, for example). They're just adding a patch to their existing uniform. And they're doing it with a corporate partner that's choosing not to push its own corporate identity as part of the patch. And while I confess that I'd never heard of "5 for the Fight" until yesterday (and would like to learn more about it, just as I'd like to learn more about any charity before declaring what I think about it), the basic idea of encouraging lots of people to contribute a small, reasonable cash sum — $5 — sounds much more attractive than raising funds by selling lots of branded merchandised crap.
There is, however, a potential catch.
Like other NBA ad patch partnerships that have been announced for the 2017-18 season, the Jazz/Qualtrics deal is for three years. But in a promotional video, Smith — the Qualtrics CEO — says the patch "will be on the jersey this season." Does that mean it will be replaced by the Qualtrics logo for the two seasons after that?"¨"¨
I posed that question to the Jazz PR department — no response. So I contacted Jazz beat reporter Andy Larsen, who was at the press conference, and asked if he could find out. He looked into it and then got back to me with this: "Official word is 'No determination yet on second and third years. Will evaluate after 17-18 season.'"
So while it's nice that the Jazz and Qualtrics are doing a good deed, they might just go back to corporate business as usual after one year. That would be very disappointing, and would squander a lot of the goodwill they're generating here. Here's hoping they're smart enough not to go that route.
Qualtrics will also be providing data-analytics services for the Jazz, just like GE will be doing for the Celtics and Infor will be doing for the Nets. Tech/software companies are turning out to be a surprisingly strong category for these uniform ads.
Finally, several readers have noted that this isn't the first time a pro sports team has worn a patch on an ongoing basis (as opposed to just for one game) to promote a charitable initiative. Back in the 1980s and '90s, the Winnipeg Jets promoted their charitable foundation by wearing various "Goals for Kids" patches (further info here). When the Jets moved to Phoenix and became the Coyotes, the franchise continued the tradition.
But the Jazz have an advantage over any hockey team: When one of their players gets set to shoot a free throw and the camera zooms in on that patch, the TV broadcasters will be able to say that the player is "at the charity stripe." That term will now resonate in a way it never has before.
•  •  •  •  •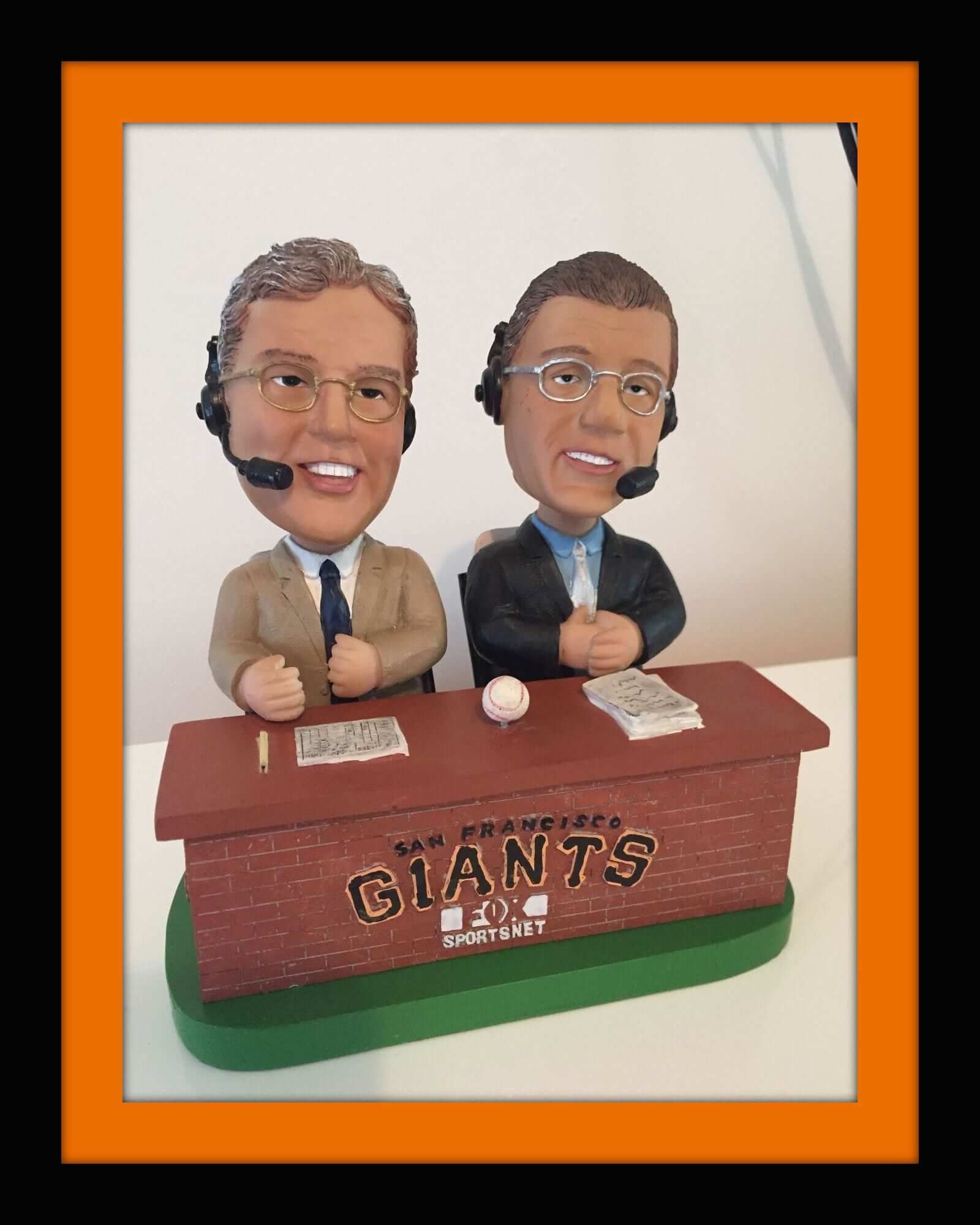 Collector's Corner
ӬBy Brinke Guthrie
Pitchers and catchers start rolling into camp this week, so this is a great time to feature one of the rarest of the rare Giants bobbleheads, featuring Mike Krukow (left) and Duane Kuiper, the team's popular TV/radio duo. When I say they are legends around here, I am not exaggerating. This bobblehead set has a sound chip featuring the duo's catchphrases, such as Krukow's "Grab some pine, meat." As I recall, this wasn't even a ballpark giveaway. I remember it being sold in The San Francisco Chronicle newspaper in 2003 for about $25, which was more than I wanted to spend at the time — a poor decision on my part, in retrospect, as these things now go for a fortune.
Now for the rest of this week's picks:
•  Couple of great vintage Bengals items here. First, a sideline jacket tailored by Koch's Sporting Goods, and also a helmet worn by player Bill Kollar.
•  Don't recall ever seeing this Cincinnati Reds Marathon sticker before, and believe me, back in the day, I didn't miss many things like that. (As an aside, here's a story from Todd Radom on why the Red's "running man" character always wore No. 27. I remember being surprised when outfielder Gene Locklear started wearing it in 1973!)
•  Always loved the graphics on this big 1970s NFL cardboard signs. Note how they recycled the graphics for different teams.
•  Here's your chance to own a Joe Namath-endorsed "Butter-Up Corn Popper" by Hamilton Beach. No Jets logo, but he is wearing the team jersey.
•  Here's a 1968 Green Bay Packers "NFL Collector's Series" poster that's in perfect shape. Perfectly folded, that is! But the auction listing states that Sears actually sold them this way. Unforgivable.
•  These burgundy/yellow "Dri-Grip" all-purpose wristbands were NFL-approved. No team logo, but the package does come with the NFL shield.
•  All this 1970s Oakland Ray-duhz helmet plaque needs is a little narration from John Facenda, am I right?
•  Check out the artwork on this 1970s-1980s NFL pillowcase.
•  Here's a rather unique-looking Buffalo Bills bank from the 1960s.
•  Great contemporary look to this 1970s Montreal Canadiens poster.
•  And we close out with one from reader Will Scheibler: If you like the old Quebec Nordiques logo, you'll love the variation of it that appears on this pee-wee hockey jersey.
•  •  •  •  •
BFBS question: A question popped up yesterday on Twitter: Who came up with the term "BFBS" (short for "black for black's sake")? Phil thought it was me, but I'm pretty sure it was not me. I've used the term a lot, but I didn't coin it myself, and I don't recall who did. Was it you? Speak up!
Party reminder: Uni Watch gathering this Sunday, Feb. 19, 3pm, in the back room of the Douglass (which is the same place we used to meet at, Sheep Station, but with a new name). Phil will be there, I'll be there, I may have theoretical T-shirts to sell, etc. Come join us!
•  •  •  •  •
The Ticker
By Mike Chamernik

Baseball News: A marketing exec who helped create the Blue Jays' original logo talked about the design process. I just learned a few weeks ago that the team most likely took the name and colors from Labatt Blue, the signature beer of the Canadian brewery that owned the team (from Ian Hunter). … Remember a few weeks ago when we all kvetched in the comment section about people misspelling our names? Looks like Pete Rose can chime in if he sees this cheap counterfeit jersey that Perry Sailor found. … Speaking of Charlie Hustle, here's footage of the Reds in Spring Training in 1975 (from Brice Wallace). … Later this month, a Cleveland baseball museum is hosting a roundtable discussion about the history of sandlot baseball in the city. From that, here's a good old shot of an Indians pitcher and a bunch of local kids wearing their different uniforms (from Eric Bunnell). … The Bowling Green Hot Rods will wear 1970s fauxbacks on Thursdays this season (from Eric Leach). … Charleston Southern softball has the Tampa Bay Buccaneers' wordmark on its jerseys (from @willchitty4). … Joe DiMaggio wore a No. 4 "Electricians" uniform during a charity game in 1944 (from @BSmile). … New uniforms for West Virginia (from @cdubya242). … New batting helmets for Auburn baseball and softball. … Infielder Jean Segura, now with the Mariners, will wear No. 2 this season.

NFL News: Much like Tom Brady last week, Brett Favre said that his jersey from Super Bowl XXXI went missing during the postgame celebration. … The wife of Keith Clowers made a Cowboys jersey box which their son will use to collect Valentine's Day cards at school today. Here's another look at the front. … Not uniform-related but too great not to share: Nine minutes of Randy Moss catching long touchdown passes. I don't like how anything visually appealing is described as "porn" (design porn, food porn, etc.), but this highlight reel truly is football porn.

College Football News: Virginia Tech announced its White, Maroon, and Orange Effect games for the 2017 season (from Andrew Cosentino).

Hockey News: Capitals G Braden Holtby will wear an equality-themed mask for the team's "Hockey Is for Everyone" night on Feb. 24 (from Phil). … The English River Miners, a junior team, will wear Don Cherry jerseys on Saturday (from Will Scheibler). … When he was the head coach during the early 1980s, the Bruins' Gerry Cheevers wore a jacket with "Coach Cheesie" on it (from Tris Wykes). … Pro wrestler Shawn Michaels wore a customized Penguins jersey with "HBK" on the sleeves. His nickname was the Heartbreak Kid (from Tyler McNally).

NBA News: The Timberwolves indicated to their season ticket holders that they will have new jerseys and colors "" lime green, navy, and heather grey "" next season (from Tyler Wiederhoeft). … The Thunder and Wizards went blue-vs.-red last night in Washington. Ryan Lindemann was at the game and saw a Wizards uniform history display. … The Charles Oakley jersey that Spike Lee wore to the Knicks game on Sunday was actually an altered Landry Field jersey. The big story there is that Lee owned three Fields jerseys. … Matthew Harvey redesigned every NBA team's logo and, along with some friends, created a bunch of Jazz data visualizations, game posters, and graphics. … The Suns and Pelicans went grey-vs.-red (from Zach Loesl). … Always good to see photos of Dr. J during his two-game preseason stint as an Atlanta Hawk. Legal wrangling sent him back to the ABA (from Alan Kreit).

College Hoops News: Virginia Tech's Chris Clarke wore a backwards LeBron James jersey during warm-ups the other day (from Andrew Cosentino). … Two University of Manitoba items from Will Scheibler: The Bisons played Moorehead in 1952 and both teams wore belts, and the school's women's team, the Bisonettes, had shiny satin uniforms in 1954.

Soccer News: After making his 500th club appearance, Real Madrid gave Sergio Ramos a jersey with FNOB and No. 500 on the back. He goes FNOB in games, too (from Nick Maibroda).

Grab Bag: Here are the hoodies for Team Finland Box Lacrosse. Judging by how much padding box lacrosse goalies wear, I don't think anyone has ever scored a goal in that sport.