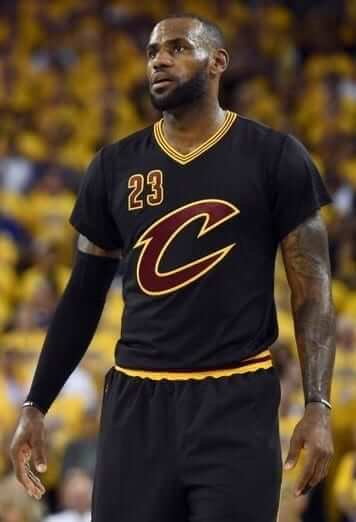 Ever since the NBA announced that Nike would be taking over from Adidas as the league's uniform outfitter in the fall of 2017, one of the recurring questions on people's minds has been, "Will Nike do anything about the sleeves?"
We may now have an answer. Yesterday's Wall Street Journal included an article about the league's plan to stop selling lower-priced replica jerseys at brick-and-mortar shops next season (which, as you can imagine, doesn't matter to me one little bit), and buried within that article was the following tidbit:
Nike, meanwhile, is expected to present its initial NBA jersey designs to retailers beginning this week. The company said it doesn't plan to produce sleeved jerseys, a style debuted by Adidas in 2013 that received mixed reviews from players and fans.
The full article is here, but it's behind a paywall, so I've uploaded the text for you here. (After a good back-and-forth in today's comments, I've disabled that link. The link to the original article may still work for you, however — the paywall appears to be inconsistent. Give it a try.)
I saw a few people on Twitter yesterday trying to parse the Journal's wording ("They don't plan to do sleeves, but that doesn't mean they won't do sleeves"), but come on — the clear implication there is that the sleeved jerseys are on the way out.
If so, that will be a major shift. By my count, at least 19 of the 30 NBA teams currently have a sleeved jersey. That includes the Jazz, who introduced a sleeved alternate just this season. Will they really scrap it after only one year? Sleeves are required on "pride" jerseys, and the Cavs rode their sleeved black alternates all the way to the way to the NBA title last season (reportedly at LeBron James's request).
Then again, the league will be introducing lots of uniform changes next season: Maker's marks and advertising patches are already a certainty, new tailoring and fabrics haven't been announced but are a given, and I've heard through the grapevine that several teams will have fairly bold redesigns. So why not scrap the sleeves too while they're at it? After all, even at the college level, the sleeves were always an Adidas thing, not a Nike thing.
I'm sure most fans will be happy, or at least not heartbroken, to see the sleeves go. Me too, for the most part. But I think the real letdown with the sleeves is that they never used them to their full potential. No patches, no stripes, no patterns, no nothin'. What a waste.
Meanwhile, if any of you retailers out there have feedback on the new Nike designs you'll be seeing this week, you know where to find me.
•  •  •  •  •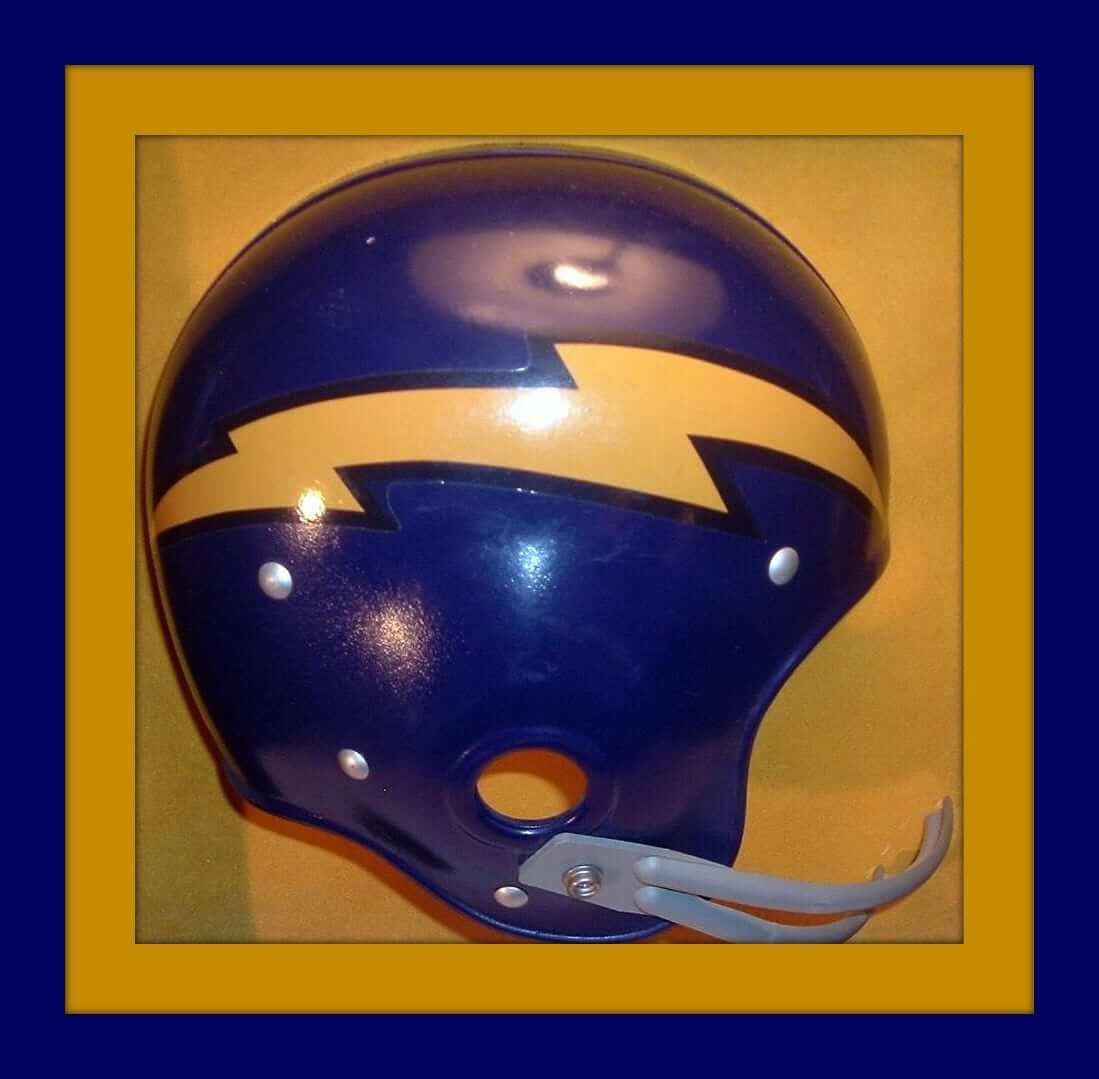 Collector's Corner
By Brinke Guthrie
If you think that "L.A. Chargers" logo was bad, how about this this San Diego Chargers helmet plaque. How did this one get approved with that lightning bold so far off the mark? At first I thought it was for the Air Force Academy, ya know? Maybe the Chargers'll go to this look for their move up the coast? Eh, not likely.
Now for the rest of this week's picks:
•  Two more for the Super Chargers — this retro stripe cap really takes ya back. And the helmet on this Dr. Pepper/Taco Bell promo glass points left — a real rarity.
•  Great artwork on this album called 25 Action Years for the NBA. Narrated by none other than The Voice, Chris Schenkel.
•  Get your 1970s Milwaukee Brewers/McDonalds promo ball right here!
•  This Kansas City Chiefs jersey is supposedly from the 1970s (No. 86 Buck Buchanan,) but that heat-pressed on NFL shield looks newer than that, and I don't recall seeing heat-pressed league logos back then.
•  This is a truly great NFL poster from the 1960s. Black Saints helmet, too! The seller took a terrible photo of it, but take a peek anyway. This is how it was done.
•  Nice helmet depictions on these 1980s Tasco NFL binoculars.
•  The facemask on this 1970s Vikings helmet plaque is ridin' just a little bit too low, am I right? So is this one for the Brownies.
•  How about this 1983 Cleveland Browns media guide. Terrific look to those outfits, no? Makes you think of Ozzie Newsome and Brian Sipe. That Sipe look is one classic uniform, especially compared to what they wear now.
•  Tombstone Pizza of Medford, Wis., wants to make you a "Packer Backer" with this bumper sticker.
•  Ah, look at the great font on this 1970s Seattle Mariners pennant.
•  •  •  •  •
Raffle reminder: I'm currently raffling off a $100 discount code for use at IceJerseys. Full details here.
Design contest reminder: I'm currently accepting entries for a "Redesign the Chargers" contest. Full details here.
• • • • •
The Ticker
By Mike Chamernik

Baseball News: The Cubs visited the White House yesterday. The team gave President Obama a jersey with a World Series Champions sleeve patch, which they will likely wear on the field this season. The Cubs also gave the president a road jersey that didn't have the usual front number. The idea there is that Obama is a White Sox fan, so the Cubbies wanted to give him a jersey that simply said, "Chicago" and nothing else (from (Brandon Smith and Andy Garms). … Former Cubs CF Dexter Fowler had a pair of Jordans made up for Obama (from Sean Jankowski). … New jerseys for Nevada. They use the blue-and-yellow color scheme of the state flag (from @PackFundraising). … The Fresno Grizzlies will reveal their Tacos uniforms this morning. … Comedian Howie Mandel wore a Expos-themed shirt on an episode of Just For Laughs (from @mike3783). … The Frontier League unveiled a 25th-anniversary logo (from Josh Handler). … Supermodel Emily Ratajkowski has a painting of a Manny Ramirez card in her apartment.

Pro and College Football News: As Josh Berger notes, the four Super Bowl semifinalists — the Packers, Falcons, Steelers, and Pats — are all Flywire-free. First time that's happened since Nike took over as the NFL's outfitter in 2012. Also, the Packers and Falcons are still wearing the old Reebok tailoring and fabric, making the NFC very old-school this time around (well, if 2011 counts as "old"). … This Bucs hat on Amazon has an AFC patch on it. Brian Ashbaugh checked to see if that was for real and indeed it was. Little-known fact: Tampa Bay was in the AFC West for its inaugural, winless season in 1976. … In 1973, Packers LB Tom MacLeod had some serious spacing on his NOB (from Bill Kellick). … Jim Brown and Joe Namath played a game of football with B.A. Baracus and the gang in a 1986 episode of The A-Team, entitled "Quarterback Sneak." The uniforms were modeled after the USFL's L.A. Express (from Gene Sanny). … Back in the 1990s, USC had odd captaincy patches. Instead of wearing a "C," the captains wore little patches that said, "captain" (from Matt Shevin).

Hockey News: Contrary to what SportsLogos.net reported last week, the Devils are not getting new uniforms next season. Key quote: "[T]he logo will remain the same, the black-and-red color scheme will remain the same. The Devils' primary identity jerseys are not being redesigned" (from Stan Capp). … DC Comics artist Jason Fabok is one of us. He created designs for a few fictional NHL teams (from Gus Ponce). … John Muir has a few notes about a recent St. Lawrence women's hockey game. Kennedy Marchment wore a "LAH" emblem in place of a captaincy patch for an unknown reason, and goalie Grace Harrison has the St. Lawrence crest on her pads (the SLU men's goalie does the same). "Really, why don't all college goalies do something like this?" John asks. … Are the Penguins the only team that has different colored sleeve numbers, back numbers, and helmet numbers? (From Patrick Thomas.) … Speaking of the Pens and uni numbers, 87 was the theme of last night's win over the Caps. … In 1981, almost two years after he retired, Bobby Hull attempted an comeback with the Rangers that lasted five exhibition games. "For decades I have been searching for a photo of Hull in a Ranger uni, and finally came across this," says Bob Gassel.

NBA News: Players across the league wore these warm-up shirts for MLK Day yesterday. … There were also special socks (from Zachary Loesl). … Steph Curry honored Barack Obama by wearing red, white, and blue sneakers and teammate Draymond Green wore "Sideline Racism" shoes last night (from Zachary Loesl). … Jazz and Suns went navy-vs.-gray yesterday (from Trent Knaphus). … A graphic designer named Lammert Wijnsma created a few Greek-themed personal logos for Giannis Antetokounmpo. You may recognize his work, because he previously made logos for other young NBA players. … The Celtics' Isaiah Thomas said he would want to change from No. 4 to No. 11, but he doesn't want to make all his fans buy a new jersey. Current Blazer and former Boston teammate Evan Turner had a back-and-forth with Thomas about Turner's former number. … Hungry? You will be after seeing the big, distracting ad for a milkshake that the Pacers have on their backboard post (Zach Loesl again).

College & High School Hoops News: Big East teams wore MLK patches yesterday. The addition made Marquette's jersey particularly busy (from @joeymisdemeanor and Michael Brighton). … UNC coach Roy Williams was awarded a No. 800 jersey for his milestone victory last night (from James Gilbert). … A Kentucky high school team had to wear inside-out jerseys to avoid a black-vs.-black matchup last night. The refs were still able to decipher the jersey numbers (from Michael Kinney). … A high school game in the Bay Area last night was white vs. some sort of gold-creme color (from Ethan Kassel).

Soccer News: New black-and-white logo for Juventus. Here's how the mark has evolved over the club's history (from several readers). … Mikey Traynor picked his five favorite uniforms from this year's African Cup of Nations. The internet really has it all, doesn't it? I really like Senegal's shirt.

Grab Bag: A New York Times writer explored the difference between the Adidas and Nike flagship stores in Manhattan (from Tommy Turner). … A Reddit post called this the world's worst golf ball. … Team North America squared off against Team Europe in the Continental Cup this past weekend. Some Team North America curlers wore combined USA and Canadian flag patches (from Wade Heidt). … I don't know anything about the film series, but here's a uniform-related Star Wars joke (from Esteban Colinalarga).