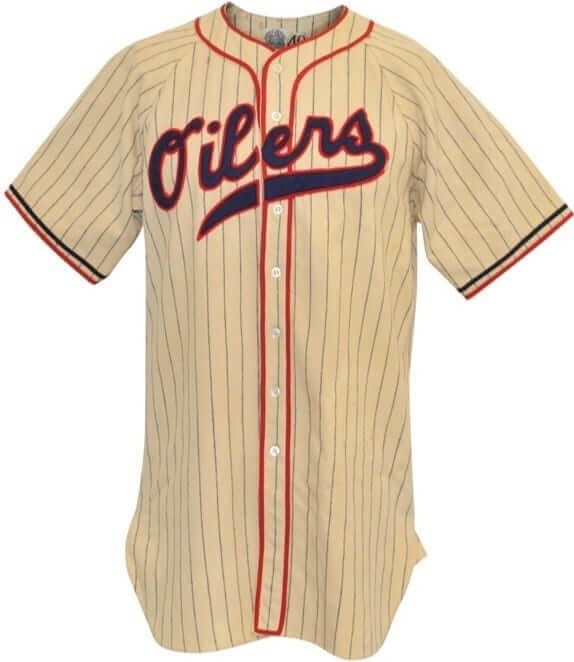 As you may have noticed in the left-hand sidebar, our friends at Grey Flannel Auctions are once again running a big catalog auction. One of the items that caught my eye is this 1940 Tulsa Oilers jersey (shown at right; click to enlarge) — what a beauty!
Here are some of the auction's other notable items, most of them baseball-related:
•  Interesting to see that Willie Mays's 1972 Mets jersey had some tailoring alterations.
•  I love how old Cubs jerseys used chain-stitching for the "C" on the chest logo.
•  Speaking of chain-stitching, old Phillies jerseys had massive chain-stitched uni numbers that I never get tired of seeing.
•  Back in the day, lots of teams used McAuliffe — now known as "the Red Sox font" — for their uniform numbers, including the A's.
•  Another team that used the McAuliffe font: the Angels. Interestingly, if you look at the back uni numbers, the "1" looks smaller than the "7," but maybe it's just the way the fabric is draping. (There's another Angels/McAuliffe example, this one from 1977, here.)
•  This batch of Jay Johnstone jerseys includes a 1980 Dodgers jersey that includes that season's All-Star Game patch.
• Did you know the baseball Giants once used zippered jerseys? They did!
•  If you look at this 1970 Indians jersey the red lettering/numbering with the black drop shadow feels a lot like today's Reds uniforms.
•  Fascinating to see that the Pirates used this kind of BP jersey. Everything about it — the collar, the zipper, the waistband trim — feels more like a basketball warm-up top.
•  Speaking of the Pirates, you can have your very own Stargell Stars with this cap.
•  I'd love to see the White Sox wear this early-1940s design as a throwback.
•  Even a confirmed Yankees-hater like me can appreciate the coolness of this old Yankees belt buckle.
•  Athletes aren't the only ones in the ballpark who wear uniforms. Here's an Orioles usher's uni from the 1970s.
•  Weird to see the Cowboys' team name rendered in a script on this sideline jacket.
•  Man, the 76ers sure used a lot of stars on their 1975-76 warm-up jackets.
Want to see more? You can access the entire auction catalog here.
• • • • •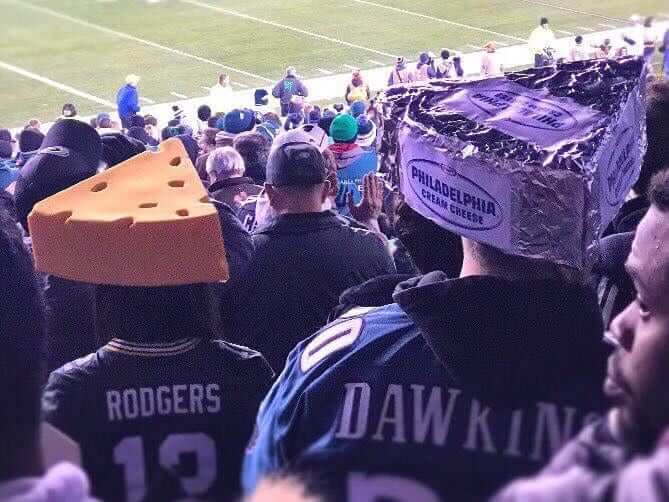 Too Good for the Ticker: It was a Battle of the Cheeseheads last night in Philadelphia, as the Eagles hosted the Packers and at least one Philly fan put his own spin on the Green Bay headwear tradition. Great concept, great DIY job. (Oh, and the Eagles wore their black alternates.)
(My thanks to @andrew_love_ and our own Mike Chamernik for this one.)
•  •  •  •  •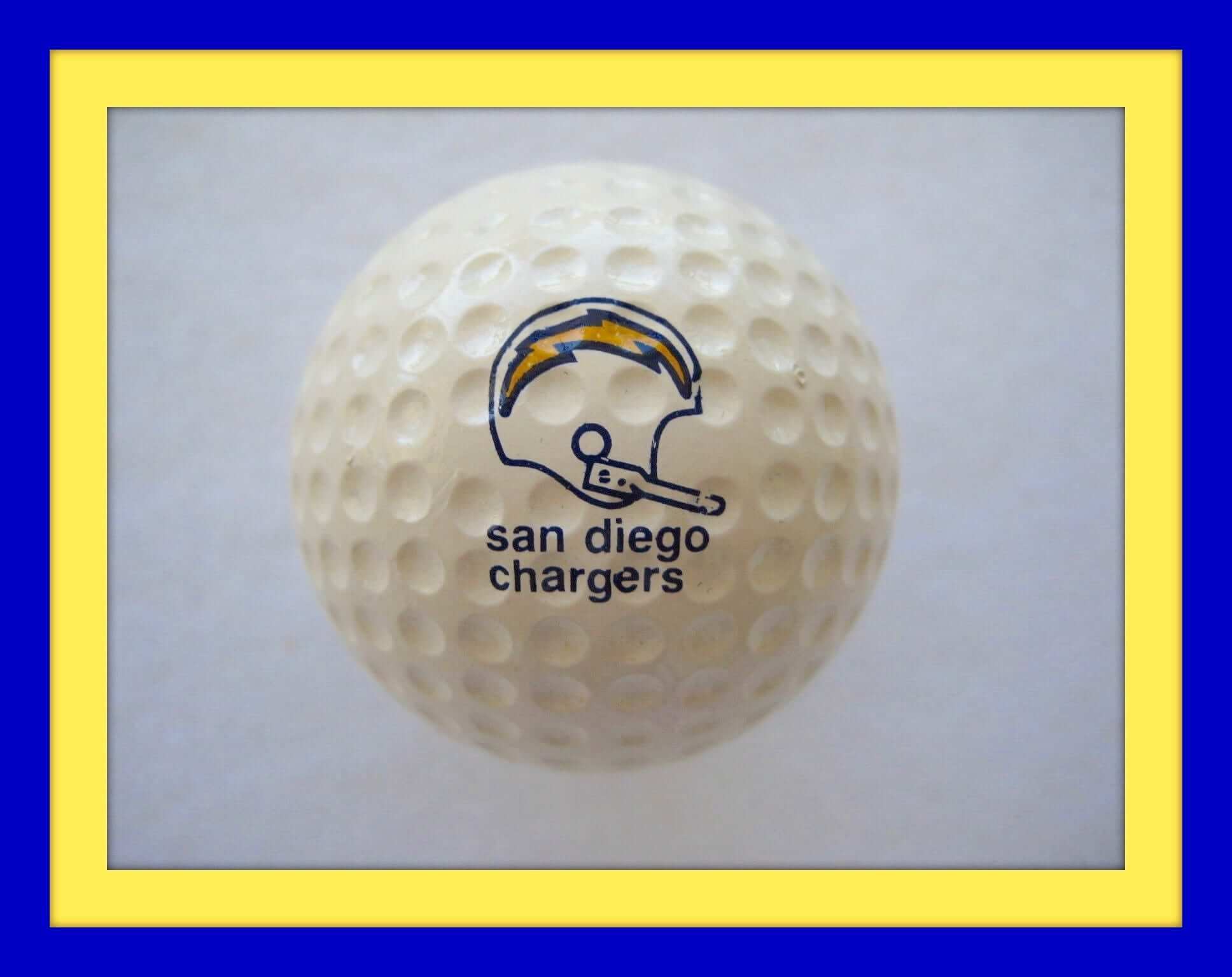 Collector's Corner
By Brinke Guthrie
Chargers fans! Tee off to support your favorite team with this set of "rare" Chargers golf balls. They're made by Faultless and date back to the 1970s. No guarantee they'll improve your driving distance, but the all-lowercase lettering is interesting.
Now for the rest of this week's picks:
• Take a look at this 1970s Buffalo Braves pennant. I swear until this moment I never knew that B had a feather in it. Of course, it also took me ages to realize that was a horn on the side of the Vikings helmet.
• Here's a unique 1970s 3D Hank Aaron plaque, and that's a darn good likeness, too.
• Got a few nice posters this week, beginning with this 1968 NFL poster sponsored by Kimberly Clark. Great graphics on this one!
• Maybe this was a promo poster in a department store..? This one simply says "NFL Headquarters" on it.
• And one more poster: Absolutely some of my favorite helmet graphics ever on this AFC/NFC poster from 1984.
• Just stay in tune, baby. The Oakland Raiders sing your favorite Christmas classics on this 1969 record album.
• Sears alert! Here's a Baltimore Colts varsity jacket from the 1960s. The sleeves look like they could use some cleaning but otherwise it's in good shape.
• Here's another old varsity-style jacket. This one was from the 1960s made by Brill Brothers of Milwaukee, with "Packers" stitched on the front, but no team logo.
• In the 1960s when pro football was blowing up on TV, everyone and his brother made a football game. Here's a board game made by Samsonite, believe it or not — the luggage people. Not to be outdone, 3M (Scotch tape) also made their own game.
• Ah, but baseball had their own games on the market. Computer games started to appear in the mid- to late 1970s, edging the classic electric baseball and football games to the sidelines. This handheld "Classic Baseball" game was made by Mattel. (And if the game malfunctions try fresh batteries.)
• • • • •
KRC update: The latest installment of Key Ring Chronicles is about one of those little keys that are used to open cans of Spam. Check it out here.
• • • • •
The Ticker
By Mike Chamernik

Baseball News: Bishop McCort Catholic High School in Johnstown, Pa., uses the Brewers' ball-in-glove logo (from @Silverscreentes). … Brice Wallace has always been fascinated with the perfect timing of this 1975 photo of Pirates catcher Manny Sanguillen. "In 1993, I got my chance to mimic that photo," Brice writes. "While shooting newspaper photos of Little League baseball at a dusty field in Elkview, West Virginia, I recalled that Sanguillen photo and, after several attempts, captured my own version. Obviously, the pitcher was throwing smoke." … An anonymous reader knows a Cubs employee who received a jacket with a 2016 World Champions patch, a throwback to the team's 1907 World Series emblem. "Kinda wished they had based it on the 1908 patch, though," our reader says.

NFL News: Yesterday's lede mentioned that Ravens RB Kyle Juszczyk was reportedly victimized by nameplate typo, but Paul didn't have a photo. Now Will Shoken has provided one. … Peter Fredrickson, who works in real estate, was setting up a house for an estate sale when he came across an old box for a child's football uniform. Although the box was empty, the package design is interesting. Lots of helmet anomalies there, including the Browns' phantom "CB" design. … Stephen Curry lost a bet on last Sunday's Oakland/Carolina game and had to wear a Raiders jersey this weekend. Curry is a big Panthers fan (from Brinke). … A group of players on the 1967 Saints wore throwback jerseys for a reunion this past weekend (from reader Tom M). … Seems that Ron Rivera has had his Panthers jacket for awhile. Former Raiders coach Tom Cable wore the same style of coat in 2010. It looks like the Reebok logo is gone from Rivera's jacket, however (from Rudy Gutierrez). … The Vikings teased their Color Rush unis. Under the right light they look like retro Rams jerseys (from Andy Huebner). … Cowboys players got their first look at the the custom cleats for charitable causes that they'll be wearing this weekend (from Klay Kuban).

College Football News: Missouri WR J'Mon Moore has an interesting NOB that I don't think we've seen before. Would we call that a F'NOB? The Tigers also have a D-lineman named Josh Moore on the roster (from Seth Shaw). … Follow-up to yesterday's North Carolina note: Here's UNC's record by every uniform element (from James Gilbert). … What do an ax, barrel, bell, and wagon wheel have in common? They all serve as the basis for college football rivalry game trophies (from Phil). … Michael Mariniello sends in two old photos of Bear Bryant, one with an elaborate facemask in the background, and the other with a player who has a letter on his sock.

Hockey News: U.S. Army officials aren't thrilled with the new Vegas Golden Knights team name. The Army, which has a parachute team called the Golden Knights, is considering what kind of action, if any, might be appropriate. … The Flames' Jyrki Jokipakka had a rip on the back of his jersey last night. Hey, at least they spelled his name right (from Ryan Feuerstein). … Here are this year's KHL All-Star jerseys. Each division will have an all-star team, and the game will have a 4-on-4 tournament between the teams (from Teebz). … The AHL's Bakersfield Condors are hosting an outdoor game at Bakersfield College in January. They will wear cream jerseys for the game. … Blackhawks D Duncan Keith has his own cereal and personal logo (from David Firestone, who also found a good vintage hockey sweater). … At Harvard home games, teams sit on opposite sides of the ice (from Dustin Semore). … In case you missed it during the long Thanksgiving weekend: The Penguins unveiled their jersey for the Stadium Series game against the Flyers on Feb. 25.

NBA & College Hoops News: Lakers guard Jordan Clarkson wore a kilt after Sunday night's game. … Color vs. Color last night, as Florida State wore turquoise N7 uniforms against Minnesota. … Speaking of the turquoise N7s, Oklahoma State will wear its own version on Wednesday (from Justin Mitchell). … UCLA wore white and blue unis with no trim during the Wooden Legacy tournament this past week (from Chris Cruz). … Oral Roberts debuted gray uniforms last night.

Soccer News: Arizona United SC of the USL will now be known as Phoenix Rising FC. More info on the rename here. … Orlando City Stadium, the home of the city's MLS and NWSL teams, installed a small section of rainbow seats in memory of the Pulse nightclub shooting victims (from Phil). … "A uniform tradition was broken yesterday when Theo Walcott wore short sleeves while the rest of the Arsenal team wore long sleeves against Bournemouth," says Jay Reyes. "Arsenal is the only soccer team I know of where the club captain decides if the team will wear long or short sleeves and everyone has to follow suit. In fact, a few years ago a player was chastised for cutting his long sleeves with scissors before a game. Do you know of any other teams have a similar tradition?"

Grab Bag: Donald Trump has traded in his "Make America Great Again" cap for a new cap, with "USA" on the front and "45" on the side. He will be the nation's 45th president (from Phil). … Tiger Woods, returning to golf after a 15-month hiatus, will have a Monster Energy logo on his bag at the Hero World Challenge this week (from Phil). … High-end manufacturers find that consumers are opting for luxury items with little or no visible branding. … A new Niketown store in Manhattan is causing problems due to large, unruly crowds spilling out into the street.