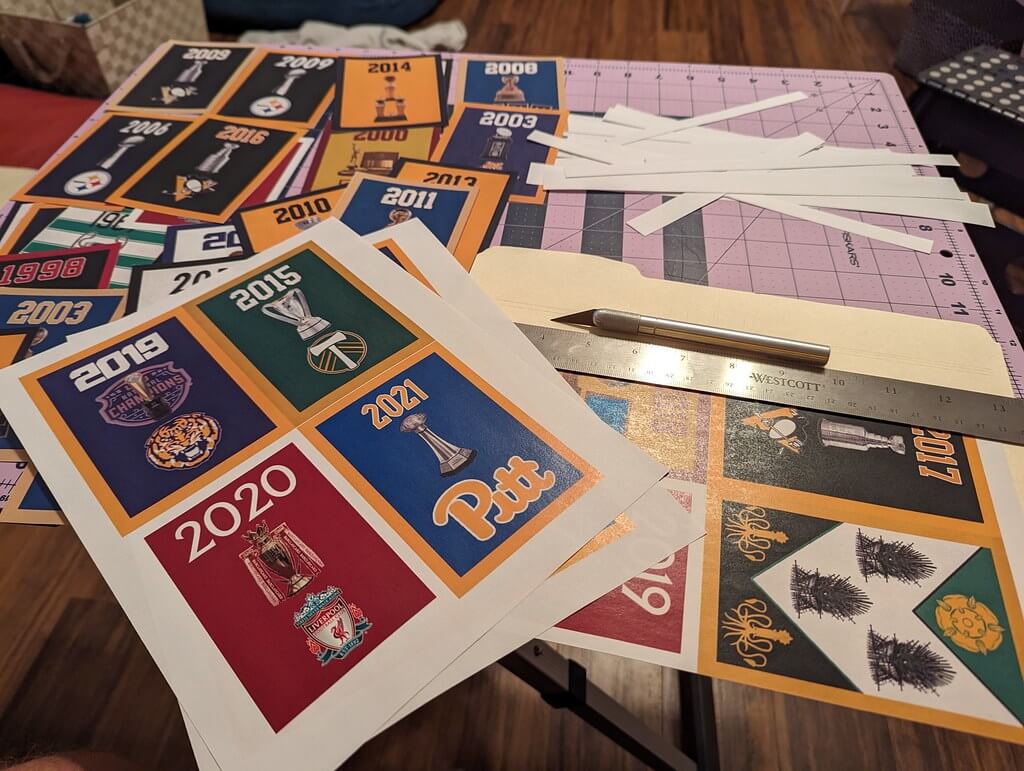 [Editor's Note: Paul is on his annual August break from site (although he's still writing his weekly Substack column). Deputy editor Phil Hecken is in charge from now through the end of the month.]
Good morning Uni Watchers! Hope everyone had a good day yesterday.
Today I'm joined by reader and contributor Michael Malinowski, who you may know as "Memal," and who for a couple years was our college football "5 & 1" guy on Sunday Morning Uni Watch (before a bout with COVID forced his retirement). But Memal is back today with a pretty neat DIY project — one he hopes may spur UW readers to replicate and improve upon, should they acquire the same DIY bug.
I'm going to turn it over to Memal now, as he takes you through his …
• • • • •
Paper Banners
by Michael Malinowski
There's no greater thrill for a sports fan than when their team finally ascends to the top of the mountain and claims a championship! The high of the ensuing celebrations carries over until the beginning of the following season when the reigning champions open their home schedules with a banner raising.
I've seen replica banners made of felt for sale in all the places that teams sell their rights to, and usually selling for more than I could part with when considering I would have no real good place to put what are usually three to four foot tall banners. But I always liked the idea of remembering championships by having my own, so when I set up a "man cave/home office" area in my basement, I decided now was the time to put my photoshop skills to use and see what I could make.
I began by compiling a list of championship seasons I'd like to include.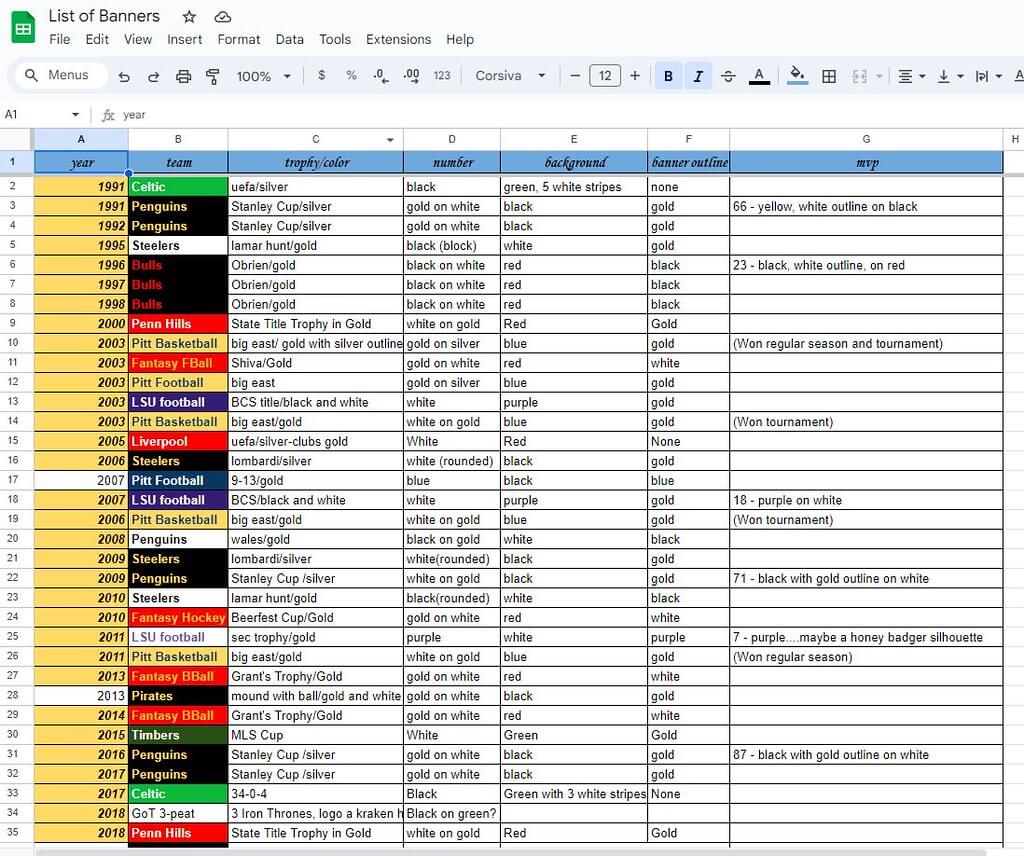 I limited it to championships I saw a team win, so, despite the fact I grew up hearing all about the Steelers and the Pirates of the '70s, my banners wouldn't begin until 1991 with the Penguins' first Stanley Cup victory. I also decided to include a few teams that made it to the final round and fell a little short, but had seasons that were worth remembering. I adjusted their banner colors to white backgrounds and used the appropriate trophy to indicate the extent of their success that year.
For the sake of uniformity, I decided that each would consist of five elements; the banner foreground and border colors, the trophy, the year, and the team's logo (and championship logo where it works aesthetically), everything spaced and sized equally to provide a uniform look as your eyes pass over them.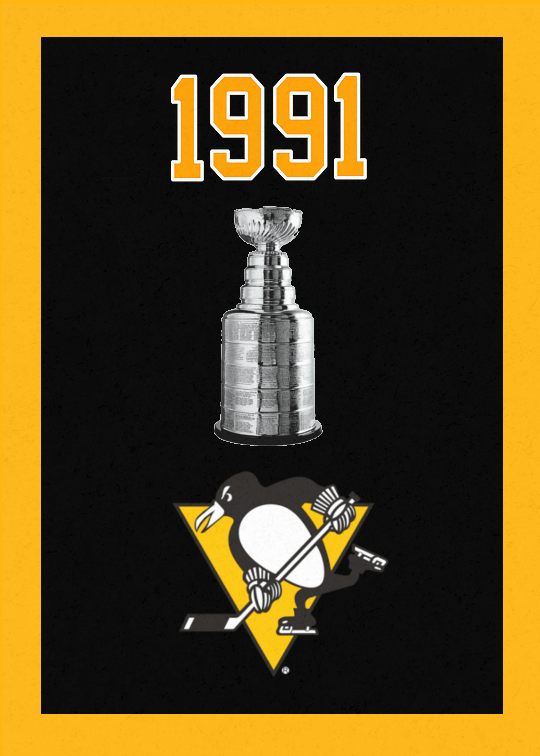 The logos were easy enough to collect thanks to the Internet, and the team colors were easy to replicate with the free photoshop software I use, Gimp, which can pull colors from the image. Cutting the trophies out of pictures took a lot of work though. Some trophies called for me to find a picture of them being held or displayed somewhere and editing them out of the picture. I could have gone with generic looking silhouettes or cartoonish representations, but the look of the real item made the extra work worth it.
I went with team number fonts where I could find a good looking font file I could input into the software, but I didn't sweat about being exact with them.
And to give it that felt banner look I liked on those retail banners, I added a transparent layer that laid over top of everything to give the appearance of felt. It's a subtle finish that I worried wouldn't come across when printed, but it's enough to make them look soft.
After printing them out, I went about the task of cutting and laminating them so they had some rigidity when I eventually hung them up. I did a few at first and strung them to see if I liked the size and, surprise surprise, I did not.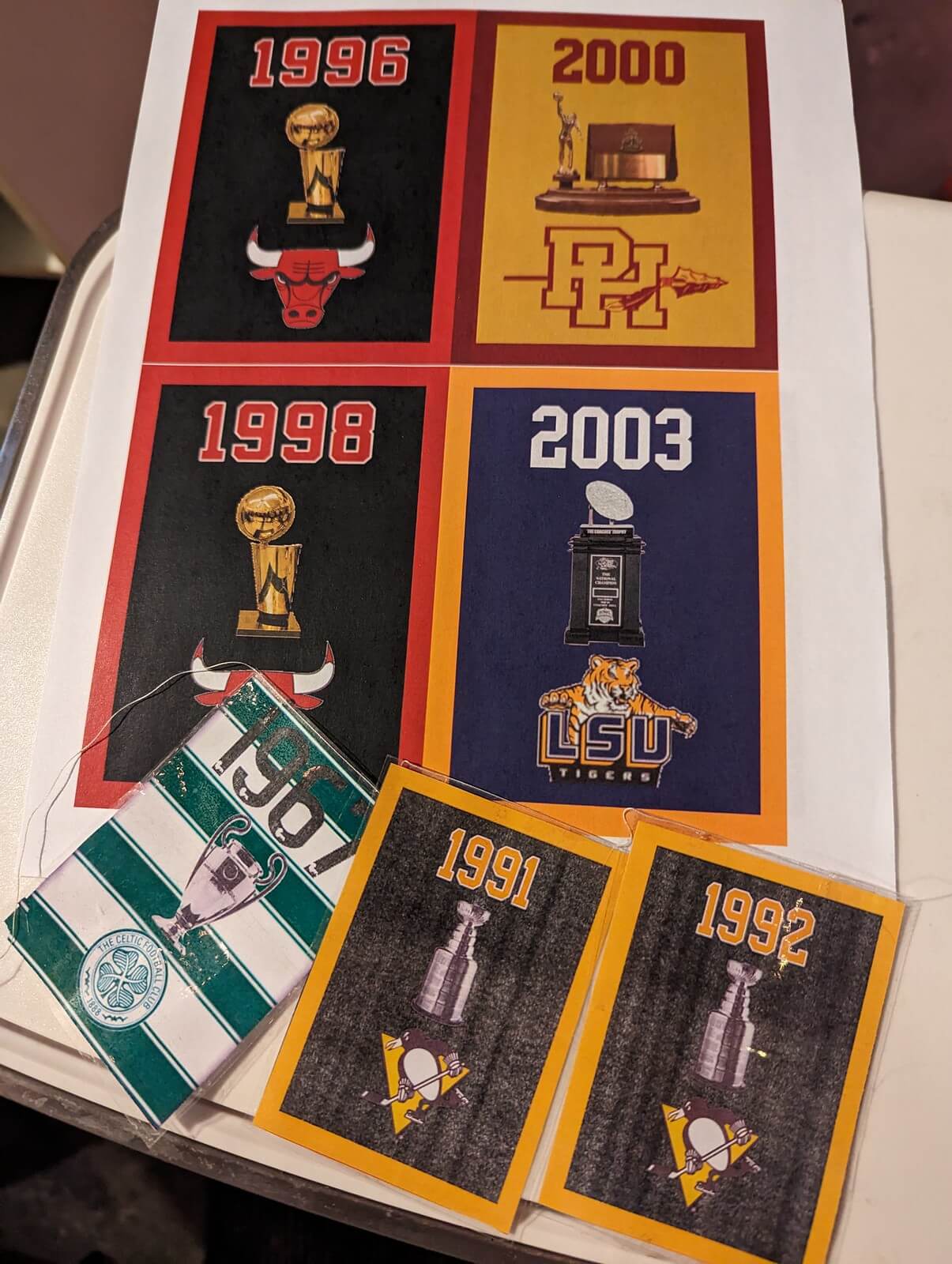 So I resized them and reprinted them and then got to work cutting them out.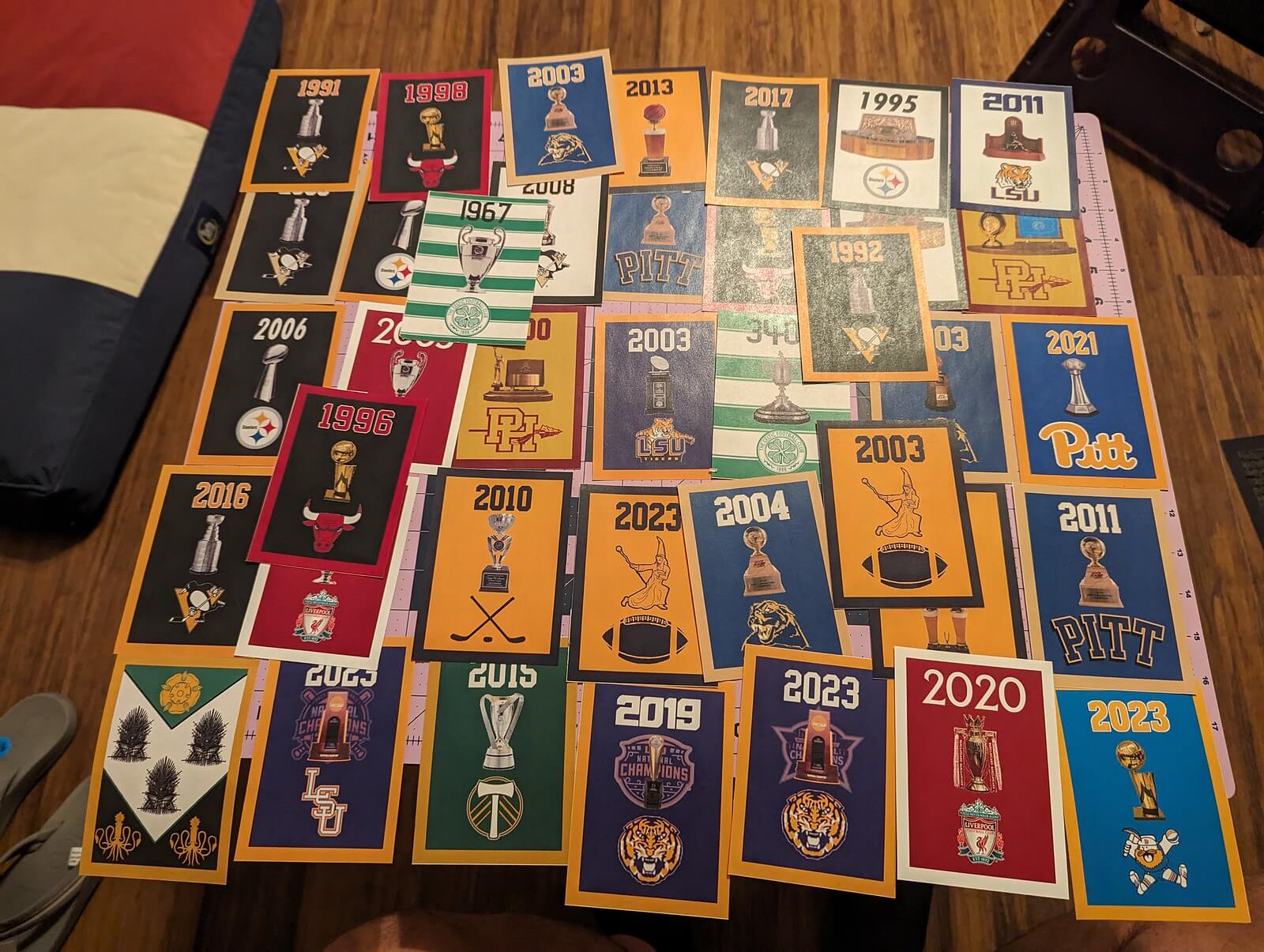 I listened to a few podcasts as I cut and laminated the whole lot.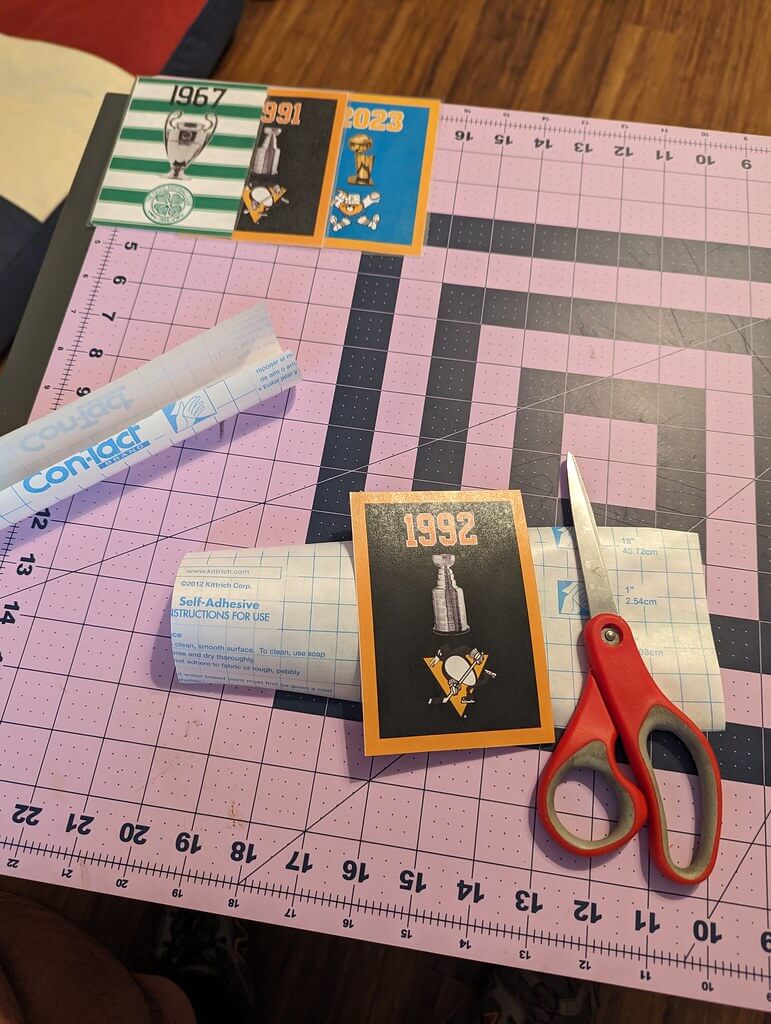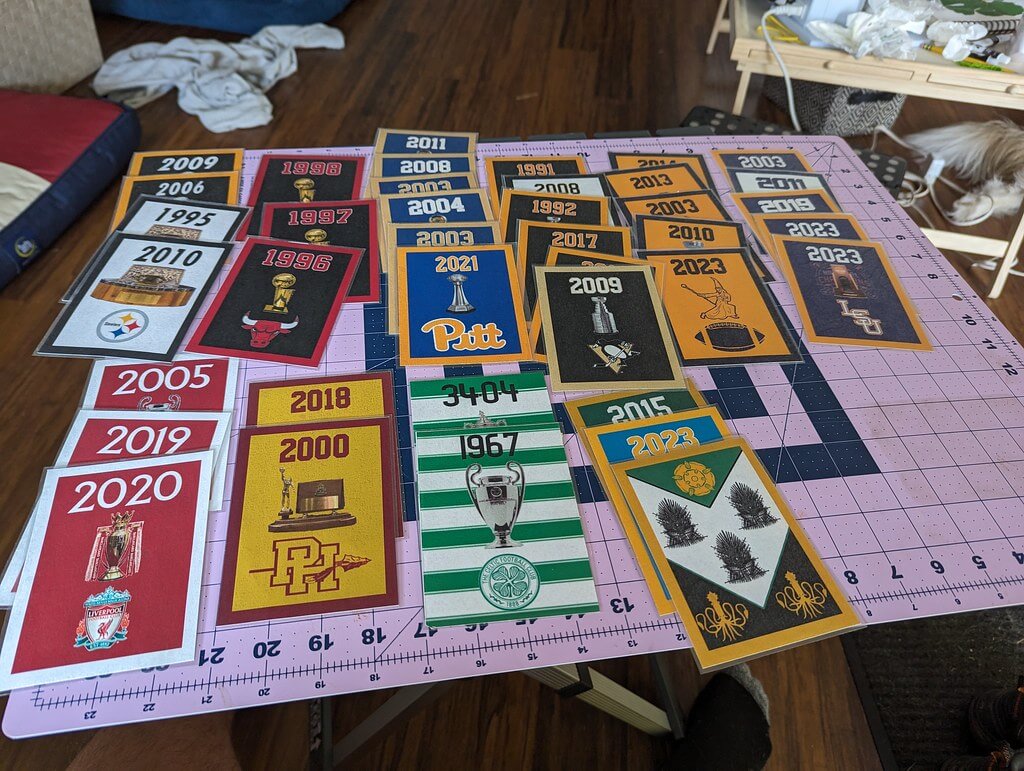 I had a few spots around my desk and entertainment stand to try hanging them.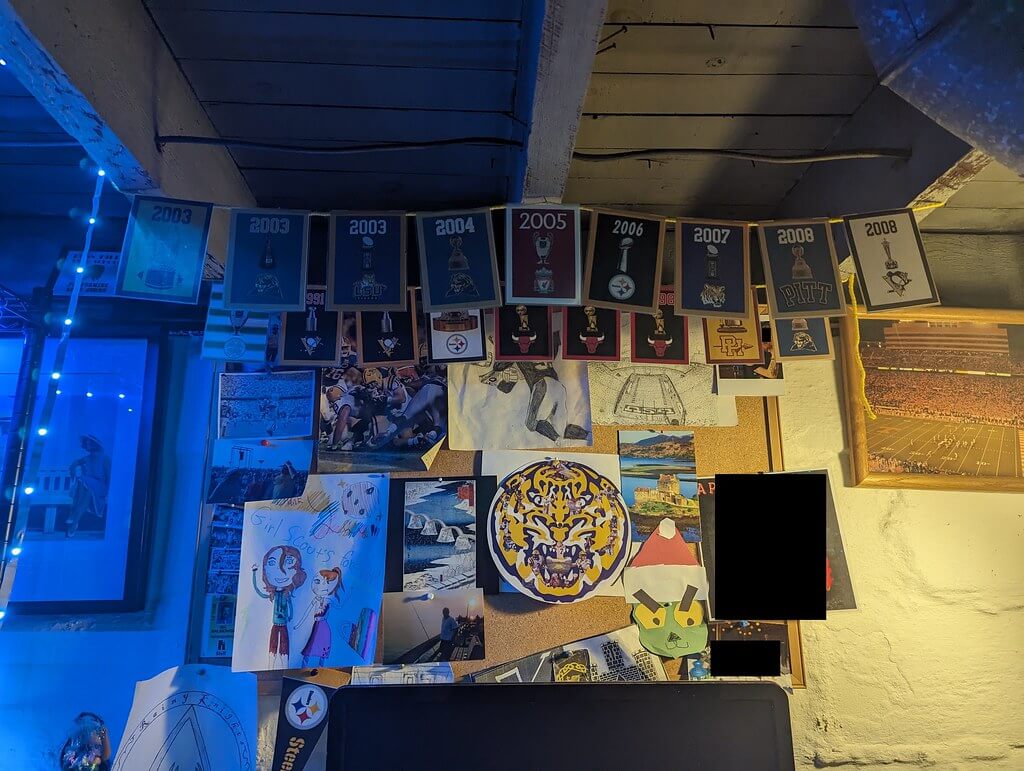 I went through several tries before I got the aesthetic I liked (don't mind all the basement stuff in the background!).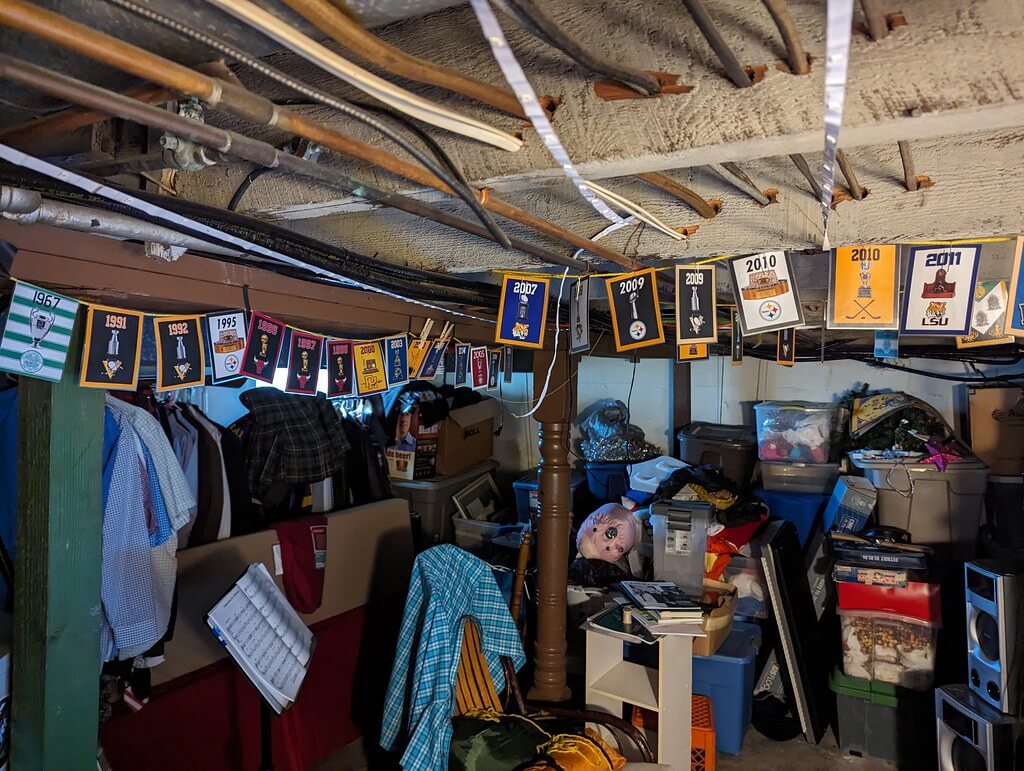 The greatest issue is that my basement is unfinished and there are a lot of things in between the rafters as it is, so it was a little bit of a puzzle to figure out where and how to hang them. I wanted to arrange them in chronological order, but didn't have the space, so I went with arranging them according to team and sport.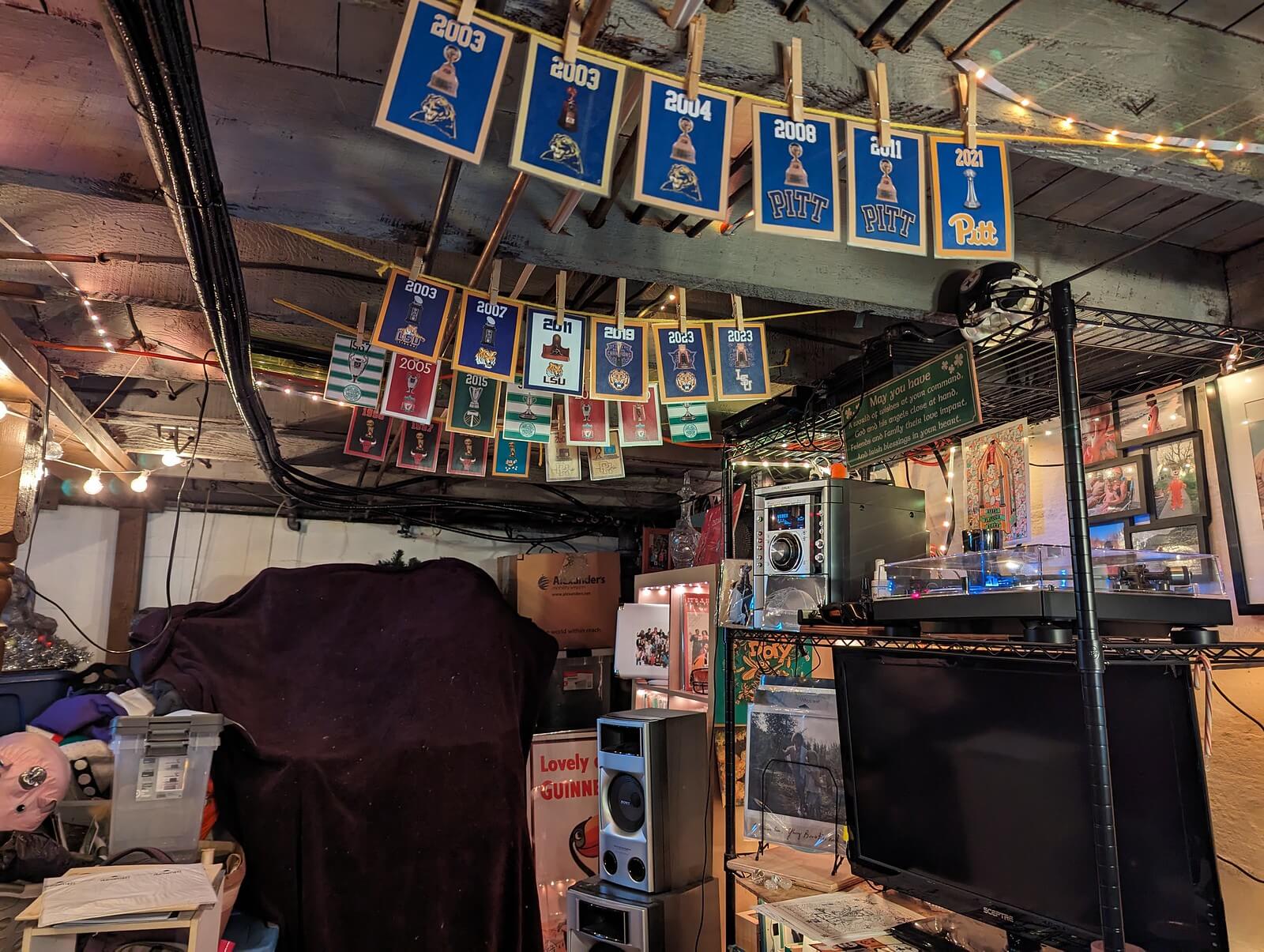 I put all my Pittsburgh sports on a beam along with my fantasy sports banners and I'm pretty pleased by how everything looks!
One mistake I made was that when I hung them the first time, I taped them to the thick yarn I used, which was a pain to get off when I tried it in new spots. I then tried using paper clips, but that left an indentation on some of them that I had to flatten out with a heavy book. I then decided to try clothespins and that was the ticket! I was able to move them around easier than when they had been taped and they didn't leave any marks! I might leave them as is in case I get the urge to reorganize them at a later point.
I thought this would be the kind of project other people in the Uni-verse would easily be able to replicate and improve upon, so I was glad Phil allowed me the chance to share it. I know there are some discrepancies between banners (I can't decide if I like the rounded Nike numbers on some of the LSU banners), and they're currently still one-sided, but I'm happy they came out as well as I'd hoped! I even made one for my cousin, a Nuggets fan, though I had to do it in my favorite era's colors with my favorite Nuggets logo, but he loved it just the same!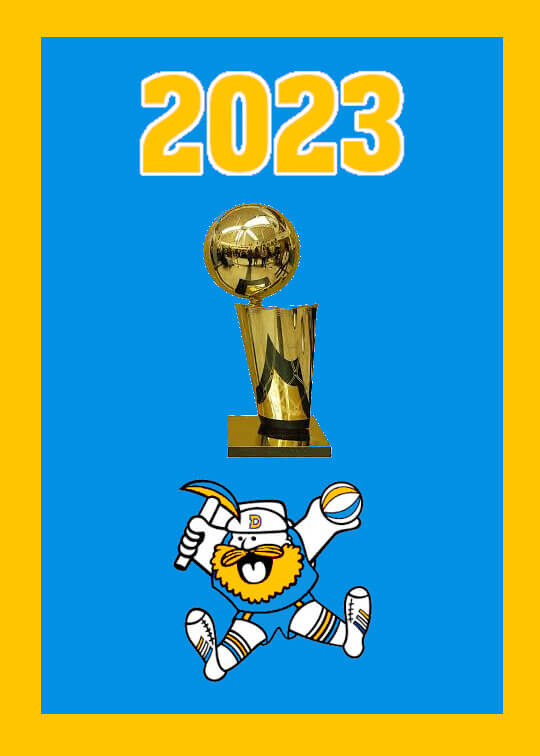 • • • • •
Thanks Memal, and glad to have you back as a contributor. That looks like a really fun project — one that may encourage our readers to replicate. Thanks for sharing!