Click to enlarge
The Kings unveiled their new set yesterday. The four new designs, some of which had already been seen via video game leaks and team teasers, can be seen above.
So what do I think? The short version is that I think this set moves the Kings from the bottom of the pack to somewhere in the middle; the longer version can be found in this ESPN piece, which went up yesterday afternoon. You can also get more info on this interactive page. And here are some additional photos (if you can't see the slideshow below, click here):
Meanwhile you know how the Kings' new logo is based on the franchise's old Cincinnati Royals logo from the early 1970s? I recently interviewed the guy who designed that original Cincinnati mark. To my knowledge, his story has never been told. And as you might imagine, he's pretty pleased about the Kings reviving his design. Further details next week.
•  •  •  •  •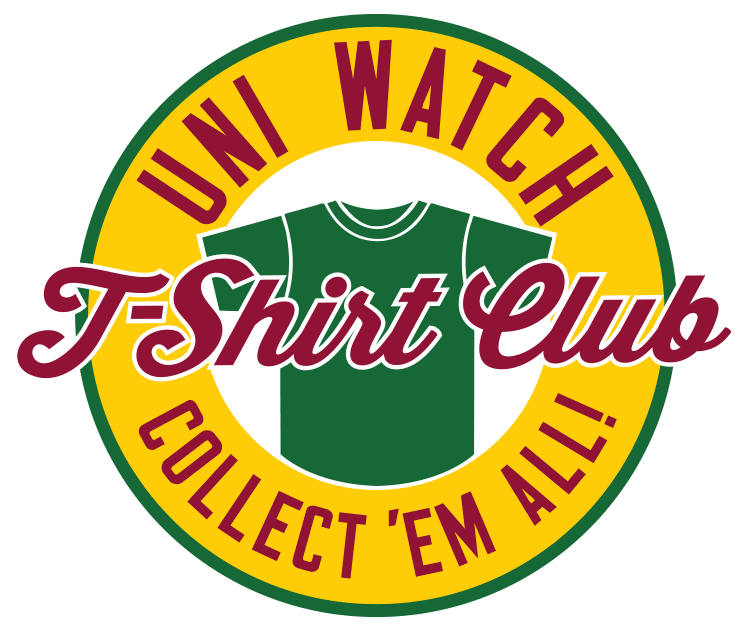 T-Shirt Club reminder: In case you missed it yesterday, the Uni Watch T-Shirt Club's third limited-edition design of 2016 is now available for your consideration.
As you'll recall, we're going one sport at a time this year, and we already covered baseball and hockey. Our latest shirt takes us to the hardcourt, as we're launching two different basketball designs — one showing a home uniform and one showing a road uniform (click to enlarge):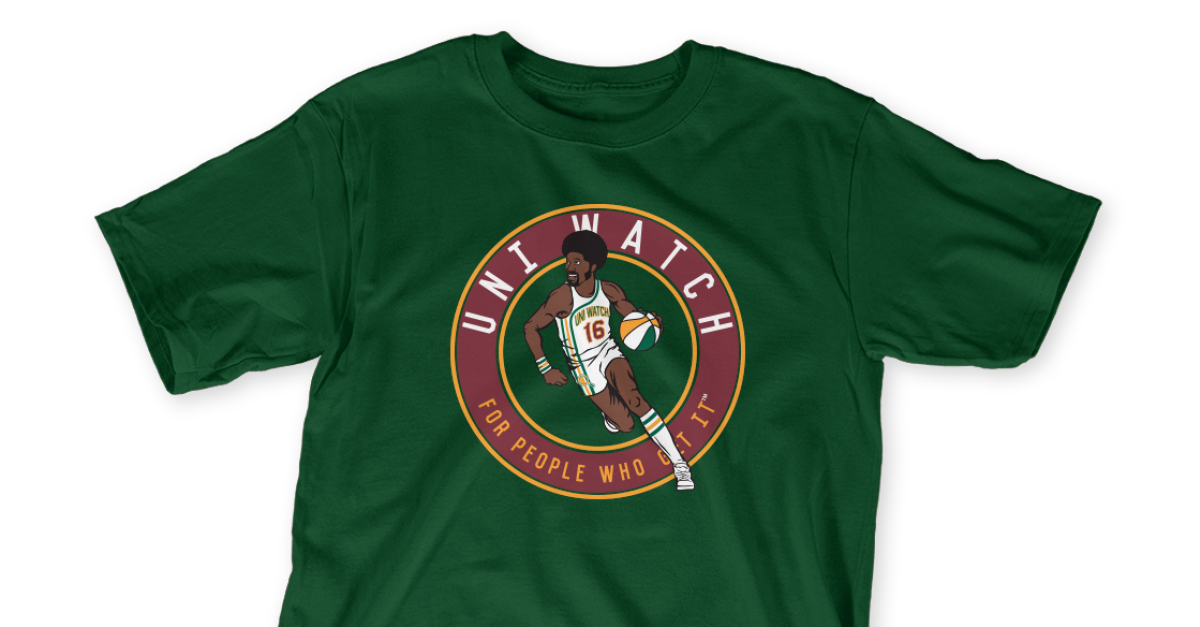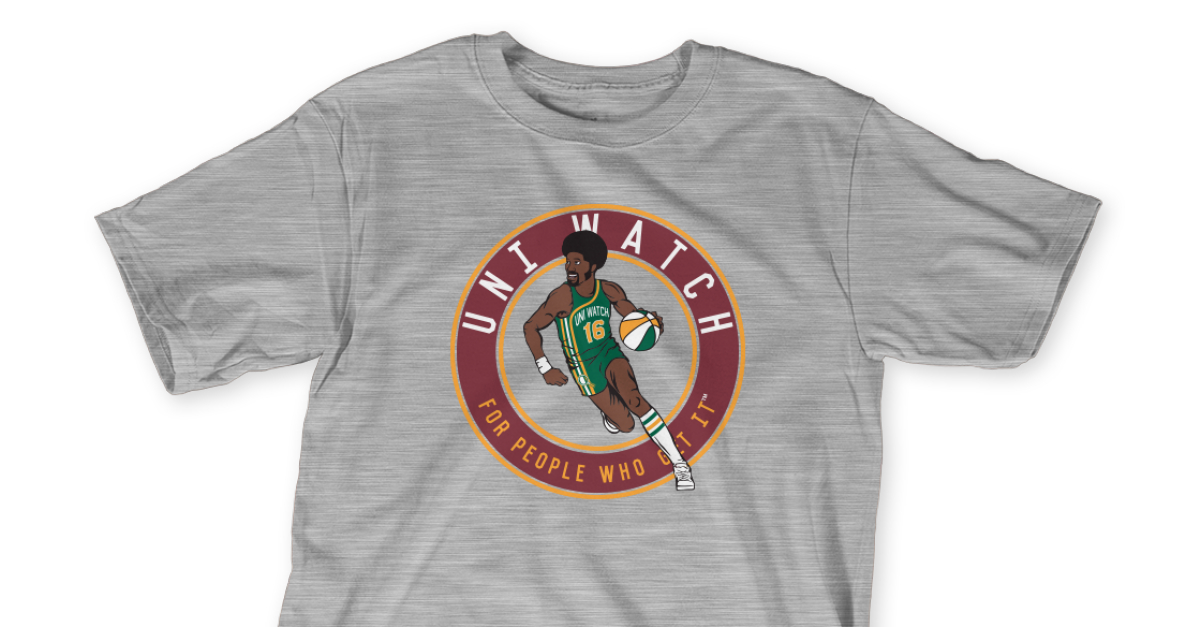 Pretty cool, right? I really love seeing that racing stripe uniform concept done up in Uni Watch colors, and ditto for the ABA-style ball.
Important: Although green and grey mock-ups are shown above, we're offering both of these designs in four different shirt colors (green, grey, black, and white), and also in two different styles (short-sleeved and long-sleeved). As usual, they're available for one week.
Here's where you can order the home and road designs. You only need to purchase one of them — the home or the road — in order to maintain your 2016 "Collect 'Em All" eligibility (although you're welcome to purchase both, obviously).
As always, big, big thanks to my Teespring partner, Bryan Molloy, for his great work on these. I'm very happy with the way they turned out.
Also! After I posted about the T-shirts on Twitter yesterday, reader DW Jones posted a good question: "Does the basketball player have a name?" I hadn't thought of that, but it's a fun question. So here's what we'll do: I'll give a free shirt to whoever comes up with the best name for the player. Post your suggestions in today's comments.
One more time: The home shirt is available here and the road shirt is availble here. Thanks.
• • • • •
The Ticker
By Paul

'Skins Watch (a day early this week): The board of trustees for the Onteora school district in upstate New York has voted to replace the district's Indian mascot with an eagle (from Rob Yasinsac). … A Native American tribe in North Carolina is suing Anheuser-Busch, alleging that the brewer illegally used the tribe's logo and slogan in advertising.

Baseball News: "Legends of the Hidden Temple" jerseys upcoming for the Lake County Captains (from Andrew J.). … A college summer league game featured red vs. red (from @OuttaBoston). … Padres P Brad Hand is my new hosiery hero (from DJ). … Speaking of the Padres, they used the Marlins' old logo on their scoreboard for yesterday's throwback game. … Auburn softball player Haley Fagan had a patch problemall season long.

NFL News: The Steelers will wear their bumblebee throwbacks in Week 5 against the Jets (from Jerry Wolper). … Check this out: Steelers-themed golf headcovers (from Rob Montoya). … Covered and smothered: Titans DB B.W. Webb loves Waffle House so much that he wear a Waffle House compression sleeve (from Preston Penn and Eric Wright).

College and High School Football News: Interesting plans for Notre Dame, where uniform No. 1 will be rotated on a weekly basis and Nos. 2-9 will also be in flux (thanks, Phil). … New stadium scoreboard for Utah. … High school officials in Chicago say some of their shoulder pads and other equipment are more than 20 years old and woefully out of date. … Riddell has launched its 2016 Smarter Football Program, which provides grants and equipment to high schools that encourage safer football practices. Further info in this video.

Hockey News: The AHL's new franchise in Springfield, Mass., will be called the Springfield Thunderbirds (from Chris R). … Hmmm, should the NHL retire Gordie Howe's No. 9 league-wide? … Humorist John Hodgman is a big fan of the Hartford Whalers' logo, as he discusses in this podcast. He even got Whalers logo designer Peter Good to design a Whalers-style "JH" logo for him (from Lee Wilds). … Ladies and gents, your Stanley Cup Champion Buffalo Bills!

Basketball News: Here's a new one: The Bucks have sold the naming rights to their new arena's construction site (from Matthew Hippe). … An Illinois newspaper's coverage of Game 5 of the NBA Finals featured amusingly outdated Cavs and Warriors logos (from Matt Eurich). … Gross: An auction house is selling a game-used Steph Curry mouthguard. Interesting that it has his name, number, and team logo, though (thanks, Brinke). … The Cavs aren't allowed to wear the black sleeved unis at home for Game 6 tonight, but they'll be giving away black T-shirts to their fans (from Kevin Chmura). … I'm still calling it Hofheinz Pavillion (from Corey Buck).

Soccer News: Best story you're likely to hear today: St. Pauli manager Ewald Lienen wasn't available to attend the press conference for a newly signed player, so they used a guy wearing an Ewald Lienen mask instead (from Bryan Justman). … Interesting infographic on the chemistry behind the Euro 2016 ball (from James Gilbert).

Grab Bag: The San Francisco airport has an exhibit on flight attendants' uniforms. … Pro sports teams are cracking down on scalpers. … New 75th-anniversary logo for Wonder Woman. … An artist created a rendition of the Rolling Stones' lips/tongue logo by using 4,300 postage stamps. … Great article+podcast on a California police department that experimented with dressing its officers in blazers in the late 1960s, and how that fits into the larger history of police uniforms (from R. Scott Rogers). … Some homemade curling stones left in a school parking lot were mistaken for a security threat. … MLL player Rob Pannell is a big golf fan, so he'll be wearing U.S. Open-themed gloves for an upcoming game (from Kevin Meuller). … In a vaguely related item, the folks at Verizon are getting their U.S. Opens mixed up. … Here are 11 things that the new Milwaukee flag looks like. … The sport of ultimate Frisbee (yes, I know it's really just called ultimate, but not everyone knows that, so I'm adding "Frisbee" in there for the sake of clarity) has always been self-officiated, but now there's some talk of adding referees to the mix.
•  •  •  •  •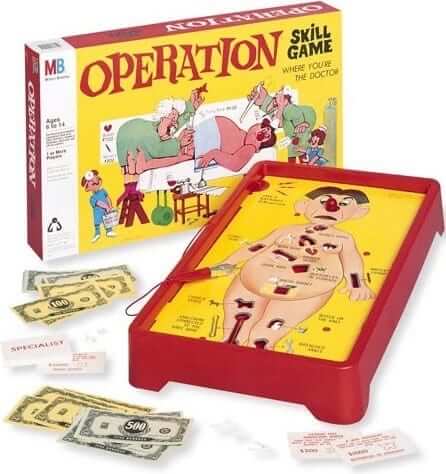 Never a dull moment: By the time most of you read this, I'll be on my way to NYU Langone Medical Center, where I'm scheduled for some surgery this morning. (Never mind what it's for.) It's an outpatient procedure, so I'll be back home by the end of the day and should be able to resume normal activities in time for the weekend. But I'll definitely be off the grid today, and it's possible that I'll be out of commission for tomorrow as well.
In terms of my health, there's a good chance that the procedure will end up being a big nothing. And even if it ends up being something, it'll be a something that can almost certainly be dealt with simply and easily. So while I'll admit to being a little stressed out about the procedure itself, I'm not too concerned about any long-term issues.
Phil will be in charge of things here today — please play nice. And we should have a full slate of content tomorrow: I already have a lede written and ready to go, ditto for my Friday Flashback over on ESPN, and Mike will be compiling tomorrow's Ticker, so it should be business as usual, more or less.
If there's breaking uni news today, I won't be in a position to cover it, and I also won't be responding to emails or tweets. Sorry about that. Thanks for understanding.