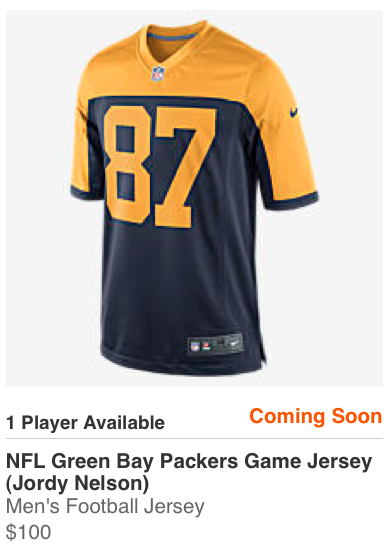 We've known since last fall that the Packers would have a new throwback uniform for the upcoming season, but they've played very coy about what it would look like and when they'd be unveiling it. Now we may finally have gotten a peek.
A bunch of jersey listings like the one shown at right (which you can click to enlarge) showed up on Nike.com just prior to midnight Eastern last night. They were for various players and were all listed as "Coming Soon." As of this morning, these listings have vanished, which raises the obvious question: Was this an accidental leak of the Packers' long-promised throwback for the coming season? I'm thinking it probably was.
If so, it's a throwback to an earlier throwback, because this is essentially the same design that the Packers wore in 1994, when NFL teams turned back the clock to celebrate the league's 75th anniversary. Here are some pics from those games (click to enlarge):
(They also wore a white version of that design for one game, which happened to take place on Halloween, which is how we ended up with the infamous jack-o-lantern helmet shot. But I digress.)
When the Packers wore this design in 1994, it was billed as a 1944 design (further info in this excellent post by Chance Michaels), although the Gridiron Uniform Database shows that this design was actually worn from 1943 through 1948 (plus something very similar was worn in 1937). In any case, it's a design that's generally associated with the era of Don Hutson and Curly Lambeau. Here are some old photos that show how it looked back in the day (many of which you can click to enlarge):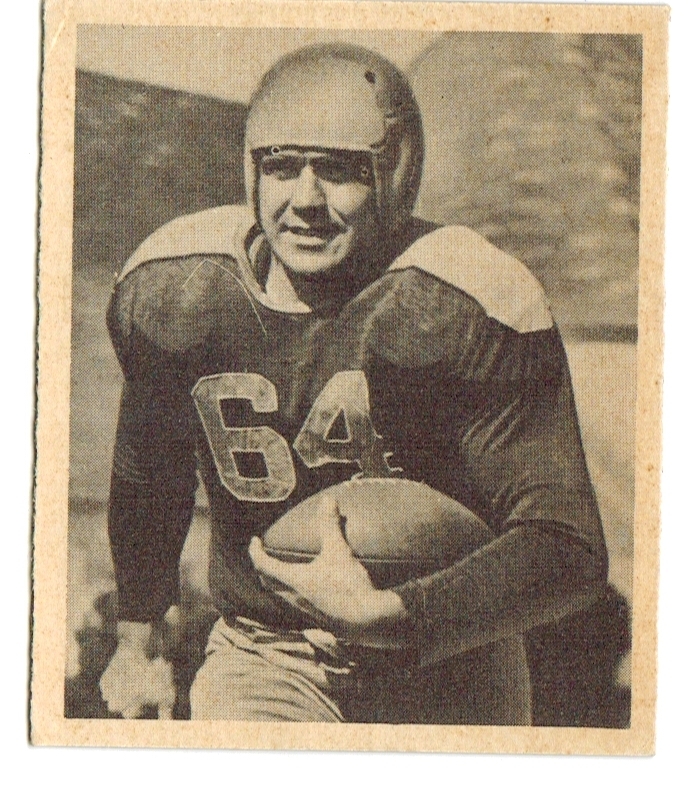 Of course, we still don't have confirmation that this is definitely the Pack's new throwback. If it is, we still need to see the pants (canvas-toned, like in 1994?) and socks (striped, like in 1994?). As for the helmet, they'd presumably go with a plain, decal-free version of their current lid, and I hope they'd also swap out the green facemasks for grey or navy (something they failed to do with the Acme Packers throwbacks in recent years, which has really bugged me).
My take: It's not a bad design, and I'm generally a fan of contrasting yokes, so I'm sure this will look fine on the field. But I'll miss the Acme Packers look, which I always liked.
Update 10:30am: The throwback jersey has now been confirmed:
@UniWatch Closer look at Packers new throwbacks at Shareholders Meeting pic.twitter.com/ELWd428POw

— Wagner (@12wagner52) July 28, 2015
(Big thanks to Phil Tavares, who was the first of several readers to alert me to the jersey listings on Nike.com.)
•  •  •  •  •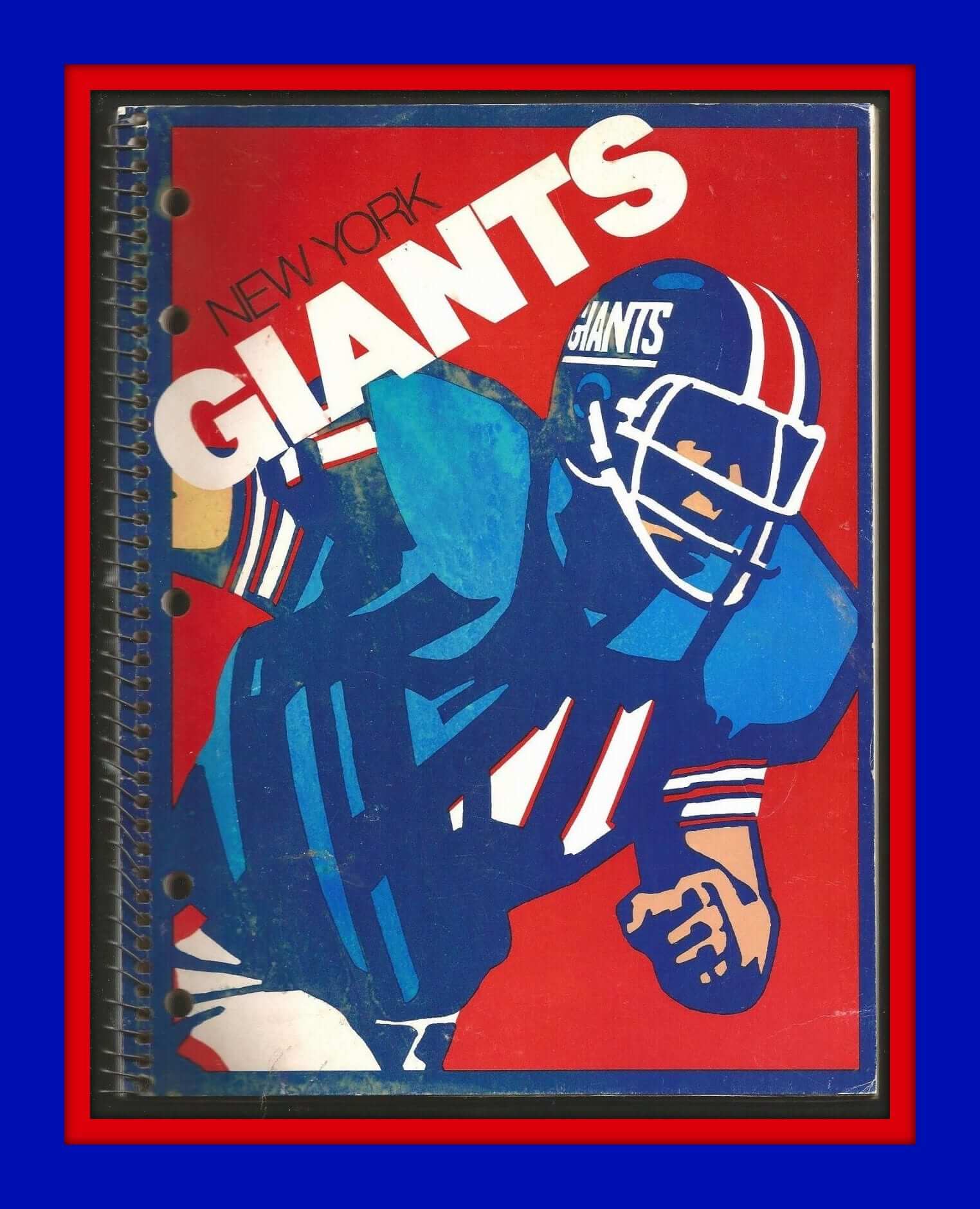 Click to enlarge
Collector's Corner
By Brinke Guthrie
Way back in the day, I always had STP stickers on my school binders and notebooks. Remember those? I was an Indy fan at the time, so I knew what STP stood for (scientifically treated petroleum, duh), but I'm sure some kids just stuck 'em on because everyone else did. Then I discovered the NFL, and it was strictly NFL team colors for me in school from then on. Cowboys, then Bengals. But if I'd been a fan of Big Blue, maybe I would've used this New York Giants spiral notebook.
Here are the rest of this week's picks:
• I love the "My Favorite Team" line at the top of this t1958 Red Sox patch. It says "Bazooka Blony" on the bottom. "Blony" was another gum brand owned by Topps. Other teams had these, too.
• I think I started collecting NFL mini-helmets around fall of 1971. I remember going to Oxmoor, the Louisville mall, right before we moved to Dallas — I bought several of the goalpost kits. This helmet always drove me nuts. That. Bolt. Is. Not. Correct.
• Here's a pair of 1970s Baltimore Colts grey shorts. They're "Officially Licensed," but without any maker's mark. Certainly wouldn't see that today. Speaking of the Colts, this is what a 1960s youth helmet looks like.
• Really like these 1970s L.A. Rams knit gloves! One more from the Rams: this 1960s bobble is in great condition.
• San Francisco Giants fans, you're always in style with this 1970s "Hip Pocket Styling Comb."
• Aaaah, look at the uni colors on this 1960s photo of Lem Barney of the Lions and Gary Collins of the Browns.
• Textbook 1970s "fade" graphics on this Seattle SuperSonics windbreaker.
• Never seen a red NFL logo like the one on this 1960s pillow. Well, they weren't as eagle-eyed about the merch back then, right?
• Ever seen a Phillies "Bull-Schmidt" pennant before? That refers to sluggers Greg "The Bull" Luzinski and Mike Schmidt, of course.
• These 1970s Golden State Warriors wristbands will set you back a pretty penny.
Follow Brinke on Twitter: @brinkeguthrie
• • • • •
The vintage mug shots shown above are all from the excellent website Small Town Noir, which I've written about before. Now that project may end up as a book. Full details over on Permanent Record.
• • • • •
The Ticker
By Mike Chamernik

Baseball News: Reds P Raisel Iglesias's jersey and pants were different shades of grey last night (from Adam Ure). … During Cole Hamels's no-hitter at Wrigley Field on Saturday, catcher Carlos Ruiz ditched his sunglasses for the ninth inning because of the field's shadows, and CF Odubel Herrera nearly forgot to wear his in the eighth inning (from Kurt Esposito). … Rickey Henderson wore plenty of different styles of uniforms over the years with the A's (from Richard Paloma). … Here's a cool gallery of well-known hockey players in baseball uniforms (from Anthony Juliano). … The San Antonio Missions will wear Star Wars uniforms next month (from Patrick Frey). … The Norfolk Tides will have SpongeBob jerseys in August (from @morrisoncrying). … The Bowie Baysox are holding a Back Hair Appreciation Night on Thursday. Fans who shave a No. 15 into their back hair get free box seats (thanks, Tommy Turner). … The City of Washington's preferred typeface is the same font that the Nationals and Shake Shack use (from JH). "¦ If you think Rickey Henderson was a hot dog, check out former MLBer Kaz Matsui, who's now back in the Japanese leagues and recently celebrated his 2,000th hit by holding up a pre-made sign with his own milestone logo. Also of note: What's that printed on his upper-right pant leg?

NFL News: Someone created a new logo for every NFL stadium (from Marc Burgess). … A bar in Red River, N.M. has an indoor mini-golf course and has an old Broncos helmet as an obstacle for one of the holes. I know I've asked before what people's favorite helmet logos were, but that Broncos one is a pretty strong contender for my favorite (from @jbird8212). "¦ These are always fun: Here's an animated GIF showing the evolution of NFL team logos (from Chase Osterman).

College Football News: New uniforms from Bowling Green. They have a full brown set, along with orange jerseys and white jerseys. … A Cornhusker blog is holding a Nebraska alternate uniform redesign contest (thanks, Brandon Vogel). … Tennessee's tickets for the upcoming season are whiskey bottle-themed (from Lee Wilds). … Duke will wear UCLA stripes this season. … Angelo State will have throwbacks. … New uniforms for Air Force. Here's a good collection of photos of what the Falcons have worn over the years (both from Phil). … The people in the Arizona State athletic office who have seen the Sun Devils' new jerseys have liked them, unsurprisingly. The uniforms will be unveiled Thursday (from Phil). … A Syracuse blog ranked all of the Orange's eleven uni combinations (from Phil). … The Buckeyes have a few mannequins in full uniform in their locker room, so someone dressed up as one and scared the daylights out of unsuspecting Ohio State players. "¦ New uniforms for USF. You can get closer looks at the various components, which include some rainbow-green stripes, here, here, here, here, here, here, and here.

Soccer News: Tottenham Hotspur's third jersey has leaked, and folks are surprised it's not purple (from John Muir). … "The 1981 Copa Libertadores match between Flamengo and Atletico Mineiro was played on a pitch that was mown in a bizarre 'crop circle' pattern," says Graham Clayton, who, based on his Ticker submissions, apparently watches 1970s and '80s soccer and Aussie rules football clips on YouTube all day.

Hockey News: The Avalanche's new Stadium Series jersey may have leaked. That's from Icethetics, which is usually a dependable source (from @ClancyKolzig). … The Sabres' old alternate logo is apparently being used by a screen-printing company in Nevada.

NBA News: The Raptors' inaugural set tops this list of the best to worst 1990s NBA uniforms (from Cory Collins). … New Celtics F-C Amir Johnson picked No. 90 because "every number 1-34 was basically retired." … A video from a couple years ago animates all the NBA logos with a smooth transition in between them.

Grab Bag: Considering how unattractive the 2012 London Olympics logo was, and how much of an ordeal building the 2020 Tokyo Olympic Stadium has been, it's fitting that Tokyo's Olympic logo is very confusing (from Chris Bisbee). … Olympic decathlon champion and world record holder Ashton Eaton had a cooling hood designed for him (from Brinke). … I'd say that this house in Manasquan, N.J., Gets Itâ"¢. "Quite the color combo, eh?" says Keith Goggin. "¦ B.Q. Grimes spotted a truck with a mash-up of the Alberta and Confederate flags.