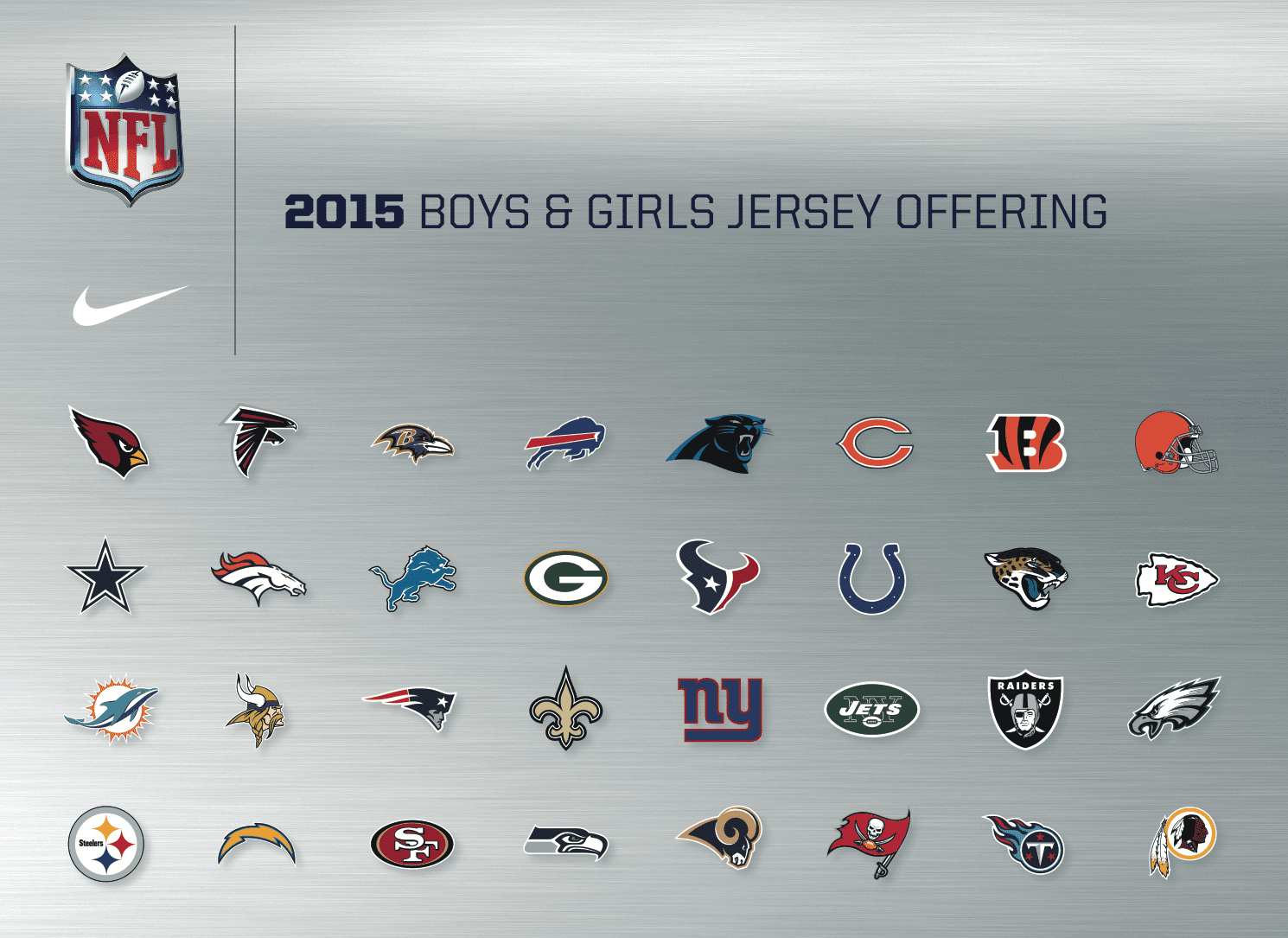 For all of today's images, you can click to enlarge
Heard yesterday from a trusted industry source, who shared the new Nike/NFL 2015 youth catalog with me (the cover of which is shown above). This isn't as good as seeing the adult catalog, natch, but it nonetheless offers some interesting hints regarding what's in store for next season.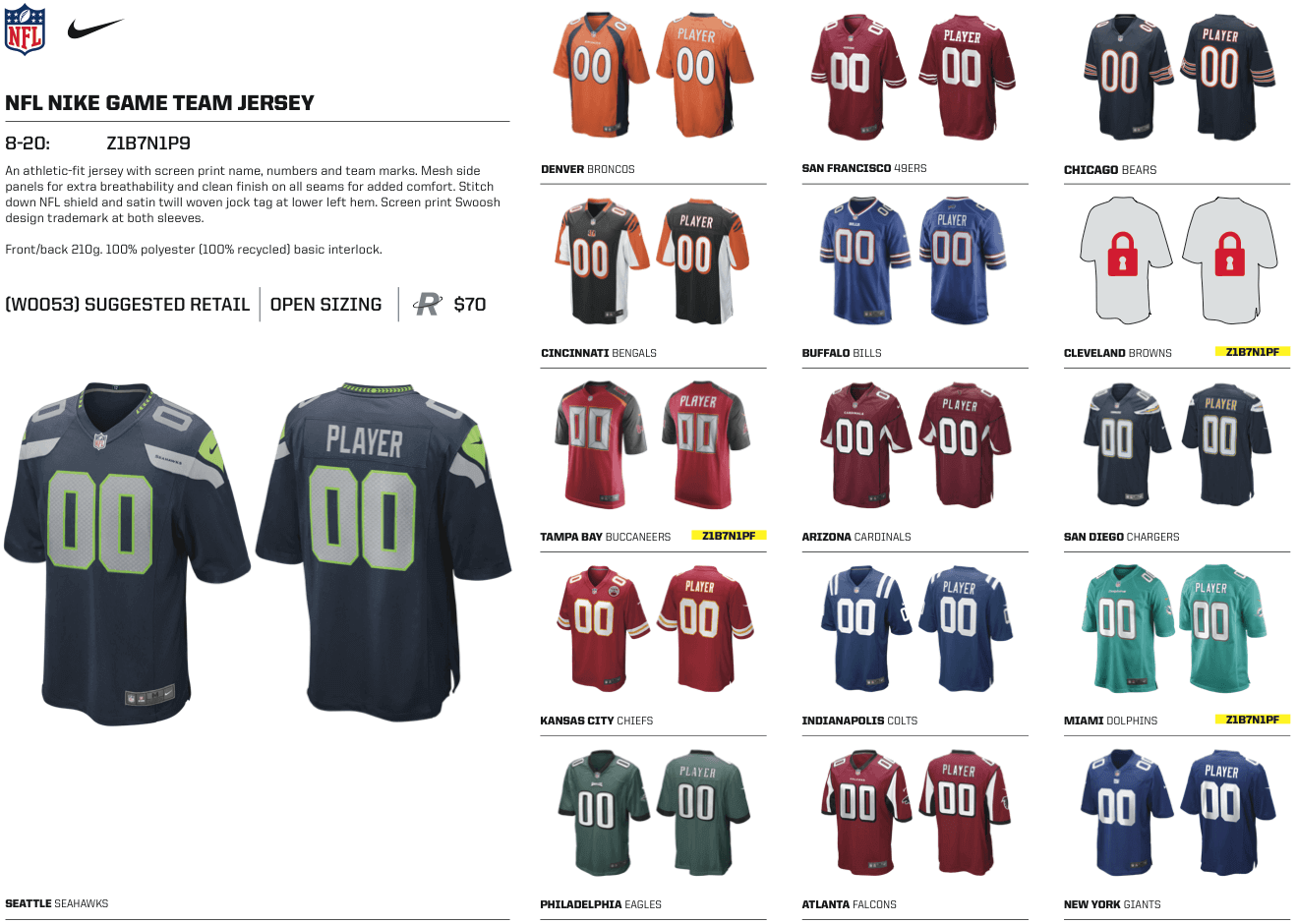 Let's start with the colored jerseys:
.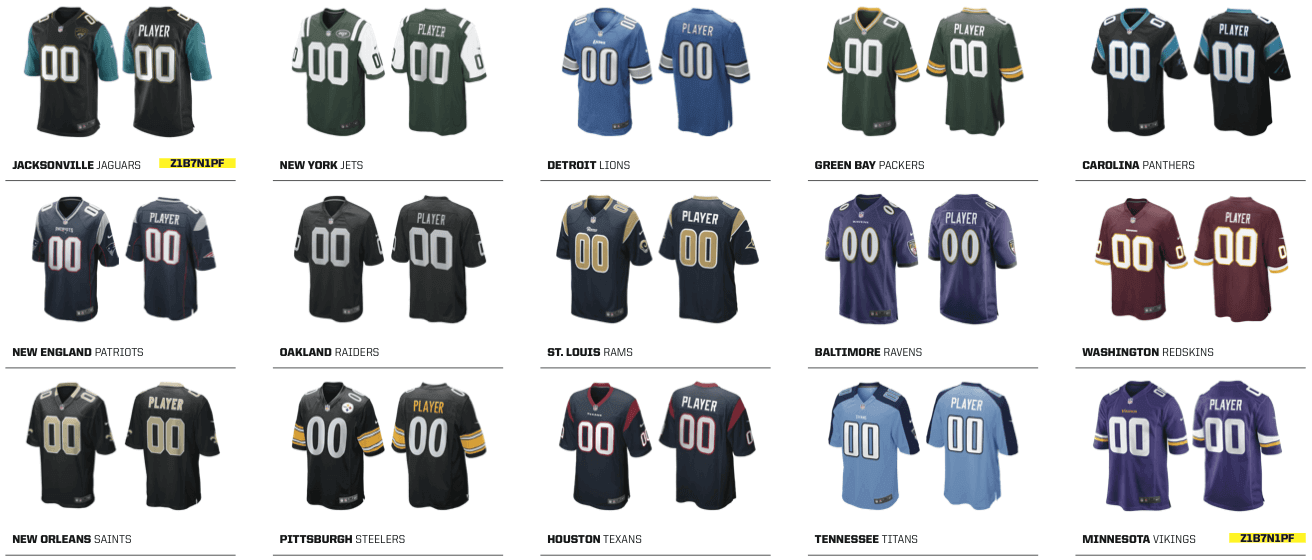 .
The most obvious thing here is that there'll be a new Browns jersey — something we already knew, of course. And no, there's no way to unlock that image. Even my source doesn't yet know what the locked designs will look like.
Also, the catalog shows the Eagles wearing midnight green. So if they're really switching to kelly green, as has been rumored, it's not happening in 2015, at least if this catalog is to be believed. (Note to Nike: You might wanna stock up on midnight green dye this time.)
The other thing worth noting here is that the Titans' light-blue jersey is still shown. As was noted two days ago in the Ticker, Titans CEO Tommy Smith recently stated that we've probably seen the last of the light-blues, at least for this season, and ESPN's Titans beat reporter, Paul Kuharsky, says this means they'll be redesignating the navy jerseys and their primaries. I asked a team spokesperson about that and he confirmed for me yesterday that the team will wear white for the rest of this season's games but said the team had no other uni-related news to announce at this time. So if they do plan to make navy their primary, then the catalog is wrong (or perhaps simply hasn't been updated to reflect the team's current thinking).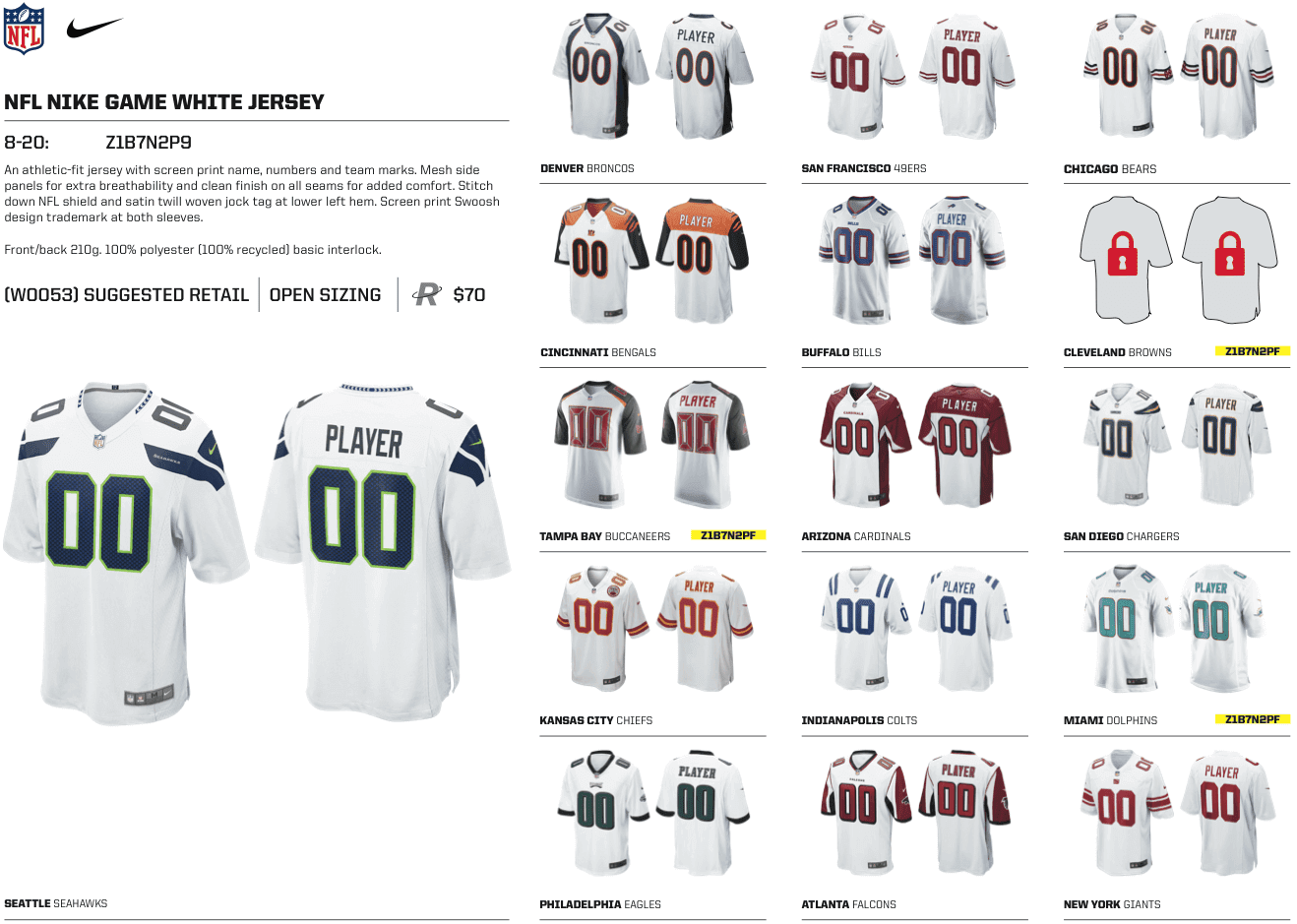 Now let's look at the white jerseys:
.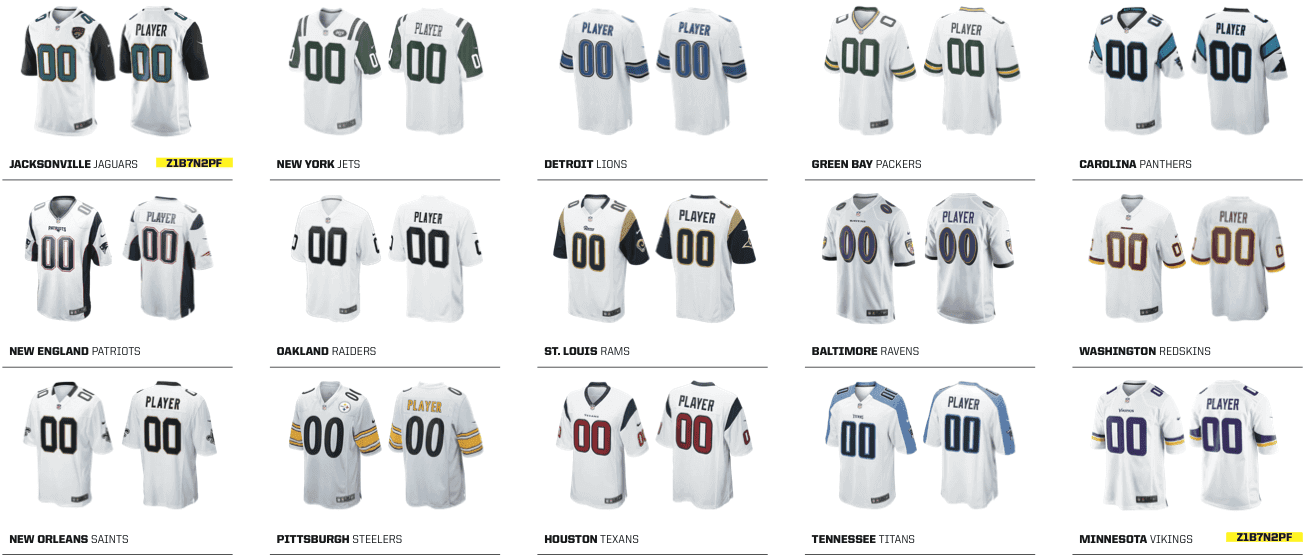 .
Nothing remarkable there, except that we once again see mystery design slated for the Browns.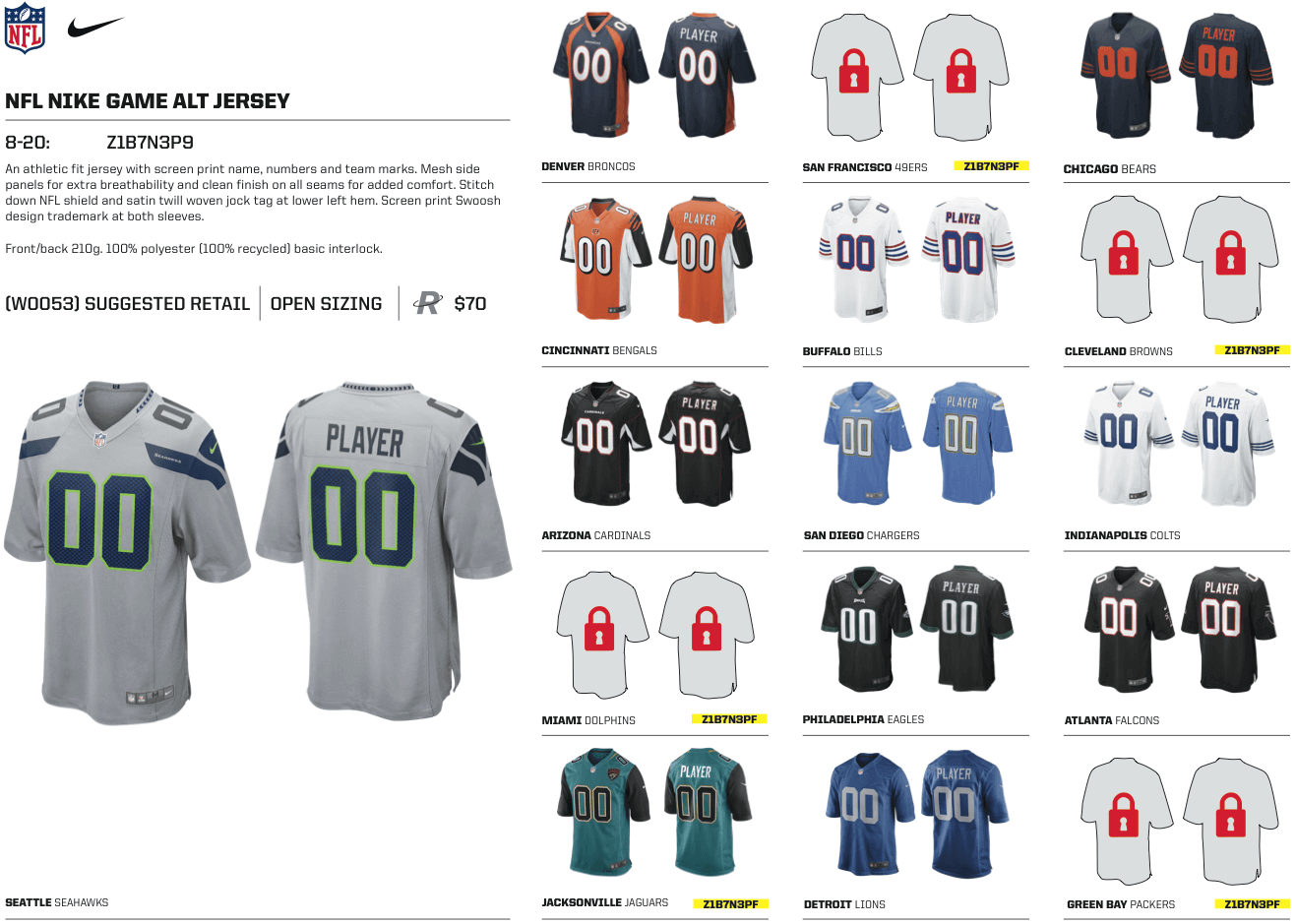 The next set of listings is where things get interesting — the alternate jerseys. Let's take a look:
.


.
Lots of items worth noting here. One thing at a time:
• Looks like there will be new alternate designs for the Browns (duh), Dolphins (orange?), 49ers (beats me), and Packers (what, no more Acme Packers?).
• The Titans' navy jersey is shown here as an alternate. As noted above, it's not clear how this plays in with the team's current thinking.
• As you can see, they're showing a red Patriots throwback. My initial thought was, "A-ha! If they're bringing back that throwback, then they must be planning to scrap the one-helmet rule." But then I double-checked with my source, who said the red throwback youth jersey has been available for sale all along. Ditto for that white Colts throwback. So those don't necessarily indicate anything regarding on-field jerseys.
So the real news here — aside from the Browns stuff, which we already knew — is that the 49ers, Dolphins, and Packers appear poised to unveil new alternate jerseys that we can't see yet. Okay, so that's not completely satisfying, but it's still fun to look through these catalogs, right?
•  •  •  •  •
ESPN reminder: In case you missed it yesterday (and you probably did, because it didn't post until pretty late in the day), my latest ESPN column is a follow-up to last week's college hoops season preview.
• • • • •
Membership update: A bunch of new designs have been added to the membership card gallery (including Bobby Hoekstra's Tim Duncan-era Wake Forest design treatment, shown at right). Some of those new cards have already been printed, laminated, and shipped out; the rest should be in the mail at some point next week. And we have about two dozen additional new enrollees whose card designs should be available for your viewing pleasure soon. My thanks everyone who responded to my "Now or possibly never" call over the past week.
Meanwhile, I've made a simple change that I probably should have done ages ago: The membership card gallery now has the newest designs at the top, instead of at the bottom. Much easier to see the most recent designs this way.
As always, you can see how we make the membership cards here and sign up for your own here.
• • • • •
NFL Superhero Project
By Thomas Correia
Did you hear the big news this past weekend? Underoos have officially made a comeback — and they're now for adults! Although it's highly unlikely, I'd like to think that our little project here played a small role in the return of this sorely missed element from undergarment history. So let's strike while the iron is now even hotter and bring you this week's NFL superheroes, which are based on tonight's game between the Chiefs and Raiders (click to enlarge):
I have to give a shout-out to a commenter from last week named Winter, who guessed that the Chiefs would be represented by Green Arrow's sidekick, Speedy. He would indeed be a perfect fit, but I opted to use a more famous DC hero who also wears red and gold: the Flash. I incorporated the Flash's logo and some speed lines into a slightly skewed arrowhead to give it a sense of motion, which is what the Flash is all about.
When I got to the Raiders, one character immediately came to mind: the Punisher. The Raiders of yore and lore were always out to punish teams for entering their stadium. Victory was had by any means necessary. Also, Raiders fans are diehard and menacing, just like the Punisher when he's dispensing justice to those who break the law.
Next week will be a special holiday edition featuring four of the teams that will be playing on Thanksgiving: the Seahawks, 49ers, Eagles, and Lions. Guess which heroes will represent each team in today's comments.
• • • • •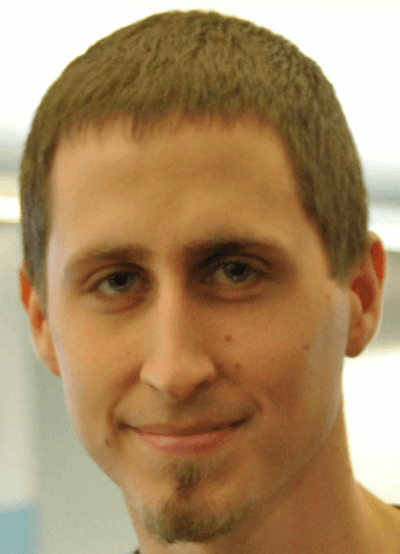 Mike's Question of the Week
By Mike Chamernik
Which failed uniform trend are you most glad went away? Here's mine: In the mid-2000s several NBA teams wore sleeveless T-shirts instead of the standard tank-top silhouette. I didn't like the look, but I thought they were the wave of the future. Fortunately, I was wrong, as they've mostly disappeared.
We have a ton of options here, from the pullovers in baseball to cut-off jerseys in college football to short shorts in basketball, and everything in between.
Also, which contemporary trend should disappear? [Editor's Note: If you're thinking of saying anything other than "baseball pajama pants," please remain where you are. The reprogramming truck will be arriving momentarily. "" PL]
•  •  •  •  •
PermaRec update: A soldier's pass to visit Nome, Alaska, in 1945 (shown at right), which was found in an old book, is the subject of the latest entry on Permanent Record.
•  •  •  •  •
Uni Watch News Ticker
By Mike Chamernik

Baseball News: Louisville Slugger makes camo bats now (from Jonathan Daniel). … A Nats fan made a nine-foot Jayson Werth gnome out of canned seafood (from Andrew Hoenig). … Ben Fortney found a cool Texas Rangers program cover on Pinterest. … A's outfielder Josh Reddick will switch to No. 22 as newcomer Billy Butler will take Reddick's former No. 16 (from Rich Paloma). … We've seen this before, but it's still cool to check out this gallery of 19th-century baseball players in game-action poses (from Chris Flinn). … Semi-related, here are some turn-of-the-century sports photos by photographer George Grantham Bain (from Jonathan Daniel).

Football News: Bowling Green wore all-orange last night (from Phil). … Toledo wore "Glass City" uniforms last night and Tom Konecny wrote a few words about it. … Also, Toledo's coach wore a multi-branded cap. … Here's a history on the Penn State paw print logo (from William Yurasko). … Vanderbilt will wear matte helmets against Mississippi State (from Phil). … Borrowed orange unis played a big part in MIT's football history (from Phil). … Tim Erney took a tour of Levi's Stadium and saw not only a poster for uniform guidelines but also a display for a game-used Jim Harbaugh outfit.

Hockey News: The Rangers wore white at home last night. … "Arturs Irbe is the Sabres' goalie coach and was forced into the backup role Tuesday night due to an injury to starter Michal Neuvirth," says Mike Monaghan. "He wore team's terrible third jersey, but a nameplate from the regular home blues." … The Islanders and the Brooklyn Nets swapped jerseys.

Soccer News: The San Jose Earthquakes' new stadium has a corporate sponsor. … Here are some colorizations of some old soccer photos (from Jack Coyier).

College Hoops News: We discussed college players (specifally those who wear Under Armour unis) rolling up their shorts at the waistband yesterday. Kendrick Nunn from Illinois, a Nike school, also does it (from Ben Zoss). … San Diego State will wear turquoise against Bakersfield tonight (from Phil). … New home, road and alternates for Southeastern Louisiana. Isn't that where Bobby Boucher played foosball? (From Chris Mycoskie.) … Houston Baptist is wearing a patch to honor 50 years of basketball at the school (from Jeff Sutton).

Grab Bag: Delaware's student newspaper said it will stop referring to the school's women's teams as the Lady Hens. … Josh Lassiter is tracking all of Baylor's uniforms. … Icelandic RFU is holding a new logo contest. Winner doesn't get paid; he or she will only get a free shirt (from Eric Bangeman). … Here's a quiz where you guess which state these colleges are from, based on the logo (from Anthony Nuccio). … Nice library find from Patrick (who prefers that his last name not be used): some bound pages showing illustrations of U.S. Navy uniforms through the years. Good stuff! … Through photo manipulation, an artist covered babies in tattoos of corporate logos to prove a point of some sort (from Jay Sullivan). … Chas Wagner runs a site called Rally, and it sells famous play-inspired T-shirts and coasters, among other nifty items. … David Firestone wrote a few blog posts recently, including one about a driver suit that has both an Oakley and Simpson logo on the back and a breakdown of the best and worst NASCAR paint schemes this year. … Apple released a new typeface (from Brinke). … "A couple of Australian players wearing the uniform for the 'International Rules' series against Ireland," says Graham Clayton. "International Rules is a hybrid of Australian rules football and Gaelic football."