[Editor's Note: Today we have the start of a new series of entries by intern Mike Chamernik, who's taken a deep, deep dive on an excellent topic. Enjoy. "" PL]
By Mike Chamernik
Paul has written several times over the years about how much he loves the song in the video shown above. It's "We Want a Hit," an early song devoted to the New York Mets. But if you're not a Mets fan, no problem — I have found many, many more team-specific fight songs, and over the next week or two we're going to check out a bunch of them. With the MLB season having started last night and kicking into high gear today, we're going to begin today with MLB fight songs. Caution: Earworms ahead.
Some quick ground rules: I ignored adopted songs, like how "Chelsea Dagger" is now a Blackhawks song and "Sweet Caroline" is an anthem for Red Sox Nation. Those songs don't make references to those teams and were their own pieces of music before being attached to sports. I ignored team remixes to popular songs, because nearly every team has its own terrible version of Wiz Khalifa's "Black and Yellow." I also didn't include fan-made songs because any yutz can make an EDM beat on his laptop and lay over some half-baked lyrics.
I also stuck to the Big Four leagues and songs that are available on YouTube. Okay, let's get into it.
Baltimore Orioles "" "Orioles Magic (Feel It Happen)"
The song, made in 1979, was written by a jingle writer. The song was inspired by a Doug DeCinces walk-off home run and took an hour to write. The singer's identity is apparently lost to history.
Notable lyric: "The thundering roar from 34" references Section 34 at Memorial Stadium, where O's superfan Wild Bill Hagy sat.
Boston Red Sox "" "Tessie"
This song is originally from 1902, but the popular Dropkick Murphys version tells the backstory of the original song and adds some very early Boston Red Sox references.
Fun fact: I've heard this song well over 7,500 times because it's on the soundtrack for MVP Baseball, the best baseball video game ever and a game I've played for 10 years now.
Chicago Cubs "" "Go Cubs Go"
The song was written in 1984 by Cubs fan and singer-songwriter Steve Goodman, who died of leukemia later that year. "Go Cubs Go" is now played after Cubs games and sung on weekend nights by drunk 20-somethings in Wrigleyville.
Fun fact: The song reached No. 1 on the folk music chart on iTunes in 2007, when the Cubs were making a playoff run.
Chicago White Sox "" "Let's Go Go Go White Sox"
The song first appeared in 1959 when the group Captain Stubby and Buccaneers made the song for the American League pennant-bound Go-Go White Sox. It then disappeared for 45 years or so until it made a resurgence when the 2005 White Sox, also a small-ball team, won 99 games and a World Series title.
Notable lyric: "You're always in there fighting and you do your best/ We're glad to have you out here in the middle west." I've never heard it called the "Middle West" outside of this song.
Cincinnati Reds – "Reds Hot"
It seems that a dopey rap song written by shortstop Barry Larkin helped to spur the Reds to a World Series title in 1990. "Reds Hot" by B-Lark and the Homeboys uses a standard early-90s hip hop beat and interjects play-by-play audio. It's bad (you can tell the players are reading the lyrics) but it's charmingly bad because it's intentionally silly.
Notable lyric: "Say no to drugs, Say no to crack / Just hit the books and the ball with the bat / then you can win the World Series of life / Not by doing what's wrong, just do what's right." The crack epidemic ended in the early 1990s. I think B-Lark and the Homeboys had a hand in that.
Cleveland Indians "" "Indians Baseball Song," "Talkin' Tribe," and "Indian Fever"
The Indians have a few team songs but three stand out. One is the snappily named "Indians Baseball Song," a 1960s orchestra piece that has a bossa nova feel to it. The second is "Talkin' Tribe," which sounds like a TV station's theme song to an Indians studio show. The third is "Indian Fever," kind of a standard team jingle.
Over-saturation alert: Wait, I found a different song that mentions "Indian Fever," also about the team. What's going on here?
Detroit Tigers – "Go Get'um Tigers," and "Bless You Boys"
"Go Get'um Tigers" is an up-tempo, banjo-driven song with a distinctive 1960s sound. It's still fairly well-liked in Michigan. The 1984 song "Bless You Boys," based off of local sports anchor Al Ackerman's catchphrase, references both Tigers manager Sparky Anderson and pop singer Boy George.
Fun fact: The popular phrase of encouragement "Go get 'em, tiger" got its origins from the Tigers' song. Fine, I can't prove that, but it sounds like it could be true.
Los Angeles Dodgers – "D-O-D-G-E-R-S Song"
This 1962 song, performed by comedian Danny Kaye in 1962, is different than all the other fight songs in a few ways. One, it tells a story, in this case it's a narrative of a Dodgers game against the rival Giants. Two, the song is really an extended stream-of-consciousness riff. Three, it's meant to be humorous. All those points are exemplified in this lyric: "Maury goes, the catcher throws / Right from the solar plexus / At the bag, he beats the tag / That mighty little waif / And umpire Conlin cries… 'Yer out!'"
Fun fact: The song was rewritten in 1982, with updated Dodgers references, but Kaye never recorded it.
Miami Marlins – "Marlins Will Soar"
I'm breaking my own rule because this song is a remake, but I had to include it. In 2010, Florida native Scott Stapp remade his band Creed's song "You Will Soar" (hence the nonsensical title) and turned it into a Marlins fight song. Of course, everyone really appreciated and enjoyed it.
My opinion: I get a kick out of this song. I just want to sing the lyrics "Let's play ball, it's game day / We watch strikeouts, base hits, double plays" in the most Scott Stapp-iest voice I can conjure up. And if I were a Marlins fan, I would absolutely taunt the living daylights out of fans of long-suffering teams. "Hey guys! We have two World Series titles and Giancarlo Stanton, and our fans barely show up for games! And Scott Stapp wrote a song about us! With arms wide opennnnnnnnnnnnnnnnn…"
Milwaukee Brewers – "Keep Turning Up The Heat" and "Brewers Fever"
It delights me that the Brewers have two 1980s fight songs. The 1980 entry "Brewers Fever" is good (I like the small hint of that distinctive disco sound), but 1985's "Keep Turning Up The Heat" is a gem. It's got a really quick tempo. Gets me fired up.
Fun fact: During pitching changes on the team's online radio broadcasts in spring training this year, "Keep Turning Up The Heat" was played instead of a commercial break.
Minnesota Twins – "We're Going To Win, Twins"
This song is so distinctively 1960s. It led off Twins television broadcasts for a number of years and even got at least one stylistic reboot.
Fun fact: "We're Going To Win, Twins" was written by Ray Charles! OK, not the Ray Charles.
New York Mets – "Meet The Mets" and "Let's Go Mets"
Written a year before the genesis of the team, "Meet The Mets" is a peppy tune with quaint lyrics like "Because the Mets are really sockin' the ball / knocking those home runs over the wall" and "Oh, the butcher and the baker and the people on the streets/ where did they go? To meet the Mets!" New York Times writer Leonard Koppett called the song "atonal." "Meet The Mets" got remakes in 1975 and 1984. In 1986, the team produced "Let's Go Mets," a mildly cringe-tastic lip sync rock video as well.
Fun fact: "Meet The Mets" was played in a SportsCenter commercial and in episodes of Everybody Loves Raymond and Seinfeld.
New York Yankees – "Here Come The Yankees"
I was surprised to see that such a prestigious and professional organization like the Yankees had a fight song, but they did.
Notable lyric: An ad-libbed yell ("Put it over the wall!") is included in the song.
Philadelphia Phillies – "Phillies Fever"
Produced in 1976, "Phillies Fever" has, you guessed it, a distinct disco sound, and a funky bassline, too.
Notable lyrics: "Veterans Stadium is the hippest place in town" made me laugh for some reason. Also the non-singing dialogue spliced into the song is an odd choice.
San Francisco Giants – "Bye Bye Baby"
This marching band tune was based on Giants' announcer Russ Hodges's home run call.
Notable lyric: "If you're a fan of Giants baseball, sing 'Bye-Bye Baby!' / If you want to be in first place, call 'Bye-Bye Baby!' / Listen to the broadcast on KSFO / Turn up the volume, and hear 'em go." I don't know why, but the plug for the team's radio affiliate worked well here. It's a reminder of simpler times.
Toronto Blue Jays – "OK Blue Jays"
I'll be honest, the opening lyric "You've got a diamond / you got nine men…" is outstandingly awful. And it's downhill from there. But Blue Jays fans like the 1983 song and that's all that matters. The single was certified gold in 1986 and is played during the seventh inning stretch at home games.
Notable lyric: "Is that a fly ball / Or is it a seagull? / Coming in from the lake / Just to catch the game?" brings to mind an unfortunate seagull incident at Exhibiton Stadium.
Do you know of more MLB team fight songs? Post links in today's comments. I'll be back soon with additional fight song entries for the NFL, NBA, and NHL.
• • • • •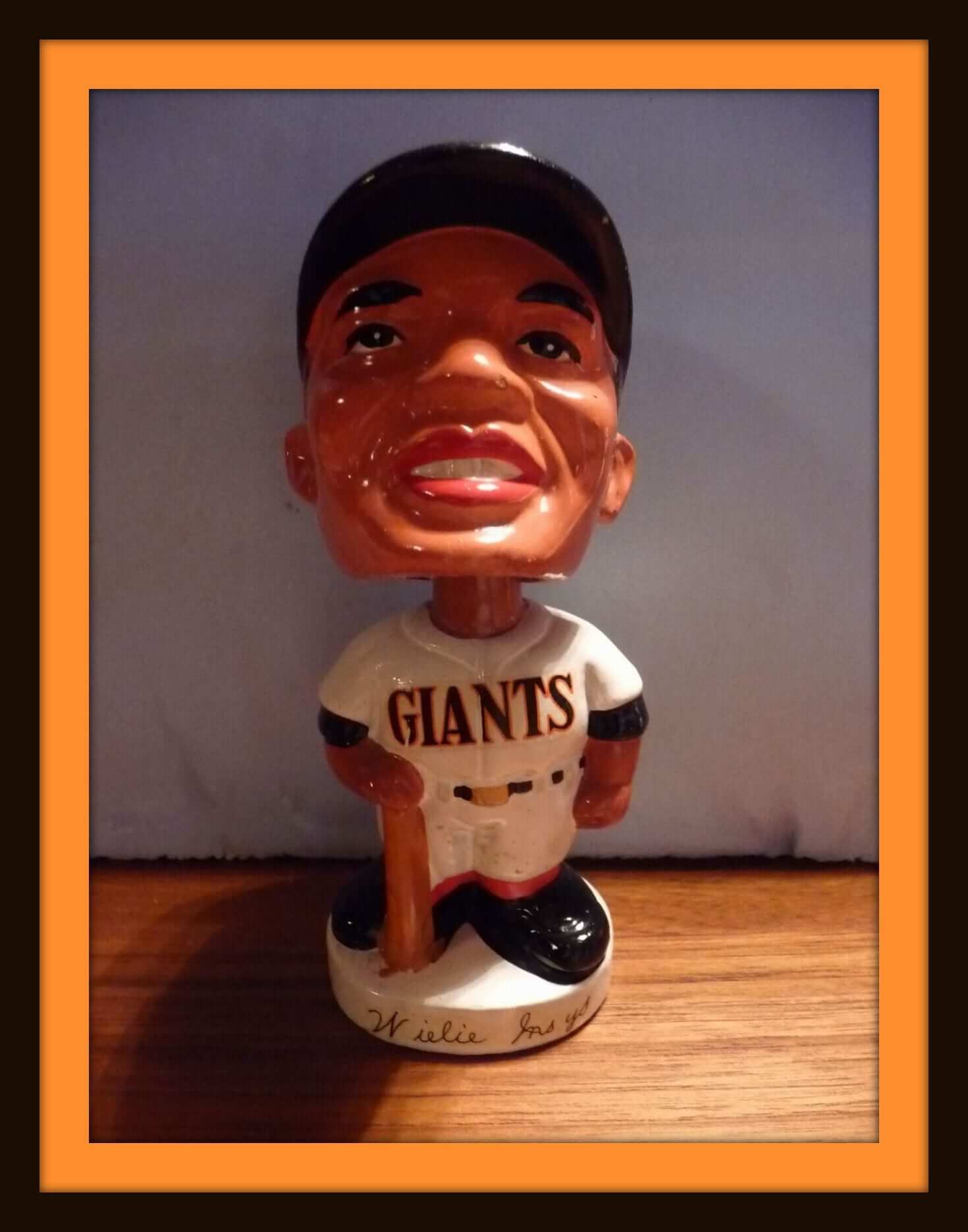 Click to enlarge
Collector's Corner
By Brinke Guthrie
It's Opening Day, so Collector's Corner is all MLB today (don't worry, my eternal fascination with 1970s NFL returns next week). To honor the defending World Series Champions, we start off with this nice 1960s Willie Mays bobblehead. Say Hey!
Here are the rest of this week's MLB/eBay picks:
• Learn how to play baseball like The Mick with this 1950s board game. Authentic, suspenseful, and exciting!
• Here's a great-looking set of 1960s team pins from Crane Potato Chips.
• Is it just me, or does Yogi look like Bobby Valentine in this 1960s Mets/Volpe thermal cup?
• One of my favorite logos ever: the early-1970s Texas Rangers logo, adorning this plaque.
• Get tips on pitching from Dick Stigman of the Twins, on this flexi-disc record.
• This 1960s Phillies bobble is in great shape!
• Anyone remember these? National League team can banks from 1984. American League versions can be found here.
• Here's a set of 14 vintage team pennants, including one for MLB and one for the NL.
• Also, a 1970s set of 20 MLB stickers from Kellogg's.
And finally, here's a set of two Brewers "Barrelman" glasses sponsored by WTMJ TV.
Follow Brinke on Twitter: @brinkeguthrie
• • • • •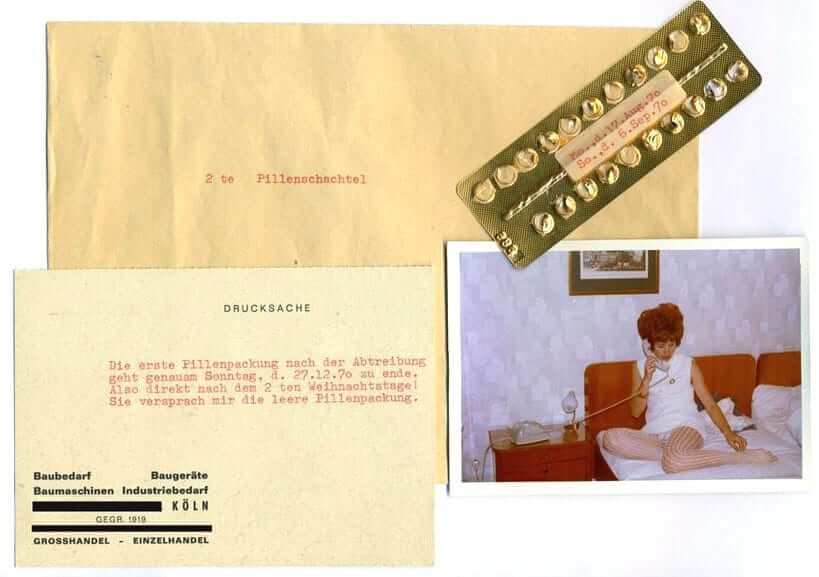 Click to enlarge
PermaRec update: The snapshot, typewritten note, and empty birth control pill blister pack shown above are part of a large cache of materials found in an old briefcase purchased at a German estate sale. The materials all document a long-ago affair between a German businessman and his secretary. Get the full scoop over on Permanent Record.
Also: There's an additional new PermaRec entry, this one based on two vintage tea towels, with their original price tags still attached, that I bought over the weekend at a flea market: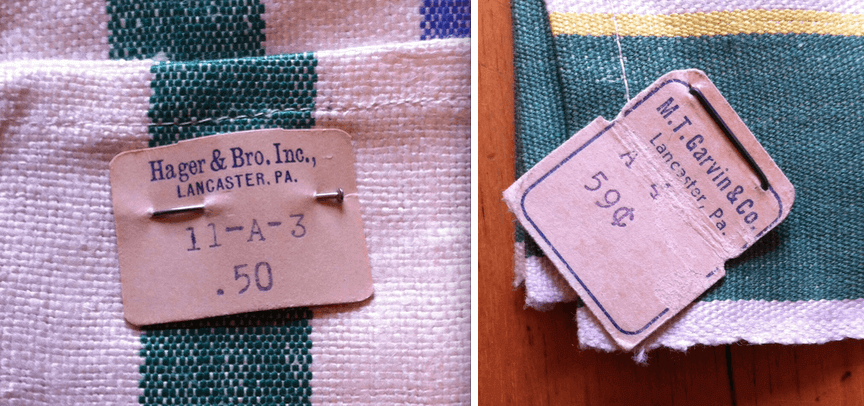 Those two price tags led me down a fun little rabbit hole involving old department stores in Pennsylvania. Details here.
• • • • •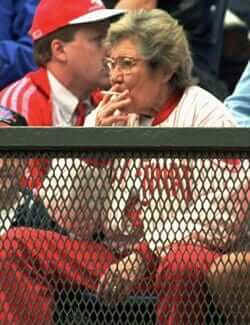 Play ball! Okay, so the Cubs and Cardinals played last night, and a bunch of other teams will be playing early this afternoon. But as far as I'm concerned, the baseball season doesn't really start until the Reds play, and today that won't happen until 4pm Eastern. With that in mind, reader Mike Powers sent along his favorite Opening Day photo (shown at right), which is just too perfect for words.
Four o'clock is also when my favorite team, the Mets, will begin their first game. Can't wait! Here's to a great season for one and all.
• • • • •

Baseball News: Here's a good view of the Tigers' stars/stripes shield patch from 1945. Many teams wore this patch to support America's involvement in WWII. … Speaking of the Tigers, Gates Brown of the 1968 championship team appears to have had his uni number written on his underwear, or jock strap, or something (from Tristan Ridgeway). … Former MLB catcher Jason Kendall wrote a book last year, and apparently he comes off like a prick. Key quote: "[Kendall says in the book] again and again just how hard he worked, how lazy today's ballplayers are by comparison and slammed those who wear their socks high: 'In my mind, that's a college thing'" (from Chris Weber). "¦ Tennessee and Mississippi went red vs. orange on Saturday. "¦ A Bowling Green softball catcher is mixing Nike with Adidas. "¦ Here's the latest article about how the baseball cap has become our culture's all-purpose headwear. "¦ Here's a great little clip of the 1970s A's in their beautiful solid-gold vested unis. Good screen grabs and commentary here. "¦ Roger Krafve recently acquired an old late-1950s batting helmet with earflaps added on as an aftermarket attachment. Never seen anything like that. If you look at this photo of helmets being tested, it looks like the white one hanging on the wall may have a similar attachment, and possibly also the dark helmet above and to the left of the white one. Interesting! "¦ Pink-lettered jerseys tomorrow for Chapel Hill High School in North Carolina. "¦ Lots of promo jerseys on tap this season for the Bowling Green Hot Rods. "¦ New uniforms for Niagara Community College (from Cort McMurray). "¦ The Nats marked the cherry blossom festival in DC by creating a logo showing a cherry blossom with baseball stitching for Saturday's exhibition game against the Yankees (from Jorge Cruz). "¦ A shop in Pittsburgh is mixing Pirates and Zombies (from Gordon Blau). "¦ The Chiba Lotte Marines are wearing light blue alternates for eight home games in April (from Yusuke Toyoda). "¦ Word on the street is that the Nats will officially be named as the 2018 MLB All-Star Game hosts at some point today. "¦ Speaking of the Nats, here's a good slideshow of their racing presidents. "¦ With construction and renovations at Wrigley Field resulting super-long bathroom lines during last night's season opener, some fans resorted to peeing in cups.

NFL News: Someone on Twitter posted what's purported to be a glimpse of the Browns' new style guide. Several readers have pointed out things that supposedly give it away as a fake (no swoosh on the orange pants, e.g.). Whatever — we'll all find out for sure on April 14. "¦ A former Saints player is looking to sell his helmet and 2009 Super Bowl ring. "¦ The Bills' "charging buffalo" logo was introduced 41 years ago yesterday (thanks, Brinke).

Hockey News: Good spot by Jarred Hufford, who notes that the Flyers' 1968-69 team portrait shows two players with a white "A" patch and one player with a black one. "¦ Phil had a shot of Rangers goalie Henrik Lundqvist's Back to the Future-themed mask in yesterday's Ticker, but Alan Kreit explains that it's part of a larger story: "It's a charitable promotion where he had masks designed by Michael J. Fox, Mario Batali, Jeff Gordon, and some DJ. He wears each mask for one game and they will be auctioned for charity. A show on MSG, called The Mask, details each design." "¦ Longtime NHL ref Paul Devorski worked his final game yesterday, and the members of his officiating crew — including Devorski himself — marked the occasion by wearing a chest patch with his uniform number (from Mike Engle). "¦ Interesting article on AHL arenas.

NBA News: Here's a weird one: John Wall's personal logo, which debuted last year, actually appeared in an April 2013 episode of The Office (from @Tyeezus417).

College Hoops News: At first it looked like a Duke player had a black power logo on his warm-up jacket the other night, but then Travis Ruda came up with a more likely explanation.

Soccer News: Bizarre prouct-endorsement story from Yusuke Toyoda, who writes: "Wesley Sneijder of Galatasaray found himself in hot water when he tweeted about the launch of his club-colored knife set (!) days before the 15th anniversary of the stabbing death of two Leeds United supporters the night before Leeds played at Galatasaray."

Grab Bag: Light heavyweight champion Adonis Stevenson and challenger Sakio Bika both wore gold trunks for Saturday night's title bout. "¦ In a reversal of policy, Iran is now allowing women to attend most sporting events. Key quote: [An official said] women and their families would be allowed to attend most athletic events, except for those of 'masculine' sports, like wrestling or swimming, during which male athletes wear uniforms or suits that cover little of their bodies." "¦ Here's a 1987 article about a then-new study showing that black uniforms made athletes more aggressive. "¦ Today is Tartan Day in Scotland, so lots of people are wearing tartan.
• • • • •

What Paul did last night Friday night: Friday night was so awesome. Why can't every night be like this?
First stop was Kikkerland, the Danish design shop on Sixth Ave. that sells all sorts of playful little trinkets and gizmos, including a kit that lets you build your own cardboard Brooklyn-style water tower. Kikkerland recently gave these kits to 50 NYC artists and invited them to paint, decorate, modify, or otherwise get creative with the water tanks. The results are now being exhibited at the shop, and on Friday evening my friend Vicky and I checked out the opening reception, which was so much fun! A Uni Watch reader (whose name I no longer recall, sorry) recognized me and said hi, which was a nice bonus.
There are good photos of the towers here and here. Here's a photo I took myself, of the tower I liked best (click to enlarge):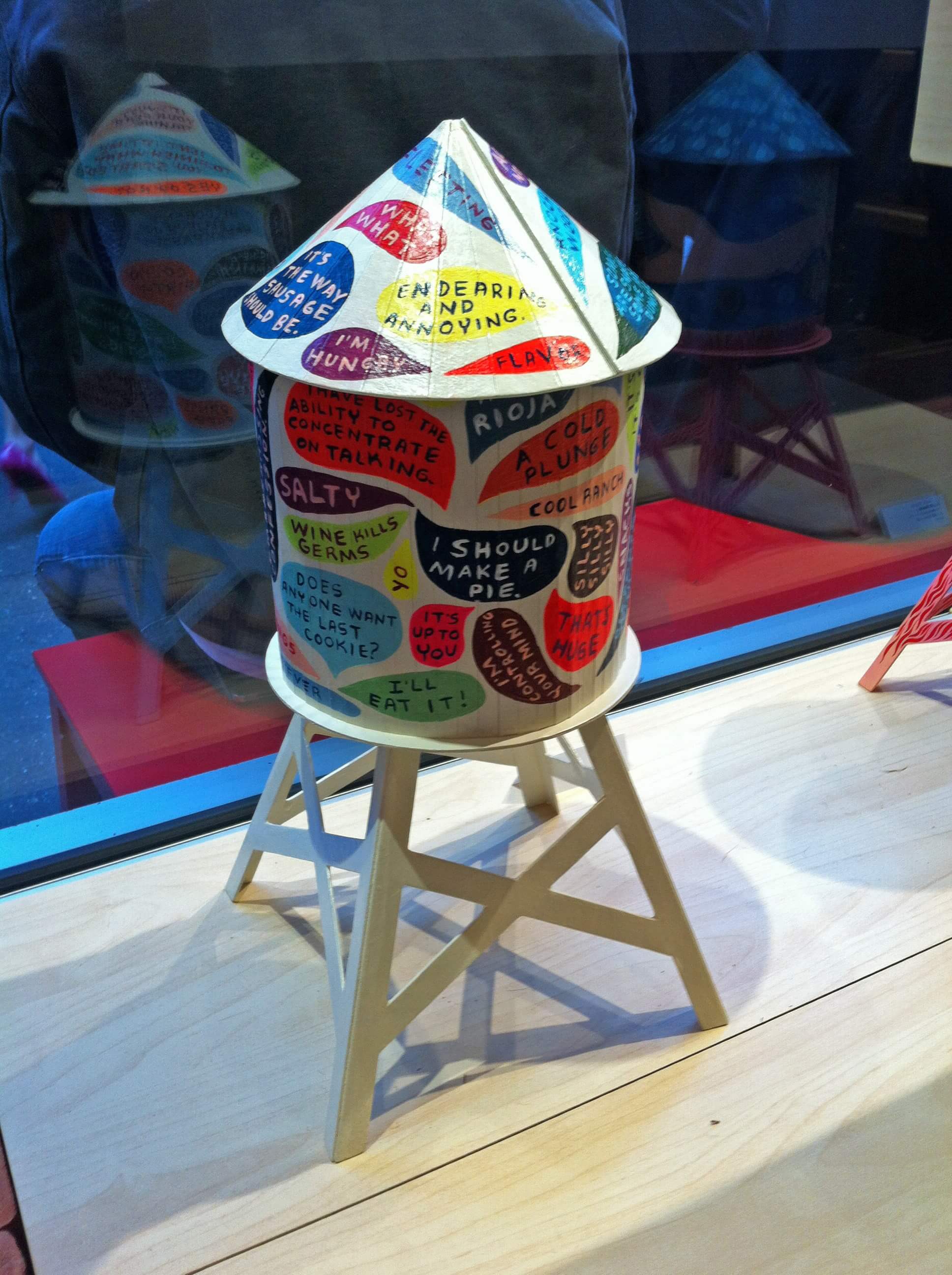 Afterward, Vicky, her fella, and I went and got eats and drinks at a nearby Spanish bar, and then we headed down to Cake Shop for the night's main event: the awesome Columbus band Connections, making their long-overdue NYC debut. And holy fuck was it worth the wait — just an epic, epic show. My friend Bela, who puts out the band's records and came in from Columbus for the show, took this shot of me and vocalist Kevin Elliott during the set:
I took some pics of my own, where you can see here:
If you haven't heard Connections yet, you need to get on the stick, boychick. Dig their tremendous sound here:
This was such a great time — bumped into lots of friends, many of whom I hadn't seen in years, and made some new friends too. Lots of joy, lots of love. It's actually a bit sad that a simple indie-rock show, which used to be a staple of my life, now qualifies as a Major Event, but the music scene has changed a lot over the years, and most NYC "music" clubs now seem more interested in hosting stand-up comedy, quiz shows, TV parties, and bake-offs (don't get me started), so the good rock shows are now rare. This one was special.