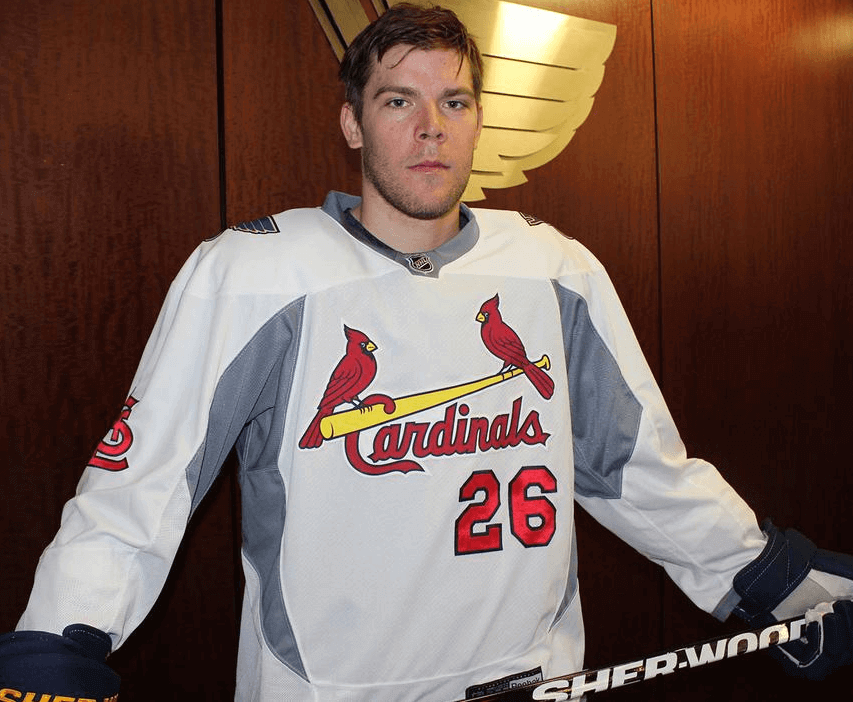 Interesting news last night out of St. Louis, where the Blues announced that they'll be marking the start of the baseball season by wearing Cardinals jerseys for pregame warm-ups on April 11.
I'm a bit conflicted about this one. On the one hand, it's cool to see a city's teams cooperating, collaborating, acknowledging each other's existence, instead of pretending that they live in their own sport-specific bubble. I'm all in favor of that.
On the other hand, there's something a little unseemly about the Blues saluting the start of the baseball season. Yeah, we all know St. Looie is a big baseball town, but still — shouldn't the Blues have more self-respect here? It's like they're saying, "We know that other team is more popular than we'll ever be." Even if it's true, have a bit of pride. Feels very rinky-dink, very minor league. Can you imagine the Cardinals ever returning the favor? Right, me neither. (As an aside, it's also a bummer that the insignia isn't chain-stitched, but I guess that would be too much to hope for.)
It's interesting how the NHL restricts these types of promotions to pregame warm-ups. Camouflage jerseys? Pregame only. Green for St. Paddy's Day? Pregame only. I like that the league protects the sanctity of its game jerseys, but sometimes it seems like they take it too far. When the Islanders recently revived their fisherman jerseys, for example, it was pregame only, which was silly. Go ahead and have a real throwback game!
Update: Several readers have reminded me of something I'd forgotten: The LA Kings wore Dodgers warm-up jerseys two years ago, so there's some precedent for what the Blues are doing.
•  •  •  •  •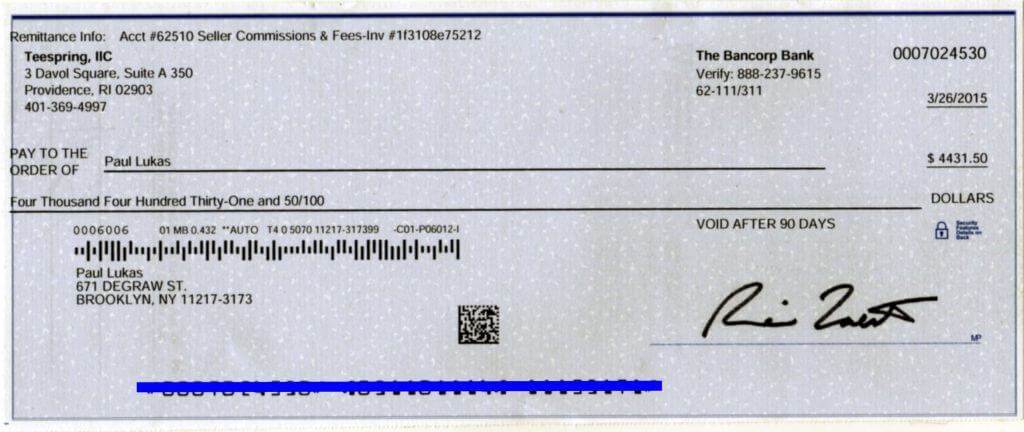 Click to enlarge
Jackie update: Yesterday I received and deposited this check from Teespring for $4,431.50 — my share of the proceeds from the Uni Watch T-Shirt Club's April design. Then I went to the Jackie Robinson Foundation's website and made a donation in that same amount (plus an extra 50 ¢, because the online donation form only accepts whole dollar amounts). Today I'll start the paperwork to have ESPN match my donation, which is their standard policy for charitable contributions.
All of this was made possible by you folks purchasing over 320 of the April T-shirts. Thank you! Hope you're pleased with where the money is going. And of course I hope you're also pleased with the shirts themselves, which are now starting to arrive in people's mailboxes.
• • • • •
The very last patch: I have one (1) remaining Uni Watch 15th-anniversary patch. I could have another batch of them made, but it seems like demand has dwindled, so this will probably be last call. If you want the final patch, snap it up here. Reader Mario Fontana has purchased it, so that's that. If you want me to order more patches, let me know.
•  •  •  •  •
Be a Phil fanatic: Phil is looking at the uniform histories of the Final Four teams for the Sporting News. The latest schools to come under his microscope are Michigan State and Wisconsin.
• • • • •

'Skins Watch: The author of a book on Native American ballplayer Louis Sockalexis says it's time for the Indians to retire Chief Wahoo (from Paul Dillon). "¦ Cleveland booster and big Indians fan Drew Carey says he's "done" with Wahoo. "¦ Native American groups in Oregon are trying to change the names of places that include the word "squaw." "¦ The Associated Press, whose style guide sets the linguistic protocols for newspapers across the country, is mulling whether to stop using the 'Skins name. "¦ UND is seeking replacements for its now-retired Fighting Sioux team name (from Matt Larsen). "¦ Legislation that would prohibit high schools from naming their teams the Redskins is moving through the California state assembly (thanks, Phil). "¦ A Native American tribal leader in Utah accepted gifts and perks from the 'Skins, who were trying to curry her favor in the controversy over the team's name. Now she's facing impeachment from her tribe. Further info here.
•  •  •  •  •
Uni Watch News Ticker
By Garrett McGrath

Baseball News: Phillies closer Jonathan Pabelbon wore Carlos Ruiz's jersey during a spring training pitching appearance (from Pat Costello). … Here's the throwback cap that the Padres will be wearing for their "Wayback Wednesday" games (thanks, Phil). … The Mets have unveiled a new video screen for the center-field scoreboard at Citi Field. Key quote: "The screen is one of the 10 largest in Major League Baseball, which is more than the Mets can say for their payroll" (thanks, Paul) … Reader Eric Wright wonders if the Angels' new deal with BodyArmor sports drinks means that Mike Trout can now wear his uniform in advertisements. … It looks like Mariners 2B Robinson Cano has his own logo (thanks, Paul). … Nick Swisher has new cleats that feature the Cleveland skyline (thanks, Phil). … Here's a great shot of the Astrodome groundskeepers' space suits (thanks, Brinke). … Nice stirrups for the high school team in Barnegat, NJ (from Kevin Clark). "¦ MLB's annual Civil Rights Game is being move to April 15 this year — Jackie Robinson Day. Looks like it will include a cap patch for the first time.

NFL News: As was first reported on Uni Watch back in November, it looks like the Patriots are finally updating their chest logo. No more script — now they're going with that arched logo (from Joel Hatfield_. … Here is a collection of 1994 NFL team truck toys (thanks, Phil).

College Football News: Ohio State RB Ezekiel Elliott says the NCAA's plan to start enforcing the prohibition on crop-top jerseys next season is silly. An online petition protesting the rule has grown to over 8,000 participants (thanks, Paul).

Hockey News: Former Flyers goalie Bernie Parent wore some interesting padding under his sweater (thanks, Paul). … The Bakersfield Condors revealed their new logo yesterday for their move to the AHL (thanks, Paul). … Montreal Canadien Tom Gilbert is back from a face injury with a new jaw guard (from Matt Larsen).

Soccer News: Liverpool announced the release of their 2015-16 home kit. Here's a picture of the rumored design (from Conrad Burry). … The former Miami Fusion that existed in the MLS in the late '90s/early '00s have been resurrected with a new logo in the NPSL (thanks, Paul). … The Fort Lauderdale Strikers unveiled new home and away kits (thanks, Phil). … The Tampa Bay Rowdies unveiled a new look as well (thanks, Phil). … The Atlanta Silverbacks will have a new look too (thanks, Paul).

College Hoops News: The University of Kentucky sent a cease-and-desist letter to Louisville lawyer David Son, whose company is selling blue-and-white "40-0" T-shirts on his website (thanks, Paul). … A deranged fan created a Kentucky hoops scene with Lego characters (thanks, Paul). … This is interesting: a top high school recruit is only considering Adidas schools (from Ryan Revels).

Grab Bag: Cool article about the story behind the symbols on automaker emblems (from Theresa Keller). … UNC lacrosse has a new helmet logo design (thanks, Paul). … "Here's a very interesting article on those Milwaukee Bus Passes you've posted about in the past," Matthew Prigge says. "This year will mark the end of the weekly passes." … The University of Michigan is evaluating the top three options for a future uniform apparel partner; Adidas, Nike and Under Armour (thanks, Phil).
•  •  •  •  •
Happy Passover, Good Friday, and Easter to all who are observing this weekend, and happy Opening Day Night to all MLB fans. See you next week. "" Paul