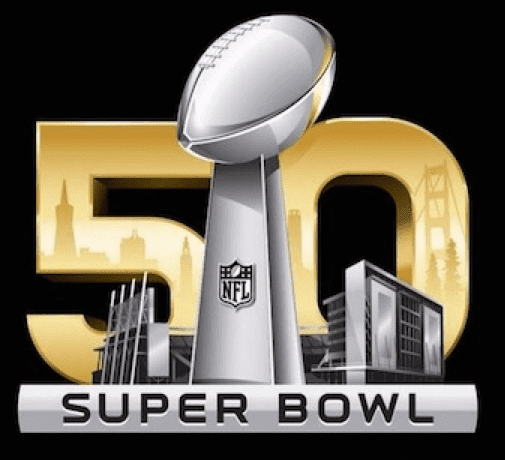 Yesterday I wrote about how the NFL was going with gold 50-yard line markers, gold-trimmed Pro Bowl uniforms, and a gold NFL Draft logo, all to mark the season-culminating 50th Super Bowl. I also wrote that "if there's anything we've learned about the NFL over the years, it's that they think anything worth doing is worth overdoing, so I'm assuming we'll be seeing a lot more facets of this 'On the Fifty' program."
Sure enough, more details emerged yesterday, including the following:
• The league's "Kickoff 2015" and "NFL Playoffs" logos will be gold-themed.
• The NFL logo on the back of caps worn at the upcoming NFL Draft will be gold.
• In addition to the gold 50-yard markers, each field will also have a gold NFL logo for each game next season.
• Beginning with Week 7, sideline apparel will feature gold-outlined team logos. (It's worth noting that most Week 7 games will be taking place on Oct. 25, which means the gold gear will be mixing with Pinktober gear.)
• The NFL will be giving a gold football to the high school of everyone who's ever played or coached in a Super Bowl — an estimated 3050-ish people.
Further details here, and in this video:
In other words, the whole gold thing is already completely annoying, and the season hasn't even started yet.
Yesterday also brought our first look at the NFL Draft caps, and I'm rather astonished to report that they don't feature gold-trimmed logos (maybe the league ran out of gold dye or something):
NFL draft day caps. #AZCardinals pic.twitter.com/3zOqQMAcD7

— Mike Jurecki (@mikejurecki) March 24, 2015
Rumors that the Super Bowl is going to be moved from the 49ers' new stadium to Fort Knox are almost completely untrue.
•  •  •  •  •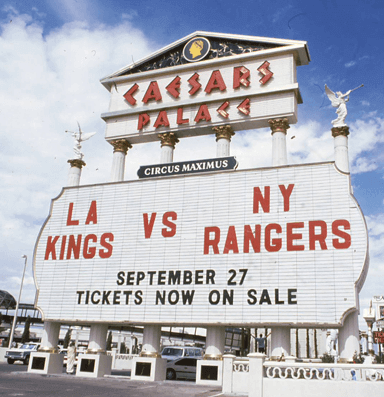 New ESPN design contest: There's an increasing amount of chatter about the NHL possibly adding an expansion team in Las Vegas, so my ESPN editors and I have decided to do one of our design contests, with the best submissions being featured in one of my upcoming columns. Here's the skinny:
• Your entry must include a team name, a primary logo, and full home and road uniforms. If you like, you can also include secondary logos, one alternate uniform, and even goalie gear if you want, but those aren't required.
• Your designs can be created in any digital or analog medium (Illustrator, Photoshop, crayon, whatever) and can be submitted in any standard digital format (JPG, PDF, tiff, etc.).
• The files you submit should be named after yourself (PaulLukas.jpg, for example). If you're submitting multiple files, please either number them (PaulLukas1.jpg, PaulLukas2.jpg, etc.) or use some other designation (PaulLukas-homeuni.jpg, PaulLukas-logo.jpg, etc.). Files that don't follow this format will not be considered.
• In keeping with longstanding Uni Watch chromatic policy, entries including even a hint of the color purple will not be accepted.
• Email your entry to Uni Watch HQ. If you have more than one concept, feel free to enter as many times as you like.
• Deadline: Thursday, April 2, 7pm Eastern.
This should be a fun one. Can't wait to see how many people come up with the Las Vegas Craps as their team name.
And speaking of design contests, enough people expressed interest in a Uni Watch smart phone case yesterday that I think we'll go ahead with that project, starting with a contest to create the design. But I'm currently swamped with ESPN work, some personal stuff, some work-related travel, etc., so this may have to wait a few weeks. Stay tuned (and feel free to remind me about it if I haven't mentioned it again in, say, a month).
•  •  •  • •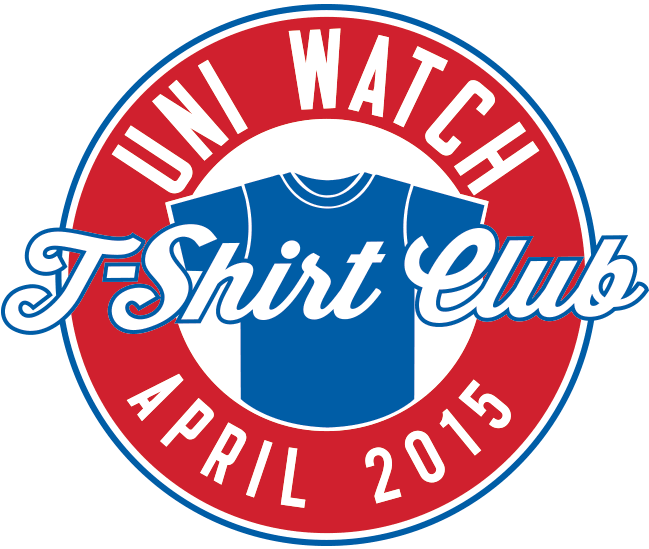 T-Shirt Club update: My share of the profits from the Uni Watch T-Shirt Club's April design was $4,431.50. Once I receive my payment from Teespring, I'll make a donation in that amount to the Jackie Robinson Foundation and begin the paperwork process for ESPN to match my donation. So when the dust settles, the JRF will wind up with $8,863. Not bad!
Big thanks to all you shirt-buyers for making this possible.
•  •  •  •  •
Uni Watch News Ticker
By Garrett McGrath

Baseball News: Here is an article about Michael Panuccio, the 57-year-old manager of patterns and marketing at Majestic, which supplies the uniforms for all thirty MLB teams. Key quote: "Actually, I'm not a baseball fan" (thanks, Phil). … The Rays will retire uniform No. 66 Don Zimmer on Monday, April 6, when they open the season against the Orioles (thanks, Phil). … The Cleveland baseball team will honor Al Rosen this season by wearing his number 7 on the right sleeve of all their jerseys (thanks, Phil). … The Nationals are going to have a model railroad scoreboard in a premium seating area at their stadium this season (from William F. Yurasko). … As part of an August Back to the Future promotion, the Fresno Grizzlies will wear special jerseys, give away the 2017 Houston Astros World Series rings, and there will be an appearance by the DeLorean (from David Taub). … Mississippi State wore some beautiful throwbacks yesterday. "¦ Here are some shots of the Mets' Citi Field apples being constructed. … The Marlins have posted the uniform protocol for the upcoming season (from Jake Watterson).

Football News: The Browns' new uniforms, due to be unveiled on April 14, will reportedly have nine different color combos. "¦ The AFL Jacksonville Sharks will have new uniforms next season (thanks, Phil). … Syracuse will be wearing a mono-orange uniform this fall (thanks, Phil). … The uniform for the 1949 Conrad High School team in Delaware featured some serious striping on the sleeves and shoulders (from Graham Clayton).

Basketball News: "I came across an old episode of Cheers the other day with Kevin McHale," says Stephen Hayes. "He was in two episodes, and in the first one he wore his actual warm-up jacket. For some reason, in the next episode he's wearing a logo-less green jacket while presenting Norm with a Celtics jacket for his birthday. You can that he has the same jacket as Norm, only for some reason there's no logo on the front or team name on the back. Lastly, also for reasons that I don't understand, the leprechaun logo on Norm's jacket has his face blurred out. Thought you'd find the inconsistencies interesting." …. The Clippers will be giving away these argyle Chris Paul jerseys on March 31 to honor his alter ego Cliff Paul (from Brian Love). "¦ Can't make it up: The Medicine Hat Rattlers in Canada have a Brazilian-born forward named Guy Carbagiale Fuck — pronounced "foo-key" — who is now allowed to use his last name as an NOB (from Mike Styczen). … Here is a ranking of the University of Illinois basketball uniforms over the past 30 years (thanks, Phil).

Grab Bag: "The annual Canadian Police Curling Championships are being held this week here in Sudbury (ON), and I thought some of the pictures might interest you," Sean Kautzman says. "This one of Chief Pedersen is definitely interesting from a uniperspective." … Mitchell and Ness posted a map of which retro jerseys were most popular in each state in 2014. Interestingly, the top seller in seven different states was a 1996-97 Kobe Bryant jersey. … You don't often see a uni number on the thumb of a lacrosse glove. That's a Vermont player wearing the thumb number (from Tris Wykes).