The next NFL season will culminate with Super Bowl 50 (remember they're using Arabic numerals for that one, not Roman numerals), and the league is apparently planning to mark that occasion with a season-long initiative called "On the Fifty."
That news emerged from the NFL owners' meetings yesterday, where NFL.com writer/podcaster Marc Sessler provided some sneak tweets of what's in store. First, the 50-yard line markers for every game next season will be gold (click to enlarge):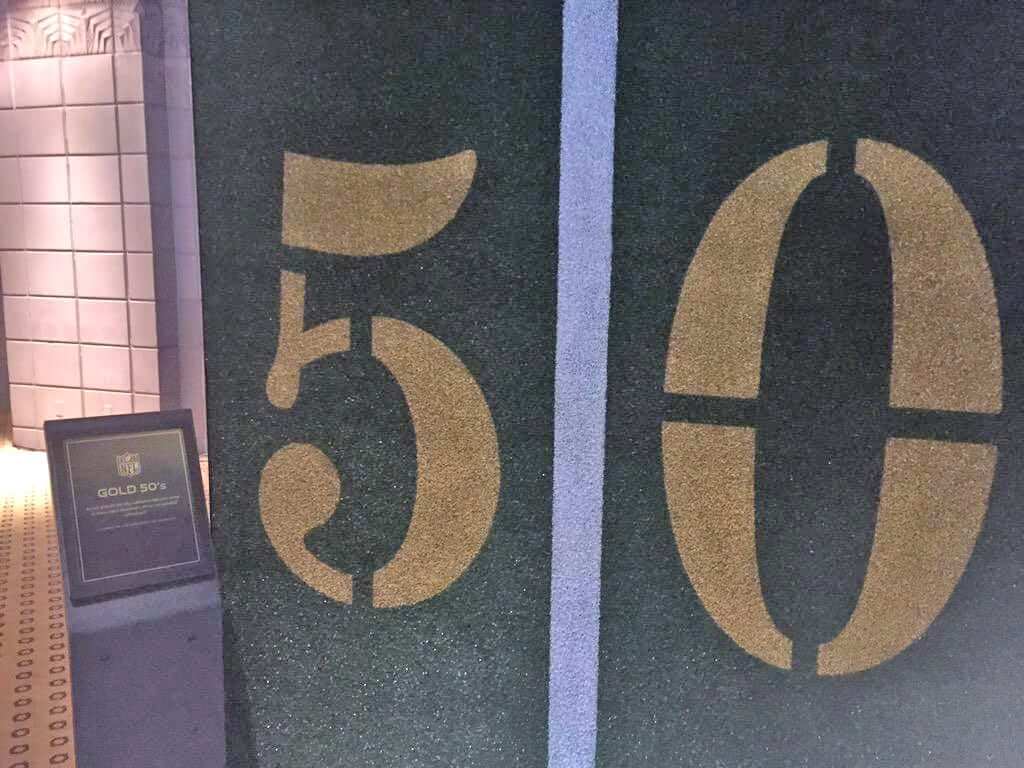 Also, the uniforms for next year's Pro Bowl will be trimmed in gold (click to enlarge):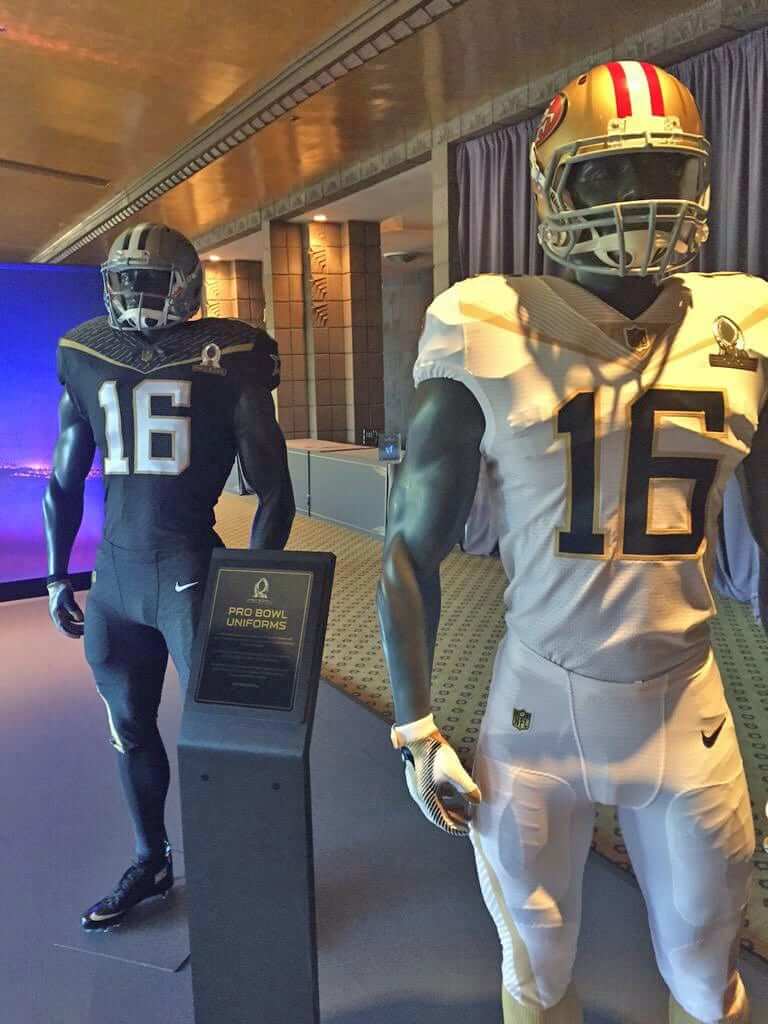 A few thoughts about those Pro Bowl unis: (1) That appears to be a new Nike tailoring template. (2) Best Least-awful Pro Bowl uniforms in recent memory. (3) Looks like the NFL logo on the pants (and maybe the jerseys?) is gold.
And hey, speaking of gold logos:
For Super Bowl's 50th anniversary, NFL logos get the gold treatment pic.twitter.com/g1iEpIOqP1

— Darren Rovell (@darrenrovell) March 23, 2015
Why all the gold? Because the 50th anniversary is the golden anniversary, I'm assuming. But if that's truly the reason, they're doing it wrong: Super Bowl I was in 1967, so the 50th anniversary of that will be Super Bowl 51 (or, rather, LI), which takes place in 2017. The upcoming Supe is the 50th installment of the game but not the 50th anniversary of the game.
But whatever — the NFL's gonna do what the NFL's gonna do. And if there's anything we've learned about the NFL over the years, it's that they think anything worth doing is worth overdoing, so I'm assuming we'll be seeing a lot more facets of this "On the Fifty" program. A gold version of the Lombardi Trophy seems almost like a foregone conclusion.
As for the gold yard markers, I'm agnostic. Obviously, it'll look better in stadiums that are home to teams that already have gold in their color schemes, but overall it seems pretty harmless. What do you folks think?
•  •  •  •  •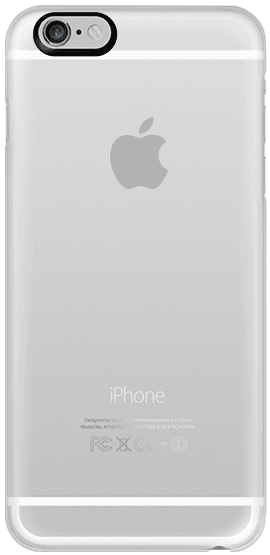 So here's a question: Would you be interested in purchasing a Uni Watch smartphone case? If so, what might such a case look like?
The reason I ask is that I was recently contacted by a company called CustomBee, which makes custom-designed phone cases. They operate just like TeeSpring (the company that's been making the Uni Watch T-Shirt Club tees): The product is available for ordering for a limited time window — three weeks, say — and then arrives 10 to 14 days later. The price would be about $20, plus $5 for shipping.
I have no idea how many people would be interested in this, and I don't want to put merch out there just for the sake of doing it. But if people are into it, I'd even consider holding a design contest, with a cash prize (and a free phone case, of course) for the winner.
But first things first — let's see how many people like this idea. Please use this poll to let me know. Thanks!
•  •  •  •  •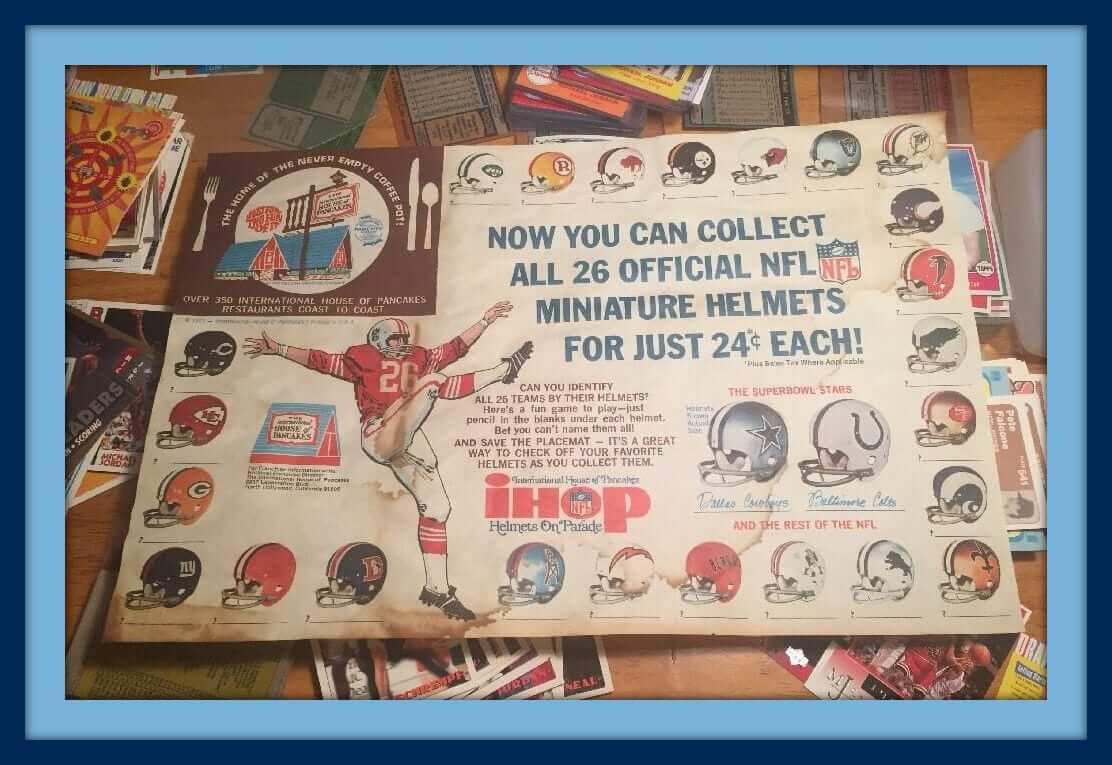 Click to enlarge
Collector's Corner
By Brinke Guthrie
Love love love this fall 1971 IHOP NFL helmet placemat, featuring your "Super Bowl Stars" and "¦ the "the rest of the NFL." This is the kinda stuff that got me into the NFL. I had just moved to Dallas and discovered the allure of America's Team. They were opening Texas Stadium, I was chowing down at IHOP at a furious rate, and getting to meet players at department store appearances and youth football league banquets — magic. Like the song says, "Old days, good times I remember."
Here are the rest of this week's eBay picks:
• Never seen these before: a 1969 Chiffon Margarine rub-off decal, featuring the St. Louis (football) Cardinals. That same seller also offers several other teams.
• Nice-looking set of 1970s "Aren't You Hungry?" Detroit Tigers/Burger King promo glasses, with the tiger gobbling up the rest of the AL competition.
• Interesting 1980s bumper sticker here. It just says "Play With The Best: The NFL." No team — just the league.
• Nice assortment here of 1970s NHL fridge magnets.
• Here's a 1970s Tony Esposito mini goal stick and puck set.
• Great-looking 1971 Reds poster featuring the then-new Riverfront Stadium and Fountain Square.
• Staying with the Reds, here's a 1970-2002 commemorative Riverfront Stadium ball.
• Collect (and wear!) Official NHL Crests, like this late-1960s one for the Montreal Canadiens. Heck, it could be from any era — that's a timeless logo.
• These Vikings sports socks are an Official Licensed Product. Boy, any product with that logo on it had me cold. The seller also has a pair for the Cowboys, but $50 each? Pretty steep for a pair of socks.
• I remember this Eagles poster! The ad says 1974, and I recall being struck by how "in your face" this poster was.
Follow Brinke on Twitter: @brinkeguthrie
•  •  •  •  •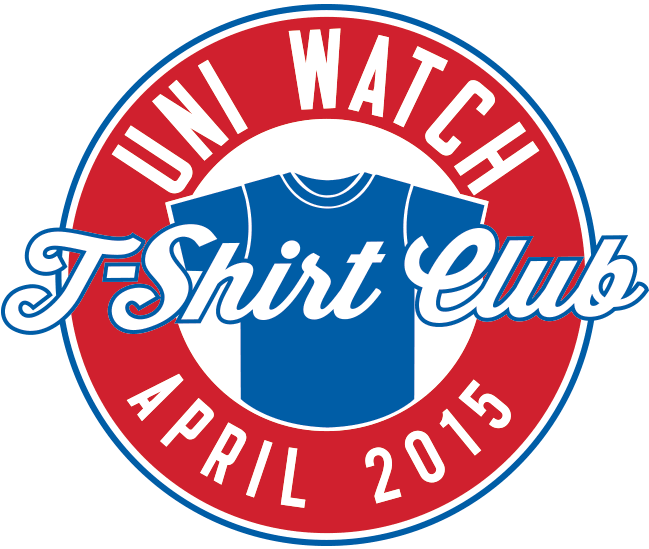 T-Shirt Club report: I'm reallyreallyreally pleased with the sales results on the Uni Watch T-Shirt Club's April design. When the dust settled last night, we have sold 324 shirts — by far the Club's largest total so far. (Our previous high was 207, in January.)
Teespring will let me know my share of the profits either later this week or early next. Once I find out the amount, I'll let you folks know and then donate the whole shebang to the Jackie Robinson Foundation (and ESPN will match my contribution, so the amount will be doubled). I'm really happy to be doing this — thanks to all you shirt buyers for making it possible.
Meanwhile: I had previously mentioned that the May shirt would be one of our "core" designs (road, alternate, BFBS), but I'm having second thoughts about that. More details next week.
• • • • •
Help wanted "" 'Skins trademark case: Phil is looking to speak to any readers who are lawyers (or knowledgeable on the subject of trademark law) regarding the pending Redskins trademark case. It makes no difference how you feel about the name or issue in general — this is simply about the status of the case and possible future actions. Should only take a few minutes of your time — if you're interested, please shoot Phil an email. Thanks.
• • • • •

Baseball News: Here's the second part of our own Phil Hecken's interview on the Sully Baseball Daily Podcast. "¦ Game of Thrones unis for the Durham Bulls. "¦ End of an era, as Wilson Sporting Goods has acquired Louisville Slugger. "¦ Someone down at spring training has a Yankees-themed car, complete with all the retired numbers along the rear bumper. Might have to get a wider car (from Andrew Cosentino). "¦ Wanna buy a piece of the Mariners' old dugout from the Kingdome? You can! (From Kev McCarthy.) "¦ Several specialty jerseys on tap this season for the Salt Lake Bees. "¦ Gorgeous striped stirrups for Syracuse softball. "¦ New bat knob decals for the Padres. "¦ Throwbacks on tap today for Indiana. "¦ Back in 1961 and '62, the Cubs didn't have a manager. Instead, they had an eight-man committee called the College of Coaches. If you look at this photo of them, it appears that two guys in the front row were wearing golf shoes, and one guy in the back row may have had dress shoes (nice one from Michael Clary). "¦ The rest of these items, all concerning Japanese baseball, are from Jeremy Brahm: All the current managers of the Japanese Central League teams are shown in uniform here. "¦ Here are the uniforms for the beer/concession staff at QVC Marine Stadium, home of the Chiba Lottes Marines. "¦ The Orix Buffaloes will wear Tuffy Rhodes-era Kintetsu Buffaloes throwbacks in May. And Yusuke Toyoda adds that the Buffaloes' opponents, the Softbank Hawks, will wear early-'80s throwbacks.

NFL News: Interesting helmet logo on this Patriots championship T-shirt (from Michael Enriquez). "¦ We've heard about helmets with impact-monitoring technology, but here's something new: an impact-monitoring chinstrap. "¦ Next year's Pro Bowl will be in Hawaii, as usual, but after that the NFL is considering some foreign locales for the game (thanks, Phil). "¦ The NFL is selling these dresses that look sorta like striped socks or stirrups (from Jon Solomonson).

College Football News: Looks like Syracuse will be going orange over blue this fall. "¦ It was initially reported yesterday that Jim Harbaugh is bringing back Michigan's merit decals and scrapping the "Legends" jerseys, but then the school clarified that those decisions are not yet official.

Hockey News: Drew Miller of the Red Wings literally punched the Blues logo off of Petteri Lindbohm's helmet the other night. "¦ Hoo-eee, look at this gorgeous old Hershey Bears program cover. A beauty! "¦ The Islanders will wear throwbacks for their final regular season game at Nassau Coliseum. As Brian Erni points out on that page, they really should have gone NNOB, but whaddaya gonna do. "¦ This apparently went viral late last week, but I didn't see it until now: an amazing photo of a Canadian Mountie playing hockey, in his Mountie uniform, with a jaw-dropping mountain vista in the background (big thanks to Alan Kreit). "¦ And in a vaguely related item, check out this shot of an FBI Agents hockey team.

NBA News: You'll probably never see so many stars on so many uniforms, not even in an all-star game, as you can see here (from @flyersfansindc). "¦ The Warriors used to wear "The City," and the Blazers currently wear "Rip City." Put those two together when the two teams face each other tonight in Portland and you get this very amusing T-shirt (from Manzell Blakeley). "¦ The Bulls wore black at home last night, setting up a brutal-looking black vs. teal game against the Hornets. "¦ Check out this 1974-75 shot showing Golden State players Butch Beard and Clifford Ray wearing mismatched jerseys. "The only other example I could find of someone wearing the versio with 'Warriors' along the bottom of the circle was Rick Barry, from the same game," says Daniel B. Listoe.

College Hoops News: White lettering on a white jersey isn't a new thing, as you can see in this photo of the 1933-34 Kentucky team (nice find by Chris LaHaye). "¦ Wichita State is apparently celebrating their win over in-state rival Kansas with this T-shirt (from Andrew Costentino). "¦ Speaking of Wichita State, here's a good story from last year on their weird mascot (thanks, Phil). "¦ Also from Phil: Here's a breakdown of Kansas's record by uniform. "¦ This is so fucking great: The Dalton State Roadrunners have "Beep! Beep!" instead of NOBs. And in script, too!

Soccer News: Here are all the uniforms for the Nadeshiko League, a Japanese women's league (from Jeremy Brahm). "¦ Barcelona supporters displayed a gigantic 12th man jersey before Sunday's match against Real Madrid (from Yusuke Toyoda). "¦ Also from Yusuke: "Here's an infographic showing the 15 soccer-specific stadiums in MLS. The league started in 1996 with 10 teams and zero soccer-specific stadiums." "¦ And one more from Yusuke: "Sheffield United played in next season's unis last weekend to mixed reviews." … Mismatched sponsors on the French national team's training tops.

Grab Bag: Interesting piece about how sneakers age. "¦ Nike is currently engaged in copyright and intellectual property legal battles on three different fronts. "¦ There's a new "postmodern" skateboard design that has no board! "¦ Adidas is looking to recapture its cool factor via the sneaker market. "¦ Here's how Superman, Wonder Woman, and Batman have changed their looks over the years (thanks, Brinke). "¦ Rugby news from Eric Bangeman, who reports that the wrap on the goalpost padding came off during a recent match in Durban between the Sharks and the Chiefs. "The Chiefs' players helped to replace it — and they were the road team," says Eric. "¦ A Russian-affairs website has provided a good critique of the country's WWII military uniforms. "¦ New athletics logo for Rose-Hulman Institute of Technology. "¦ Newly announced presidential candidate Ted Cruz is already taking some heat for his campaign logo. "¦ I'm still calling it the Tennessee State Fairgrounds. "¦ A teen-ager who stole a New Zealand All Blacks player's jerseys says he's sick of prison, although I suspect he may not be unique in that regard. "¦ Here's an article outlining four ways that Adidas blew it (thanks, Brinke).