As longtime readers may recall, Steve Speicher has an annual Super Bowl ritual: He DIYs himself a jersey based on one of the teams competing in the big game. In 2012 it was an Eli Manning Giants jersey; in 2013, a Colin Kaepernick 49ers jersey; and last year it was Russell Wilson and the Seahawks.
Here's Steve's account of this year's project:
I decided to change things up this year and go with a 1980s-'90s Seahawks throwback, but with Marshawn Lynch's name and number. Crotch-grabbing and awkwardness with the media aside, I'm in the camp that thinks he's a pretty damn good back.

The process was the same as I've used before: measure the shirt, mock it up in Photoshop, construct vector-based images for the numerals and letters, grab some logos from Chris Creamer's site, and size and lay everything out on the representation of the shirt. Then, once everything is sized relatively well, move all the graphics into files that are of printable size for the transfer paper, print, cut, iron, and you're done [click to enlarge]: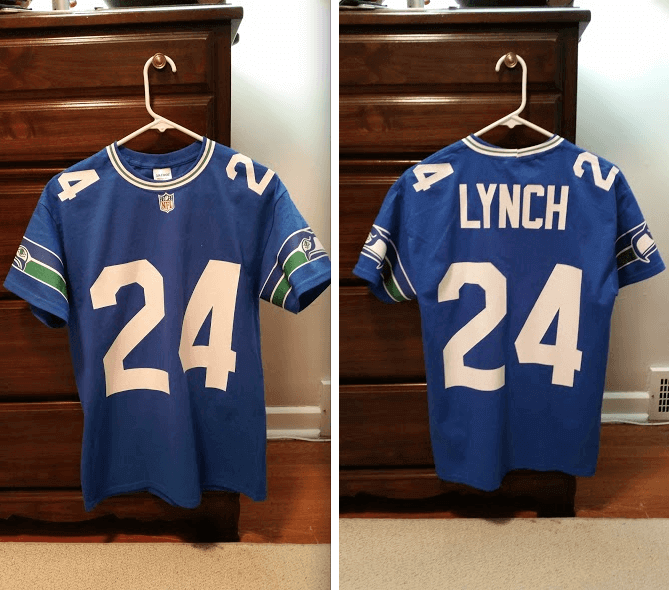 The old Seahawks numerals were massive, so I tried to make mine a little bigger than last year's, but I was limited by the size of the paper. I'm also aware that the NFL logo I used is the current one, and not the one that would've been worn back in the day. But I figured if Seattle were to wear this throwback today, it would have the current logo.

The collar was the most difficult part — I think it's a little too thick, plus it came out a bit goofy on the application, as you can see in the photos. But the biggest mistake was by far the sleeves: I wasn't careful and didn't double-check when I was applying the first sleeve logo/stripe, so I accidentally put the left sleeve's graphic on the right sleeve. I only noticed after it was firmly ironed on, and by that time it was too late, as those things don't like to peel off nicely, and I'd already completed the front and back numbers and the nameplate. As a result, my sleeve logos are facing the wrong direction. Grrrrr. I could have started over, but I decided to just leave it alone and live with my mistake. Maybe someone at the party I'm going to will Get Itâ"¢ and call me out.
———
Nice project, even with the sleeve glitch. I love that Steve does this every year. Hope he never stops.
•  •  •  •  •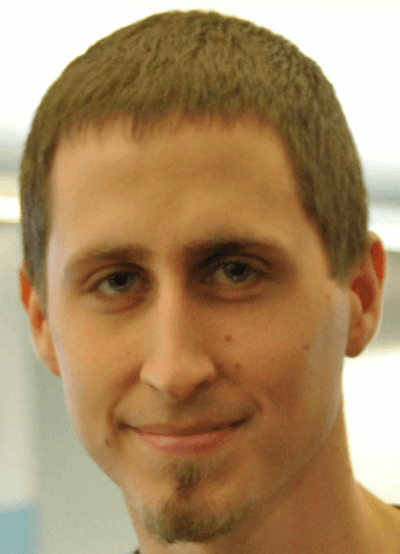 Mike's Question of the Week
By Mike Chamernik
I played basketball in my driveway with a group of friends on Christmas night last month. It wasn't excruciatingly cold, but it was prime winter weather. I wore two pairs of gloves — basically, I gave up on all outside shots and focused on rebounding. The gloves kept my hands warm and helped protect me from jamming my fingers with my rock of a basketball.
How do you keep warm when playing sports outdoors in the winter? What tricks do you have to keep optimal mobility without shivering to death? What's the coldest you've been while playing a game or doing a physical activity, and how did you cope with it? Also, how do you keep warm when watching sporting events?
•  •  •  •  •
Too good for the Ticker: About two years ago, as part of a "No Service Like Wire Service" entry, I ran a 1971 photo of UMD basketball player Howard White, who wore an "H" nickNOB. But that photo is nothing compared to this shot of him (click to enlarge):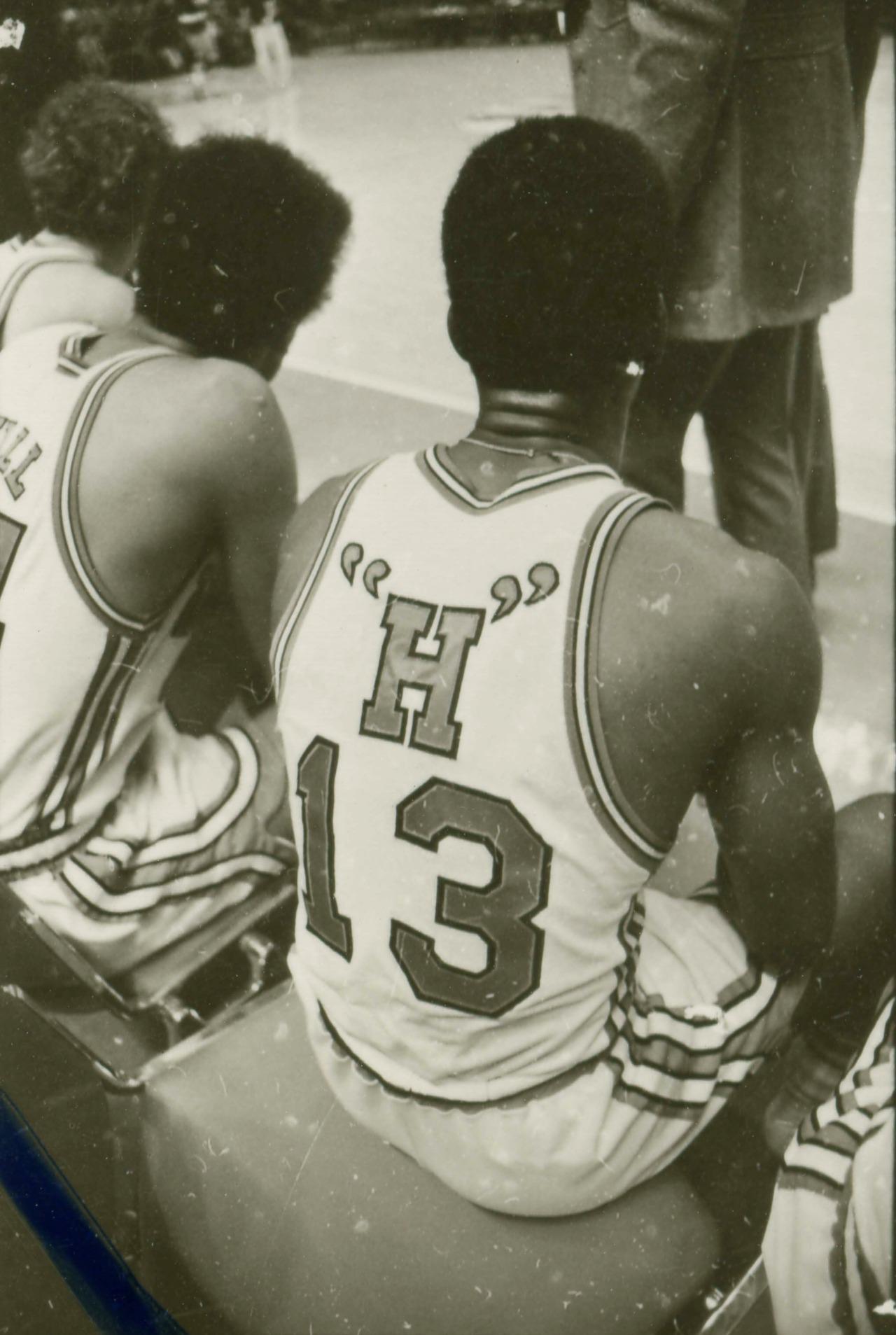 What a doozy! I love everything about it — the wide-spaced "13," the massive "H" (compared its size to the NOB lettering on the guy to White's left), the huge, angled quote marks. A masterpiece!
For those who care about such things, White went on to work for/with Michael Jordan. But I'm more interested in the "H."
(Big, big thanks to Nicole Haase for bringing this one to my attention.)
• • • • •

ESPN reminder: In case you missed it yesterday, my latest ESPN column is about the latest wrinkles in the annual debate over which cap logo should appear on a Baseball Hall of Famer's plaque (including Craig Biggio's, shown at right). I got lots of very positive feedback on this one yesterday. Check it out here.
• • • • •
If you're an industrial designer or engineer, I'd like to have a word with you regarding a project I'm working on. Can do? Thanks.
• • • • •
Uni Watch News Ticker
By Mike Chamernik

Baseball News: Hooray! The Padres will wear brown pinstriped home jerseys for five Wednesday day games this season. … The Royals will give away a few fielding-action bobbleheads this year. … Do the White Sox need another color in addition to their usual black, white, and silver? This Sox blogger proposes the idea (from Matt Mallonee). … The winning entry from the Wisconsin Timber Rattlers' fan design batting practice jersey contest has been revealed (from Jeff Ash). … New 25th-anniversary logo for CPBL in Taiwan (from Jeremy Brahm). … Here's a shot of Hall of Famer Fergie Jenkins in a Harlem Globetrotters uni (from Phil). … The Durham Bulls are celebrating the 20th anniversary of their ballpark this year, so they're ading logo on the home jerseys (from Joe Sewash).

NFL News: Marshawn Lynch might get fined for wearing a BeastMode hat at media day on Tuesday. Lynch wore a different version of the cap yesterday. … The Gatorade towels the players had at media day might have served a purpose after all (from Tom Adjemian). … Sunday's Kitten Bowl will have kittens named after NFL players (from Phil). … Richard Sherman helps his Seahawks teammates out by fixing their wrinkled and untucked jerseys during games (from Phil). … Some fans of a Seattle restaurant saw a Seahawks logo in one of the place's pizza boards. … Brett Favre is the most well-known player to wear No. 4, according to this piece (from Phil). … Former Bucs running back Manfred Moore was mentioned in yesterday's Ticker. Graham Clayton remembers that in 1977 Moore played four games with the Newtown Jets in the Sydney rugby league competition. … A Connecticut car dealership is running an ad with bogus Seahawks and Pats jersey, the wrong officiating jersey, and blurred Super Bowl patches (from Mike D).

College Football News: Will SMU have new black jerseys for the 2015 season? … The veterans affairs member at Marshall has one of the school's Military Bowl helmets in his office. Coleman Mullins noticed, though, that "'Marshall' is a sticker applied over the 'Schutt' that's actually molded into the neck bumper," he says. "Is this normal? I'll admit I have not been that up close and personal with many football helmets."

Hockey News: A former minor league goalie had been looking for the jerseys he wore for the first pro team he played for, the defunct Reno Renegades. After years of searching, a fan of the team reached out to him and shipped him his old jerseys. … "The AHL will be having a press conference on Thursday to discuss the movement of five AAA-level minor league hockey franchises to California," says Charles Eldridge. "I don't know if new names will be discussed, but keep a lookout for new names, logos, and uniforms. Selfishly, I hope the new Anaheim Ducks affiliate in San Diego goes for the classic Gulls name. Keeps it in the fowl family and a nostalgic treat for the local fans."

Soccer News: A new soccer stadium is being proposed for Indianapolis (from Phil). … In the Chile-USA match last night, because home team Chile wore white socks, USMNT wore red socks with their white kits (from Evan Sadler). … "Chile" was misspelled on ESPN's mobile page (from Phil).

Basketball News: An artist creates portraits of James Harden out of, basically, anything he can find. … It looks like the Rookie-Sophomore game will have some insane uniforms (from Phil). … According to the last item in this article, the Pacers will not wear their '90s throwbacks tonight after all (from Phil). … The Raptors wore camo last night (from Phil). … Oregon wore throwbacks against Arizona last night (from Phil).

Grab Bag: Paul was quoted in this article on why neon is the hottest color in the sports world now. … Richard Petty discussed his signature hat and glasses (from David Firestone).