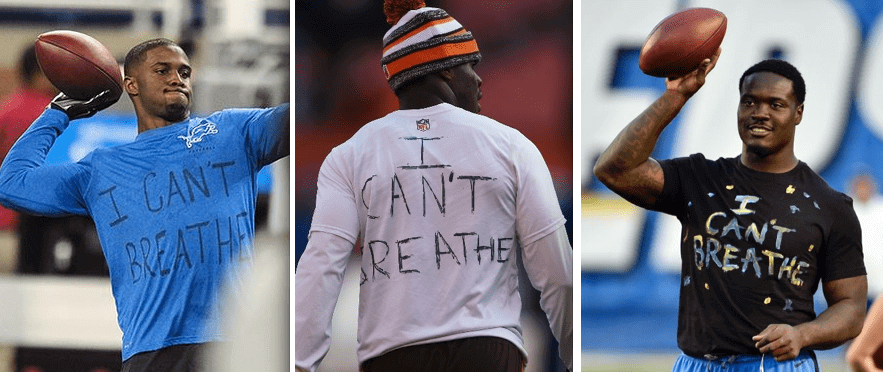 Click to enlarge
Lions running back Reggie Bush, Browns safety Johnson Bademosi, and Chargers linebacker Melvin Ingram became the latest pro athletes to engage in some pregame social commentary when they wore T-shirts emblazoned with "I Can't Breathe" — the last words spoken by New York City chokehold victim Eric Garner — while warming up for their respective games yesterday. Their gestures came one day after NBA player Derrick Rose wore a similar shirt during pregame warm-ups on Saturday night (and there may be more of that upcoming in the NBA, because LeBron James says he's looking for a shirt of his own [although it's not clear why he can't simply grab a Sharpie or whatever]).
It's particularly interesting that Bush took this initiative, because his mother is a police officer. Further info on his thinking and the reaction to his move here.
In other uni-related news from around the NFL yesterday:
• Bengals offensive coordinator Hue Jackson was wearing an upside-down headband.
• Speaking of the Bengals, wideout A.J. Green was wearing Oregon State cleats yesterday. The weird thing is, he didn't attend OSU — he went to Georgia. In fact, nobody on the entire Bengals roster went to OSU. Hmmmm.
• Did referee John Parry, who was working the Ravens/Dolphins tilt, give blood before the game? Was he being tested for drugs? In any case, he had a telltale bandage on his arm.
• Steelers defensive end Stephon Tuitt was missing one of his helmet numerals.
• Raiders fullback Marcel Reece had a "Battle of the Bay" mouthguard for yesterday's game against the 49ers.
• More Raiders: Quarterback Derek Carr had stopped wearing his Qalo wedding band in recent weeks, but it was back yesterday.
• One more from that Raiders/Niners game: Fox must have used some old stock footage of the Oakland Coliseum, because the A's logo tarp was visible in the upper deck.
• Colts wideout T.Y. Hilton lost a shoe while making the game-winning catch against the Browns.
• No photo, but I'm told that another Colts wideout, Hakeem Nicks, taped up his facemask yesterday, much like his teammate Laron Landry did last week.
• Not the sharpest pregame look for Big Ben.
• The Saints went mono-black. And for good measure, defensive lineman Akiem Hicks had the team's fleur de lis logo shaved into his head.
• The Cardinals were playing the Chiefs, so Cards coach Bruce Arians wore a T-shirt in support of sidelined Chiefs player Eric Berry prior to the game. Classy move.
• Speaking of the Cardinals, they went mono-red.
• The Eagles wore mono-black, and even had black end zones.
• Speaking of the Iggles, what was that figurine on their sideline?
• The Chargers wore their powder blue alternates.
• Interesting look for the Titans' cheerleaders.
• Teams wearing white at home yesterday: the Titans and Dolphins.
(My thanks to all contributors, including Jeff Flynn, Curtis Galvin, Brinke Guthrie, Mikhail Herrera, MH2212, Vince Maeda, David Nichols, Ty Schwab, Jeff Stumm, and of course Phil.)
• • • • •

Baseball News: When MLB had everyone wear those lame-o Twins-inspired caps for this past season's All-Star Game, everyone wondered, "What will they do for the 2015 ASG in Cincinnati?" Some of us speculated that they might go with old-timey pillbox caps. And judging from the patches the Reds were wearing at their annual Redsfest event over the weekend, that speculation looks dead-on accurate. Meanwhile, how many players will grow mustaches for the game, and/or how many Reds will wear mustaches all season long? … Garth Brooks wore a Cardinals jersey onstage the other night. "I'm guessing the Cards gave him number 14 simply for the year 2014," says Matt Larsen, "but at first I thought, 'Is Garth a big Ken Boyer fan?'"

College Football News: Temple has two players named Nate Smith, so they both wear FNOB with their middle initials (from Kevin Kolb). "¦ What's that thing on Marcus Mariota's elbow — a honeycomb-patterned bandage? Solar panel? Something else? "¦ Could Penn State's football team be planning a pink-trimmed uniform, as the basketball team has done? Maybe (from William Yurasko).

Hockey News: The Sharks will be be unveiling their Stadium Series jersey later this month, but has it already leaked? Maybe, maybe not. Not a bad design, but I still don't understand why teams need a separate uniform for these Stadium Series games to begin with. Part of the fun should be the incongruity of seeing a familiar uniform in an unfamiliar setting.

NBA News: Neglected to mention that the Kings wore their Rochester Royals throwbacks on Friday night. They also added a 1951 Royals championship banner to their arena for the first time. Lots of additional game photos here. … Speaking of the Kings, here's a story on Ben McLemore's tattoos. … The Celtics wore those horrific gray things again last night. … The Lakers wore shooting shirts with Twitter handles and hashtags last night. … The Grizzlies wore their road unis at home last night.

Soccer News: The Belgian team Standard Liege had to apply red duct tape to its jerseys in order to avoid a kit clash (from Todd Gaines). "¦ "Here are two much-maligned English soccer phenomena — the half-half shirt and full kit wanker — together as one," says Yusuke Toyoda. "¦ Also from Yusuke: "This weekend marked the 100th anniversary of the Christmas truce, a ceasefire between British and German soldiers, some of whom played soccer together. So opposing teams across England posed together before matches in tribute. "¦ Former European champions Steaua Bucharest had to play a game simply as "The Hosts" because they lost the legal rights to their own team name (from Dennis Hurley).

Grab Bag: Best grocery typo ever (from my pal Liz Clayton). … I've been saying for years now that simply putting on a military uniform does not make someone a hero. At least one observer agrees. … Here's the latest on the proposed bobblehead museum that may be coming to Milwaukee. … Love these socks with a library card design (from David Firestone). "¦ Australian cricket players will wear No. 408 under the crest on their jerseys for this week's test match against India as a tribute to Phil Hughes (from Graham Clayton).