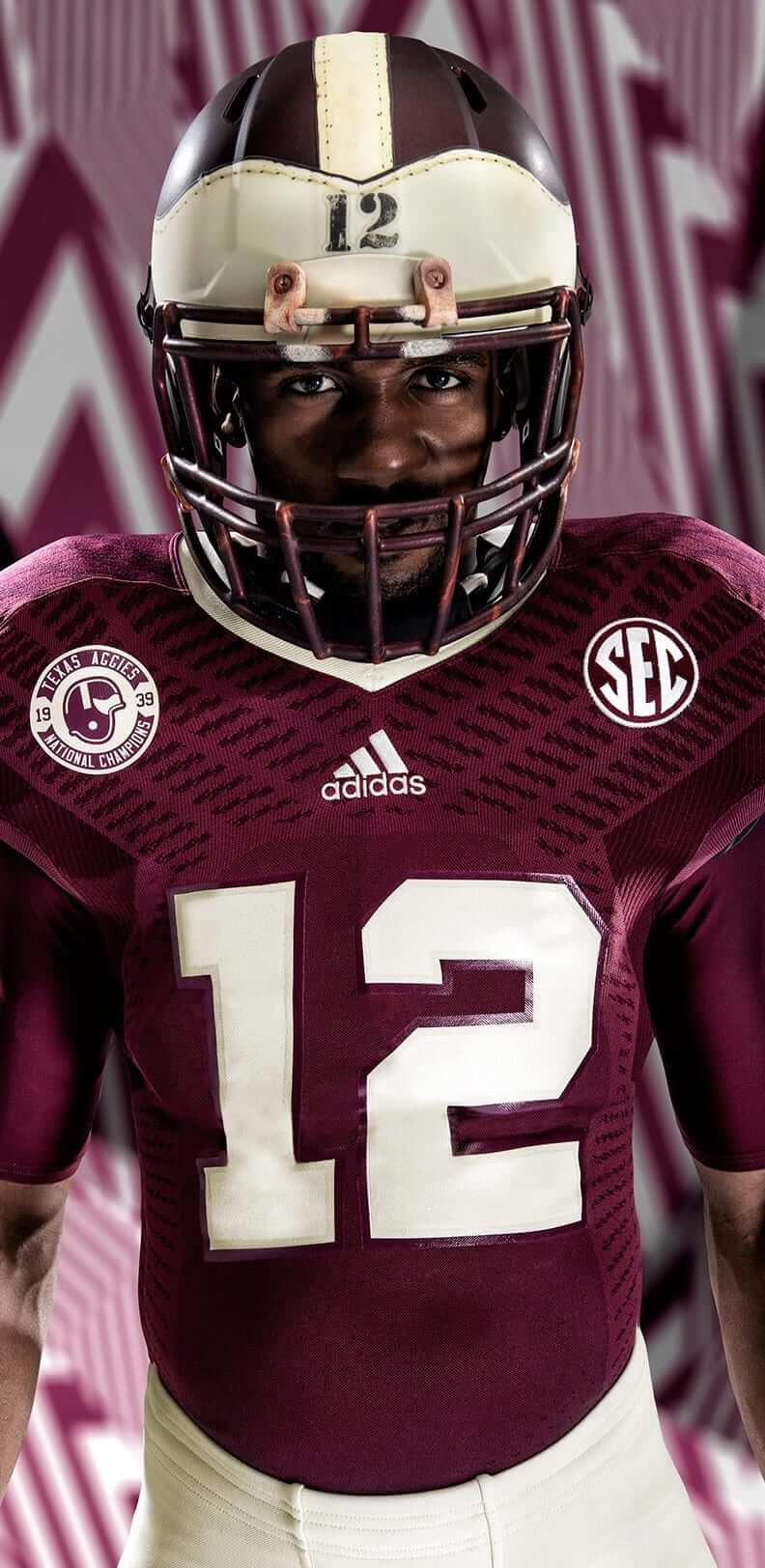 For all of today's photos, you can click to enlarge
Interesting move yesterday by Texas A&M, which unveiled a new 1939 throwback that will be worn this Saturday against Louisiana-Monroe. The most interesting thing about it, as you can see above, is that they've come up with a strikingly realistic-looking throwback helmet treatment, complete with leatherhead-style detailing.
Or at least it's realistic-looking if you don't look too close. Upon close inspection, it becomes more apparent that the leatherhead details are essentially large decals or sheets of film: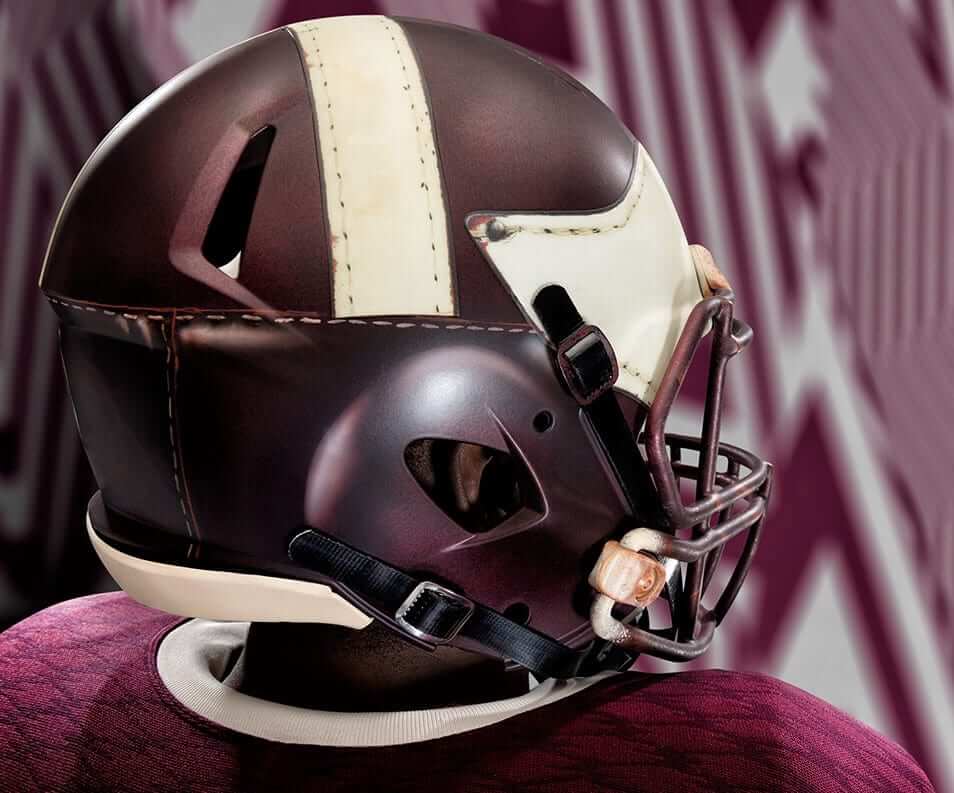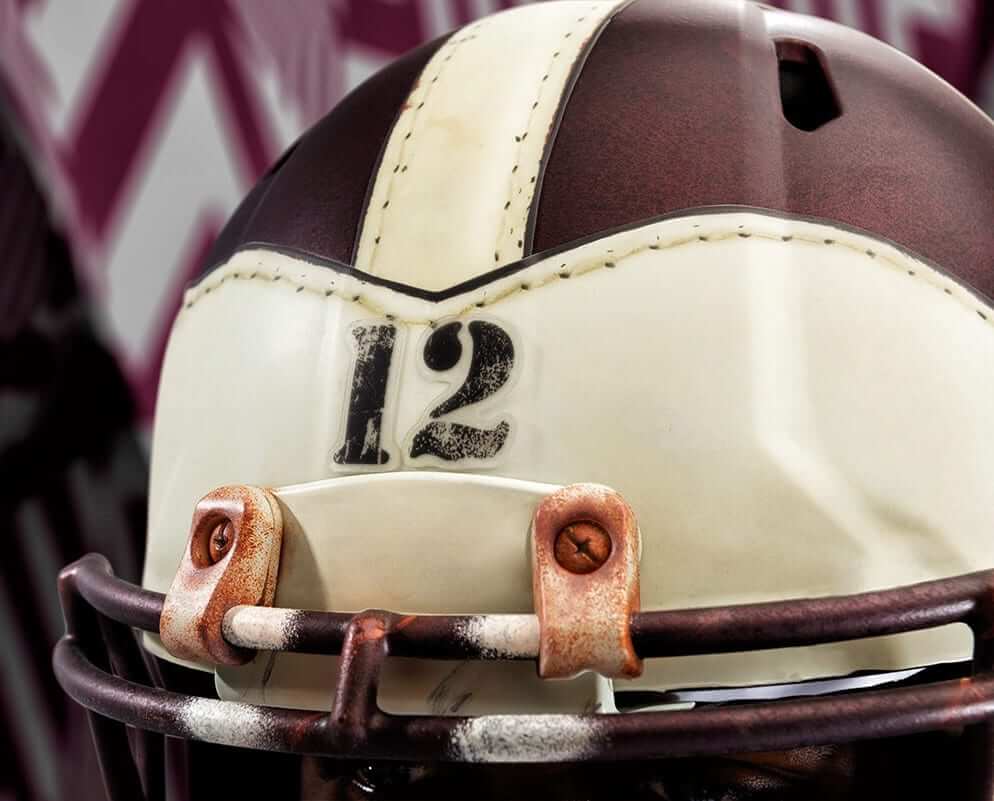 As you can see in that last shot, they've also added faux rust and wear to the facemask and clips, which seems like a bit much, but let's stick to the helmet shell for now. How will it look on the field? Pretty good, I suspect. Even in HD, most of the camera shots won't be tight enough to show the decal edges but will probably be just tight enough to show the faux stitching — something like this: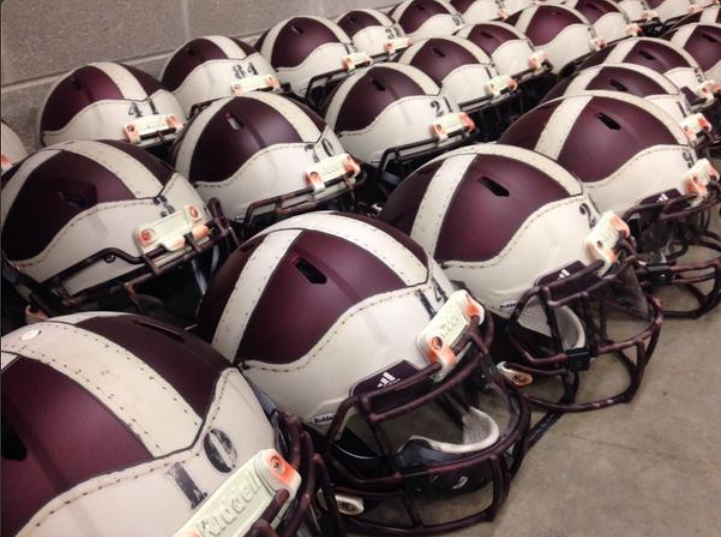 The only problem is that things might not look so hot once the decals/film get nicked up and torn during the game, as they inevitably will. In any case, it's an intriguing project that definitely breaks some new ground in throwback design. Here's how it's described in an Adidas press release:
Texas A&M's helmet, produced in concert with Hydro Graphics Inc. and Riddell, is dark maroon with a hydro film leather-like texture featuring wing and cross graphics created using high-resolution photographs of an actual helmet worn by the 1939 team. The helmet also features simulated stitching, wear-and-tear, and raised ear protection painted by hand via HGI artists on each shell to further enhance the appearance of a vintage helmet.

Each helmet shell carries a stenciled "AMC" brand, referencing the "Agricultural and Mechanical College of Texas" as Texas A&M was known in 1939, on the rear portion of the helmet, just as the original version did 75 years ago. This brand signifies that each helmet was custom-made for Texas A&M. More than six staff hours went in to create the unique appearance of each individual helmet.
The problem, of course, is the jersey, which features Adidas's standard tire-tread pattern and looks like shite. But wait! There's more to it than that. From the press release:
The maroon TechFit jersey features a commemorative patch and [a word appears to be missing here "" PL] that were inspired by those on the original 1939 Aggies' uniform and features individual rips and tears to signify wear and to enhance authenticity.
Yeah, nothing says "authenticity" like individual rips and tears, just like those "authentic" jeans you can buy with pre-torn rips in them. Maybe they can splatter the players with a bit of faux blood (or even faux guts!) for bonus authenticity.
I couldn't detect any of these jersey rips or tears in the press photos. But it's interesting that Adidas is equating — or conflating — "throwback" with "in poor condition." After all, the 1939 team presumably received new uniforms at the start of the season, just like the 2014 team did, and the 1939 equipment staff no doubt repaired any rips or tears. The 1939 players wouldn't have wanted to wear torn jerseys or rusty facemask clips any more than a modern player would. (Yes, I know, facemask clips didn't even exist yet in 1939, but work with me here.) "Honoring" the past by treating it as a broken-down relic seems kinda patronizing, plus it's bad history. There's nothing "authentic" about that.
Such silliness notwithstanding, I'm still intrigued by the helmet and eager to see how it looks this weekend.
•  •  •  •  •
NFL Superhero Project
By Thomas Correia
Tonight's game is between the Saints and the Panthers . One team was an easy guess for comics fans, while the other was not as obvious. I think these two heroes would not only make for a great fight but could even be a great team-up (click to enlarge):
For New Orleans, lots of readers guessed that it would be the Saint or some obscure saint-type hero. There were also guesses of characters known to have a fleur de lis on their costume. But when it came time to actually do this logo, I saw the team colors and reimagined the shape of the fleur de lis into a version of the famous Batman symbol. Then I used the Saints' 1967 shield logo and replaced the team name with "Knights."
Just as I had used the Marvel hero Falcon for Atlanta back in Week 3, I knew that I had to use the Black Panther for Carolina this week. The colors worked out well, too, and the Black Panther's necklace pops very nicely.
What are your thoughts on this latest duo?
Incidentally, we're now at the halfway point of the NFL season, which means I've unveiled 16 NFL superhero logos so far. You can see all of them here (click to enlarge):
If you want more information on the thinking that went into these designs, all of the previous NFL Superhero Project installments can be found in these blog entries.
Next Week: Browns vs. Bengals. This could be a tough one for guesses, but take a shot anyway in today's comments.
•  •  •  •  •
Raffle reminder: I'm currently raffling off three very nice baseball stadium prints. Details here.
• • • • •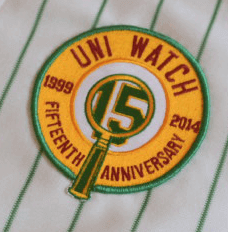 Patch question: I have only two Uni Watch 15th-anniversary patches left (and if you want to buy one of them, here's where to do it). The Uni Watch 15th-anniversary patches are once again sold out. I'll order another batch if there's enough demand. So if you've been meaning to order one at some point down the road, or think you might want one for the holidays, or whatever, please shoot me a note so I can gauge how much interest there is. Thanks.
Also: If you've already purchased a patch, I'm still eager to see what you've done with it. Send photos of your patch projects this-a-way. Photos of where you've slapped your 15th-anniversary stickers are also welcome.
• • • • •
A creepy thing that happened at my house yesterday: If you hear that I've died under suspicious circumstances, here's the likely reason (if you can't see the embedded post below, click here):
• • • • •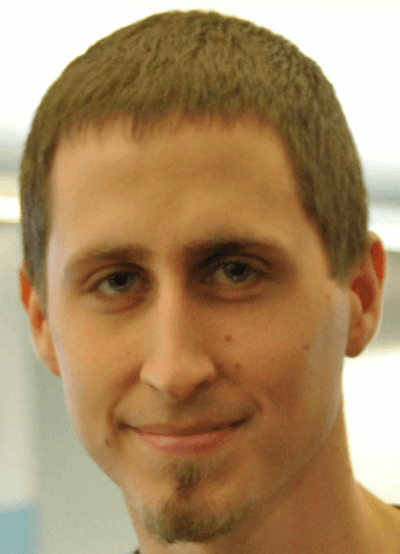 Mike's Question of the Week
By Mike Chamernik
Paul wrote yesterday that he missed Game 7 of the 1997 World Series due to an poorly timed airline flight and that he missed last night's Game 7 because he had tickets for a live event. In both instances, he gambled ahead of time that that the Series wouldn't go seven games.
That got me thinking. Which major sporting events have you missed, and why? Did you try to keep tabs on the game while you were dealing with your other commitment, or did you try to avoid the game so you could watch it later? Conversely, were there any sporting events you were upset to be missing, only to have the game be a dud and/or you enjoyed what you did instead more?
Two come to mind for me. I missed the first-round Suns/Spurs Game 1 thriller in 2008 because I was on a date with a girl. Though the game was an instant classic, I was ultimately fine with that decision. Also, I missed the first eight and a half innings of Game 6 of the 2003 World Series (another classic, and I liked the Marlins a lot) because of my grandparents' 50th wedding anniversary celebration. Again, I'm fine with that.
On a rougher note, I've missed many NBA and MLB playoff games from 2008 to 2012 because I had college classes to attend. I've missed Games 2 though 6 of this year's World Series because I was working. (Okay, I missed Game 5 because I was watching WWE Hell In A Cell.)
How about you? Post your responses in today's comments.
•  •  •  •  •
Uni Watch News Ticker
By Mike Chamernik

Baseball News: Giants memorabilia is selling well (from Phil). … Here's a brief bit of footage from when Babe Ruth, Lou Gehrig, and the Japanese American Baseball all-stars played together in Fresno in October 1927. The game had a great poster, too (from BSmile). … Ah, generations of sadness (from Phil). … Groupon jumped the gun with Royals championship merchandise (from Patrick Lahaie).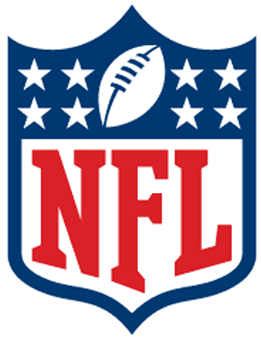 NFL News: Woot has produced multiple editions of "fantasy" football hoodies (from Gordon Blau). … Brice Wallace found a Steelers bomber hat that, in the spirit of the team's helmet, only had the logo on one earflap. Nice touch! … The Steelers will retire Mean Joe Greene's number on Sunday (from Phil).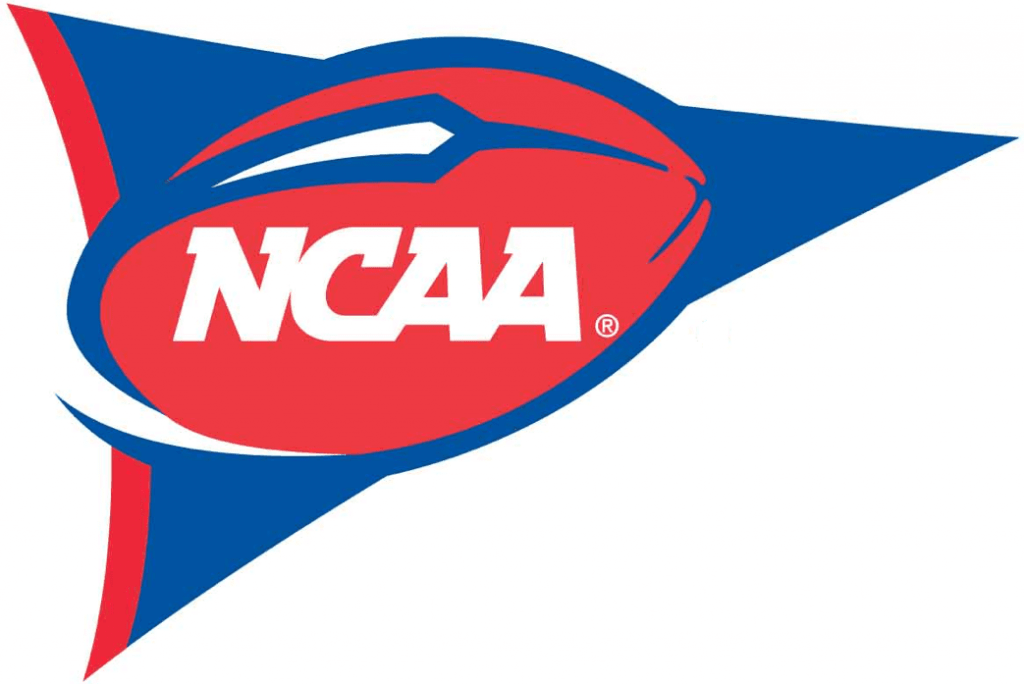 College Football News: Here's a look at Florida State's new away jerseys. … Flag-themed helmets for South Florida and Minnesota this weekend. … Black jerseys and pants for South Carolina on Saturday. … New helmets for Louisville. … Troy will wear red helmets, white jerseys and black pants tonight (from Phil).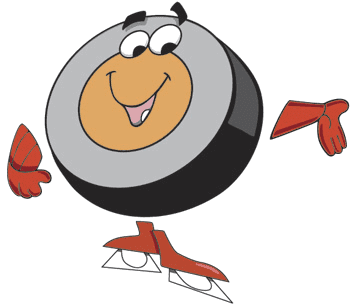 Hockey News: The Predators took 1,800 pounds of gear with them on their recent 13-day road trip (from Wade Harder). … White-on-white AHL alert (from Phil). … Ducks goalie Frederik Andersen has a Reservoir Dogs-themed mask.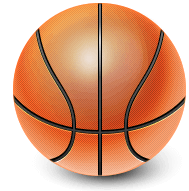 NBA News: Home opener uni moves: The Celtics wore their new green "Boston" road unis at home, the Wiz wore their alternate blues, and the Hornets and Bucks both wore their alternate unis — teal for Charlotte, red for Milwaukee, creating a color vs. color game (all this from Phil). "¦ Kawhi Leonard, who is known for having really big hands, has a pretty cool personal logo on the back of his Jordans. … The old Cavs court from when they played at the Richfield Coliseum is now being used by a small school in Virginia (from Vince Grzegorek). … Tom Brady posted a Photoshop image of himself as a child in a Celtics jersey on his Facebook page. "The Photoshopping is amusingly bad, and the drawn-in jersey stripes remind me of the airbrushing on old baseball cards," says Charles Noerenberg. "Good stuff." … The Hornets gave away tuxedo T-shirts and commemorative tickets for their home opener last night. … The DirecTV NBA app uses outdated logos for the Nets and Bobcats (from David Smolowitz). … The Blazers' new court features the names of season ticket holders (from Phil). "¦ The Sixers have added a memorial patch for Caldwell Jones.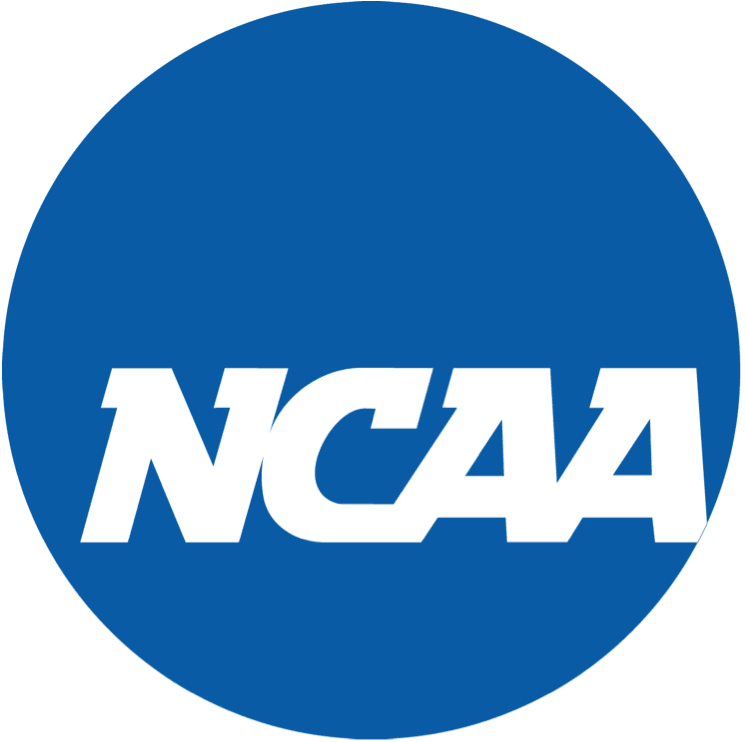 College Hoops News: Buffalo's Big 4 basketball teams will wear Buffalo Braves-themed throwbacks in a doubleheader on November 29 (from Phil).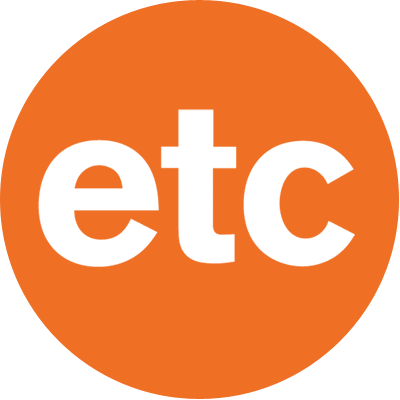 Grab Bag: The Football League will put a mustache on its game balls during the month of November (from George Chilvers). … I like the Adidas brand, but not as much as Katy Perry, apparently. … Excellent spot by Peter Wunsch: He was watching one of the often-aired AT&T Lily commercials and noticed that the store's exterior glass doors have the logos facing the wrong direction. "No store would have the ads facing in," he says. "They would be facing out to get the attention of people passing the store." I've seen that commercial hundreds of times and never noticed that! … The 1941 Harvard lacrosse team was well-dressed (from Phil). … Check out these old and creepy Halloween cards (from Jon Solomonson). "¦ "Rugby fans in New Zealand are freaking out because the new All Blacks jersey may not have a white collar," says Caleb Borchers. "This is stupid because (a) the promo photo is clearly heavily Photoshopped, so we don't really know what the real thing will look like, and (b) as much as we love unis, the whole 'magical good luck charm' thing is way overplayed."