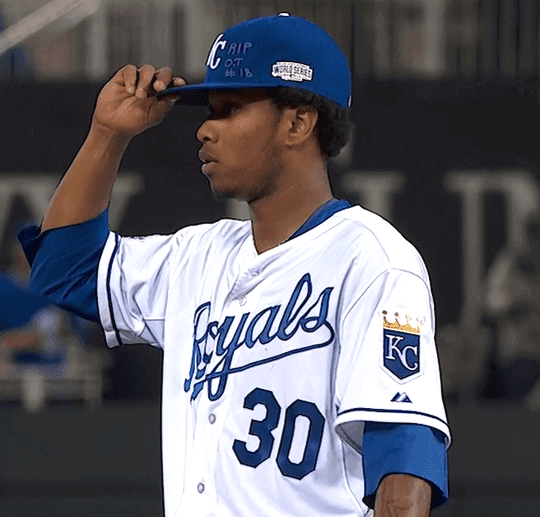 Royals pitcher Yordano Ventura was friends with Cardinals outfielder Oscar Taveras, so Ventura was understandably devastated when he heard about Taveras's death in a car accident on Sunday. I'm sorry for his loss (and for everyone else who knew Tavares), but I still wish he hadn't written a big "RIP O.T #18" memorial on his cap last night. I thought it looked unseemly, especially during the World Series.
On Twitter last night, I didn't say I thought the cap memorial looked unseemly. Instead, I asked what everyone else thought of it, and the response was overwhelming: Not only did almost everyone love Ventura's gesture, but many thought I was a heartless prick for even raising the question. I eventually deleted the tweet because it was provoking some seriously nasty feedback (I wasn't looking for a fight), but the basic thrust was, "People can mourn however they want, so shut the fuck up."
As I've noted many times, Twitter isn't a particularly good gauge of, well, anything, but I was still taken aback by the vehemence of the response. Like most people my age, I've had my share of personal experience with mourning and grief, and I agree that it's is a very personal matter (duh). But Ventura's cap gesture, no matter how heartfelt or sincere, struck me as a "Look at me!" move — not as over-the-top as, say, Tim Hudson's "JH" chest initials for Josh Hancock in 2007, but still a bit much, especially for the Series. He had already written memorials on his glove and cleats — couldn't he have stopped there? If he had to have something on his cap, couldn't he have just used Tavares's number or initials and made them fairly small? Couldn't he have skipped all of this and just asked the equipment manager to sew a black armband onto his jersey sleeve? Don't the Royals have one of those old black caps lying around that he could've worn? (Actually, I would've liked that quite a bit — much better than defacing a uni element.)
If you're okay with the cap inscription, that's fine — we can agree to disagree (although I would prefer if you didn't call me a heartless prick). But where would you draw the line? What if Ventura had worn big letters on his jersey, like Hudson did for Hancock back in '07? What if he'd done something even more demonsrative? Is there any point at which you'd say, "Okay, enough," or would you give any player carte blanche in this type of situation?
I think the context of our times also plays into this. If Ventura had worn a cap memorial during the World Series back in, say, the mid-1970s, it would have been unique and might have gone down as a special chapter in baseball (or at least uniform) history that I'd probably remember fondly. But we live in an era when athletes express themselves in so many ways — ways that include modifying their uniforms — that it long ago began to feel rote and tedious. You could say I'm just jaded, and maybe you'd be right, but I could say Ventura's cap inscription felt primarily like a predictable, almost scripted reflection of our times, and maybe I'd be right too. Probably a bit of both.
I also think a lot of this has to do with where we each draw the line between public and private expression, or what our idea of decorum is. I wish Ventura had chosen a less public expression of mourning; by the same token, some people probably wish I had chosen a less public means of addressing it. For those people, I'm the one whose behavior is unseemly here, not Ventura. I don't agree with them, but I relate to the impulse they're feeling.
Finally, I also realize that there's a Missouri connection here, because Tavares played for the Cardinals, many of whose fans are presumably also Royals fans, so Ventura's gesture probably resonated strongly throughout the state, even if that wasn't his intention.
To be clear: I don't think Ventura should be fined, I don't think Ned Yost or the umpires or Bud Selig should have told him to change caps, I have nothing but sympathy regarding the loss of his friend, and I admire how well he pitched last night with what must have been a heavy heart. Personally, though, I just wish he'd done something more subtle.
• • • • •
ESPN reminder: In case you missed it yesterday, my latest ESPN column takes a uni-centric look at this year's World Series.
• • • • •
New raffle! Jeff Suntala is the guy who makes those renderings of old ballparks, which he sells as prints. He's recently added many new ballparks to his inventory and is celebrating by offering a free print to three lucky Uni Watch readers. The winners will each get to pick a print of their choice from this list.
To enter, send an email with your preferred ballpark print and your shipping address to the raffle address by this Sunday night, 8pm Eastern. One entry per reader. I'll announce the winners next week.
• • • • •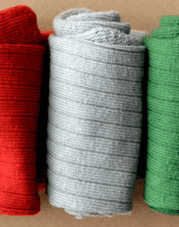 Sponsor shout-out: As most of you know, I really like sports socks. I'm also very particular about my own socks. So I've been very happy to have American Trench as a Uni Watch advertiser in recent months. Their made-in-USA socks — a pair of which I'm wearing right now as I type this — are first-rate. I'm not saying this because I promised them extra publicity; I'm saying it because I genuinely believe in the product. Also, I'm aware that their socks are a little on the spendy side, so some of you might have clicked on their ad and then thought to yourselves, "Hmmmm, is it worth spending that much money on a pair of socks?" Trust me: It is.
• • • • •

Baseball News: Opera singer and KC native Joyce DiDonato will be singing the national anthem prior to Game 7 tonight. One of her friends, a writer named William V. Madison, whipped up his concept of a uni-themed opera gown for her to wear. Fun, although I don't really understand the cricket bat (from Bradley Blunt). "¦ At least one U.S. military veteran says enough already with all the G.I. Joe tributes in MLB and throughout the sports world (thanks, Brinke). "¦ Also from Brinke: Dick's Sporting Goods mistakenly ran an ad for Royals championship gear yesterday. … "I was watching Little Big League last night and then looked up trivia about the movie on imdb," says Kurt Esposito. "The trivia included this: 'In a movie in which the plot revolves around the owner of a baseball team passing away, in this case Jason Robards as Minnesota Twins owner Thomas Heywood, it's ironic that the film unintentionally features a reference to a real owner who had passed away. During the Twins games against the Texas Rangers (when Billy argues with the umpire), if you look on the sleeve of the Rangers' gray jerseys, there is a black "HEC" stenciled into the uniform. It's a reference to H. Eddie Chiles, who passed away shortly after selling the Texas Rangers franchise to an investment group led by Dallas businessman Rusty Rose and future President of the United States, George W. Bush.'"

NFL News: Interesting article on the NFL's motion-tracking technology (thanks, Phil). "¦ Nike wishes NFL players would stop beating up their wives and girlfriends because it's bad for the company's outreach to female customers (Phil again). "¦ Here's a video report on the Chicago-based company that provides the leather for NFL footballs (from Jamie Uthe). "¦ Oh baby, how awesome is this 1960s Campbell Soup NFL/AFL poster? (Tremendous stuff from Jeff Flynn.) "¦ Also from Jeff: Look at the apparently homemade AFL logo on this old Steelers pennant. "Probably added by kid from 1970 who confused moving to the AFC with joining the AFL," says Jeff. "¦ Weirdest Pinktober gesture of the month: Paul McCartney wore a pink NFL wristband for his show in Louisville last night (from Brian Davis).

College and High School Football News: Interesting article on the return of the Pitt script helmet logo (thanks, Phil). "¦ Fresno State is doing the flag-desecration thing this weekend (from Jared Buccola). "¦ Cleveland.com is conducting a reader poll on the best high school helmets in northeast Ohio (from K.C. Kless). "¦ Louisiana Tech may wear their white helmets again (thanks, Phil). "¦ Also from Phil: Interesting article about the motivational wristbands some Oregon players are wearing. "¦ Throwback in the works for Texas A&M? Maybe. "¦ Black uniforms this weekend for South Carolina? Probably.

Hockey News: The usual G.I. Joevember warm-up silliness upcoming for the Blue Jackets (thanks, Phil). "¦ Also from Phil: In what appears to be a first, the Green Bay Gamblers (USHL) will be wearing flag-desecration helmets on Nov. 1. Flag-themed jerseys, too. "¦ Cross-dressing alert! Sabres goalie Michal Neuvirth wanted an extra layer of protection for his catching hand, so equipment manager David Williams went to the Bills and got him an NFL wide receiver glove (from Steven Laga). "¦ Batman- and Riddler-themed uniforms on tap next month for the Toledo Walleye and Evansville IceMen (thanks, Phil). … Before NHL refs and linesmen wore zerbra stripes, they wore off-white V-neck sweaters. I've never seen one of those for sale — until now (from David Firestone). … Also from David: an old dasher board ad from Joe Louis Arena. "¦ Marty Hick recently took his very young daughter, Clara, to Blues training camp, where she had a very sweet encounter with the team's mascot, Louie. "I'm especially proud of her genuine adoration, and the fact that she wasn't afraid," he says. "That and the fact that the mascot's current sweater completely trumps last year's model."

NBA News: Yesterday was Opening Night in the NBA, so the Spurs marked their championship by wearing an O'Brien Trophy patch. That's just a one-game thing for the first game of the season. "¦ The Pelicans opened the season in their new red alternates. "¦ An article about the Knicks' switch to Phil Jackson's triangle offense was accompanied by a photo of this cool-looking triangular-patterned basketball. "¦ NBA replay screens appear to have been dressed up with a new logo (from Chris Perrenot). "¦ "I think someone submitted the NCAA logo Mission Belts to the Ticker while you were away, but apparently they now have NBA designs, too," says Michael Rich. "I found it interesting that the only NCAA school to have more than one color offering was Oregon. Seemed very appropriate."

Soccer News: Here's the logo for the 2018 World Cup (thanks, Brinke). "¦ The Jacksonville Armada FC, which will begin NASL play next year, have unveiled their inaugural uniforms (thanks, Phil).

Grab Bag: "I use dental picks nightly," says Ed Hughes. "On the left is a normal pack of picks, and on the right is what they look like this month. Come on, November (even though I'll be sick of camo soon enough)."
• • • • •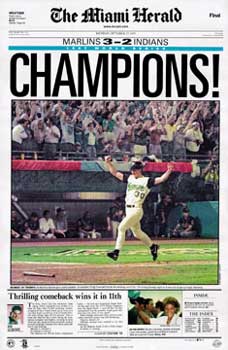 Seventeen years and I still haven't learned: So here's a little story: In 1997, my then-girlfriend and I planned an October vacation. Due to my work schedule and hers, it worked out that we'd have to be flying home on the day of Game 7 of the World Series, if the Series went that far. So we had a choice: Fly home in the afternoon and get home in time to watch the game, or enjoy one last full day of vacation and fly home at night, which carried the risk of missing the deciding game. After talking it over, we decided to give ourselves that last full day of vacation. "After all," we figured, "the Series probably won't go the full seven games."
And that's how I ended up stuck on an airplane during one of the most dramatic Game 7s in history. We didn't find out who'd won until we landed, got in a cab, and asked the cabbie to turn on the all-news radio station. (This was before smartphones and wifi, obviously.)
Fast-forward to a few weeks ago, when I had the chance to buy tickets for what seemed like a very interesting creative project taking place tonight. I was aware that a Game 7 could be taking place, but I really wanted to check out this project. "Besides," I thought, "the Series probably won't go the full seven games."
And that's how I'll be missing tonight's deciding game. Me = dumb-ass. I hope to be home in time to catch the last couple of innings. Sigh.