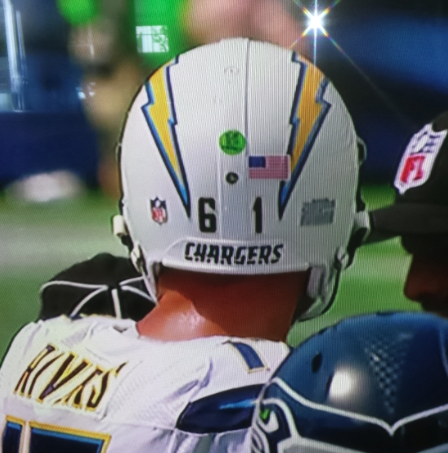 The Chargers placed center Nick Hardwick on season-ending injured reserve last week. So quarterback Philip Rivers honored his batterymate yesterday by wearing his uniform number on the back of his helmet (see photo at right), which was the most interesting uni-related development from yesterday's NFL action.
Here's the rest of yesterday's uniform news from around the league:
• Sticking with the Chargers, they wore solid-white at home.
• Meanwhile, the Chargers' opponents, the Seahawks, wore a rare configuration, at least for them: blue over gray (which looks a lot like blue over white, no?).
• One more item from that game in San Diego: new banners at Qualcomm Stadium.
• The Bills wore their "standing buffalo" throwbacks for their home opener.
• Speaking of the Bills, quarterback EJ Manuel played at least one down with his mouthguard lodged in his facemask.
• More teams wearing white at home: the Bucs, Bengals, Browns, Panthers, and Titans. So if you include the Bills' throwbacks, seven of yesterday's 14 home teams wore white.
• Cowboys running back DeMarco Murray's helmet stripe tape got torn up.
• Speaking of the Cowboys, anyone know why offensive coordinator Scott Linehan's play-calling kit includes a calculator?
• The Chiefs still have blank nose bumpers. I'm very surprised that they haven't opted to put some sort of logo or wordmark there.
• First initials — who needs 'em? Not the Packers.
• Some idiot showed up for the Vikings game wearing an Adrian Peterson jersey and brandishing a tree branch (and wearing a dumb-ass outfit besides).
• CBS had some trouble spelling "Falcons" (or "Felons," as the case might be).
•  NBC's depiction of the Browns helmet doesn't include earholes.
•  Weird hosiery treatment for Bears wide receiver Brandon Marshall. Those are sock tubes (or leg warmers, or calf sleeves, or whatever you want to call them), but they didn't go down far enough to meet up with his crew socks. And what's that little green cross above his ankle?
•  Hmmm, did the first game at Levi's Stadium feature an upside-down "3" yard markers? They were all like that, so maybe it's just the font — which, in any case, seems unnecessarily thick and clunky.
•  49ers running back Frank Gore's pants weren't particularly short (at least not by his standards), but it looks like he tore his left inseam. Intentionally, perhaps?
• Bears defensive back Tim Jennings wore plain white tights.
• During that 49ers/Bears game there was a commercial for USAA that showed several NFL players in uniform. Some of them were wearing Reebok jerseys, with the maker's marks blurred. Nike logos, of course, were unaffected. Douchebags.
(My thanks to all contributors, including Nathan Anderson, Jeffrey Bovitz, Joe Bozek, Jamie Burditt, Treg Harris, Chris Perrenot, Seth Shaw, and of course Phil.)
• • • • •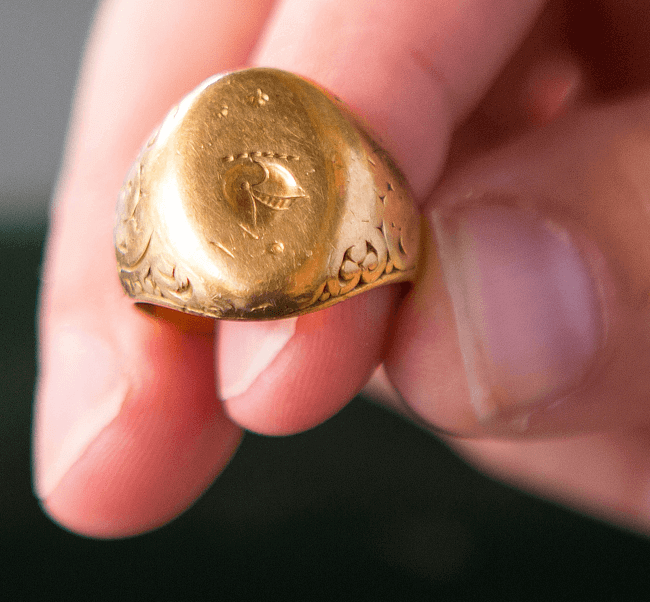 PermaRec update: It's been an embarrassingly long time since I wrote anything for Permanent Record, but the drought is finally over. There are two new entries, both about rings. The first ring, shown at right, used to belong to Theodore Roosevelt — read about it here. The second ring was reunited with its owner after being lost in a sewer for more than 40 years. You can read about that one here.
• • • • •

Baseball News: The Orioles marked the bicentennial of "The Star Spangled Banner" last night by wearing stars/stripes jerseys and those idiotic caps from the Fourth of July. Interestingly, those jerseys didn't include the Orioles' usual team logo sleeve patches — although, as you can see, they did include the Tom Clancy memorial patch (thanks, Phil). "¦ I was at a vintage shop on Saturday and came across a shirt with this fantastic Catfish Hunter label. Never seen that before. "¦ The Tigers held a Jewish Heritage Day promotion yesterday. The bases had little graphics of Hank Greenberg's jersey, plus for some reason they listed it as "Night" instead of "Day" (from Jeffrey Sak).

NFL News: Good to see that the McDonald's Happy Meal sticker pack for the Steelers properly includes only one helmet logo (from Chris Flinn). "¦ Oh, baby, check out this sensational Giants letterhead from 1943. The text of the letter is interesting too, but the letterhead design is what really moves me. Further info on the story behind the letter here (big thanks to Duncan Wilson). "¦ Good Adrian Peterson jersey modification here (thanks, Phil). "¦ This Steelers schedule poster features at least one facemask design that wouldn't pass muster with league officials these days (from Alex Hider). "¦ Here are some screen shots from a Cowboys/Chiefs game at old Municipal Stadium in KC with both teams' helmets painted on the field. "¦ Good article on the uni-related sections of the NFL rulebook (thanks, Phil). "¦ "I was at the store to buy some conditioner and noticed this person wearing a split of the home and road Saints jerseys," says Terry Duroncelet. "What I found interesting is that it was of one player (Drew Brees, obviously). Split jerseys usually represent two different players." Good report, Terry, but come on — we all want to know which brand of conditioner you bought! "¦ Interesting article on all the play-calling chatter that takes place on the field. "¦ You've probably seen that DirecTV commercial that shows a fan in a Cowboys jersey tackling a fan in a Giants jersey. But as Bernie Langer points out, both fans are wearing dark jerseys. Shouldn't one of them — probably the Dallas one — have been white?

College Football News: "There are (probably false) rumors going around on Reddit that a UConn student in a Syracuse jersey was murdered on the UConn campus last night," says Gregory Koch> "Even if false, it says something about sports and uniform culture that some people would believe this could be true. See the Reddit discussion here." "¦ Nebraska wore solid-white on Saturday night against Fresno State. "It was the first time they wore all-white since 2007 (the last game with Bill Callahan as head coach at Colorado)," says Mike Vamosi. "It was said on local radio that they did it not because of the heat (99 at kickoff) but rather because Huskers coaches didn't want that much red on the field with Fresno State going mono-red." "¦ Odd photo of Bob Lilly from his TCU days. Note the completely different number fonts on the chest and sleeve (from Tim Perkins). "¦ Arizona will wear solid-white this weekend. "¦ WVU placekick holder Michael Molinari had "I Corinthians" on his right cleat the other day (good spot by Coleman Mullins). "¦ Good article about Oregon's live Duck mascot.

NBA News: This Airplane!-themed Wisconsin tourism commercial shows Kareem Abdul-Jabbar wearing last year's Bucks jersey, which seems doubly wrong. They should use either one from his playing days or the new one that'll be worn this fall (from David Teigland).

College Hoops News: New uniforms for NC State (thanks, Phil). "¦ Wow, check out this vintage University of Denver warm-up basketball top — a beauty!

Grab Bag: Crystal Palace midfielder Mile Jedinak had his numbers peeling off the other day. … Phil had this in yesterday's Ticker, but it's worth repeating: The most bizarre uniform of the week month year ever goes to this Colombian women's cycling kit that looks like something out of a nudie bar. "¦ Also repeated from yesterday: My Very Favorite Object, the Brannock Device — which I like so much that I have a tattoo of it on my right arm — was recently "brandished" as a weapon by two women who robbed a Seattle-area Nike store. Kind of a perfect Paul Lukas storm right there. "¦ An Army officer was denied entrance to his daughter's high school in Michigan because he was wearing his uniform. "¦ Tennis player Caroline Wozniacki got a haircut because Vogue editor-in-chief told her to. … Walmart is supposedly in favor of American-made products, but the new uniforms that they're making their employees wear are made in Jordan. … Bo Baize is vacationing in Seattle, where he spotted a manhole cover with a map design. Very cool! "¦ "Pro Stock Motorcycle racer Michael Ray races in the Mello Yello Drag Racing Series, but for some reason, he was wearing an old Full Throttle Drag Racing Series patch on his jacket," says David Firestone. "Full Throttle was the title sponsor from 2008-2012." "¦ Lovelovelove this spectacular label. It's from this vintage jacket. "¦ Hmmm: FIBA logo or poultry illustration?