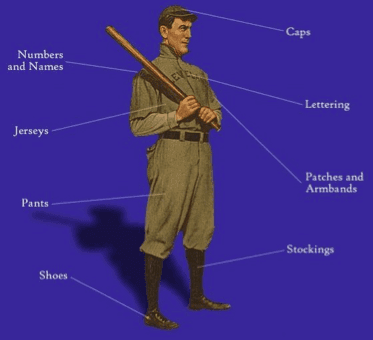 My recent entry about Masahiro Tanaka's Mizuno belt buckle (which, as we've now seen, is also worn by a handful of other MLBers) prompted a comment from reader Buck Fontana, who wrote, "Isn't the belt part of the uniform? Couldn't an opponent claim to the umpire that Tanaka is out of uniform?"
I then posted the following response: "While the belt may be part of the uniform, it's really more a piece of equipment or an accessory, and players have always had a bit of leeway when it comes to equipment/accessories."
That got me thinking. The belt is a uniform component — everybody wears a belt, and the belt has to be a certain color. But as the Tanaka/Mizuno example shows, players have some flexibility in terms of which belt brand or design to wear. So the belt kinda straddles the line between uniform and equipment. I've created a new term for items that fall into this gray area: uniquipment.
How does the rest of a baseball player's attire shape up in the uni-vs.-equipment comparison? Let's take a look, proceeding roughly from head to toe:
Cap: Definitely part of the uniform.
Batting helmet: Helmets are clearly part of the uniform — everyone has to wear them, they carry the team logo, etc. But players have some flexibility in terms of which brand to wear, whether to have one earflap or two, whether to add a faceguard, etc. I'd say this falls into the realm of uniquipment.
Jersey: Part of the uniform, obviously.
Undershirt: Undershirts are a lot like belts — they have to be rendered in team colors, but nobody really cares if your undershirt is Nike (the official undershirt provider) or non-Nike, tight-fit or loose-fit, long-sleeve or short-sleeve, etc. On a cold night, you can even replace your undershirt with a windbreaker. Classic case of uniquipment.
Wristbands, armbands, and the like: Equipment. Some players wear them and some don't, and the colors don't always conform to the team colors.
Fielding gloves: Equipment, obviously.
Batting gloves: Lots of players wear team-colored batting gloves, but the gloves aren't required to be team-colored. I'd say these are pure equipment, although I realize some folks might argue that they're uniquipment.
Belts: See above.
Catcher's gear: Tricky call here. Equipment doesn't get much more equipment-y than the tools of ignorance, but the gear is almost always team-colored (unless it's just white, which a few catchers have done over the years). I guess we have to call it uniquipment, although I'm a bit uncomfy with that categorization.
Pants: Part of the uniform, obviously, although players have enormous discretion regarding how long (or short) to wear them.
Hosiery: Baseball stockings and stirrups used to be an essential component of the uniform. That's how we got teams called the Red Sox and the White Sox, after all. Nowadays, though, hosiery has essentially become optional and customizable, just like wristbands. If you want to wear your pants long and obscure your socks, you can. If you want to wear striped socks while everyone else on your team is wearing solid socks (like Giants reliever Sergio Romo), you can. If you want to wear stirrups with your team's logo on the side, even though nobody on your team has ever done that before and it's not shown in the MLB Style Guide (like D.J. Carrasco), you can. If you want to wear stirrups with stripes, even though nobody on your team has ever done that before and it's not shown in the MLB Style Guide (like Brendan Ryan), you can. It's almost the same situation as with wristbands, except I don't think a player could get away with wearing socks/stirrups in a non-team color. Let's call them uniquipment.
Shoes: Similar to belts. You have to adhere to your team's official footwear color (at least on 51% of the shoe), but you can wear any brand you want, with pretty much any design you want. Uniquipment.
Thoughts, disagreements, counterpoints? Have at it in today's comments.
+ + + + +
Membership update: My thanks to everyone who participated in the 2014 edition of Purple Amnesty Day (including Yancy Yeater, whose eggplant-era Mighty Ducks-themed card is shown at right [and is not to be confused with Adam Vitcavage's Mighty Ducks movie-inspired card]). All of you who ordered purple-inclusive cards, and everyone else with pending membership orders, should be seeing your cards arriving in the mail next week.
As always, you can sign up for your own custom-designed membership card here (but no more purple cards until May 17, 2015), you can see how we make the cards here, and you can see all the cards we've designed so far here. My thanks, as always, to all enrollees.
+ + + + +

'Skins Watch: Fifty members of the United States Senate have signed a letter to the NFL urging that the 'Skins name be changed. … Those UND idiots with the "Siouxper Drunk" T-shirts created a social media firestorm (from Yusuke Toyoda).

Baseball News: The Padres wore 1984 throwbacks last night. Unfortunately, most players didn't go high-cuffed. As you can see in that last shot, they included the "RAK" sleeve memorial for former owner Ray Kroc, but they made it much too big. Here's how it looked back in '84. "¦ The New Jersey town of Hoboken already held its Memorial Day parade the other day, and the local historical museum was represented by some fellas marching in old-timey base ball uniforms (from Dan Snider). … The entire Maryland team wore very nice stirrups yesterday (from Coleman Mullins). … Negro League throwbacks on tap this weekend for the Tigers and Rangers (thanks, Phil). … The Red Sox recently did a promotion where every fan entering Fenway got a replica World Series ring. "It's metal, not a cheapie plastic!" says Mike Delia. … Baseball's G.I. Joe fetish continues apace, as the Mets and MLB have declared that May is Military Appreciation Month. But that page also calls for the military to be honored "365 days a year," which I guess means teams can only go camo-free on Feb. 29 during leap years. Coming soon: armored tanks at every ballpark, restrooms redesignated as latrines, and special "foxhole suites," where you can don combat gear and watch the game while hunkered down with like-minded fans — you know, to support the troops! "¦ New blue alternates for the Orix Buffaloes. "The one with navy blue trim will be worn on July 6, and the one with gold trim on Aug. 2 and 3," says Jeremy Brahm. "¦ Also from Jeremy: Here's the logo for the NPB Fresh All-Star Game, which is basically the Japanese version of the Futures Game. "¦ Steve Tolleson of the Blue Jays was wearing an upside-down "8" last night (thanks, Phil). "¦ This is so awesome: The ACC baseball tourney has a bat dog! "¦ Tuxedo-style jerseys for the Gastonia Grizzlies, a summer collegiate team (from Alan Poff).

NFL News: Former Vikings coach Bud Grant, now 87 years old and still living in Bloomington, has been conducting a garage sale, which supposedly included lots of old Vikings memorabilia. Did any of you Minnesota readers score anything? (From Ben Herrig.) "¦ Shay Niles has designed a Jets T-shirt with Mets overtones. Fun!

College Football News: Baylor's black jerseys now have the Big XII logo. … Just what the world's been waiting for: golf clubs with an Oregon football helmet theme (from Coleman Mullins). "¦ Here's a historical ranking of Arizona State's helmet designs (thanks, Phil).

Hockey News: Here's an article on the Rangers' lack of a captaincy "C." … Somebody interviewing Jarret Stoll of the Kings the other night put his microphone on the top end of a hockey stick. That Whalers iPhone case, or whatever it is, is nice too (from John Muir).

NBA News: Longtime Uni Watch pal Todd Radom came up with a fun design concept to complement my Knicks/Knish thingie. You have to admit, that'd be a huge with the SoCal Jewish community.

Soccer News: Here's a look at every World Cup ball design. … Two days ago I linked to an article about Nike, Adidas, and Puma soccer shirts being made with toxic materials. That prompted the following response from someone at Nike who prefers to remain anonymous: "I'm a chemical engineer with a Ph.D. in green polymers. Aside from being an employee, I am a material scientist and it irks me when people who do not understand materials or their health consequences comment in vague generalities. The use of the term 'plasticizers' in that linked article, for example, could not be less informative. Nike has an internal ban on many substances that are considered hazardous/toxic that extends well beyond those regulated by the government. The reduction and elimination of hazardous materials has been an area where Nike has been very forward-thinking. This is one of the things that made me want to work at Nike in the first place." "¦ Which World Cup team has the worst slogan? (From Trevor Williams.) "¦ Also from Trevor: "Last weekend Club Leon won Liga MX (Mexican's highest league) wearing pink. It wasn't for any cause, just a fashion choice." "¦ And one more from Trevor: New Glasgow Rangers away shirt.

Grab Bag: I just scored this vintage Knights of Columbus basketball warm-up top for a song. It doesn't look like much in that crappy eBay photo, but I'm pretty sure it'll look my-t-fine once I get it ironed. Full report to follow when I receive it from the seller. … GOP pollster Whit Ayres, asked if Tea Party members would sit out this November's midterm elections after their candidates lost all of this week's primaries, said, "I'm skeptical that they'll take their marbles and go home because, guess what, we're all wearing red jerseys and [the Democrats are] all wearing blue jerseys." … Here's a piece on the top 15 logo design trends of 2014. I didn't know there could be that many logo design trends for a year that isn't even five months old, but there you go. … For the first time, Sports Illustrated is selling ad space on its cover. … Speaking of ads, McDonald's is running a new ad campaign featuring simple icon-like illustrations of its menu items and that's it — no text, no McD's logo, no nothin' (from Maeser Anderson). "¦ Latest Aussie football team to have an indigenous-themed jumper is the Sydney Swans (from Robert McNamara).
+ + + + +
Holiday schedule: Phil will have his usual content tomorrow and Sunday, and I'm planning on something fairly substantial for Monday, so stop on by, yes? Yes!