For all of today's photos, click to enlarge
In Saturday's Ticker, which was compiled by Phil, reader Jimmy Lonetti noticed that Yankees pitcher Masahiro Tanaka appeared to be wearing a larger-than-usual belt buckle in a recent ESPN The Mag cover photo (shown above). That jogged a particular memory for me — which I'll explain in a minute — so I started doing a bit of digging.
First, let's establish a baseline of what a standard-issue MLB belt buckle — and especially a standard-issue Yankees belt buckle — looks like. These photos of Dave Robertson and Mark Teixeira should do the job: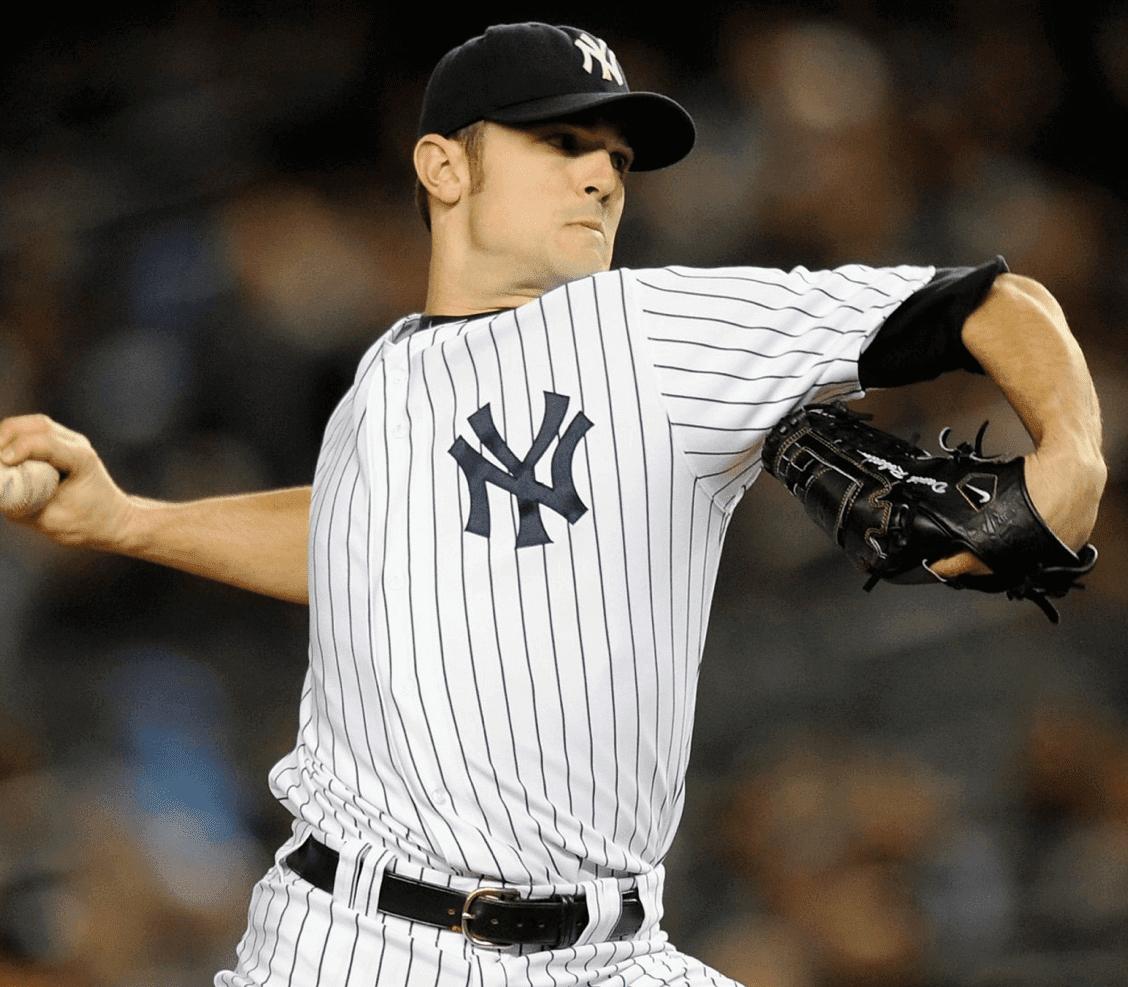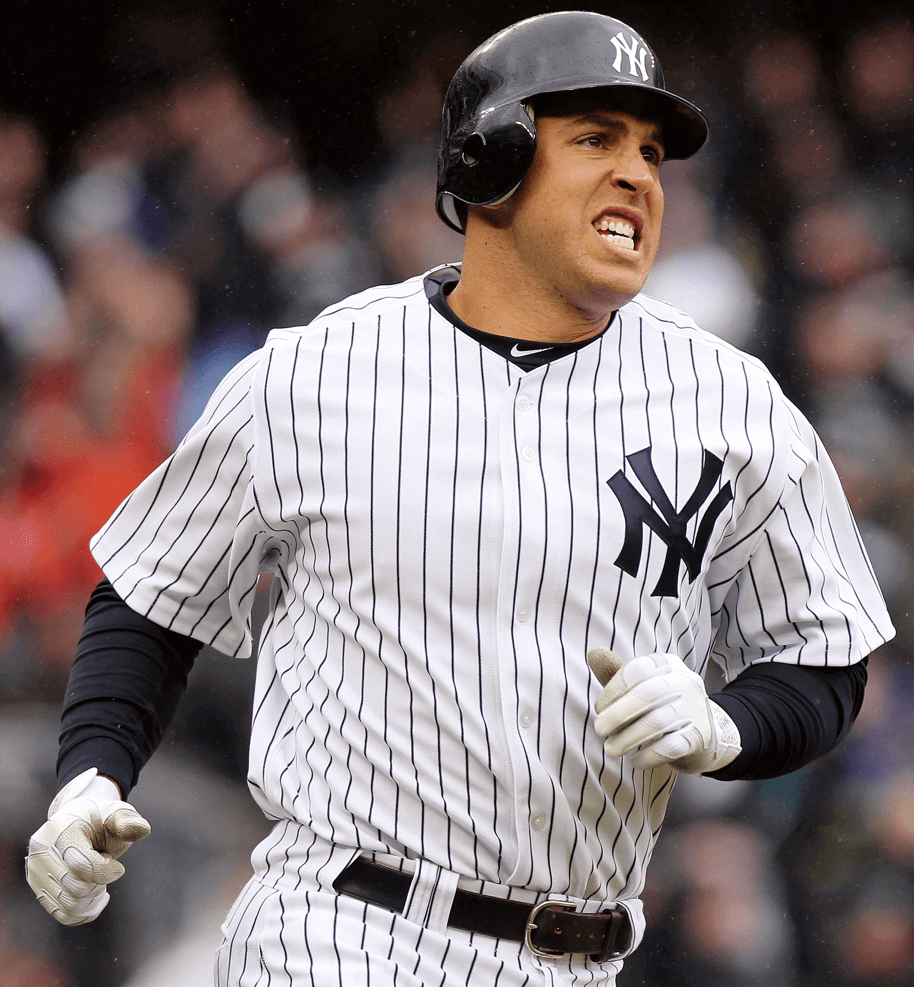 So that's your basic Yankees belt. If you look again at that cover photo of Tanaka, he's clearly wearing a different buckle style. But hey, maybe he just grabbed whatever belt was handy for that photo shoot. What does he wear in games?
Turns out he wears a rather unique buckle design: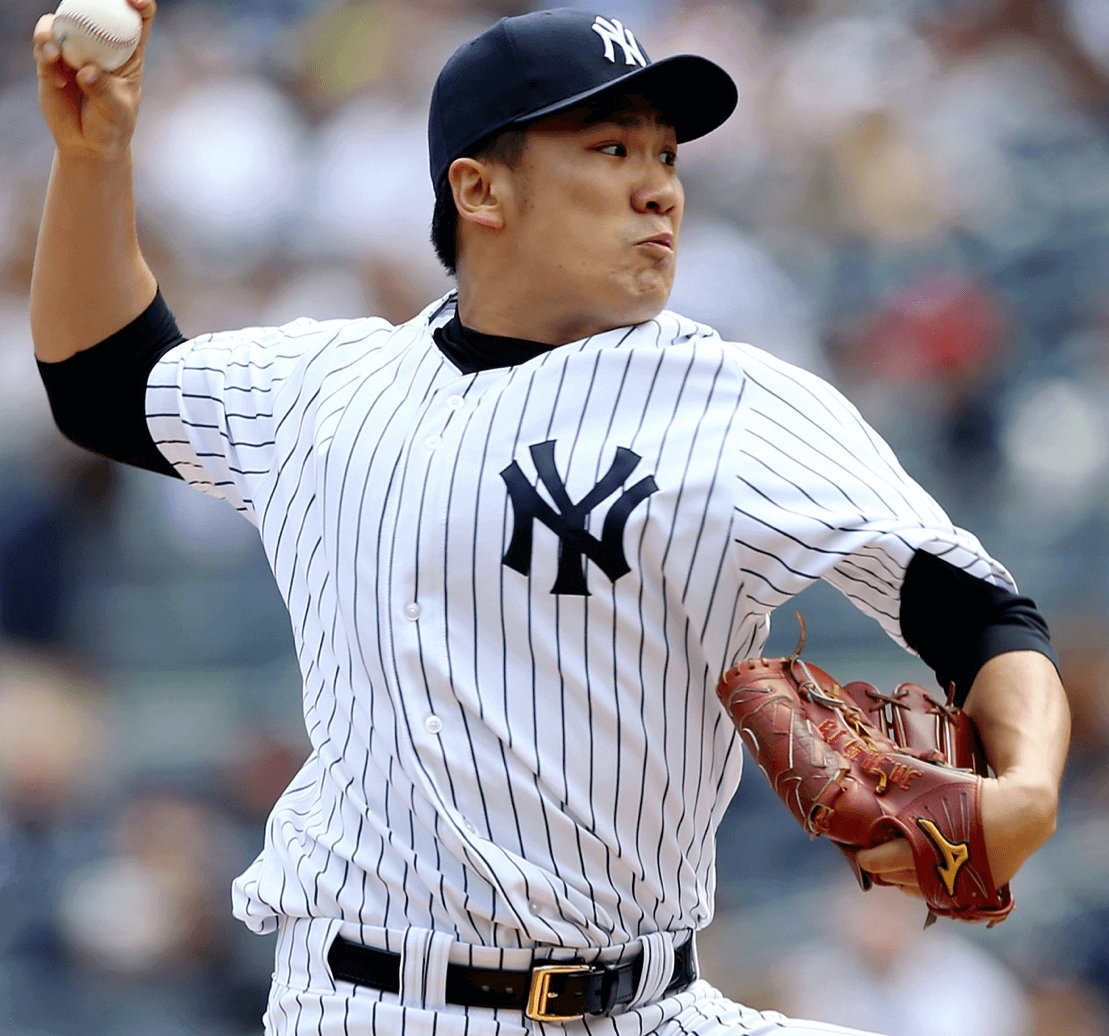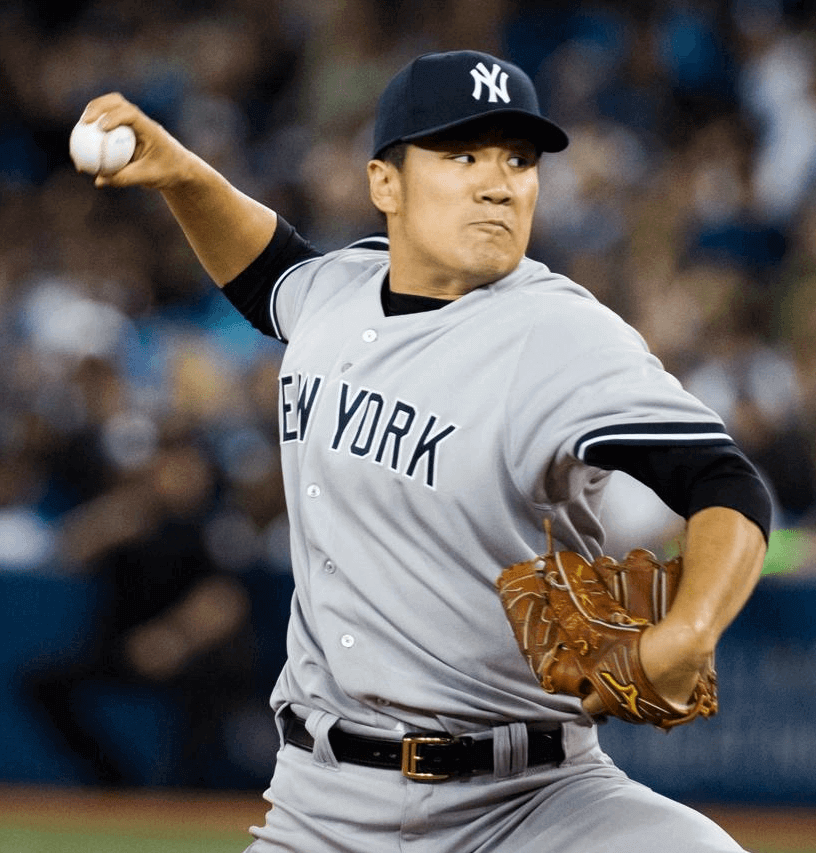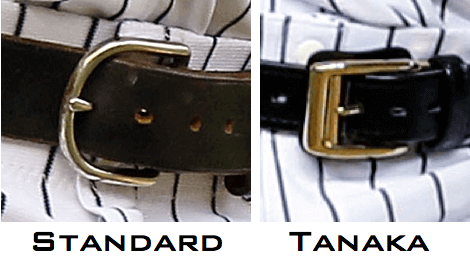 I looked at a lot of Tanaka photos while preparing this entry, and he's worn that belt for every one of his Yankees appearances, dating back to spring training. He also wore it (or something very similar to it) while playing for the Tohoku Rakuten Golden Eagles and in the World Baseball Classic. It's clearly his belt style of choice.
The reason this all rang a bell with me when it came up in Saturday's Ticker is that this isn't the first time we've seen a Japanese pitcher with a special belt buckle. Back in 2006, Dodgers reliever Takashi Saito wore an oversized gold belt buckle. I remembered this because I wrote a blog entry about it at the time.
So are slighty gaudy buckles a common thing among Japanese pitchers? By handy coincidence, the Yanks happen to have Hiroki Kuroda on their roster. Let's take a look at his buckle: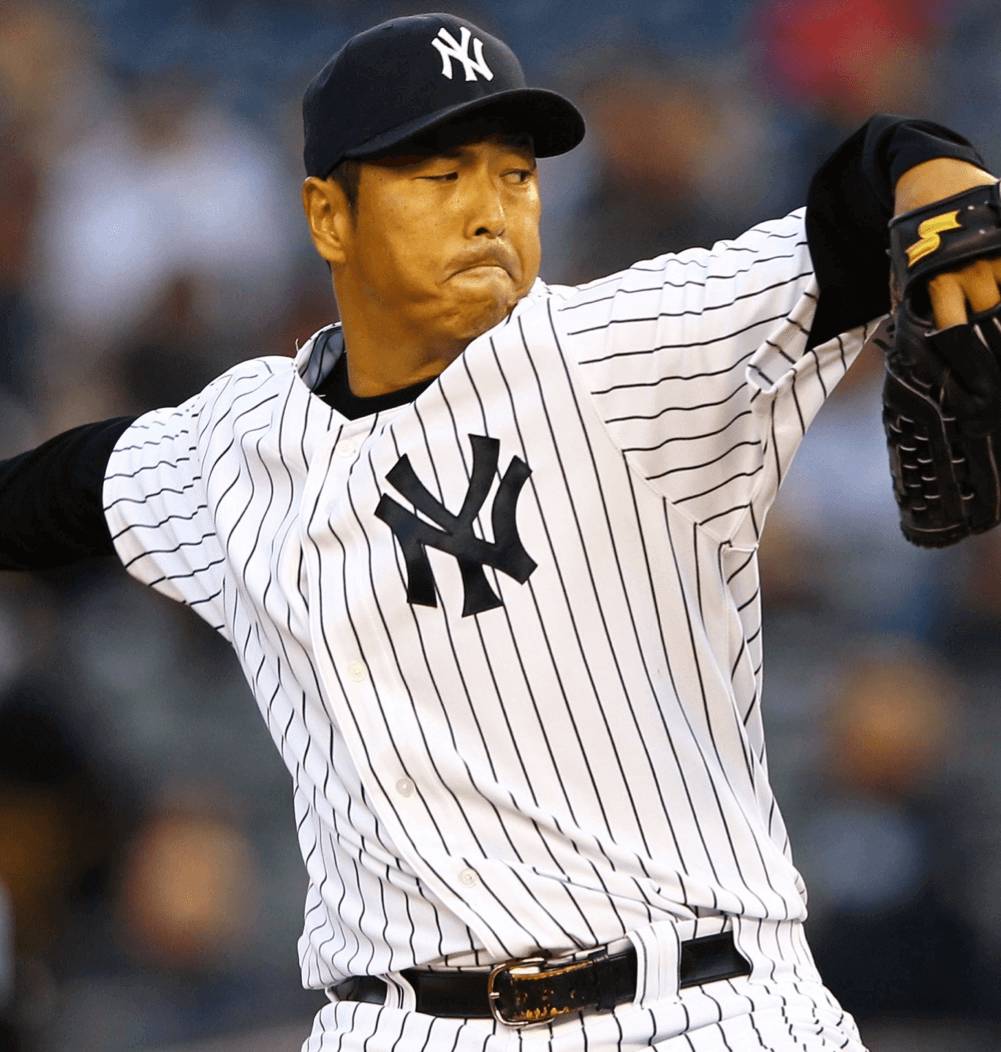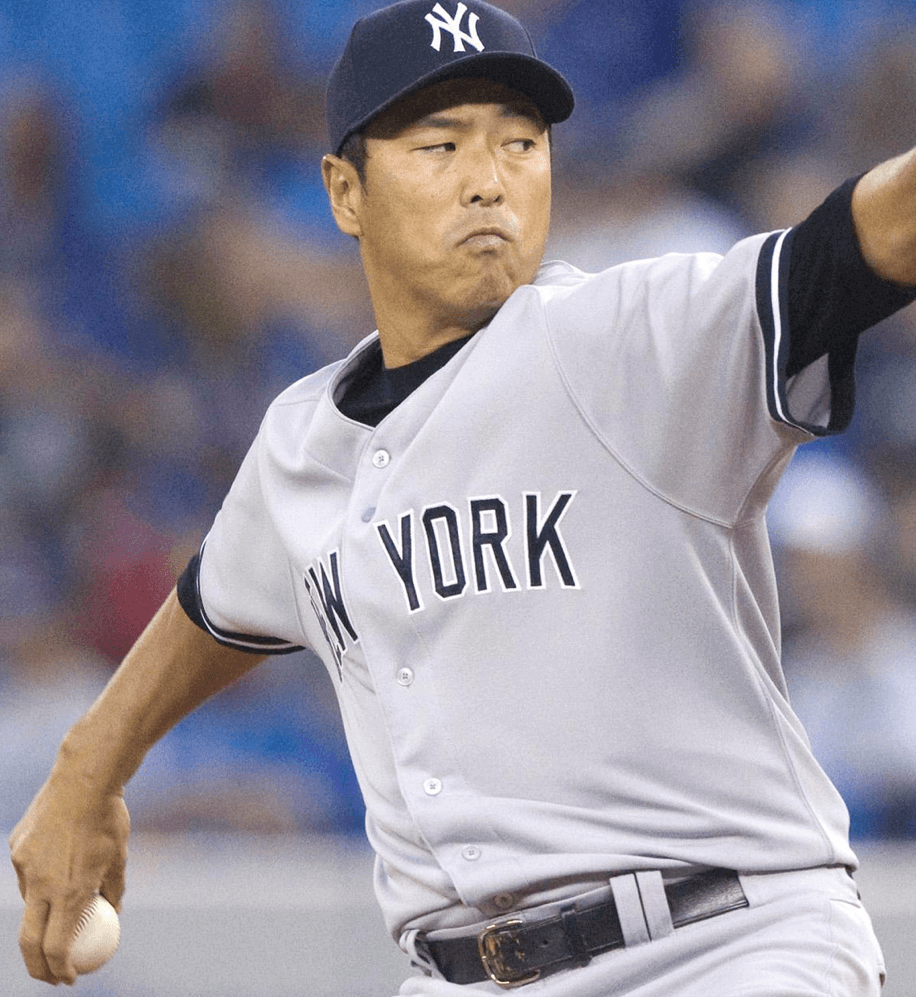 As you can see, Kiroda wears the standard-issue buckle. So if the oversized buckle is a thing among Japenese pitchers, it's definitely not a thing among every Japanese pitcher.
Meanwhile, what's the story behind Tanaka's belt? Like, is it a good luck thing or what? I asked a Yankees spokesman about it and got the following response: "Mizuno supplies Tanaka with his belts, and that's what they provided him. There's nothing more to it than that."
So after all that, it's just another sponsorship/endorsement thing? Man, that is seeeeriously disappointing. For what it's worth, I did a bit of Googling on the term "Mizuno baseball belt," just to see if I could find Tanaka's buckle, but I came up empty (although I confess I didn't search all that hard because I was so bummed about the anti-climactic conclusion to this tale).
This is the second time in Tanaka's short MLB career that I've taken a close look at him. After his first start of the season last month, I wrote about how he was wearing the banned pant-cuff strap (which he then stopped wearing). I looked at lots of Tanaka photos while working on that piece was so focused on his pant cuffs and never noticed the belt buckle, which just goes to show that there are always more details to pay closer attention to.
Tanaka's next start is tonight. I'll be keeping an eye on his belt.
Update: Our first comment of the day pointed out that another Japanese pitcher — Red Sox reliever Koji Uehara — also wears the Mizuno buckle:
(Big thanks to Jimmy Lonetti, who got this ball rolling by spotting the buckle quirk on that magazine cover photo.)
+ + + + +
Click to enlarge
Collector's Corner
By Brinke Guthrie
Haven't seen this before: a 1960s NFL paint-by-numbers set. The box lid is signed by Packers great Dave Robinson, shown on the cover tackling Dan Reeves.
Here's the rest of this week's eBay haul:
• Nice-looking Baltimore Orioles patch from the 1950s.
• Great typeface on this 1970 New York Giants media guide.
• Oooooo, terrific 1960 NFL logo team poster!
• Where did the ABA's Denver Rockets do their banking? At the Central Bank, of course.
• Great cover artwork on this 1968 NFL autograph yearbook.
• It's Fast! It's Real! It's your "National League" (didn't they mean National Hockey League?) electric hockey game.
• This 1982 Packers poster came inside a box of Kellogg's Raisin Bran.
• One of my favorite bobbleheads, I guess due to my music radio background, is this Bill Graham bobble from the SF Giants' 2011 season. (For those who don't know, BG was a legendary music promoter back in the day.)
• Bills fans, here's a vintage helmet pencil sharpener display with, of course, several Bills helmets on it.
• Guess they wore these hats in the famous Baltimore Colts Marching Band.
Look at the helmet wings on this 1960s Eagles bobblehead!
Seen something on eBay or Etsy that you think would make good Collector's Corner fodder? Send your submissions here.
+ + + + +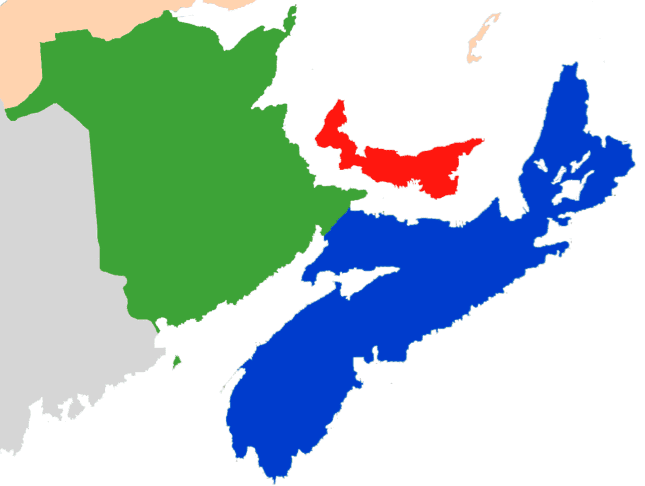 Looking northward: Paul here. I'm thinking of heading up to Nova Scotia (and maybe the rest of the Maritimes) in about a month. Never been up that-a-way, but I'm intrigued.
If you live in the Martimes, or if you used to live there, or if you've traveled there, I'd welcome your thoughts, suggestions, and advice. Big thanks in advance.
+ + + + +

Sponsor shout-out: I've been a big fan of Amelie Mancini's Left Field Cards project for several years now. I wrote an ESPN column about her cards in 2012, and I've been really happy to have her as an intermittent advertiser here on the site over the past year or so. She's good people, and her cards are good product.
Left Field Cards is currently running a one-week sale. From now through the end of Memorial Day, you can get 20% off by entering the code "memorialday2014" at checkout. If you're already familiar with Amelie's designs, this is a good time to restock your supply; if you're new to Left Field Cards, there's never been a better time to get acquainted. Either way, get started here.
+ + + + +
PermaRec update: There's a really odd story behind the lost high school ring shown at right. It's been found twice, and yet it doesn't seem to want to go home to its owner. Full details over on Permanent Record.
+ + + + +
Tick-Tock: Today's Ticker was compiled and written by Garrett McGrath.

Baseball News: Yesterday, Paul covered the two throwback games but here are some more tidbits: The KC fans were dressed to the nines (thanks, Phil). … "I don't have a picture but during Sunday's WGN telecast of the Cubs/Brewers game, Len Kasper (who discusses uniforms quite a lot) noted that the Brewers were going with solid navy helmets in keeping with the theme of the throwback jerseys," says Matt Hooban. "But he pointed out the notable exception of Jonathan Lucroy, who wore his navy helmet with the M-over-crossed-wheat-stalks logo." … For their upcoming retro weekend, the San Diego Padres are wearing replica throwbacks of their white and brown 1984 uniforms. They will follow up the best-looking brown jersey in baseball history with, what else, camo (from Jared Buccola). … Here is an unofficial MLB players census, focusing on player age, salary, experience, and much more. The census has some great graphs — who knew that Houston was the number two player-producing city after Santo Domingo in the Dominican Republic (from Andrew Powell-Morse). … The Detroit Tigers have been winning a lot of games and it has nothing to do with these head-to-toe tiger print jumpsuits (thanks, Phil). … Check out 1931 and 1934 spring training video footage of the Washington Senators (from Ben Fortney). … The Nippon Professional Baseball league released this logo to celebrate the 10th season of interleague play. The league is using the logo in this video to promote the games (from Jeremy Brahm). … On June 1, the Dodgers are giving away an interesting batting helmet as a promotion (thanks, Phil). … From yesterday's comments: Great logo on this Cincinnati Reds strength and conditioning shirt. "¦ 1970s throwbacks on tap this Saturday for the Mariners and Astros. "¦ And speaking of the Mariners, they'll be giving away this "King's Court" T-shirt when Felix Hernandez pitches on Friday.

NFL News: At least one observer thinks all NFL teams should follow the Pats' example and offer discounts to anyone who buys a jersey of a player who is no long under contract to the team within a year of purchase (thanks, Phil). … University of Virginia graduate and 'Skins draftee Morgan Moses attended his graduation service wearing a mortarboard with his new team's logo on the top (from Tommy Turner). … The 2018 Minnesota Super Bowl Bid Committee released an interesting logo (thanks, Phil). … Steelers third-round draft pick Dri Archer has changed his jersey number from 34 to 13 (thanks, Phil).

College Football News: "On ESPN's college football site there is a mural depicting a bunch of different teams," says Derek Summerville. "The mural incorrectly labeled University of South Carolina's outfitter as Nike on its jersey but correctly as Under Armour on the helmet visor."

Hockey News: Here are original Minnesota North Stars jersey design drawings by George Karn, a great Minnesota hockey player, coach, and organizer as well a commercial illustrator who created such characters as the Trix Rabbit and Count Chocula. One last nerdy detail: Charles M. Schultz, of Peanuts fame, served as Karn's hockey team manager. … Yesterday, Paul asked if every team has their own strength and conditioning logo. The Pittsburgh Penguins do (from Mike Engle). … Two from the International Ice Hockey Federation tournament in Minsk, Belaurs: Check out this awesome NOB for Vadim Krasnoslobodtsev. … A behind-the-scenes video of the IIHF jersey sewing room (both from Bill Mitchell).

Soccer News: Here's the story behind the 1994 U.S. men's soccer World Cup jerseys, largely renowned as being among the ugliest kits ever (thanks, Phil). … Trevor Williams sent in a bunch of new uniforms. Two from French club teams: Paris SG and Stade de Reims. Two from Spanish club teams: Athletic Bilbao and Sevilla. Three from European club teams: Benfica, Udinese, and Malmo FF. One from a Brazilian club team: Cruzeiro. … Two from Yusuke Toyoda: A collection of stories about uniform mishaps at the World Cup, including England's difficulties with light blue, how Argentina beat England wearing shirts that were sewn up just days before the match and France had to borrow jerseys from a local club team. … Watford is asking fans to decide if the team's wearing black shorts or red shorts next season. … Official picture of the 2014-15 Barça home kits (thanks, Phil). … The NASL team Minnesota United have agreed to a shirt sponsorship deal with the Mall of America (thanks, Phil).

NBA News: Swarm to serve: The Charlotte Bobcats are having a press conference tomorrow to announce the official team name switch to the Hornets. "The only things we know are that some executives will be there to talk about the official start day of the rebrand," says a Hornets insider. "Which could include uniform and mascot unveiling. The presser will be shown on the new website, which is now live." (big thanks, Phil) … In honor of the name change The Charlotte Observer posted a map of the history of NBA franchises complete with logos (very cool, Chris Marsicano). … Here's an early look at the new NBA Draft hats. … The folks at Pop Chart Lab have created a great poster showing basketball jerseys from 1921 until the present. I love the inclusion of jerseys from popular culture. You can buy the poster here. … My intern partner-in-crime Mike Chamernik sent in these cartoon trading card concepts for a bunch of NBA players.

Grab Bag: Photocrom postcards from Detroit Publishing Company, some of the first colorized photographs in America, are now collected in a new book An American Odyssey (from Yusuke Toyoda). … This couple had a Tennessee football-themed wedding (from Tommy Turner). … Here is a photo gallery of WWE wrestler's ring gear (from James Comfort).
+ + + + +

What Paul did last night on Sunday: Bay Ridge, Brooklyn, a neighborhood that used to feature a huge Scandinavian immigrant population, still celebrates Norwegian Constitution Day each year. The holiday takes place on May 17, but in Bay Ridge it's always celebrated on a Sunday, and this year's festivities took place this past Sunday, the 18th. I'm not Norwegian, and neither is the New Girl, but we like the Scandinavian scene out in Bay Ridge, so we headed out there on Sunday afternoon.
Unfortunately, we were too late for the parade, but there was plenty of eating and drinking action at the neighborhood's various Scandinavian social clubs. These clubs are normally for members only, but they're easy to infiltrate during the Norwegian Constitution Day festivities. We went to the Danish Athletic Club (which I've written about before), the Swedish Soccer Club, and the awesome Norwegian Sporting Club Gjøa, all of which were packed with happy revelers, including lots former neighborhood residents who've moved away but come back every year for the ethnic celebration. Many of them were in full Norwegian costume. It was a really great event to be in the middle of.
Unfortunately, I didn't get any photos (long story — let's just say there were technical difficulties), but I did manage to get a few minutes' worth of video of the bandstand and dance floor scene at the Danish Athletic Club. I'm pretty sure this was the first band I've ever seen with two accordions. Dig: