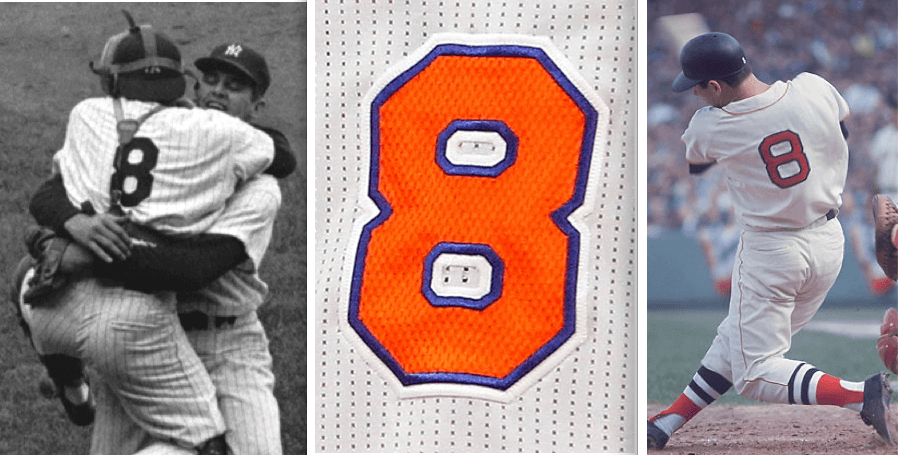 Paul here, making a cameo appearance before handing off the weekend baton to Phil. Just want to take a moment to point out that the first entry on this site was posted eight years ago today — May 17, 2006. So happy eighth birthday to the Uni Watch Blog, and my thanks to all of you who've helped make this project so much fun. I know we don't always agree, but I love the exchange of ideas. Hope you do too.
And another, bigger milestone is fast approaching: May 26 will mark the 15th anniversary of the first Uni Watch column, which appeared in the now-defunct sports section of The Village Voice. If you had told me back then that I'd still be writing about uniforms 15 years later (or that I'd be doing it every day!), I would've thought you were crazy.
(Yes, it would have been better if I had just waited an extra nine days to launch the blog, so the two anniversaries would coincide, but I wasn't thinking about that back then. Dang.)
I'll have more to say about this on the 26th. I'll also be unveiling a 15th-anniversary logo. Stay tuned.
Now here's Phil with the rest of today's content. "" Paul
Settling Down…
Phil here — let me be the first to wish the Uni Watch blog a HAPPY EIGHTH BIRTHDAY. And many more to come.
Now then…
Today we'll be taking a look at the twelfth, and FINAL, set of uniform submissions for the Lewis & Clark Design-a-Uniform Contest, for the team known as the "Settlers." If you're not familiar with the contest, please give that a read. The contest's creator, W. Ross Clites asked readers to design uniforms for all of the teams in the Lewis & Clark League: "Captains," "Diplomats," "Explorers," "Governors," "Lookouts," "Navigators," "Pathfinders," "Pioneers," and "Travelers," "Voyagers," "Rivermen," and finally "Settlers."
You've been a very patient and fantastic audience for this project — and today is the LAST day you'll be asked to select a uniform submission. After an average of 12-14 submissions per week for each and every team, today we have only four. So, rather than the usual "Vote For Three" — today it's just "Pick Your Favorite" and that's it. While the design-phase (for readers) is now over, Ross and his intrepid team will be back to show us the finished products. Over the past two Sundays, Ross has revealed the winning designs and shown us mockups, but once the actual uniforms/caps are created, we'll see those (and based on what you fine folks have designed, they will be schweeeeeet!).
I'm sure you guys are familiar with the rules for voting by now, but just in case, here's Ross, one last time:
. . . . .
Alright boys and girls, here is how the voting is going to go for each Lewis & Clark Baseball League team:

1. The hierarchy of importance goes primary logo, then uniform design, and then all rest (i.e. hat design, secondary logos, etc.) Cast a vote for the design with your favorite primary logo, first and foremost. Do not fault someone for going outside the design guidelines. Changing a wordmark or adding a third color is not a disqualifier for good thought process.

2. Your votes will take the field of applicants down to a final two per team.

3. We, the LCBL Executive Board will make the final decision on the winning proposal. However — and this is big — design is never complete and collaboration is paramount to success. We will likely settle on a combination of the final two submissions. We might love the logo of one, but prefer the jersey scheme of the other. In this, you will both be winners with full prizes to ensue. The possibility does exist for a total victory, of sorts. One designer could present the best looking jersey, logo, hat, and all the rest. Do not get offended when your submission gets handed back to you with redlined edits. We hate to hand out homework to the winning look, but tweaks may be requested. It is a studio project and not a math equation; the "right" answer takes some massaging of details.

4. With permission from both finalists, our graphics department will meld the two submissions together (if necessary) and place it in our common platform. This is done as a common denominator showcase for all twelve to look uniform when the contest has reached its end.

5. Someone, not even in the top two, could see an element (such as an awesome secondary logo) appear in the final iteration. We would never select the winner based solely on a minor design element, but we will also not let it go to waste. In this, all submissions could be part of a bigger design team. This contest — and frankly this site — was created to identify the best possible combinations of logos and materials in the sports world. This rarely comes from one person's mind; we will reward any of those that play a part in making our on-field product the best it can be.
. . . . .
Thanks, Ross. A few words about the submissions below:
Some of the contestants sent one single image, others sent multiple images. Some contestants sent descriptions (in some cases, very lengthy ones), others had little or no description. In an effort to make the voting as fair as possible, I have put those who sent multiple images into one single image, and no descriptions of the uniforms will follow.
If you'd like to see all the entries for the RiverMen and their write-ups/descriptions, I have hosted the entire set on Flickr. Keeping in mind Ross' rules for voting, you may use these as an additional guide in determining which submission(s) you think are the best.
The submissions will be in alphabetical order and voting will follow. Please Vote For ONE submission today. Thanks!
=================================
Toby Jaroslaw:
=================================
Bryan Phillips:
=================================
Andrew Seagraves:
=================================
Will Sinnott:
=================================
OK folks. There you have it. Only four submissions, but they're all good. Make your vote count! Here's the poll:
. . . . .
. . . . .
And now it's your turn! Make sure to vote for your favorite.
Thanks to all the submitters — and to you fine Uni Watch readers and voters for making this a fantastic contest. I thank you for your time, and your patience, and I'm sure we're all a wee bit sad, but mostly happy, that the contest is now over. Big thanks also to Ross for coming up with the idea for this.
You've all been aces!

U.W.F.F.L. Spring League
UWFFL Spring 2014 – Week 10
By Rob Holecko
We are back with another week of competition in our 2014 Spring Developmental League. Our thanks again go out to all of you who took the time to vote last weekend. Today we present to you eleven games to vote on, including this week's spotlight game, a matchup of two teams that are, along with the Charleston Navigators, at the top of Group B, as the 4-1 Delaware Union take on the 4-0 Greenville Pointers.
Delaware, owned by Curtis Peddle, features team colors of "dark blue, Forty-Niner gold and white", their uniforms display the UWFFL D-League Patch and feature triple-stitched twill numbering, and their logo is the D and U joined together (in union) with the football laces. The team's theme song is "United" by Judas Priest from their 1980 classic album British Steel. They are wearing their road mono-whites against Greenville.
The Greenville Pointers, owned by Andrew Seagraves, hail from the upstate South Carolina area, and are one of only seven (out of 54) teams in the D-League to have won every game they've played so far, and therefore are in good shape to qualify for Fall UWFFL play. Their team colors are green and cream and their uniforms feature the City of Greenville's logo as well as South Carolina's Palmetto tree. The team name, of course, refers to the 'Pointer' breed of dog. They will be wearing their standard home green-over-cream combo for the home game.
. . .
Be sure to head over to https://www.uwfantasyfootballleague.com to vote on the other ten games, and we'll see you next week.
Uni Watch News Ticker:

Baseball News: This article from the archives of the Pittsburgh Post-Gazette on the twilight years of Honus Wagner features a nice gallery of photos (thanks to Jonathan Daniel for the find). … Also from Jonathan, he just found an antique shop with lots of Seattle Pilots stuff. Nice! … From Jonathan as well: more vintage uniforms, this time from the Houston Buffaloes. … In a "typically Cubs-ish move," one of the Wrigley Field murals accidentally uses an image of Comiskey Park (nice find by Matthew Robins). … The cat who saved the little boy in California from a dog attack will "throw out the first pitch" at a minor league game in Bakersfield, CA (spotted by Patrick O'Neill). … There are typically "Cubs-ish" moves, and there are typically Mets-ish moves (via Joe Velardi). These guys should just assemble a circular firing squad and put us ALL out of our misery. … "As was covered on here before, on Sundays the Charleston Riverdogs (single-A affiliate of the Yankees) wear seersucker uniforms," writes Derek Summerville. "One thing that I noticed is that every uniformed person goes high-cuffed — EVERY. SINGLE. ONE. Just the way baseball is meant to be." … Ticker-intern Garrett McGrath explains that he is "no longer a Yankees fan" since the Yankees will be giving away cowboy hats on August 10th, which happens to be Garrett's birthday. … Interesting observation by Jimmy Lonetti, who asks whether on the recent cover of ESPN the Magazine, "Is Yankee pitcher Tanaka wearing his game belt?" The "buckle looks gold tone and a little 'dressier' than a regular black baseball belt. Was it just used for the photo shoot?" … Here's video of a throwback to 1850 game from basball's Hall Of Fame Weekend in 1939. The game starts around the 1:10 mark in the video (wonderful find by Joanna Zwiep. … Technically a non-uni story, but Matt Bruback's injury led him to develop a belt that helps hildren with autism and ADHD, improving concentration, focus, and sensory deficits (great spot by Paul Lee). … Also from Paul, Nats pitcher Ross Detwiler noticed a warning label stamped on his team-issued belt that reads, "WARNING: This product may contain a chemical known in the state of California to cause cancer or birth defects or other reproductive harm." … "A friend was at Fenway tonight, and posted on FB that Justin Verlander strolled into the stands to schmooze," writes Gordon Blau. "But in the accompanying photo, Verlander is wearing his home uniform. Weird." Hmmm. Is it possible that's not Justin Verlander? A doppelganger perhaps? Is there a Doppellander loose in Boston??? … According to Samuel Lam Coco Crisp has the Majestic logo on both sleeves, and it's been like that all season.

NFL News: "Saw this in the background of the equipment room in an interview on the NY giants website," writes Kyle Costa. "They were interviewing Andre Williams. Design for a new uniform?" … Reader Tony Crespo saw this guy with a Bucs-themed bogey helmet while he was driving home from work in Orlando.

College Football News: The Oklahoma State University Cowboys will have new turf and a new field design for the fall season (several of you sent this in, including Jeffrey R Hartwig, Nick Pierce). For more info, click here.

NBA News: Are the Charlotte Hornets (who are slowly but surely revealing new bits of their identity) going to have a honey-comb pattern for their court? It's entirely possible based upon that picture (nice spot by "catchphrase jones" "@peanut_chillman).

Hockey News: The Adirondack Flames (an AHL affiliate of the NHL's Calgary Flames) were introduced yesterday (h/t Dave Plante). The best news is, because they're the "Adirondack" Flames, they can use the old Atlanta Flames' logo! More on the new team can be found here. … Following up on a ticker mention from yesterday, Paul Wajgel notes there are many NHL players who tilt their visors, "the one that I know of is Niklas Kronwall."

Soccer News: Here's a fantastic photo of soccer superstar Pele (at age 14!), second from the left, bottom row. Not sure what team that is, but credit Sully (@pal3327) for the find. … Check out the jerseys on these ladies (from a new book on the history of the Dick, Kerr Ladies), spotted by Jay Sullivan. The book is available on Amazon today. … "Looks like West Bromwich Albion (Premier League) will shit-can the pinstripes after one season and revert back to the traditional thicker blue and white stripes," writes Joe Hollomon. … Here is a look at some of the club kits that will be worn during the 2014-15 season.

Grab Bag: Ooooohhh – Check out the Illini's "modernized" throwbacks for Big Tens this weekend (here's what they threw back to), via Ben Dodds. … The "Microfiber waistband with authentic Reebok vector logos" (and "Reebok logo on leg") are sure to be "key selling points" on whatever this Reebok garment is (via Kyle Speicher). … Dennis Haysbert (of "Major League", Allstate commercials and "24" fame) wears clothing with his own initial logo on it (from Derek Summerville). … Last night was Metallica Night at AT&T Park (thanks, Brinke). More here and here.
And that will tie a neat bow on today's post. Once again, a big, fat, HUGE Happy Birthday to the Uni Watch Blog. It's been an incredible, wonderful project Paul, giving us all our daily dose of Athletics Aesthetics, since the weekly (or bi-weekly) column is never ever enough. I'm sure we're all looking forward to the even bigger 15th Anniversary coming up at the end of this month! Excelsior! Clearly, you Get Itâ"¢, and we're all the better for it. Here's to (hopefully) two more terms!
Thanks again to everyone who participated in the Lewis & Clark redesign contest(s) — and to all you fine readers for supporting (and voting) or just putting up with it.
Enjoy the Preakness, puck & hoop playoffs, MLB and more today. I'll catch you guys and gals tomorrow.
Follow me on Twitter @PhilHecken.
Peace.
.. … ..
"I guess we should all get behind the practice of sports teams wearing camo alternate uniforms and selling replicas of them to the public since, you know, that's the only way to honor our servicemen and women. I've been trying to think of other ways we might honor them, and darned if I can come up with any."
–BvK1126