Some unfortunate mono-color action in the NFL yesterday, as the Cardinals did the blood clot thing and the Browns wore solid brown. Yuck and double-yuck.
What else went down around the league yesterday? Let's take a look:
• The Giants wore their white alternate pants for the second time this year. To my knowledge, they are not planning to wear them again.
• In that Browns game, Cleveland added a memorial decal for Mike McCormack. Interesting decal design there — the Browns don't have a helmet logo, so they just used their helmet as the logo, which resulted in a decal of a helmet being applied to a helmet.
• It was cold in Green Bay — but apparently not that cold.
• In the Cardinals/Colts game, Patrick Peterson of the Cardinals wore cleats with Peanuts characters.
• And yet another item from that game: Referee Bill Leavy was wearing the old-style jersey with the serifed numerals.
• Cold weather means ripped helmet decals. That's Chad Greenway of the Vikings. Here's how his helmet looked after the game.
• Logan Mankins of the Patriots had some helmet decal issues of his own.
• Here's another example of a helmet shell switcheroo: Last month Danny Woodhead of the Chargers had a Rawlings helmet in his locker, but yesterday he had a Riddell Revolution Speed. Both of those shots provide good views of the Chargers' uni-numbered chinstraps, too.
Turning to Saturday's college action, Phil and his contributors had good coverage in yesterday's entry. But here are a few more tidbits:
• Man, if you're a captain on Arizona State, you're wearing a shit-ton of patches.
• At the Vanderbilt/Tennessee game in Tennessee, the Kentucky flag was flying upside-down. Human error or gamesmanship? Tennessee plays Kentucky next week.
• It's hard to see in these photos, but Lafayette players and coaches wore blue "AB" decals in support of Aubrey Baumbach, a first-year student and member of the crew club, who was recently struck by a hit-and-run driver.
• In that same game, bit of a sideline typo for Lehigh.
• A Yale player was wearing last year's pants — and promptly got injured.
• Sacramento State went with gold alternate jerseys.
• Southeastern Louisiana went BFBS.
(My thanks to all contributors, including Jason Christie, Andrew Domingo, Matt Duprey, John Furstenthal, Raymie Humbert, the Jeff, Jerry Lawless, Mike Monaghan, Gregory Olsen, Peter Schultz, David Steinle, William Yurasko, and of course Phil.)
+ + + + +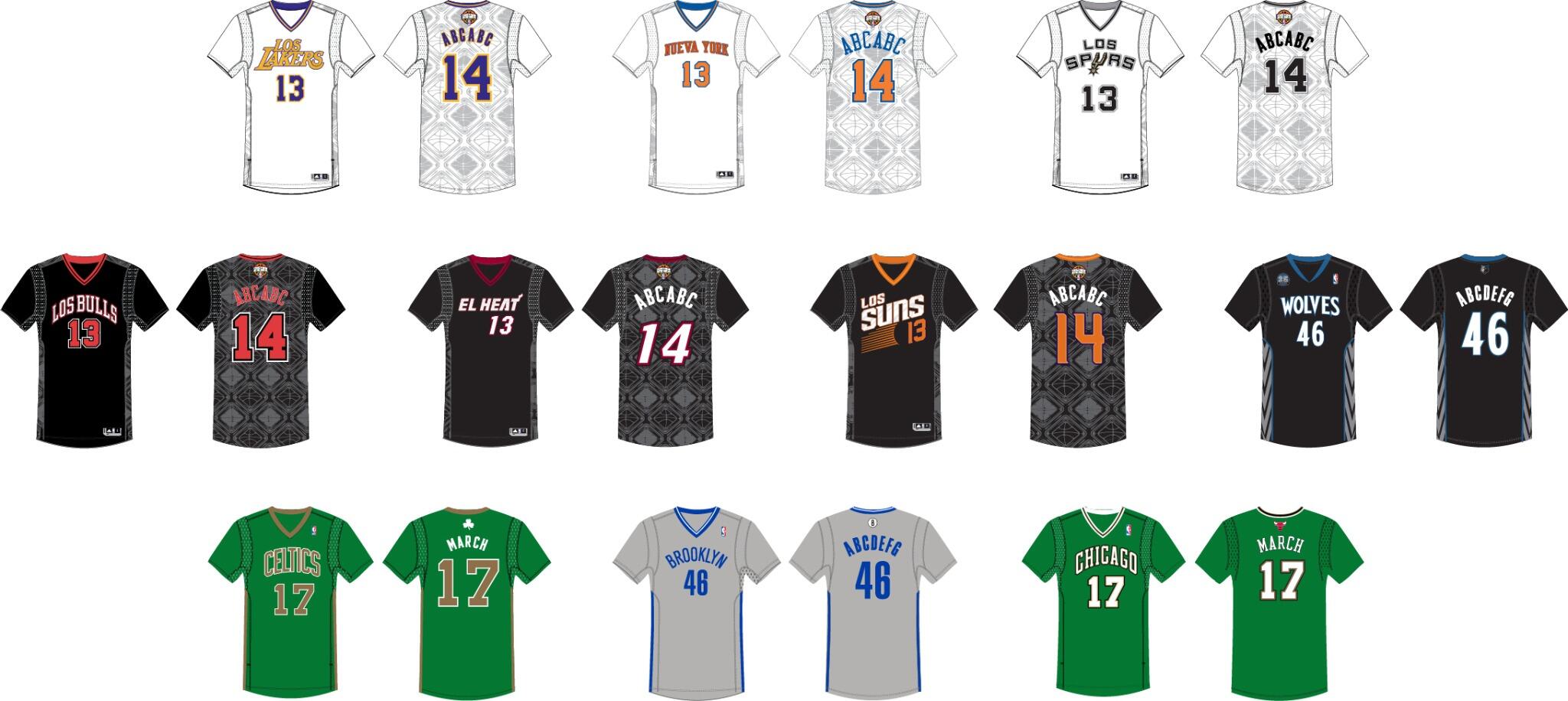 Click to enlarge
Still More NBA Sleeves: In case you missed Phil's coverage of this over the weekend, 10 new sleeved NBA jerseys have leaked. As you can see above, six of them are for this season's Noche Latina program (Lakers, Knicks, Spurs, Bulls, Heat, and Suns, all of which have some sort of sublimated pattern on the back), two are for St. Paddy's Day (Bulls and Celtics), and the other two appear to be just standard alternate jerseys (Timberwolves and Nets).
The most surprising entry here is the blue-trimmed Nets jersey, because blue isn't one of the team's colors. SportsLogos.net writer Demetrius Bell quickly speculated that the gray/blue color scheme might be some sort of shout-out to the Brooklyn Dodgers, which sounds plausible.
The NBA and Adidas sure are putting a lot of eggs in the sleeved basket, eh? I've heard some folks say that this must mean that NBA jersey sales are down, so the league is getting desperate, etc. But according to this article, NBA jersey sales are extremely strong. Here are the numbers:
The NBA already generates $900 million annually in jersey sale revenue, second only to the National Football League, which generates $1.2 billion annually, [sports retail analysist Matt Powell] said. Major League Baseball and the National Hockey League each pull in about $400 million.
I would never have guessed that the NBA was doing more than twice as much jersey sales revenue as MLB — not in a million years. So when it comes to creating sleeved jerseys (or anything else) that fan will want to purchase, maybe the NBA knows what it's doing.
Of course, how those jerseys will look on the court is another matter entirely. But that seems to be a secondary consideration these days.
+ + + + +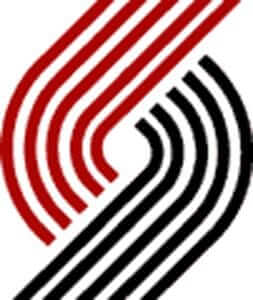 Blazers-redesign contest: As we noted in the Ticker last week, the Blazers are considering a uniform redesign for 2015-16. While they're working on that, let's have a Blazers redesign contest. The deadline is Dec. 9, and the results will be published on ESPN soon after that.
So all you designers should get crackin', yes? Yes!
+ + + + +

'Skins Watch: A school district in upstate New York can't decide which of its Native American-based logos is the best (from Jude Seymour). … "I found this cap at a recent Indiana State football game," says Marc Viquez. This was one of the last reminders of when the school used Native American logos for its athletic teams."

Baseball News: Reprinted from Friday's comments: Here's the ultimate combination of baseball and felines (amazing find by R. Scott Rogers). … Here's the embarrassingly miserable GI Joe cap that the Mets will be wearing with their embarrassingly miserable GI Joe jersey. Of course, there's still time for the Earth to be hit by an asteroid before next April, so there's always that slim ray of hope. … Not uni-related but still interesting: The first MLB team to travel by airplane was apparently the 1938 Cardinals (nice find by Jerry Wolper). "¦ Interesting story about the connection between the poison symbol and the Pirates logo (from Brad Iverson-Long). … Former Oakland A's farmhand and current Gary RailCats outfielder Mike Massaro got married over the weekend, and it was a very stirrups-centric cemeony (from Mike Rohde).

NFL News: Holy crap, look at the size of the logo on the back of this Bucs sideline jacket. That's Steve Young, from 1985 (great find by Bill Kellick). "¦ Really fascinating story on how each NFL team has footballs made to its QB's specifications. Highly recommended (from Don Silsby). "¦ Love this ticket stub from a 1962 Steelers/Browns game (from Todd Radom). … Here's a two-part video tour of NFL HQ — part one and part two, the latter of which has lots of chatter about team logos (from the Hungry Hungry Hipster). … Also from HHH: An article about NFL animal logos.

College Football News: "I've never seen a conference patch look like this before," says JJ Sledge. "San Jose State used to be in the WAC, and it's possible that they are using last year's jerseys with the Mountain West patch covering the old WAC patches." … Notre Dame conducted a Twitter poll to see what the coaches should wear for the upcoming Stanford game (from Warren Junium). … Clark Ruhland has created a Virginia Tech uniform builder/history site. "It allows fans to select their own Virginia Tech uniform combination and view the entire history during the 26 years of the Frank Beamer era, including bowl jerseys," he says.

Hockey News: The Sabres wore their new alternate uni for the first time last night. Can't say I'm a fan. … Flames goalie Karri Ramo's new mask is based on Edgar Allen Poe's poem "The Raven" (from David Hutchison).

Soccer News: Reader Jason Fry says articles we've previously linked to about FIFA's World Cup uni rules have "misinterpreted the FIFA regulations pretty badly," and that there's a good discussion of the topic in this discussion board thread. "¦ New home kit for Brazil. Here's a look at the shorts.

College Hoops News: North Carolina A&T wears crazy side panels and a minimalist chest logo (from Mike Raymer). … Virginia Tech debuted two new road uniforms over the weekend: maroon and orange (from Andrew Cosentino).

Grab Bag: Major thanks to Terry Proctor for sending along this awesome 1929 Spalding uniform/equipment catalog. … Not sports-related but interesting: a site devoted to logo theft. "A sports version of this would break the internet," says Gordon Blau. … I was poking around in my corner bodega's freezer case the other day, in search of an ice cream sammich, when I came across a bag of ice with a surprising promotional message: "Ice Is Food!" Uh, right. … Bit of a typo in Oklahoma (from David Wilson). … I didn't know CFL players could wear No. 0 until JJ Sledge sent me this photo. … "Mark Webber raced in F1 for the last time on Sunday," says Omar Jalife. "After completing the race, during the slow-down lap, he managed to remove his helmet and drive helmetless back to the pits. This is the first time this has been done and may create a new trend as it was fucking awesome." Further info here.
+ + + + +
Click to enlarge

What Paul did last night Saturday afternoon: On Saturday Heather and I went to the annual WFMU Record Fair in Manhattan. I saw a bunch of friends, won a free lunchbox that I didn't want, saw some amazing videos based on this book, ate some crummy pizza, and so on. But the highlight, by far, was a presentation by Michael Cumella (that's him above), who provided a guided tour through an exhibit of his massive collection of flexi-discs (which you can learn more about on his website). I took a coupla dozen photos, which you can see below: