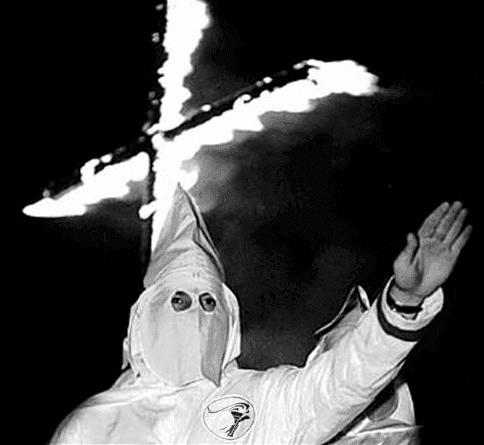 I've written many times about the assorted vintage uniform catalogs that I collect. But Kirsten recently pointed me toward a post on the history site Retronaut, which featured something I'd never seen before: a Ku Klux Klan uniform catalog from 1925, produced by a Klan robe manufacturer in Atlanta.
Leaving aside the Klan's incredibly toxic role in American history, the catalog is fascinating. In many ways, it's similar to the sports uniform catalogs that I collect. Here are some things that caught my eye while scrolling through its pages:
• All of the catalog illustrations feature a model (or mannequin?) in the same pose. What I find surprising is the depiction of the feet, which seem unusually small and dainty, almost ladylike. Not the pose you'd expect from a domestic terrorist.
• Much like the Nazis (who were just getting started in Germany around the time this catalog was printed), the Klan had a strong sense of design. That's part of what made them so dangerous — they had the capacity to be visually seductive. It's hard to deny, for example, that this is a powerful uniform. So is this.
• Some of the robe descriptions use the same terminology commonly found in sports uniform catalogs, like soutache and braid. But there are also terms that I'd never encountered before, like Duretta cloth. I googled it and found a 1922 ad that states, "Its primary use is for the uniform type of dress which must stand hard wear." I guess that includes lynchings and cross-burnings, or maybe watching Birth of a Nation.
• The oddest description is for a basic robe "Made of cotton Jeans." Does that mean white denim? Seems like that would be way too heavy, right? Did "Jeans" mean something else in 1925?
• The Klan's nomenclature has always been a fascinating mix of horror and kitsch — "Grand Exalted Cyclops," "Imperial Dragon," and so on. I especially like that there are separate robe designs for the Special Terror and the regular old Terror. (But what's the deal with the National Lecturer? Doesn't sound very Klan-ish. Maybe the local Klan nerd got stuck with that title.)
• I love that they offered this little "Robe and Helmet Bag" — just the thing for the busy Klansman! But it's a bit of a stretch to refer to the Klan's pointed mask as a "helmet," no?
• Many uniform catalogs in my collection include a page that has photos of the factory and/or staff, so you can "meet the people behind the uniforms," or something along those lines. The Klan catalog follows this same protocol. Not a non-white face in the bunch, natch (although, to be fair, I'm not sure any kind of factory in the South in the 1920s was hiring blacks).
There's more, but you can scroll through the Retronaut post to see for yourself. Meanwhile, just to give this a sports tie-in, it's worth noting that the Klan has also been known to suit up in baseball uniforms. I'm guessing they won't all be wearing No. 42 on April 15.
+ + + + +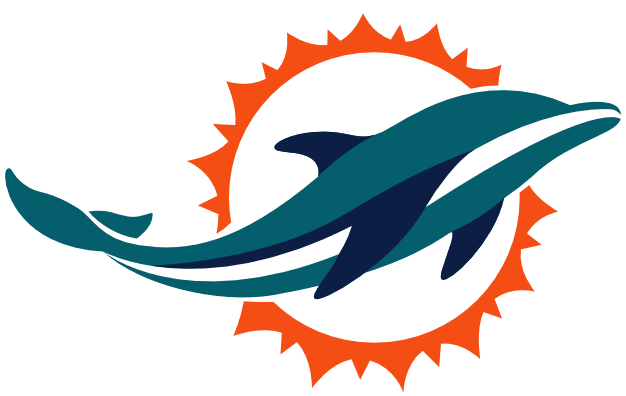 A new design contest: My recent ESPN contest to redesign the Browns was a lot of fun, so I've decided to do a similar contest for the Dolphins, who are expected to unveil a new logo at the NFL Draft in April. Full details on the contest are spelled out here.
+ + + + +
Uni Watch News Ticker: The Vikings have made some extremely minor tweaks to their primary logo. Further info here. … Latest sportswriter to call for the 'Skins to change their name: my ESPN.com colleague L.Z. Granderson. … In a related item, Richard King, who was one of the participants in last week's symposium on Indian imagery in sports, has written a strong article about the event. "¦ Meanwhile, 'Skins GM Bruce Allen says the team has no plans to change its name. … Earlier this week I mentioned that the NBA had once considered letting players wear undershirts for an outdoor preseason game, "but nothing ever came of it." Turns out I was wrong about that, as you can see in this 2009 video clip (big thanks to Ian Stewart for setting me straight). … Check this out: the Oregon duck as Jumpman (from Jay Sullivan). "¦ As you know, I don't follow the retail/merch world that closely, so maybe this isn't a new thing, but what's the deal with the word "replithentic"? "I've seen it used on Reebok, Nike, and Mitchell and Ness listings," says Jon Solomonson. "¦ Some Yankees uni number news here. … "I was at the Indiana/Nebraska game on Wednesday and couldn't help but notice (somewhat thanks to Uni Watch) that nearly every Nebraska player was wearing a different combination of shoes/socks," writes Joel Dale. … Reprinted from yesterday's comments: Illinois State once again wore those crazy throwbacks on Wednesday night (from Matthew Sherry). … One of Jack Benny's shticks was that he was eternally 39 years old. So the sports teams at the high school in his hometown of Waukegan, Illinois, are called the 39ers (great tidbit from Max Weintraub). … Maryland has new baseball uniforms, and they're about as crazy as you'd expect. … Weird look for Jason Heyward, who was wearing a BP cap, a home jersey, and road pants for a TV shoot yesterday (from Mitch Barbee). … Missouri State handily summed up the state of American education by misspelling its own name on book bags given out to students. … "Our family recently moved into a new house," says Jason Hillyer. "My wife, Alison, chose all of the furniture, paint colors, décor, etc., and I have (essentially) free reign in the basement. I went with battleship gray for the walls with a red/white or green/white stripe all the way around. Wall hangings representing our respective alma maters cover the point at which the two colors originate. On the wall without a stripe, I hung some autographed Browns prints and arranged nine pennants in a half-circle to show the evolution of the Browns' facemask. A plaque with the seldom seen 'CB' logo covers where all of the pennant points come together." … Erik Karlsson of the Senators had his Achilles tendon cut by a skate blade two nights ago. He must not have been wearing these protective socks, which can supposedly prevent that injury (from Matthew Austin). … A Maple Leafs jersey that was apparently intended for this year's Winter Classic — or maybe just a good counterfeit — has surfaced (from Luke Rosnick). … No idea how legit this is, but someone on eBay is selling what he claims to be an early-'90s Nuggets prototype (from Robert Beau Schott). … Here are this year's McDonald's All American uniforms. … Great step-by-step photos showing how to build a DIY food stadium (from Chris LaHaye). "¦ Two seasons and two teams after leaving the Mets, it looks like Jose Reyes is still using his Mets bat bag, at least judging by that blue and orange "7" tag (good spot by Nick Schiavo). "¦ New lacrosse helmets for Wesleyan and Oregon. "¦ New football helmets apparently in the works for Wake Forest (from Duncan Wilson). "¦ Texas baseball caps have a Darrell Royal memorial this season (Jay Sullivan again). "¦ Yale women's hockey goaltender Jaimie Leonoff has Wayne Gretzky on one side of her mask and Superman on the other. "Interesting that she would have one of her position's greatest tormentors emblazoned on her headgear," says Tris Wykes.
Holiday schedule: Phil will have his usual content tomorrow and Sunday. My Monday post will likely be somewhat abbreviated, in observance of Presidents Day. See you next week.