This year's Army/Navy game is now less than three weeks away, which means it's time for the two service academies to roll out their uniforms. First up this year is Navy, which has unveiled a new design inspired by the "Silent Service" — the U.S. Submarine Force.
Let's go one element at a time:
The Helmet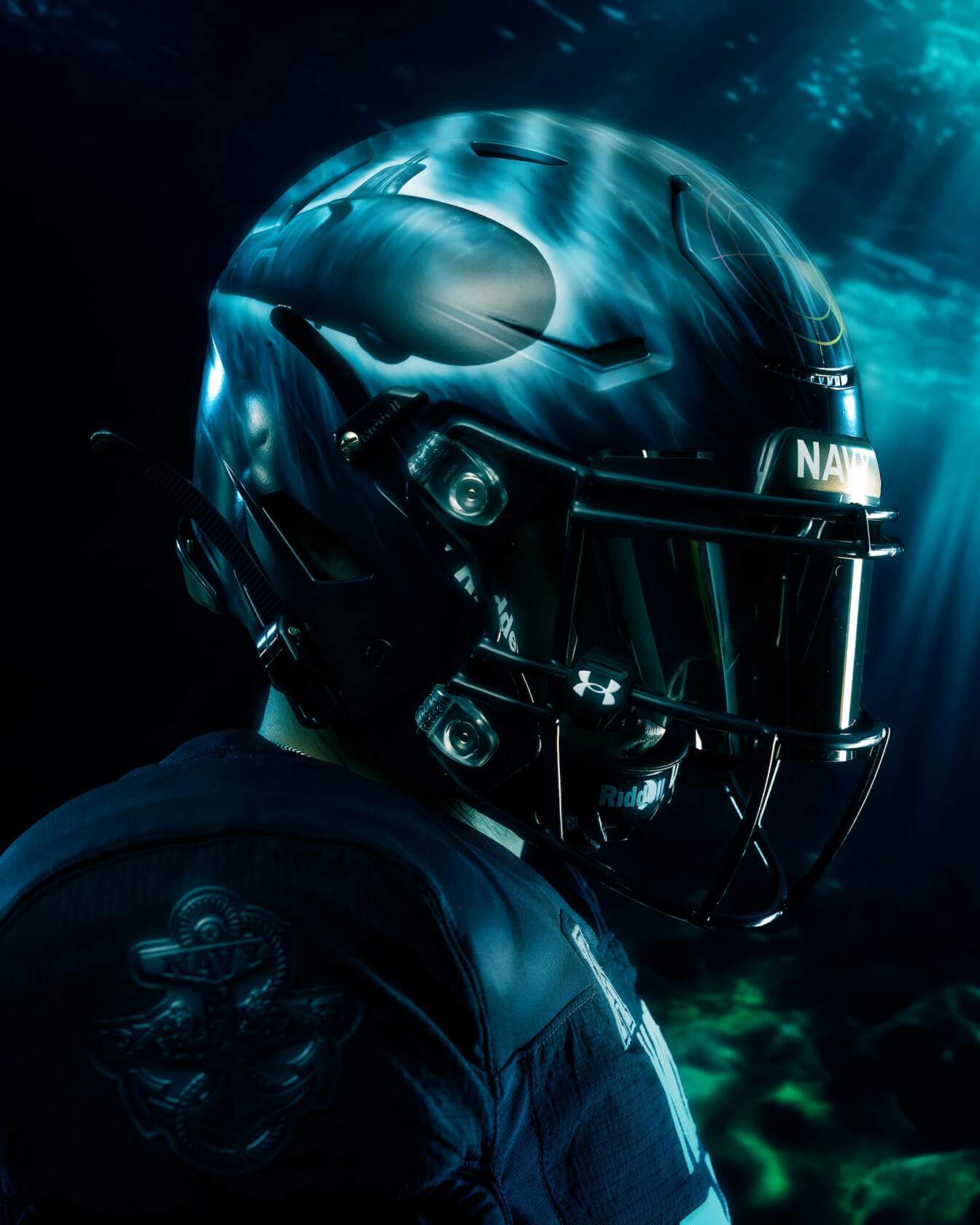 According to the press release:
Each helmet is hand-painted with the right side depicting a Virginia Class Submarine underwater and the left side depicting Navy's customary Navy anchor with the submariner pin integrated into it with color-changing pragmatic paint. The front flex panel depicts a color-changing radar, which is used on submarines to find their target. The front decal of the helmet says "Navy," while the back decal says "Silent Service."
Here are some additional pics: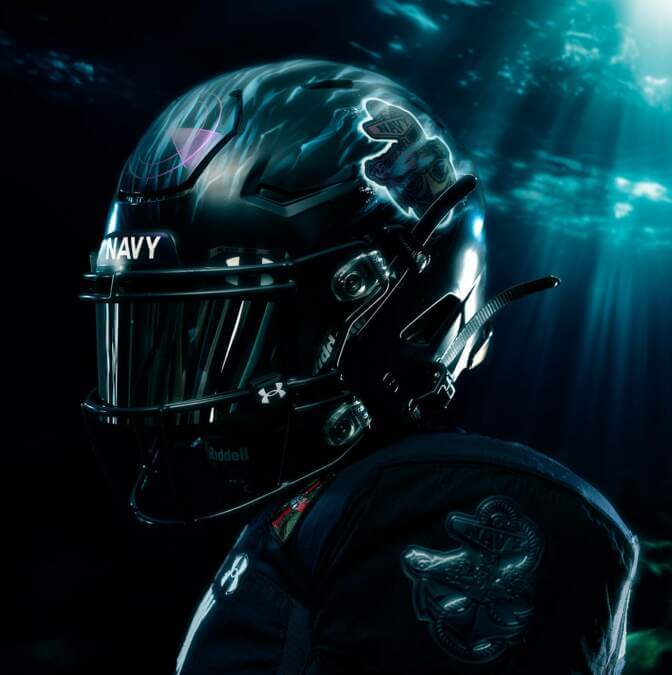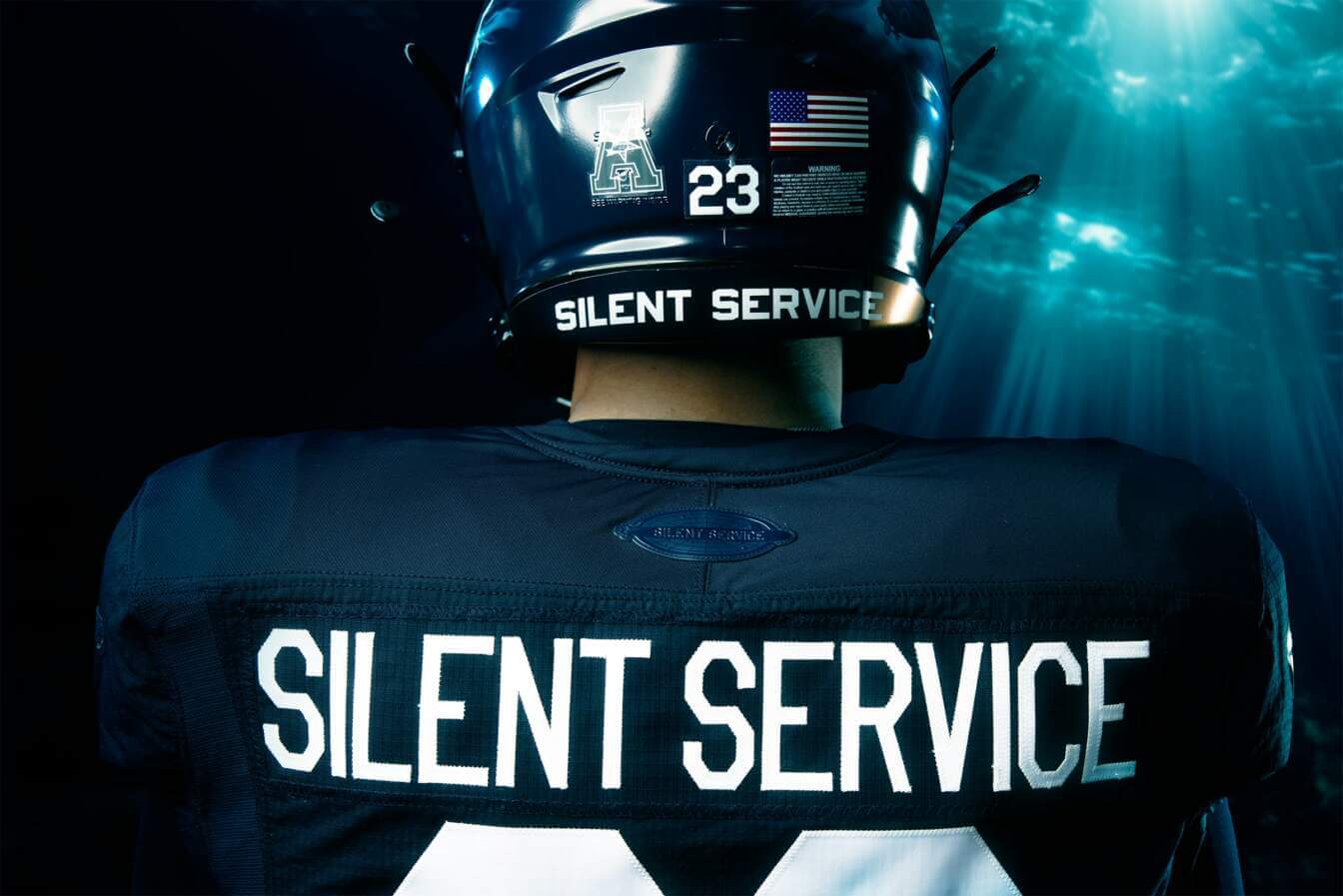 The Jersey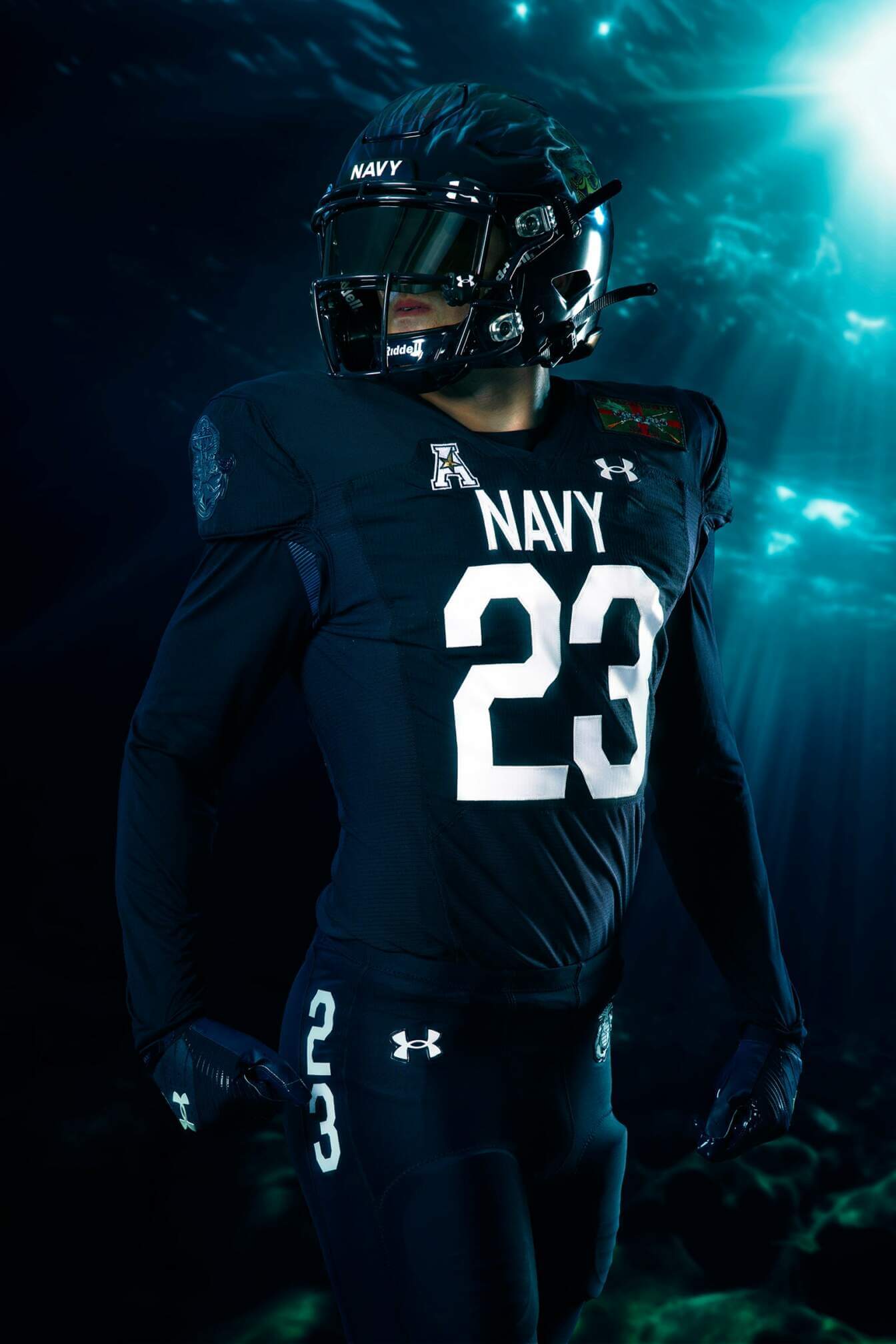 Quoting again from the school:
The design elements of the font are in contrasting white to mimic classification numbers of a submarine hull. These elements were strategically selected to only highlight elements that require on-field legibility like the player numbers, player names, the NAVY wordmark, the USMC globe and the Under Armour logo.
Just to clarify that: They chose the font because of its legibility. Wow, groundbreaking!
More from the school:
The gloves and sleeve patch feature the Naval Academy

Athletics anchor locked-up with the Submarine Warfare insignia or "dolphins/fish."

The hard-earned badge

distinguishes and identifies the members of the submarine community and has become a source of pride for the silent service.
The Chest Patch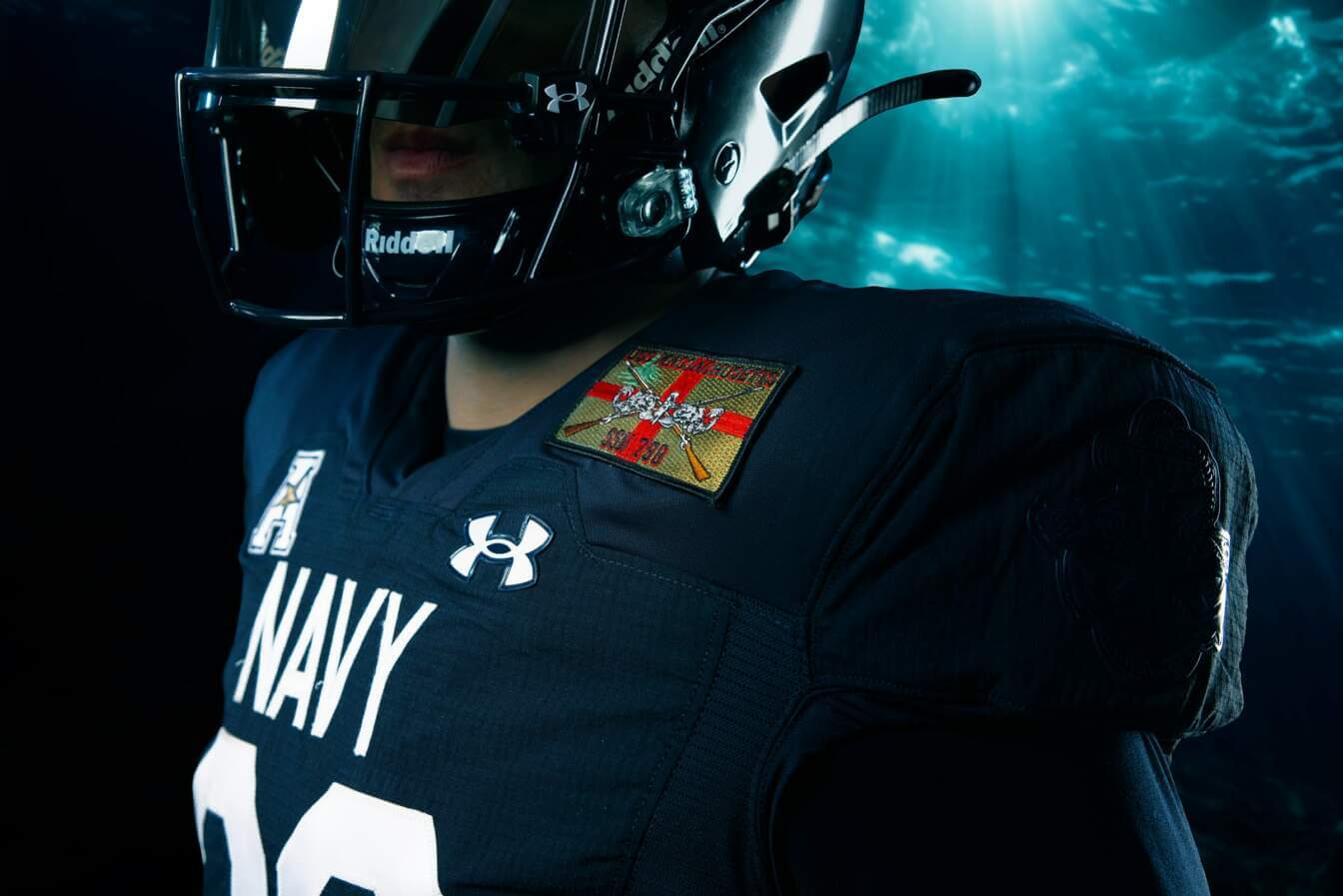 Quoting once again from the school:
Selected to honor the USS MASSACHUSETTS (SSN 798) — the ninth ship of that name in service of the United States, dating back to the earliest days of the Continental Navy. The USS Massachusetts will be the 25th Virginia-class nuclear submarine to enter U.S. Navy service and will reside in Groton, Conn., after commissioning.
The Pants
The school says the vertically stacked numerals are meant to "mimic depth numbers of a submarine hull."
The Shoes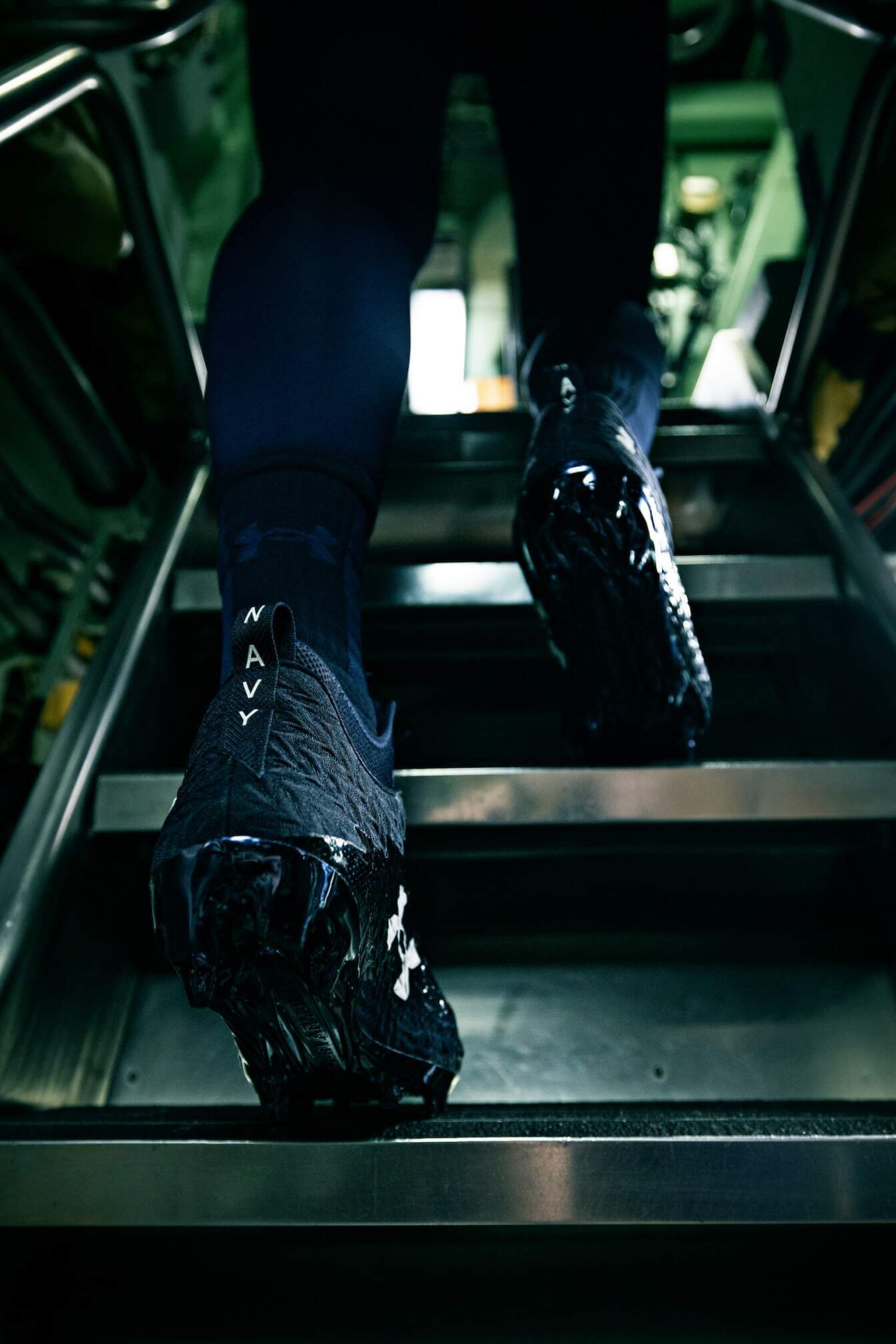 Quoting once again from the school:
The cleats are crafted with a pattern reflecting waves and

movement of the sea. As with the pant details, the cleats also feature the use of Under Armour's darkest shade of navy blue alongside the white vertical NAVY wordmark.
———
And there you have it. Here are some additional photos:
The Army/Navy game will take place on Dec. 9. We'll presumably see Army's uniform unveiling soon.