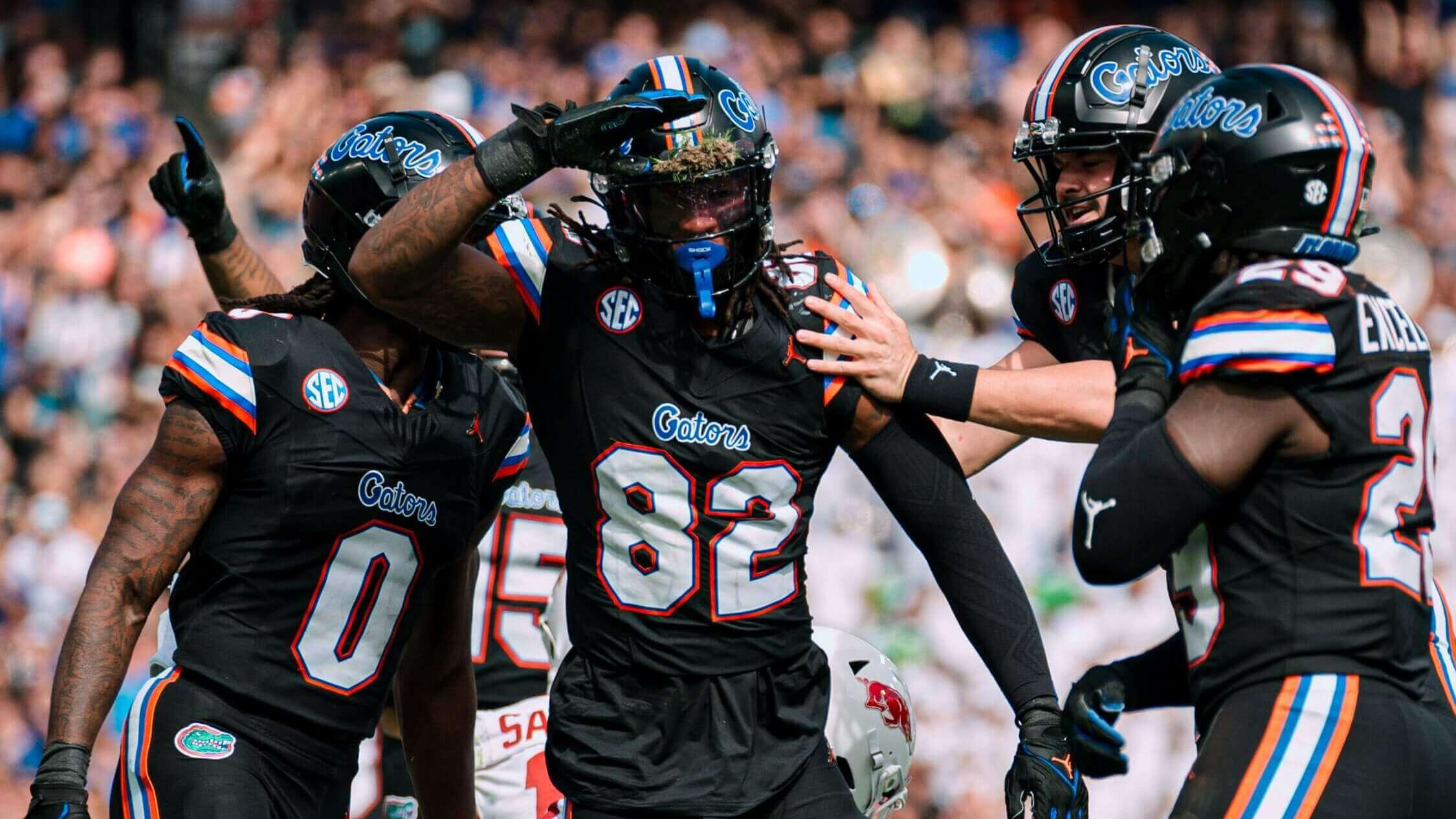 Good Sunday morning, Uni Watchers — I hope everyone has enjoyed an "extra" hour of sleep, since now we've moved to the worst time of the year Standard time. If you haven't moved your clocks back an hour, now's a good time to do that.
Now that we're into the month of November, teams will begin breaking out various S&S and camopander uniforms and affects, and the Florida Gators wasted no time playing their "Saluting Those Who Serve" game yesterday. What better way to "honor members of the armed forces, veterans and local first responders" than by busting out their first ever full-mono BFBS set?
I heard on the radio yesterday that the Gators were the "only" Florida team to have never worn a black uniform — I'm not sure this is 100% correct, but certainly they're the only Power Five team not to do so. They made sure to remedy that. And why not break out full black uniforms in 89° degree weather with 40% humidity? What could go wrong?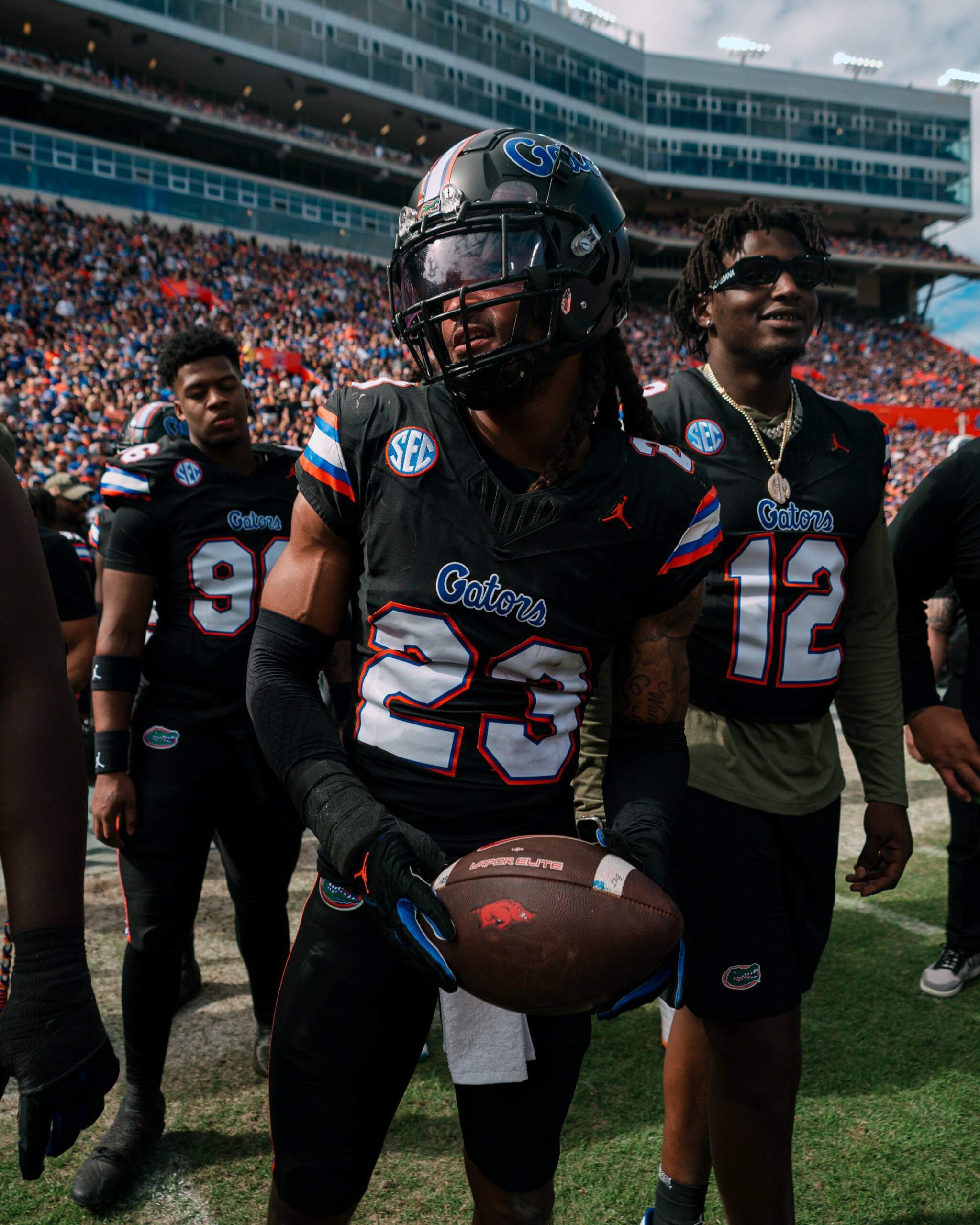 I guess as far as BFBS unis go, these weren't the worst we've ever seen. At least the helmet, sleeve caps and pants all featured an orange/blue/white/blue/orange striping pattern, so they weren't solid black. Man, BFBS does NOT suit UF at all. But hey, it was all in support of the troops, vets and first responders, so it's all good!
A couple things of note: for the first time ever, the Gators wore helmet stickers, and "each helmet will feature a certain amount of stickers compared to their production this season, which is why some will have more than others."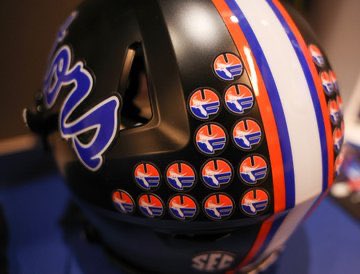 In addition, players did not have their own names on back, instead wearing one of five terms, which were selected by a representative of each branch of the military and first responders: Commitment, Courage, Excellence, Honor and Integrity.
You can see a few examples below: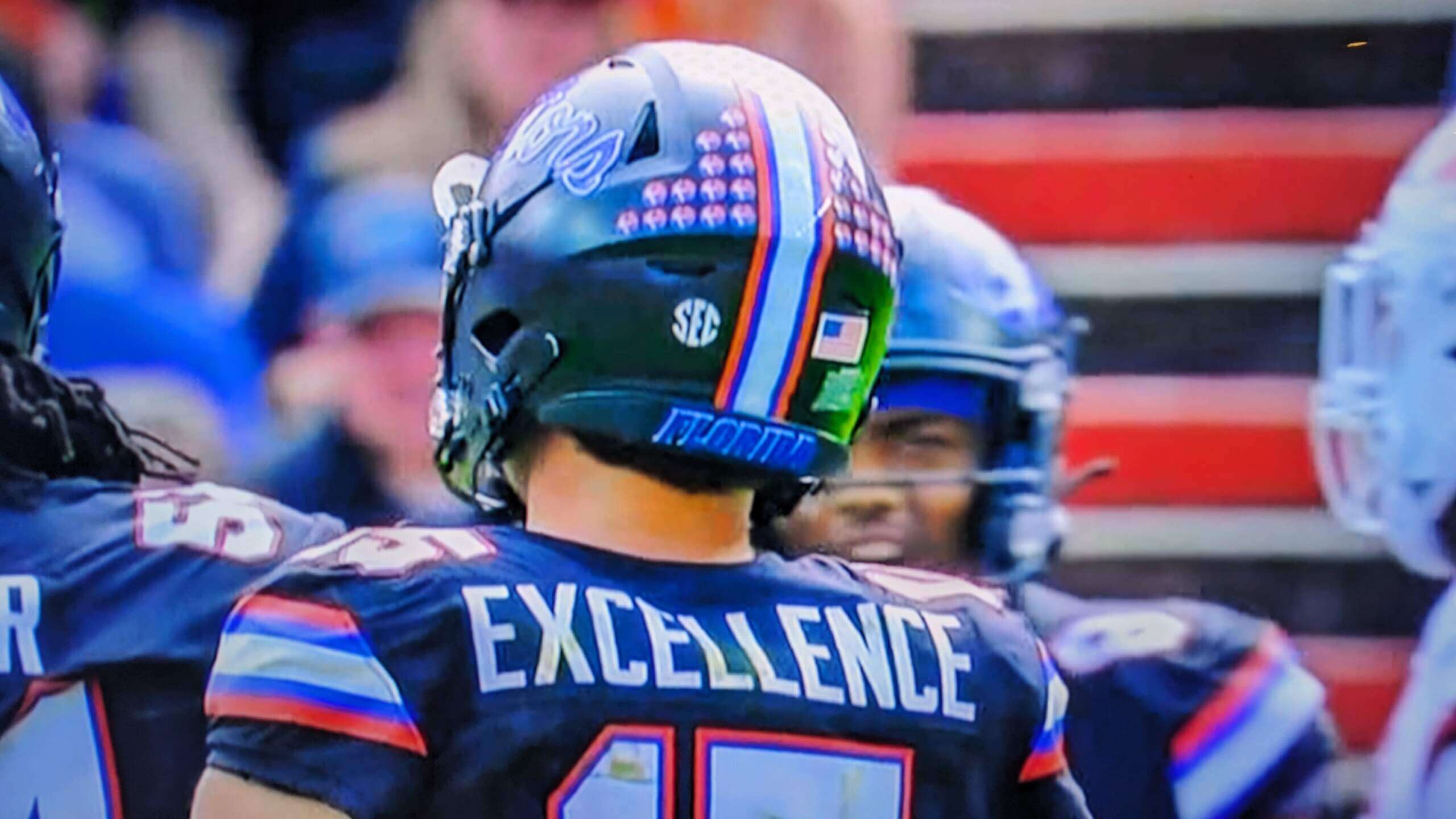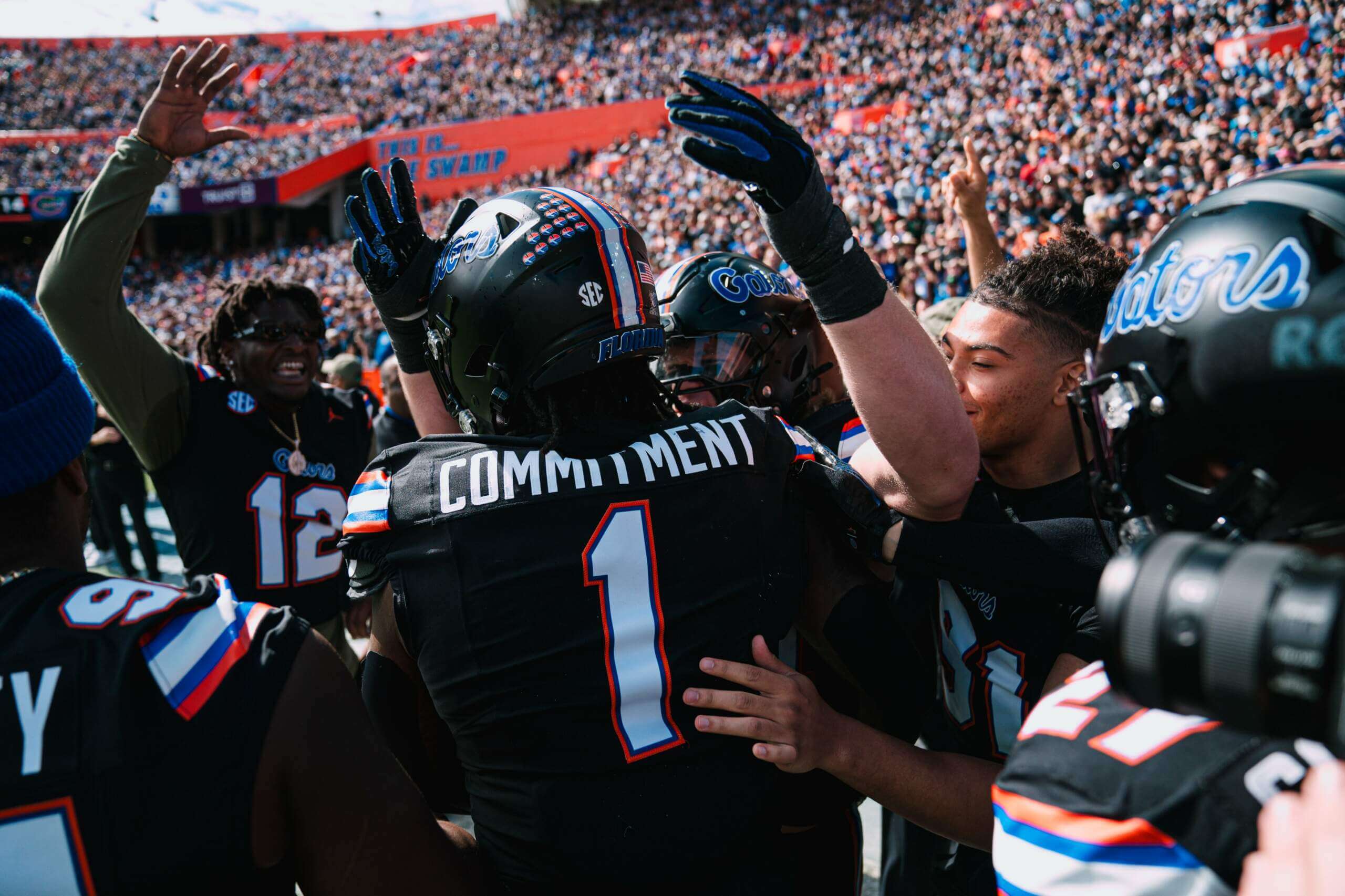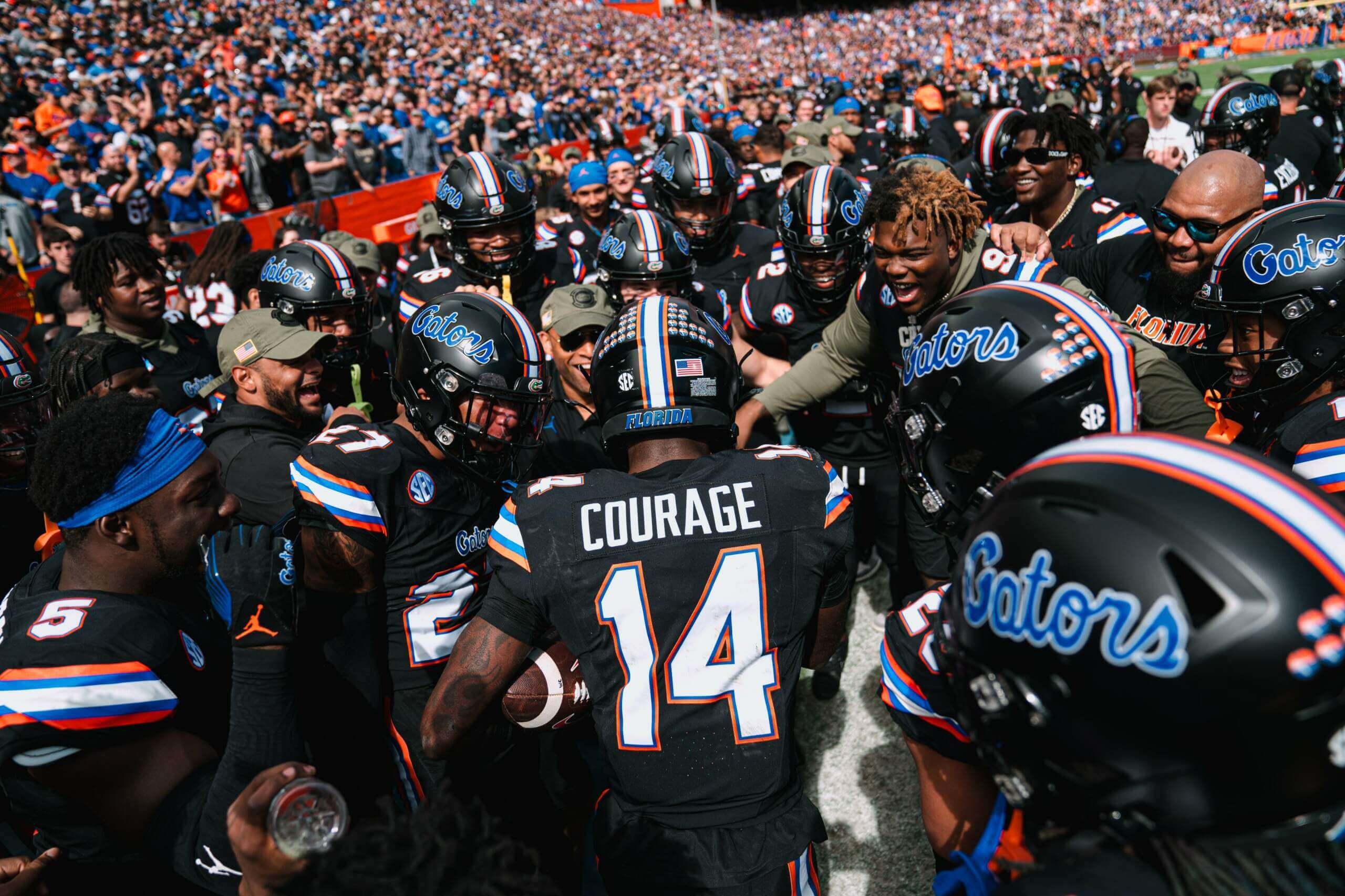 You can see more photos here.
And with that, I'll now turn the rest of this lede over to Terry who will bring you your…
• • • • •
Sunday Morning Uni Watch
by Terry Duroncelet, Jr.
From Wednesday:
• Akron/Kent State: Well, they certainly lived up to their 'Golden Flashes' team name. Color-vs-color in this year's edition of the Wagon Wheel game.
__________
From Thursday:
• Texas Tech/TCU: The true MVP from Thursday night's Big XII matchup. Oh, and the uni matchup was quite nice, too.
• Duke/Wake Forest: Duke is 2 days too late to the party. C'mon, guys; you had ALL OF OCTOBER to wear these, and you didn't capitalize on that? Shame.
__________
From Saturday:
• Georgia/Mizzou: Bright-colored facemasks are probably the most underappreciated element on a football uniform (also, that SEC Graduate patch is bleeding into that Captain's 'C').
• Oklahoma State/Oklahoma: Honestly, the Cowboys are almost incapable of coming up with a bad uni combination.
• Maryland/Penn State: Rare gold tops for the Terps.
• Clemson/Notre Dame: So… this happened. I have only one thing to say. Out of all the things that found their way onto my 2023 bingo card, seeing the Fighting Irish in white trou was NOT one I would've seen coming in a million years. Never do this again.
• Tennessee/UConn: You may have noticed that the vols were wearing blue accent pieces in their game against UConn. This was their Homecoming tribute to legendary Lady Vols basketball coach Pat Summitt, who died back in 2016, two weeks to the day after her 64th birthday. The Lady Vols that she coached over the years always wore light blue, which came to be known as "Summitt Blue" around Knoxville. I've always dug the addition of the light blue on the basketball uniforms, so it's nice to see a little nod to it.
• Navy/Temple: I know November tends to be grey, but Temple is taking things a bit far, don't ya think?
• UAB/FAU: UAB broke out the Children's Harbor uniforms for the rare second??? game against Florida Atlantic.
• Memphis/South Florida: Should I dub this week "Grey's Anatomy" week?
• Baylor/Houston: *sigh* so much colorful potential, WASTED. Also, white at home for Baylor.
• Cincinnati/UCF: This shot sums up this helmet matchup quite nicely (Cincy decal lore here).
• Tulsa/Charlotte: Golden shirts for the Red Hurricane.
• • • • •
Thanks, TJ! 
[Thanks also to Michael Lindsey for the "Excellence" NOB photo above.]