We're used to seeing an MLB player inscribing someone's initials or uni number on his cap. But we don't see NFL players doing that with their football helmets.
Except, that is, during the late 1980s and early '90s, when handwritten messaging was a bit of a thing on the Bengals' helmets. I should say at the outset that I didn't know about or discover this myself — reader Chris Hickey let me know about it. He deserves all the credit for what you're about to see.
Let's start here: When a late-1988 injury forced offensive lineman Joe Walter to miss the postseason (which the Bengals rode all the way to Super Bowl XXIII), Cincy players wrote his uni number, 63, on their helmets. Offensive lineman Anthony Muñoz had it on the side and above the nose bumper, as you can see in this shot from the AFC Championship Game against the Bills:
I haven't seen any other pics of players who wore the "63" above the nose bumper, but many Bengals — perhaps most Bengals — wore it on the side of the shell throughout the postseason. Here are some additional examples: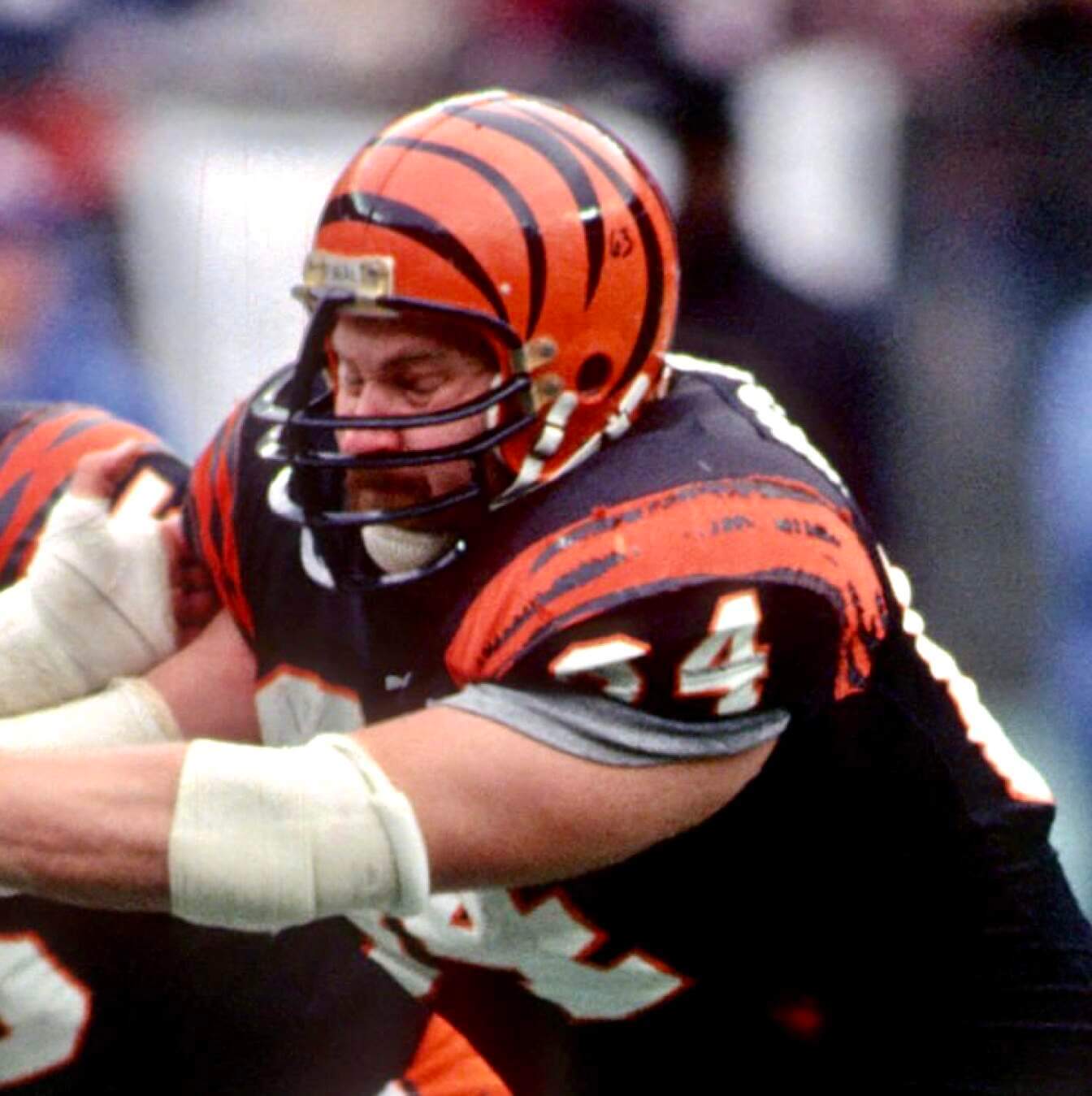 A few years later, after team founder Paul Brown died shortly before the start of the 1991 season, the Bengals didn't add a memorial patch or decal for him (a bizarre omission), so several players wrote a little "PB" on their headgear. Here it is on both sides of Muñoz's helmet:
The "PB" also appears in this next shot. I'm not 100% sure who the player is, but I think it's quarterback Boomer Esiason:
And that's not the only thing that the '91 Bengals wrote on their lids. After NBA star Magic Johnson revealed his AIDS diagnosis in November of that year, defensive back David Fulcher had "Magic" on both sides of his helmet (and check out his ski mask in the second shot):
———
Interesting, right? I know of no other NFL team that did anything like this.
Also: While researching this piece, I discovered that Muñoz himself was helmet-tributed — with a "78" decal, not a handwritten inscription — on Dec. 27, 1992, which was the date of his final NFL game. The weird thing is that the players wore the decal on the side of the helmet, not in the more traditional rear-helmet spot. Here it is on quarterback Donald Hollas's lid:
You can see that the entire team was wearing the decal in this short highlight clip (which also features a young Keith Olbermann):
I never knew that (or maybe once knew and forgot). Interesting!
(Big thanks to Chris Hickey for sending me down this rabbit hole.)