Back in May of 2022, I did a really fun interview with Twins pitcher Chris Paddack, who was MLB's foremost exemplar of stirrup supremacy. We talked about how he started wearing stirrups, how he orders custom designs from Twin City Knitting, and so on. It was one of the most enjoyable interviews I've ever conducted.
Three days after that interview was published, Paddack blew out his arm and had to have Tommy John surgery (for the second time in his career, ugh). He missed the rest of last season, and it wasn't clear if he'd even be able to pitch again this season. But after a long rehab and a few minor league tune-up appearances, he finally made it back to the bigs last night. And as you can see at the top of this page, his lower-leg stylings looked as good as ever.
Here are some additional views:
Mmmm, tasty. My only quibble is that Paddack chose to wear a stirrup design that included red on a night when the team's uniform didn't include any red. If you look closely, you can see that his stirrups even had red feather-edging on the openings: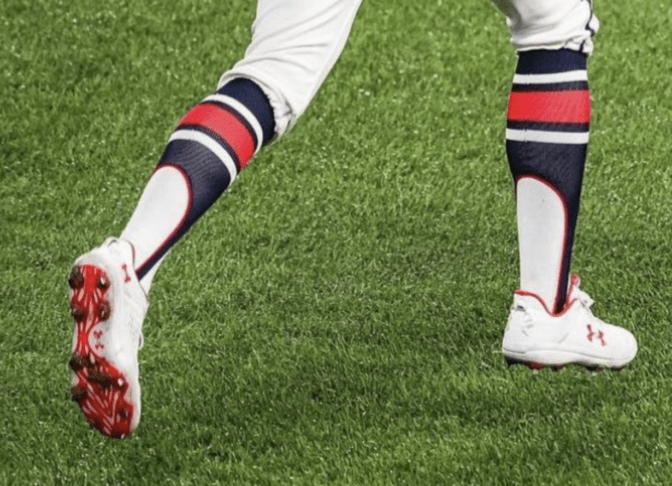 Of course, this particular Twins uniform didn't debut until this season, and all their other uniforms do include at least a bit of red, so maybe Paddack — who was only called back up to the team a couple of days ago — didn't have time to order a new set of 'rups to go with this uni, and instead he just grabbed a red-trimmed pair from last year. In any case, I'm prepared to cut him a bit of slack, especially considering what he's been through. (Can you imagine having to rehab from Tommy John twice by age 27?)
Paddack has always been a starting pitcher, but the Twins plan to use him in the bullpen for now. Last night he entered the game in the sixth inning, allowed a base hit on his first pitch — and then struck out the next three hitters. Welcome back, buddy.