As you probably recall, the Patriots unveiled a new uniform set in 2020, including a mono-navy home uniform that was very similar to, but not quite the same as, the Color Rush uni that the team had been wearing for the previous few seasons. One difference between the CR uni and the new 2020 home uni was the typography: The 2020 had a different number font and a different NOB font.
As you may also recall, Nike and/or the Pats' equipment staff apparently had a hard time telling the fonts apart, because New England had all sorts of typographic mishaps in 2020. Sometimes a player would have the old CR number and NOB fonts: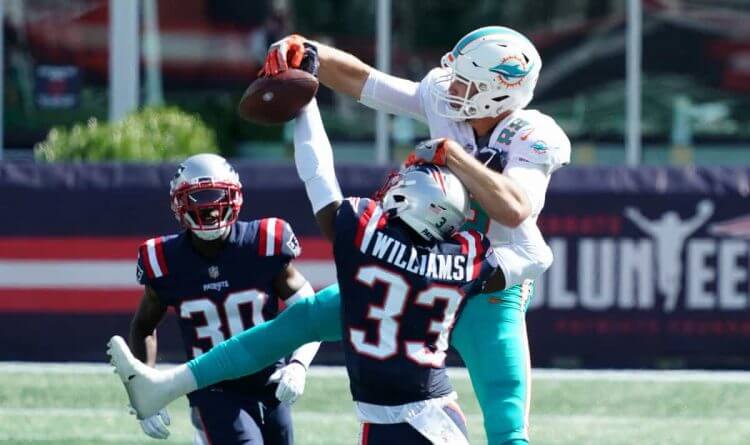 At other times, the old and new number/NOB fonts would be mixed and matched: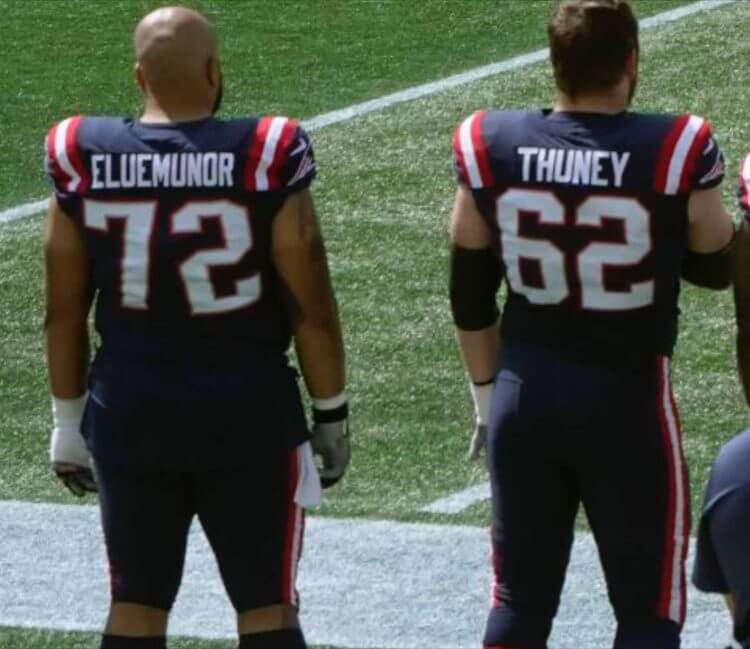 This problem continued in 2021. And prior to the start of the 2022 season, the Pats were still using the wrong number font on some players' locker nameplates. Come on, people — get your shit together!
It is now 2023. We're about to start New England's fourth season in their current uni set. With their roster now set, yesterday afternoon they tweeted some pics of their new players for this year. See if you can spot the problem:
— New England Patriots (@Patriots) September 5, 2023
That's right — rookie punter Bryce Baringer (No. 17) is wearing the old pre-2020 number font! Can you fucking believe it? Here's a comparison showing punter Michael Palardy, who wore No. 17 for the Pats last season, alongside Baringer's promo photo: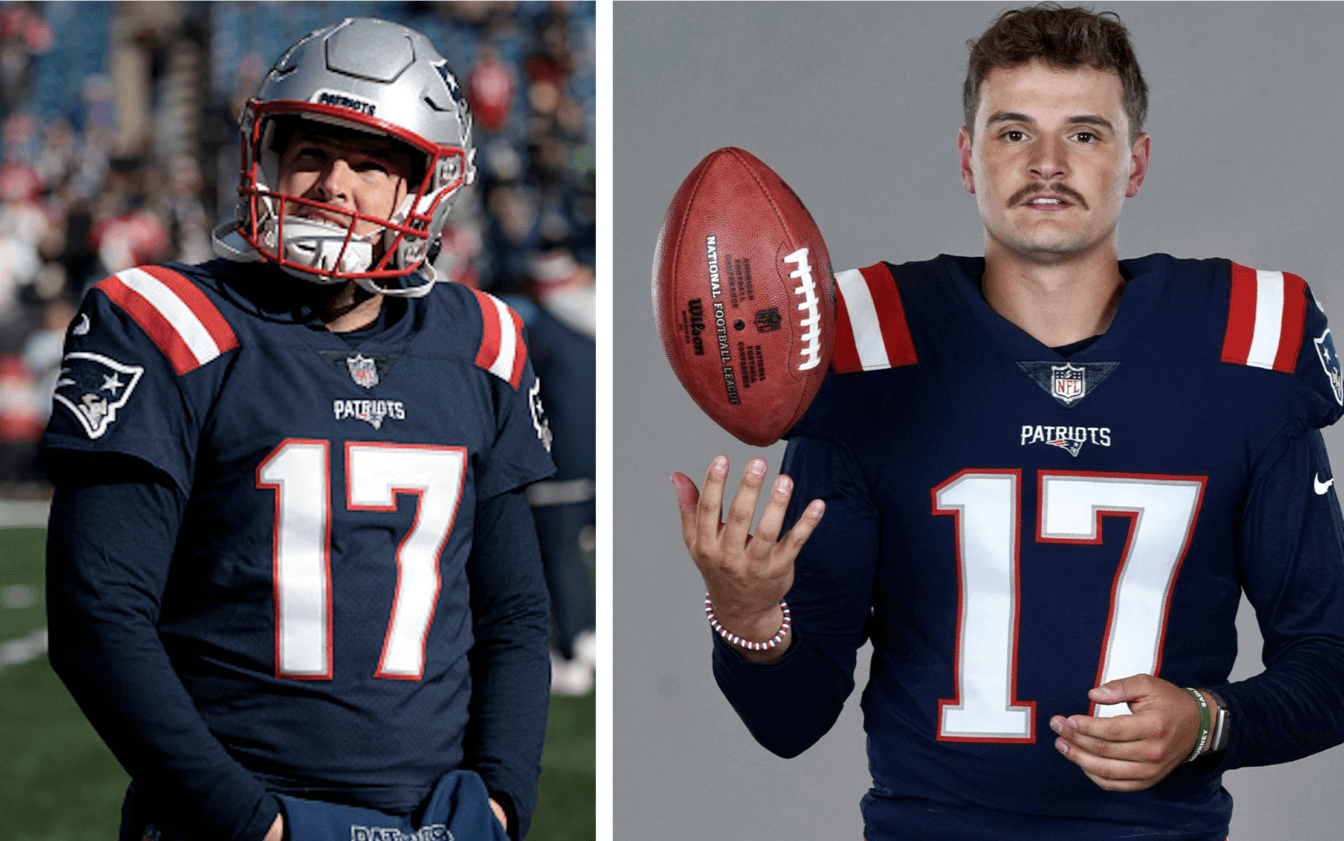 Although it's less obvious, rookie kicker Chad Ryland (No. 37) was also wearing the pre-2020 font in yesterday's promo tweet: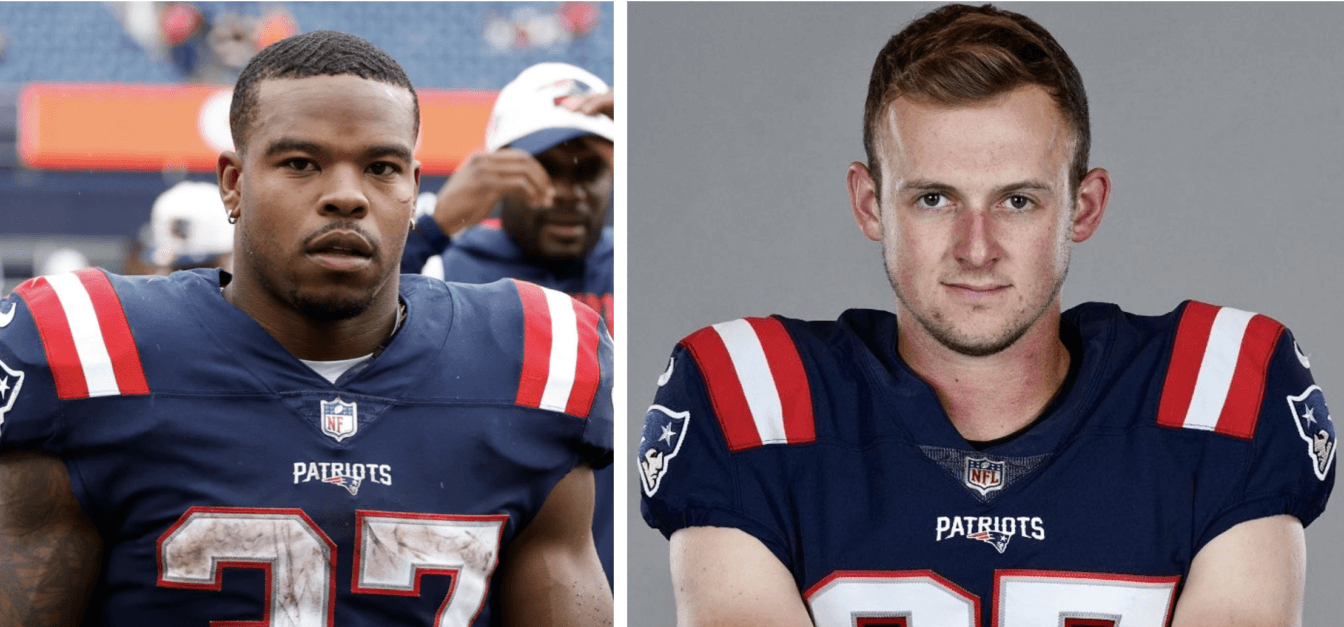 Of course, these photos of Baringer and Ryland are just promo shots. It's also worth noting that their jerseys are in the old template. I'm assuming they'll have the new template with the correct font when they appear on the field this Sunday. And yes, you can make the joke that we're just talking about the punter and the kicker here, so it barely counts. Still, at the very least it's a sloppy move by the Pats. Pretty amazing that they still have old jerseys (or at least old numbers) floating around.
And there's more: Baringer didn't wear No. 17 during the preseason — he wore No. 9 (rendered in the proper font). No. 17 was worn by tight end Scotty Washington, who was waived last week (allowing Baringer to claim No. 17). And here's the thing — Washington's No. 17 had the proper font! Check it out:
Embed from Getty Images
Similarly, Ryland didn't wear No. 37 in the preseason — he wore No. 38 (with the proper font). No. 37 was worn by running back C.J. Marable, who's since been waived, but I haven't been able to find a preseason navy-jersey photo of him.
For what it's worth, I always liked the pre-2020 number font, so I kind of enjoy seeing it, even though we shouldn't be seeing it anymore!
(Big thanks to Twitter-ers @inthatleague and @Tileeom for sending me down this rabbit hole.)