If you've ever wondered what the Giants' road uniform would look like with a white helmet, the answer could apparently be found this morning outside the merchandise shop at the team's training camp. That's when and where reader Jonathan Boyce took the photo shown above.
Here's a closer look at the helmet: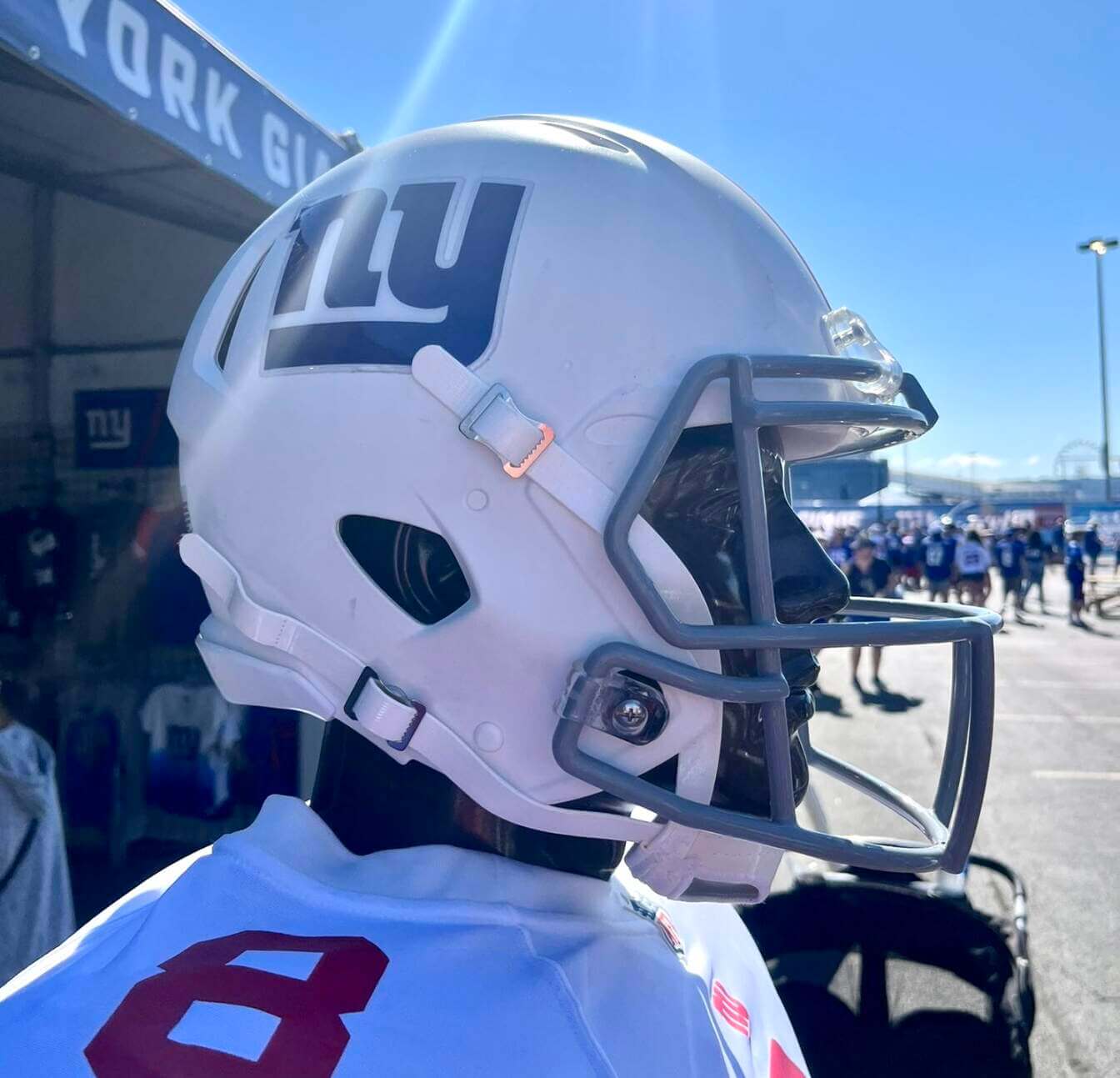 Now, do I think the Giants are about to announce a white alternate helmet? No, for at least four reasons:
The Giants already have two helmet colors — primary blue and throwback blue — so they can't add a third one. In theory, I suppose they could use the primary helmet for the throwback uni and just swap out the decals, which would then allow them to add a white alternate helmet, but they seemed very committed to the throwback shell when they launched the throwbacks last season (lots of talk about how they waited for the one-shell rule to be lifted so they could get the proper shade of blue, etc.), so I'd be very surprised to see them move away from it.
Alternate helmets can be worn only with alternate uniforms, so the combo shown on the mannequin can't be worn on the field.
If you were planning to unveil a surprise announcement regarding a new helmet, you wouldn't just stick the helmet on a mannequin in plain view beforehand.
The Giants are definitely a Coke team, not a Pepsi team, so the white lid doesn't make sense for them.
All of that said, it's weird that they'd put that mannequin out there. I mean, I realize they probably sell white "fashion" helmets — many teams sell them, in fact — but it seems strange to put one on a fully uniformed mannequin. I've emailed Giants creative services director Doug Murphy (who I interviewed last year) to find out more and will update this post if/when I hear back from him.
Update: I heard back from Murphy, who confirmed that, as I expected, the team has no plans for a white alternate helmet.
(Big thanks to Jonathan Boyce for sharing the mannequin pics with us.)