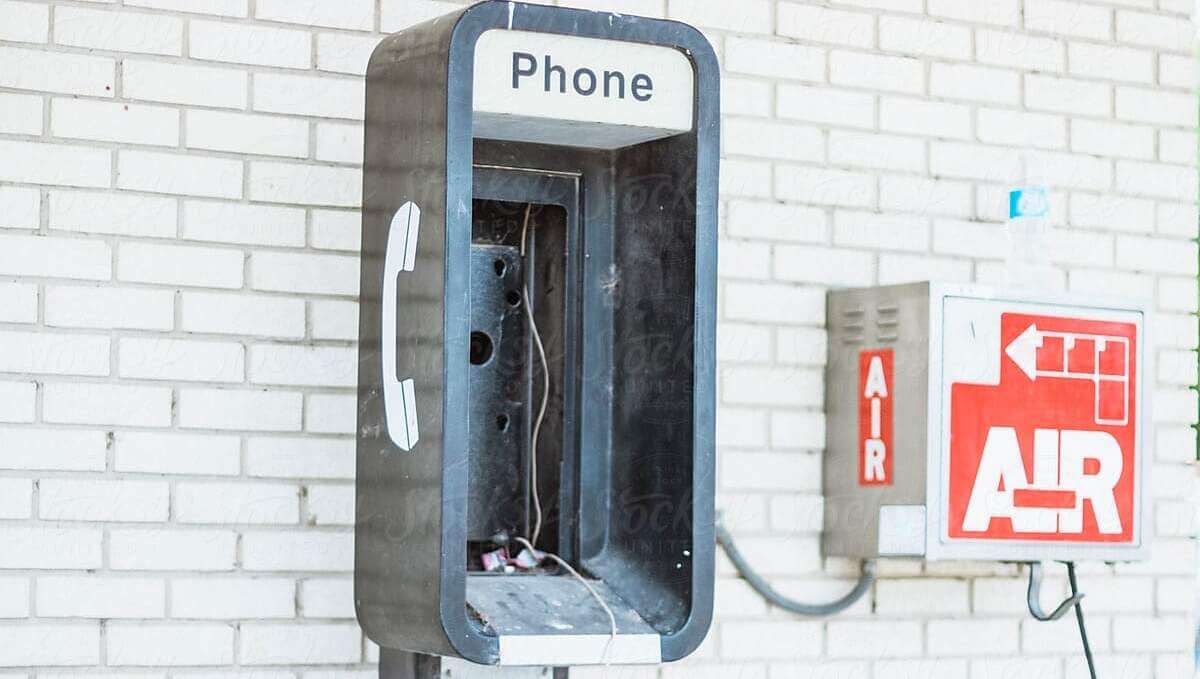 [Editor's Note: Paul is on his annual August break from site (although he's still writing his weekly Substack column). Deputy editor Phil Hecken is in charge from now through the end of the month.]
A good Saturday morning, Uni Watchers! As threatened promised yesterday, we've got at least one Saturday post for you fine ladies and gentlemen. I think you'll really enjoy this one.
Over the years, reader and pal Jimmy Corcoran has contributed a lot to Uni Watch, mostly in the form of "sub-lede" stories, and he created the very popular "Guess the Game from the Uniform" (roughly based on my original "Guess the Game from the Scoreboard" feature). He's also contributed on a few main articles, and is probably our foremost expert on the long-defunct World Football League (WFL), in which his father — "King" Corcoran — played.
As a kid, Jimmy spent a lot of time on the WFL sidelines, and he's seen and experienced a ton of behind-the-scenes stuff. Occasionally Jimmy will share a story or two with me and I always get a chuckle. And Jimmy's father was quite the character, to put it mildly.
As I was preparing to steer the ship for the month of August, I asked him if he had any good stories from his childhood he could share with the readership — and, boy, does he ever. This one is definitely worthy of the lede article, so I'm going to share it with you today. (Actually, it's a triple-dip from Jimmy, as he has a completely different story which follows this, and then yet another GTGFTU.) It's an entire Jimmy Corcoran post!
Here's Jimmy:
• • • • •
Wrong Number for Rossovich
by Jimmy Corcoran
I think the guy that made my father laugh the hardest out of all the teammates he ever had was Tim Rossovich, or "Rosso" as my father would call him. I met him twice before he was with the Philadelphia Bell, in 1971 when we spent a week at Eagles camp and again in 1973 when he was with the Chargers and my father was hanging out with him in the locker room after they lost to Washington, 38-0. I don't even think my father and Tim were particularly good friends outside of football. He never came to our house in Maryland like so many other players did, and my father never visited him in California.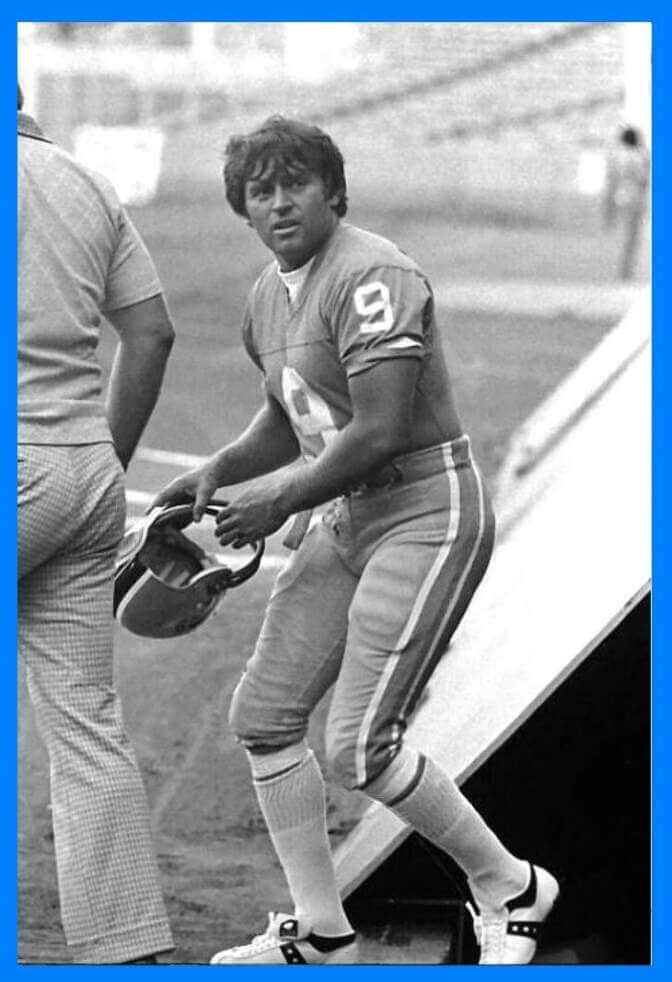 Once in the summer of 1969, at our beach house in Bethany Beach, Delaware, we get a knock at the door. It was a huge guy with a suitcase and cleats in his hand, and he said "Hi. My name is Bob Tucker and King invited me to live with you for the summer." My father got home from his workout and my mother asked him "Who is this guy?" He said "Bob is my tight end with the Firebirds, I forgot to tell you he is going to live with us." Bob Tucker went on to have a great career with the New York Giants and we never saw him again.
So even when my father would hang out with guys he played with, he was never really close to them. After he died, I spoke to several guys he played with at Maryland, the Firebirds and the Bell. They all said the same thing, "I wanted to stay in touch with him, but he was impossible to stay in touch with. Even if you had his number he wouldn't call you back."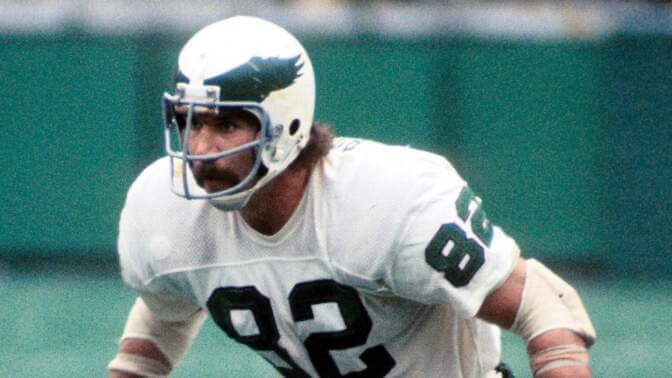 My father and Rossovich both loved attention and they would always try to one-up each other to get it. There was another guy on the Bell, Rick Cash, who Rosso would hang out with. One time my father was in a team meeting and Rosso and Cash smeared dog shit all over my father's new Lincoln. The King was beyond pissed, but when the joke was on someone else, no one laughed harder than the King. When Rosso stuffed equipment manager Bob Colonna in a trash can and rolled it around the locker room my father would laugh so hard retelling the story that he couldn't catch his breath. Every time I see the movie Rocky, and he is standing in front of Pat's, it reminds me of my father and Rosso. They would stand in that exact same spot Stallone did in the movie after games and have a cheesesteak while fans would mob them; of course the spot wasn't famous yet in 1974, this was two years before Rocky came out.
Rosso had a Dracula cape that he liked to wear around. It was movie quality, it looked like it could have come out of the 1974 TV show Kolchak the Night Stalker. Once when my father went out and didn't ask Rosso to go, he hid in a phone booth with nothing on but his Dracula cape and while my father was walking by with a reporter, he jumped out and tackled him and almost scared my father to death.
My father said, "That was a good one Rosso, you scared two years off the King's life but that was a good one." Rosso was an actor in Hollywood, and he must have been a method actor. One time I was in the team hotel and saw Tim walking by in the lobby in his Dracula cape, I said "Hi, Tim," but he walked by me with a blank stare in his eyes. I went back up to my father's room and said "I just saw Rossovich, he was wearing his cape and he didn't say hi." My father said, "He didn't mean anything by it, Jimbo, he was probably on his way to scare somebody." I look back at this now and think, my father and Rosso were thirty-two years old, were they both nuts?
When Rosso would do something outrageous, we would always get a phone call from my father, almost like a kid at summer camp calling home to say how much fun he was having. Tim wore three different numbers with the Bell, #65, #82 and #88.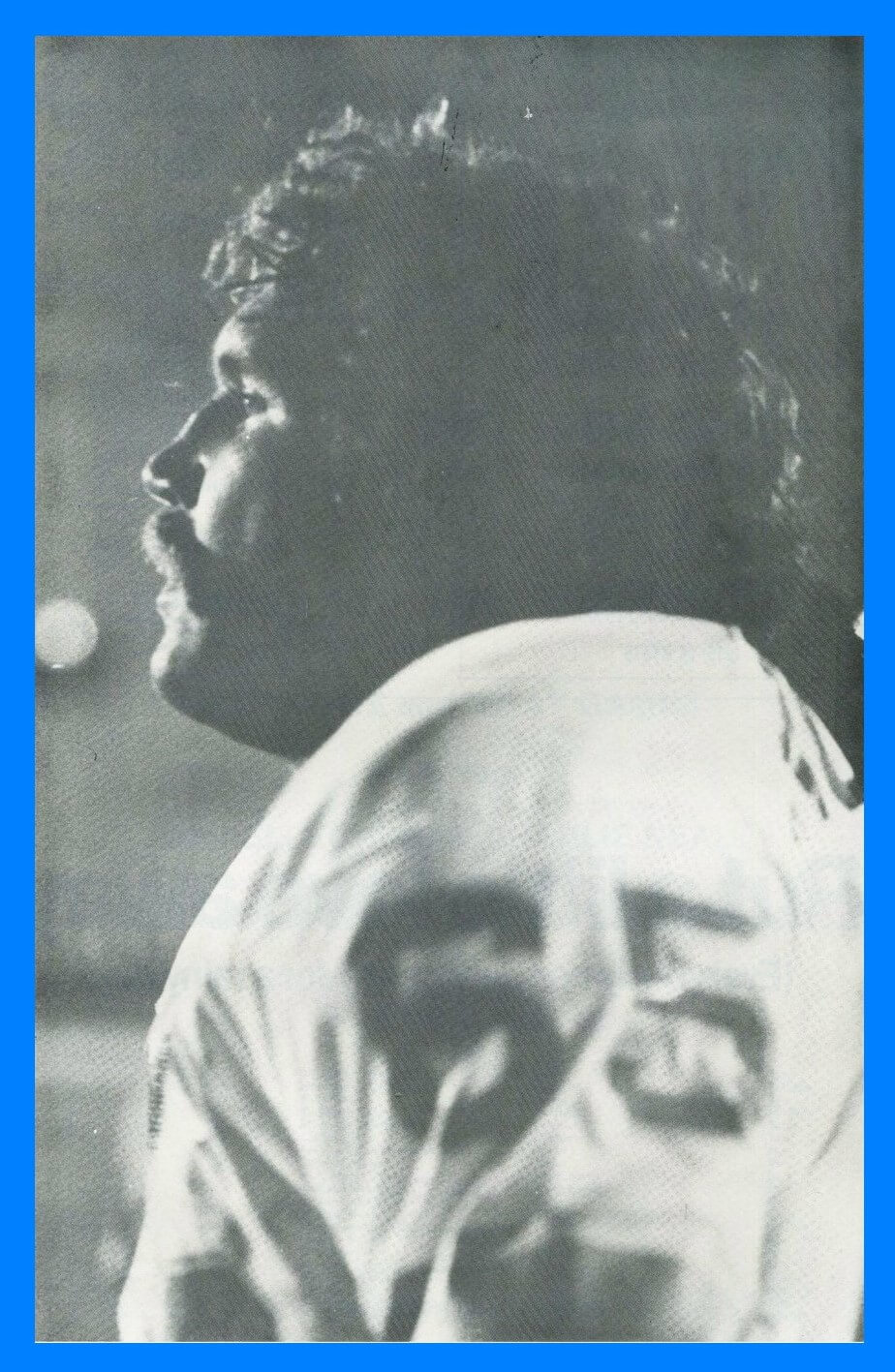 I knew he wore 82 with the Eagles and the Chargers and asked him why 65? He told me Levell Hill had 82 and this was all they had. But you see in the team photo Tim had his 82 after Hill was gone.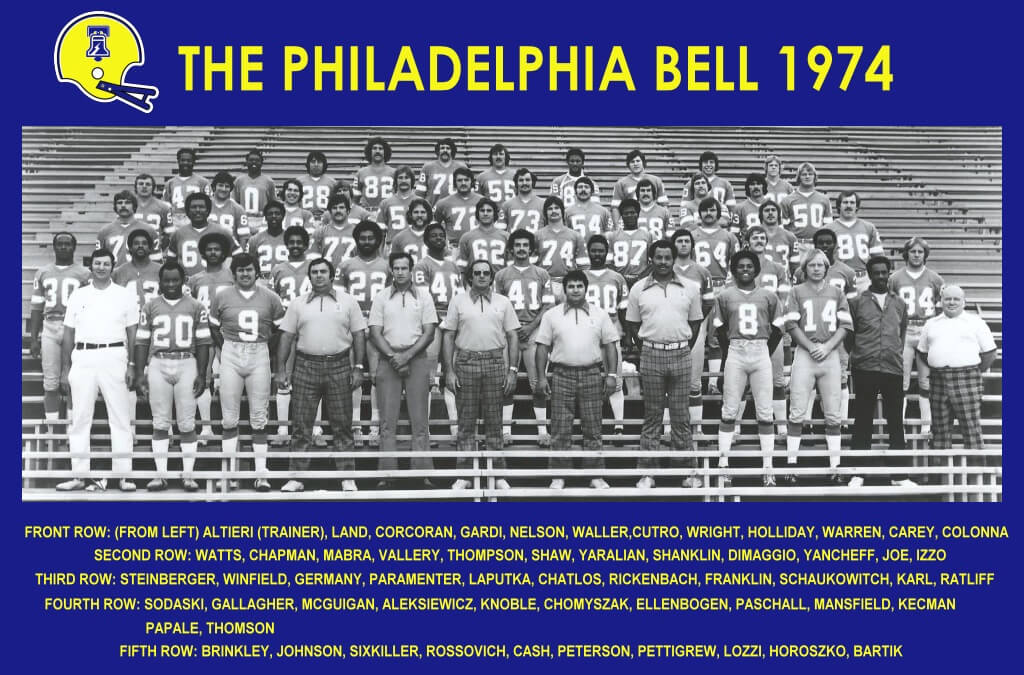 In 1975 Tim switched to 88, the number he wore at USC. That is Tim and my father coming out of the dugout of Anaheim Stadium in 1975 when they played the Sun. The bald guy in the white shirt at the far right in the team picture is Bob Colonna, the equipment manager. I often mention Bob in my stories. I listened to everything he told me as a kid and a lot of stuff I know about football uniforms is from what I learned from him. The man wearing the sunglasses in the first row is Ron Waller the head coach, or California Ron as I would call him because he was a star RB with the Rams in the '50s and was friends with all the movie stars from that era. Also #83, is Vince Papale from the movie Invincible and #28 is Sonny Sixkiller who was in the original Longest Yard with Burt Reynolds. Many of these guys have passed on but I can close my eyes and still hear Bob Colonna saying, "Now this is how you fold a T-shirt, kid!"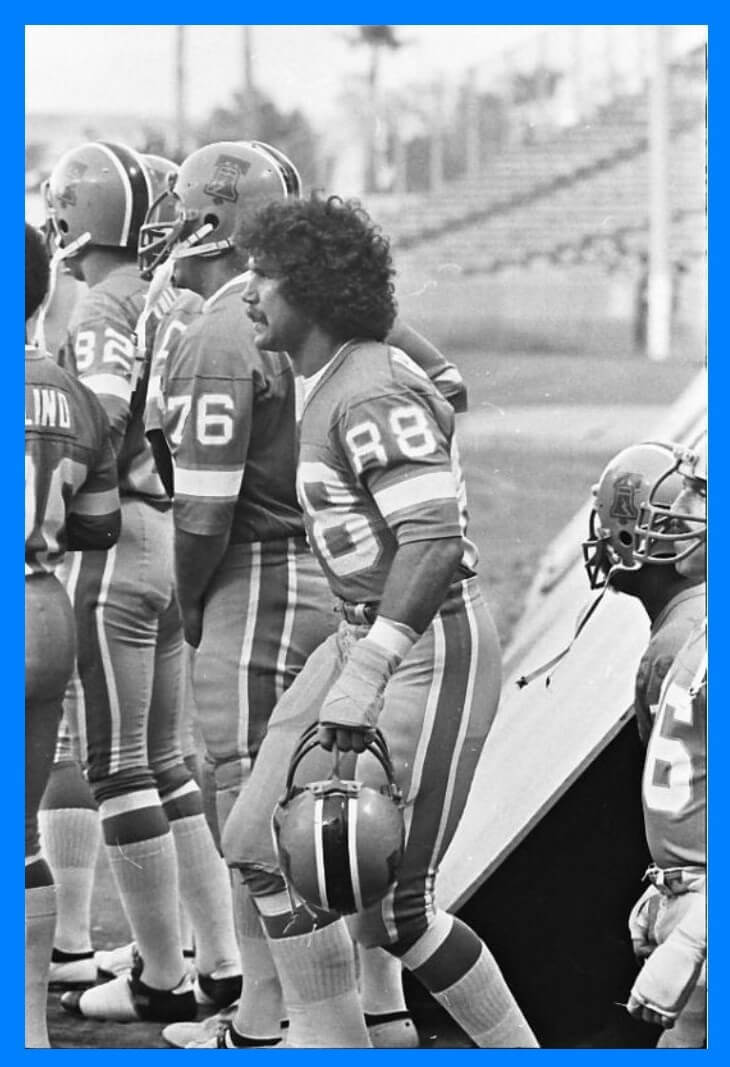 Now to the phone call, this story was verified by Ron Waller when he stayed with us at Christmas. Rossovich was on the pay phone right before practice, my father said he was arguing with someone and hung up on them, then he put more money in to make another call but he didn't get a dial tone. The pay phone kept his money and Tim became enraged, and he pulled the pay phone out of the wall and took it to the practice field with him.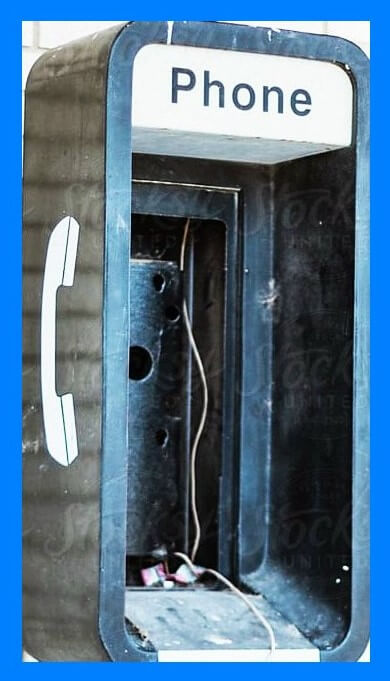 My father said the wires were hanging out and Tim just carried it around with him, someone called the police, and two cops came out to the practice field. Ron Waller was there and told the cops that the Philadelphia Bell would pay for the phone and the damage to the wall, he didn't want Tim to get arrested, he needed him for practice. When Ron Waller said "OK, that's settled. Give him the phone back, Tim," Rosso said, "Sorry, coach. I can't do that. It took my dime." My father said one of the cops turned to him and said "I know you're King Corcoran and you guys are always in trouble, is this some kind of Candid Camera joke?" My father said, "I have nothing to do with this, officer, this is all Rosso."
Ron Waller started talking to Rosso like he was a kid and despite being a couple of feet away, Rosso had the phone to his ear acting like he was talking to Waller on the phone. And Ron said "Timmy, I want you to give the police back the phone so we can start practice."
At this point my father said the players were all laughing and one of the cops couldn't keep a straight face while Rosso was talking on this make-believe broken phone to the coach. Finally, he said "OK, coach, I will, goodbye," and actually hung the phone up and handed it to the police. We thought my father exaggerated this story but when we asked Ronny to tell it to us, it was the exact same story my father told us. Ronny even said, "I am trying to run a practice and I have to talk to Rossovich like he is six fucking years old! I don't have time for that shit."
Having been a ball boy for Ron Waller, I have felt his wrath when he thinks you are wasting his time, but after Ron had a few drinks even he was laughing when he was talking about Rosso holding the phone to his ear pretending he was talking on the phone to him.
• • • • •
Hah! Great story Jimmy. Thanks for sharing.
Next up…more from Jimmy.