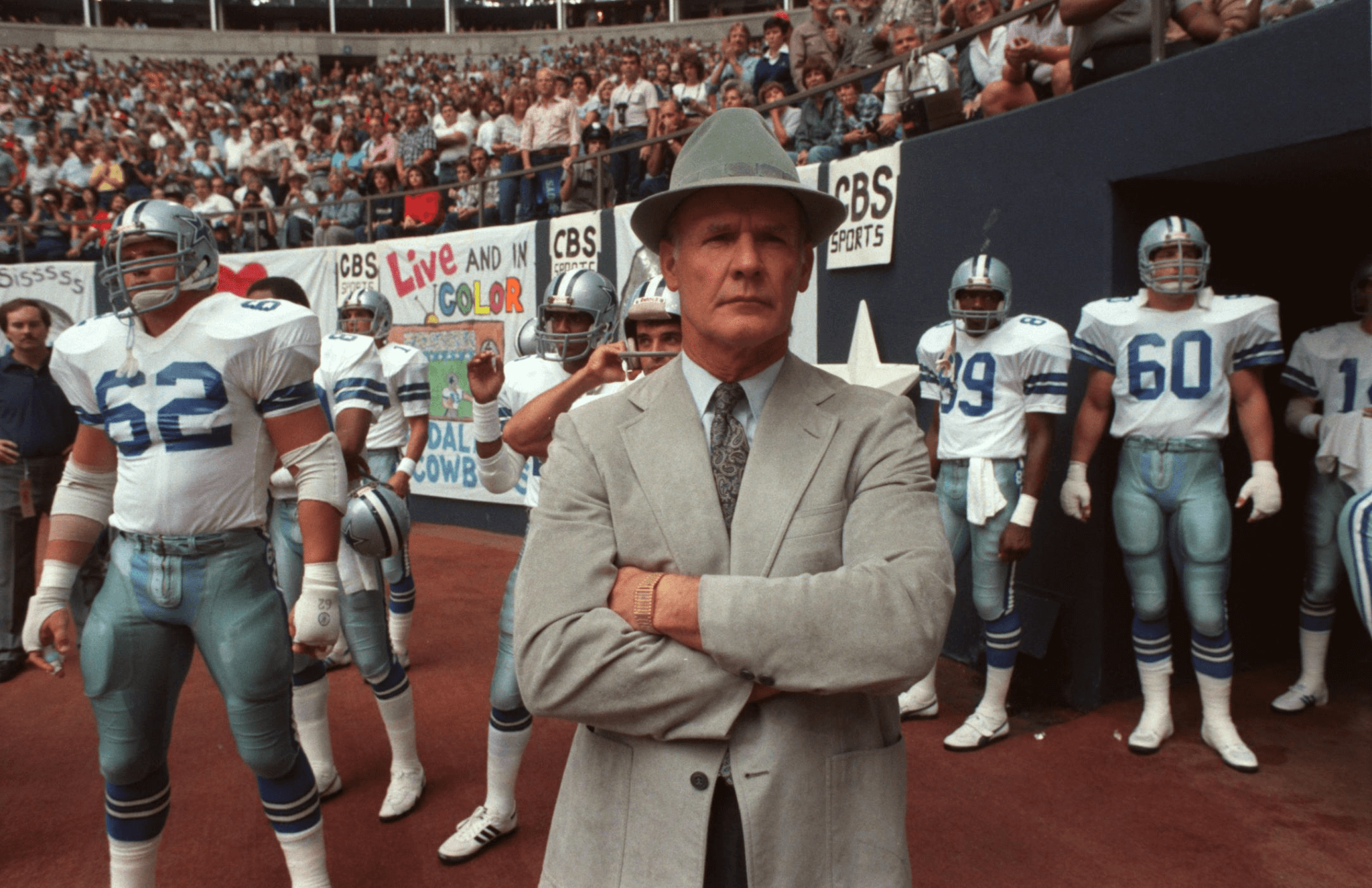 [Editor's Note: Paul is on his annual August break from site (although he's still writing his weekly Substack column). Deputy editor Phil Hecken is in charge from now through the end of the month.]
Good morning, Uni Watchers. I hope you all had a very pleasant Monday.
I'm joined today by Derek Smith, who — as you'll see — has quite the sardonic wit when it comes to a topic we don't often broach on Uni Watch: coach attire. Other than baseball, coaches don't wear a uniform per se, but that doesn't mean their on-field attire isn't a uniform. Maybe not a uniform in the classic sense of the word, but it's still a particular outfit worn on game day. And my, how it has changed over the years.
Derek has done a fantastic deep dive on this, and I'm pleased to bring it to you today. I think you'll really enjoy this one.
Here's Derek and his unique take on …
• • • • •
Coaches' Attire
by Derek Smith
Coach attire is one of the more intriguing, underexplored galaxies in the uni-verse. The players' uniforms, understandably, attract the lion's share of our attention.
What coaches wear on gameday is especially interesting to me as a commentary on power. Coaches are ostensibly the leader, the one in charge. And there is only one head coach. And they decide for themselves what to wear. The extent to which standards of dress for coaches in the major sports have changed since the dawn of the television age reflects the broader world of sports and culture. It also reveals some thorny questions about the expectations of what people in power wear in the workplace. How is it different for women and men? What are they trying to communicate to the millions of viewers? I will try to stay on topic…
Let's start in the 1960s with some classic examples.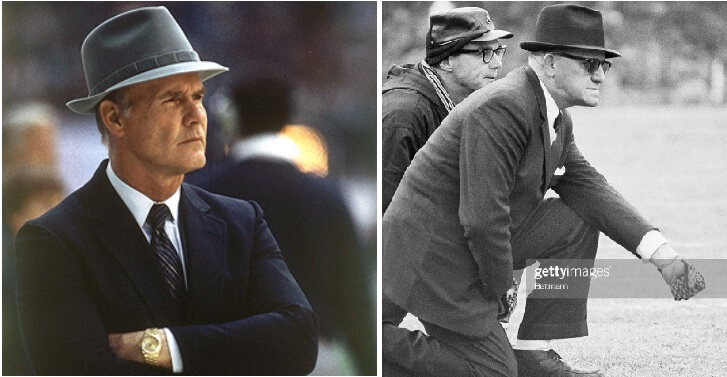 These guys looked like G-Men with their fedoras, four-in-hand knots and suits tailored to the centimeter. Are these coaches or members of the Kennedy DOJ?
This rigid look helped to cultivate a distinct image of American football. It is a game that demands militaristic discipline, laser precision, mechanical efficiency and total suppression of the individual self in pursuit of victory. Nothing less. Are we clear?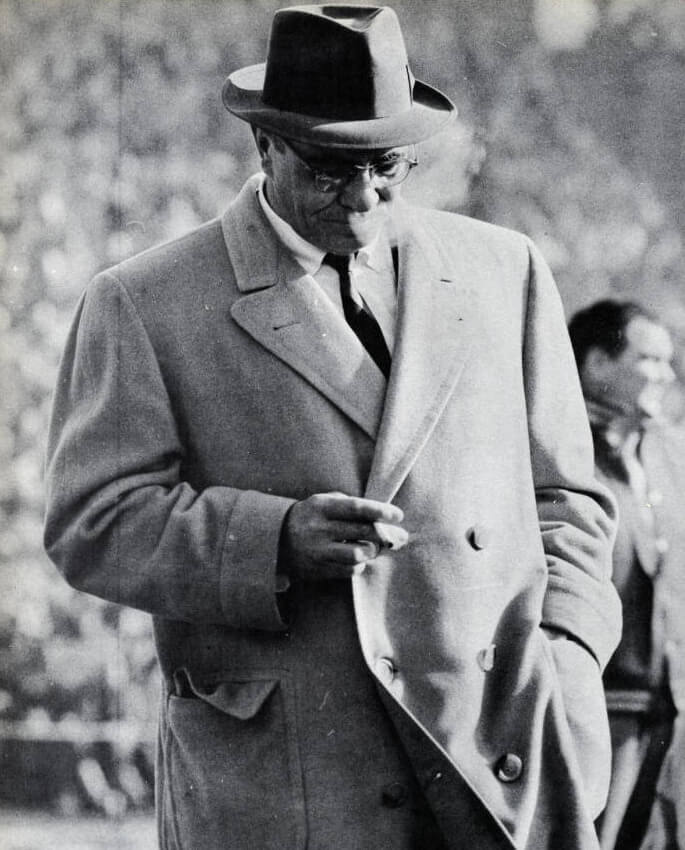 What you have to first understand about Vince Lombardi is that he received a Jesuit education at Fordham. Then he coached at West Point under a guy whose primary title was "Colonel." Now tell me that isn't someone driven by the values of order, hierarchy and execution. By god, I'd pity the poor bastard who missed his assignment. Imagine the tension as he paced the locker room in that tan trench coat, stick of chalk twirling between his fingers.
Sidelines got decidedly more funky in the '70s.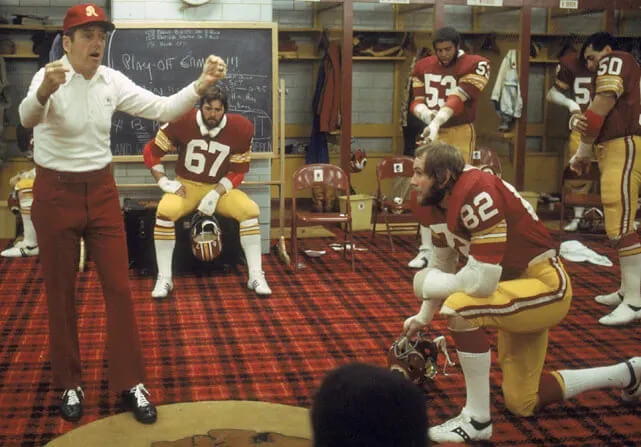 Big, starched collars, and a whole lot of polyester. You'll notice that some coaches in this era embodied their teams and the cities they played in.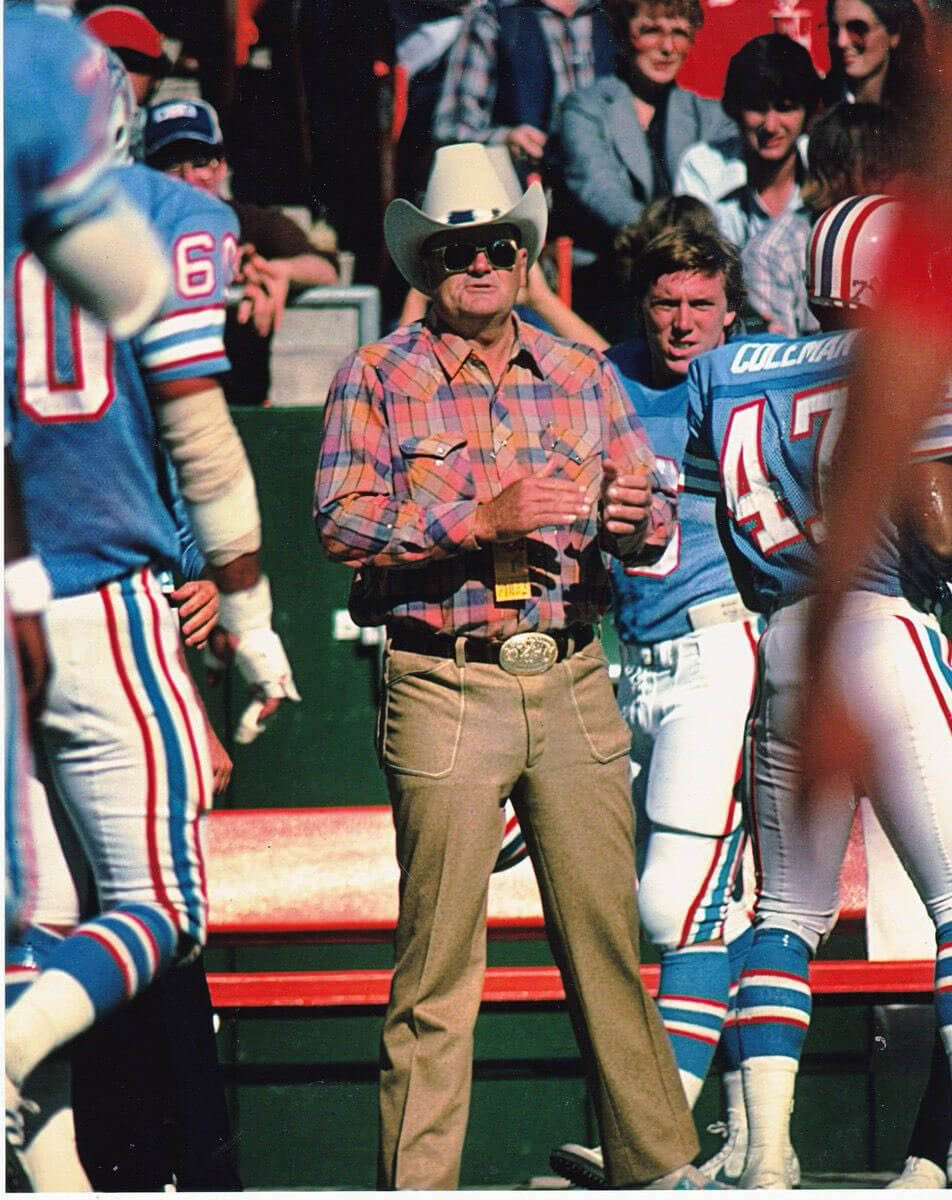 Bum Phillips here looks like an oil magnate who took up coaching if for no other reason than that he didn't trust any of the other yellow-bellied SOBs in town any more than he'd trust a wet fart (sic).
Basketball is best as a showcase of individual flare and swagger. Some ostentatious courtside get-ups fit the creative ethos of the game well. Jim Boeheim is willing to do whatever it takes to beat Georgetown and/or send you home in this shiny new Buick Regal TODAY.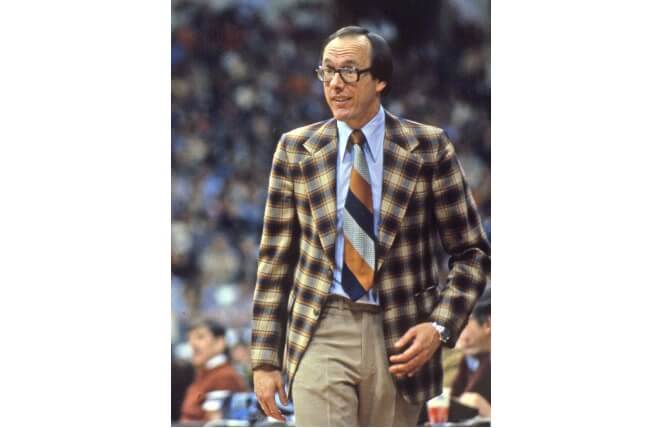 Don Shula and Tom Flores strike a nice balance in sporty sweaters and real pants. They look like serious men without being too self-important.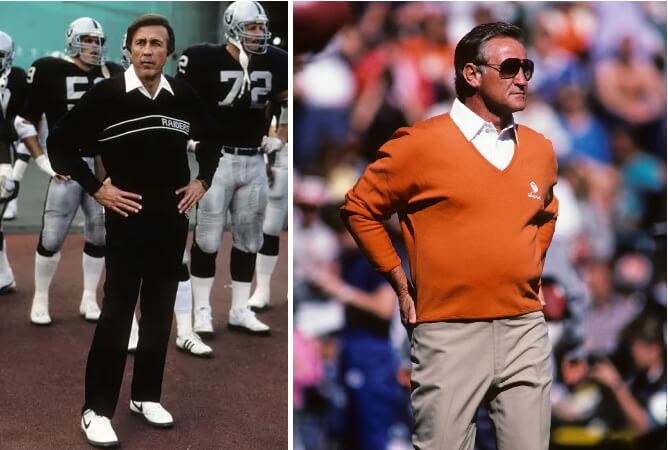 NFL coaches' apparel continues sliding down the formality scale into the '80s and '90s. By this point, they were pretty much done with any semblance of businesswear on the sidelines. Ditka's iconic sweater vest represents the sublime fusion of sportswear and professional etiquette.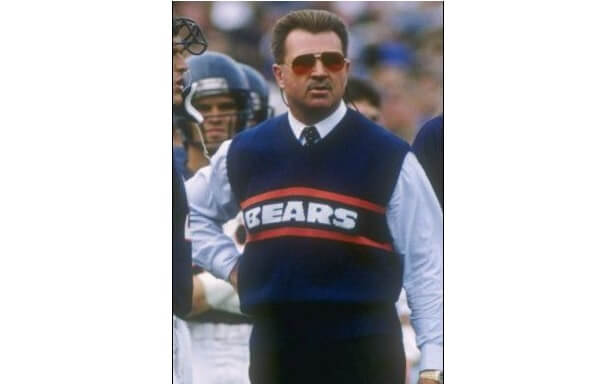 I think these should be mandatory for every NFL head coach.
Still, I have no qualms about these colorful starter jackets paired with an athletic, yet refined white mock turtleneck.

The NBA held onto their formalities quite a bit longer than did the NFL. As they began pursuing a global brand between the '80s and 2000s, everything started to adopt a somewhat corporate PR flavor. One can draw their own conclusions about why this was and what exactly they were trying to project. I think we can all surmise that Pat Riley's firm manages a number of lucrative stock portfolios.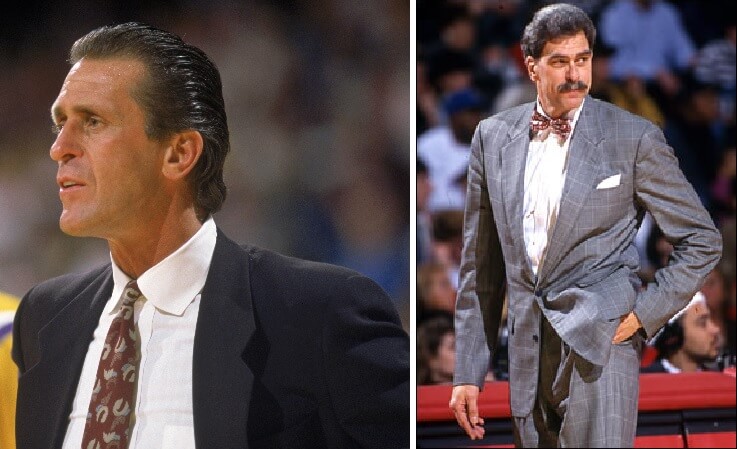 Phil Jackson seemed to be having a little more fun in his bowtie. Though, I could venture a guess that most of the freshmen slept through his 9am lecture on Eastern Philosophy.
For me, a full worsted wool business suit is a tad stuffy for a basketball game taking place in a gymnasium. But I welcome something "put together," in bold team colors.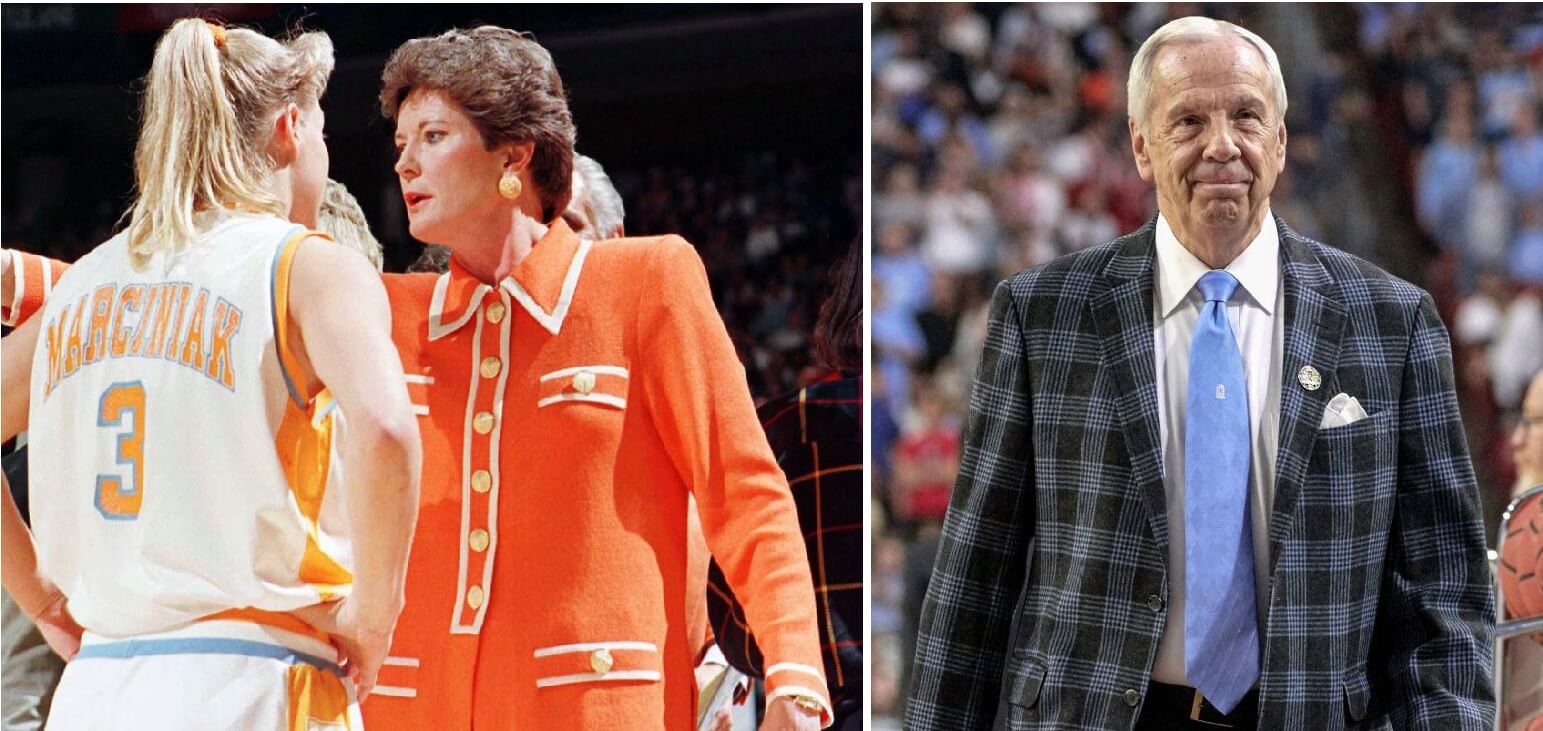 Hard to believe this guy wasn't on the up-and-up!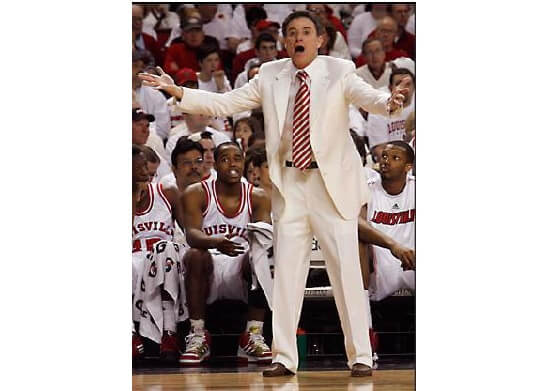 Now we find ourselves in what feels like a somewhat dark sartorial dead end for both sports. Coaches' sideline outfits are another illustration of the automated descent of sports from a visually stimulating performance of world-class athletics to an algorithmic string of probabilities. It isn't art. It's a product. Coaches aren't intrepid leaders anymore. They're poindexters punching 1's and 0's into spreadsheets. They're robots maximizing the probability of success by applying formulas to likely scenarios. Blah. More efficient? Sure. Better to look at? No.
Look at this. Silicon Valley has hacked into the gridiron.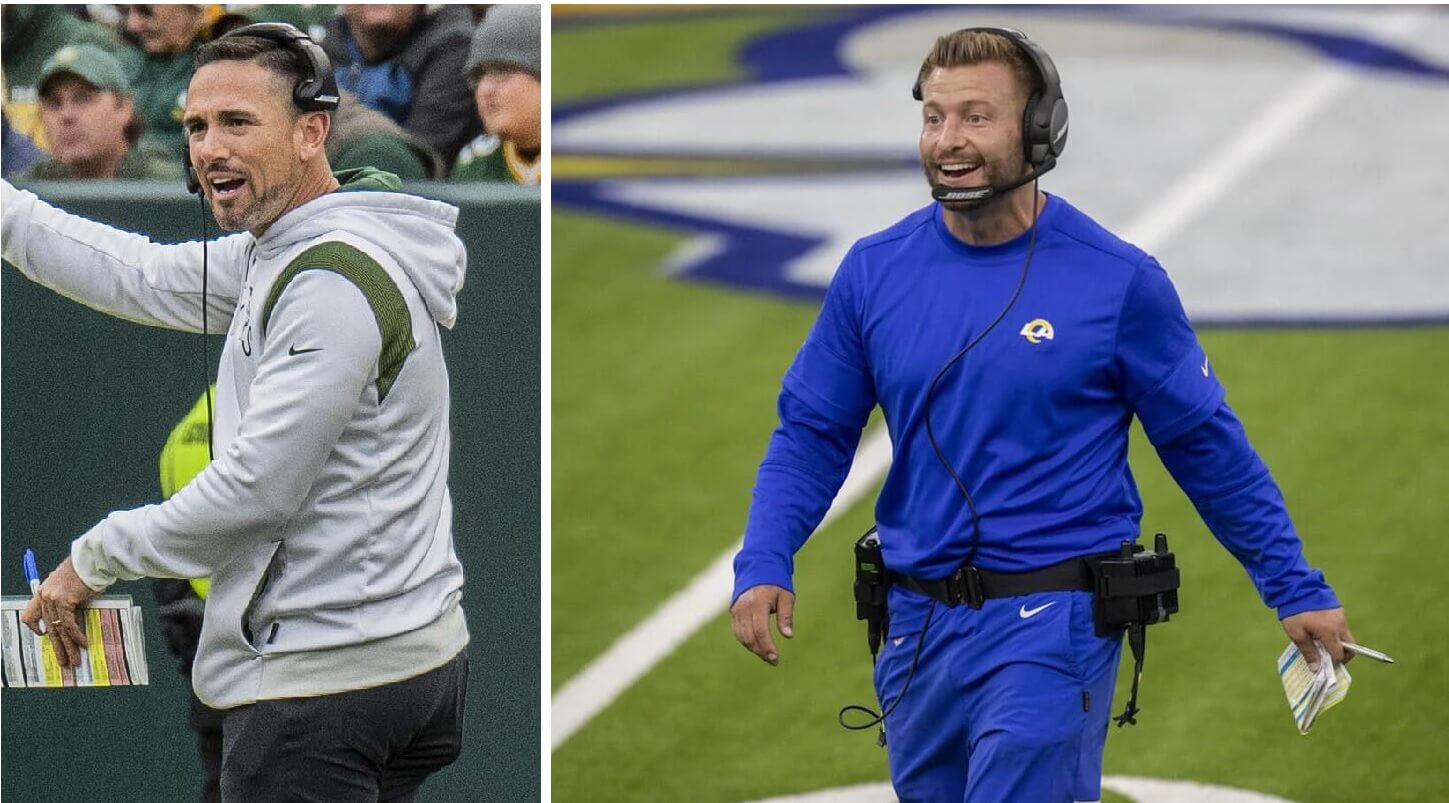 I knew all hope was lost when the NBA dropped the suit requirement for coaches during COVID-19.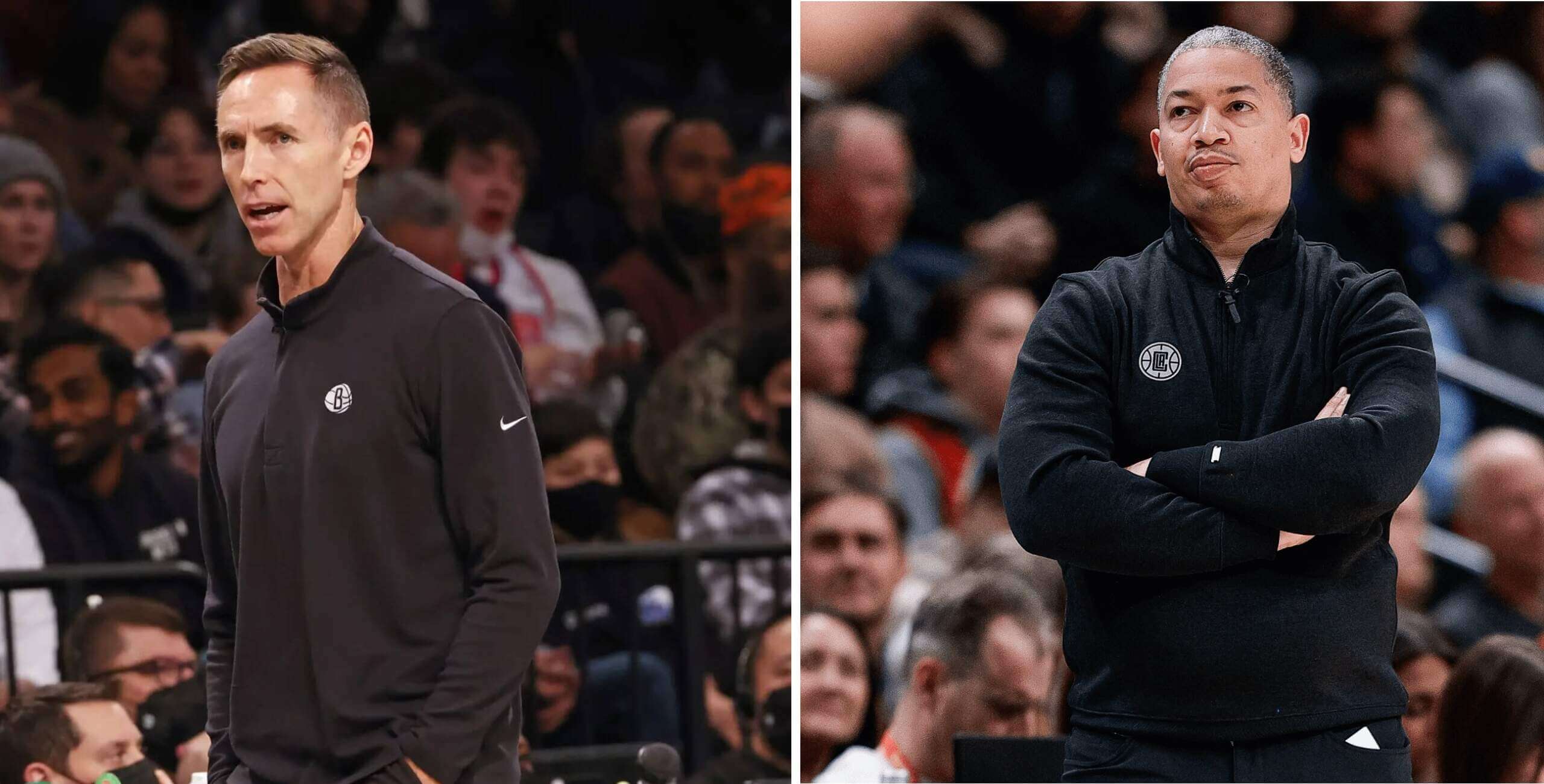 Don't mistake me for some prude insisting everyone go back to wearing three-piece suits in every job and every sport. Frankly, from the coaches' perspective, I get it. The team-branded sweats are probably more comfortable. And if their objective is to win games, then what they wear on gameday has almost literally no bearing on the outcome whatsoever. There are still a select brave few willing to show some personality.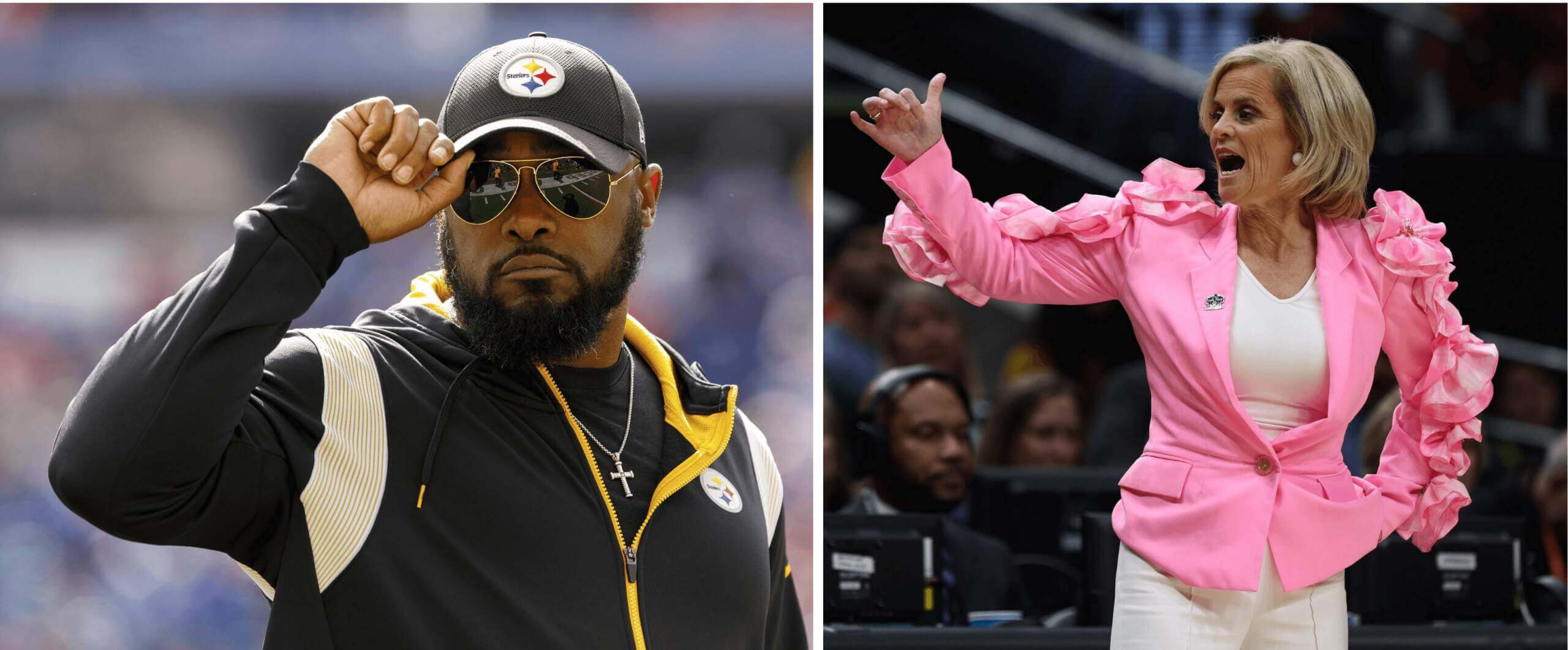 Even some of the coaches who dress like slobs maintain something of a trademark look.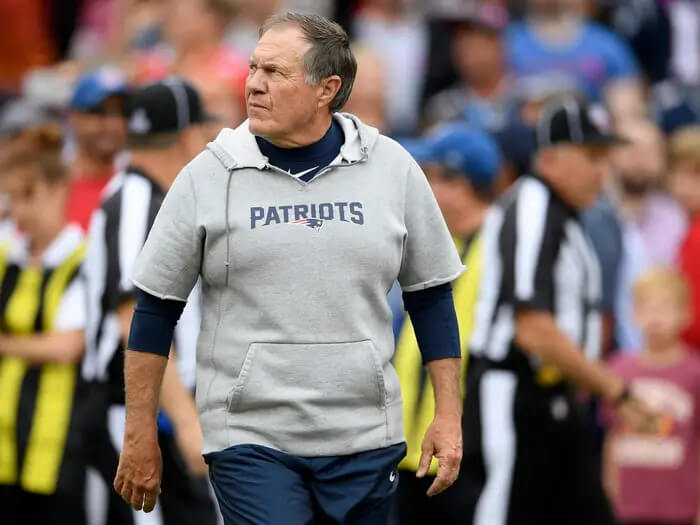 For the rest of us burdened with the conscience of caring about these things, sports are a better product with some visual interest. That goes for coaches, too.
Think of it this way: You're playing at War Memorial Stadium in January against a team of several 280+ lb. brutes wearing finger tape and a neck roll, missing half their teeth. Which one of these two guys is going to deliver the speech that gets you onto the field with gusto?

• • • • •
Thanks, Derek! That was a really fun piece, and I hope our readers enjoyed it as much as I did.
Readers? The floor is yours.