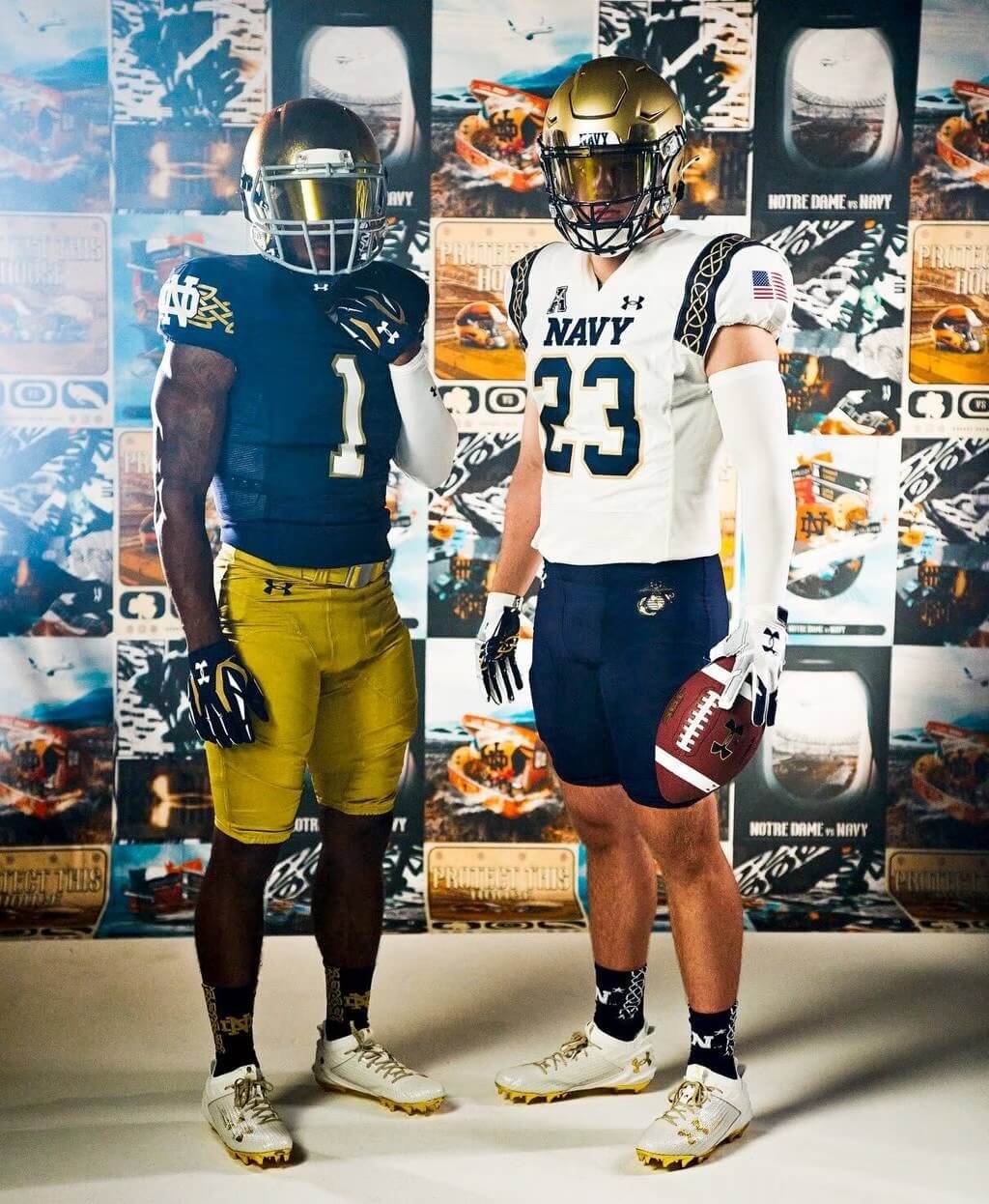 [Editor's Note: Paul is on his annual August break from site (although he's still writing his weekly Substack column). Deputy editor Phil Hecken is in charge from now through the end of the month.]
Good Morning, Uni Watchers — I hope everyone had a good weekend.
In case you got an early start on your weekend and didn't check in after Friday, I had two additional posts over the weekend: a fun story about a lucky Eagles fan who ended up leaking the new throwbacks, straight off the Eagles phone app, and Bills QB Josh Allen busted out a "new" metallic blue helmet during the team's red vs. blue scrimmage. If you didn't see those yet, be sure to check 'em out.
Now then.
We begin this morning with Notre Dame and Navy, who are playing a "Week 0" 2023 season opening game in Dublin, Ireland. The game is part of the Aer Lingus College Football Series and will be played on August 26th, 2023.
As you can see from the above photo, both teams should be fairly instantly recognizable in these uniforms, which have undergone just a few subtle tweaks from what they normally wear.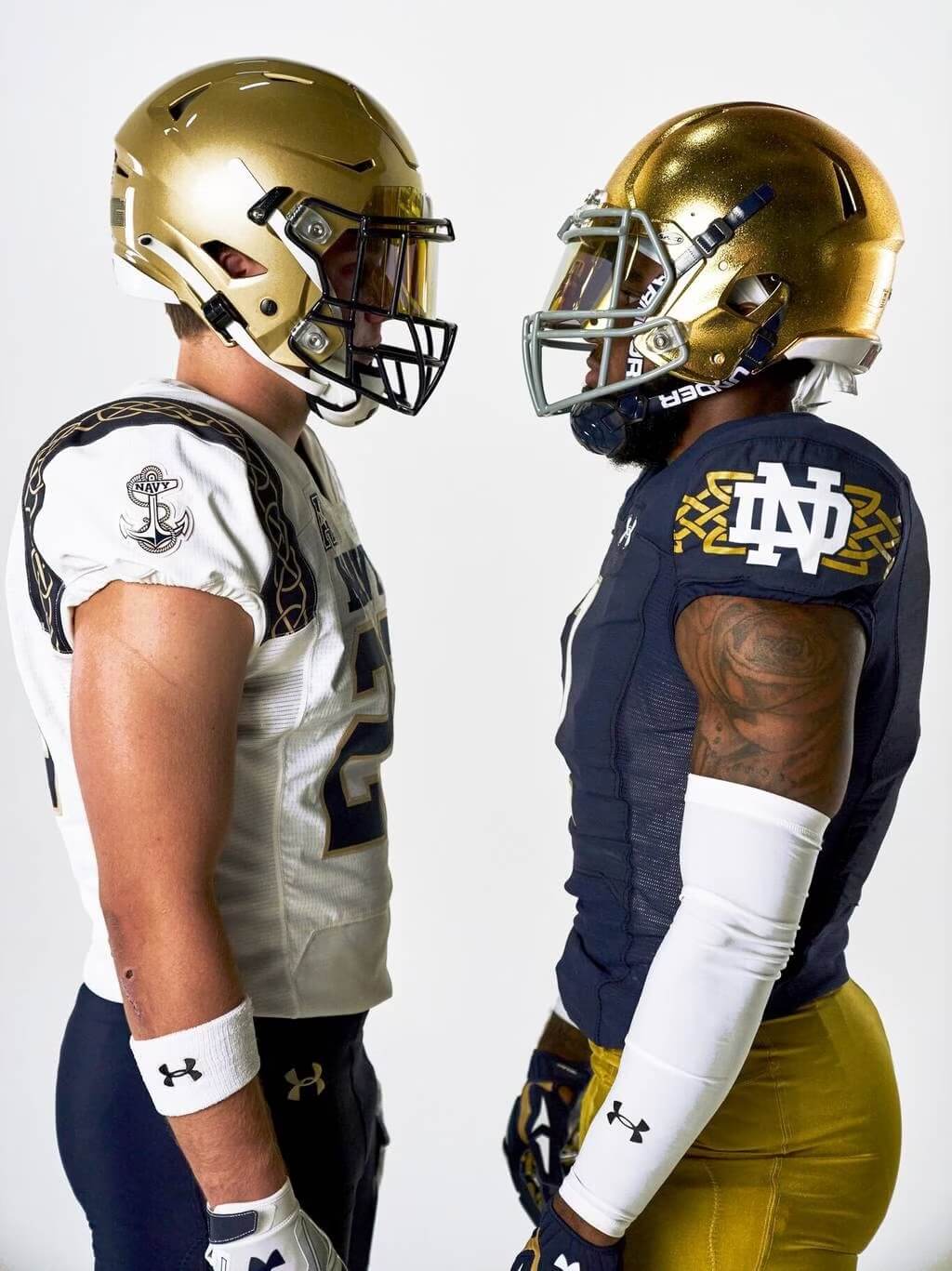 Both clubs are outfitted by Under Armour, so the company took the opportunity to outfit both squads in alternate uniforms for their game abroad.
I know what you're saying. "Didn't Notre Dame just unveil new uniforms for their game against Ohio State?" Why, yes they did. But what's one more alternate uni when you just re-upped your UA contract for another 10 years you have one of the most traditional uniforms in the game? Actually, the Dublin Series game uniforms for both ND and Navy won't be that different from their normal gear.
__________
NOTRE DAME:
The Irish have added a Gaelic stripe pattern surrounding an ND logo on the outside shoulders.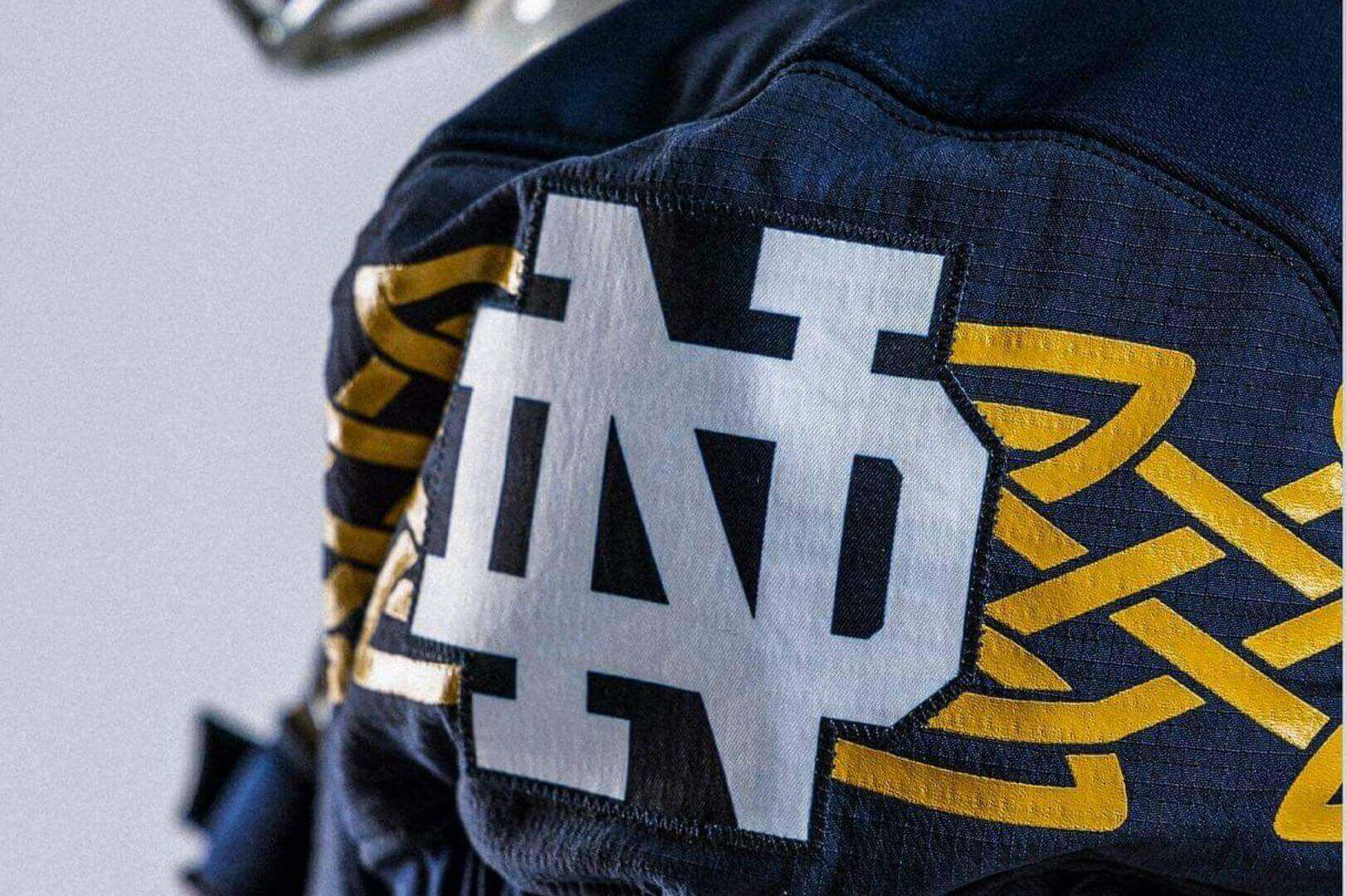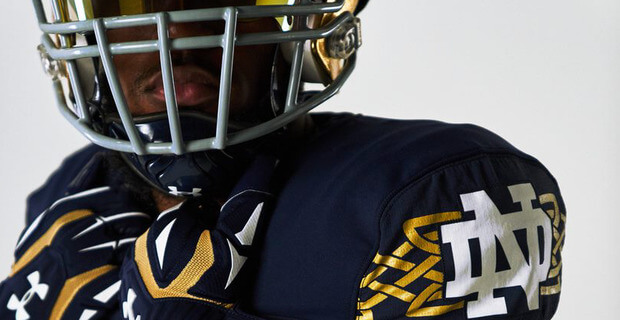 Additionally, a Shamrock logo and the colors of the Ireland flag have been added to the back of the jerseys below the neck.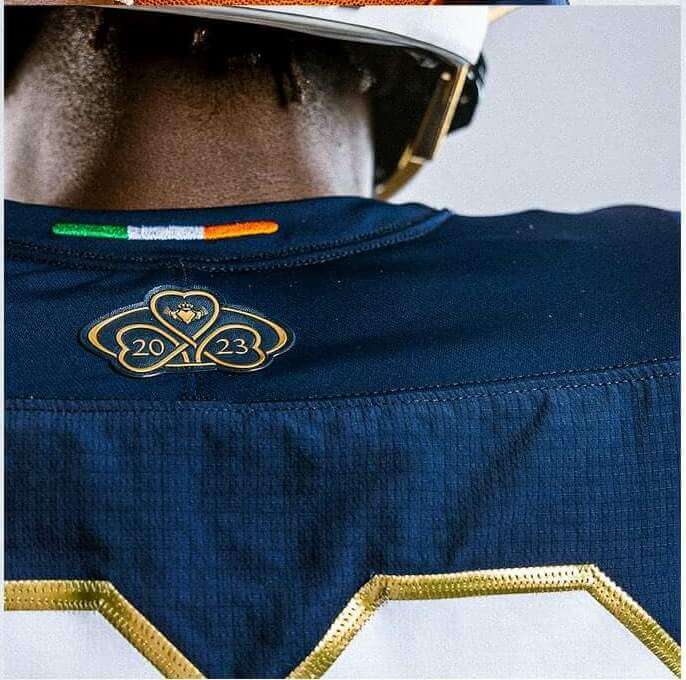 Since Notre Dame is the "home" team for this game, they are wearing their classic navy blue jersey. Their classic gold helmets, which were introduced over a decade ago and actually meant to resemble the "Golden Dome" on campus, will remain the same, and their tannish-gold pants will also be unchanged.
__________
NAVY:
Like ND, Navy's changes are also "Gaelic" inspired. The Midshipmen are debuting Gaelic-style jerseys with stylized striping, known as a "Gaelic Knot" and sublimated onto the blue stripes on the Navy's white jerseys.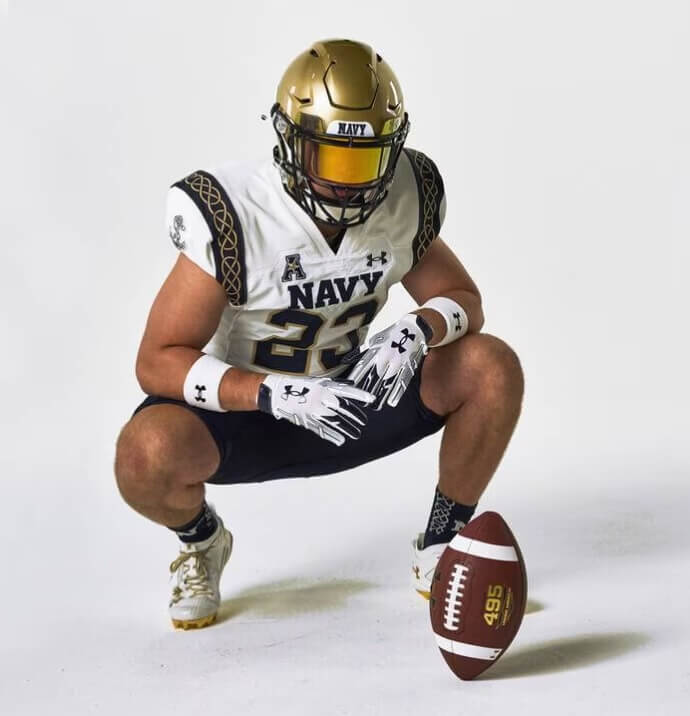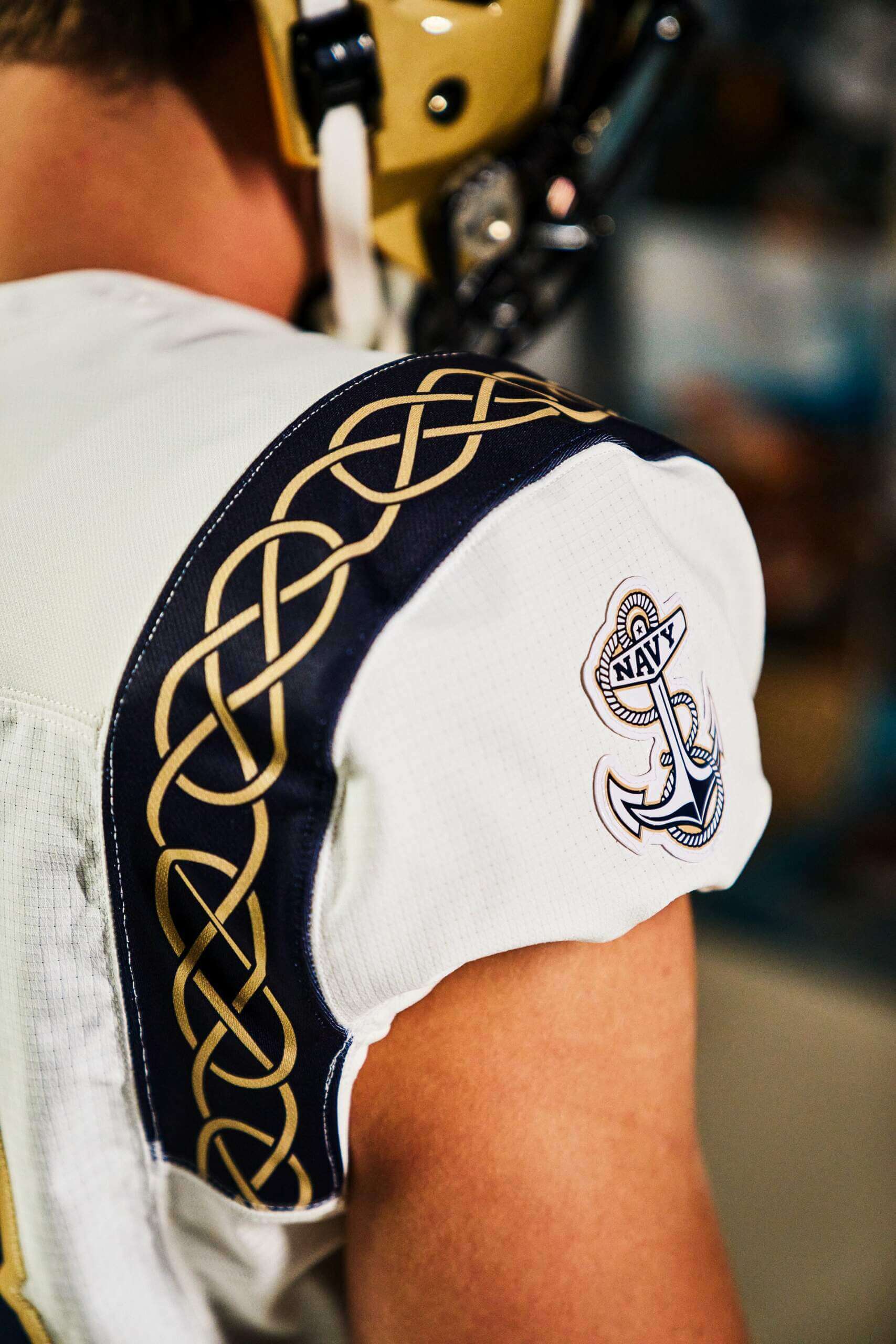 The back of Navy's jersey will receive the same Shamrock logo/green-white-orange coloring as seen on the Irish jersey above. Like the Irish, the Middies' helmets and pants are unchanged from their normal uniforms.
__________
According to Under Armour, the "Ireland Collection features a Celtic knot design, which pays tribute to the historic setting in Ireland and the tradition of honor these teams share. Both teams' jerseys also share the same back-neck locker tag trim, showcasing a Gaelic knotted shamrock and a Claddagh ring symbol to express the historical loyalty and friendship between the two schools: the heart represents love, the crown stands for loyalty, and two clasped hands symbolize friendship."
Here are some additional photos of each team: