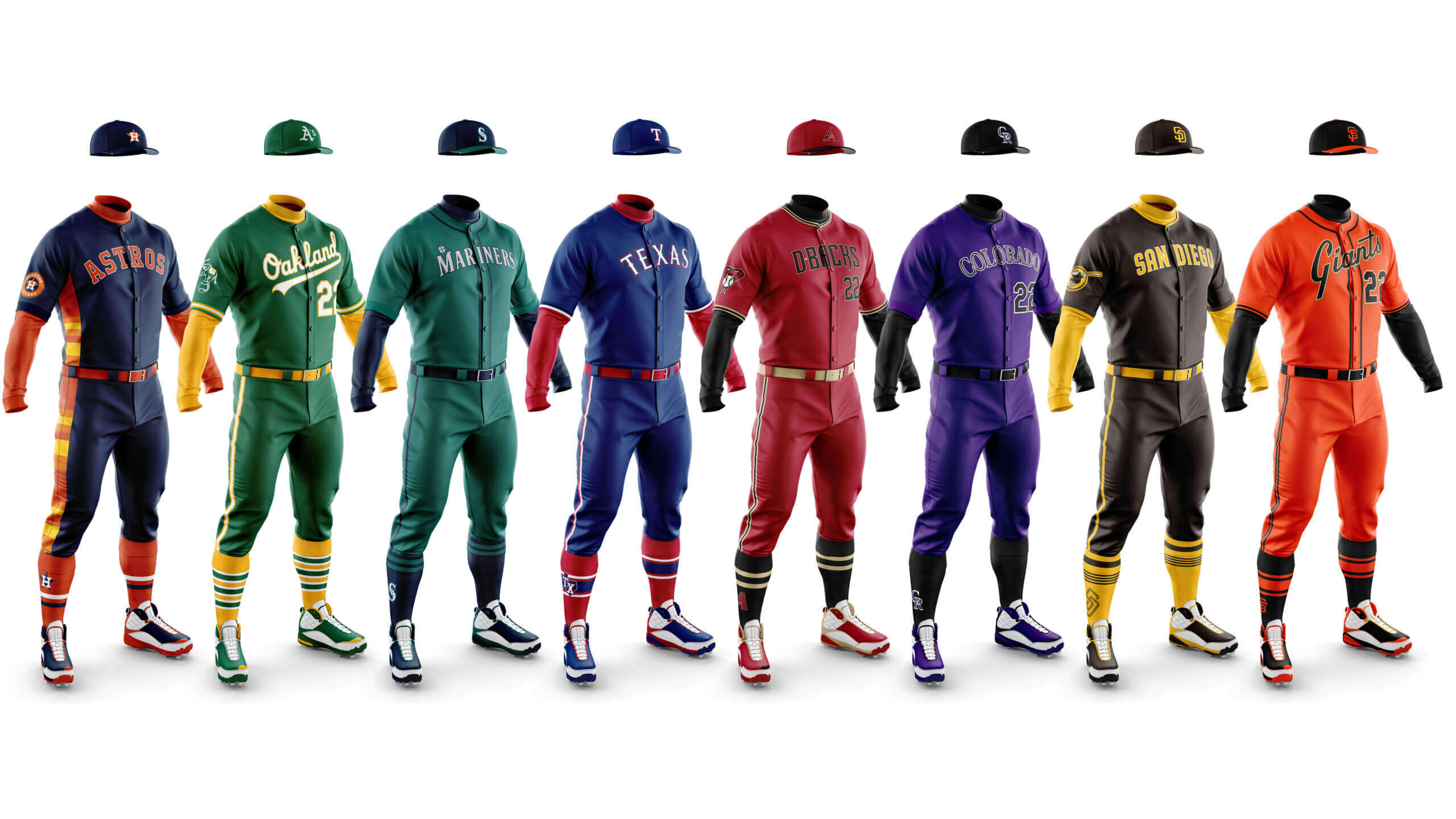 Good Sunday Morning all. I hope everyone had a good Saturday and you're staying cool!
I'm back again with Chris Diamond as we finish up "Phase One" of our exploration of monochrome dark unis in baseball. In case you missed it, you can check out Part I and Part II, where everything you need to know is explained. Let's get started!
• • • • •
AMERICAN LEAGUE WEST
Houston Astros Navy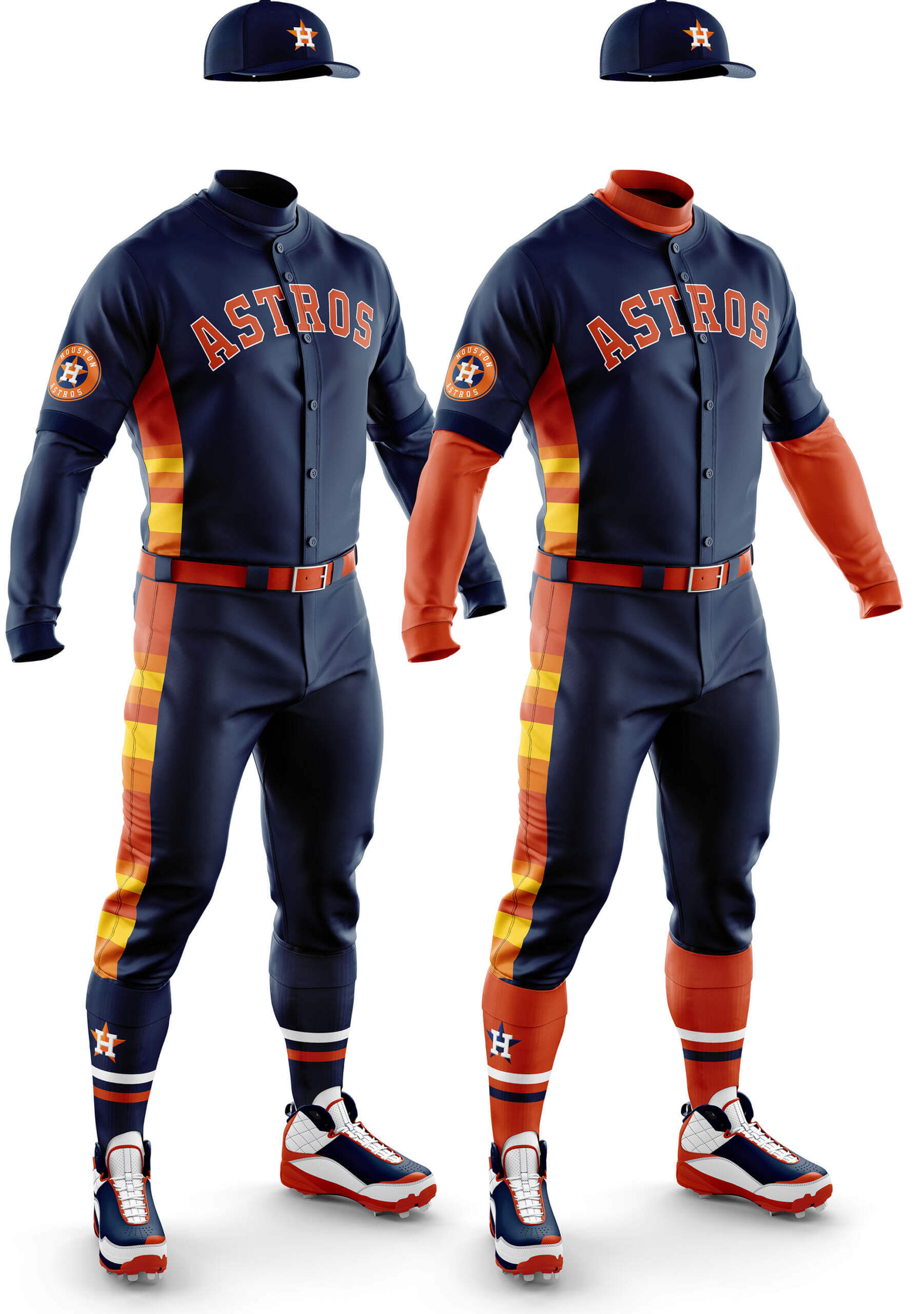 Chris Diamond: I think this shows some of the most exciting possibilities of what you could do with monos –- something we will explore in Phase 2. The extension of the side stripes down the pants somehow sets off the mono-ness of it all, even for the all-navy version. It may be too much for some, but the continuing popularity of the original tequila sunrise jerseys shows you can make that kind of boldness work.
Phil Hecken:
Unlike the East and Central divisions, this navy blue set is one of only two mono-navys in either west division. Unfortunately, IMO, it's one of the worst looks for any mono-navy. I've never liked the alt-navy jersey, even with it's allusion to the rainbow guts of Astros past. Still, for all its faults, it's still better than the Astros City Connect uni…and that's saying something.
Houston Astros Orange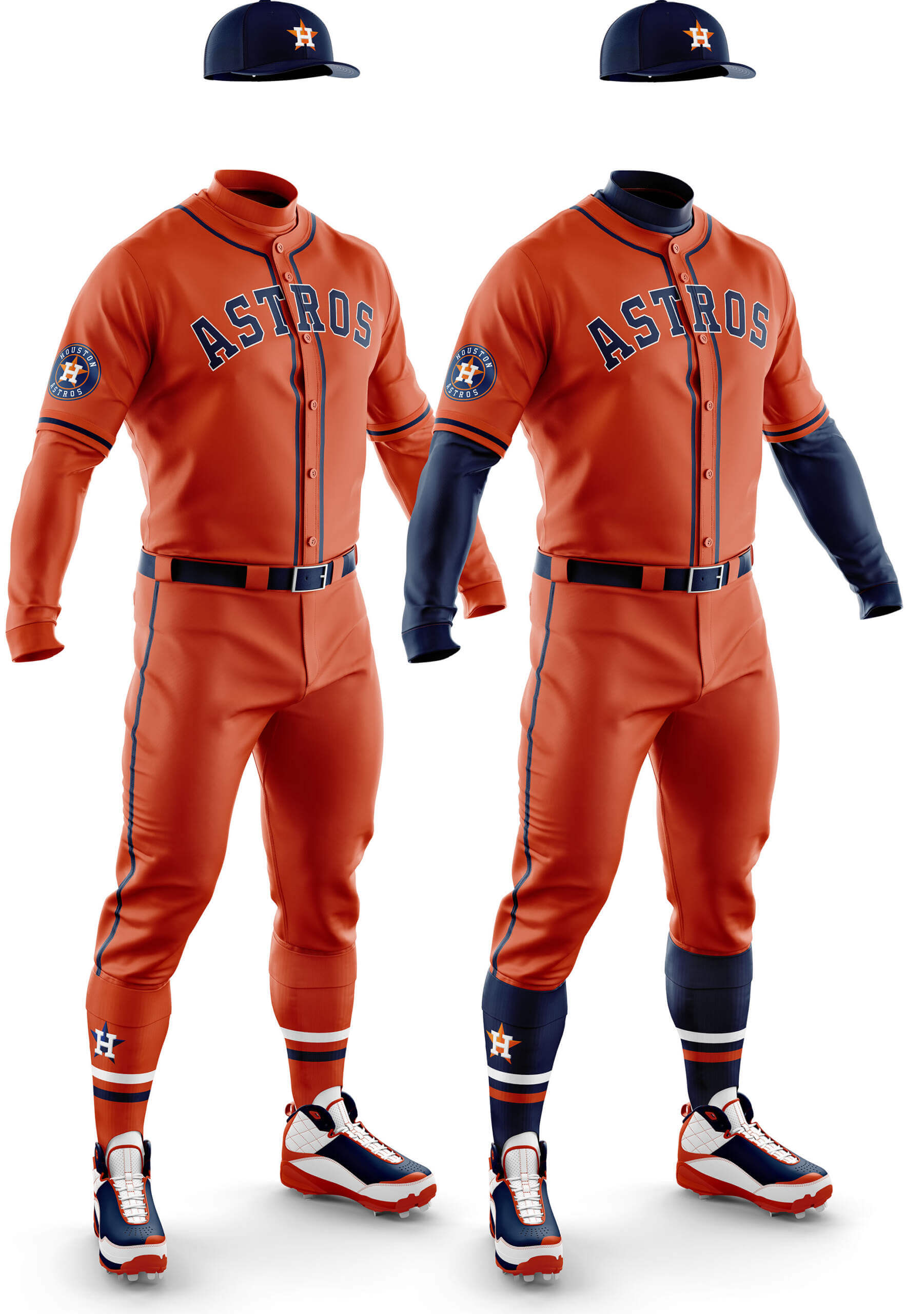 CD: I think the orange uni suffers by comparison with the spectacular navy one. It doesn't help for me that I feel the wordmark font the Astros use is so college block for team that cries out for something more modern. On the navy uni with the stripes you don't notice so much, but here the plainness makes it stick out to me.
PH: Unlike the Orioles all-orange, this one does nothing for me. It's much better than the mono-blue (both Chris' graphic and the CC), especially with the contrasting navy cap/sleeves/socks, and I'd even prefer it to the orange jersey/gray pants combo. There's room for one or two mono-orange unis in MLB, but this isn't one of them.
__________
Los Angeles Angels Red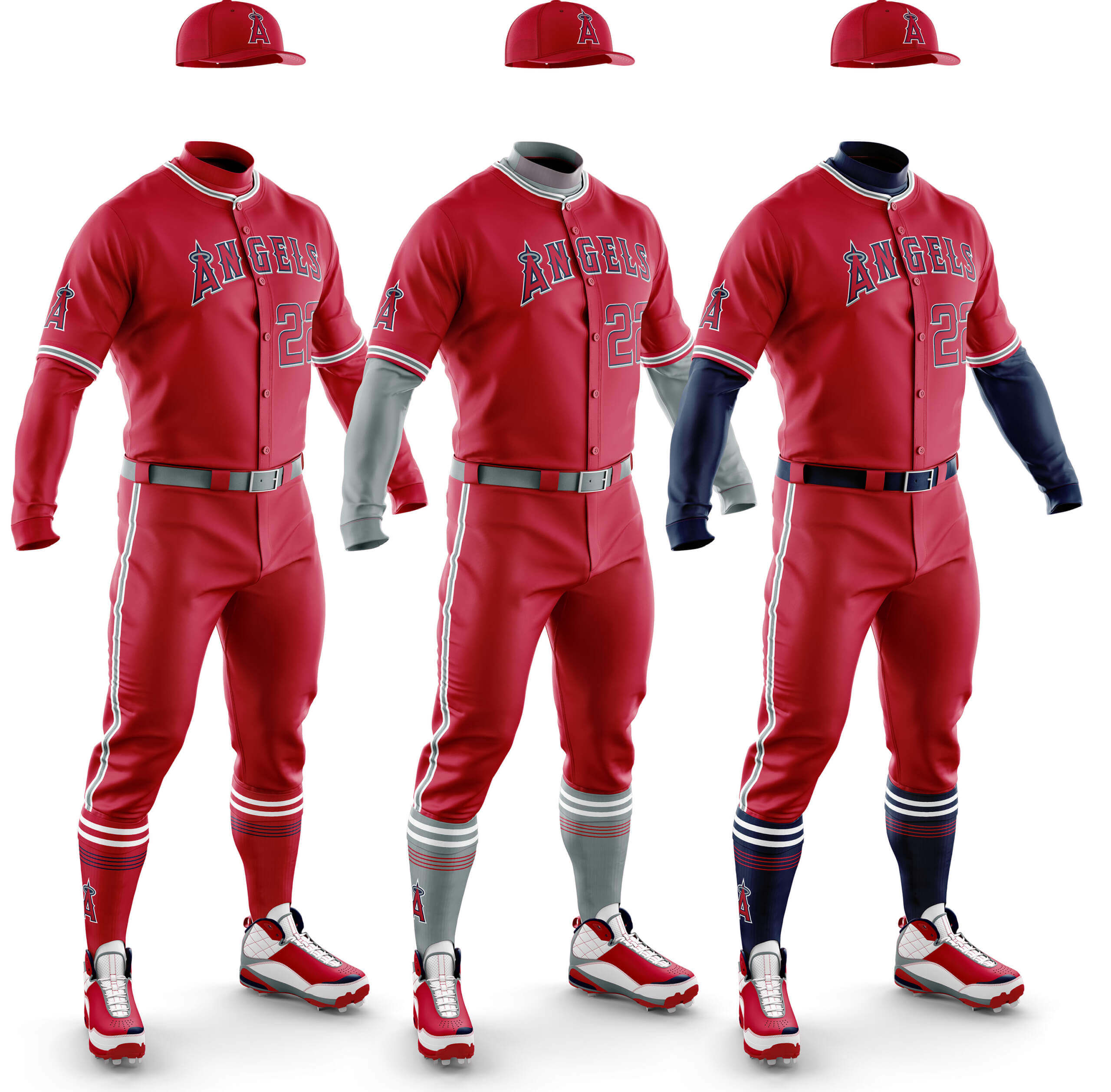 CD: The Angels are one of those rare teams where there are two main secondary colours. Sadly for me this hasn't helped as all three are a bit meh… Of the three I think the grey undershirt and socks works best, but the Angels are going to be one of those teams that need a bit of work for Phase 2!
PH: With their ghosted wordmark and number, the red jersey already has too much red…adding red pants makes a bad jersey into a bad uniform. The Guardians and Reds might be able to pull off the mono-red look, but not LAA.
__________
Oakland Athletics Green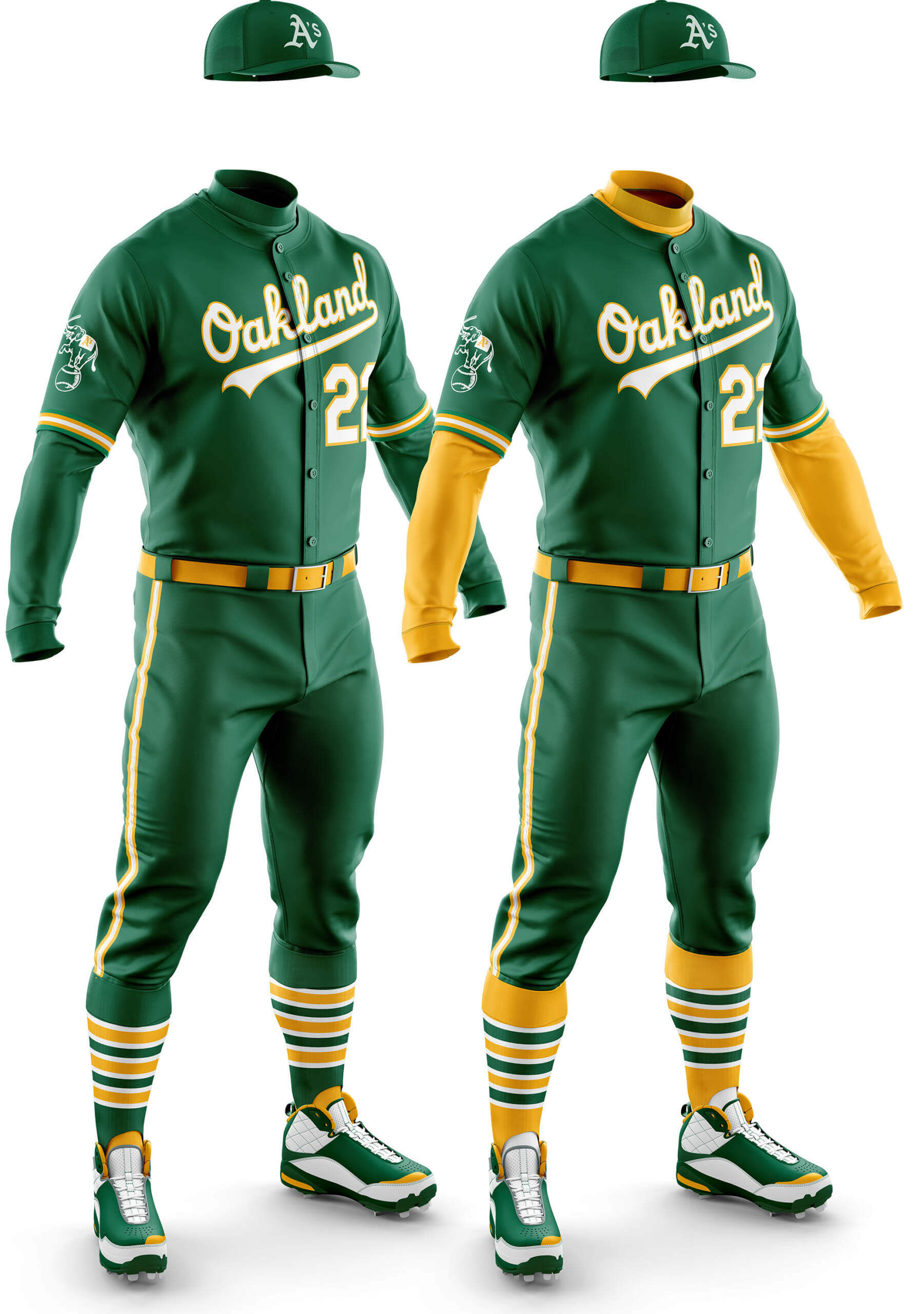 CD: I imagine these will be popular in certain quarters 😊. I think they look pretty darn good too – one of the best from Phase 1 for me. If the team move to Vegas it would be a shame to lose this colour combo, but I think they should at least leave the colours in Oakland if they leave, if not the whole identity. Given the country-wandering nature of the Athletics franchise over the years, though, that seems unlikely.
PH: There is definitely a historical precedent for the A's in mono-green, and I, for one, love the look. The gold sleeves and socks work very well — in Phase One they keep their solid green cap, but a green crown/gold billed cap would do wonders for this one. And since the A's were uni-innovators in the 60s and 70s, this would be a great fauxback look.
__________
Seattle Mariners Navy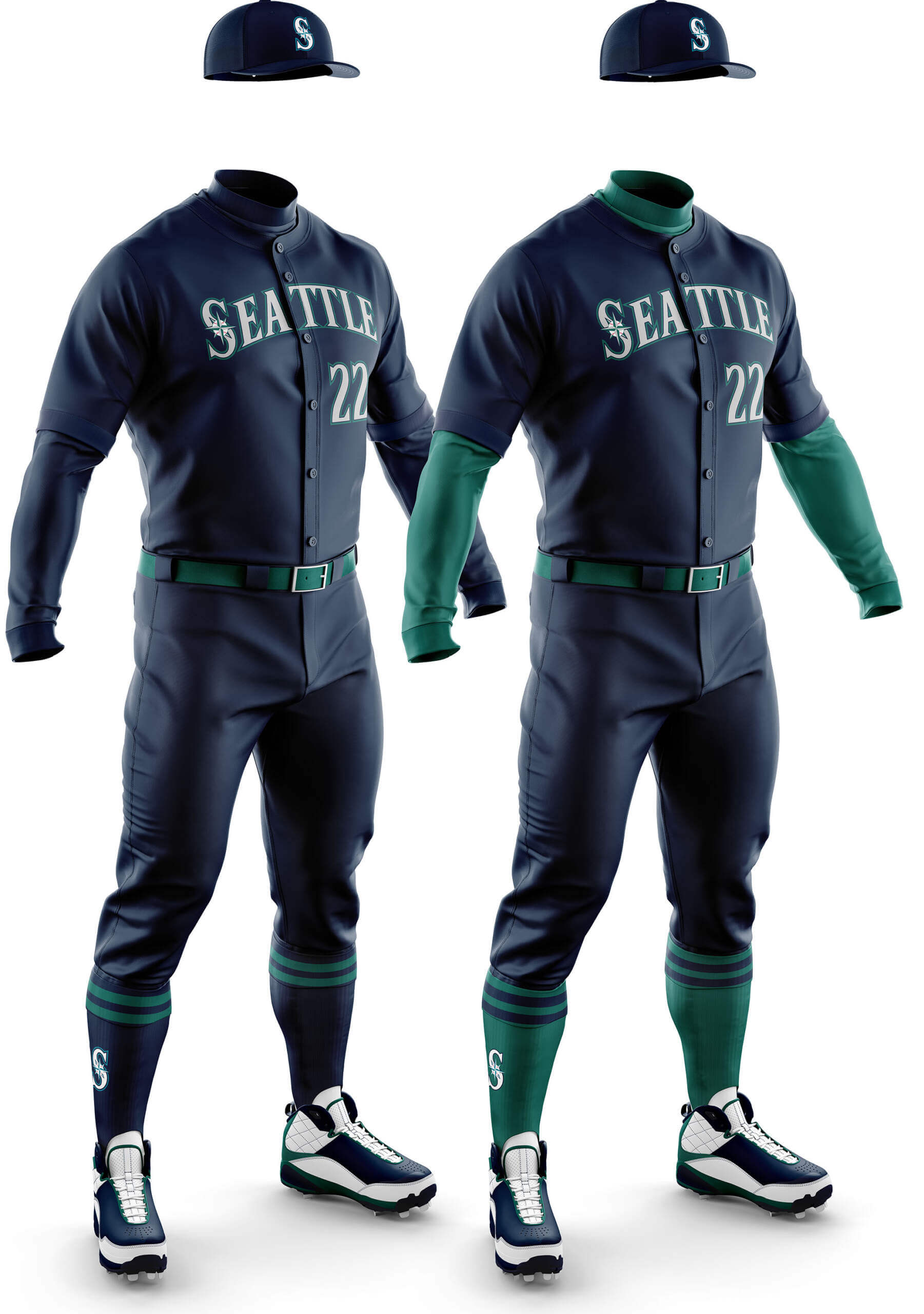 CD: I'm a big fan of the Seattle area blue/green uniforms in general so I like these, even if the overall design is a touch plain. Having a different bill colour on the cap has a bigger effect than you might imagine for me –- something I've noticed from Phase 1.
PH: I don't hate these as much as I thought I would (particularly with the teal…er, Northwest Green … sleeves and socks). But there's still way too much mono-navy in Phase One. Besides, the team just got a tremendous CC uni which obviates the need for any mono-navy. And until the Mariners fix the kerning issues on their navy alt, this is a NO. The team needs to just ditch this jersey altogether.
Seattle Mariners Green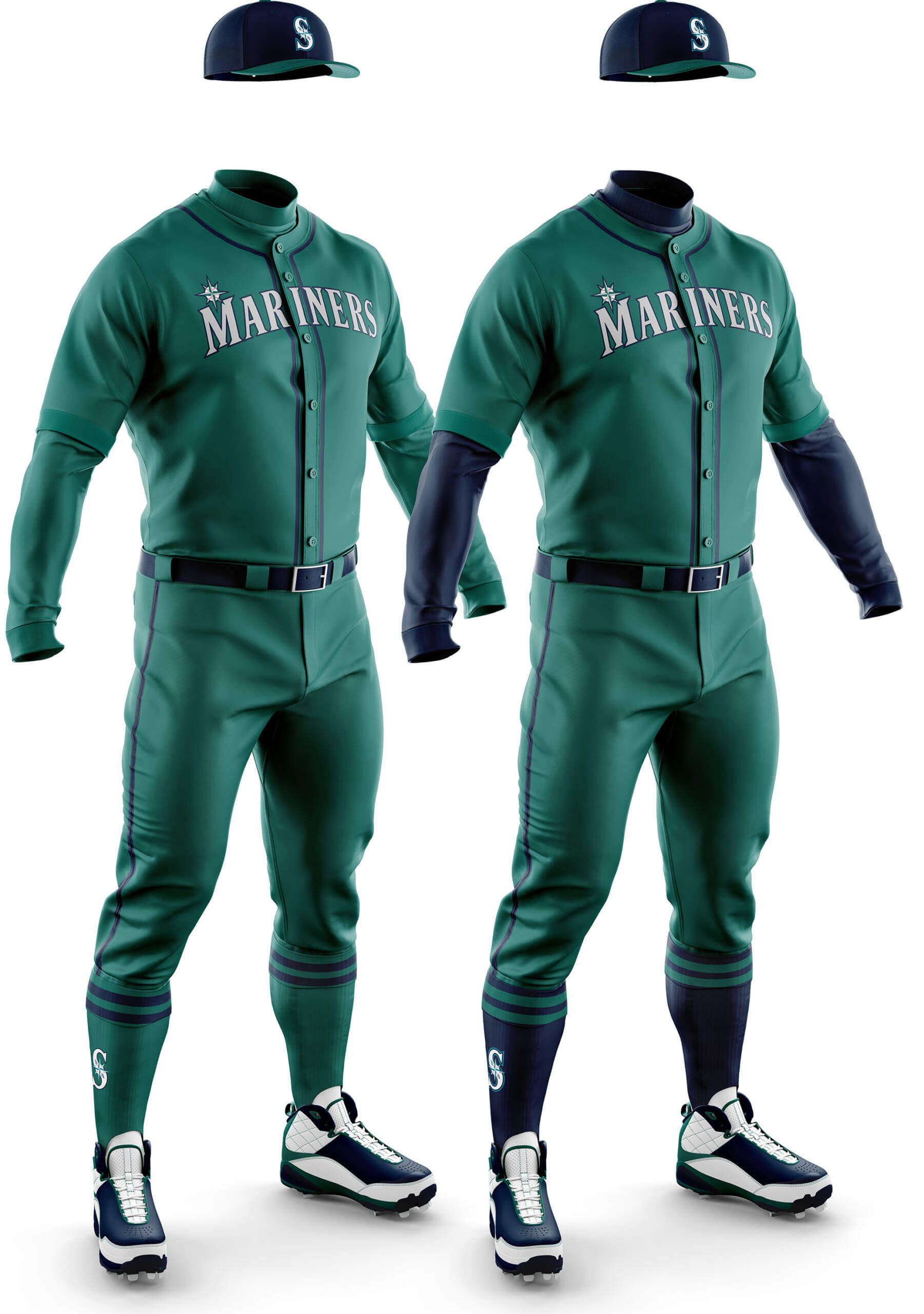 CD: I like these too, but I feel the green works better as the secondary colour so the navy ones edge it for me.
PH: I honestly thought I'd like the mono-NW green with the blue sleeves and socks (and the two-tone cap works well too), but after seeing them mocked up, I don't. It's got potential, but that's all.
__________
Texas Rangers Blue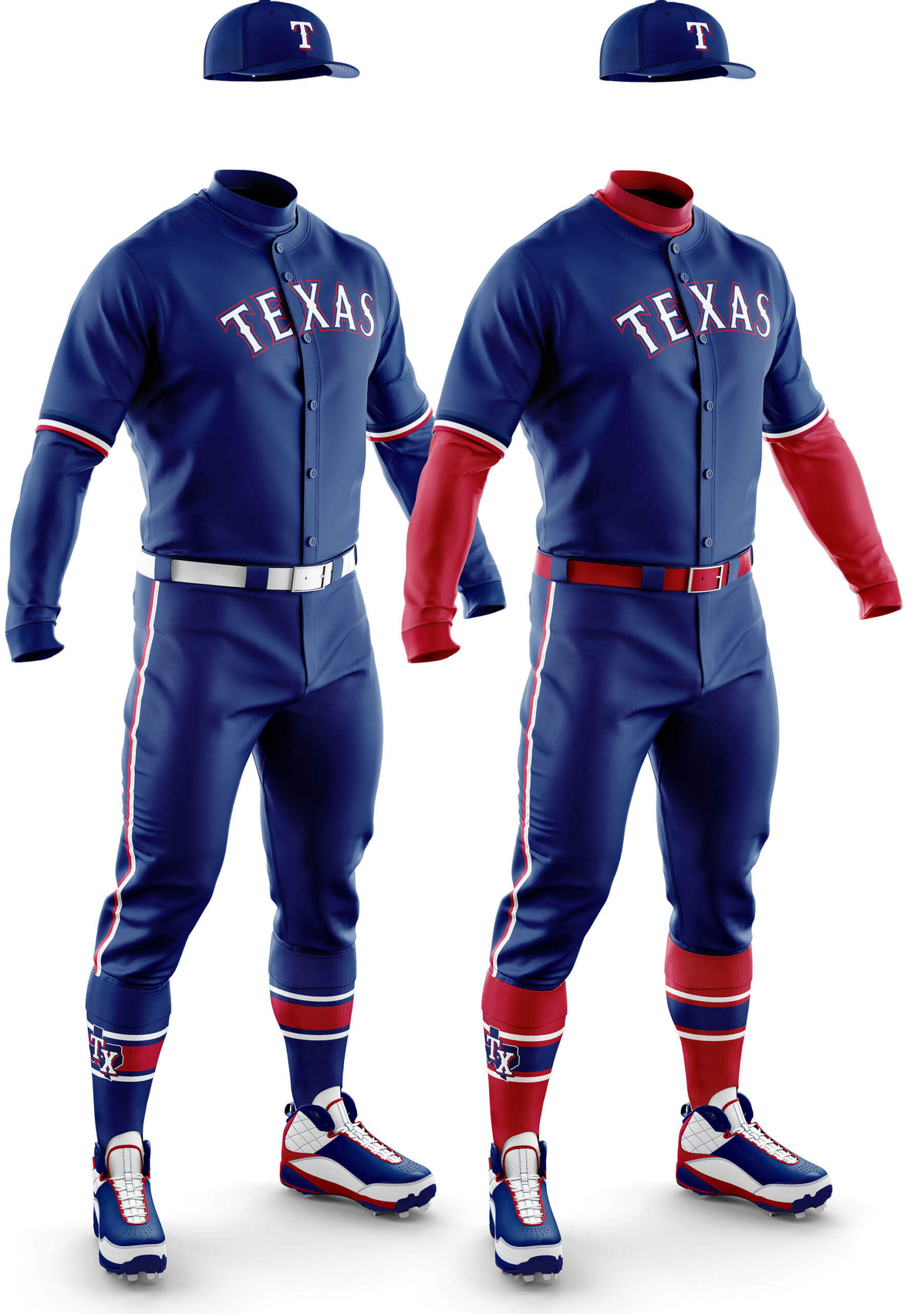 CD: The asymmetrical striping messes this up for me -– I think it's basically the same blue/white/red striping as on the regular jerseys but it just doesn't work for me here.
PH: The Rangers have always had problems deciding if they are a "red" team or a "blue" team, and the royal mono with red sleeves and socks actually captures this dichotomy perfectly. Add a red cap and it completes the "we're both red and blue at the same time" mindset that encapsulates the Rangers uniforms.
__________
NATIONAL LEAGUE WEST
Arizona Diamondbacks Black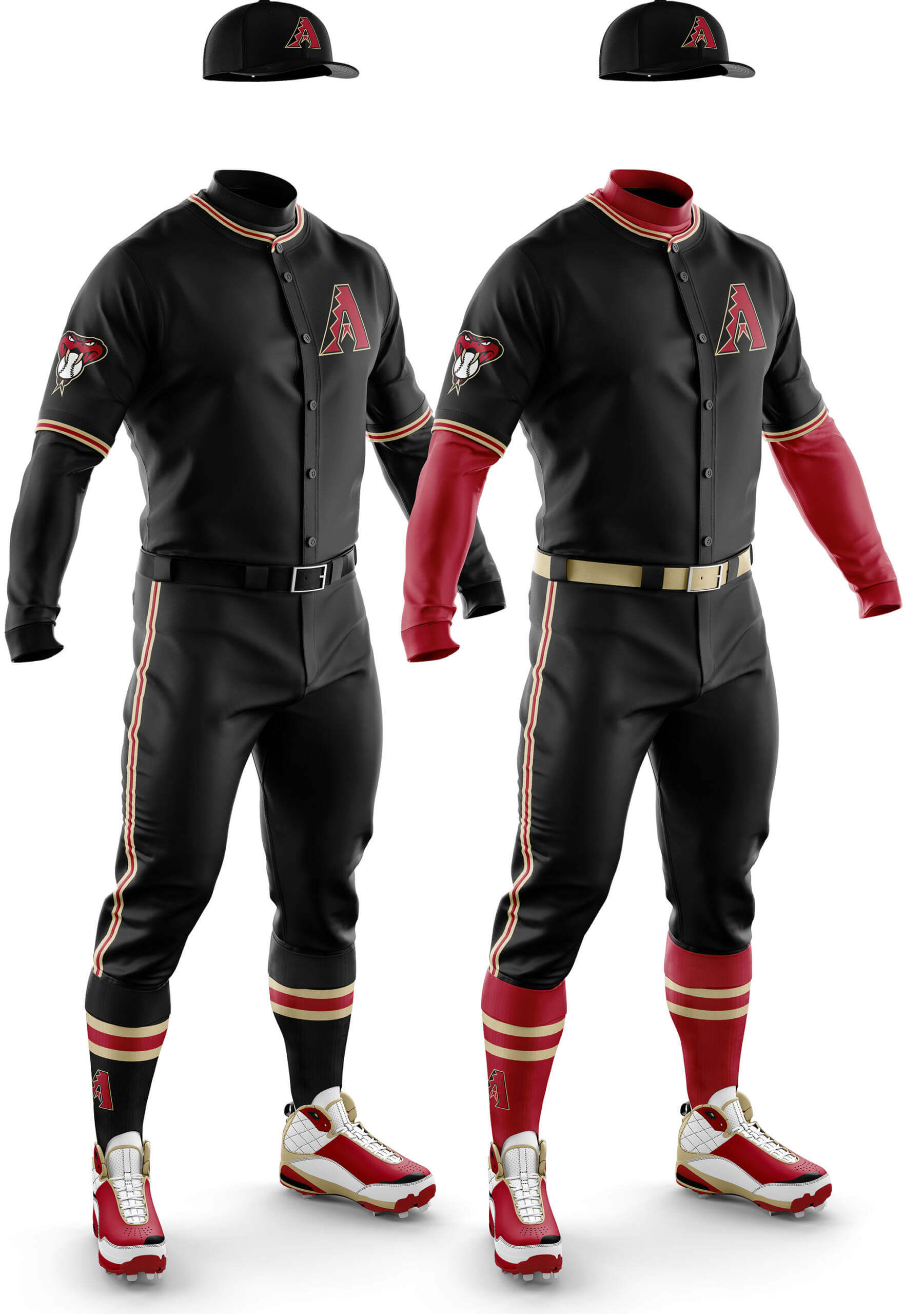 CD: Black is a team colour but this feels a bit BFBS to me even if it isn't. With the Sedona red sleeves it comes closer to working, but it's still a miss for me.
PH: The black with red sleeves/socks isn't horrible, but I've always questioned black as a color for a desert-based franchise. It's not like purple and teal feel particularly southwest-y either (I've always felt they should be copper and turquoise). But I will admit the black with the red and the "sonoran sand" (or whatever they call it) kinda works. But as far as mono-black goes — there are more than a couple teams that might pull it off. AZ isn't one of them.
Arizona Diamondbacks Red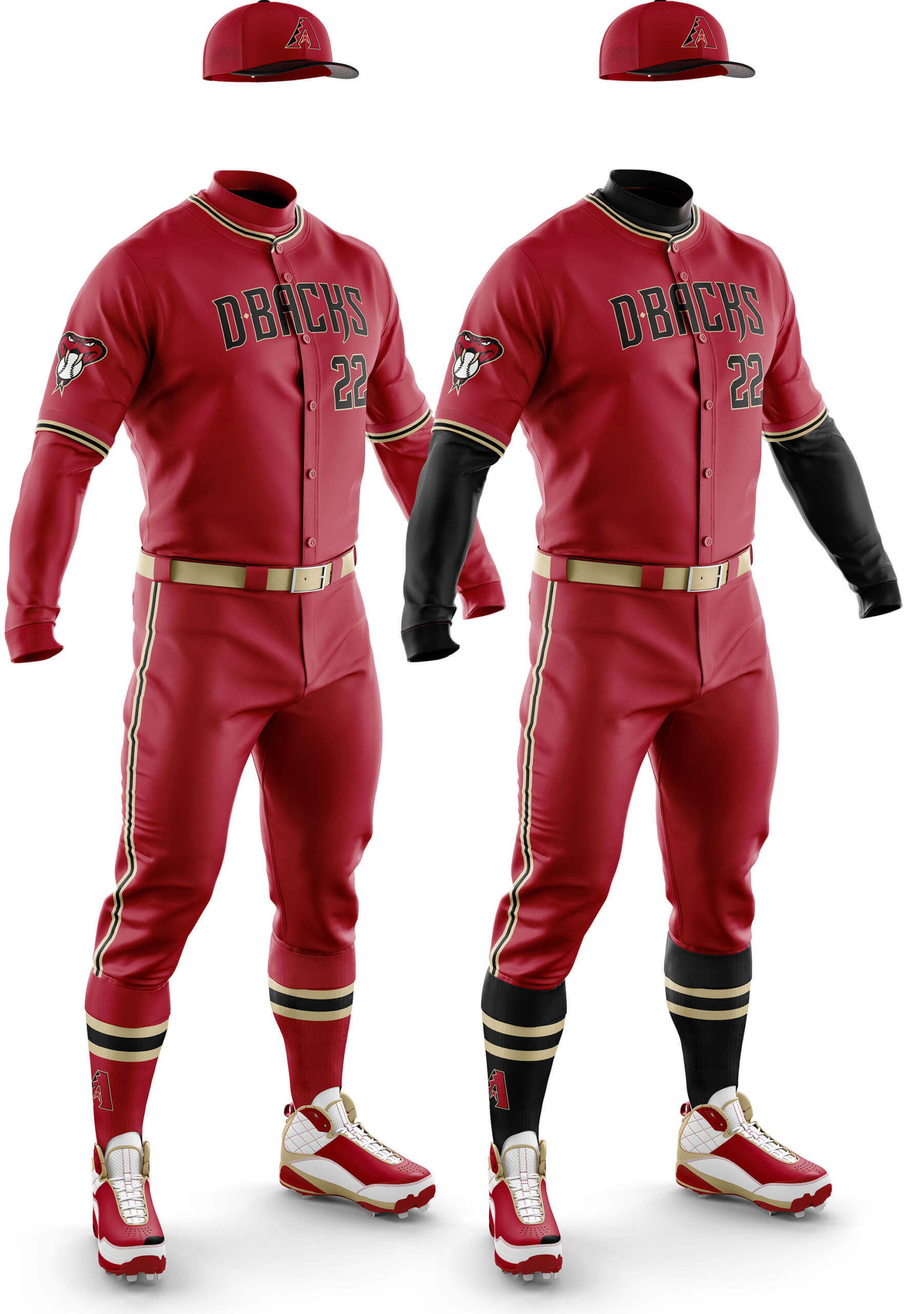 CD: Black as a secondary colour and the way it's used consistently with the Sonoran sand make these a contender. I did consider doing a third colourway with sand undershirt and socks but it didn't really work due to the order of sleeve striping and the cap black bill.
PH: Ugh. No.
__________
Colorado Rockies Purple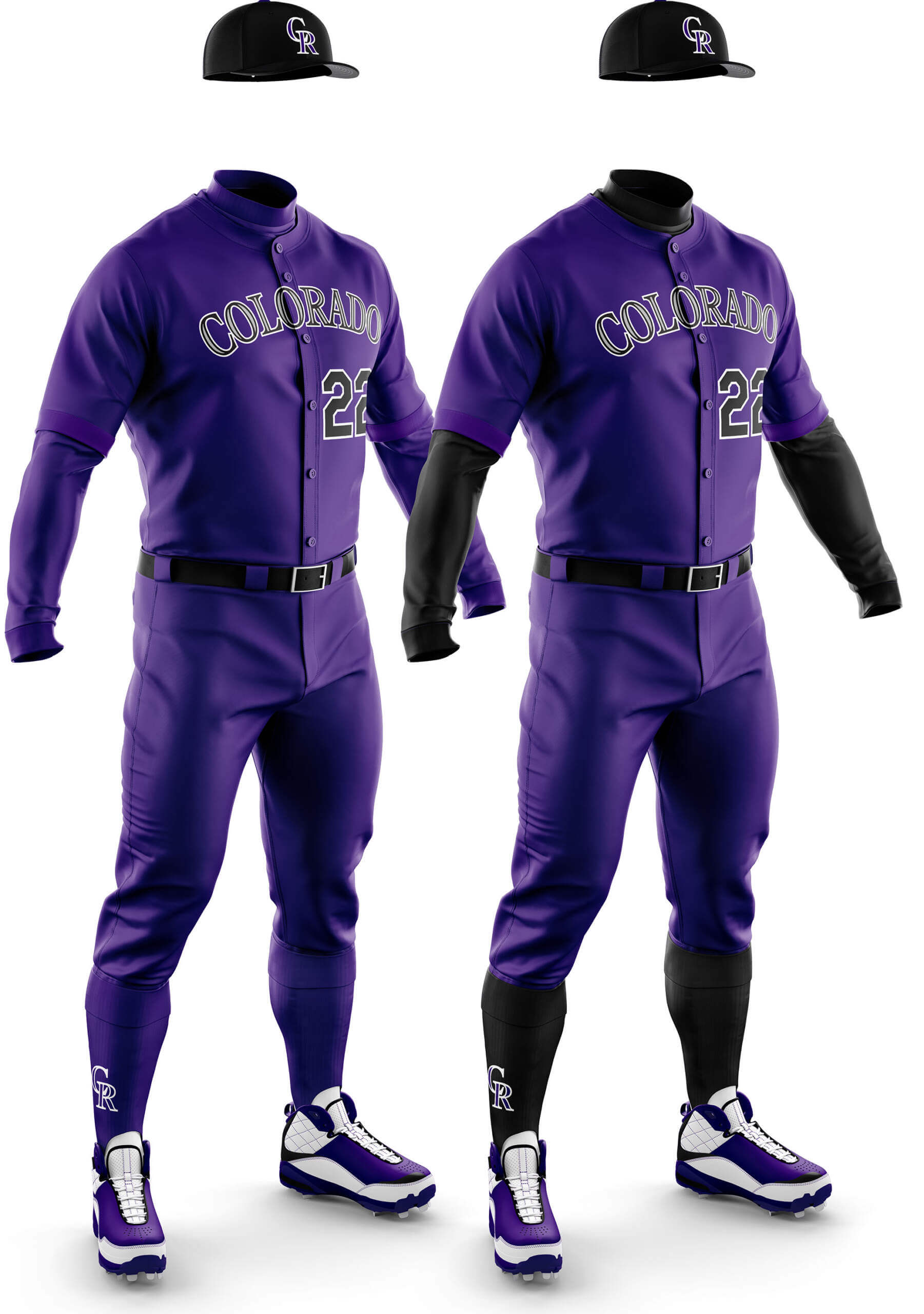 CD: This is pretty much the antithesis of the Oakland green! I do like purple, but the extreme plainness and combination with black can't save these pyjamas!
PH: Hmmmm. I'm not anti-purple, and I actually prefer this shade to the darker purple they used a few seasons ago, but even I think this mono look is too much. The black sleeves and socks don't help it either (unlike the Ravens, who can somehow pull off black and purple in a not entirely unattractive way). I wish something could salvage the mono-purp…but I don't think it can be done.
__________
San Diego Padres Brown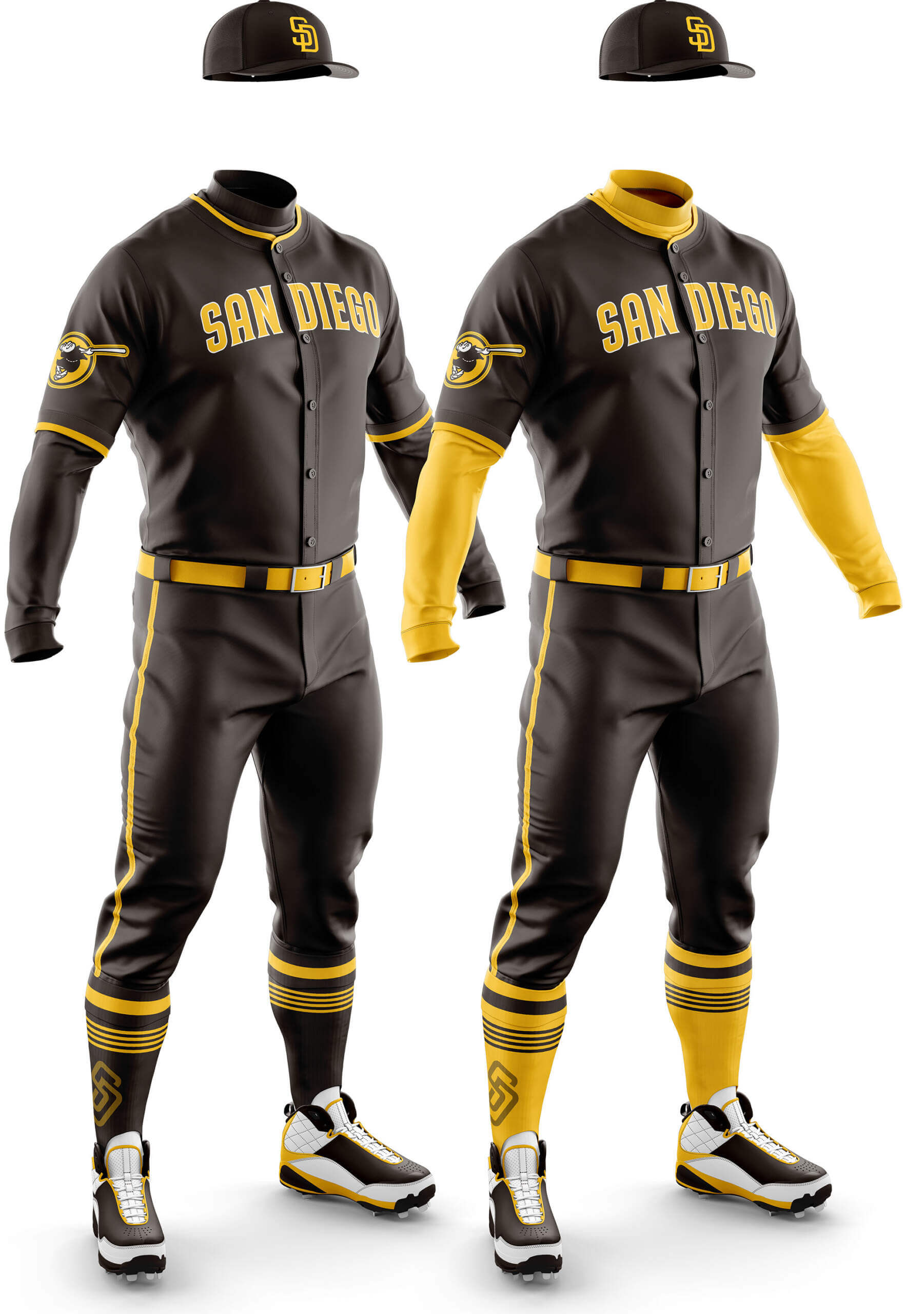 CD: I'm really glad the Padres went back to Brown and Yellow and I like both of these looks. The broad pant striping (see also Houston) makes a big difference for me and I wonder if gold front panels on the cap would have made it even better?
PH: I'm really glad the Padres went back to brown and gold too, but the mono-brown reminds me of this. And I don't like that. Instead, I wish the Padres had an alternate gold jersey so they could look more like this. And I do like that.
__________
San Francisco Giants Black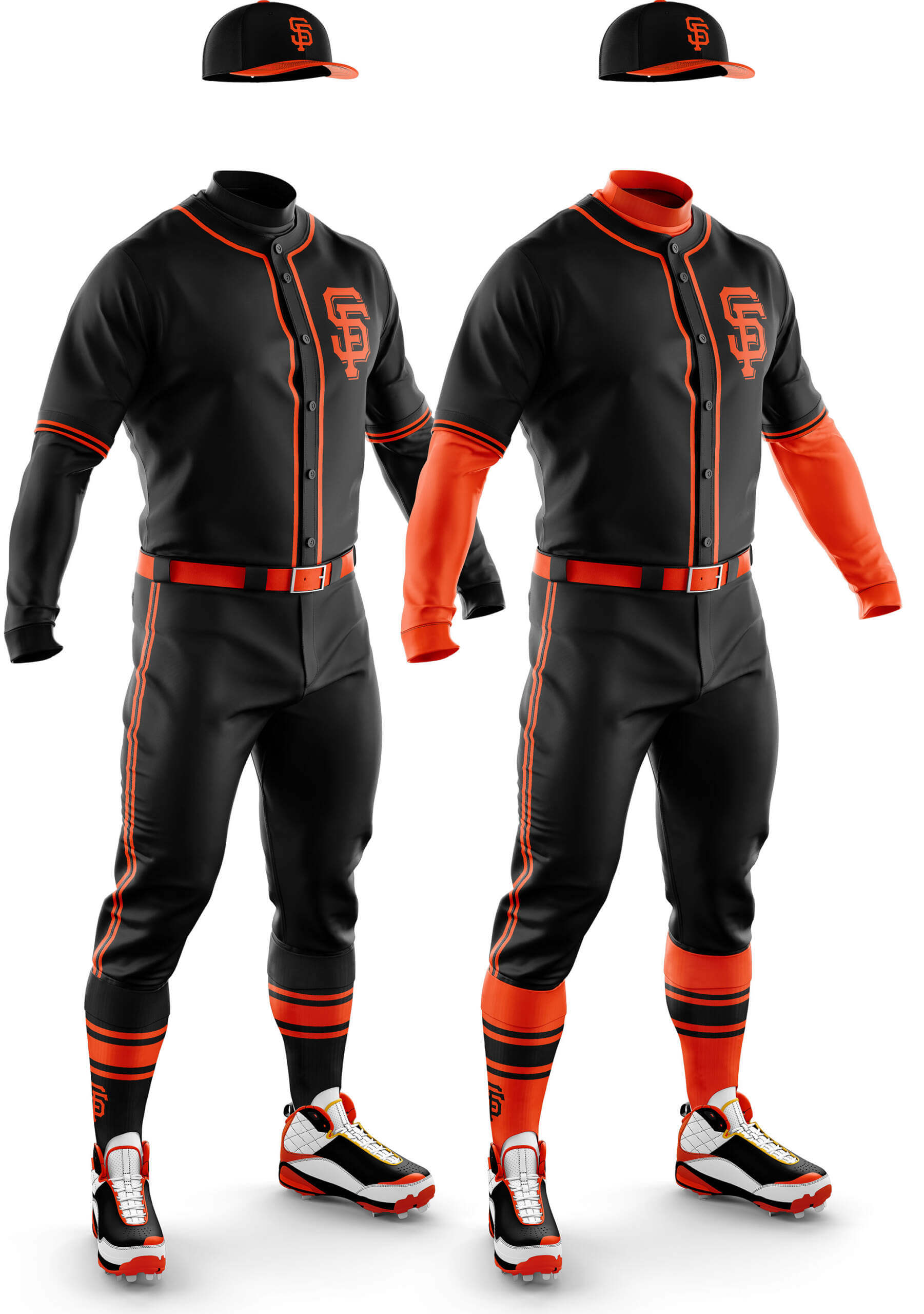 CD: This is pretty much the same as the Pirates home black alt but with orange instead of gold. I didn't like that and I don't like this!
PH: I wouldn't mind seeing that mono-black with orange accoutrements for a few road night games a season.
San Francisco Giants Orange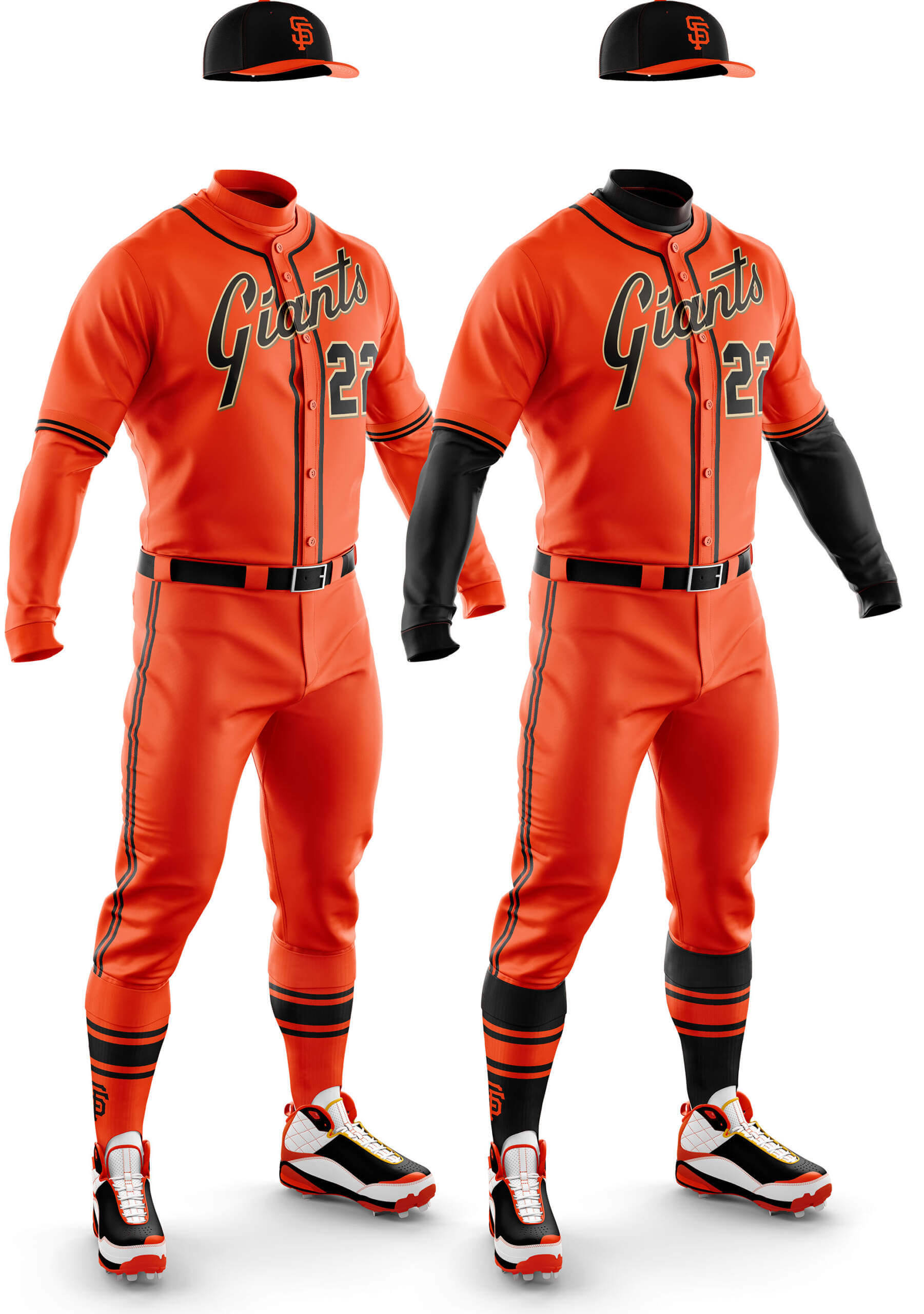 CD: I think the use of the additional cream/gold in the wordmark and numbers but not the stripes was a missed opportunity. With a bit of a tweak along those lines it could work, but as it stands it's too disjointed for me.
PH: I wouldn't mind seeing that mono-orange with black accoutrements for a few home night games a season.
• • • • •
That's it for Part III of Phase One (and the end of Phase One). And as with Parts I and II, I think you fine readers will agree that there aren't too many of these dark-mono looks that would actually look good on the field, although there are a few for which cases can be made. Please let us know below what you think (and especially if you think any make the cut). As I've previously stated, this is just Phase One, where we ONLY change the pant color to match the jersey color, leaving everything else as it is currently. Phase Two will address those unis we think have mono-dark potential (some with minor and possibly major changes to address deficiencies apparent in Phase One). We both believe mono-dark uniforms have a future place in MLB.
I want to again thank Chris for all his assistance (and patience) in creating the mono looks. Being able to visualize the potential full uniforms definitely makes it easier to contemplate how they might look on the field.