As I mentioned yesterday, I attended yesterday afternoon's Mets/Phils game so I could see the first pitch being thrown out by my friend Ira Kaplan, who's the guitarist in the long-running indie-rock band Yo La Tengo. Mary joined me at the game (we're still friends), and we convinced an usher to let us go down to the first row to watch Ira's big moment. As you can see in the video I shot, he totally aced it. The best part of that video comes at the very end, so definitely watch and listen to the entire thing!
Here's another video with somewhat better production values:
Although I've handled first pitch duties for two minor league games and a college game, I've never done it at a big league game, and it was interesting to talk with Ira about some of the behind-the-scenes details. Let's shift into FAQ mode:
How did Ira get chosen to throw out the first pitch?
He and his record label proposed it to the Mets several months ago. They explained that Ira's a lifelong Mets fan and that his band is named after a Mets anecdote. The team liked the idea, so the two sides settled on a mutually agreeable date, and that was that. Surprisingly simple!
Did Ira practice?
Yes. He had several throwing sessions (including one with me) over the past few weeks.
Was he allowed to warm up right before his pitch?
Yes. More on that in a minute.
Was he nervous?
He told me he was, yes.
Based on the video, it looks like he threw from the pitching rubber, yes?
He threw from the mound, but he was specifically told not to touch or push off from the rubber.
Did the Mets give him the jersey and cap that he was wearing?
Yes. It was a replica-style jersey, not an authentic, with "KAPLAN 50" on the back. Since it was a replica, there was no front number.
Why did he choose No. 50?
Someone on Twitter suggested that maybe he did it as a shout-out to 50 Cent's notoriously bad first pitch in 2014, which would be hilarious if it were true — sort of a reverse-the-jinx thing. But he actually chose No. 50 as a shout-out to former Mets pitcher Sid Fernandez.
Did he wear anything else of note?
Yes — an orange undershirt and orange Chucks, because orange is a Mets team color:
How did rookie third baseman Mark Vientos end up being his catcher? Did Ira specifically ask for him?
No. The catcher situation was the weirdest thing about this whole experience. A few weeks ago, the Mets asked Ira to let them know who he'd be bringing along as his catcher. He was surprised, because he thought a Mets player would catch him. That what I would have assumed, too — I mean, the whole point of a first pitch is that you get to throw it to a big leaguer, right? (All of my first pitches have been to a player on the host team.)
But apparently the Mets have a new policy this year of having the pitchers bring their own catchers. I suppose it's nice if a father is throwing to his son or something like that (that's what CNBC broadcaster David Faber did last month), but it still seems odd to me.
Anyway: Ira, through his record label, let the Mets know that he would prefer to have a player as his catcher, but in the meantime he figured he better enlist a friend for catching duties, just in case. At one point it actually seemed possible that I might end up as his catcher (when my friend Michael and I had a throwing session with Ira last week, he said, "Just so you know, guys, this could be an audition"), but he eventually decided that Yo La Tengo bassist James McNew would have the honor.
The Mets ultimately told Ira that they'd make Mark Vientos available as his catcher. That meant McNew was out of a job, but he still went along with Ira to the game and warmed him up on the sideline. I didn't get to see them doing that, unfortunately.
Did Ira get to meet any other players besides Vientos?
No. But he did get to meet a few other folks, as you can see in this photo that was making the rounds yesterday afternoon: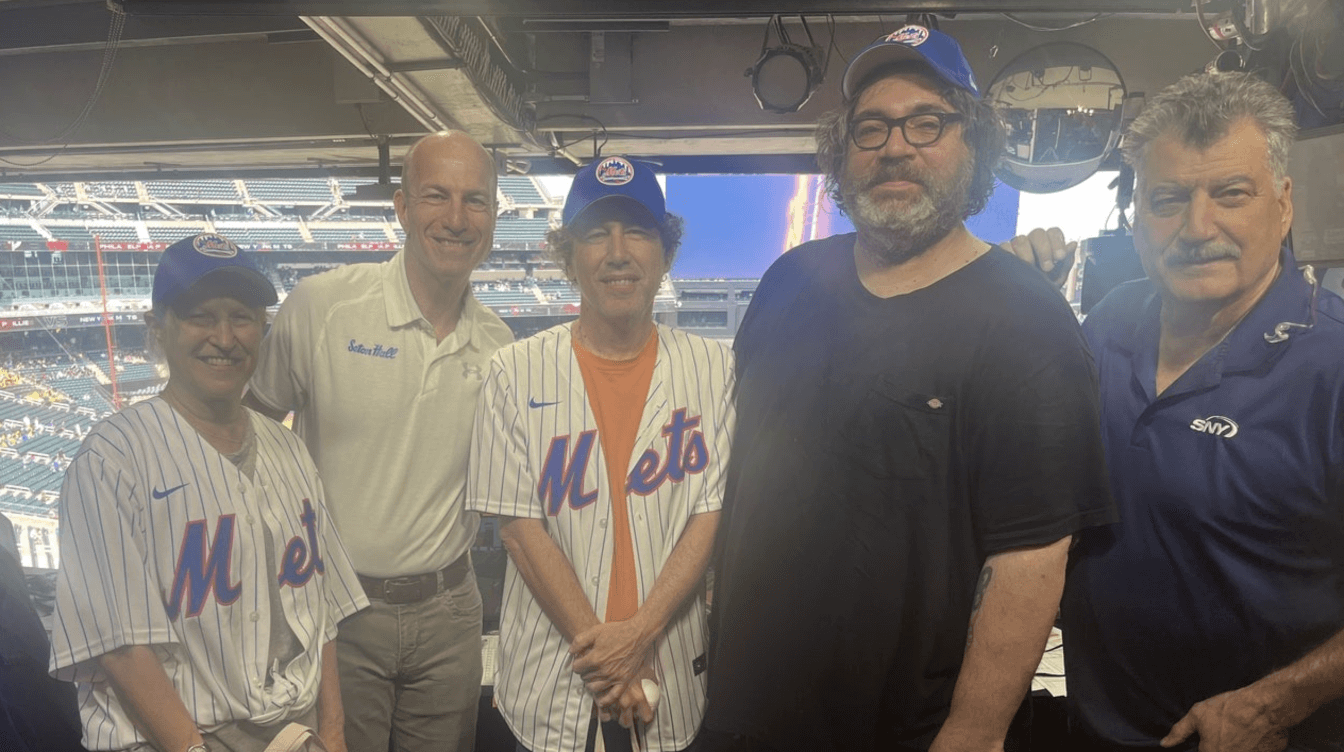 Did he get to keep the ball that he threw?
Yes: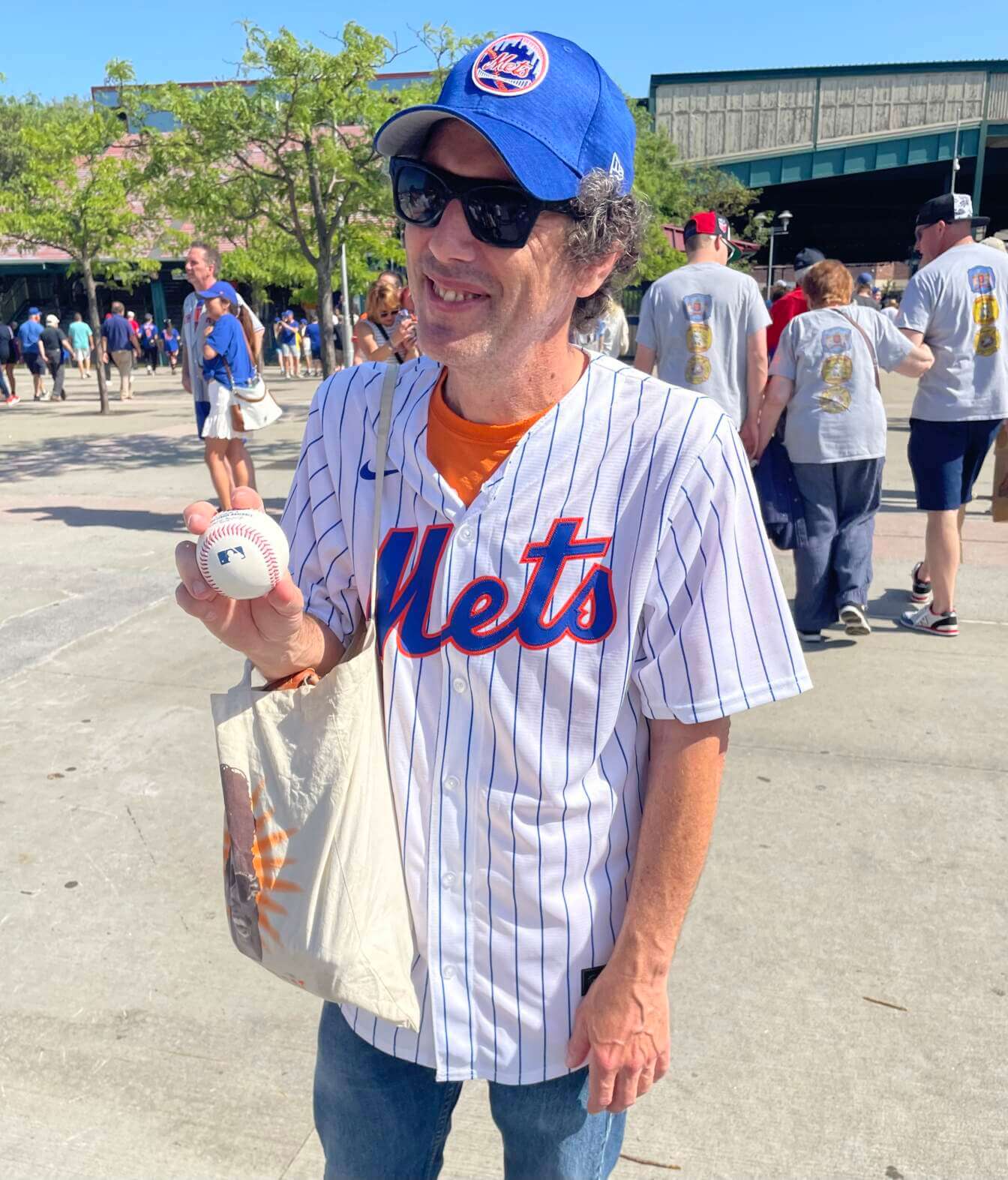 Was he the only first pitcher at yesterday's game?
No. They actually had four different ceremonial "first" pitchers. The other three were a celebrity chef, a Holocaust survivor, and someone whose particulars I've already forgotten, sorry. Of those other three, two of them brought their own catchers, and I think the other one used Vientos.
Did Ira have to sign a release or anything like that?
No.
What did he do after throwing his pitch?
The Mets gave him tickets for himself and his family, so they enjoyed the ballgame from very nice seats.
Did anything happen after the game?
A bunch of Ira/YLT-associated folks who'd been scattered throughout the stadium during the game ended up congregating outside the ballpark afterward with Ira. We all treated him like a conquering hero, and he seemed very, very happy about the entire experience.
On top of all that, the Mets won. All in all, a really good day.
Put it in the books! @Mets are now UNBEATEN in games in which Ira Kaplan throws out the first pitch. @TheRealYLT #LGM

— Matador Records (@matadorrecords) June 1, 2023