Sad news today out of Connecticut, where graphic designer Peter Good, who in 1979 created one of the uni-verse's best and most popular logos for the Hartford Whalers, has passed away. His death was announced on Facebook last night by his family. The Facebook feed of his wife and business partner, Janet Cummings Good, indicates that he had been in hospice care for two weeks following the removal of a brain tumor. He was 80 years old.
Good created the Whalers logo as a work-for-hire gig for Jack Lardis Associates, an ad agency that was working with the Whalers at the time. Good was not a hockey fan and in fact had never designed a sports logo before (nor would he ever design one again), but he ended up creating one of the sports world's most beloved logos. He was paid $2,000. More than four decades later, I still hear from people who say they've just had the "Aha!" moment of discovering the stealth "H" lurking within the logo's negative space.
I interviewed Good for a 2016 ESPN piece. He was courtly and soft-spoken — a real gentleman. At one point I asked him if he was troubled by the fact that so many people took so long to notice the hidden "H." He replied, "No, it's a strength, because it engages the mind. And even if you don't see it initially, there's something about it that plays with perception, and that gives it a certain energy."
Good saved some of his initial sketches that show the logo's evolution. They've been published in various books and forums over the years: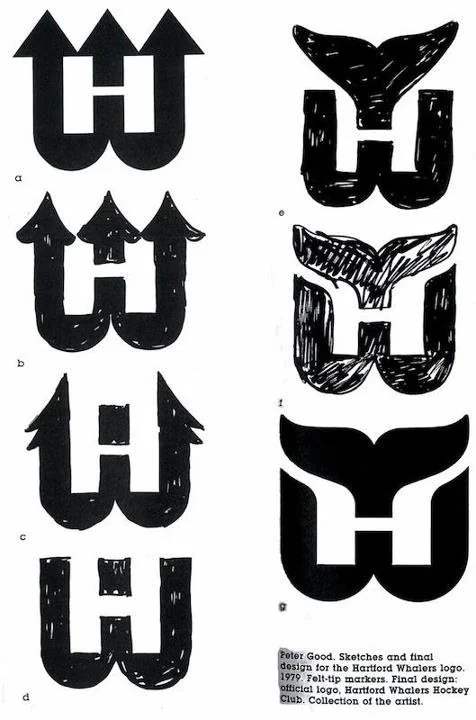 The Whalers moved to North Carolina in 1997 and became the Hurricanes, but Good's design remains popular on merchandise and sporadically appears on throwback uniforms (most recently about five weeks ago).
As coverage of the uni-verse expanded over the past decade or so, Good did a fair number of interviews. Here are some of them:
Good remained active in the design world throughout his life. The website of the Connecticut-based design firm he ran with his wife, Cummings & Good, showcases many of their creations. There's a lot of excellent work there, but Uni Watch readers can be forgiven for thinking that one design stands out above the others. R.I.P.
(My thanks to reader John Dankosky for bringing Good's death to my attention.)