[Editor's Note: This has been a fast-developing story that apparently isn't quite as momentous as it originally seemed. I'm leaving the original report in place and then adding updates to show how the story evolved from various competing reports. — Paul]
Earlier today we had the news that the Arizona Cardinals will unveil a new uniform set later this month. They'll apparently be joined by the other NFL team that's been the subject of offseason uni rumors, as SportsLogos.net's Andrew Lind is reporting that the Carolina Panthers will unveil new uniforms of their own during the run-up to the NFL draft, which begins on April 25. It's good timing, too, as the Panthers hold the No. 1 pick.
This will be the first substantial redesign in the team's history, as they've maintained the same basic look since their 1995 inception (a few minor tweaks notwithstanding).
The most intriguing part of Lind's report is the revelation that the Panthers will no longer wear silver. He wrote:
One source indicated Carolina plans to remove silver from its color scheme to bring the Panthers in line with Major League Soccer's Charlotte FC, as both franchises are owned by David Tepper and share Bank of America Stadium.
Interesting! If, like myself, you're not a soccer fan and don't know what Charlotte FC's uniforms look like, here you go: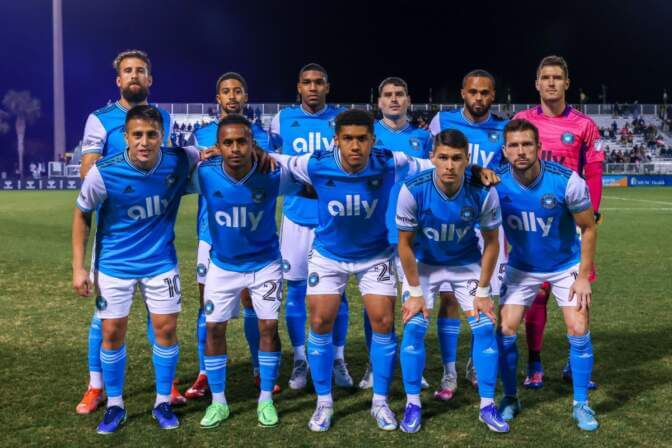 So does this mean the Panthers will be making blue their primary jersey color and relegating black to alternate status? Does the elimination of silver mean that the team's black alternate helmet, which was introduced last season, will now become the primary? Too soon to say, but we'll find out soon enough.
Update: A competing outlet is disputing Lind's report:
🚨🚨 The Riot Report is told that the #Panthers will be updating their uniforms, but it's not a redesign.

Silver is staying.
The logo is not changing.

The main update is going to be a color correction to bring the blue closer to "Process Blue", the team's official color.
(+) pic.twitter.com/3N1WoDnHid

— The Riot Report (@RRiotReport) April 5, 2023
Never a dull moment!
Additional update: I was just contacted by a Panthers spokesman who essentially confirmed the Riot Report tweet. Here's what he told me:
This is not a redesign. This is a color correction to bring our uniforms more in line with our true color – process blue. When Nike took us on in 2012, they chose the color in their color book that was closest to our blue. They now have a better color match.
The shoulder stripe stops short of going under the armpit as part of change made by Nike to accommodate new technology related to increased mobility.
We are not removing silver.
The jerseys for our number one draft choice will reflect this updated color of blue.
We are not changing our logo.
This updated blue is consistent with the blue that fans see in our end zones.
And there you have it. So, contrary to Lind's initial report, the team is keeping silver and just making small changes, not getting a full makeover.
Final update: You can now read the Panthers' own announcement/clarification on their website.