— Detroit Lions (@Lions) June 20, 2023
As you can see above, the Lions put out a tweet last night indicating that they'll unveil an alternate helmet on June 21 — tomorrow.
Obviously, the new helmet will not be silver, since they could have done that all along under the one-shell rule. So what might a non-silver Lions alternate helmet look like, and what hints or clues can we glean from their teaser tweet? Here are some possibilities:
1. The helmet will be white with blue graphics.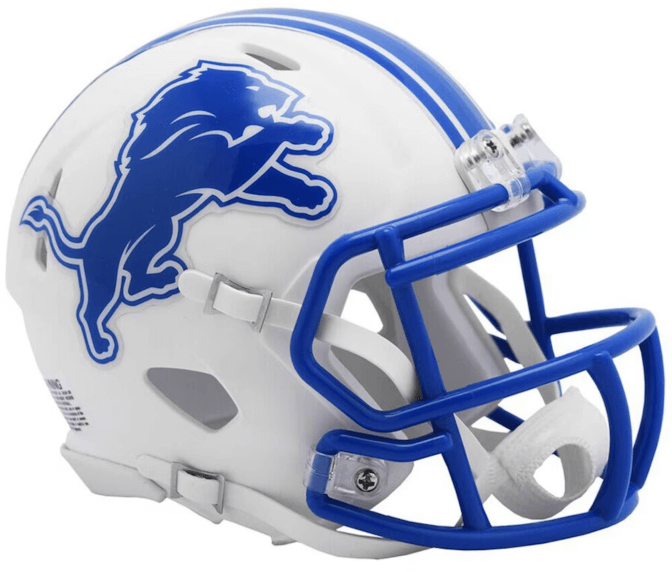 The license plate on the car is white with blue lettering, so that could be a hint regarding the helmet's design. The resulting design could look something like the retail mini-helmet shown above.
2. The helmet will be blue.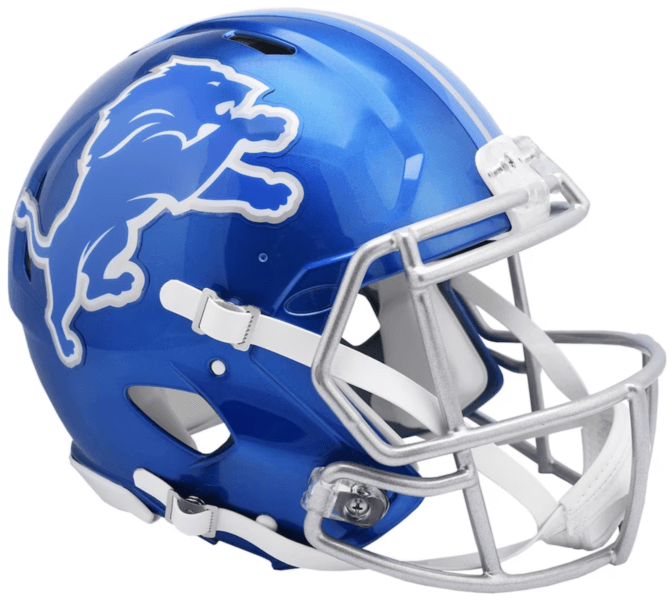 The car is blue, and so is the type on the license plate, so that could indicate that they're going with a blue helmet, like the mini-helmet shown above.
3. The helmet will be chrome.

That retro car has lots of chrome, right? So maybe they'll be going with something like the mini-helmet shown above (although if they really wanted to do that, they could just make that the primary helmet).
4. The helmet will be a throwback.
The car is obviously old, and the license plate is "Historical," so that could mean that they're going with a retro helmet. But which retro era would they choose from? According to the Gridiron Uniform Database, the only non-silver helmets in Lions history are these: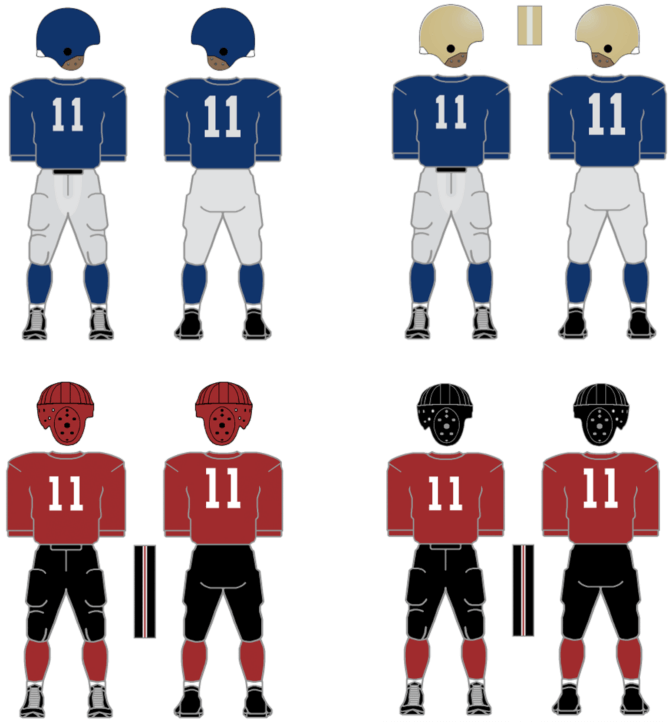 Yes, it's true — the Lions actually wore red in the 1940s and '50s. But I think we can dismiss red as a possible color for the new alternate, and probably black as well, because not even the Lions are stupid enough to go that route. Blue seems like the most likely retro option, right?
But let me just point out, for the sake of argument, that the Lions won the 1953 NFL championship while wearing the gold helmets. This year will be the 70th anniversary of that title. Hmmmmm.
Lots of intriguing possibilities! In any case, we'll find out tomorrow. Don't screw this up, Lions!