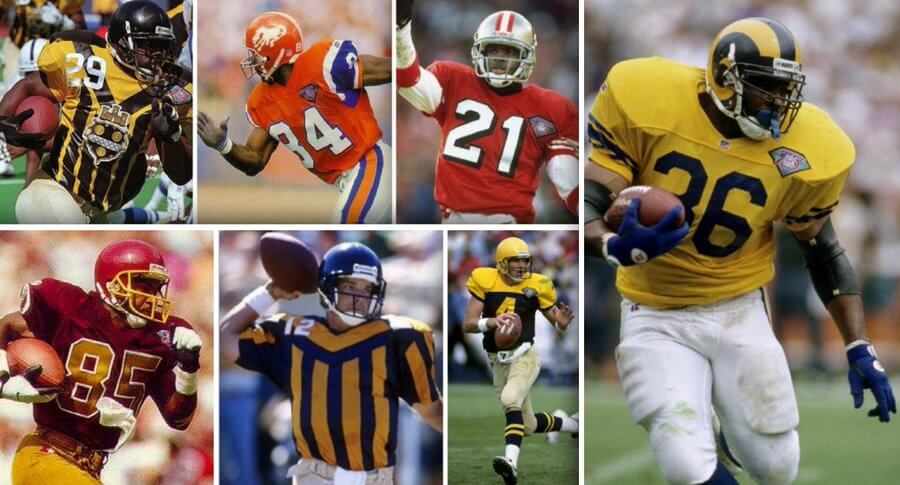 By Phil Hecken
Follow @PhilHecken

A good Saturday Morning to you all, fellow Uni Watchers. I hope everyone had a pleasant week!
Throwbacks in the major sports are nothing new these days — let's face it, in this day and age of maximizing the amount of gear available for sale to the general public, the leagues and their manufacturing partners certainly aren't discouraging teams from throwing back. But it hasn't always been this way.
Way back in 1994, when the NFL celebrated its 75th Anniversary season, throwback uniforms were a relatively new phenomenon. The trend started in MLB back in 1990, when the Chicago White Sox celebrated their 1917 World Series win with what would likely be the "first" professional throwback uniforms. The NHL also got on board in 1991-92, when it celebrated its 75th Anniversary by having the "Original 6" teams wear throwbacks.
The NFL first got on the throwback train not in 1994 — but a season earlier, when the New York Jets celebrated the 25th Anniversary of their Super Bowl III win, but ended up wearing a green helmet instead of white. Today we'd criticize the Jets for a terribly inaccurate throwback, but back then, throw/fauxbacks were such a novelty few people seemed to care about the anachronism.
Fast-forward a year, and the NFL (perhaps inspired by the Jets?) decided they'd try to make the throwback thing a league-wide exercise. Again, this was long before throwbacks were a "thing," and fans weren't clamoring for throwbacks, nor were they particularly concerned with absolute accuracy. In 1994, the NFL consisted of 28 teams, and the league encouraged all teams to create some form of throwback to wear during the season. Some teams embraced the concept and truly sought to bring the throwback to the viewer, while other teams really half-assed it, and a few basically ignored the whole throwback concept completely (although in some cases that was due to their original uniforms having changed little over the years, rendering a throwback irrelevant).
Let's take a quick look at those 1994 Throwback Uniforms, and how good (or poor) teams pulled it off. Did they pass or fail?
__________
BEARS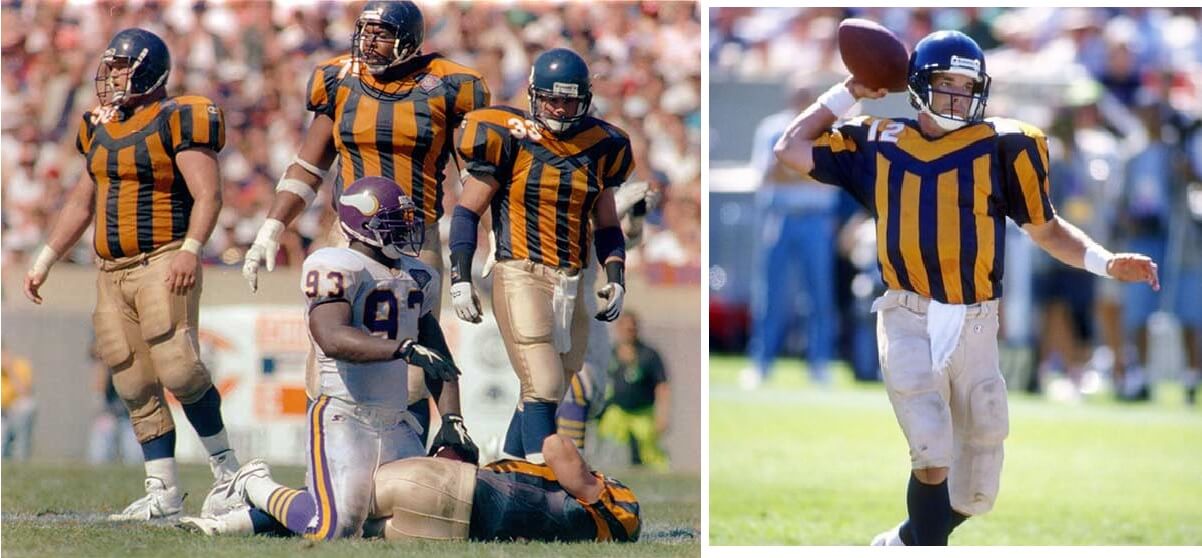 Da Bears really leaned into the throwback thing, coming up with a reasonable facsimile of their late 1920's/early 1930's look. Obviously leather helmets were out, but they did fairly attempt to replicate the friction strips on the jersey, as well as the canvas pants common in the day.
Pass
__________
BENGALS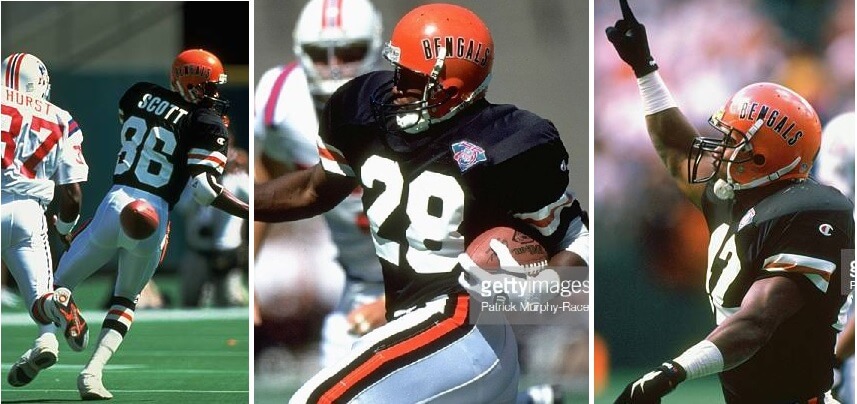 At the time the Bengals were one of the younger teams in the league, having only entered the NFL in 1968, and to that point, had only changed their uniforms once. So they did the best they could do, and created a pretty spot-on throwback to their first uniform, complete with "BENGALS" spelled out on their orange helmets.
Pass
__________
BILLS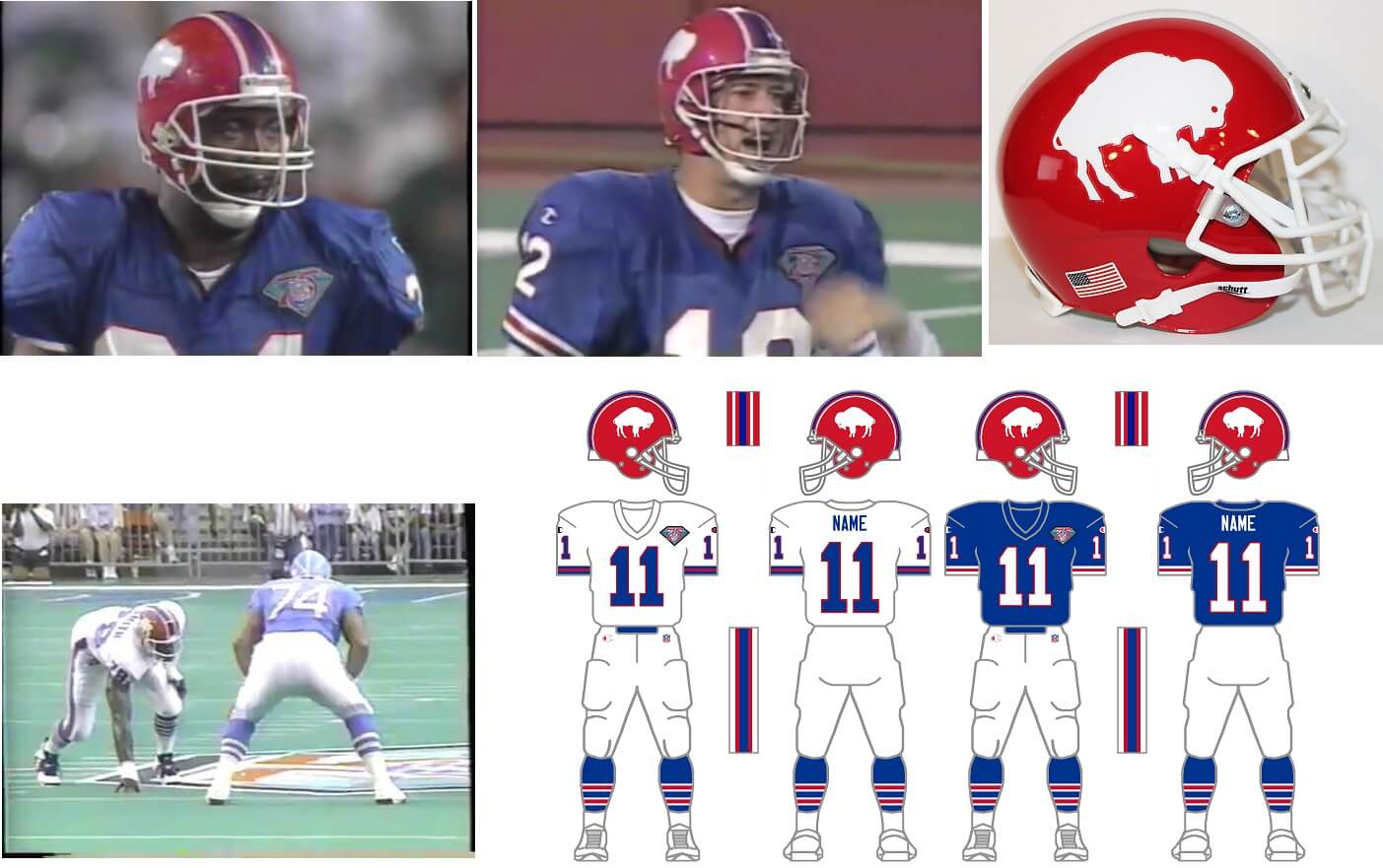 Whether they were taking a cue from the 1993 Jets throwbacks, or simply half-assing it, the Bills definitely didn't get the whole throwback concept. The team were wearing uniforms with a red helmet shell, and rather than creating a white shell for the throwback, they simply took the decals off their current helmets (although they left the modern center stripe pattern) and placed a white standing buffalo on a red hat. They've since created some really good throwbacks (and their uniform today is a modern version of one they wore from 1974-1983), but they really botched the 1994s.
Fail
__________
BRONCOS

Rather than throwing back to their very early roots — the infamous brown and gold (which they'd later recreate), the 1994 team decided to throwback to their 1965-1966 uniforms. A very interesting sartorial choice, but they pulled it off quite well. I won't say the look has stood the test of time, but definitely a fun one to choose.
Pass
__________
BROWNS
The Browns didn't even try to create a throwback in 1994. They simply said their current uniforms were throwbacks (and to a certain extent that was true — much like George Steinbrenner said of the Yankees in 1999 when the team refused to wear "Turn Ahead The Clock" uniforms), but they certainly could have done something. The team has since learned from their mistake, creating a multi-year throwback, but they just didn't want to play along back in 1994.
Fail
__________
BUCCANEERS
Like the Seahawks (who we'll look at below), the Buccaneers really hadn't changed their uniforms (much) since their inception, so the team didn't really have anything to throwback to. They were still in their "Bucco Bruce" phase (a throwback NOW that the whole world is waiting to see) in 1994. Slight kudos to the team for wearing their "throwback" white pants with their white jerseys — a look they'd jettisoned in 1992 (wearing only orange pants with the white jerseys). Still, not much there.
Push
__________
CARDINALS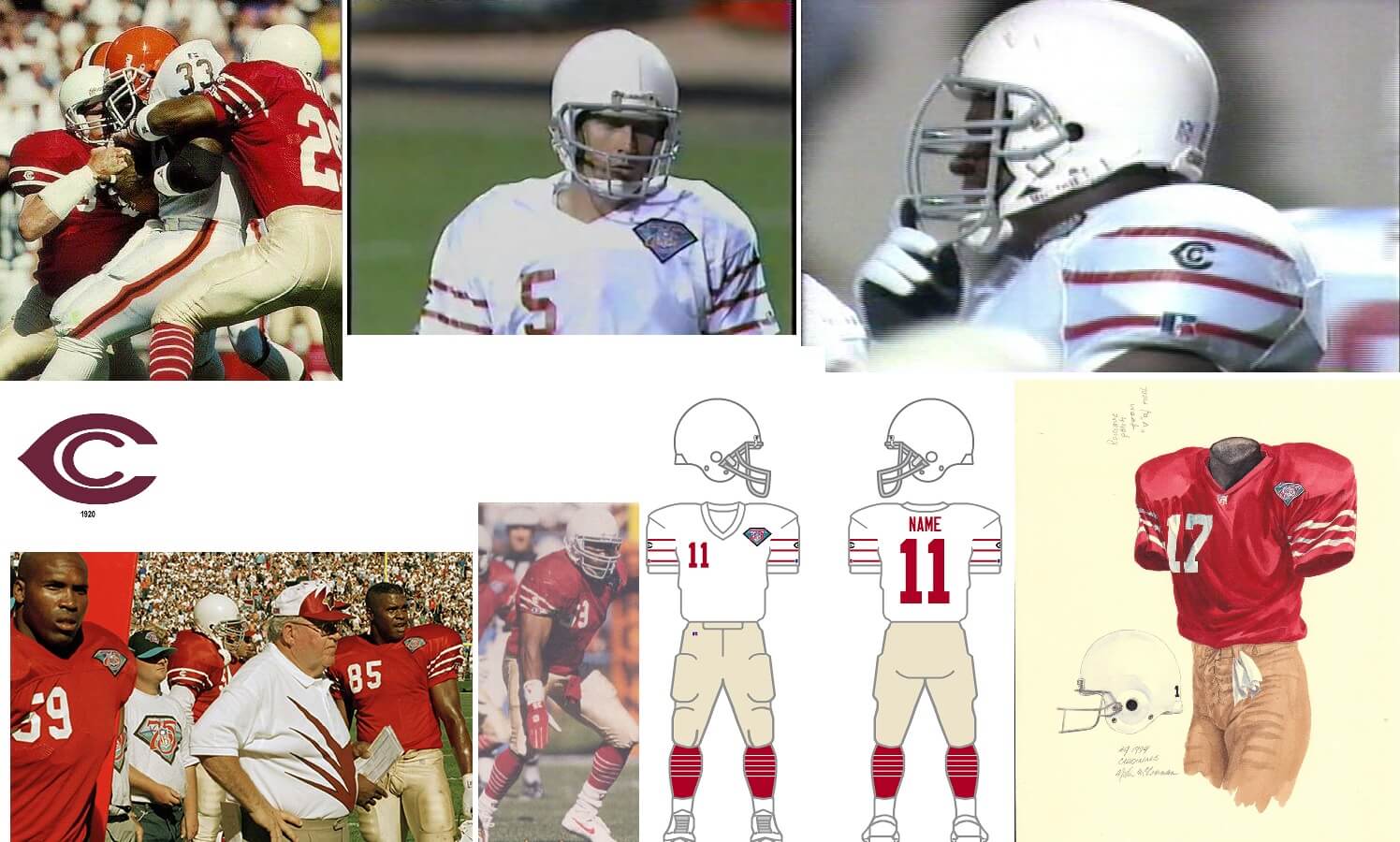 Much like the Bears, the Cardinals jumped into the deep end in 1994, and attempted to create a very early throwback from the late 1920's/early 1930's. While there were definitely some inaccuracies, the effort was there and to be commended.
Pass
__________
CHARGERS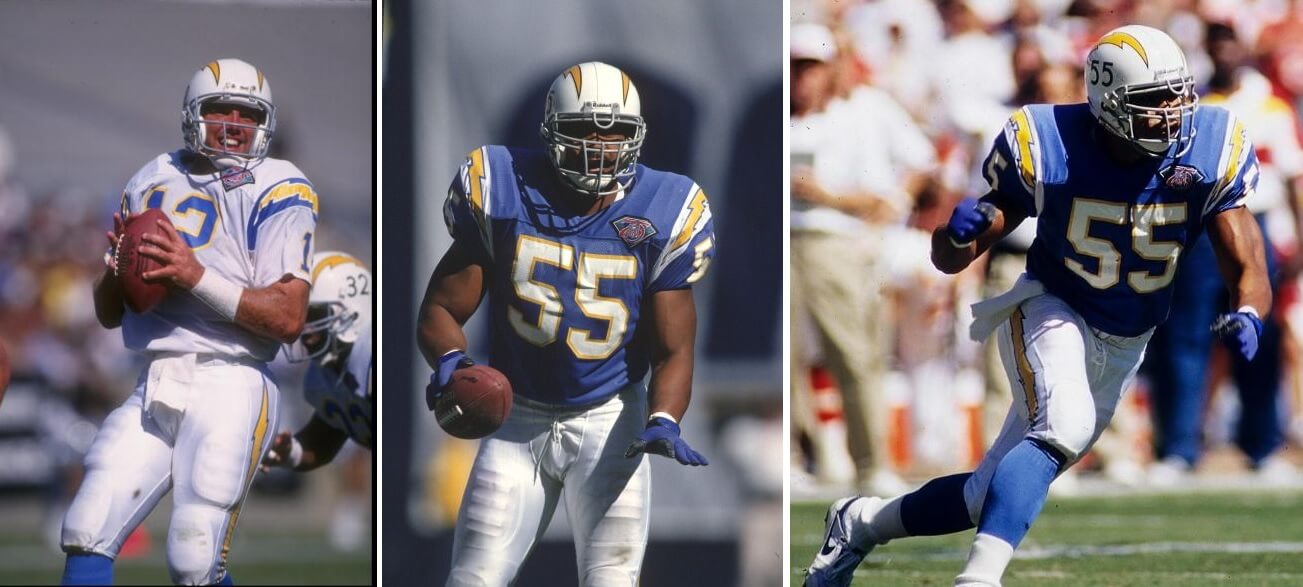 While today we're used to seeing the Chargers in white helmets and powder blue jerseys, back in 1994 they were basically a navy and white team. Fans (and folks with eyes) absolutely loved the throwbacks, and the team would eventually return to uniforms today that have their roots in their earliest days, and which the team successfully recreated in 1994.
Pass
_________
KANSAS CITY
Like the Browns, Kansas City basically refused to play along with the 1994 throwback initiative. Now, since their move from Texas (where they began life as the Dallas Texans) to Kansas City, the teams uniforms changed little — rendering a "throwback" to their KC days pretty much an impossibility. However, they could have busted out a Texans throwback, as they would later do, but they didn't back then.
Fail
__________
COLTS
While their uniforms hadn't changed that much since their introduction, the Colts basically said, "nah, we're good" to the 1994 throwback program. They would later figure out they could throwback to different eras, but they chose not to in this instance.
Fail
__________
COWBOYS

The 'boys leaned into their roots for the 1994 throwbacks, and created the basis for the throwback uniform they wear today — from their early 1960's beginnings. Interestingly, they created a semi-throwback (seen in the first two photos above) with white pants and white star on the shoulder yoke, but also went with a non-throwback featuring silver pants and an outlined star as well. Of course, their original 1960's uniforms featured a white helmet, not a silver one (something they would later correct) — so this isn't quite an accurate throwback. It would however, prove very popular and remain a future throwback for the team.
Pass–sorta
__________
DOLPHINS

In 1994, the Dolphins unis weren't all that different from their originals, and to their credit, they changed their helmet logo (from the dolphin head outside the sunburst to one inside it). I'm sure this change was all but missed by anyone but the most astute uni watcher back then.
Pass
__________
EAGLES

Really nice effort by the Eagles here, who've generally tried to make their throwbacks as accurate as possible. For their 1994 throwbacks, the Eagles went with basically their mid-late 1940's uniforms, right down to trying to replicate the design on the leather helmet. This one was much more visually appealing than their attempt to throwback to 1934, which they'd do a few years later.
Pass
__________
FALCONS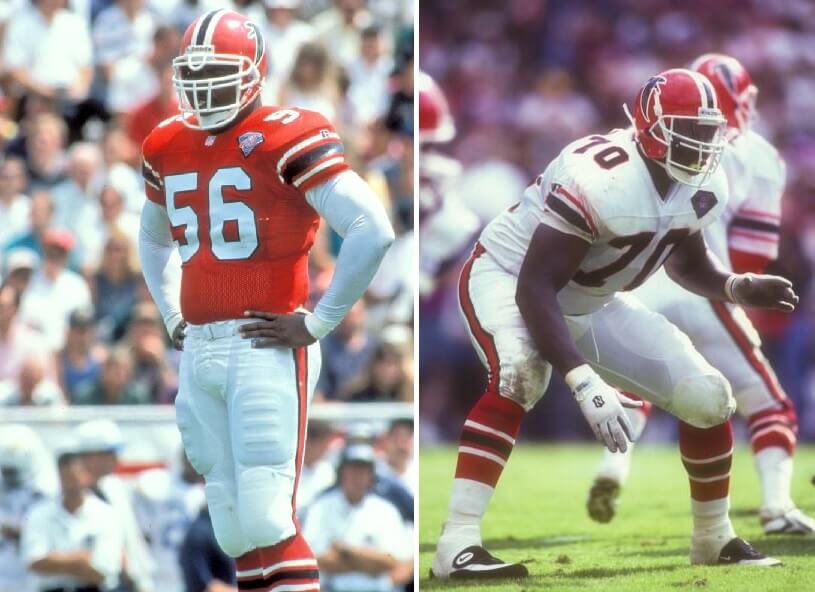 __________
In 1990, the Jerry Glanville-led Falcons ushered in their black-helmet era, so the team didn't have too far to throwback to with their 1994's. And they did a really nice job, basically getting everything correct. Why they ever went away from these 1971-1977 beauties is a mystery, to this day.
Pass
__________
49ERS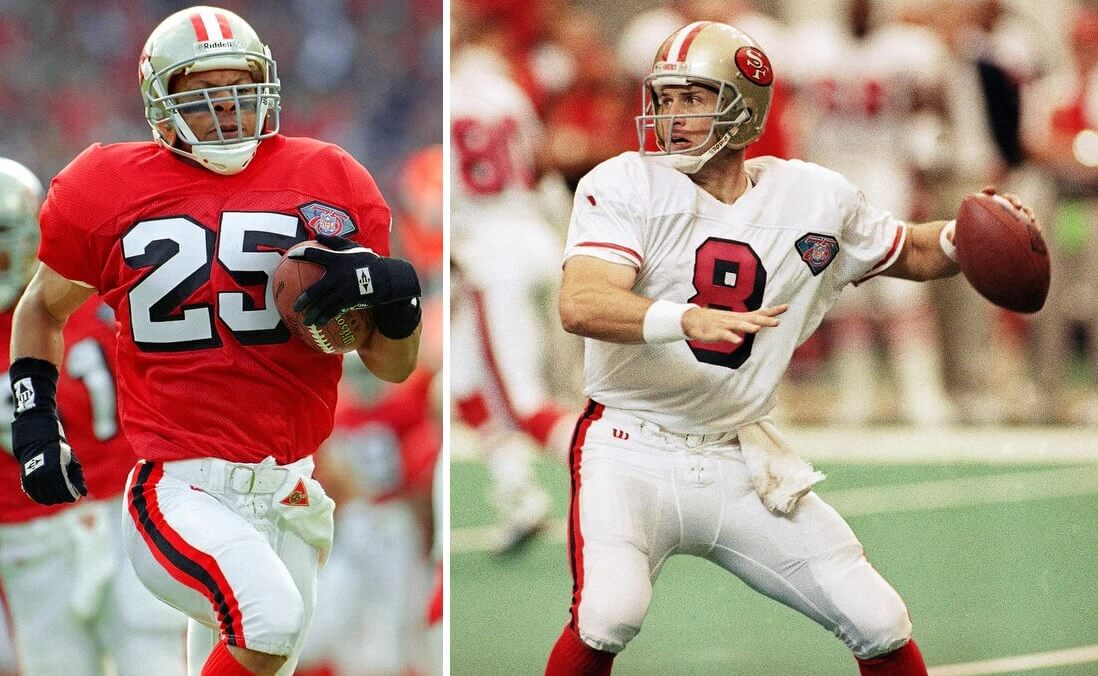 If these look familiar it's because they are. The 1994 "throwbacks" (and in which they won a Supe) are what the team currently wears as their alternate and throwback uniform today. The problem then, as now, is the team didn't wear a gold hat with the 1955-56 uniforms to which they are/were supposedly throwing back. That helmet was red. It didn't look right then, and it still doesn't look good today, despite the love for the "throwback" set. Maybe if the team adds a red shell going forward…
Fail
__________
GIANTS

If that set looks familiar, it's because they are. The 1994 throwbacks (which were pretty accurate) proved so popular with the team and fans that the G-men basically returned to this throwback set (from the 1950's) in 2000 when they ditched the prior set (which had "GIANTS" on the helmets). It looked good then, and it still looks good.
Pass
__________
JETS

Like they did in 1993 (see above) with their 25th Anny Supe unis, the Jets again wore the inappropriate green shell. Everything else was basically correct, but whether it was sloth or just frugality, the 1994 throwbacks most definitely weren't.
Fail
__________
LIONS

What we now think of as the "classic" Lions throwback really got its start in 1994. We've seen these beauties on Thanksgiving, and other times of year as well, and this outfit is basically still the Lions go-to throwback to this day. There are probably some better looks (especially nowadays) to which they could throwback, but this one is still fantastic.
Pass
__________
OILERS

Love ya, Blue! For their 1994 effort, the team threwback to their 1960 uniforms. And those uniforms weren't all that much different from their then-current duds, save for the blue helmet with white derrick. So, unlike the Jets and Bills, who wrongly slapped a throwback logo on a same-color shell, the Oilers went the extra yard with these. They did an even better job in 2009 (see here and here), but these were just fine.
Pass
__________
PACKERS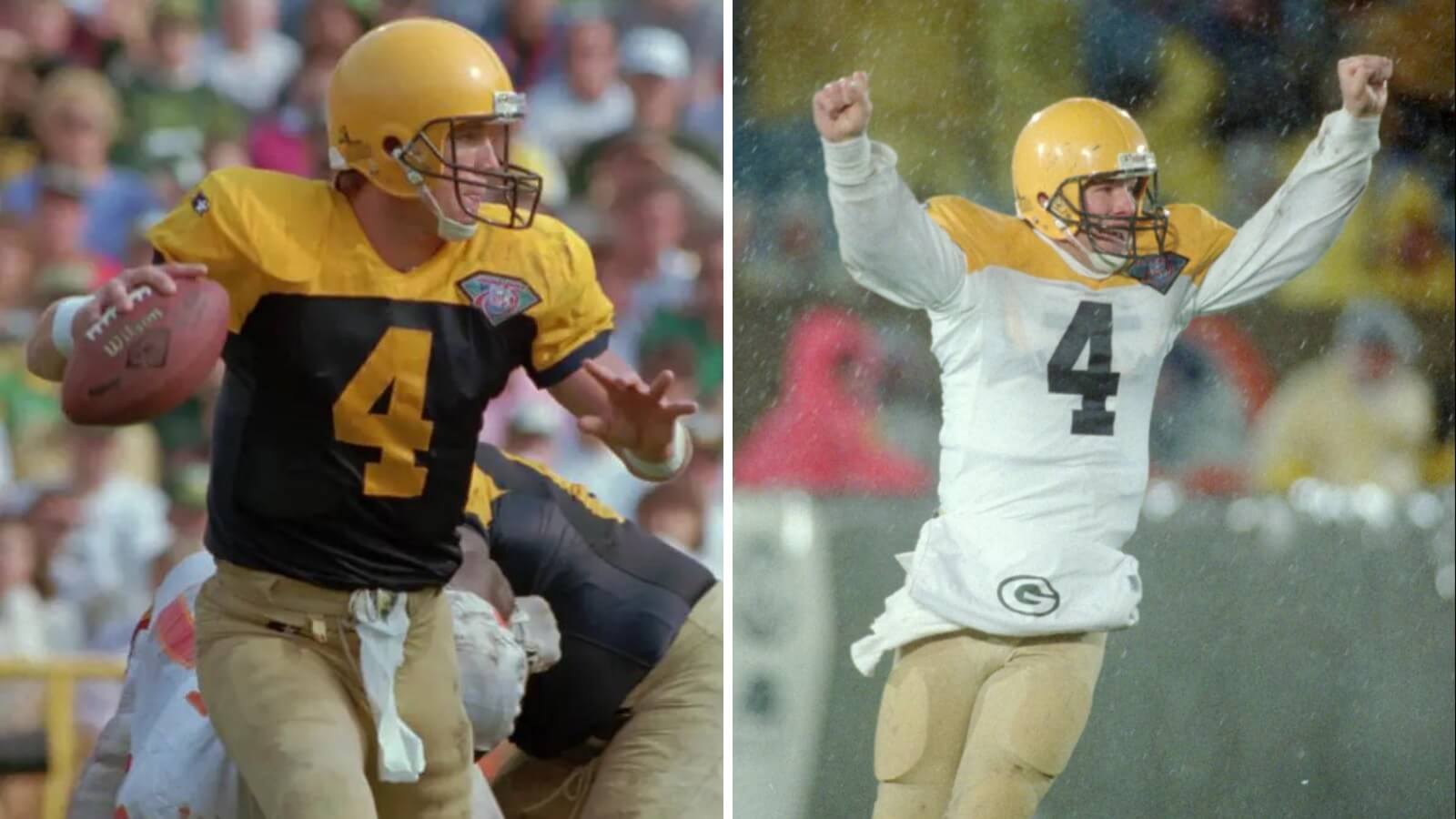 For a team with arguably the most uni history, the 1994 Packers throwbacks were pretty spot on for their 1944-46 unis, save for the color of the font on the white jersey (that was gold back then). But other than that, they did a good job, right down to the tan canvas pants worn back in the day. The Pack are another team who've generally done a very good job (although not always) on their throwbacks, and this one started it all.
Pass
__________
PATRIOTS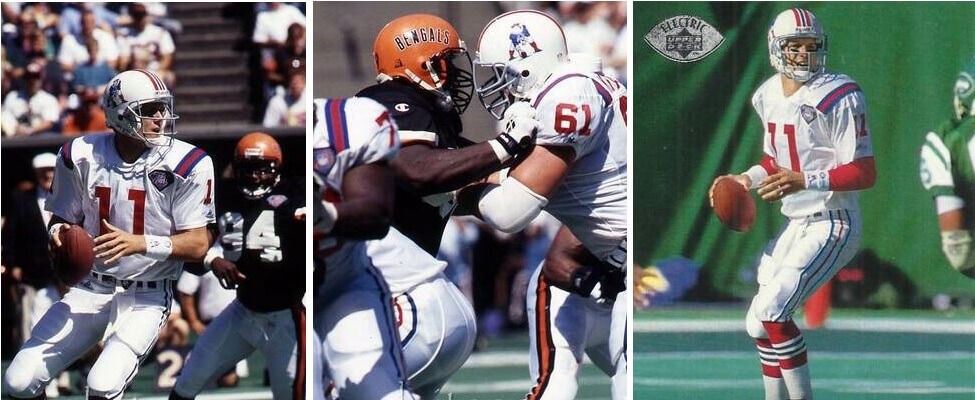 Kudos to the Patriots! In 1994, the team was only two years removed from their Pat Patriot uniforms (having moved to the Flying Elvis in 1993), so I'm sure there were more than a few casual NFL viewers who didn't even realize they were seeing throwbacks. The more time that passes, the greater "love" there seems to be for these, but back in 1994, there probably weren't a whole lot of folks who were happy to see this design.
Pass
__________
RAIDERS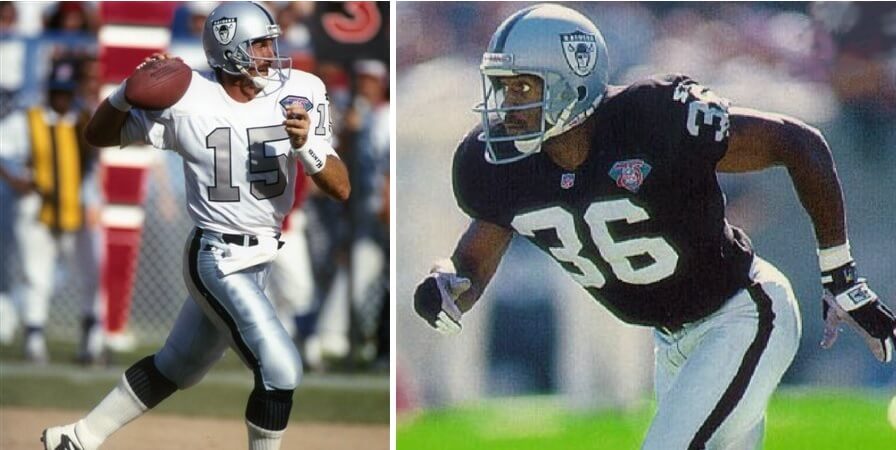 Ever since the team has been owned by the Davis family, they've always worn black and silver — and their unis have changed little since then. But the team did manage to create a throwback, especially with the white jersey, which had silver numbers in 1963-64 and 1970. They also attempted to create a throwback helmet, and they did change from the current logo to the 1963 logo, but they inaccurately made the shield white as opposed to silver. Many of us would love (someday) to see the team go back to the black and gold unis worn in the 1960-62 era; they mostly got these 1994 throwbacks correct.
Pass (barely)
__________
RAMS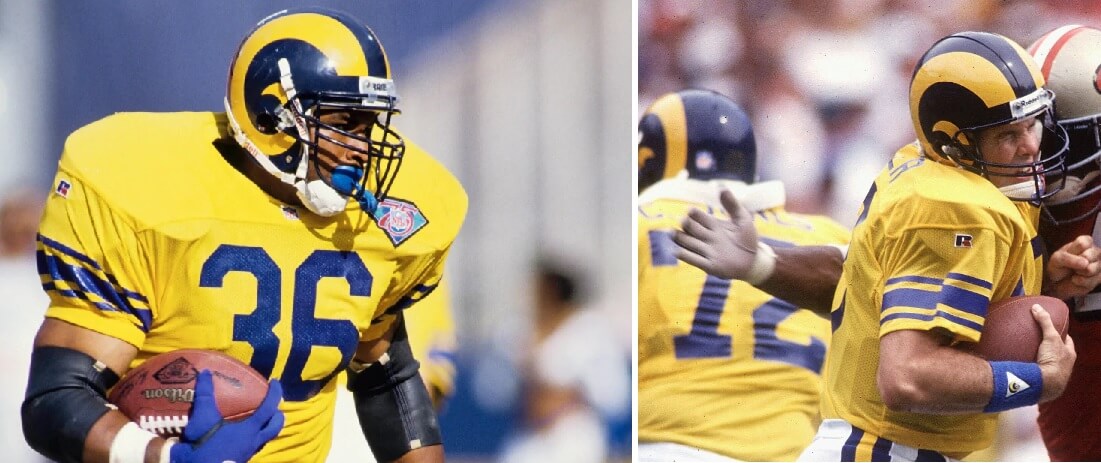 Great job by the Rams in bringing back a look worn from 1951-57. This looked good in the 50s, it looked great in 1994, and it would look especially great today. I keep hoping the promised (but delayed) new uniform for 2022 will harken back to this.
Pass
__________
WASHINGTON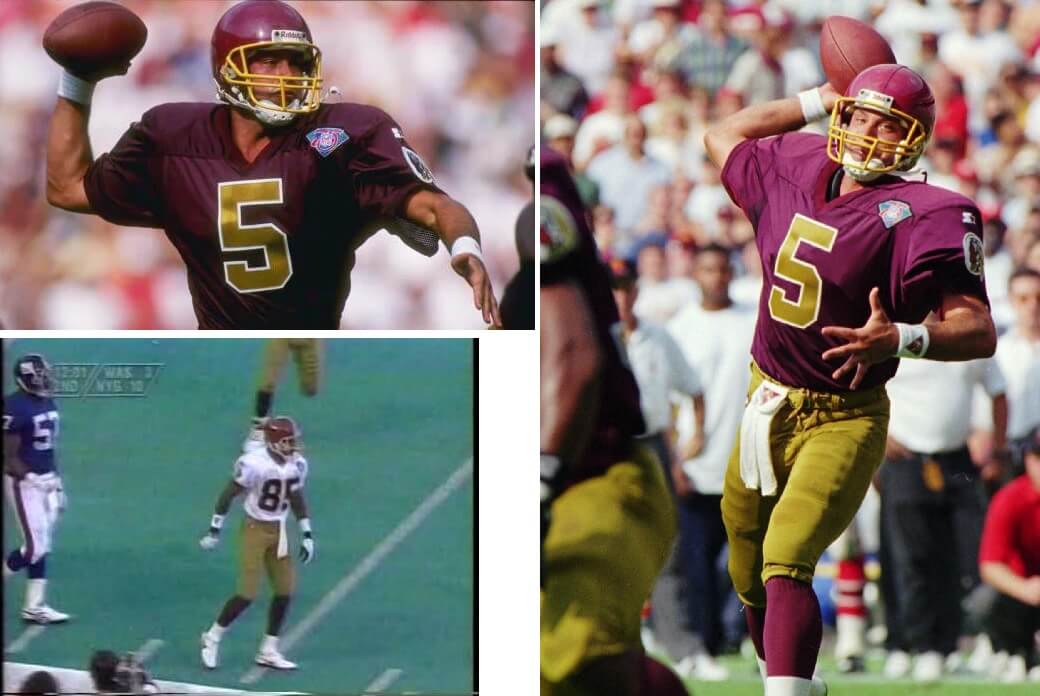 The team now known as the Commanders did a pretty good job of throwing back to their first uniform in Washington, and even went so far as to create a white jersey (which didn't exist back then) for the set. Racist imagery on the sleeve aside, the throwback was pretty accurate.
Pass
__________
SAINTS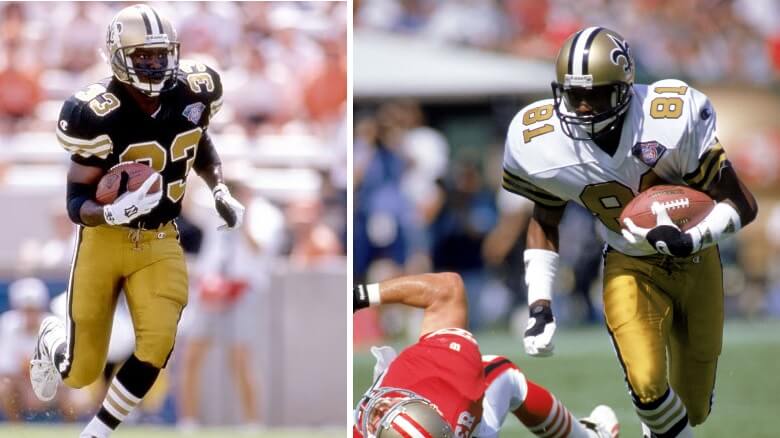 Despite keeping their current helmet (with its more "metallic" than "old" gold shade), New Orleans did a pretty nice job recreating their 1967 (first year in the NFL) uniforms. The team looked great then, and never should have deviated from that original shade of gold. They've brought this throwback back before, and should make it permanent (with a new matching helmet) going forward.
Pass
_________
SEAHAWKS
Like the Buccaneers (above), the Seahawks were really still wearing their "original" uniforms in 1994 — one of the few changes involved placing the seahawk logo on the sleeve, so for their "throwbacks" they removed the logo. We'll give them props for that, but they didn't have much else to work with.
PUSH
__________
STEELERS

Like the Cardinals, Bears and Packers, the Steelers went deep into their roots for this one, which threw back all the way to 1933, their first year of existence, when they were then known as the Pirates. While this is probably not a uniform we would (or should) ever see again, it was pretty cool they went for it in 1994. But they've been known for their out-there throwbacks so…
Pass
__________
VIKINGS
The Vikes faced a situation similar to the Colts — their uniforms hadn't really changed much throughout their history to that point — so they'd be forgiven if their throwbacks were almost identical to their regular uniforms. They removed the UCLA stripes from their road throwback, but otherwise, their unis, other than some sleeve piping, were unchanged. They probably didn't even realize it, but they missed a golden opportunity to repeat their all-purple mistake unis from 1964. Or maybe it's good that they didn't.
Push
_________________________
And there you have it — a look back at the NFL's first (and only) league-wide throwback program. It's a shame they didn't wish to repeat it during their 100th Anniversary a couple years back. And moving forward, especially now with teams allowed to wear a second color shell, maybe they will again. I'm not the first person to suggest this, but how great would it be if the NFL — instead of ruining Thursday nights with color rush or other crappy "modern" uniforms — decided to make TNF into "Throwback Thursday," where teams would wear throwbacks against one another? Many teams already have throwbacks, and (with the possible exceptions of the Panthers and Texans), every team easily could. To paraphrase Jimmer Vilk, "I'd watch that."
What do you guys think? How did the NFL do in 1994? Should they attempt a league-wide throwback program again? Sometime (perhaps soon), I'll take a look at the 2009 AFL throwbacks, which was the only other time the NFL attempted throwbacks on a large scale. Would you guys be in favor of Throwback Thursdays?
Fire away…
---